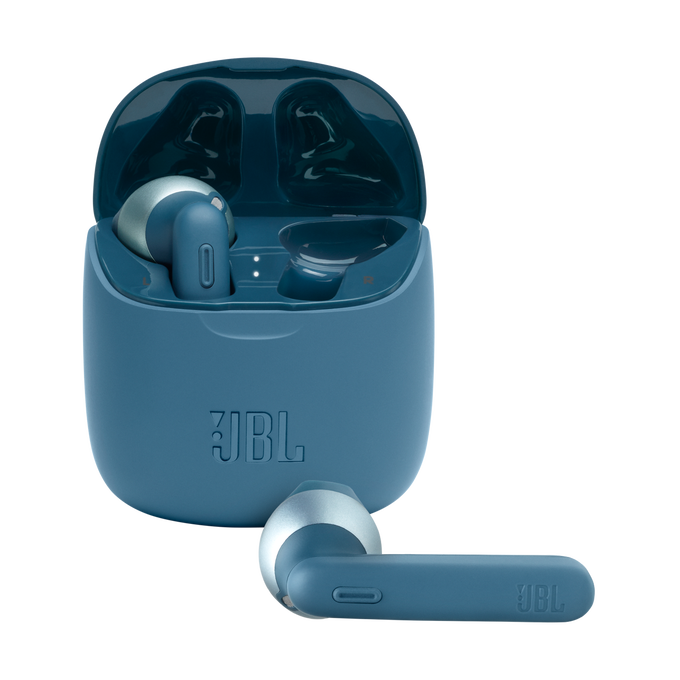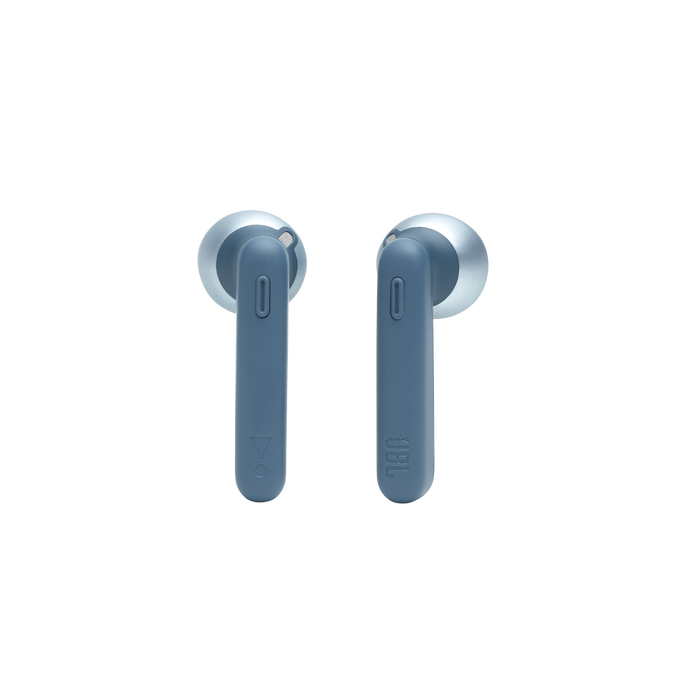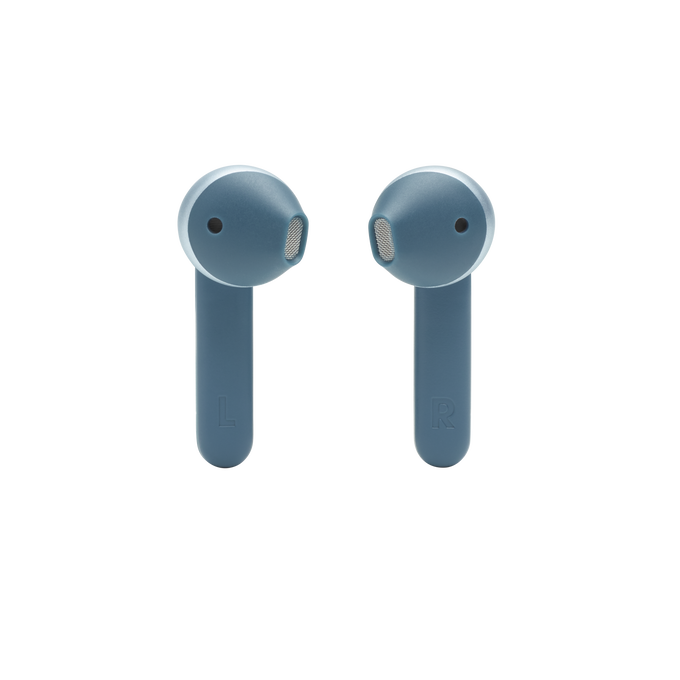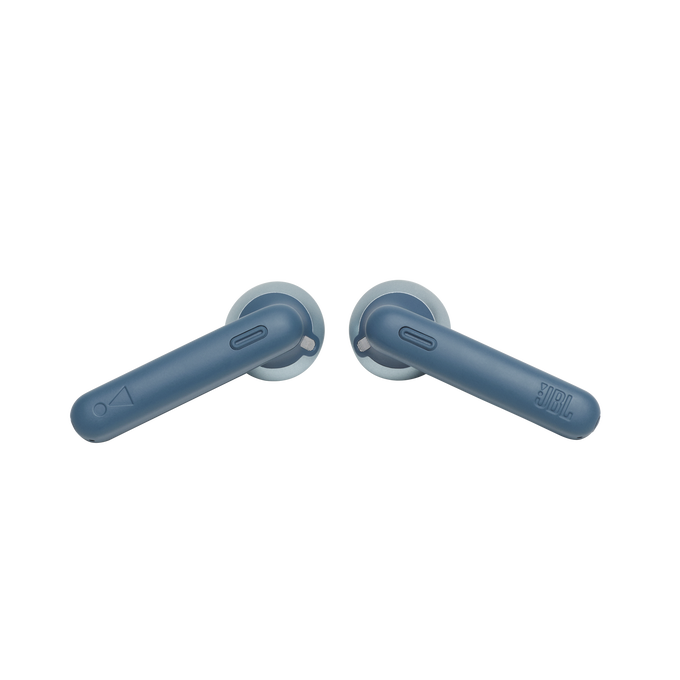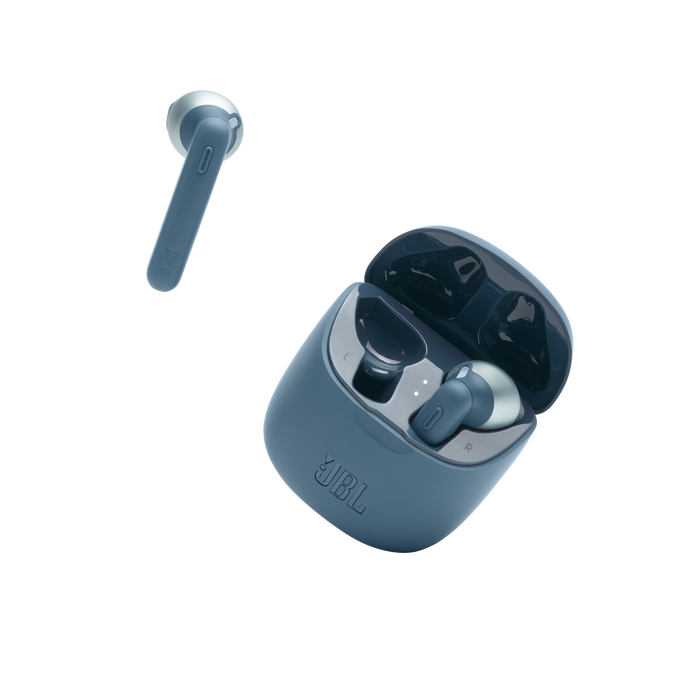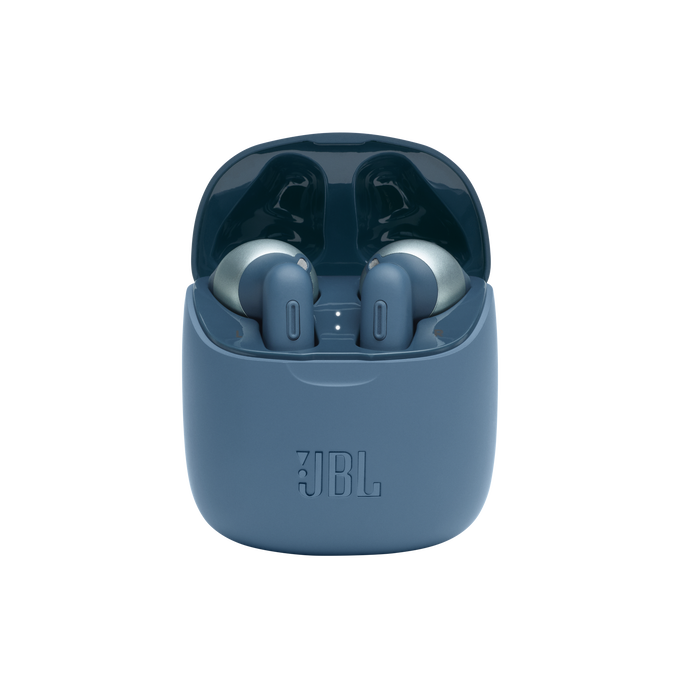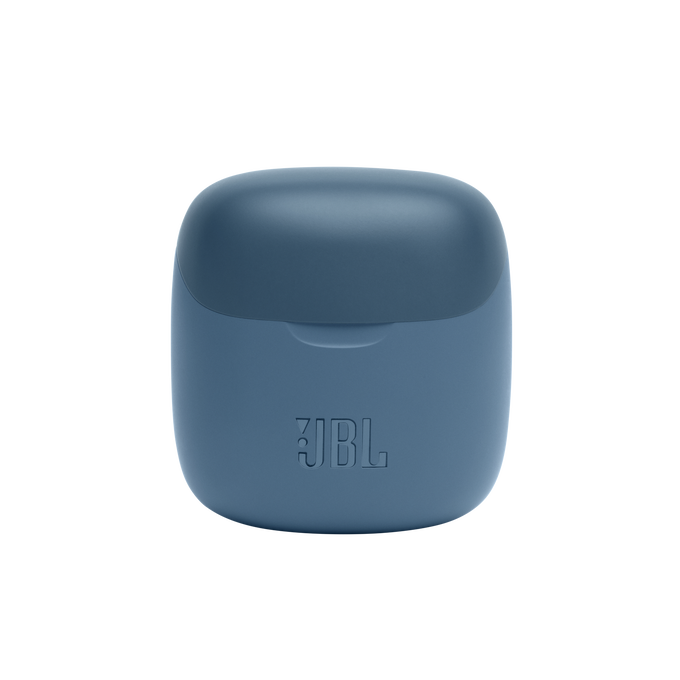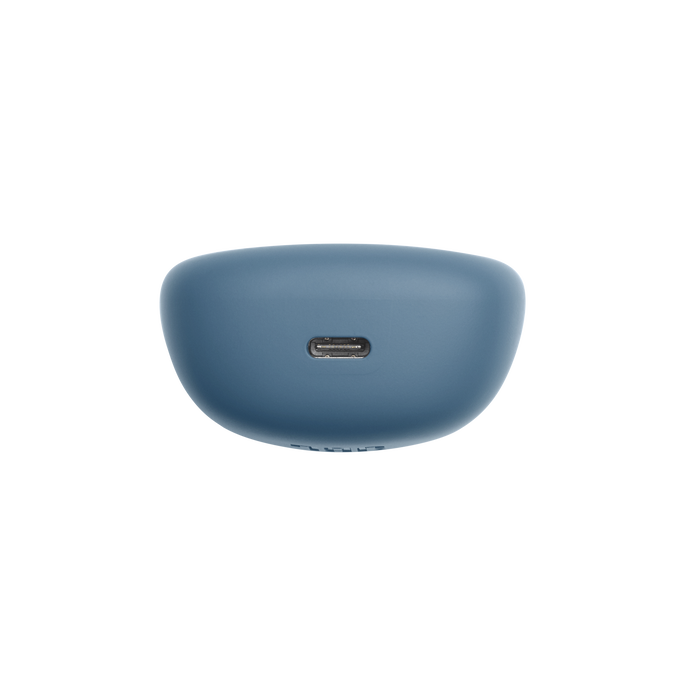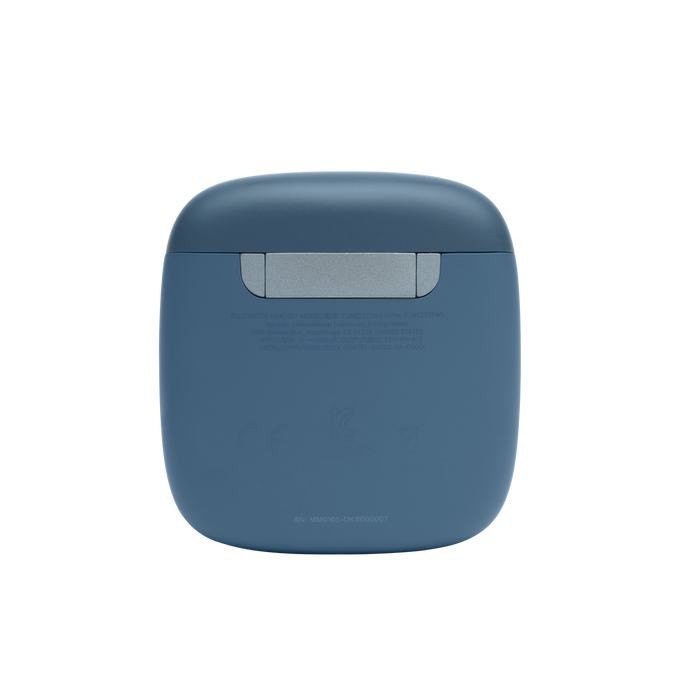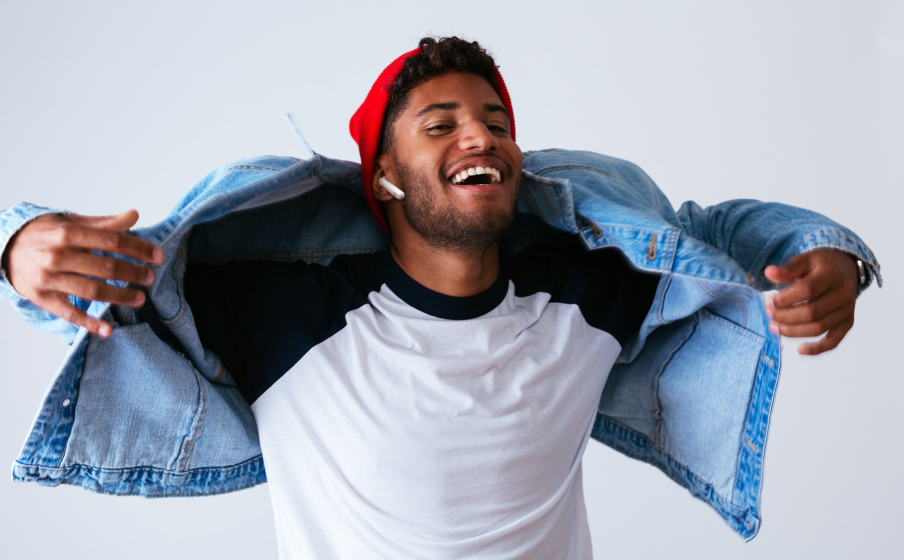 Mærk bassen
JBL har gennem årtier leveret lyden til festivaler og koncerter over hele verden. Nu vækker JBL din egen verden til live med den fantastiske Pure Bass-lyd.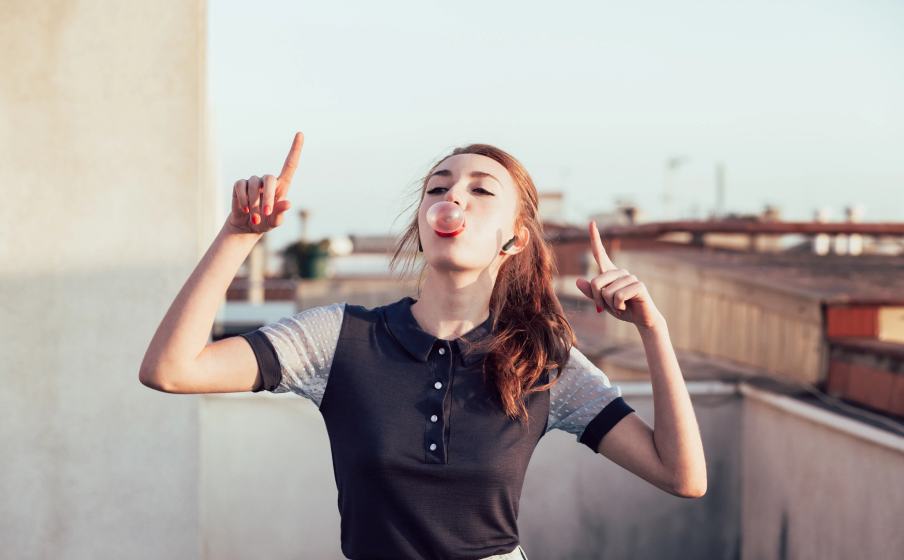 Bliv fri for ledninger
Ledninger filtrer sammen i din taske, sidder fast i din jakke eller dit hår – og er i det hele taget bare til besvær. Oplev frihed uden ledninger med de totalt trådløse JBL TUNE 225TWS øretelefoner.
Lyt længere
Med op til 25 batteritimer kan du lytte både dag og nat. Hold gang i din egen private koncert, lige så længe du orker.
Funktioner

I ét øre eller begge
Venstre øre, højre øre, begge ører? Med Dual Connect kan du nemt vælge at lytte til musik eller foretage opkald med enten ét eller begge ørestykker. Og batteriet løber aldrig tør, fordi kan du oplade det ene ørestykke, mens du bruger det andet.

Hurtig parring
Takket være Googles teknologi til hurtig parring bliver dine Tune 225TWS forbundet til din Android-enhed i samme sekund, du tager dem ud af etuiet. Du kan også parre flere enheder ved blot at trykke på enhedens skærm.

Find Din Stil
Hvad fungerer bedst for dig? Med 6 forskellige farver kan du finde det perfekte par ørestykker, der nøjagtigt matcher din stil.

Elegant og praktisk opladningsetui
Ingen detalje er overladt til tilfældighederne. Opladningsetuiet til JBL TUNE 225TWS er lige så gennemtænkt designet som de ørestykker, det rummer. Etuiets form er inspireret af natursten, og den bløde overflade med buet låg åbnes hurtigt, så du får nem adgang til dine ørestykker.
Produkt-sammenligning
TUNE225TWS-
REFLECT-MINI-NC
TUNE125TWS-
LIVE-PRO-2-TWS-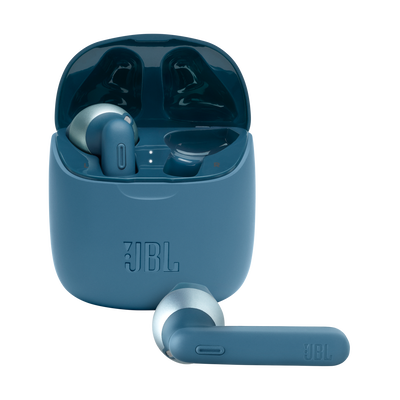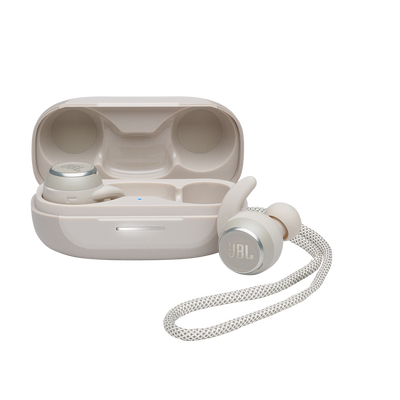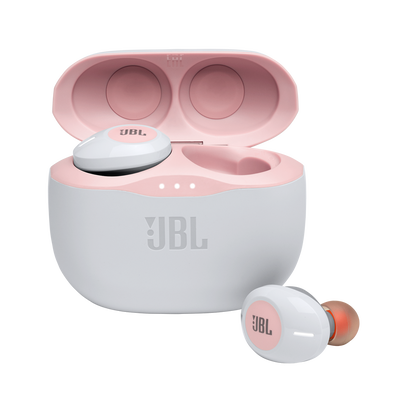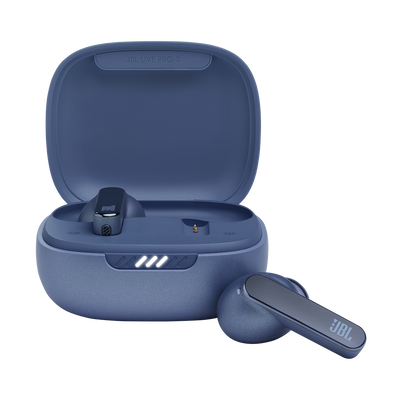 Funktioner
Indbygget Google Assistent
Indbygget Google Assistent
Indbygget Google Assistent
Indbygget Google Assistent
Baseret på Amazon Alexa Voice Service
Baseret på Amazon Alexa Voice Service
Baseret på Amazon Alexa Voice Service
Baseret på Amazon Alexa Voice Service
Lynopladning (5 min. = 1 t spilletid)
Lynopladning (5 min. = 1 t spilletid)
Lynopladning (5 min. = 1 t spilletid)
Lynopladning (5 min. = 1 t spilletid)
Detaljer & Downloads
Item# JBLT225TWSBLU
Beskrivelse
Hold forbindelsen. Uden kabler.

Bliv ét med din musik og din verden. Når du ikke holdes tilbage af ledninger, kan du for alvor nyde din yndlingsmusik med JBL Pure Bass. JBL TUNE 225TWS-ørestykkerne giver dig nem adgang til både musik og opkald. Luk æsken op, og begynd at lytte. JBL TUNE 225TWS-ørestykkerne parres øjeblikkeligt med din enhed, mens Dual Connect giver dig mulighed for at bruge enten ét af ørestykkerne eller begge. Forlæng den komfortable lytteoplevelse med op til 25 batteritimer. Find de JBL TUNE 225TWS-ørestykker, der matcher din stil, og vælg blandt de mange forskellige farver.
Specifikationer
Enheds-størrelser (mm)

12
Lydspecifikationer
Enheds-følsomhed ved 1kHz/1mW (dB)

105

Dynamisk frekvensområde (Hz)

20 Hz – 20 kHz

Impedans (ohm)

32

Antal dynamiske enheder pr. øre

1
Mål
Charging Case Weight (oz)

1.7

Earpiece Weight (oz)

0.4

Vægt (g)

49.7

Vægt (g)

9.8
Specifikationer, styring og tilslutning
Bluetooth-profiler

A2DP 1.3, AVRCP 1.5, HFP 1.7

Bluetooth-frekvens

2.402 GHz – 2.48 GHz

Bluetooth sender-modulation

GFSK, π/4DQPSK, 8DPSK

Bluetooth sender-effekt

0 - 12dbm

Bluetooth-version

5.0
Batteri
Ladetid (timer fra helt afladet)

2

Maksimal spilletid (timer)

5

Ladetid (timer fra helt afladet)

test
Egenskaber
Bluetooth

Ja

Charging cable

Ja

Stemmeassistent

Ja

Indbygget mikrofon

Ja

Smart opladningsetui

Ja

Håndfri opkald

Ja

JBL Pure Bass-lyd

Ja

Genopladeligt batteri

Ja

Fjernbetjening på ørekopper?

Ja

Ægte trådløse

Ja

Trådløse

Ja
Det er der i æsken?
JBL TUNE 225TWS
Type-C USB-opladningskabel
Opladningsetui
1 x garanti/advarsler (W / !)
1 x Lynguide/sikkerhedsark (S / i)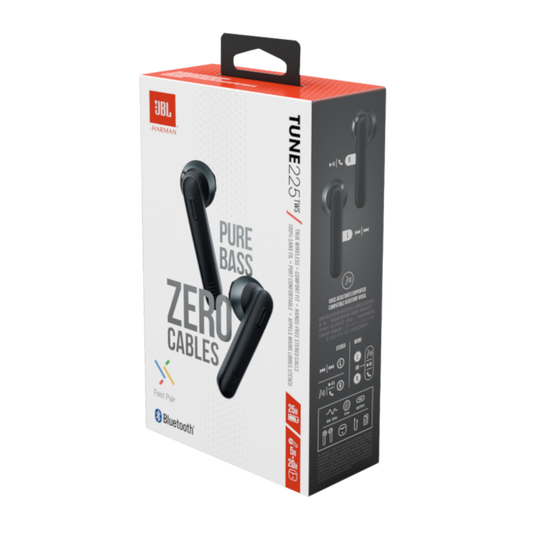 Dokumenter og downloads
Kunde-anmeldelser
Rated

4

out of

5
by
Williamtuugg
from
I love them
I bought these recently from Verizon and I really enjoy them however I don't know if there's a way to update them through a website or something to mess with the sound like beats by Dre did just a little disappointed these were supposed to be all about the bass but the soundest isn't as crisp as I would like to do be and it's not very noise-canceling but I really don't want to hate on them please send me a response if there's a way to update these or make the sound more personalized
Date published: 2020-08-15
Rated

1

out of

5
by
JBO303
from
Falls out, uncomfortable, low volume
The ear buds are very uncomfortable in your ear. After answering calls by pressing button on the ear buds (alternating left and right) for about a week the insides of my ears are very very sore. They constantly fall out of my ear. Every Bluetooth ear bud set I have ever purchased comes with a silicone of different sizes to help conform the earbud to your ear because SUPRISE!!!! no two people have the same shaped ear. Constantly have to push into ear to feel like they won't fall. The volume is insultingly low. For 100$ I want to have the option to permanently damage my hearing. JBL refused the return. I know I'm just one guy but I'll never buy JBL again. Look elsewhere for earbuds, I promise you will be disappointed with these ones.
Date published: 2020-12-29
Rated

4

out of

5
by
Pelon91
from
Decent all around.
I think these are great not perfect but very solid. Battery life is around 4-5 hours. I use these for work so I only have one in at a time (my favorite feature about these) so when the battery gets low I just pop it in the charging case and use the other. Sound quality is decent. I see some reviews complaing about lack of bass ( but these aren't subwoofers) I just messed with the equalizer on my phone and it helped alot. The only thing I can really complain about is that these dont come with anything to secure them in your ear. I'm constantly moving at work and I was afraid I might lose one so I used a piece from my old headphones as you can see in the pictures.
Date published: 2020-09-12
Rated

4

out of

5
by
PaulD7336
from
Great for the price
I don't usually do reviews but made an exception this time. For the price, the 225 was a good deal. Sound quality was acceptable. JBL does not advertise as waterproof. I can attest that they are. I left one in my pants pocket and it went through a full was cycle. Found it on the bottom of the washer after emptying it. I left it on the counter to dry over night and it still works perfectly. I also like the fact that I can use just one at a time. I only use for phone calls so can get 5-6 hours of talk time. BTW, more talk time then my friends Apple Air Pods. Only reason I didn't give 5 stars is that there is no volume control or app for that. Still highly recommend.
Date published: 2021-02-09
Rated

1

out of

5
by
LungKuen
from
Great sound but...
...horrible in-ear design and case design. Whoever designed it must have really small ear canals. Always falling out and there's nothing to improve that. Also, it fits really snug in the case but you can pull it out easily to use. Keeps slipping through he fingers back into the magnetic holder. Ironically, if you have it enclosed in the case and drop it from desk height, it will easily open and scatter the earbuds all over which is easier than trying to pull them out with your fingers. Horrible horrible design. I would give it 0 stars if possible and the 1 star would be because the sound quality is somewhat good.
Date published: 2022-02-07
Rated

1

out of

5
by
Avid Bluetooth user
from
Bricked from day 1
I bought a pair of Tune 225TWS headphones recently and was able to pair it up with my Apple products fairly easily. This has been the only reason I have kept the headphones, as anytime I use this with a non-Apple product it requires me to enter a PIN number that can only be obtained from the JBL app. Since the headphones are not featured on the app, and no PIN number works to allow it to connect with other products, I have no way of connecting these headphones to all but 1 of my devices. I was hoping this would be a good replacement brand for my Skulltooth wireless headphones, but I'm disappointed with how my device has been bricked in order to promote a company app.
Date published: 2021-11-22
Rated

4

out of

5
by
AndreeaU
from
Good sound quality!
Fast delivery, nice packaging. Good quality product. Lightweight, easy to charge, good battery life. I want to loose weight. What is this have to do with the review? Well.. exercising is part of my process. I like to run and listening to music. At first using the headphones was easy but I had trouble keeping them in my ears. I ve tried both ear thingies but they are too big for my ears. Especially right one keeps falling off. Tried all positions to make it stay..I have small ears. Then after wearing them for more than an hour my ears start to hurt. Maybe I'm still not used to them. Overall they are good earphones but not good enough for me.
Date published: 2020-12-31
Rated

4

out of

5
by
Reded
from
Nearly there, a hit except for weak bass
Pros: Very light, barely knew I was wearing them Didn't fall out (even of my big ears) Charging case is perfect and gives plenty of recharge time (lasted me a few of days before needing a power adapter) They lasted nearly 5 hours before needing to be put in the charging case Calls and the microphone worked OK From about 120Hz up they sound really nice, lots of detail, sweet sounding even Cons: If bass is your thing forget it. The Specs say 20Hz-20Khz but thats not true, the roll off below 120Hz is pretty steep. I don't even like big bass but these just havent got any. I suspect its because these are buds and have to conserve battery life.
Date published: 2021-09-02
Rated

3

out of

5
by
Ces sil
from
Does not fit well in the ears
I just purchased the 225 tws, wireless head phones with our new s20+ultras cell phones. We tried the headphones and after 30 minutes or so our ears started hurting due to the bad fitting of the ear buds that cause pain in ears. And, yes we read the instructions regarding application to the ear at an angle not straight down. But, this JBL product still hurts. I am currently looking for silicon covers to see if it will help, but currently the market does not make a universal ear wing or cover that I can find. The product is clear in sound, and phone calls. But, we don't use these products as much due to the uncomfortable design that causes pain in the ears.
Date published: 2020-10-08
Rated

1

out of

5
by
Doom1983
from
Horrible!
I bought the clear orange pair , and I was very excited. Unfortunately my headphones stopped charging correctly with in a month or two. I sent in my earbuds on the warranty , I have to say they did send me a new pair but just a few months in same failure to charge . I sent them in again and they sent me another pair . This pair did the exact same thing 3 months in . Worst product you could buy . Save your money for with a more reputable company like apple ,beats ,Google, or Sony . I did also buy the nc minis and I also had to send those in for repair and those are ok but still would not recommend them. Good sound but horrible quality in the tune 225w
Date published: 2022-08-24
Rated

2

out of

5
by
Phil277
from
Battery Life and Sync
I am an avid JBL person, I own 5 different set of JBL in ear and over the ear headphones. This is the first pair I have really disliked or had issue with. These are 3 days old, yet the battery life is not more than 3-4 hours of continuous use. They are no good for any type of video as they do not sync well enough that they have about a 1-2 second delay from the device. I have tried my iPhone, my iPad and a Macbok Pro, all newer models yet all have the same lag/delay and makes it kind of hard to concentrate on any video. Sound is good as usual, but I would not recommend if you will need them for any period of time or if you plan on watching any video.
Date published: 2021-11-29
Rated

3

out of

5
by
Juergen
from
True wireless in-ears with good sound
When unpacking, you immediately notice that the headphones are nice and compact. At first I charged, it was quick, but unfortunately there is no charging indicator and you cannot see whether the headphones are fully charged. However, the charging cradle is nice and compact and fits well in your pocket. Unfortunately, the headphones do not fit into my ear canal and they do not sit optimally. When inserting it, you can easily reach the control buttons without paying attention. However, the sound is very pleasant - with subtle bass. In terms of battery life, however, the headphones run out very early, I only managed about 4 hours.
Date published: 2021-04-26
Rated

3

out of

5
by
Mickmur13
from
The right one stopped working after a month
So I read a ton of reviews before buying these, i should have listened to the negative ones. The right one stopped connecting *randomly* after a month. Like an hour into my workout it just stopped working. And it would take hours of messing with it to make it work for maybe 20 more minutes. The reviews of the uncomfy ear piece are also right- you want the little plastic pieces at the end trust me. You can also hear outside noises even at max volume. Oh, max volume wasn't enough either. The bass was okay but truly nothing special. They truly deserve 2.5 stars. either spend the money or at least get a pair with rubber ear pieces.
Date published: 2021-08-03
Rated

4

out of

5
by
Laceybug
from
They stay in place while running! Winning
They stay put while running which was probably the most important thing for me since that is when I use headphones the most. I did notice after wearing them for 3 hours on a plane ride my ears did get a little sore but that was not the same case for my husband when I had him test them out on the return flight. I wish there was a tip for smaller ears. Talking on the phone is easy and clear the commands are easy to use. We had a little harder time hooking them up with my husbands Bluetooth than with my phone but it ended up connecting after some trial and error. The sound quality is great and gets plenty loud. The charging box is perfect. It is compact and has magnetic placement and closure. The battery life is great and lasts a long time.
Date published: 2021-09-05
Rated

1

out of

5
by
Bswig70
from
They fall out of my ears every time I turn my head
I was just looking at the headphones I'd recently purchased to see id there were different sizes, I am very unimpressed. The sound is not very good and then headphones refuse to stay in my ears. They're ok driving but any time I use them at work or working out they fall out every time I turn my head. I don't usually trash products but it's extremely frustrating trying to lift weights and have to chase headphones that are falling out. One pro is the first day I had them the right bud fell out of my ear into a bucket of paint and I managed to clean the ear bud and it never quit working.
Date published: 2021-11-10
Rated

3

out of

5
by
ebick929ley
from
Usable, nothing outstanding.
These buds are nice looking and compact however they take some time to get used to and not very comfortable. I feel like they are always going to fall out. Also, these are not very loud. When talking on the phone to people, I have to constantly ask them to repeat themselves. There is not as much bass as I would have expected. I have other JBL headphones and these don't hold a torch to them. I do like how you can use either bud by itself or combined. They also seem to hold a good charge. I would hope the next series would allow you to adjust the volume on the buds themselves, different ear size options and way more bass.
Date published: 2020-09-07
Rated

2

out of

5
by
Tunes30
from
Love them...except
I have owned these for less than 6 months and was very happy with the fit and comfort. Sound quality was what I expected from JBL and phone call quality was great. I had other earbuds that went into the ear canal and I felt like I was tuned out to the world. After a few months they started to get more uncomfortable and I realized the rubber piece on the end was coming off and was irritating my ear. It has continued to get worse.
Date published: 2022-05-26
Rated

3

out of

5
by
otersos
from
Love em but
I've had these for about half a year now and I do believe they're perfect for me. Well, except for the fact that the ear piece is increasingly yellowing, becoming stiff, and peeling itself off the earbud. I wish there was some sort of interchangeable silicone piece for when it eventually becomes too crispy and uncomfortable. Though the yellowing and crispifacation is 99% my ear wax but a product for my ears should be well equipped to handle being inside an ear. Apart from that, I am a big fan of the fit and sound they produce. I find the battery life perfect for my amount of use which consists of grocery shopping, light exercise, and occasional chilling before bed.
Date published: 2022-04-19
Rated

5

out of

5
by
Neoen
from
Excellent sound
I just got these but I like them a lot. I own a pair of Everest Elite 150NC and those have a more reverberating bass, but these have very good bass and they are more comfortable to wear and easier to use. What I like about these is the shape: they fit my ears well and require no pressure as the ones with silicone ear tips do. I love to hate Apple products but I must admit, the iPods shape (which these earbuds mimic) is the best for me. The case is a little difficult to open and it's a bit difficult to get them out, but it works.
Date published: 2020-11-26
Rated

3

out of

5
by
Bunbun88
from
Good fit, good sound but some issues
Had these a couple of weeks and I like them but they could be improved. Design is great. They stay in my ears even when I clean and move around. This was my main concern when buying buds. I'm clumsy and loose things easily. So far so good on that front! The case is lovely and charges quick. Like the simple lights and design of it all. Sound is good but no noise cancelling which is a shame. I found the Bluetooth a bit hit and miss. Sometimes a decent range and sometimes disconnecting or poor audio when very near. Walking outside on a call the wind completely took over. I couldn't be heard or hear the caller. I had issues first pairing the buds together it took several attempts and I had issues pairing with laptops again had to youtubd and repeat several times. I found the instructions lacking to say the least. I dont expect to have to watch videos to set things up from the box. Battery wise I think alright lasted around 3-4 hrs on zoom calls. First buds I've had so nothing to compare.
Date published: 2020-11-16
Rated

1

out of

5
by
a0nzzzz
from
Buy Beats
38 days and 2 charges of the charging box. The 3rd time hooking the charging box up. It won't charge. I tried all their stupid tips about cleaning. I read some reviews on Amazon but bought them anyways. After writing this I'm ordering some Beats. Always had luck with JBL. But they need to go back to the drawing board with these from everything I'm reading. Of course customer service never gets back to me or answers either. If you read this and still buy these hope u have better luck than I.
Date published: 2021-07-20
Rated

5

out of

5
by
golfcat87
from
Awesome All-Around Earbuds!
These earbuds do a lot with a little. The charging case is compact enough to fit in your pocket without standing out (very comparable to an iPods case). Sound is very impressive for such a small, and affordable set. I use these between the office, gym, golf course, and even wore them listening to podcasts to fall asleep and they managed to stand up to each task without question. My biggest issue with earbuds like these has always been how they fit in my ears, but the curvature at the top allows for them to rest easily without having to force them in (like some silicone-tipped earbuds) or have some large contraption to keep them from falling out (i.e. Powerbeats). Overall, and specifically for the price point, these are truly good quality, all-around earbuds that can perform a number of functions and have a solid battery life to keep the user happy all day.
Date published: 2021-09-02
Rated

5

out of

5
by
Igorsson17
from
Amazing bass and connection quality!
I'm using this JBL Tune 225 TWS headphones in continuous for about few weeks now and using them regularly for different purposes. During the day for working in the home office and in the evening while jogging. The design is kept in the rough matt black! A matter of taste, of course, but it still looks very high quality and doesn't leave any fingerprints. The small charging etui opens easily and has a 3-point LED display inside. Only the inside of the shell is painted. But don't bother me. Exactly right and enhances the overall picture again. The Tune 225 TWS In-Ear headphones are magnetically sucked in when they are pushed into the charging case. I like that feeling! The plus point is the USB Type-C input in the charging case and the short supplied USB Type-C charging cable in orange. The usability is simple, but takes some getting used to, since I've been using over-ear headphones for a long time, I often don't hit the button. It works much better now. The headphones are great in the home office area! Very good at suppressing the minimal noises at home. I can fully concentrate me on my work. The JBL "225ers" have managed video conferences without a single failure so far! The connection to the Mac is stable via Bluetooth! Amazing! When jogging, I also connect the JBLs to my Android smartphone via Bluetooth. I haven't had any dropouts so far! Everything is stable here too! Sound quality surprised me. Really cool for the price range! In my opinion, highs and lows are reproduced well, with minimal loss of quality. If, for example, guitars or piano are playing in the background, you will notice it. But only if you compare it with Noice Cancelling over-ear headphones that are 5 times more expensive. So, "who cares"!? Instead, the bass is juicy. It's sad that the NC is not in the foreground of the headphones. Would be really outstanding then! But it also has its advantages when jogging in the big city! You can hear the cars driving behind you in the background and the bus approaching the intersection from the street side. Definitely a plus! Very comfortable to wear in combination with a protective mask in the daily using! The battery life is, as promised, great aswell! Finally, two things that I'm missing a bit .My left ear appears to be a little smaller than my right one. The JBL Tune 225 TWS In-Ear headphones do not have replaceable plugs. I had to readjust the headphones a few times while jogging. After about 100km of jogging, I can still say that the JBLs are also very suitable for jogging. Despite the additional fixation by a Beenie. The second thing I would have liked is an app. Original JBL app for headphones does not support this model. Or I just didn't find it. Anyway, better for my smartphone batterie! So far, I am really satisfied all round and would recommend it to anyone for whom the quality, both technically and visually, is important. For the price you can't go wrong 100%! Top! And I am aware that the minus points mentioned relate more to use the "225ers" when jogging and that the headphones are more intended for street wear and style and not for sport. Therefore again, a clear recommendation! Cheers!
Date published: 2021-05-05
Rated

2

out of

5
by
Zorozo
from
Good Headphones, Bad Personalized Case
The headphones are great, I have no problems with them. The only bad part of this product with the customized image on the charging case. I had the case for two days and the paint already started chipping away; the only thing I had in my pocket with the headphone case was a stick of chapstick. So, I'm not sure what made the paint start to chip off. I've had them for about a week and even more paint has started chipping off on different spots of the custom image. I love JLB, so it kills me writing anything negative about them. So I'll end on a good note- If you get this product, without a custom image, I highly suggest them. They're not noise cancelling, but they're still fantastic sound. Deep bass and pleasant mids and highs.
Date published: 2021-12-15
Rated

1

out of

5
by
Anonymous
from
Terrible, do not buy
I bought these after finding my AirPods in the washing machine. This product is terrible and should be discontinued. They constantly lose connection. Unless you are sitting at a desk with your phone on the table you will have a terrible time. I use them when I take my dogs on a walk and even though my phone is in my pocket I still lose connection. Batteries never last and it takes forever for the device to pair to your phone. Just know it took me 5min to connect the ear buds to my phone. Absolute joke of a product and you should not buy them. Go get the first generation AirPods for like $130, it's worth it.
Date published: 2022-03-31
Rated

4

out of

5
by
SamL0203
from
Better Quality Than I Expected
They're a great product. Less expensive than apple's air pods. They make satisfying confirmation noises when turned on, then another when they're connected. They have incredible battery life. Got them in the mail a week ago and I've used them every day since, still haven't needed to charge the case. The ONLY issue I have with this product is when I lay on my back using them, they slowly fall from my ears. I don't know if that's fixable via the weight or the shape, but if somehow the company was able to redesign the product to stay in the ears when lying back it would be the PERFECT mobile pair of earbuds.
Date published: 2021-04-19
Rated

3

out of

5
by
bob155
from
Went for JBLs (I wanted more) - expected too much
I bought these months ago to be using them for phone calls, office online conferences and occasional music. I often use just one bud and with these JBLs it can only be the right one, since it's kind of "the master bud". The left one cannot connect to a device and play audio while the right one would be charging. They only connect to one device at a time, so you have to disconnect them from the phone before you can use them for computer audio. I found that pulling them out of the case can be sometimes fiddly (and I have small fingers). No volume control, no separate pairing button or command. They seem to me somewhat overpriced, but I have no reference since they are my first BT buds.
Date published: 2021-03-26
Rated

4

out of

5
by
Cwaki
from
Solid open air ear buds
Build is solid, a nice finish to them. Feels solidly constructed. The case has a nice heft to it. I've dropped them a few times and no issues. The design is solid, I personally prefer physical buttons and that's what they use, for me this is useful when I'm hearing a ski helmet or my hands are really sweaty. The stems are a bit bulkier than I'd like but that's about it. Fit is decent, stays in ur ear, I got a little ear soreness after a few hours for the first few days but after that it wasn't noticeable. Sound quality is solid too, reasonably balanced sound, good bit of bass boost likely to compensate for having an open air design. The open air design means solid sound stage too.
Date published: 2021-09-11
Rated

1

out of

5
by
Rugger
from
Earpiece
I'm worried that my right earpiece is beginning to come apart and causing an irritation to my ear
Date published: 2022-01-13
Rated

4

out of

5
by
Bdavkoolkid
from
Good earbuds
Just bought these and so far the sound and call quality are great. Kind of sad I can control the volume on them but that's not a big issue- my issue is the volume doesn't go down much. When the volume is all the way down on my phone these still play at nearly 1/3 volume instead of 0 volume. So there's a minimum that isn't 0 on sound loudness, which is a problem because when there's no outside noise it's almost too loud.
Date published: 2021-05-30
bvseo_sdk, dw_cartridge, 18.2.0, p_sdk_3.2.0
CLOUD, getReviews, 17ms
reviews, product
Spørgsmål og svar
Is there any way to improve the battery discharge when not in use? These don't last but 4-7 days when just sitting after being fully charged and placed in a fully charged case! Something is draining the battery and I want that something to be turned off!
The battery shouldn't be discharging that fast while it's in the case. The earbuds won't consume enough power while idle and in the charging case for it to be discharged after a week. We recommend checking the buds to make sure they are seated on the case properly, if it isn't, then they could remain powered on when they are placed on the case. We also suggest cleaning the contact points on both the case and the buds.
Date published: 2022-10-05
how can i connect the couple earbuds ? it can't how does connection combinations ? i tried the likes of tws220 but it coudn't pair the other sides. they model looks new combinations of connections for example in the charge stations connection combinations
Hi, thanks for reaching out. We want you to get the most out of your JBL Tune 225TWS. Please contact our customer service team so that we can assist in providing you with a resolution. Kindly click on the link: http://bit.ly/2WocMfi
Date published: 2021-06-06
When will the blue model be available for purchase?
We would like to get more information to help you out, please contact us so we can assist you:https://bit.ly/2zwFkYM
Date published: 2021-06-06
I'm having issues with the volume. The lowest setting is very loud. I got the volume at 50% and it was extremely loud. Is there any way to adjust this? I've used these on my Pixel 5 and Chromebook, same issue.
This isn't the experience we wanted our customers to have with our products. We'd like to work with you directly to try some steps with your JBL Tune 225TWS. For further assistance with your product, you may contact our Customer Support here: https://bit.ly/36GRyPQ
Date published: 2021-06-06
I'm having trouble listening to the same thing on both earbuds. I can't seem to pair them both together. Help!
We'd like to get more information to help you out with your JBL Tune 225 TWS, please contact our JBL Customer Support team for assistance: https://support.jbl.com/us/en/.
Date published: 2021-06-06
Can these charge on a wireless charger?
Our JBL Tune 225TWS doesn't have the batteries that are required for wireless charging. The earbuds can only be charged using the case.
Date published: 2021-06-06
My JBL Tune 225tws quit working after playing great for about an hour. 1st the right bud quit, then the left a couple of hours later. Will not turn on or charge. The case is fully charged. I just received these as a present.
We're sorry to hear that you are having charging issues with your JBL Tune 225TWS. This is almost always caused by dirt on the metal charging contacts. These contacts are vulnerable because they can easily be contaminated by sweat, skin grease, or ear wax. Please try to clean all contact points, on each earbud and on the charging case using cotton, cloth, or makeup swab, cotton swabs, and rubbing alcohol. Repeat until the contact points are visibly clean, and charging should work as designed. This procedure can be performed on all TWS earphones and cases. If the issue persists, please reach out to our Customer Support here: https://support.jbl.com/us/en/
Date published: 2021-10-27
I have an inexpensive MP3 player, will these connect to it?
Our JBL Tune 225TWS will only connect through Bluetooth.
Date published: 2021-06-06
I am experiencing a chirping sound in both sides while on Zoom calls. There is no chirping when listening to a video on youtube. What is the cause and resolution of this?
Go into the communication app's audio settings. You will likely find the resolution there. You may have to set your headphones as the 'communication device' within the app you are using.
Date published: 2021-07-07
What is the dafault Pin? Trying to connect to my PC via Bluetooth. It finds the device however, asks for a pin to connect
There's no pin code required for the JBL TUNE 225TWS when pairing it with any Bluetooth-enabled device. Try entering "0000," "1111", or "1234" when your device asks for a PIN. These are some of the most common default Bluetooth PINs.
Date published: 2022-08-09
Can you please differentiate between these earphones from JBL Tune 220 TWS?
We would like to get more information to help you out, please contact us so we can assist you:https://bit.ly/2zwFkYM
Date published: 2021-06-06
I tried connecting my earbuds to my laptop but it said I needed a pin for it to connect. The box it came in did not have a pin code on the instructions or anything!
There's no pin code required for our JBL Tune 225TWS when pairing it with any Bluetooth-enabled audio source device. It would normally be the source that is requesting the pin. Try entering "0000," "1111" or "1234" when your device asks for a PIN.
Date published: 2022-08-03
I lost my left earbud, can I purchase a replacement one?
Our JBL Tune 225TWS earbuds are sold in pairs. A single purchase of earbud is not available, and earbuds that are missing or lost are not covered under warranty.
Date published: 2022-04-25
which phones can be used?
Thank you for your question. These headphones are made to be compatible with all mobile devices, such as smartphones and tablets. We can however not promise any compatability with other devices such as smart watches, computers and TVs. In some rare cases obscure and less known brands may be incompatible as well. Should you wish to receive further support, you may contact the Harman Customer Support team by telephone, email or chat in order to receive direct assistance. Please see harmanaudio.com/support-contact.html for further details. Thank you.
Date published: 2021-06-06
The left earbud doesnt work, there is no light when I take iut of the case
The terminals could be blocked with dirt. Please follow the steps outlined in our 'Cleaning Instructions for Re-establishing Charging' guide found in this link. https://bit.ly/2SDBHNO
Date published: 2021-09-15
Hey! I want to pair it with Windows and it asks for a pin, where should I find the pin?
Please make sure that your Windows Computer has the latest Bluetooth software drivers installed. The default PINs are 0000, 1234, and 1111.
Date published: 2021-11-29
JBL Tune225 -- they worked great with MacBook Air for about 2 weeks. Now they will NOT CONNECT with Bluetooth with MacBook, but will connect with iPad. HELP!
We would like to get more information to help you out, please contact us so we can assist you:https://bit.ly/2zwFkYM
Date published: 2021-06-06
What are the dimensions of the pod case?
We would like to get more information to help you out, please contact us so we can assist you:https://bit.ly/2zwFkYM
Date published: 2021-06-06
Why is the left earbud putting out significantly less sound than the right one when both are fully charged?
We'd like to know more information about what issues you're having with our JBL Tune 225TWS. Please reach out to our Customer Support so we can isolate the issue with your unit here: https://support.jbl.com/us/en/
Date published: 2021-06-06
are these waterproof?
Our JBL Tune 225TWS doesn't have an IPX rating so they're not waterproof.
Date published: 2021-06-06
how to turn on left earpiece
To manually turn on the left earpiece, just press and hold down the oblong button for 2 seconds.
Date published: 2021-06-06
What codec does it support, Ldac, Aptx ? It would be nice to see the list, Thanks
Our JBL Tune 225TWS is designed for listening music and it doesn't support APTX, APTX HD and LDAC.
Date published: 2021-10-15
Left earbud will not charge. Does not light up in case. Right bud show white light when in case and charges. Cannot figure out how to reset, or what else to try.
We're sorry to hear about what happened. Please try to reset the earphones if this can help fix the problem: Place both ear pods in the charging box, while the charging box is plugged into a power source. Press and hold the button on the Right pod for about 5 seconds. The LED on the pod will turn off and then turn back on again. This restores factory defaults. (Please note that charging must take place for the reset to work.) If the problem persists, please contact our customer support for assistance in checking your options: https://support.jbl.com/us/en/#call
Date published: 2022-01-11
Can I pair to multiple devices? I'd like to pair to both my phone and computer (both apple) but I have to remove the device for one before it can be found on the other. Thanks!
Our JBL Tune 225TWS can only connect to one device at a time.
Date published: 2022-01-14
Can i pair these to two phones at the same time?
You can pair multiple phones with it. However, only one can be connected at a time.
Date published: 2021-06-06
My left earbud is not turning on or charging. I have tried cleaning the connection points and doing a factory reset but nothing seems to work. Any other ideas. I've had these less than 6 months.
Thank you for bringing this to our attention. We'd like to work with you directly to get more details and perform troubleshooting to resolve the audio issue you're having with our JBL Tune 225TWS. Please contact customer service at. https://bit.ly/2WocMfi
Date published: 2021-08-31
Why can't I connect to the bluetooth on my laptop? It ask for a pin but there is no pin.
Thanks for reaching out. Our JBL Tune 225TWS doesn't require a PIN code when connecting to a Bluetooth source device. If the following default PIN codes don't work, 0000, 1111, or 1234, you may reach out to the manufacturer of your source device for further assistance.
Date published: 2022-08-16
They hurt my ears after just a few minutes. Are there soft tips that are available?
Hi there. thank you for bringing this to our attention. Unfortunately, there are no available soft ear tips for the JBL Tune 225TWS. You may try searching in 3rd party sellers such as eBay or Amazon for soft ear tips.
Date published: 2021-10-05
I have trouble connecting my left earbud, it's turned on but when I want to connect it to my phone only the right one works.
We would like to get more information to help you out, please contact us so we can assist you:https://bit.ly/2zwFkYM
Date published: 2021-07-02
Is there a place where I can get a charging case replacement? My case is not functioning properly anymore.
Hi there, for replacement part orders, you may contact our hotline at (877) 871 - 6755. Mon - Fri: 9:00 a.m. - 11:00 p.m. (EST) Sat - Sun: 9:00 a.m. - 5:00 p.m. (EST)
Date published: 2021-06-06
bvseo_sdk, dw_cartridge, 18.2.0, p_sdk_3.2.0
CLOUD, getContent, 153ms
questions, product