JBL Pure Bass-lyd
De smart designede 10 mm enheder, der forstærkes af prik-designet, leverer JBL's Pure Bass-lyd, så du kan mærke hvert eneste pulserende beat.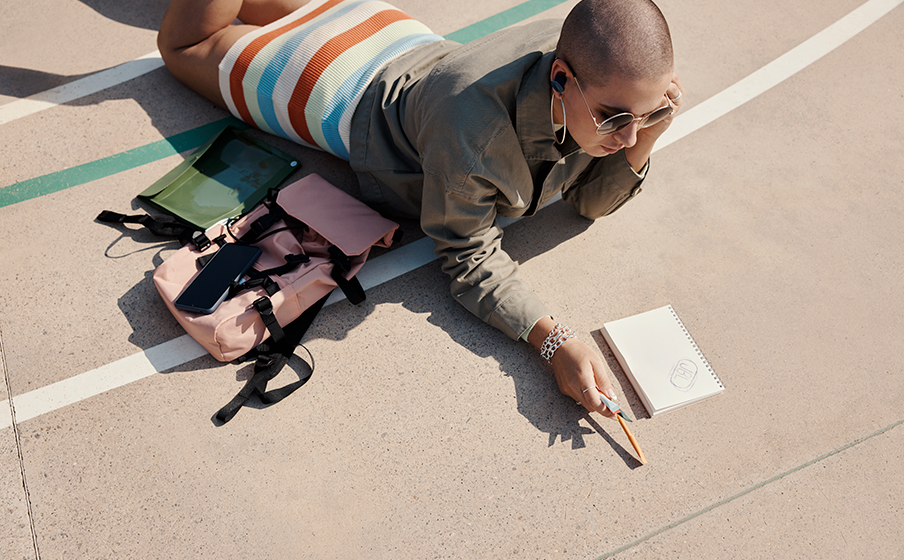 Aktiv støjreduktion med Smart Ambient
Hør mere af det, du vil, og mindre af det, du ikke vil. Aktiv støjreduktionsteknologi med 2 mikrofoner giver dig mulighed for at minimere forstyrrende lyde. Med Ambient Aware kan du stille ind på dine omgivelser når som helst, så du føler dig mere sikker ude i verden. Med TalkThru kan du give plads til en hurtig snak, uden at du behøver tage hovedtelefonerne af.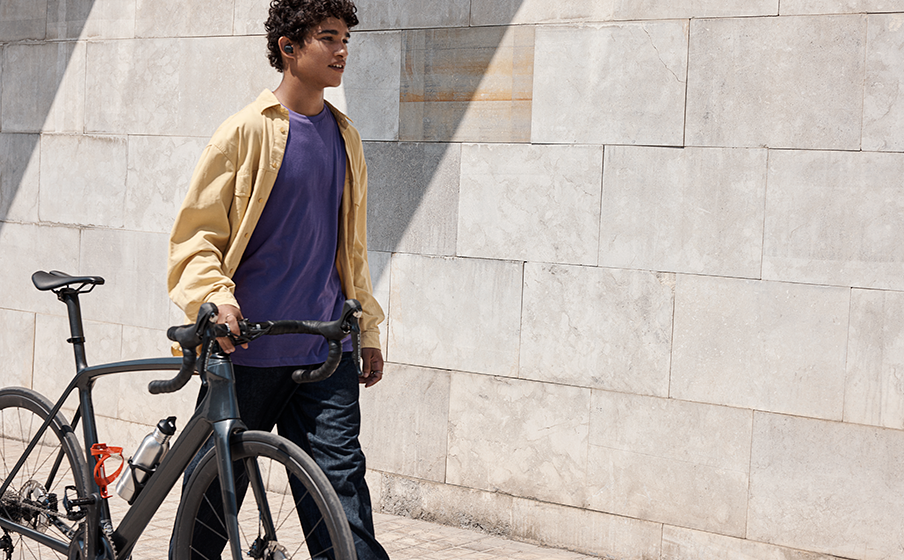 4 mikrofoner til perfekte samtaler
Nyd problemfri, håndfri samtaler i stereo. Tune 130NC TWS er udstyret med 4 mikrofoner, så din stemme altid går klart igennem. Du behøver aldrig mere tøve med at besvare eller foretage et opkald. Med VoiceAware kan du regulere omfanget af det mikrofoninput, der sendes tilbage til ørepropperne, og vælge hvor meget du vil høre af din egen stemme.
Funktioner
Op til 40 timers batteritid
Gå aldrig glip af noget med 40 (10+30) timers batteritid eller 8 timer plus 24 timer, når støjreduktion er tændt. Brug for mere strøm? Bare ti minutters lynopladning giver en hel times ekstra spilletid.

Vandtætte og svedtætte
Lad dig ikke afskrække af dårligt vejr. Med IPX4 vand- og svedafvisning er der ingen træning eller regnskyl, som Tune 130NC TWS ikke kan klare.

Pasform og komfort hele dagen
Dot-designet forsegler tæt og sikkert i øregangen. Det giver dybere bas, bedre isolering mod omgivende støj og fuld komfort, så du kan lytte hele dagen i ro og fred. Det eneste, du føler, er musikken.

JBL Headphones-app
Med JBL Headphones-appen kan du nyde din musik på din helt egen måde. Du kan tilpasse din lytteoplevelse, finde din bedste pasform, finde dine øretelefoner og endda skabe en lydløs boble, der giver ultimativ ro.
Produkt-sammenligning
TUNE130NCTWS-
TUNE230NCTWS-
LIVE-PRO-2-TWS-
LIVE-PRO-PLUS-TWS-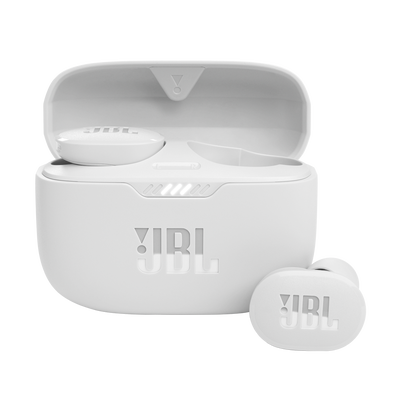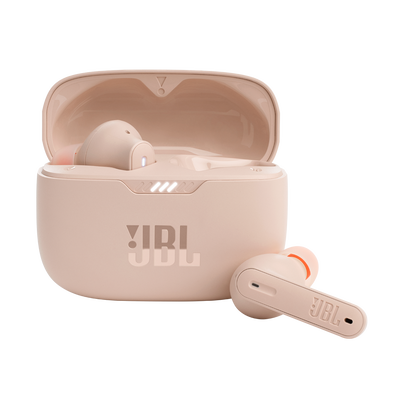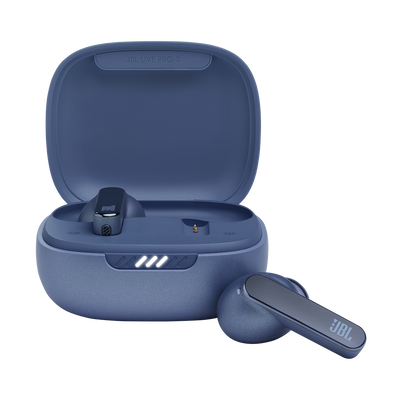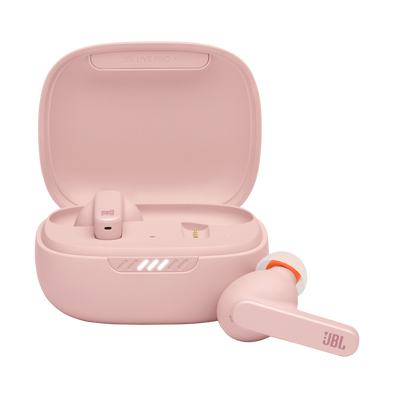 Batteri
Maksimal spilletid uden aktiv støjreduktion (timer)
10
Maksimal spilletid uden aktiv støjreduktion (timer)
10
Maksimal spilletid uden aktiv støjreduktion (timer)
10
Maksimal spilletid uden aktiv støjreduktion (timer)
7
Funktioner
Lynopladning (5 min. = 1 t spilletid)
Lynopladning (5 min. = 1 t spilletid)
Lynopladning (5 min. = 1 t spilletid)
Lynopladning (5 min. = 1 t spilletid)
Detaljer & Downloads
Item# JBLT130NCTWSWHT
Beskrivelse
Ren bas. Ingen støj

Klar dagen én sang ad gangen med JBL Tune 130NC TWS. De totalt trådløse øretelefoner giver dig 40 timers enestående JBL Pure Bass-lyd. Det ergonomiske og vandafvisende design sikrer fuld komfort hele dagen i al slags vejr. Opret forbindelse til samtaler nemt og problemfrit med 4 mikrofoner, der fjerner støj fra omgivelserne og giver perfekte opkald overalt. Med aktiv støjreduktion og Smart Ambient-teknologi vælger du selv, om du vil lukke verden ude eller interagere med dine omgivelser. Og det bedste af det hele er, at JBL Headphones-appen giver dig mulighed for at gøre hele din lytteoplevelse personlig. Hold forbindelsen til din verden, på din måde.
Specifikationer
Enheds-størrelser (mm)

10
Lydspecifikationer
Enheds-følsomhed ved 1kHz/1mW (dB)

103

Dynamisk frekvensområde (Hz)

20 Hz – 20 kHz

Impedans (ohm)

32

Antal dynamiske enheder pr. øre

1
Mål
Charging Case Weight (oz)

1.4

Earpiece Weight (oz)

0.4

Vægt (g)

40.4

Vægt (g)

11.4
Specifikationer, styring og tilslutning
Bluetooth-profiler

A2DP V1.3, AVRCP V1.6, HFP V1.7

Bluetooth-frekvens

2.4 GHz – 2.4835 GHz

Bluetooth sender-modulation

GFSK, π/4-DQPSK, 8-DPSK

Bluetooth sender-effekt

0 - 12dbm

Bluetooth-version

5.2
Batteri
Maksimal spilletid uden aktiv støjreduktion (timer)

10

Maksimal spilletid med aktiv støjreduktion (timer)

8

Maksimal spilletid (timer)

40
Egenskaber
Bluetooth

Ja

Charging cable

Ja

Stemmeassistent

Ja

Aktiv støjreduktion

Ja

Lader lyd fra omgivelserne passere

Ja

Indbygget mikrofon

Ja

Smart opladningsetui

Ja

Håndfri opkald

Ja

JBL Pure Bass-lyd

Ja

Genopladeligt batteri

Ja

Lynopladning (5 min. = 1 t spilletid)

Ja

Svedsikre

Ja

Ægte trådløse

Ja

Trådløse

Ja
Det er der i æsken?
1 x JBL Tune 130NC TWS-hovedtelefoner
1 x opladningsetui
1 x type-C USB-opladningskabel
1 x ørespidser i tre størrelser
1 x garanti/advarselsark
1 x startguide / sikkerhedsdatablad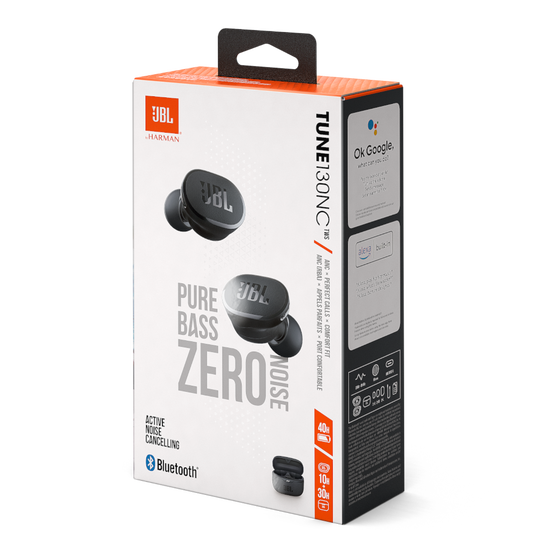 Dokumenter og downloads
Kunde-anmeldelser
Rated

2

out of

5
by
Ydoj82
from
Doesn't charge in case
I bought these through T Mobile and they work great but definitely don't charge in the case for 10 mins and give 2 hours. It takes about 2 hours just for them to fully charge.
Date published: 2021-12-24
Rated

1

out of

5
by
Alex270
from
Disappointing
This product has been awful ever since I recieved it. The earphones charge around 30% of the time. I will often take them out of the fully charged pod after hours for them to have not charged at all. This is disappointing because I have used JBL products before and had a good experience however I cannot recommend this product.
Date published: 2022-07-29
Rated

5

out of

5
by
muizemiepje
from
Great earbuds!
I got this product a week ago and I love it so far. The case feels kinda plastic but it opens and closes nicely. The buds are very easy to pair with my phone and the app from JBL made it also easy to see what kind of setting I was using. They have an amplified surround sound for when you use it in traffic and it works great. The only downside with it was when I had that on while riding my bicycle and it was a very windy day. Then it really amplified the wind and that was not great. When I turned it off though it was fine. The anc works really well when your on the bus or train and the music quality is amazing. It has deep bass sound and I really don't have to play my music as loud as I have to with my previous buds to have some decent music going. It uses usb c to charge and that is great. It charges up quickly and since the first charge I haven't had to charge it again, so the battery's life is great! The buds came with buds which were too big for my ears, they made them fall off. I switched to a smaller size that came with the buds and they stay nice and snug in my ear now. I haven't gotten phonecalls when I have them in so I can't judge over the microphone quality yet. So far, these are great earbuds!
Date published: 2022-04-12
Rated

4

out of

5
by
Sammy Boo
from
Great Sound Quality
These are my first proper pair of Bluetooth ear buds, I've had a couple of unbranded pairs but these were on another level! The sound quality and bass blew me away, they were great for work and meetings too. I have found them a little bulky and weighty in the ear but I'm sure that's something I will adjust to in time. Overall very happy with these
Date published: 2021-12-20
Rated

4

out of

5
by
Jacob
from
Overall, pretty stellar headphones!
These headphones are quite impressive! I have used AirPods Pro quite a bit, and I was surprised by how well the Tune 130NC stacks up. I was absolutely blown away by the bass these little guys pack. Even with the bass up and ANC on, the batteries seem to last forever. My biggest complaint is that they only just barely fit in my ears. I have the smallest tips on, and they still fall out if I'm moving too much. That also affects how well the noise cancellation works.
Date published: 2021-12-03
Rated

5

out of

5
by
RogerH
from
Just what you expect from JBL.
Just what you expect from JBL high quality crisp sound with the perfect amount of bass. Noise cancelling earbuds. Crystal clear phonecalls and I'm always amazed how beautiful the sound is. If you purchase these you will not be dissapointed.
Date published: 2021-11-26
Rated

5

out of

5
by
ZR90
from
Very Comfortable
I bought these a month ago and I'm glad I did. They have incredible battery life and are comfortable. The best features of these are on the app, they have a locating feature in case you drop one or both on the ground and lose them.
Date published: 2022-02-16
Rated

5

out of

5
by
juelz86
from
Not enough great things to say!
Honestly...I've been using old style around the neck BT headphones. But these were a gift, one that I was skeptical about using even much less liking them. Well let me tell you, I LOVE THESE THINGS!! From great music and call quality to ease of use and features - a solid win!! These actually stay IN my ear EASILY and my ear lobes are smaller than average so that's a plus! The only con I can think of may be the noise cancelation could be better possibly? Idk I hardly ever use both at the same time so it's irrelevant for my use. Im extremely pleased!
Date published: 2022-09-20
Rated

5

out of

5
by
ThatGuyYouKnow
from
You get a lot for such a small price.
I was very impressed when I got these, how well they actually sound. I have used many different earbuds including other JBL and these are great. Not only do they sound great but they have a great fit and are very comfortable. I used them for 8 hours at work when I first got them and they didn't hurt my ears at all. I have used other earbuds at work and most of them start hurting my ears after a couple of hours. These never did. The sound quality is what I expect from JBL products, they are excellent. These earbuds also use the JBL app on your phone, which I am a big fan of. The app lets you change gestures, setup a voice assistant, change the EQ or use an EQ by a professional. For the price these are some of the best earbuds you can buy.
Date published: 2021-11-30
Rated

4

out of

5
by
Prettygetty5
from
Awesome product
I received this wireless earpiece to test and i was amazed how it performed. First i love the packaging it looks very cute and i love the fact that the colour of charger cable is different so make it easier to differentiate it from my other chargers. It charges very quickly and is easy to connect with Bluetooth. The jbl app also make it very easy to use. I love the sound, is very clear.
Date published: 2022-04-16
Rated

5

out of

5
by
Bop77
from
The SOUND!
These are a steal for the sale price. That sound! Very good ANC, and the battery life is endless. The sound is full, with a deep bass, and it's a pleasure to customize the EQ With the JBL app.
Date published: 2022-12-03
Rated

5

out of

5
by
Venkataram
from
I am loving these bud earphones from JBL
I've received this product recently and I really loved it. They look stylish and fit comfortably in ears, works great during workouts, attending calls and listening to music. The 4-mic technology makes phone calls and business meetings very effective with clear audio and voice. Using touch controls you can skip to next track just with a tap, this feature is really handy when you are away from phone. The sound quality is great as always from JBL. Charging lasts for almost 6 plus hours as promised with the ANC on and 8 plus hours with ANC off, and you can always get additional charge with charging case which is awesome . Quality of the product is premium, Silicon ear tip material gives amazing comfort! Overall another great product from JBL - Just Buy and you'll Love it.
Date published: 2021-11-26
Rated

5

out of

5
by
AC99
from
Light and work great!
These wireless buds have decent sound and bass that can be easily tweaked with the JBL headphones app. They are pretty light and stay secure in your ear. Also, they connect to my iPhone as soon as I remove an earbud from the case. Overall a great option that isn't crazy expensive.
Date published: 2021-11-27
Rated

5

out of

5
by
Bobby33
from
Amazing Waterproof resistance!
I bought my earbuds about a few months ago and they worked perfectly. Yesterday i thought u lost them but they ended up being in my washing machine, freshly washed on a low temperature. I took them out and they worked like brand new!! i recommend them to everyone :)
Date published: 2022-03-04
Rated

4

out of

5
by
Meghan Camp
from
Overall a great product with a few drawbacks
Overall these Bluetooth ear buds are great! I love their sound quality and the features. They are comfortable and fit in my ear nicely. I also love the talk through option they have. There are only a few things I don't love about them. One- overall the case feels cheap and lower quality than the ear buds themselves. That being said I love the way the ear buds "snap" into the case because of the magnets. The other thing I don't love about them is the tapping to pause/play/skip/etc has a small delay that is a little frustrating to get use to. For example on my first use I tapped to pause and the music hadn't stopped to I tapped again and then it stopped and started back up because of the delay. In the grand scheme of things the delay is very minor but did take a little getting use to.
Date published: 2021-12-01
Rated

1

out of

5
by
Delc
from
Better off buying wired apple headphones
I bought these as a cheaper alternative to AirPods. I must say these are the worse headphones I've ever had, and they were still $90. They do not fit well in your ear, and the tap commands are absurd and too hard to understand
Date published: 2022-06-27
Rated

4

out of

5
by
Marjan1991
from
Great quality but doenst fit my ears
I'm a little bit doubtful about the earbuds from JBL. At first I think they are great because of the quality. The music sounds great! The noise canceling works well. When I was using those earbuds at the train station the noise canceling give me some peace instead of screaming children. The buds are easy to control. Through the app of JBL you can easily create your own user settings. I did decide to use the left bud for the volume and the right one for the control of going back and forward. The only thing that is debatable is the fit of the buds. Even when I'm sitting and listening to music they fall out of my ear. So I didn't try to run with these buds, because I'm scared to lose them. Even the smaller or bigger ones doesn't fit, so it means the quality is good, but they don't fit in my ears. That's a pitty.
Date published: 2022-04-13
Rated

5

out of

5
by
Kelly
from
Amazing product
I am in love with my new JBL tune130NC. The sound is incredible! Crystal clear sound, when listening to music I am able to hear every instrument, the bass is amazing and I learned that words were different in songs because I have never heard music so clear before, while listening to sports radio I felt like I was in the room sitting next to the broadcasters! In my opinion nothing compares to the sound quality of JBL products. The ear buds are so comfortable and light weight it doesn't even feel like you have anything in your ears! I wore mine while doing housework moving around going up and downstairs and they never fall out and they are secure. I wore them while vacuuming and I still can hear crystal clear and the vacuum noise didn't effect the sound, the noise canceling is beyond fantastic. I wore mine at a packed basketball game and I was in my own world, It's a good escape where you are connected to your music or talk radio and not hear anything around you. I have listened to mine everyday and they charge quick and the battery life is amazing I have only had to charge mine once in the last week. Also connecting them to devices are so easy, I just put them in my ears and turn on music and they are paired it is so great. I recommend these earbuds they are truly outstanding in every way!
Date published: 2021-12-01
Rated

1

out of

5
by
Jb415
from
Not for activity!
Falls out of your ears way to easily! One month in and my right one fell out and broke on the ground...
Date published: 2022-08-16
Rated

2

out of

5
by
ICantVibeLikeThis
from
Where's the sound
I have had these headphones for about a month now and while they they work I'm disappointed. The sound quality for whatever reason no matter what I do it's so quiet it's so infuriating. My grandmothers earbuds that came with her iphone 5 has better sound and I'm not saying that to over exaggerate. I've been going back and forth between the 2 for 30 minutes. Idk if I'm at fault or what but I've tweaked every setting I can, returned it to basic settings and tried again.
Date published: 2022-11-03
Rated

5

out of

5
by
Lizzyk
from
Nice product
I have these earbuds for a few weeks now and i have to say i`m really happy with them The noise cancelling is excellent even when the kids are screaming in the background i`m still hearing my music without any issue (or in the time i can continue my phonecall) The tab functions on the earbuds are also perfect, you can skip your song put it on pause or start/end a phonecall without any issues Connecting the earbuds is also very easy even if you decide that you only want one of them in use in stead of both. It`s also comfortable wearing, it fits great and you also get different sizes to make sure that it fits regardless. The sound en especially the bass is also just perfect. All together i`m really happy with my new JBL earbuds and i would recommend them to everyone, the price is great for the quality you get.
Date published: 2022-05-13
Rated

5

out of

5
by
C Etheridge
from
Great earbuds package at a price that is reasonabl
There is a lot to like here with these ear buds. They have great sound, lots of bass if you are a fan of that. The fast pairing function is nearly worth the cost alone. Having noise cancelling with the ambient function is crucial if you want to wear these outside of the house. The battery life is pretty incredible as well. As far as these earbuds go, they give the "big companies" a run for their money... and they are cheaper too!
Date published: 2021-11-24
Rated

4

out of

5
by
nnienkeeee
from
Nice product
I have tried the JBL Tune 130NC TWS. First I had some problems with connecting the JBL's to my smartphone but after it worked all fine. I think it's a very nice product because it is very small and you can take it easy everywhere. I like the black color and the sound is amazing! I would definitely recommend this product to others. I had never used these product before but I will definitely buy some new ones when I lose this ones.
Date published: 2022-05-16
Rated

4

out of

5
by
Brandon Abbey
from
Reliability vs. Cost
I have used pretty much all of my audio needs thru JBL and I have to say that every time I use the products vs competitors I am also stopped in thought because of how much detail and time is invested into the wireless headphones. I will continue to come back to JBL just because of how reliable the products are for what the price is. The bass is always on point and delivers a powerful punch while drowning out the environment.
Date published: 2021-11-27
Rated

3

out of

5
by
Alicia
from
Uncomfortable
The Audio quality is great. They earbuds are uncomfortable. Even with the different size ear pieces available. Picking them up it's near impossible to avoid hitting the command button. The case is nicely shaped and just the right size. They charge well with a solid lasting battery.
Date published: 2021-11-26
Rated

5

out of

5
by
Vicky
from
Packs a lot of features!
Been wearing these earbuds everyday for about a week now and I think I'm in love! First of all, they're light and extremely comfortable right out of the box. The sound quality is what you'd expect from JBL with a little extra bass kick. I often shy away from headphones that are bass heavy, but these give just the right amount of kick without being being noticeable. It's hard to explain, but I only noticed that it was bass heavy when I switched headphones, and realized how much I preferred the sound coming out of these buds. The touch controls are customizable and very responsive, I love being able to have playback and volume control on the earbuds. Bluetooth connection is seamless and very fast, even faster than my previous JBL wireless buds. The noise canceling is as good as you can expect from in-ear headphones. It drowns out my noisy roommate and coworkers, so I'm happy!
Date published: 2021-11-28
Rated

4

out of

5
by
Cleo_db
from
Good for sports
I got to test these airbuds I mostly used them at the gym and when dancing. They're great for that! The quality is good (not amazing, I've used other earbuds that had better sound quality), but for the price it's a good deal. I also used them while sleeping, they fall out of my ears when I sleep, so they're not the best for that. That's why I give them a 4 instead of a 5 They are
Date published: 2022-06-25
Rated

5

out of

5
by
Kevin Little
from
Great in noisy situations
These headphones are great! I have had them for almost two weeks, and I love them. They are very comfortable. They easily paired with several of my devices. I have had the unique ability to use them in a busy hospital setting, do to a surgery. Watching movies on my phone, the background noises seem to disappear. I would highly recommend this product.
Date published: 2021-12-04
Rated

5

out of

5
by
EdMC
from
Great sound, comfortable, and hold a good charge!
I have several pairs of JBL headsets as I have been extremely happy this this brand over many others I have tried. At this point, I have the whole family using various models of JBL wireless earphones consisting of over-the-ear, on-hear, and in-ear models. My wife and I prefer the in-ear for the low-profile and lightweight feel. I have a nice set of the JBL Tour Plus Pros which were by far the best set of wireless headphones I owned. Well at least until my wife decided to confiscate them. In any case, I came across the JBL Tune 130NC TWS in-ear set. Right up front I give them five-star rating on several aspects including audio playback, voice calls, battery life, compact size, quality, and comfort. They may not have quite as many features as my Tour Plus Pro's but they sound great and certainly do the job. The audio quality is great. The noise cancelling feature is awesome considering these are much smaller than my other pair. I use them for conference calls at work, especially when I'm working from home. The voice calls are crystal clear and I've had no complaints from conference participants in terms of hearing my voice. In fact, I would say they are a little better than my other pair. I'm guessing the 4-mic technology (2-microphones on each bud) are doing the trick. For the noise-cancelling setting, they drown out the usual house noises very well when I'm working from home. They also work great for working out and doing chores around the house. I also use them at night when I'm watching TV in bed on my phone while my wife blasts her shows on the TV. The battery life is really good for such a small set. According to the specs, JBL claims the 40 hours of play time (10 + 30 hours with case with BT; 8 + 24 with ANC on) which on average is fairly accurate. I was able to get about six hours of playback on a single charge with the noise-canceling feature on along with several phone conferences. I have only had them for a few weeks. However, based on the performance and battery lifespan of our other JBL headphones, I'm confident they'll hold over the test of time. In terms of compact size and construct, they are comparable to other high-end brands. However, this set is really compact. The case is also compact and well made. Overall, they are pretty lightweight but feel very durable. The controls are pretty basic but the touch controls are very simple and responsive. Comfort is a huge factor for me as earbuds I have used in the past tend to hurt after prolonged use. I'm guessing the lightweight of these, matched with the design, make for a good fit at least for my ears. The only complaint I have is they are a little cumbersome to get on my ears just right but I got more used to getting them on over time. Considering all of the other aspects of performance and sound, matched with their comfort, these are now my "go to" pair (and that's not just because my wife confiscated my other set). This set is pretty awesome and the price point is just right. They sound great, are comfortable, battery life is good, and they are built well. Given the price point is lower on average than other brands/models I have purchased, you can't go wrong with this set without breaking the bank. I'm a huge fan of JBL as this brand never fails to deliver and I highly recommend the JBL Tune 130NC TWS - true wireless earphones. I highly doubt you will be disappointed!
Date published: 2021-12-02
Rated

5

out of

5
by
Nik D
from
Great noise canceling earbuds!
I recently got these earbuds and decided I wanted to give an honest review so I took my AirPods out of my pocket and replaced them with these JBL earbuds. To say I was impressed would be an understatement. The noise canceling is great, sound quality even better, and the all around feel and fit of them was really good. The addition of the app and extra features such as talk through and active aware mode were amazing. The app was easy to understand and use and everything just made sense. The battery life was very good as even after 2 hours of using the buds, I had only dropped between 10/20% on either side and this was with noise canceling on. My two complaints I have are as follows: - You can't change the microphone to be only use one side. - They seem to back out of my ears a little bit over time and I have to keep pushing them back in, but it's not the same for everyone. All in all, these are a great stocking stuffer/small gift for a loved one in your family.
Date published: 2021-11-28
bvseo_sdk, dw_cartridge, 18.2.0, p_sdk_3.2.0
CLOUD, getReviews, 7ms
reviews, product
Spørgsmål og svar
How do I turn the headset back on after a period of no use and it turns off. It's not dead it's just I took a few minutes before I was able to reach my phone and select a new song. Turn the headset back on without the case ?
Thank you for reaching out. You may try charging the device overnight to make sure that the device is fully charged if the issue still persists, we would like to discuss directly with you, the connectivity issues you're experiencing with your JBL Tune 130NC TWS and find a solution for you. Please reach out to JBL Customer Service for technical support and assistance.
Date published: 2022-07-02
Are these able to be wirelessly charged
Our JBL Tune 130NC TWS isn't compatible with wireless charging. It can only be charged using the charging case.
Date published: 2022-05-03
I can't seem to reset these even after following the instructions… I've had these earbuds for 1 day and the left ear has gone really quiet to the point I have to take the right one out to make sure it's working. Is there any way I can fix this?
Thank you for your question. We are sorry to hear that you are having audio issues with your JBL T130NCTWS. Could you please contact our Customer Support Team on https://uk.harmanaudio.com/support-contact.html#ns for further assistance. Should you wish to receive further support, you may contact the Harman Customer Support team by telephone or chat in order to receive direct assistance. Thank you.
Date published: 2022-04-06
How exactly are you supposed to wear these? Do your insert at an angle and rotate until they sit leveled horizontal? The manual pictures are actually quite confusing.
To properly wear the earbuds of our Tune 130NC TWS, simply insert the earbuds into your ear at a horizontal level then rotate the earbuds upwards at an angle until it sits snuggly in your ear.
Date published: 2022-09-05
My device is only registering my earbuds for Audio, and not Calls. I've even gone to my bluetooth settings and tried manually setting it to receive Call audio, but it automatically turns that setting back off. What can I do to fix this?
Thank you for bringing this to our attention. You may try to switch to another device or check the audio settings of your mobile device to see if there is a separate volume control for calls. If the issue persists, contact JBL Customer Service for technical support and assistance.
Date published: 2022-04-10
I need these earbuds to work with my laptop for zoom calls, among other things. I pair them and my laptop says they are connected however I cannot get sound through them. The
Thanks for reaching out. Please ensure to set your headphones as the 'communication device' on the app, and always get the latest Bluetooth driver version available for your computer/PC/laptop. If you need more help with your device, please contact our Customer Support. 
Date published: 2022-10-20
Can this ear bud be pair / work with apple Iphone 11 pro max
Thanks for reaching out. Our JBL Tune 130NC TWS Headphone is compatible with iOs and Android devices.
Date published: 2021-12-17
bvseo_sdk, dw_cartridge, 18.2.0, p_sdk_3.2.0
CLOUD, getContent, 139ms
questions, product