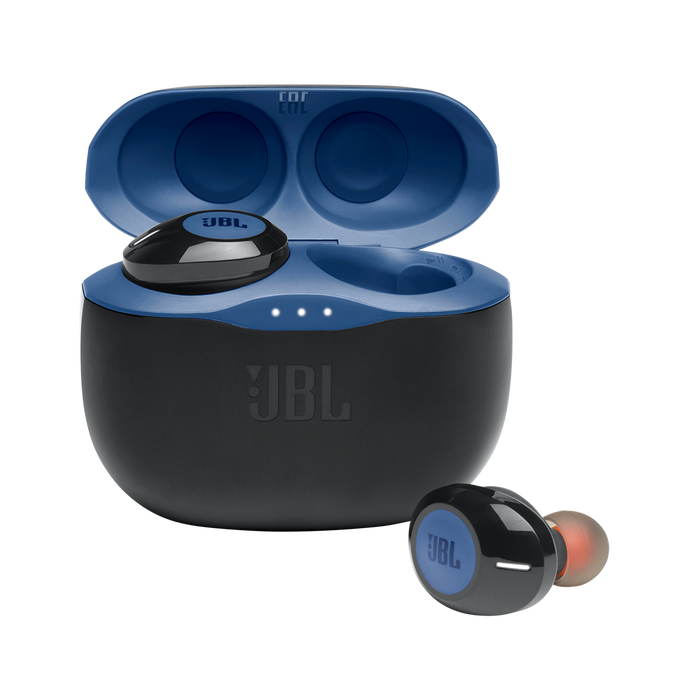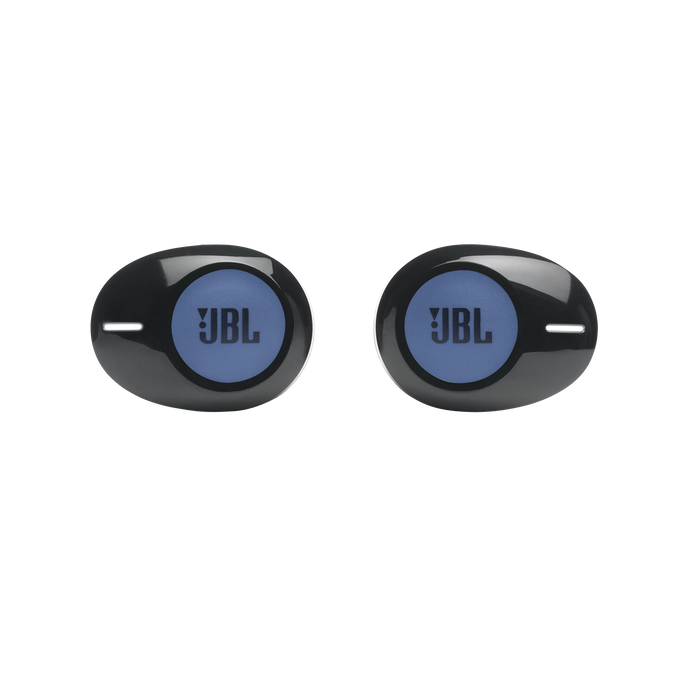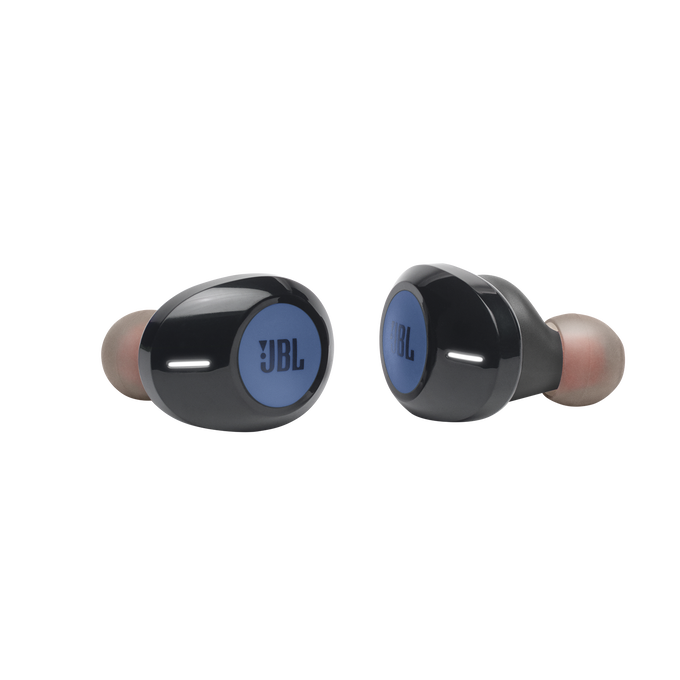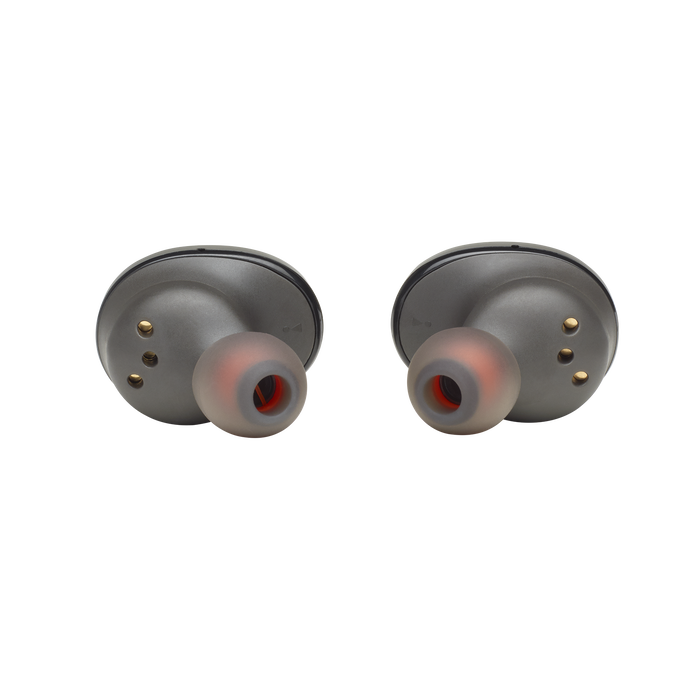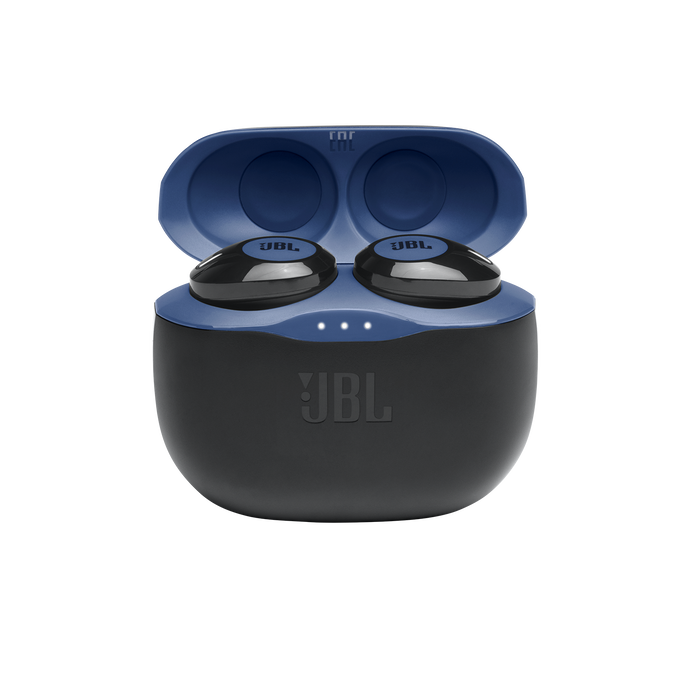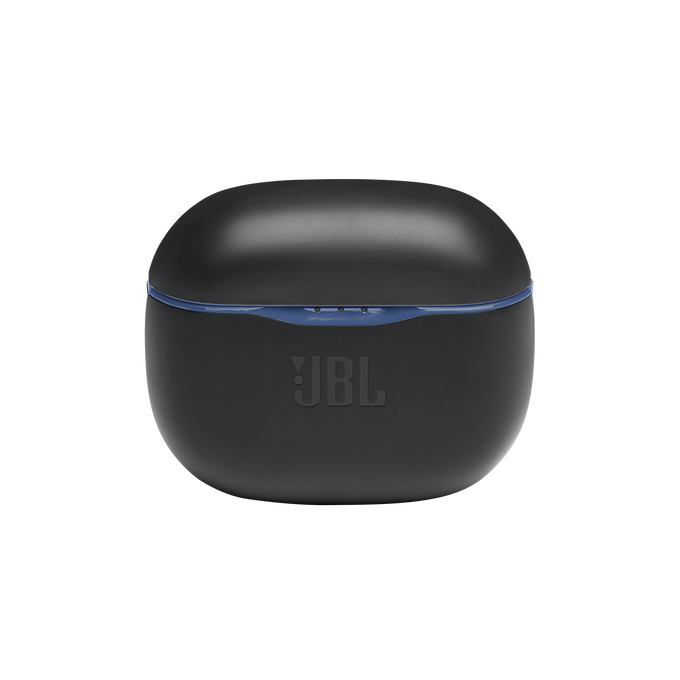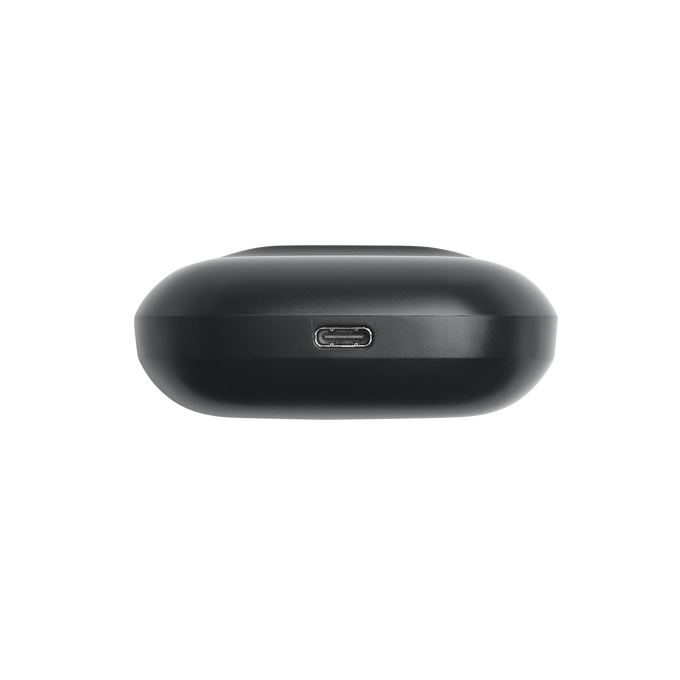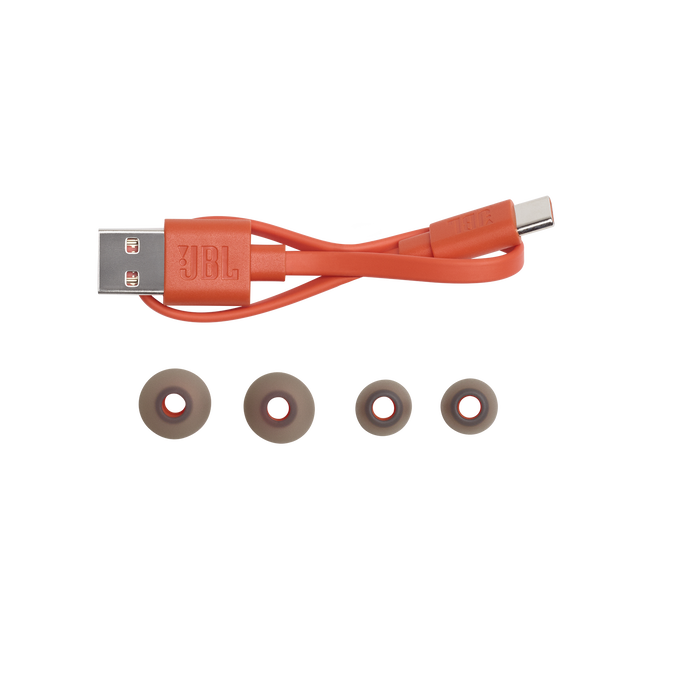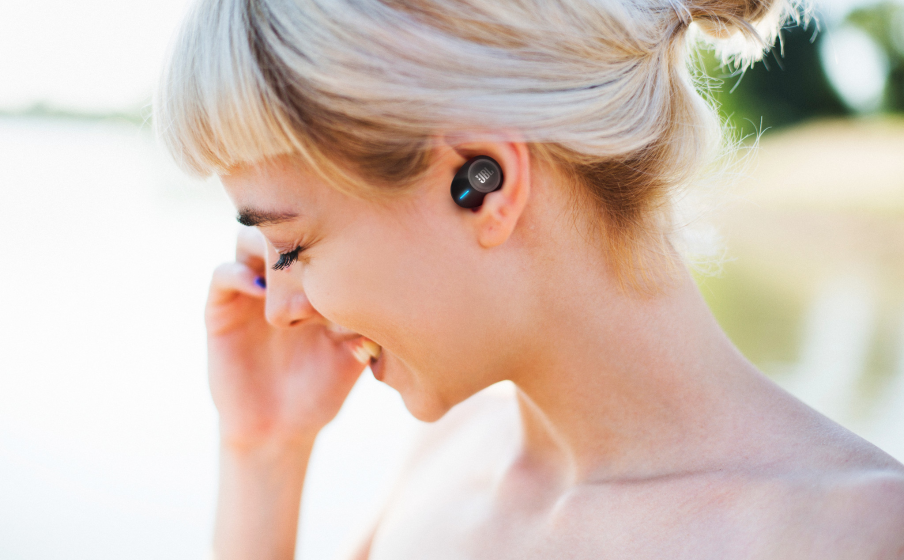 Mærk bassen
JBL har gennem årtier leveret lyd til festivaler og koncerter i hele verden. Nu vækker JBL din egen verden til live med den fantastiske Pure Bass-lyd.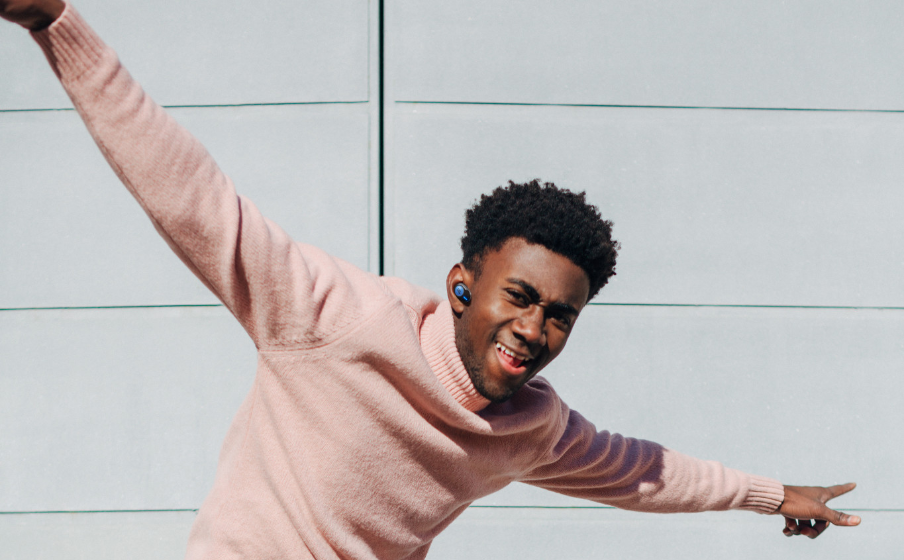 Bliv fri for ledninger
Ledninger filtrer sammen i din taske, sidder fast i din jakke eller dit hår – og er i det hele taget bare til besvær. Oplev total frihed uden ledninger med True Wireless JBL TUNE 125TWS-ørestykkerne.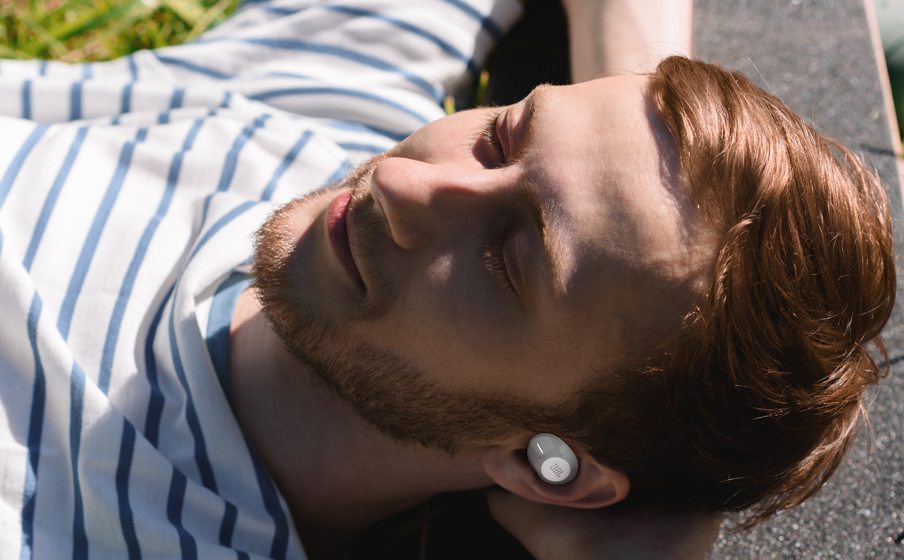 Lyt længere
Med op til 32 timers batteritid kan du lytte både dag og nat. Hold gang i din egen private koncert, lige så længe du orker.
Funktioner

Hurtig parring
Hvorfor skulle du vente? Så snart du tager dine ørestykker ud af æsken, bliver de parret med din Android-enhed med et enkelt tryk. Efter parring kan andre enheder også registreres, også selv om de ikke er parrede. Nyd den fantastiske JBL-lyd - så let som ingenting.

I et øre eller begge
Venstre øre, højre øre, begge ører? Med Dual Connect kan du nemt vælge mellem at lytte til musik eller foretage opkald med enten det ene eller begge ørestykker. Og batteriet løber aldrig tør, fordi kan du oplade det ene ørestykke, mens du bruger det andet.

Find din stil
Hvad fungerer bedst for dig? Med det store udvalg af farver kan du nemt finde det perfekte par JBL TUNE 125TWS-ørestykker. Der er et par til enhver stil, uanset om du vil være diskret eller skille dig ud.
Produkt-sammenligning
TUNE125TWS-
TUNE225TWS-
REFLECT-MINI-NC
LIVE-PRO-2-TWS-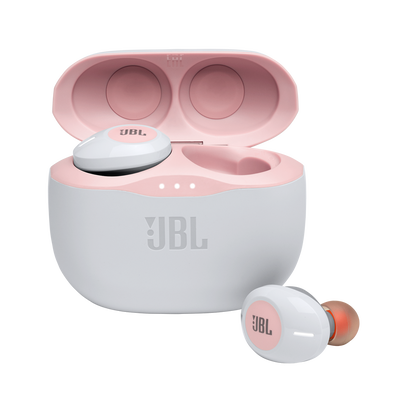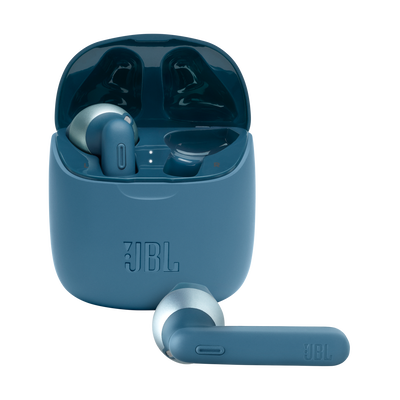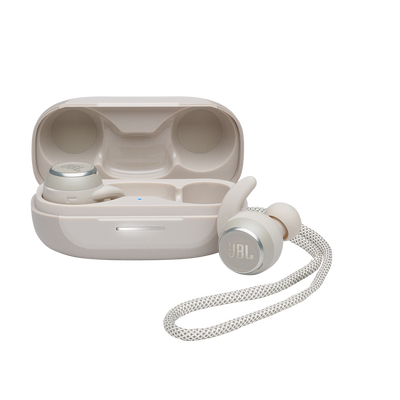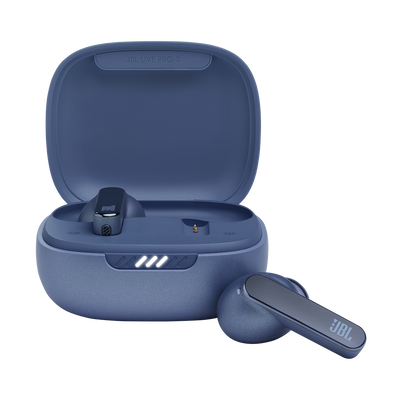 Funktioner
Indbygget Google Assistent
Indbygget Google Assistent
Indbygget Google Assistent
Indbygget Google Assistent
Baseret på Amazon Alexa Voice Service
Baseret på Amazon Alexa Voice Service
Baseret på Amazon Alexa Voice Service
Baseret på Amazon Alexa Voice Service
Lynopladning (5 min. = 1 t spilletid)
Lynopladning (5 min. = 1 t spilletid)
Lynopladning (5 min. = 1 t spilletid)
Lynopladning (5 min. = 1 t spilletid)
Detaljer & Downloads
Item# JBLT125TWSBLU
Beskrivelse
Ren bas. Ingen kabler.

Dyk ned i din egen verden. Uanset om du lytter til musik eller modtager opkald, er der ingen ledninger, der holder dig tilbage. Du skal bare sætte JBL TUNE 125TWS-ørestykkerne i for at opleve lyden. De kobler sig på din enhed, så snart du tager dem ud af æsken. Med Dual Connect kan du bruge ethvert af de to ørestykker, eller begge to, præcis som du foretrækker. Dine yndlingsartister lyder fantastisk takket være JBL Pure Bass. Med op til 32 timers batteritid og en behagelig pasform kan du holde musikken kørende dag og nat. Vælg blandt et væld af farver for at finde de totalt trådløse hovedtelefoner, der bedst matcher din personlige stil.
Specifikationer
Enheds-størrelser (mm)

5.8
Lydspecifikationer
Enheds-følsomhed ved 1kHz/1mW (dB)

96

Dynamisk frekvensområde (Hz)

20 Hz – 20 kHz

Impedans (ohm)

14

Antal dynamiske enheder pr. øre

1
Mål
Charging Case Weight (oz)

2.1

Earpiece Weight (oz)

0.5

Vægt (g)

60.1

Vægt (g)

13.6
Specifikationer, styring og tilslutning
Bluetooth-profiler

A2DP 1.3, AVRCP 1.5, HFP V1.7

Bluetooth-frekvens

2.402 GHz – 2.480 GHz

Bluetooth sender-modulation

GFSK, π/4DQPSK, 8DPSK

Bluetooth sender-effekt

0 - 12dbm

Bluetooth-version

5.0
Batteri
Ladetid (timer fra helt afladet)

2

Maksimal spilletid (timer)

8
Egenskaber
Bluetooth

Ja

Charging cable

Ja

Indbygget mikrofon

Ja

Smart opladningsetui

Ja

Håndfri opkald

Ja

JBL Pure Bass-lyd

Ja

Genopladeligt batteri

Ja

Fjernbetjening på ørekopper?

Ja

Ægte trådløse

Ja

Trådløse

Ja
Det er der i æsken?
JBL TUNE 125TWS
Tre størrelser ørestykker (S, M, L)
Type-C USB-opladningskabel
Opladningsetui
1 garanti/advarsler W / !
1 x Lynguide/sikkerhedsark S / i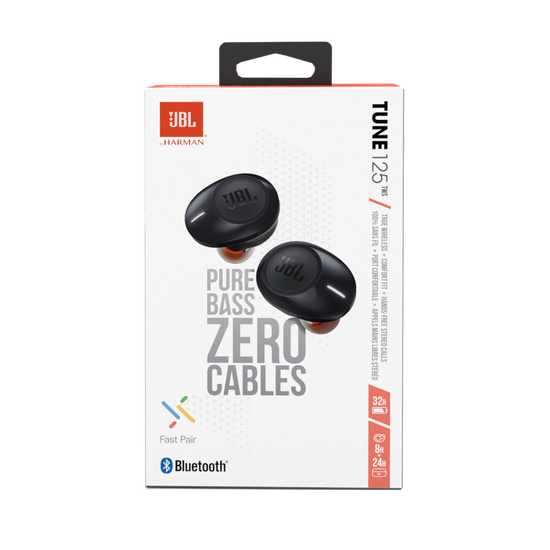 Dokumenter og downloads
Kunde-anmeldelser
Rated

5

out of

5
by
JoeG2281
from
Excellent Product!!!!
I rarely ever write reviews for any products I buy, but for these earbuds I just had too... I ABSOLUTELY LOVE THESE JBL 125tws wireless earbuds.. What an amazing product, very sturdy, sits in my ear very comfortably, lightweight, great sound, and best of all they automatically connect when you take them out of the charging case... I can't say enough about these earbuds... I have bought numerous other brands of wireless ear pieces, and these BY FAR exceeded my expectations.. I can't say enough... These are the ones to buy... Even though I didn't purchase them directly, I got them through a Marlboro Rewards program... A++++ Product....
Date published: 2021-01-21
Rated

1

out of

5
by
Aurora08
from
Lasts only a few months
I have had these earbuds twice and both times one earbud has broken after a few months. You can only hear sound when you have it positioned a certain way and yes it is as annoying as it sounds. I have constant ringing in my ears so I need sound always to drown it out. I can only use one earbud now and it's a pain in the neck when they die cause I am stuck with ringing until they recharge. Besides this they work well with audio quality and connecting but tend to fall out of your ears after 30 minutes of use. Overall I wouldn't purchase these earbuds again.
Date published: 2021-11-02
Rated

5

out of

5
by
Bee2610
from
Great Music Experience.
The Earbuds JBL 125 Tune TWS is the upgrade model after 120. The Batterie life is up to 32 Hours, (8 Hours the Buds+24 Hours the Case) what i could not test out, because I always put them back in the case after use, and they charge up there. The longest time i used them was 4 hours and I could not notice any reduction in sound quality. The design of the case is really cool and the design of the earbuds is simple and doesn't look too bulky on a woman's ear either. I must really say, that I love them. The Earbuds came with different tip sizes, so that they fit comfortably in every ear. The pairing to my phone is really fast and no installation is necessary. They are really simple to use. You can switch between Music and an incoming Phonecall by pressing the Right Earbutton once. The Music and the Bass sound is really strong and clear! I really enjoyed a great Music Experience so that I can recommend them unreservedly!!
Date published: 2021-04-28
Rated

1

out of

5
by
Leroy808
from
Worked amazing for about a week
Loved these when I first got them . The right ear bud stopped working after a week. Tried all of the troubkeshooting methods and nothing has worked so I don't even use them. Bad choice in air buds!!! Never again.
Date published: 2021-01-14
Rated

4

out of

5
by
nnutman
from
Great set of True Wireless headphones
I have been using these headphones for over a week now and as I expected, the quality sound is very good for this type of headphones, I have been buying a lot of JBL products for different usage and I'm very happy with the quality in general. The package came on time and in a very nice box (see photos), the box includes a charger case, quite large to capture the headphones, the charger case will indicate when the headphones are fully charged and how much battery there is in charger case. Setting up the headphones as very easy, I have a Pixel phone, and connecting it using the Bluetooth on my phone was like any other device. Reconnecting the headphone after idle time is also easy, you turn the headphones on out of the charger and it automatically connects, you can actually connect just one ear which is nice if you need twice the battery length...and ok to use 1 side only. The headphones will turn off automatically if not in use which is nice, I use it for Conf. calls, walking outside, working in the Garden. Now why did I give it only 4 stars, I think the size of the headphones is a little too big, for me it is fine, but it is round, a little egg shape and larger than other brands, so from a Fashion perspective some may find it less attractive. Another point is they could make it easier to know what is left vs right side, it is written but different colors or larger letters will help. I did not have any issues of disconnected of any of the headphones (I had it with other headphones) so overtime this is some time to look at. Overall very happy, the quality of the sound is great and so far it works well.
Date published: 2020-09-22
Rated

2

out of

5
by
UnhappyGuy
from
Poor design and frustrating
I personally hate these earbuds. And its ALL about the case. First its way to big. My Jabras case is much smaller. The Tune125 case is very hard to grip and constantly slips out of my hands. The Jabra has a rubberized coating that help grip the case. The base of Tune125 case is not be to set on a table, it just falls over. LAME. And last but not least is the cover. The cover will NOT stay open. It always flips closed. Breathe wrong and it closes. Infuriating. Silly I know but could the lid just stay open. Perhaps a hinged lid is not the solution here. I would NOT recommend this product based on the case alone.
Date published: 2021-09-27
Rated

1

out of

5
by
JJP0
from
IS MINE DEFECTIVE??
Let me start off by saying i didnot buy them on this site i bought them from target, they are extremely comfortable and dont fall out no matter how much i move witch is impressive, i also have no words to express how amazing the sound quality is it truly dose shake you at you're core , for the price its an amazing product although i feel unfortunate the pair i have seem to be DEFECTIVE they tend to have a mind of they're own pauseing my music at random times and even changing songs , there is also the matter that they glitch out when i step 2 feet away from my phone or when i have my phone in my pocket , i truly want to love this product 100% but this is a terrible first impression , im going to buy a second pair and return the ones i have and hope that i just got a defective pair untill then i will update my review
Date published: 2020-10-26
Rated

1

out of

5
by
waste
from
Sound Quality is good, but pairing is terrible
Buy these if you want to spend 10 minutes trying to pair them anytime you want to use them.
Date published: 2021-03-28
Rated

1

out of

5
by
Misscee
from
Didn't work out of the box.
I don't know if these are good or not. I opened them and charged them, and the right one didn't work. I reached out for support, they had me check the connectors. Left it to charge 4 more hours, still nothing. I reached back out, they wanted to go do all sorts of cleaning. Tried a factory reset, that failed because the right one didn't work. It was frustrating. Because I chose a personalized case, I had to ship them back. Sent back yesterday.
Date published: 2021-09-11
Rated

5

out of

5
by
StephLR87
from
Crystal clear sound with ultimate wireless freedom
I absolutely love the freedom the JBL Tune125TWS provides. The sound is crystal clear for me. Tested them out on a few phone calls and a zoom call, and the feedback I received was the sound was sharp and clear. No rustling noise, or heavy breathing sounds like other wireless earphones may have difficulties with. I have a Samsung phone, the earphones automatically sync with the "Find My Device" function making them easy to find if they're misplaced. I listened to various genres of music and they all sound great. The earphones stay in place while doing various activities and exercises. They come with a convenient charging/storage case. The charging cord is different from other JBL products (see attached picture). So that is my downfall of this product is I have to keep this particular cord for charging and can't share with other/older JBL products. For the price and quality, I highly recommend!!
Date published: 2020-09-17
Rated

4

out of

5
by
Alex2016
from
Great bass and overall sound quality!
I've been pleasantly surprised by these wireless earphones; from the easy pairing in the beginning, to the rock-solid connectivity afterwards. Also, the fit is very secure once you find the right size silicone ear tips, of which 3 pairs are included. The bass is the killer feature here: Rap sounds as it's supposed to, rock is stellar, and even grunge/industrial sounds very good. Classical does not fare as well, but then, you don't get these for classical listening. All in all, great bass and battery life, decent noise cancellation, and a secure fit guarantee these will be some of your favorite earphones to use.
Date published: 2020-09-29
Rated

1

out of

5
by
FDEE
from
Good Quality Headphones. Non existent PIN.
The sound quality is great and I like the headphones however... You need a PIN to connect to your computer, and the PIN is NON EXISTENT ANYWHERE. I have searched the documentation, searched online, the only pointers you can find are to try 0000, 1111, or 1234 - none of which work. From what I can see there are countless others with the same problem. How can you release a product with a PIN and not provide the PIN anywhere?? Absolute joke and waste of peoples time, I'll be sending mine back.
Date published: 2021-11-30
Rated

1

out of

5
by
Nunyabizzz
from
Complete Garbage
Don't trust the reviews here. The 125s are awful. There are many independent reviews showing poor construction, lack of functionality, and problems linking. Don't waste your money on this trash. JBL is a name, and that's it. The quality is worse than knock-offs you buy in a Bodega. Awful.
Date published: 2020-12-31
Rated

4

out of

5
by
MNnice
from
Great sound, easy to connect
This is my fourth JBL product. As always, you get good quality sound. I have used these headphones walking outside, running, and casual listening to conference calls and music. They are easy to connect (I connect to an iPhone 11 Pro). Easy to pair, turn on/off, connect, and charge. The case has a secure fit and also spring loaded closing of the cover. I did have a hard time fitting these to my ears, trialing each of the eartip rubber sizes. I still feel a bit paranoid as they don't feel completely secure in my ears especially during more high impact activities such as running or biking. They are still functional and I still use, but need to adjust several times to secure during activities. I would recommend this product to a friend especially if they felt they fit their ears more securely than my experience.
Date published: 2020-10-15
Rated

2

out of

5
by
Anthony56
from
Lots of issues
I bought these earbuds at Target, these are my first wireless earbuds that I have ever owned. I have only had them a few months, and for the first month, they were fine. They have good sound, not the best bass, I wish they thumped a little better, but fine and I love not haveing wires. But then they started having lots of issues. They will randomly just cut out for a few seconds, and then come back on with terrible sound quality so much so that I have to shut them off and turn them back on and re-sync them so that I can even listen, and this happens all the time. I almost don't want to use them it's so annoying. So because of this, I am not impressed with how long they have lasted, only a month of use without issues, I can't recommend these.
Date published: 2021-02-15
Rated

5

out of

5
by
Ina29
from
Pure Bass Zero Cables
I love my new in-ear headphones. They are easy to use with different gestures on both earbuds! The very best is the sound, it surpasses everything I have known so far! I can walk around the whole apartment without having to carry my cell phone with me. The Bluetooth connection is awesome. Great feature! The charging oft he earbuds works flawlessly. I can listen to my music with just one earbud, for example, when I'm at work and if I want to completely immerse myself, I use both earbuds. Music on, world off! I can recommend the product 100%.
Date published: 2021-04-28
Rated

3

out of

5
by
emilut
from
Good, but I expected more!
Usually I'm a big fan of JBL because of the performance you get for such a good price! I got those head phones hoping to find the ones I've been looking for all those years but unfortunately I have to say that they are not as good as I expected. The packaging looked really appealing and the short manual made an easy start possible. Pairing with my iPhone worked really well, never had any problems with that one but pairing with my MacBook took me ages and even tough I managed to finally get a connection the sound was unsteady which was really annoying in a meeting. This leads me to the next point, the microphone: making voice messages or talking on the phone isn't a fun thing to do with the 125TWS because the quality isn't the very best, also the wireless range is quite short. I really did like the sound quality in general which is well-balanced with a bit of extra bass, but there is no possibility of fine-tuning. The passive noise-cancelling works quite well, so you can really enjoy the music even if there's something going on around you. They fit very well and stick well to your ears BUT because of their shape they easily fall out when changing clothes or when something comes close to your ear. They really aren't the smallest in-ear headphones on the market! Walking, running and even rope-skipping worked well and because of the passive noise-cancelling it was also a nice sound experience. Summing up, the JBL Tune 125TWS are decent in-ear headphones with a good sound quality but for an "Allrounder" I'd like to have a better connection with different devices and a better microphone. Also in appearance, the shape didn't really fit to a small ear, maybe they're more a man's kind of headphones!
Date published: 2021-04-26
Rated

4

out of

5
by
Borzy
from
Great Sound!
Bought a set of these for me and one for my husband almost a year ago. Chose these for the JBL sound and the style of the ear bud - both of which I love. Overall, I think these are great! Once in a while it takes more than a few seconds for these to sync with my IPhone - but the range is as good s my JBl portable speaker - so no problems there. My only real complaint is that recently both our pair have one earbud that will no longer charge in the case - no matter how we move it around. So we only have one working headphone each - and can no longer change the songs without pulling out the phone.
Date published: 2021-04-07
Rated

1

out of

5
by
Jono21
from
Was not expecting this
Bought these a month ago and maybe used them 4 times and my left ear bud won't turn on. Sounded great for the few times I got to use them. Was expecting more out of a JBL product. Really upset.
Date published: 2021-05-08
Rated

1

out of

5
by
Yeah no
from
Crap
These head phones are junk no matter what I do the left earpiece will not connect called customer support did everything that they have said and nothing took them back to bestbuy and they can get it to work either only way you can hear any noise out of the left ear is if you hold down the button the whole time I use jbl for all my car audio and have used their head phone before and never have had an issue now that I can't return the headphones I think I'll be going with a different brand DO NOT GET THESE HEADOHONES THEY ARE GARBAGE
Date published: 2021-10-19
Rated

1

out of

5
by
Kismet
from
Short Life Span
Oh my goodness these WERE the best ear buds I had had in a while, but I completely regret buying them. I love JBL speakers, but do yourself a favor and buy a newer model or another brand entirely. I only bought these roughly 6-7 months ago and they are already dying on me. They constantly cut out, fade in and out when playing music etc and I only just bought them in December. It's June now. I am SO disappointed... I can't afford new ones so I guess I'll be downgrading to the ones my JBL earbuds replaced. Glad I kept them as spares!
Date published: 2022-06-17
Rated

1

out of

5
by
Ella22
from
I bought this some weeks ago and it doesn't stay in my ears and the sound quality is not good. It easily falls off
Date published: 2021-04-17
Rated

1

out of

5
by
Vinnrokk32
from
Only one earbud worked...
I had high expectations but only one earbud worked. I'm sending then back. I was highly disappointed.
Date published: 2020-10-16
Rated

4

out of

5
by
Trevdarev
from
Love the new technology!
I love my music, so clarity and punchiness of sound is impotortant to me. I did find that the clarity was good, but the bass and volume weren't great. The product looks appealing, in a neat little case, and also has a magnetic strip inside to make putting them back in, or taking out was easy. Despite having extra ear pieces to fit all different sizes of ears, I found they still felt slightly loose in mine. But on shaking my head, they never fell out! I liked the idea that you only have to pair one ear bud, and the other one pairs automatically. Also you can just wear one, if you want to be more aware of what's going on around you. So overall a good product, but needs more volume, and extra bass for me.
Date published: 2020-10-25
Rated

1

out of

5
by
Mike2000
from
Doesn't fit or seal
The buds would not fit in my ear unless they were pointed vertical and not horizonal. The earbuds will not fit over my center ear cartilage. When I twist them down to go horizontal, they are not deep enough to even reach my ear canal. Situated in any direction, with any of the ear piece sizes, they were not deep enough to reach my ear canal and would not seal. Sounded like cheap $5 tin sounding earbuds from a drug store. I had the JBL Club Pro Plus TWS and they fit and sounded excellent, but hurt my ears badly. The pain from them was still there even an hour after taking them out. Don't know if JBL knows how to make properly fitting earbuds. Their over the ear and on ear headphones are excellent but their earbuds are junk. I have B&O Play wired earbuds and they sound great and seal, if not a bit bright sounding, and cause absolutely no pain when wearing them. Can't understand why JBL's earbuds are so poor.
Date published: 2022-02-12
Rated

5

out of

5
by
JasonCornwall
from
Pure sounds with great clarity
So far these earbuds have been great. I love how straight out of the box they connect. It was completely fuss and hassle free. Bluetooth connection between these and my s20 ultra is flawless. These earbuds really excel at the clarity of sound they produce within the music I'm listening to, the artists vocals are just so clear, no matter what genre I'm listening to. The vocals don't seem to get lost in the bass and remain prominent. The bass is powerful. It's a raw kind of bass that seems to go naturally with the music being listened to rather than being enhanced excessively. My music taste is varied and I've listened to allsorts through these, rock, punk, classical, jazz, opera, hip hop, rnb, Country. These earbuds cope with it all. Also, it is wonderful to listen to audio books with these. I like how easy they are to store. The buds easily slip into their slots and it is obvious which one goes in which die to the JBL logo on each bud. Charging and battery life is good. They're long lasting. The charge case is a nice slimline design which fits in the pocket comfortably. I like how the case is coated. It is not the kind that scratches easily. The buds fit in my ears comfortably for most activities. Vigorous exercise like HIIT training offer them some challenges though. But they don't fall out and I found I just had to occasionally readjust them. I like how these control. An actual physical push button control is appreciated. It means no inadvertent track changes. There is one downside to it though and that is no ability to control volume. But it's no hardship for me to use my phone to change the volume. I got to grips with the commands easily. Phone calls seem to be good with these. I've only had cause to use these the once on a phone call. But that was in a train carriage. It seemed good with no issues. Overall, I like these earbuds a lot. Get them if you like clarity and really listening to music.
Date published: 2020-10-20
Rated

5

out of

5
by
Andre56
from
Great charging life
I purchased the earbuds a week ago, great sound and charging ability with extended charge through the case holder.
Date published: 2020-11-02
Rated

5

out of

5
by
Capo4401
from
So I am thrilled with these headphones. They sit perfectly in the ear without slipping. The pairing works with case open and poof they are connected. If you lose times quickly the Blootooth connection to the cell phone, it is always tried to find this. is you back in the area, it works wonderfully! The battery life is really gigantic. Never managed so long without recharging. Voice quality is also super good. The case is just practical. The control with finger control has always worked so far and is practical. Therefore, for me very very good headphones and sound fits also.
Date published: 2021-05-01
Rated

1

out of

5
by
Nico2020
from
Too big
If i hadnt lost the receipt i wouldve returned these a while ago. They are constantly falling out, i have never had a pair of headphones that falls out while WALKING. I truly regret wasting my money on this. They are huge and dont stay in your ear. When you move them around to try and make them fit, you cant hear the music as well.
Date published: 2021-08-06
Rated

1

out of

5
by
SadBuyer1000
from
Worked for 3 months, now useless
Worked for about 2 months and now the right earbud doesn't work anymore. Constantly shuts off when you turn it on. I read reviews that stated this before purchasing but thought I would take the chance. Huge regret. So sick of companies putting out products with known failure models. Shoddy engineering, shoddy product development. JBL should strive for a higher level of hardware excellence if they every want to be anything better than a budget Bose. If they hadnt stopped working, id give them a 3.5. Buds fall out of your ears even though I tried all tip sizes. Sound is OK
Date published: 2022-10-19
bvseo_sdk, dw_cartridge, 18.2.0, p_sdk_3.2.0
CLOUD, getReviews, 27ms
reviews, product
Spørgsmål og svar
I would like to use my JBL TUNE 125 TWS-LE Earbuds with my laptop, but windows keeps asking for a PIN, and neither 0000, 1111 or 1234 worked. Could you please help? Thanks.
Please make sure that the Bluetooth drivers on your laptop are up to date. Please also try to pair the earbuds to your phone to check the Bluetooth. If you need more help, please reach out t our Customer Support.
Date published: 2022-01-12
How come you don't provide a proper user manual? How come the earbuds don't fit inside the case provided? Can't charge, can't close lid, if the earbuds fit into the wires, they are rotated so that they don't fit into the case properly, lid can't close.
Thank you for bringing this to our attention. We'd like to work with you directly to troubleshoot the issues you're experiencing with our JBL Tune 125TWS. Please contact customer service at https://bit.ly/2WocMfi
Date published: 2021-08-16
Can these ear buds be paired a car stereo for listening to music? The car stereo has blutooth......
We would like to get more information to help you out, please contact us so we can assist you:https://bit.ly/2zwFkYM
Date published: 2021-06-06
Would this pair perfectly with an iphone
Our JBL Tune 125TWS works with both Android and iOS.
Date published: 2021-06-06
The right headphone wont charge 90% of the time and when It does it charges about twenty percent and stops again. And the left one I can't get to pair to my phone independently of the right earbud but that part may be me
Here are some steps that you can try: 1. Charge the headphones overnight or at least 8 hours. 2. Check if there are any visible damages on the unit. 3. When charging, make sure that the unit is plugged into a working wall outlet/power strip. 4. Check the charging port for any debris or bent pins. 5.Use a different USB charging cable and adapter, making sure that it's securely plugged into the unit and to the USB adapter/outlet. 6. Use another power adapter/power cord and make sure that it's securely plugged into the unit and power source. 7.Try wiggling or moving the charger around the charging port, see if there's a sweet spot where the speaker would successfully charge. If you need further assistance, kindly get in touch with our Customer Support Team so we can directly assist you: https://support.jbl.com/us/en/
Date published: 2021-09-09
Does JBL Tune 125TWS True Wireless have volume control on the earbuds
Thanks for reaching out. Our JBL Tune 125TWS headphone does not feature volume control. You must manually control volume from your source device. Please visit our website to get more information about this product. https://bit.ly/3q2cetN
Date published: 2022-01-19
I've had these for a couple days. Although the case is fully charged as are the buds, my computer(s) and phone both state there is only 10% on the battery life. I did also try a factory reset, same results. what's up with this?
We're here to help with your JBL Tune 125TWS. If your earbuds aren't charged, please try the following troubleshooting steps: Clean both earbuds by removing dust and wax with a cotton swab and alcohol. Try dipping the affected earbud tip into a solution of lukewarm tap water and a small amount of dish soap. The earbud tip should be put into the liquid up to a maximum depth of 1-2 mm. Keep the earbud tip in the water for about 2-3 minutes, then wipe down the grille with a small brush, such as a toothbrush. Lastly, please ensure the pins are dried before placing them back on the case. If you need more help, we'd like to work with you directly. Please contact our customer support for assistance.
Date published: 2022-10-17
Is there a way to buy just the case? I lost it on the plane
Thanks for your question. Please reach out to our Customer Support so we could assist you with your inquiries about parts availability and pricing for the Charging case of our JBL Tune 125TWS. https://www.jbl.com/support-contact.html
Date published: 2021-06-06
Same here - Right side is no good. Tried everything wont even turn on. theyre kinda no good
We would like to get more information to help you out, please contact us so we can assist you:https://bit.ly/2zwFkYM
Date published: 2021-06-06
I'm not a young tech person, the directions are just small pictures with no words. I don't understand the manual control or button control pictures and can't tell which is right or left. 
To know more about our JBL Tune 125TWS headphones, please click the link that includes a manual of your device here: https://bit.ly/2WZifcL
Date published: 2022-03-30
When you get a call with these is there a built in voice that will tell me whos calling?
Our JBL Tune 125TWS doesn't have this feature. For more information, you could check out the product specifications on the Specs & Support tab.
Date published: 2021-06-06
How do you pair these with iPhone?
The JBL Tune 125TWS would automatically go in pairing mode once you take the earbuds out of the charging case. Then, go to your iPhone's Bluetooth menu to search for JBLTUNE120TWS then pair and connect.
Date published: 2021-06-06
Is there anyway to disable the automatic disconnecting after a period of inactivity (not receiving anything) from the paired device? As long as music or other audio is playing, they stay connected but without that, they won't. Can't take calls afterwards.
We appreciate the feedback you've provided to us. Our JBL Tune 125TWS has an auto-shut-off feature that disconnects the device after 10-15 minutes when not in use. This is mainly to save battery power and cannot be disabled. You will need to keep on playing music on your source device if you don't want it to shut off.
Date published: 2021-09-02
Can I charge buds with case only?..if so, how many times?
Our JBL Tune 125TWS can only be charged using the case. Charging cycles depends on the usage of the earbuds.
Date published: 2021-06-06
I have had my JBL Tune 125TWS for a little over 4 months now and when I turned them off they started to repeat sound and now they won't turn on or stop repeating sound. Is there anything I can do about this?
We always recommend that there be a clear line of sight between the connected devices to ensure a stable connection with your JBL Tune 125TWS and your source. You may try the troubleshooting steps on our support page article titled "Battery and Charging". If you have more questions, here's the link: https://support.jbl.com/
Date published: 2021-06-06
If I lose one ear bud and replace it how can I repair the new one and make them work as normal? 
It will have the same pairing procedure. First, take the earbuds out of the charging case. Click the button on both the left and the right pod 3 times. This forces a new pairing between the pods, and the left pod should automatically pair with the right pod from then on when you remove both pods from the charging case.
Date published: 2021-06-06
The right ear bud is not working on my JBL Tune 125TWS. The LED just flashes blue.  I have tried them on multiple phones and performed the reset procedure (case plugged in and hold the right button for 5 seconds) multiple times. What else should I do?
This isn't the experience we wanted our customers to have with our products. We'd like to work with you directly to try some steps with your Tune 125 TWS. Please reach out to our Customer Support. https://support.jbl.com/us/en/customer-service/
Date published: 2021-09-09
I just ordered a pair of these. Will they work with an Iphone 8!!??
Yes, our JBL TUNE 125 TWS is a Bluetooth wireless earbuds that you can connect to any Bluetooth capable devices just like your iPhone 8.
Date published: 2021-06-06
Worked fine first use. Put in charge and after that the left aide will not work. Left one just blinks white
We would like to get more information to help you out, please contact us so we can assist you:https://bit.ly/3hH8oBR
Date published: 2021-09-09
How can i adjust the bass on my JBL Tune125tws? it sounds like it does not have bass at all. ( i got them from Marlboro rewards)
The volume can be adjusted using the connected device on your JBL Tune 125TWS We would suggest trying to pair the headphones with a different device or try a different music app to check the audio.
Date published: 2021-06-06
Are wireless earbuds compatible with an iPhone?
Our JBL Tune 125TWS works with both Android and iOS devices.
Date published: 2022-03-09
What is the difference between the 125TWS and the 225TWS?  Is it just the shape of the earbuds?  It seems all other specs are the same.  Correct?
Thanks for your question. Both devices are similar in design and function. Our JBL Tune 225TWS has touch controls, while the Tune 125TWS doesn't. Both have Bluetooth 5.0, and both earbuds can be used independently. Please note that these earbuds can connect to one only source at a time.
Date published: 2022-07-27
I've tried to pair to a Samsung smart TV and have not had any success.  My Bose headphone pair perfectly.  Should I be able to pair the JBL ear buds?
Our JBL Tune 125TWS is recommended fr use with mobile phones, tablets, laptops, or PCs. We wouldn't recommend using it with your TV as it isn't compatible and may cause audio-video delays.
Date published: 2021-06-06
Last month, I noticed my left ear but would go off only to realise it's on but barely audible. How do I get the left sound quality to normal?
We're sorry to hear about what happened. Please try to reset the earphones if this can help fix the problem: Place both ear pods in the charging box, while the charging box is plugged into a power source. Press and hold the button on the Right pod for about 5 seconds. The LED on the pod will turn off and then turn back on again. This restores factory defaults. (Please note that charging must take place for the reset to work.) If the problem persists, please contact our local support for assistance in checking your options: https://bit.ly/2ZtSp1F
Date published: 2021-09-07
Do the light bars on the earbuds stay lit all the time?
The LED indicator on our JBL Tune 125TWS shows the battery level of the case. When the buds are placed on the case, it will charge and the light will remain on.
Date published: 2021-12-28
Can you purchase ear tips replacements in extra small
Unfortunately, we only have Small, Medium, and Large ear tips available.
Date published: 2021-06-06
Can I pair these with my jbl flip 4
No, our JBL Tune 125TWS doesn't have a Connect+ feature that our JBL Flip 4 has.
Date published: 2021-06-06
Are these buds noise canceling?
Our JBL Tune 125TWS does not support a noise-canceling feature. You could check out our JBL Live Pro+ TWS and JBL Club Pro+ TWS that has noise-canceling here: https://www.jbl.com/wireless-earbuds/
Date published: 2021-12-14
I successfully paired them with my LG phone and they worked great for a couple of days and now they just keep cutting out. I did a factory reset and then paired them again, but have the same problem. I purchased them from Amazon on 4/16/2022. Help!
We'd like to work with you directly to troubleshoot the issues you're experiencing with the JBL Tune 125TWS. If needed, we'd also like to get more information so we can check your options. Please contact our customer support service via our official website or toll-free hotline
Date published: 2022-05-28
I bought these for my husband for Christmas 2020. Great until now. Tonight we can't get them to shut off. Tried everything in directions. He can't answer calls unless he shuts bluetooth off altogether bc they won't shut off. How can we fix this?
We'd like to work with you directly so we could try some troubleshooting with your JBL Tune 125TWS. Please reach out to our Customer Support at https://support.jbl.com/us/en/
Date published: 2021-06-06
bvseo_sdk, dw_cartridge, 18.2.0, p_sdk_3.2.0
CLOUD, getContent, 144ms
questions, product