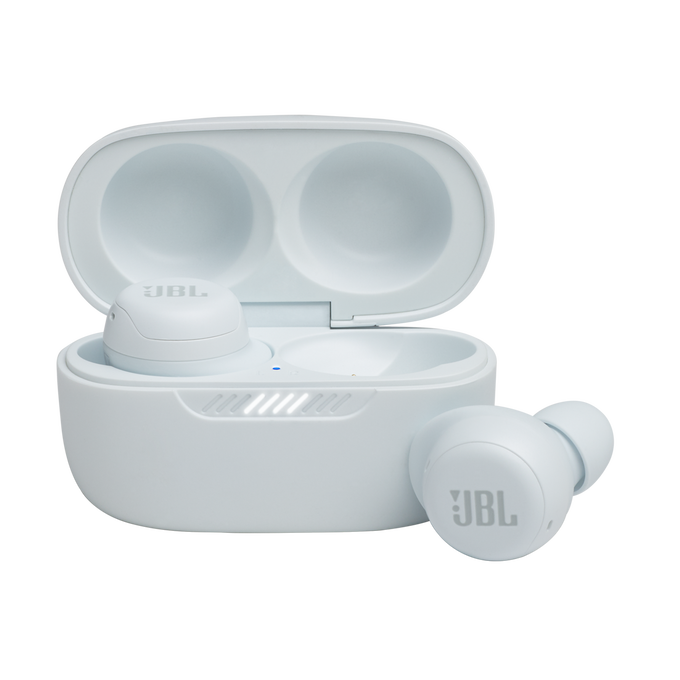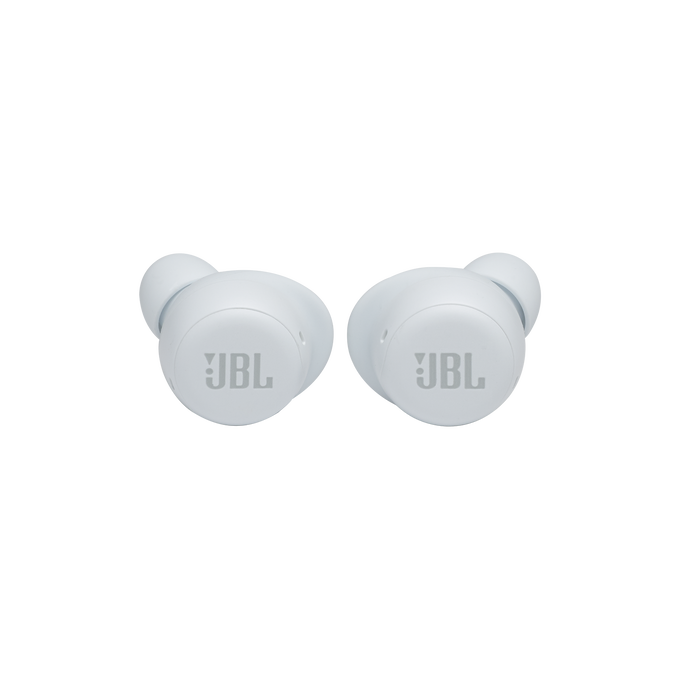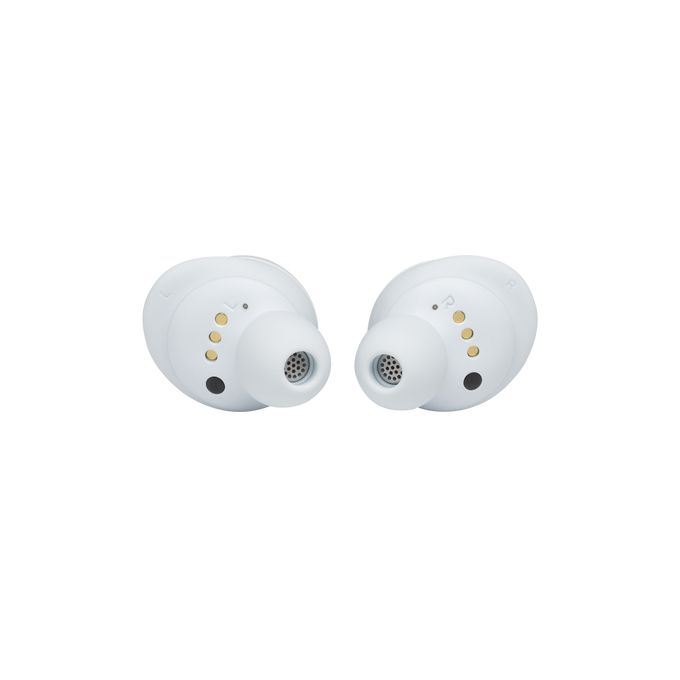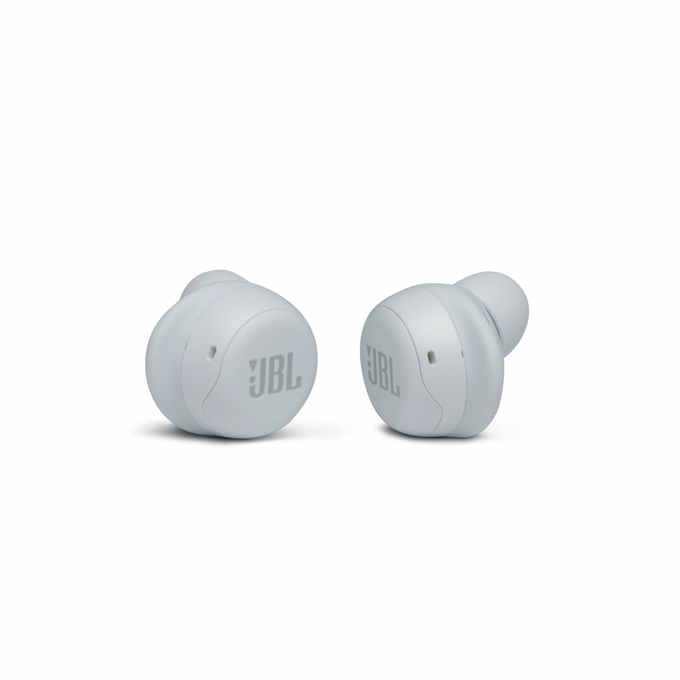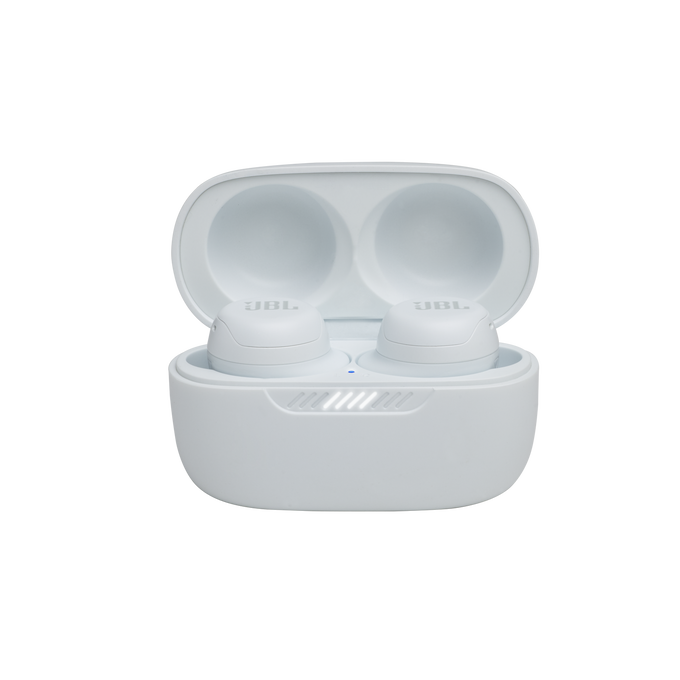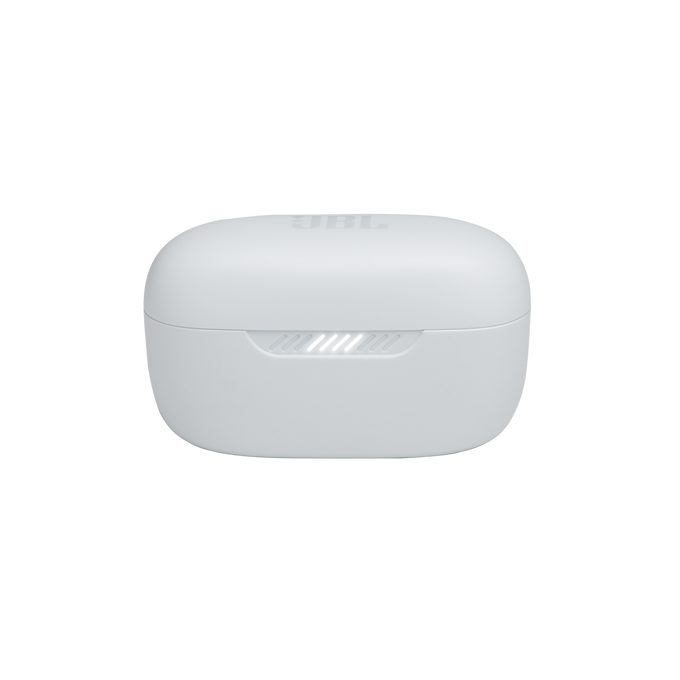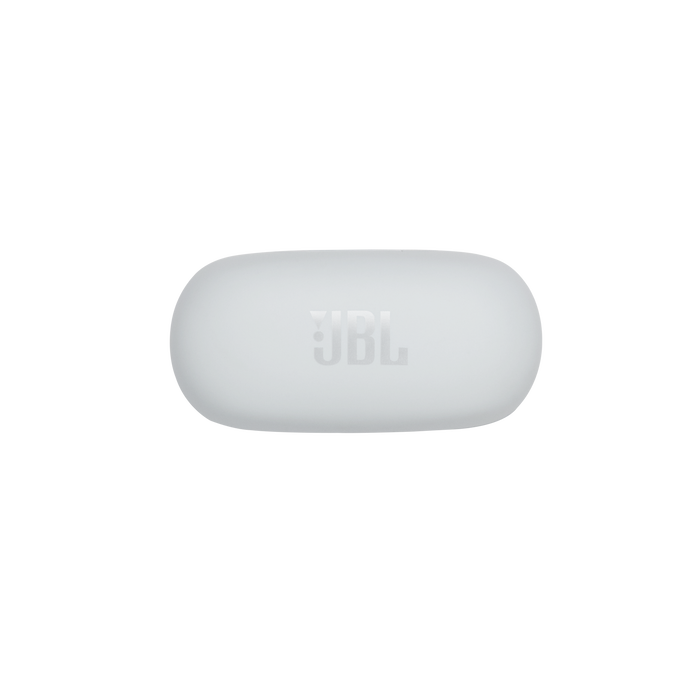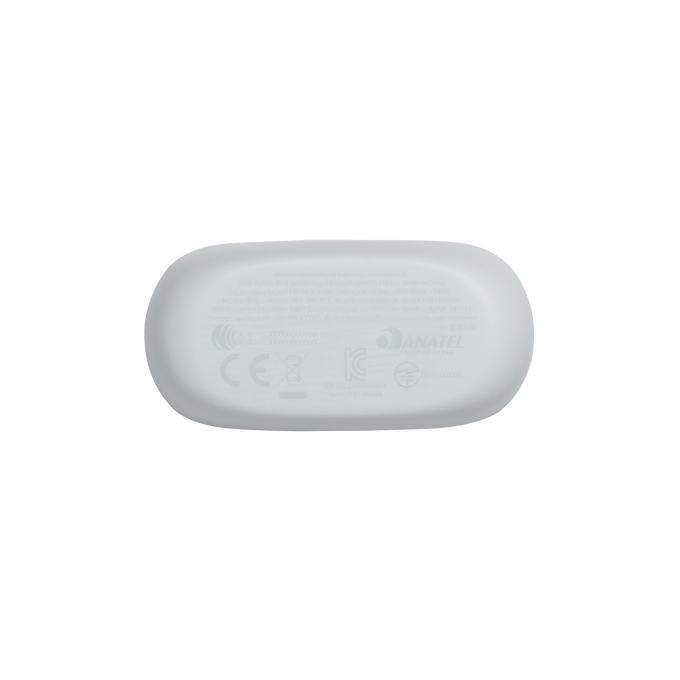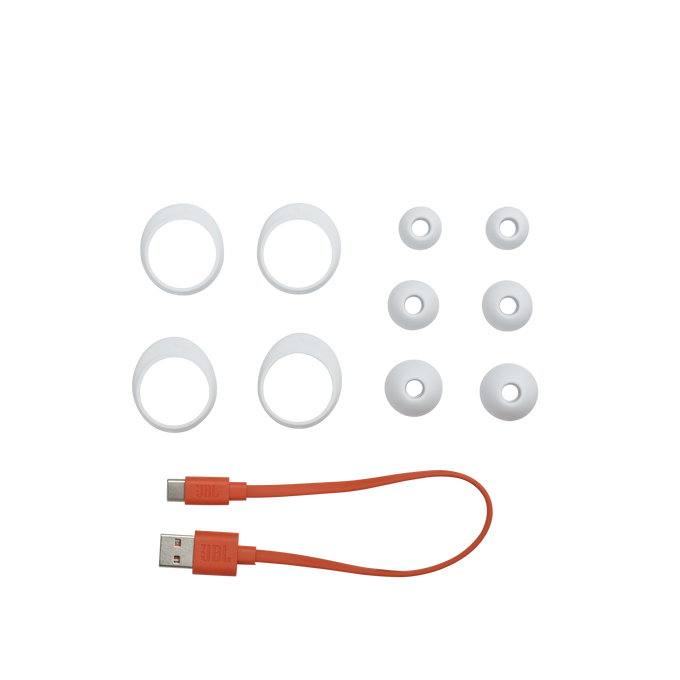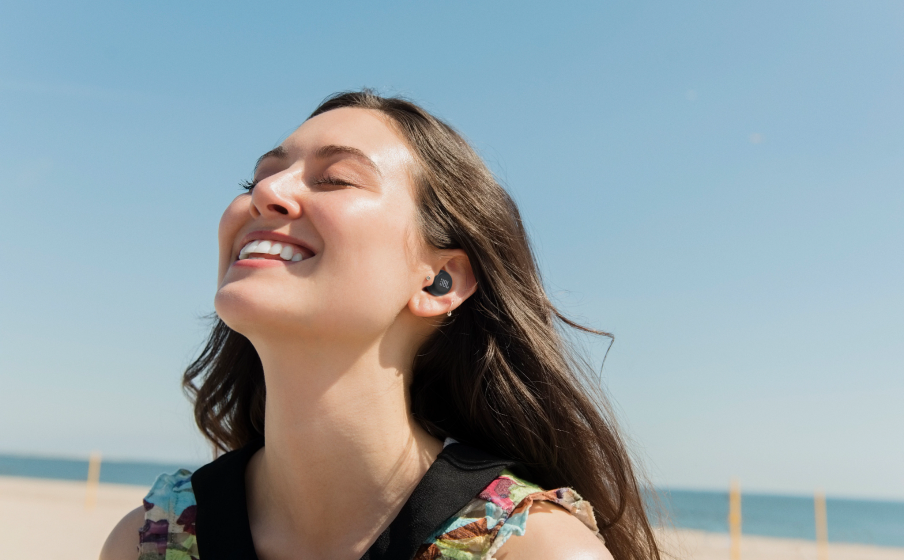 JBL's berømte signaturlyd
Gør hverdagen vildere. 6,8 mm dynamiske enheder leverer JBL's fremragende signaturlyd. Disse hovedtelefoner er ikke store, men de leverer storslået ydelse.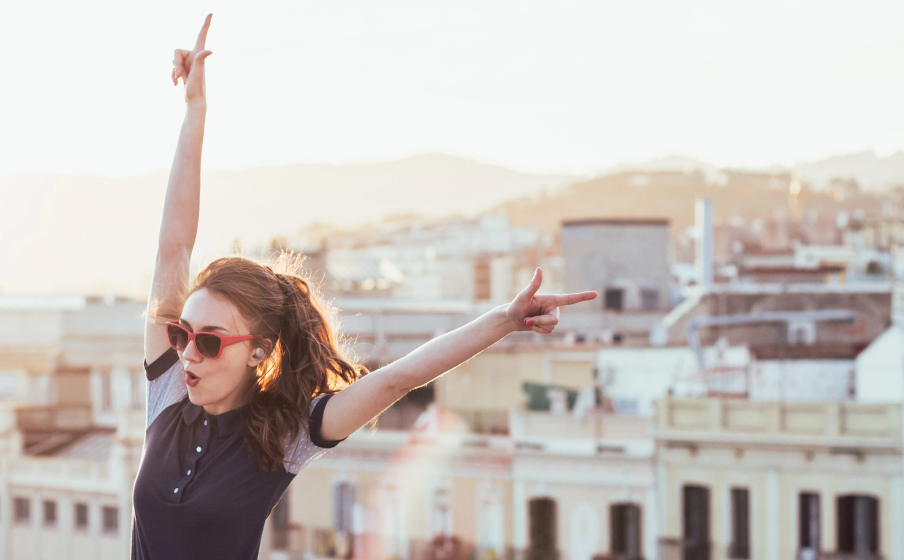 Aktiv støjreduktion med Smart Ambient
Ingen støj og nul forstyrrelser. Med aktiv støjreduktion er du fri til at nyde musikken. Når du har brug for det, giver TalkThru og Ambient Aware mulighed for naturlige samtaler og fuldt fokus på dine omgivelser - uden at du behøver tage øretelefonerne ud.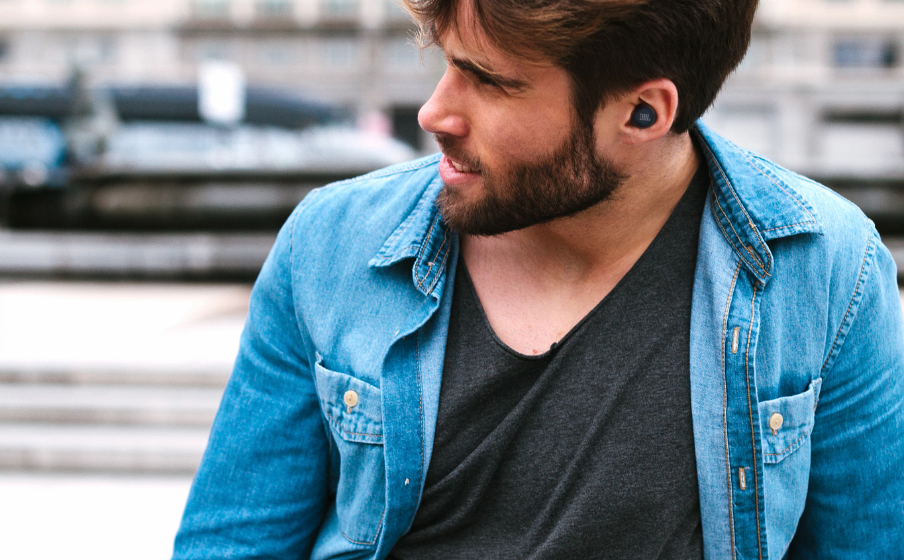 Et eller begge ørestykker, omgående tilsluttet
Dobbelt tilslutning + synkronisering forbinder automatisk til din enhed, så snart du åbner etuiet, uanset hvilket ørestykke du tager ud først. Og du kan forlænge batteriets levetid ved at sætte ørestykkerne til opladning hver for sig. Takket være Googles Fast Pair-teknologi forbindes JBL Live Free NC+ TWS til din Android-enhed, lige så snart du åbner etuiet. Du kan også parre flere enheder ved blot at trykke på enhedernes skærm.
Funktioner

Opladning på farten uden ledninger
Ingen ønsker at undvære deres musik. JBL Live Free NC+ TWS giver dig mulighed for at oplade på farten med lynopladning og Qi-kompatibel trådløs opladning. Der er op til 7 timers musikafspilning og op til 14 timer i etuiet. Hold musikken kørende

Berøringskontrol af alle funktioner
Fuld lydkontrol - lige ved fingerspidserne. Du har al kraften i dine øretelefoner. Styr telefonopkald med fingerspidsen ​, og få ​perfekte opkald med fire integrerede mikrofoner på hvert ørestykke. Dedikeret berøringskontrol giver også nem mulighed for at tale med Google eller aktivere Amazon Alexa. (*) Understøttes kun på Android. (**) Android 6.0 eller højere er påkrævet for fuld adgang til Alexa-funktioner, når denne enhed bruges.

Sved- og vandtæt
JBL Live Free NC+ TWS er vand- og svedtætte med IPX7-certificering. De vil følge dig gennem både solskin og regn.

Komfortabel og sikker pasform
Med tre størrelser ørestykker og to størrelser gel-omslag kan du nemt forme dine ørepropper til en perfekt pasform, der bliver siddende under selv den hårdeste træning.
Detaljer & Downloads
Item# JBLLIVEFRNCPTWSW
Beskrivelse
Lev livet uden forstyrrelser

Oplev verden med stil. JBL Live Free NC+ TWS-hovedtelefonerne leverer JBL's signaturlyd med enestående komfort. Hold stemningen oppe hele dagen uden støj eller forstyrrelser takket være den aktive støjreduktion. Samtidig sikrer TalkThru og Ambient Aware, at du fastholder kontakten med venner og omgivelser. Op til 21 timers battertid og trådløs opladning i etuiet giver dig ekstra brugervenlighed. Og med dobbelt tilslutning + synkronisering kan du straks begynde at lytte med enten et enkelt eller begge ørestykker. Med valgfri stemmeassistent, perfekte opkald og intuitiv betjening lige ved hånden behøver du aldrig stoppe musikken. De vand- og svedafvisende JBL Live Free NC+ TWS svigter ikke, uanset dine aktiviteter og vejrforholdene. Så du kan leve frit.
Specifikationer
Enheds-størrelser (mm)

6.8
Lydspecifikationer
Enheds-følsomhed ved 1kHz/1mW (dB)

96

Dynamisk frekvensområde (Hz)

20 Hz – 20 kHz

Impedans (ohm)

16

Antal dynamiske enheder pr. øre

1
Mål
Charging Case Weight (oz)

1.4

Earpiece Weight (oz)

0.5

Vægt (g)

40

Vægt (g)

14
Specifikationer, styring og tilslutning
Bluetooth-profiler

A2DP V1.3, AVRCP V1.6, HFP V1.7

Bluetooth-frekvens

2.4 GHz – 2.4835 GHz

Bluetooth sender-modulation

GFSK, π/4DQPSK, 8DPSK

Bluetooth sender-effekt

0 - 10dbm

Bluetooth-version

5.1
Batteri
Ladetid (timer fra helt afladet)

2

Maksimal spilletid uden aktiv støjreduktion (timer)

7

Maksimal spilletid med aktiv støjreduktion (timer)

6

Maksimal spilletid (timer)

7
Egenskaber
Bluetooth

Ja

Stemmeassistent

Ja

Vandtæt

Ja

Aktiv støjreduktion

Ja

Lader lyd fra omgivelserne passere

Ja

Indbygget mikrofon

Ja

Smart opladningsetui

Ja

Håndfri opkald

Ja

Den berømte JBL-lyd

Ja

Genopladeligt batteri

Ja

Comfort Stay Secure Fit

Ja

Svedsikre

Ja

Multifunktionel TalkThru-knap

Ja

Touch-knapper

Ja

Ægte trådløse

Ja

Trådløse

Ja
Det er der i æsken?
JBL Live Free NC+ TWS
1 x 3 størrelser ørespidser
1 x 2 størrelser gel-omslag
1 x type-C USB-opladningskabel
1 x opladningsetui
1 x garanti/advarselsark
1 x lynguide/sikkerhedsdataark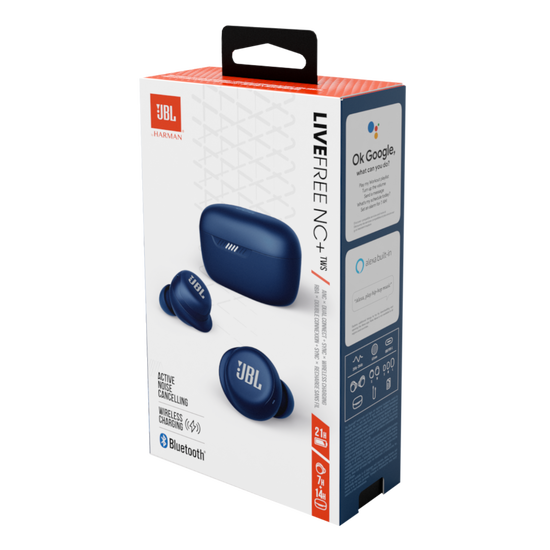 Dokumenter og downloads
Kunde-anmeldelser
Rated

5

out of

5
by
Lyndsayseed
from
Wow
These were easy to use comfortable and sound is amazing. The charge lasts a good amount of time too. I found the design a little bigger than I'm used too but they stayed put in my ear through gym and running. I found the clarity of music very wonderful. The noise cancellation worked brilliantly in a busy area with traffic they cut out the background hum and allowed the music to sound as it should.
Date published: 2020-12-21
Rated

2

out of

5
by
Toni2022
from
DO NOT BUY UNTIL YOU READ THIS!!!
I'm not writing a bad review on these headphones because the truth is that they are awesome, light weight, and work really well through Bluetooth from a fair distance but.... I read reviews where people said "jbl pure bass" is the same as "jbl signature sound" I promise you IT ISN'T. I love bass, always have even in my cars with subs. But these are not bass material. I had some other jbls before I bought these and those other ones said "pure bass" I trusted the comments and got these that don't say "pure bass" and I couldn't be more disappointed with my purchase. I turned my bass on the equalizer all the way up and ZERO BASS compared to my first JBL purchase. Quality sound these are good, not bass material at all though
Date published: 2022-01-13
Rated

3

out of

5
by
Neilo
from
Pretty average experience
These were expensive for me, so I really had to consider whether I bought them or not. Unfortunately, in hindsight I don't think they are really worth the money. Here are some reasons why: 1. They feel a bit cheap and plasticky. 2. They don't stay in my ears that well. Maybe that's just the shape of my ears, but it is a bit annoying. 3. I wouldn't consider the music quality that great. Some Youtube reviewers acted like JBL produces a fantastic sound - I'd say the sound is less good sound than the £50 soundcore wireless headphones I had previously used. And yes, that's the case even when I adjust the settings in the app. 4. They somewhat regularly disconnect from the phone for brief moments whilst using them. Also, I could walk around my house leaving my phone in one place with my last pair with no disconnection issues. These start to break up quite quickly if I don't bring my phone with me. 5. The noise cancellation is non-existent. As in, it does zero. I can't notice a single bit of difference when I activate the noise cancellation. This is the biggest disappointment, as this was the reason I spent the extra money on these, hoping it would help cancel out the background noise when working. 6. The other sound features are also worthless. I particularly thought the talk-through sounded useful, but it basically reduces the volume of the music down to a level that it may as well be off. Anytime someone has talked to me, and I've used it, I've had to skip the song backwards, because as I hadn't paused it, I'd just missed the song. I much prefer just hitting pause, speaking to whoever it is, and then resuming play. The ambient aware does basically nothing too. Fancy gimmicks that are not worth the additional money. 7. I've found I've had to recharge these more than any other wireless headphones I've had, even though these are much more expensive and claim to have better specs than my previous headphones. 8. The sound quality during phone calls has been mixed. The first phone call I had with them, my girlfriend said she could barely hear me, and I was just walking down a quiet street. The phone call I had yesterday, my friend said he could hear me fine. I expect more consistency from headphones with this price tag. That said, there are some things I do like about these headphones, although I don't think they are particularly worth the price tag: 1. They connect very quickly to my phone, as they connect as soon as you open the box. 2. They have a USB-C, so I can charge them using my phone's charger (I couldn't do this with my older wireless headphones). 3. They are pretty customisable in terms of the controls (however, you can't have them do everything - you can, for example, control the volume with the left earbude OR you can use it to activate the ambient aware.... as far as I can tell it's not possible to have all the controls at your fingertips). 4. It is nice to be able to take either ear bud out and have it connect automatically, without having to have the other ear bud out. 5. They are completely waterproof. So far this hasn't been very useful, but I did break an old pair of non-waterproof wireless buds by dropping them in the sink previously, so it might be worthwhile in the long run.
Date published: 2021-01-04
Rated

5

out of

5
by
Mikeydima
from
I'm impressed with these buds
I recently bought the jbl live nc+ and the app make changes by itself. If i choose a sound profile and close the app next time when i open it the app shows another sound profile active. Please solve that because i really like these buds, decent anc, deep bass and very loud headphones. I'm happy with them considering the price paid but please fix the app.
Date published: 2020-11-20
Rated

5

out of

5
by
Sh74
from
Great headphones
Bought these a couple of weeks ago now and really impressed. Great sound, a bit of fiddling with the EQ and the bass is perfect…they fit my ears perfectly and twist into the inner part of the outer ear to get a really snug fit - that's when the sound really comes through. Controls are easy to work out and are configurable via the app. Like the way the phones are magnetised so they are sure to sit in their box perfectly. Overall, they feel like great quality phones. I bought these at sale price so really happy.
Date published: 2022-01-24
Rated

1

out of

5
by
Sideslick
from
Sound is good, durability and ANC, not so much.
Sounded decent until they stopped working. The audio quality by itself was pretty great, but the ANC functionality was incredibly subpar. I understand that these are a small device and that there is a limit to what science is capable of in terms of sound blockage, but it absolutely could have been better. Bought them in February of 2022, used them ~twice a week for ~an hour at a time, and the case stopped charging altogether by mid-November of 2022. For how much they cost only to fail on me in less than a year of light use, I will probably avoid JBL products in the future.
Date published: 2022-11-16
Rated

3

out of

5
by
Girianand
from
Good Product
I bought this before couple of weeks, the product is amazing for listening to music and the features are really good. Trustable product but there is a small problem while making audio call through the headphones, the opposite person on call can't hear my voice, because the headphones letting more outdoor noise of my surroundings even a slow wind. So the opposite person can't hear my voice anymore. The reason is noise cancellation is not proper in this headphones.
Date published: 2022-01-30
Rated

1

out of

5
by
ucrusty
from
trash
complete garbage "find my device" feature. I went for a bike ride at night time, since none of the three sizes of provided tips stay in my ear snug, the right earbud fell off. For the price I find it hard to believe they couldn't include GPS location to find them, I can locate my Samsung earbuds miles away but this one was lost from a few meters away. The right earbud immediately unpaired from my device bluetooth less than 8 meters as soon as it fell off my ear. I looked for it for hours but cannot find it. the left one rings but the right one cannot be found even though it was previously connected right before it fell off my ear. I feel like they designed these earbuds to be lost easily so that you have to buy new ones.
Date published: 2022-10-02
Rated

5

out of

5
by
Miiisse
from
God lyd og fine funktioner
Jeg har nu testet dette produkt i en uges tid. Det tog lidt tid at få connceted til min telefon, men efter det først var på plads, har det kørt uden problemer siden. Funktionerne er rigtig gode, og lydkvaliteten er også rigtig god. De fungere rigtig fint til både at høre musik og podcast med, men også til at have en samtale. Jeg har dog små øre, så de er lige en smule for store til mig, men kan godt sidde i mine øre, problemet er bare, at det kommer til at gøre ondt efter lidt tid. De havde været perfekte til mig og mit forbrug, hvis de var en smule mindre.
Date published: 2021-03-21
Rated

4

out of

5
by
Annemette
from
Super smart
Jeg har været så heldig at teste de her super smarte høretelefoner. Støjreduktionen fungere super godt! Jeg kan lukke stort set alt lyd ude! Det er hel vildt. Er vild med at den automatiske parre sig med telefonen eller lign, når de først har haft forbindelse en gang. Hvis jeg skal høre noget og tager den ene øretelefon ud, pauser den automatisk musikken.. Lyden er suveræn, både til musik, film og tale. Det eneste minus er at den ikke holder så længe strøm. Jeg brugte dem til en online kom sammen og efter ca 3 timer var de ved at løbe tør for strøm.
Date published: 2021-03-22
Rated

4

out of

5
by
KMS13
from
Ok for the price
I have had these a month or so now and overall they are good. I used to have Samsungs earbuds until I broke them, so they are what I was used to using. They arrived and were really well packaged and looked super. Set up was a bit clunky and took a while to master but I got there in the end. Once I had sorted them there was no issue at all with connectivity and they were a dream to use. The only issue I have with them is the size, they are quite big and a little heavy and whilst wearing them they fell out of my ear (I also found them slightly uncomfortable), I think this is due to the size and weight of them, I was exercising but that is what they were made for....right? other than that They had a good quality sound and kept charge really well.
Date published: 2021-01-06
Rated

5

out of

5
by
Toyah67
from
I love them
I am using These in-ear-Headphones now for over 6 weeks. They fit well. The Sound is very good and they are confortable. Much better than any ones I ever had bought before.
Date published: 2021-06-24
Rated

5

out of

5
by
Twomuchsake
from
JBL is starting to get things right!
I'm happy to say that these are and excellent pair of TWS earbuds. I've had my pair for a few months now and can write a review about my experiences with them. Sure there's some draw backs but there's only a few. So first I'll start with the negatives and move to the positives. The negatives are that you can't have touch controls with the ambient/noise canceling mode and volume at the same time. You need to pick which you wanna prioritize. The second negative is when you have these earbuds set to better audio quality the BT range gets shortened up allot. Maybe a firmware update can fix this. On to the positives, these earbuds are super comfortable and I can actually wear them until the battery dies! They don't stick into my ears like other tws earbuds do and they also have soft yet small stabilizers that make these earbuds stay put in my ears. The touch controls aren't overly sensitive which is great, they only respond if your touch the absolute middle of the earbud. The BT range when using the standard audio mode is basically like my other pairs of BT earbuds which is about 30 feet or so. The call quality is excellent! People can hear me no problem what so ever! The ambient mode is also very clear but has a white noise which my other pairs of TWS earbuds also have. However if you use these with say an air compressor you absolutely have to turn either NC or ambient mode OFF! the noise will come right through the mics and won't be pleasant. The battery life is as advertised, like I said I can wear these until the battery dies so they'll basically last me just about 8 hours at work. The Audio quality is really where these shine! They just sound great! JBL has really been knocking their newer products out of the water lately and these are no exception! The sound stage is really wide, the mids highs and lows are super clear and clean, plus with the app you can really adjust these! And they respond very well. The charging case is also super small which I love, it just fits into my pockets easily. As for the app itself JBL has done allot to improve it over the years. It's come a long way and really complements these earbuds well. Right off the bat when I got these there was a firmware update which improved the overall pairing speed and response of these earbuds. You can customize the controls, audio signal and play around with the noise canceling. There's also a locator in case you miss place your earbuds but sadly no gps locator. As for the ANC it works really well, however when playing around with the slider the ANC doesn't work the way you think it does. Moving the slider to the right doesn't drown out all the background noises. What you have to do is play around with the slider and basically adjust it to suit whatever noise you want to decrease or eliminate. So basically your focusing the ANC to work with a specific frequency range. The ANC on these is very effective but you need to know how to use it otherwise you might think it's not working or not effective. It definitely does work very well. Finally JBL added the ability to use the left or right independently! This should have been done from day one! But THANK YOU for finally adding this feature, the other nice thing is that ambient mode kicks in on the earbud that's still in your ear during mono mode. This make it feel more natural to have one earbud in. When both earbuds are in your media will stop playing when you take on side out which is another nice feature. So overall these earbuds are very well featured you're getting allot for the money here which I'm very happy about. I feel very good about my purchase and would buy another pair if I ever needed to in the future. JBL is on the right track with these earbuds so keep up the good work!
Date published: 2021-07-11
Rated

3

out of

5
by
Silva05
from
Qualitative design does not match the functions
The headphones look very high quality. As usual from JBL, it is a experience to unpack the product! The accessories are top and everything is included. As soon as I used the headphones, my Samsung S10 asked if he should download the app. I found that very surprising and a great service. Gladly I would have heard the headphones to listen to music, but the bass was almost inaudible. No matter how deep I had the headphones in the ear. The bass was not comparable to my other in ear headphones. Unfortunately, I also didn't hear any difference after I adjusted the sound via the app. Only in the setting for voice there was a small difference. My ears are very small and even if I used the smallest rubber, my ears hurt a lot after 15 minutes. Even though making calls with the headphones is not the key function, I wanted to test the mic. I would not recommend to make phone calls with it maybe only in an emergency solution. On the other line, I could hardly be heard and the background noise was very strong. Now to the positive points: The supplied cable is very soft and nice. The case is very high quality and to make a connection between mobile phone and headphones is very easy. In addition, the background noise is very well suppressed. Unfortunately, the negative points were significantly more and therefore I will return the product.
Date published: 2021-06-13
Rated

3

out of

5
by
S_Vase
from
Fed Lyd og brugervenlighed, klodset pasform
Jeg har fået æren af at teste disse Earpods gennem Reviewclub. Lyden er intet mindre end fremragende, ANC fungerer perfekt, og JBL App'en gør det muligt at skræddersy lyden til ens egen præferencer. Jeg har brugt dem til Teams møder, telefobipkald og naturligvis musik under løbe og cykelture, alt i alt med en lyd der i mine ører er perfekt. Der hvor produktet hænger lidt er selve pasformen. Jeg syntes den er klodset og uhandy, og bliver øm i øregangen ved længere tids brug. Så fremragende lyd og knap så fremragende pasform.
Date published: 2021-03-29
Rated

1

out of

5
by
Anf07
from
Meget skuffende lyd
Jeg købte disse for to måneder siden - sælger i 3 lovede samme gode lydoplevelse som Apples produkt. Men desværre er lyden meget ringere end mine Apples headset med ledning. Ingen bas næsten og flad lyd generelt. De sidder også dårligt og jeg har tabt dem flere gange. Jeg har betalt 1200 kr og ville ønske jeg istedet havde købt air pods.
Date published: 2021-08-16
Rated

4

out of

5
by
Cisco21
from
Bass
I bought these about a week or two ago and I'm honestly surprised, well each time I buy JBL's I'm surprised, starting from the features all the way to bass, The noice cancellation cancels out amazingly, mines can cancel out the noise of a vacuum cleaner and the ambient sound is an even greater feature, I could be listening to music without the audio quality effect and talk to someone standing in about a 6 feet perimeter, now the audio quality is even as more terrific on them, Once you set the eq from the app to how you want it, It could sound as best as if the music was playing right beside you. Im more of a bass person and that on these are just my fit.The only flaw about these is the circle silicones, They only come in 2 sizes (small & large) and both of them struggle to fit, the small one falls out too easily and the large one starts to hurt my ears after awhile. But either then that these are great buds and JBL buds all ways seem to surprise me
Date published: 2021-10-16
Rated

4

out of

5
by
JW20
from
Stable and comfortable
Great headphones overall. I have had different wireless headphones in the past and these stand up with the best of them. I use for different things such as running and work calls. Very comfortable and feel secure and have extra sizing available to fit anyone easily. I am always conscious when running with new headphones about then falling out but these feel great and not obstructive or feel uncomfortable. The different sound modes are also great to hear traffic at night etc. In regards to work calls the quality is good enough and colleagues have said microphone sound is good enough their end. Overall sound quality is not the best I have had, however in terms of value for money they stand up very well. Would recommend over others in the same price bracket.
Date published: 2021-01-06
Rated

1

out of

5
by
sss857
from
Major Disappointment
Very disappointed and upset at the quality of these earphones- not worth the price at all. I spent so much time researching and picking them out and had read a lot of positive reviews. I don't know if there's something wrong with mine I purchased them right off the site but my experience is completely different. The Bluetooth connection is very flaky, the earbuds lose connection and turn off randomly, the noise-canceling is virtually non-existent and the app is not easy to use. So shocked and upset at their quality.
Date published: 2022-02-01
Rated

5

out of

5
by
Mave1992
from
Great headphones with great sound
I got the JBL live free nc+ tws for nearly three weeks now and I just can say, that I am amazed. I was kind of sceptical at the beginning if the battery would really last that long. All I can say is: they did not lie! I use these headphones nearly everyday for a good 3-4 hours and in three weeks I charged the case three times. the sound is also exceptionally good for wireless headphones and the noice cancellation does the job at its best. I am really happy with these headphones and I can't go one day without them.
Date published: 2021-06-03
Rated

2

out of

5
by
Koorah
from
Doesn't fit. Doesn't disconnect.
I have owned these earbuds for about 6 months now and have used them frequently in various situations. I won't recommend them to anyone for a few, but crucial reasons. First being they absolutely will not stay seated in my ears, no matter what combination of pieces I use. Second, and just as annoying, they will not disconnect from my blue tooth unless perfectly placed in the charger, and sometimes even then. Third thing is the charger and headphones do not hold enough of a charger for continuous use beyond six hours, at medium volume. I really regret not saving my receipt and thinking I would enjoy these ear buds, way over priced for a mediocre product. The noise canceling option is about the only thing I appreciate here. Long story short, buy something else, not worth the money.
Date published: 2022-04-26
Rated

4

out of

5
by
JulieSH
from
Lækker lyd og brugervenlig
Jeg har testet dem i nogle uger og er meget tilfreds. Der er rigtig god lyd og det er nemt at udnytte alle de fine funktioner med den tilhørende app. Med de medfølgende tilbehør er det nemt at tilpasse headsettets størrelse til netop ens øre. Jeg har relativt små ører og jeg kan sagtens bruge dem uden de falder ud, hvilket jeg har oplevet med andre mærker. Der er rigtig lang batterilevetid - jeg har faktisk kun ladet dem en enkelt gang på 3 uger selvom de næsten bruges dagligt. En varm anbefaling herfrA
Date published: 2021-04-06
Rated

1

out of

5
by
Fowler
from
Horrible ear buds
They do not stay in your ear at all no matter which size rubber you use. The single use and duel use feature does not work at all. You cannot change from single use back to duel even with what the directions say. They do not connect to my phone or even turn on unless I plug em into the wall charger first even thou they are fully charged. Resetting them does nothing. Following the guide to just get them to work properly does nothing either. Only good thing is the app, sound is good.
Date published: 2021-09-15
Rated

4

out of

5
by
Jadew94
from
I like them!
I have these as I upgraded from my other wireless ones but the other ones had a wire to connect them together. I like that you can use one and it will change the sound accordingly. I also quite enjoy the noise cancellation feature, it's really useful and I was sceptical about them at first. You're definitely getting your moneys worth from them! The cute little case they come in is also very handy, I would prefer it to have a strap attached so you don't lose them hence the 4 stars!
Date published: 2020-12-27
Rated

1

out of

5
by
Bentley03
from
Got this recently and the left earbud is not recognized at all. It won't even charge. Did the reset, checked all connections, it simply is dead.
Date published: 2022-07-16
Rated

4

out of

5
by
Hombs
from
Fabulous Features
General Overview With so many models and styles and so much tech on offer, it can make finding the best wireless earbuds for you a bit of a minefield to search from. The move towards wireless earbuds has seen the market boom in recent years and you have no shortage of models to choose from. JBL Live Free has a tight secure fitting, noise cancelling technology removes ambient sound so you can lose yourself in the music. However, the missing function is the voice command that other earbuds come with. That comes handy when you get busy and both hands are occupied and you urge to change music from your media source. Charging JBL Live Free are impressive with their quick and easy charging facility enhanced with magnetic interior that securely holds your earbuds in place while charging them. Considering the small size of most ear pods, the JBL Live Free are supplied with a magnetised case keeps them securely protected, and recharges them back to full power too. Off a single charge they'll last up to 4 hours; easily long enough for a long study hours or extended workout in the gym. The fully charged case provides two additional full charges. By H. Hombs
Date published: 2020-12-21
Rated

1

out of

5
by
ftmyqb
from
Not paring well with my device
I bought this couple of days ago, it pairs with my tablet but there is no sound, only lets me play/pause and adjust volume.
Date published: 2022-01-11
Rated

4

out of

5
by
Seanycumgutters
from
Good for the money
Happy enough with these. Good sound quality stays in when excercising. Easy to control and set up.
Date published: 2020-12-13
Rated

4

out of

5
by
Lauren1991
from
Love them
I've been using these for about 2 weeks now. I tend to use wired ear buds but fancied a change. They were easy to set up and use. I love the little charging case and I'm impressed by the battery life. I've only had to charge it once since I recieved them! I mostly use these to listen to music on my commute to work. But I have also used them in Zoom meetings and to complete call audits. They work perfectly in all areas. I've been hesitant to use wireless earbuds in the past as I didn't think they would be secure but they don't budge at all! I like the app that goes with them and the ability to optimise the sound settings for how I use them. The only real downsides is that I sometimes find them a bit uncomfortable if I've worn them for long periods. They do come with different sized buds but it is the main earbud itself that I find a bit uncomfortable. The price is also very high compared to others on the market.
Date published: 2020-12-21
Rated

2

out of

5
by
Bethany
from
Poor fit for women's ears, sound + battery ok.
I'm just glad I bought these on 50% discount, because I don't want to think how much more annoyed I'd be if I paid full price. I really liked JBL for a long time and decided to try, but these buds just don't fit. I tried all the bud sizes and rings to no avail. The sound quality is fine, and the battery too. But all of that means jack if they won't stay in my ears. Not even worth the hassle of returning them. I'll save them as a backup and buy a different brand.
Date published: 2022-07-13
bvseo_sdk, dw_cartridge, 18.2.0, p_sdk_3.2.0
CLOUD, getReviews, 6ms
reviews, product
Spørgsmål og svar
Jeg har høreapparat, kan vel så ikke bruge den??
At the moment, our Customer Support does not support Danish, but I will happily assist you in English. Thank you for your question. It may well work, but obviously taking the place of the hearing aid. Should you wish to receive further support, you may contact the Harman Customer Support team by telephone, email or chat in order to receive direct assistance. Please see https://uk.harmanaudio.com/support-contact.html#ns for further details.  Thank you.
Date published: 2021-06-06
When I insert the earbuds in the case and close the power LEDs stay on until the battery is drained
We would like to get more information to help you out. Please contact us so we can assist you: https://support.jbl.com/us/en/
Date published: 2022-06-30
I take the earbuds out of the case, then go into the JBL App on my Android phone to turn on the ANC, then when I'm done the earbuds go back into their case. The next time I take the earbuds out, the ANC is off in the app...I don't get it. Why is that?
The ANC function of our JBL Live Free NC+ TWS will automatically switch back off every time you power down your device.
Date published: 2022-08-13
Can I Shower while wearing my JBL live free NC plus+ TWS?
Thank you for your question. Yes, these do have an IPX7 rating for waterproof but this is meant mainly for rain and outdoors. A continues poor of water in a shower might become problematic. Should you wish to receive further support, you may contact the Harman Customer Support team by telephone, email or chat in order to receive direct assistance. Please see https://uk.harmanaudio.com/support-contact.html#ns for further details. Thank you.
Date published: 2021-08-04
Are these compatible with wireless chargers? Ig: If I put them in the case on a charging station used to charge an iPhone and Apple Watch simultaneously, will they charge ?
Thanks for reaching out. Our JBL Live Free NC+ TWS Headphones support the Qi wireless charging standard. You may want to check the specifications of your iPhone and Apple Watch to confirm if they can be charged with our headphones simultaneously.
Date published: 2022-04-01
Since last the app update on my iphone the app no longer will recognize my live free nc+ tws earbuds. i have restarted the earbuds, reconnected them to the phone, reinstalled the app without success. The app only shows the live free 2 tws as an option.
Thanks for bringing this to our attention. The JBL Headphones app is not compatible with the new iOS software and we're still waiting for the update. For now, what we can recommend is to pair the headphones via Bluetooth.
Date published: 2022-09-15
what to do when your headphones are not under the same Bluetooth. meeen goes under each their?
Hello, Thank you for your question. We were unfortunately not able to understand how we can assist you, and would therefore like to request that you reach out to our Customer Support team with your query and some further details.  You may contact the Harman Customer Support team by telephone, email or chat in order to receive direct assistance. Please see https://dk.harmanaudio.com/support-contact.html#ns for further details. Thank you.
Date published: 2022-01-28
Is this compatible with iPhone 
Thanks for your interest in our products. Our JBL Live Free NC+ TWS is compatible with Android and iOS/iPhone devices.
Date published: 2021-10-27
When will black become available?
Thanks for your interest in our products. We have no news on when our black JBL Live Free NC+ TWS will be available again. You could sign up for our newsletter for updates and product releases. https://www.jbl.com/subscribe.html
Date published: 2021-06-18
Will these headphones control the music on a Samsung galaxy smart watch ... pause, skip forward, skip backward, etc.?
Our JBL Live Free NC+ TWS has Play/Pause, Skip Next and Skip backward functions when connected to a Bluetooth source.
Date published: 2022-09-02
Charging case lights won't turn off when earbuds are in
You may try resetting the JBL Live Free NC +TWS by double-tapping the button on the right earbud, then on the third tap - press and hold the button for more than 2 seconds. This restores the earbuds to the factory defaults. If you have more questions, our customer support could help you: https://bit.ly/36JTBlN
Date published: 2022-08-25
The case foe my earbuds won't charge and the 1st and 4th LED light is only on. But when I open the case only the Right ear bud is fully charged and the Left ear bud and The Case is dead. I charged it overnight but it still won't work.
Thank you for taking the time to provide us with your feedback. We're here to help with your JBL Live Free NC+ TWS. We recommend cleaning the contact points on the earbuds and charging case to see if it helps. If the issue still persists, please contact our customer support service via our official website or toll-free hotline.
Date published: 2022-12-02
MINE JBL HØRETELEFONER HAR LAGT TIL LADNING HELE NATTEN IG DE HAR 2%!
Hello, Unfortunately we do not offer support in Danish, but we will gladly reply to you in English. Thank you for your question. I am very sorry to hear that your Live Free NC + TWS did not charge overnight. If the earbuds are still not receiving any charge, may I recommend that you try the following: Try charging them with a different charger. Try charging via another wall outlet. Check if the cable is secured to the connector when attached to the case. If the steps above did not solve the charging issue, please reach out to out Customer Support team. You can contact the Harman Customer Support team by telephone, email or chat in order to receive direct assistance. Please see https://dk.harmanaudio.com/support-contact.html#ns for further details. ​​​​​​​Thank you. 
Date published: 2021-12-08
I am not able to connect via the bluetooth to my samsung S8+ with these earbuds. Either from the box or individually earbud. I also tried with an iPhone without any luck. Any suggestion? 
Thank you for your question. We are sorry to hear you are unable to pair to these earbuds. As your question requires troubleshooting by our Product Specialists, we invite you to contact the Harman Customer Support team by telephone, email or chat in order to receive direct assistance. Please see harmanaudio.com/support-contact.html for further details.  Thank you.
Date published: 2021-07-09
My earbuds will not connect with my PC. Is there a tutorial to connect them?
Thanks for reaching out. In most cases when a PC has issues connecting to a Bluetooth device (Portable speaker, Headphones, Active speakers), it's caused by your Computer's Bluetooth driver (software). Always get the latest driver version available for your Computer/PC/Laptop. To download the correct driver (software), visit the manufacturer's website of your Computer. They usually have a "Support/Download" section where you can find the correct driver. Otherwise, we advise you to contact their support.
Date published: 2022-08-25
Will these earbuds be able to connect to windows and apple laptops to use for calls?
Thank you for your question. Yes, you should be able to pair it via Bluetooth to your PC and Apple laptops. Should you wish to receive further support, you may contact the Harman Customer Support team by telephone, email or chat in order to receive direct assistance. Please see https://uk.harmanaudio.com/support-contact.html#ns for further details. Thank you.
Date published: 2022-01-01
The case charges but neither ear bud will charge. Always zero charge. I leave the lid open; I leave it closed. Reset. Take them out and put back in. Nothing matters. No charge. Case will randomly connect even though the ear buds will not.
We're here to help with your JBL Live free NC+ TWS. Please try charging the case with a different charging cable. We also recommend cleaning the contact gold pins on the earbuds and case. Try charging the case overnight. If you need more help, please reach out to our Customer Support.
Date published: 2022-09-19
My brand new JBL Live Free NC + tWS right hand side earbud doesn't work at all
Thank you for bringing this to our attention. We'd like to work with you directly to address the issues you're experiencing with the JBL Live Free NC+. If needed, we'd also like to get more information so we can check your options. Please contact our customer support service via our official website or toll-free hotline
Date published: 2022-08-26
bvseo_sdk, dw_cartridge, 18.2.0, p_sdk_3.2.0
CLOUD, getContent, 16ms
questions, product