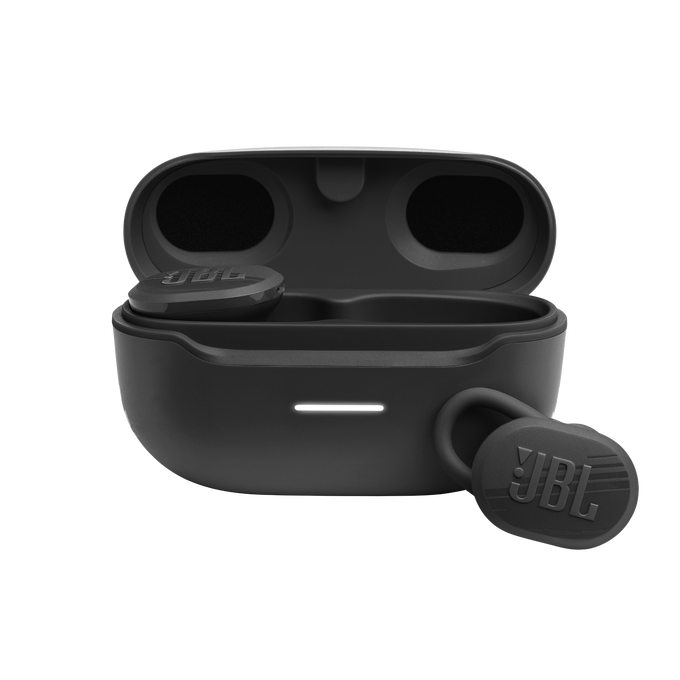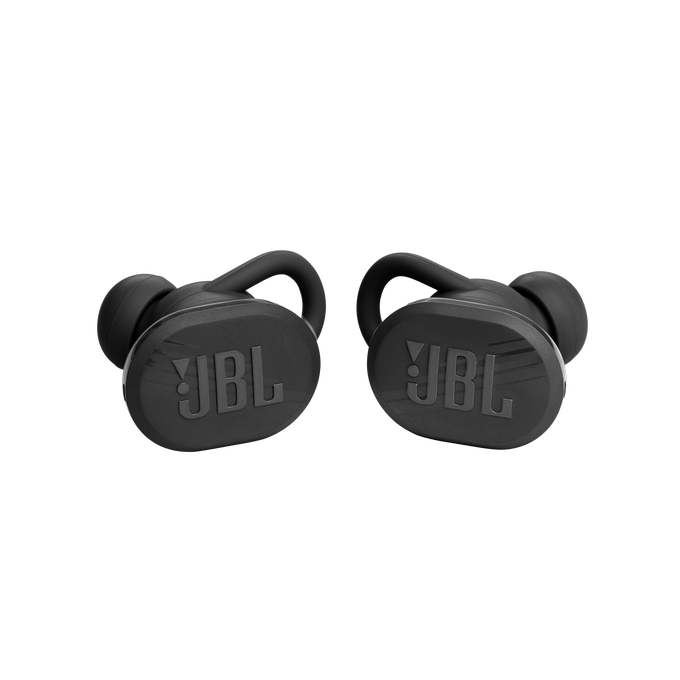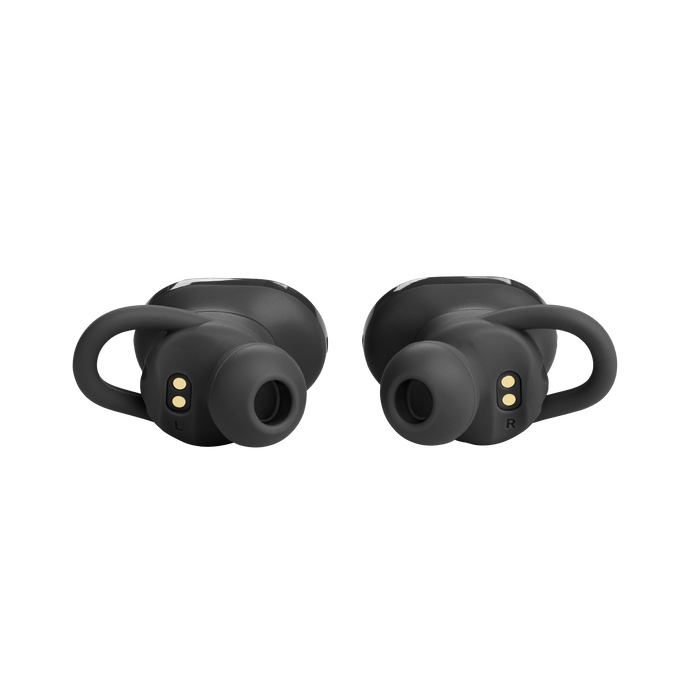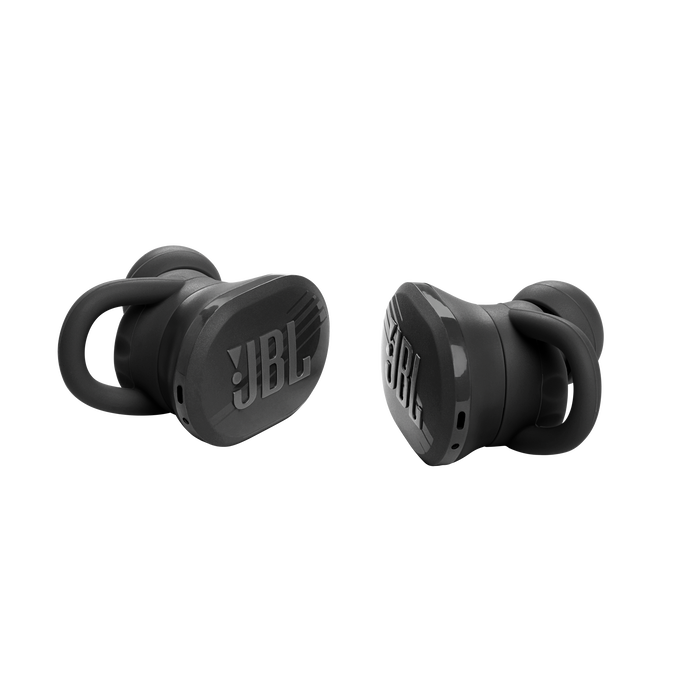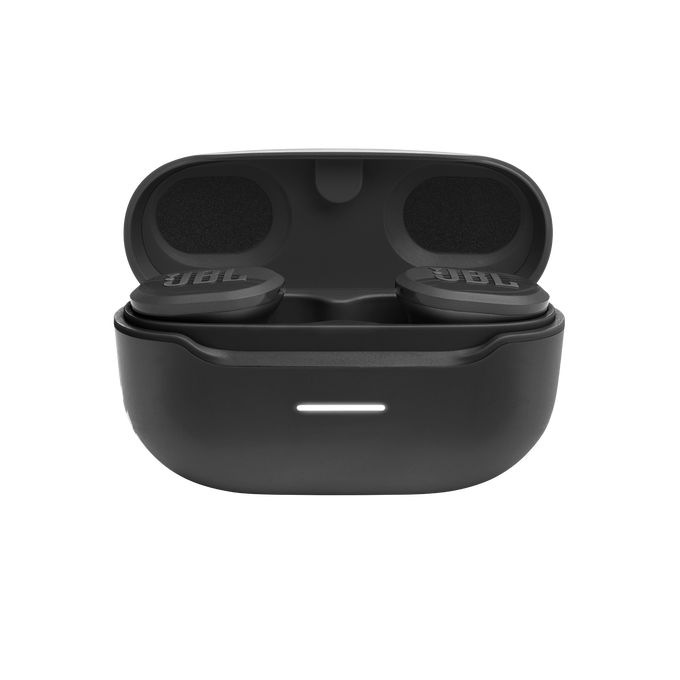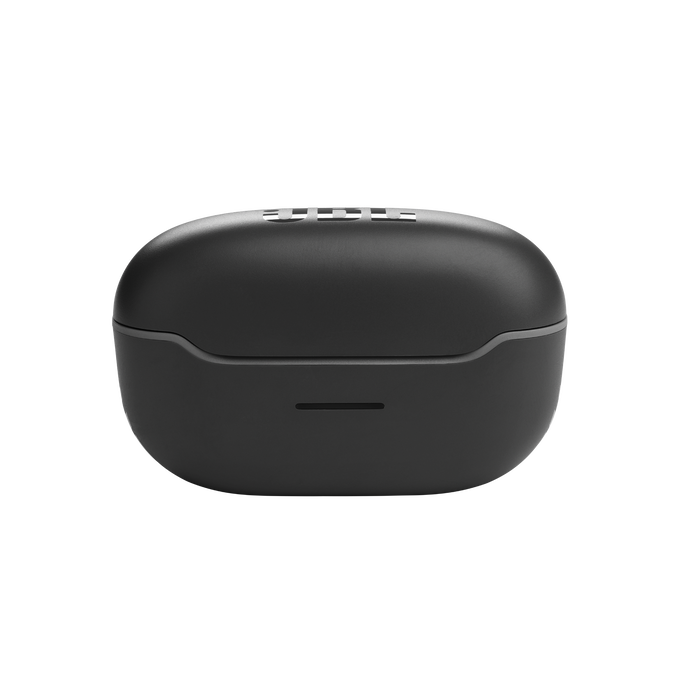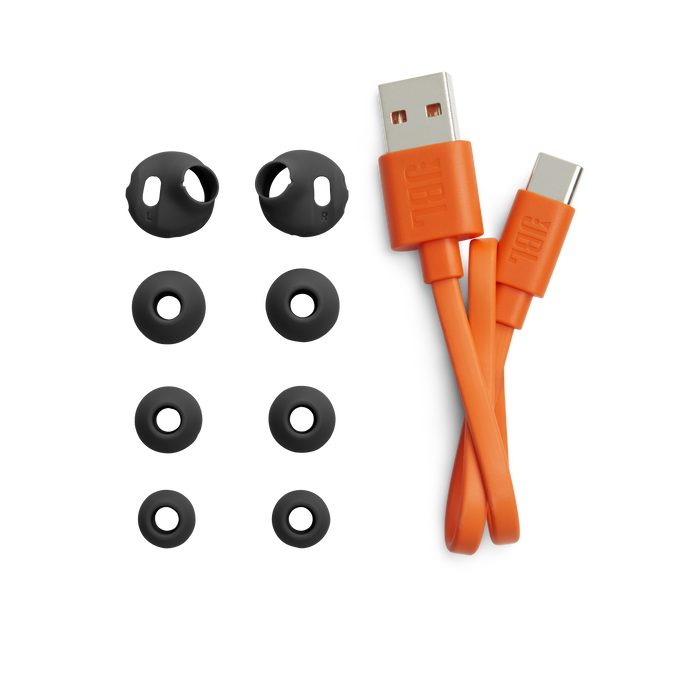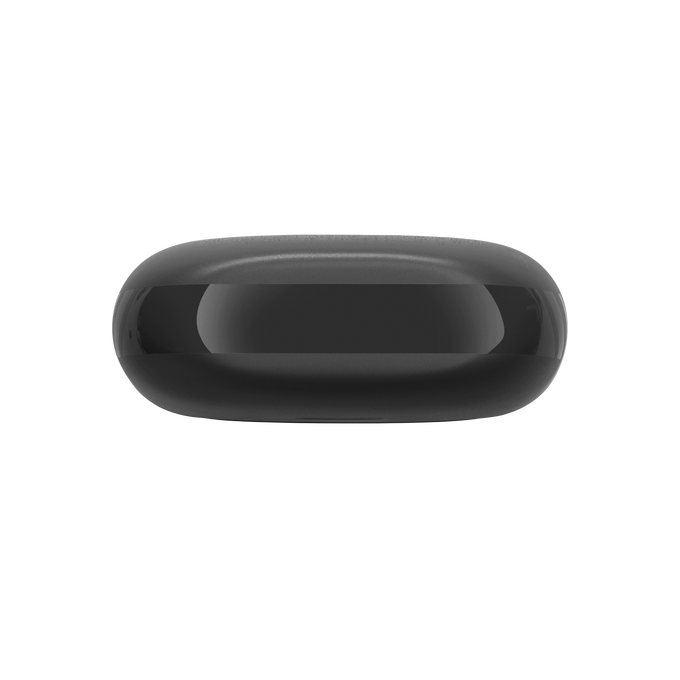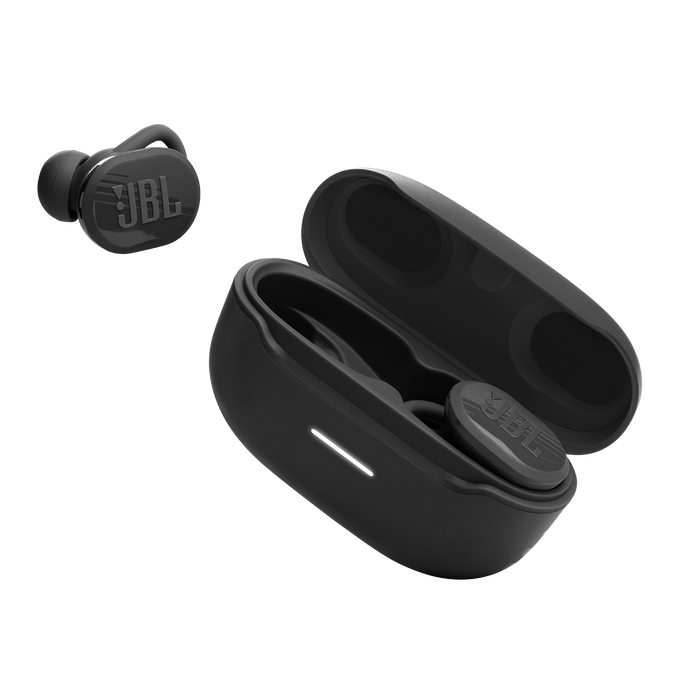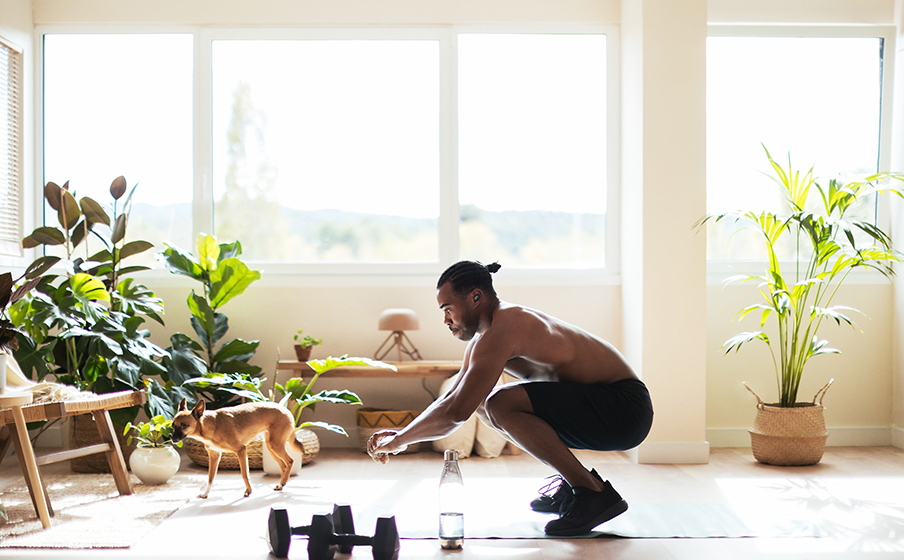 JBL Pure Bass-lyd
Med fed lyd og fyldig bas fra en dynamisk enhed på 6 mm vil du ikke bare høre musikken – du vil føle den.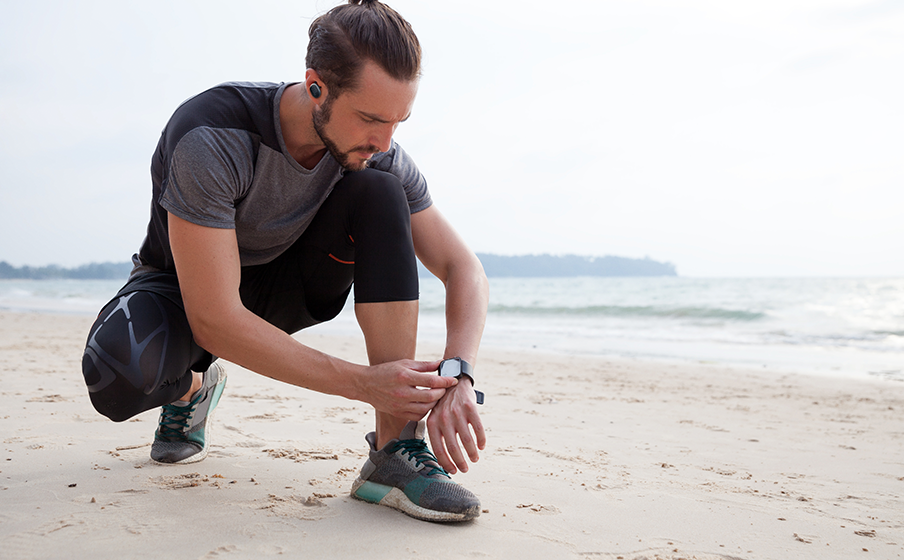 Op til 30 timers batteritid
Gå aldrig glip af et beat med 10 timers batteritid fra øretelefonerne og 20 timer fra etuiet. Har du brug for et boost? Bare 10 minutters lynopladning giver dig endnu en hel times spilletid.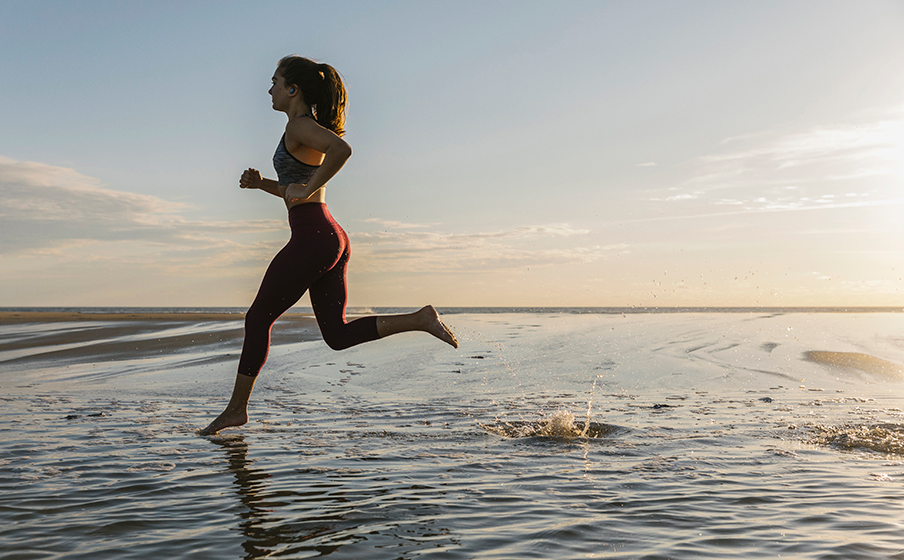 ​​Adapter og Twistlock™-design understøtter din aktive livsstil
Den ergonomiske, vingeformede adapter bruger Twistlock™-teknologi til at afhjælpe ubehag ved trykpunkter. Det giver dig bedre forsegling, stabilitet og en overlegen pasform, der holder hele dagen.
Funktioner

IP67-vandtæt og -støvtæt
Det robuste IP67-certificerede støv- og vandtætte design på JBL Endurance Race TWS-øretelefonerne giver dig friheden til at forblive aktiv og fuld af energi - fra stranden til bestyrelseslokalet. De er helt støvtætte og tåler nedsænkning i vand op til 1 meters dybde.

Ambient Aware og TalkThru
Ambient Aware fastholder din opmærksomhed på omgivelserne, uanset hvor musikken fører dig hen. Og når det er tid til en snak, skal du bare aktivere TalkThru for at springe ind i en samtale - uden at tage øretelefonerne ud.

Nyd perfekte samtaler og din foretrukne stemmeassistent
Foretag perfekte stereoopkald ved hjælp af to stråleformende mikrofoner. Eller få adgang til din foretrukne stemmeassistent direkte fra dine hovedtelefoner med trykknapper, der giver dig hele verden lige ved hånden. Med VoiceAware kan du regulere omfanget af det mikrofoninput, der sendes tilbage til ørepropperne, og vælge hvor meget du vil høre af din egen stemme. (*) Understøttes kun på Android. (**) Android 6.0 eller højere er påkrævet for fuld adgang til Alexa-funktioner, når denne enhed bruges.

JBL Headphones-app
Tilpas din lytteoplevelse. Med den dedikerede app kan du optimere indstillinger, vælge din stemmeassistent, justere EQ-niveauer og meget mere, så du altid kan høre din musik på din egen måde.
Detaljer & Downloads
Item# JBLENDURACEBLK
Beskrivelse
Det holdbare, perfekte design matcher dit aktive liv.

De totalt trådløse, aktive JBL Endurance Race-øretelefoner er altid klar til brug. 30 timers batteritid og et vandtæt, støvtæt design holder dig kørende med JBL Pure Bass og fuld komfort hele dagen. Med den suveræne og robuste pasform kan du holde dig aktiv, fra stranden til bestyrelseslokalet, med bedre forsegling og stabilitet. Få hjælp fra din foretrukne stemmeassistent, administrer din lyd, og nyd perfekte samtaler med et tryk på en knap. Når du har brug for at høre dine omgivelser, kan du tune ind på verden omkring dig med forstærket lyd fra omgivelserne.
Specifikationer
Lydspecifikationer
Enheds-følsomhed ved 1kHz/1mW (dB)

99

Dynamisk frekvensområde (Hz)

20 Hz - 20 kHz

Impedans (ohm)

16

Antal dynamiske enheder pr. øre

1
Mål
Charging Case Weight (oz)

1.6

Earpiece Weight (oz)

0.4

Vægt (g)

44.9

Vægt (g)

12.4
Specifikationer, styring og tilslutning
Bluetooth-profiler

A2DP V1.3, AVRCP V1.6, HFP V1.7

Bluetooth-frekvens

2.4 GHz - 2.4835 GHz

Bluetooth sender-modulation

GFSK, π/4QPSK, 8DPSK

Bluetooth sender-effekt

< 10 dBm

Bluetooth-version

5.2
Batteri
Ladetid (timer fra helt afladet)

2

Maksimal spilletid (timer)

30
Egenskaber
Ambient Aware

Ja

Bluetooth

Ja

Charging cable

Ja

TalkThru

Ja

Stemmeassistent

Ja

Indbygget mikrofon

Ja

Smart opladningsetui

Ja

Håndfri opkald

Ja

JBL Pure Bass-lyd

Ja

Genopladeligt batteri

Ja

Lynopladning (5 min. = 1 t spilletid)

Ja

Svedsikre

Ja

Ægte trådløse

Ja

TwistLock® teknologi

Ja

Vandtæt

Ja

Trådløse

Ja
Det er der i æsken?
1 x JBL Endurance Race-hovedtelefoner
1 x opladningsetui
1 x type-C USB-opladningskabel
1 x ørespidser i tre størrelser
1 x adaptere i to størrelser
1 x garanti/advarselsark
1 x startguide / sikkerhedsdatablad
Dokumenter og downloads
Kunde-anmeldelser
Rated

5

out of

5
by
ON BEATS
from
The most beautiful earbuds on earth
I have owned these for a few months, and as a music producer I am really fussy when it comes to sound quality. These things sound BETTER than my JBL Tune 660NC headphones that I use when making beats. I am mindblown by the quality from JBL! I also use the T160 earphones when mixing, and all of my productions until March this year where created using the JBL 2.1 Soundbar. I recently bought some S*msung USB C earphones and they are AWFUL!!! I have also tested the studio branded Aud*o Te*hnica ATHM50 and they do not replicate the sound that most people hear. JBL gives me the sound that I expect to hear in a car, nightclub, decent quality cinema and also at home. I love you guys!
Date published: 2022-05-27
Rated

3

out of

5
by
Reiss1993
from
Good quality sound
Have been testing these headphones functions are easy to use great features amazon and google great sound quality with base a d very good volume very good when on the phone the microphone works well the only 3 problems i have encountered are when on the phone it sounds like your in a bathroom it has quite an echo and they are not noice cancelling so can hear all back ground noise and picks up wind noise aswell which my other headphones from a certain phone brand has all the upgraded behind the scene stuff these dont
Date published: 2021-12-18
Rated

5

out of

5
by
djclarity
from
Great sound, comfortable, and stay in place
I have been using these for a few days now and I really like them. Once I found the fitment combination that was correct, they stay in place and are comfortable. They have excellent bass for listening to music and they are great for phone calls too. I do wish they were a little louder, because sometimes I am in a shop environment and it can be loud. I have used several True Wireless Headphones and these are the best for comfort and retention. They have the standard excellent JBL sound quality as well. I would absolutely recommend these headphones!
Date published: 2022-04-01
Rated

4

out of

5
by
Dgoodie
from
Audio is second to none!!!
I got mine two days ago and they sound amazing. But I'm having trouble with phone calls. Calls are breaking up. Maybe I need a day or two to figure out how to use them correctly. But for the sound quality and price there's nothing better, and I own Bose ,Beats and Sony.
Date published: 2022-02-07
Rated

5

out of

5
by
Andis876
from
JBL Endurance Race
The JBL Endurance Race is a great wireless headphones for the active side of life but can be on the chill side as well. I am very active and these earbuds work great for me. Cycling or running i sweat a lot and the water proof is great which i like because it does not affect the sound quality. I like that there are extra Silicone tips for a closer fit and 10 Minutes on the charger give a 1 hour quick charge. I wish it was Wireless charge. Overall its a great earbud for both the active and chill side of everyday activities.
Date published: 2022-04-01
Rated

5

out of

5
by
IbrahimB
from
Complete, comfortable, good sounding earbuds
Sound: These sound amazing straight out of the box without any adjustments. The lows/bass are very punchy, mids/vocals are very clear, and even high-hats at the highs are powerful. I also love that you can connect these to the JBL Headphones app and customize the sounds with the app's EQ. However, the lows don't get punchier compared to other JBL earbuds when I turned on my "bass heavy" EQ preset. That preset usually tests the limit and I would've liked it better if the earbuds had more bass when maxed out. At the same time, the earbuds don't get too loud, at least based on my experience. They are easily usable at the max volume, unlike other earbuds I own. Do I think they're not loud enough? No, they are definitely loud enough but some people might prefer a louder sound when listening. [Microphone]: It's fine when used in quiet or not-so-busy areas but can't say the same about loud environments. The other side on the call struggled to hear me when I was outside and around a lot of background noise or on the bus. Charging Case: It is a bit on the bulky and cheap side compared to my JBL Reflect Mini NC and Tune 115 TWS's cases. To put the size in a perspective, it is small in width but large in length and height. That was probably done in order for the earbuds to fit since they're shaped a bit differently and stick out of the ear more than other earbuds. The case is very lightweight but it doesn't feel high quality. The flip feels like it's going to snap in half and come out of its hinge when opening/closing the case. I also found it hard to open with one hand for convenience. The magnets and pins inside the case, however, snap the earbuds right into place and they start changing right away. There's an LED battery indicator on the charging case so you can see the charging process or how much charge the case has. However, the indicator is very small and it's hard to figure out exactly what percentage of battery the case is on. I definitely prefer LED dots over strip/horizontal indicators. The battery of the case is also not visible on the JBL Headphones app. So, it's a bit of a guessing game for the exact battery percentage of the case. Battery life: By far, one of the best features of these earbuds. These do not die! The earbuds also fast charge so just in case you're able to kill them, you'll get the juice you need in minutes. Then, since these connect to the JBL Headphones app, you can see the battery percentage on each earbud. This comes in handy if you're using only one of them during your commute or working out, etc. Side note: The orange USB Type-C charging cable that came in the box is very short. On-earbud control buttons: I love that they are customizable in the JBL Headphones app. There are different presets you can assign to each earbud such as one touch on the right to stop the music and tap twice to go to the next track and the same with the left earbud. However, I would've liked it a lot better if each tap was customizable instead of the presets. So, the playback control preset just focuses on stopping the track, going next and previous. Then, the volume control preset specifically focuses on volume. It would've been more convenient if one, two, three taps, and tap & hold gestures were left to the user to decide instead of compromising in between different options. Also, the earbuds have a large surface area on the outside where the touch controls work and the battery is located. So, it takes a little bit to find the exact spot of the touch controls but it's easy once you get used to it. Other than that, having the app connection definitely plays a huge role in enhancing the earbud experience. Fit: Although these are sports earbuds, they fit quite nicely and comfortably. It is the most comfortable earbuds I have owned from JBL (compared to Reflect Mini NC, Live 300 TWS, Tune 115 TWS). Every part of the earbuds that go in your ear is covered by rubbers (soft ear tips material). Naturally, they feel more comfortable than other earbuds that do not have that rubber/padding. I had no problems having these on for a long period of time. I found the earbuds to be more comfortable by taking off the extra hook that they come with. Because of the twistlock feature, the earbuds stay in their place tightly so the hook felt unnecessary for me. It also made the earbuds more comfortable. But, the earbuds come with only one enhancer that has a hook. Providing another enhancer with a smaller hook might have allowed a better fitting. I'm using the earbuds with the no-hook enhancer but would've loved to see how much of a difference a comfortable hook could've made. Lastly, although the earbuds seem bulky, they are very lightweight and don't hang down or feel like they are going to fall. But, I would've preferred a slimmer structure/fit like the Reflect Mini NC. Ambient Aware & WalkThru: Ambient Aware function is actually very useful on public transportation such as NYC subways, and busses or when you're taking a walk/running around a busy area. It enables you to be "aware" of your surroundings by allowing more outside noise. I would've preferred more noise to be let in but they get the job done. On the other hand, I don't use WalkThru a lot. I just pause the content and listen what's around so I didn't find WalkThru convenient because you just don't hear any of the content when it's turned on. You are better off just pausing the music than having this feature on. Overall, these are well-designed, lightweight, long-lasting (battery), comfortable, waterproof earbuds that I would easily wear every day. There are a few features that can be added such as noise cancelation, adding more customization for on-earbud controls, or adjusting the outside look, but at this price range, I have no problems. I would recommend this pair.
Date published: 2022-04-21
Rated

5

out of

5
by
Audiohead87
from
ANOTHER JBL HOMERUN
These are killer headphones. Easily my favorite pair of buds. They fit comfortably, and do an excellent job at noise isolation. It even somewhat feels like they are noise cancelling. You can tap the left bud and it will let in ambient noise from around you, which really makes it seem like you don't even have any buds in at all. Bass delivery is powerful, really helps you to get in the groove when you are running or working out. These headphones are also waterproof up to 1M. I've only tried using them in the bathtub, but they work fine! Can't recommend these enough! Another JBL HOMERUN
Date published: 2022-04-11
Rated

4

out of

5
by
JBL 215TWS
from
Perfect Fit
The earbuds connected quickly to my cellphone via BlueTooth, and they fit perfectly in my ears! The sound quality is amazing and I experienced little to no background noise or interference. The controls are easy to use. The Google voice assistant is very helpful. I like the fact they are waterproof. I use them while I took a swim and in the shower. The JBL App is great! I'm able to customize the sound with the EQ! great product.
Date published: 2022-04-07
Rated

5

out of

5
by
Zubby
from
Love it…
I bought these EarPods about 2 weeks ago and I'm absolutely loving it. Stays on and never falls off no matter the head movements… sound quality doper than I expected. I'm such a satisfied customer
Date published: 2021-11-24
Rated

3

out of

5
by
Pdkc
from
Love these but….
I got these free through a rewards program. So I can't complain much. The sound in my opinion is excellent the features are great I love the smart ambient sound. Love that there is an app so you can adjust which earbud does what. The only problem I have is the Wing enhancer that keeps the earbuds securely in your ears is slightly too big. Yes they do fit in ear as intended but they hurt like hell with extended use. Otherwise love these earbuds. Would love to see these earbuds with same Wing enhancer but slightly smaller for people with smaller ears.
Date published: 2022-11-11
Rated

1

out of

5
by
SAMPENG
from
HORRIBLE SERVICE !
0don't buy from JBL , I bought this from JBL , website , found it has no base at all , nnot as they described, so returned it the second day after I got it , 1 days after the returned product got to them, I still did not get my refund back , contacted them 2 times . really bad service , if you got them at Amazon , you will get your refund a few minutes after they sanded your refund code , not so much BS as JBL website . , I will never buy a JBL ANYMORE .
Date published: 2022-09-09
Rated

1

out of

5
by
DanielR6
from
Don´t buy it
A week ago I bought JBL Endurance Race TWS, unfortunately I could not try them on the day of purchase, I returned to my country and the left ear bud does not connect and does not work correctly, I have tried to communicate and find out if they have technical service in Ecuador and I have not been able. I would like my money back. I can read other reviews and they have had similar problems.
Date published: 2022-09-05
Rated

5

out of

5
by
Wayloud
from
These Are Great Ear Buds!
This review marks the third set of JBL earbuds I have tested. They have all been good…some better than others. What's the scoop on the Endurance Race TWS? Read on to find out. Earbuds now are so technically advanced it is incredible and this pair is no exception. They pack a load of features: JBL Sound, Secure Fit Twist lock, Dual Connect, IP67 rated, Smart Ambient Tec, Clear Call Mics and Multi Voice Assistant Ready….oh yeah one more thing, they work with the JBL Headphones App. Opening the box is easy with just one security tab to cut. Minimal packaging, all recyclable, one notable improvement, neither the USB charging cable nor the extra ear cushions are in plastic bags. Kudos. CONNECTIVITY Bluetooth 5.2 My Windows laptop and my Android phone both connected instantly. Google assistant was easy to set-up as well. I was hooked up and "OK Googling" in less than 10 minutes. I have talked about twist lock and Dual Connect before. No surprises here, they are comfortable, stay in place and will work with one bud or both. With other earbuds I did prefer wearing just one while working or outdoors but with these I use both now because of…. SMART AMBIENT This function allows outside sound into the mix and has two settings. Ambient Aware: One can listen to music and still hear some of their surroundings. Traffic, for example. TalkThru: With this setting you can have a natural conversation without removing ones headphones. Wayloud quote, "Both of these settings work but can be overridden if you are listening to music way loud." IP67 WATERPROOF & DUSTPROOF. According to the manual these buds can sink into 1 meter of water for 30 minutes…I did not have the heart to fully test this claim. I do feel the need to prove they remain operational when wet. Some of you may remember my apple bobbing video, this time I showered with them in and rocking! I will spare you that video but they got wet and I am here to tell you, they still work.10 CLEAR CALL MICROPHONES That is correct microphones. There are four total mics on these two buds. Calls sound crystal clear and everyone I spoke to remarked about the clarity of my melodious voice. Another advantage of clear call is when talking to voice assistant. Texting by voice is actually advantageous when it understands the words I am saying…the first time. SOUND These earbuds sound fantastic! Bass you can feel. Very articulate from bottom to top and they pass the Wayloud test. Yes. They can get way, way loud! A definite example of JBL sound. The JBL Headphones app is pretty cool. You can control Smart Ambience, program how you want the buttons to function and there is a 10 band graphic equalizer. (Something I have been waiting for) There are several eq presets with space available for custom settings. While not necessary to use the buds, it is a great tool to make them sound the way you like and behave the way you need. I like the way they look too. This is a great set of earbuds. Recommended by Wayloud.
Date published: 2022-04-18
Rated

3

out of

5
by
brian163
from
Great design/features but lack on low-end range
I REALLY wanted to love these ear buds. They have everything going for them. A clever comfort design with the in-ear support loops, 10 hour rated run time with 20 hours of charge support on the charging case (with a graduated "light bar" charge state indictor instead of a simple single green/yellow LED), both standard round and molded ear gels, and they work with the JBL "Headphones" app (a bit of an odd moniker) to check exact battery status, toggle ambient noise cancellation , and adjust EQ. And while the mid and high range sound clear and crisp they unfortunately have little to no low end or "bass punch". The dynamic range is so heavily skewed to the mid-range that even when I went into the control app and set the bass levels as I high as they could go my reaction was, "is that it"? (And no, I am not missing a key point. The ear bud form factor is not as conducive as a studio quality headset for dynamic range. I'm simply comparing this to other ear bud sets that I have and the bass is distinctly underwhelming.) And even while keeping in mind these were designed and marketed as an ear bud geared towards active sport users (running, etc), I just can't praise their sound like I have with so many of JBL's other products from portable speakers to high-end gaming headsets. Honestly, I'd give the sound 2 stars and the design/features a 4-5, thus my 3 star rating.
Date published: 2022-04-14
Rated

4

out of

5
by
sarah113
from
Great features, not so great fit
I recently bought these earbuds but sadly won't be keeping them. The sound is great, having the customizable EQ is a huge plus! I also really like the TalkThru and AmbientAware modes - both work quite well. However, these are some of the most uncomfortable earbuds I have ever tried. I've tried all the different ear tips and I can make it about 10 minutes before my ears are in pain. A lot of reviews say the fit is great, but know these do not fit and feel the same as wired earbuds and might not work for everyone.
Date published: 2022-07-25
Rated

5

out of

5
by
golfcat87
from
Great fitting everyday earbuds
These earbuds are great for everyday use: from the office, to the gym, to the golf course, to falling asleep with them in, I cannot say enough good things about them. The snug fit is one of the best JBL has accomplished among their true wireless line. Running on the treadmill followed by a heavy lifting session had no impact on the fit these had in my ears. Even with the stability in the ear, they are comfortable to wear for extended time and never give that much of a "heavy" or "dull" feeling. The only thing I would warn is that once music reaches its highest volume, the bass tends to exceed what the sound should actually be. For example, listening to any rap or hip-hop with bass in the chorus tends to sound "shaky" instead of the "thump" sound you typically like to hear in higher-end earbuds. In all, I would highly recommend these earbuds to anyone looking for a good pair to carry every day. The USB-C charging case gives them seemingly endless battery life and the variety of fits using the silicone buds provide a comfortable fit.
Date published: 2022-04-12
Rated

4

out of

5
by
Mine
from
Great budget friendly workout earbuds
Great budget friendly workout earbuds,I like them a lot because my other earbuds I use in the gym kept moving of fall out during my workout the JBL RACE earbuds stay in place ,also they sound very good , You must try the different ear tips to make sure you have a good fit or they will not sound there best . They have the basic functionality you would need if running or working out wit the hear through mode and play back mode or volume control. For the price thease are great work out earbuds .
Date published: 2022-04-01
Rated

5

out of

5
by
coffeepastor83
from
With these I am well pleased
I bought these based on the promise that they stay in your ears no matter what you are doing. I'm very pleased that they fit the bill, after a few weeks of testing them both stationary and while chasing my dog around the dog park. It took a couple tries to find the best fit, and each ear needs a different size, but I'm glad it came with various options to create the best fit. The sound is full and it's fun using the App (iOs capable) to try different sound qualities. The noise-cancelling feature will be very helpful when traveling on an airplane, but it is a little discomforting while out in the world where it's good to know what's going on around you, even with the ambience awareness adjusted. Overall, I'm glad I made a good choice in these earbuds. I'm a fan of JBL speakers anyway, this solidifies it.
Date published: 2022-09-16
Rated

5

out of

5
by
baynes74
from
My new running friend
I have taken these Endurance Race TWS buds on 4 runs so far and have lived the sound, fit and feel. First the sound, with the JBL Headphone app, you can not only choose the preset equalizer, but also create your own. It also lets you adjust the Ambient Aware to keep you alert of your surroundings during wear. The Twistlock tech features an ergonomic wing on the bud to hold it in place and I barely notice them in. Controls on the buds themselves is touch sensitive for ease of use.
Date published: 2022-04-07
Rated

4

out of

5
by
Elise
from
Cool color and design
The packaging is very sleek and convenient. The color stands out from other products. The sound quality is not as great as I expected especially for ear buds that are targeted for runners. There is a airy sound and not the typical noise canceling that I am used to with JBL products. I like that I can use one or both buds at anytime however, the controls on the buds aren't anything out of the ordinary but can be convenient when going for a stroll. The fit of the buds are more comfortable than I would have thought because of the design and stay put throughout the entire time of usage. The battery life is standard for most JBL products and they seemed to have mastered the technology behind the bud features and use longevity. Overall these are great buds that comes in a cool color and easy to transport.
Date published: 2022-04-05
Rated

5

out of

5
by
looneyboy
from
Great product better service
I bought these earbuds about three weeks ago, and I absolutely love them. The sound quality is amazing. So many earbuds have really strong bass, but cant keep the mids and highs sounding good, these can! Bass is punchy and plentiful, mids and highs are clear and sharp. An amazing product. I also purchased a JBL go 3 and UPS lost it. I contacted JBL via chat, told them the situation and within 24 hours a new speaker was shipped to me. Very happy with the entire experiance.
Date published: 2022-12-03
Rated

3

out of

5
by
BJ010
from
No Bass
I bought these about a week ago and have been trying to improve the bass but with no success. These had some nice features and great battery life, but unfortunately the low and mid-range sound quality just isn't there. I installed the JBL software and played with the eq in the app but still can't seem to improve the bass.
Date published: 2022-05-04
Rated

5

out of

5
by
jmanoh
from
Great sound and seamless Apple Watch connectivity
I've had these earbuds for several months. I use them when I run outdoors. I have trouble with some earbuds slipping out when I run. These stay put securely. The sound is excellent. I don't find the app useful since the default settings seem entirely adequate. Phone calls come through fine. I like that they connect effortlessly to my Apple Watch and stream Apple Music without me needing to carry my phone on runs.
Date published: 2023-01-16
Rated

5

out of

5
by
Boudreaux
from
Amazing Sound and Perfect for Working out!
The JBL Endurance Race TWS headphones are perfect for working out. They fit well and stay in my ears with no worries about losing one. I cycle long distances and these have been ideal for that and and going to the gym. The crystal clear sound is just amazing. They can get a quick charge for an hour in just ten minutes! That is super helpful in my world. You can't go wrong with these headphones!
Date published: 2022-04-05
Rated

4

out of

5
by
Brandon Abbey
from
Great for on the go action!
These headphones are perfect for delivering sound quality while shrinking down the size of the earphone to make it perfect for fitting into your ear without any worry of it falling out during your exercises or exploring the outdoors. The only downside to these headphones is they are not really practical for everyday use do to their size and how easy it is to lose them.
Date published: 2022-05-09
Rated

5

out of

5
by
FB1111
from
Amazing Headphones!
The JBL Endurance Race TWS headphones are fantastic! I've worn them both at the gym and on my runs and they've worked perfectly. No worries about losing them because they stay in place. The sound is absolutely amazing. They charge quickly and have a great battery life. They will also quick charge in 10 minutes to give you an hour. I love these headphones.
Date published: 2022-04-05
Rated

5

out of

5
by
JBL TWS
from
Exceptional quality service
Earbuds have exceptional sound quality. The case had an issue where it didn't charge right out of the box, but customer service was exceptional (sent an email about the problem, went through the troubleshooting, and they sent me a return label) and are in the process of sending me a new set. JBL is going out of their way to ensure a happy customer.
Date published: 2022-03-17
Rated

5

out of

5
by
Ralvin
from
It does what it says!
Best true wireless I've ever own! Excellent fitting and doesn't fall off when I do my jump rope or any hiit trainings. I like that I can set my own sound setting via the app to my own preference. It's small enough that and doesn't protrude out so much like my reflect flow. Charger pack seems very lightweight but it does charge up fast!
Date published: 2022-04-27
Rated

5

out of

5
by
DBrandt
from
Great earbuds for the active lifestyle
These earbuds are fantastic for the active lifestyle. They stay fit and secure while cycling, skateboarding, or even just mowing the lawn. They have a nice full sound and are adjustable through the companion app. Battery life is good and recharging is so easy with the travel case. Overall this is a very nice setup.
Date published: 2022-03-31
Rated

4

out of

5
by
Ziggwigg
from
Great music sound
Overall very happy with these. Phone use is fine, but not always great when driving. For general music use though, and in the gym, they're just what I wanted. Not tried them running yet, but don't forsee any issues there. The ear fit is fine and secure and they're really comfortable too.
Date published: 2022-03-10
bvseo_sdk, dw_cartridge, 18.2.0, p_sdk_3.2.0
CLOUD, getReviews, 8ms
reviews, product
Spørgsmål og svar
Can the carry box be charged wirelessly?
bvseo_sdk, dw_cartridge, 18.2.0, p_sdk_3.2.0
CLOUD, getContent, 139ms
questions, product