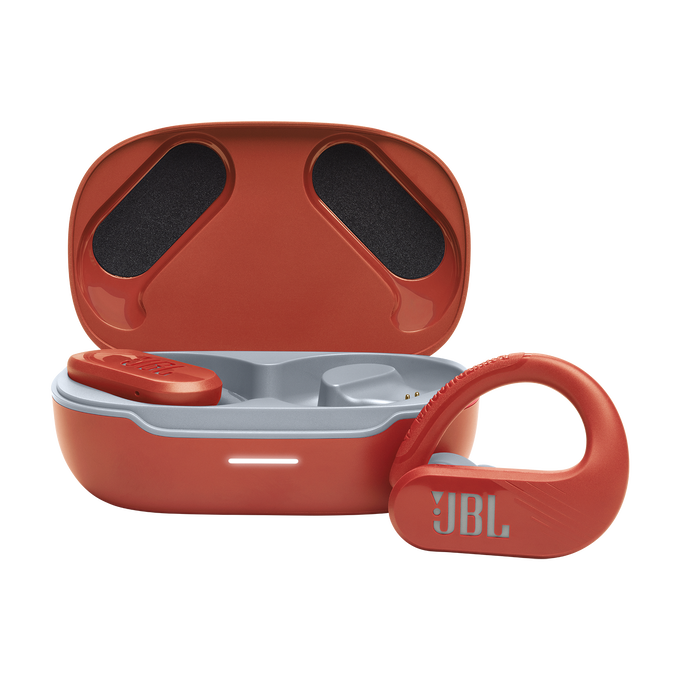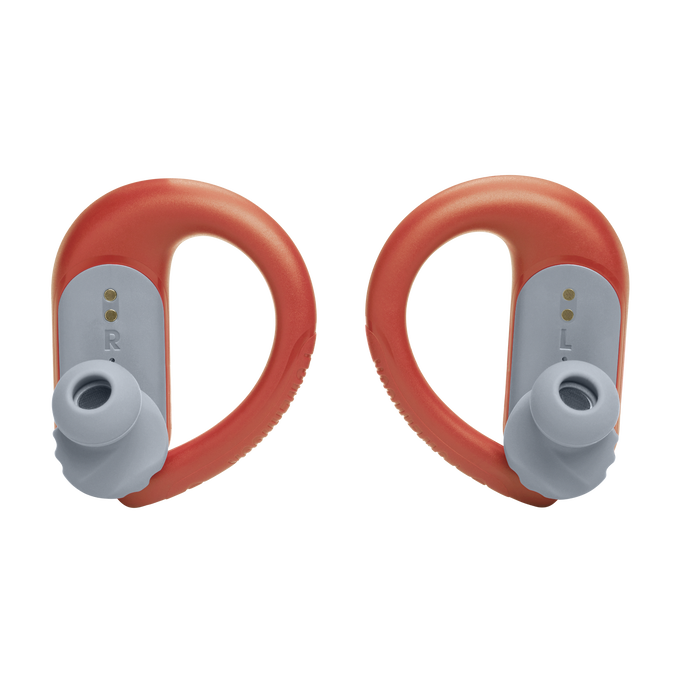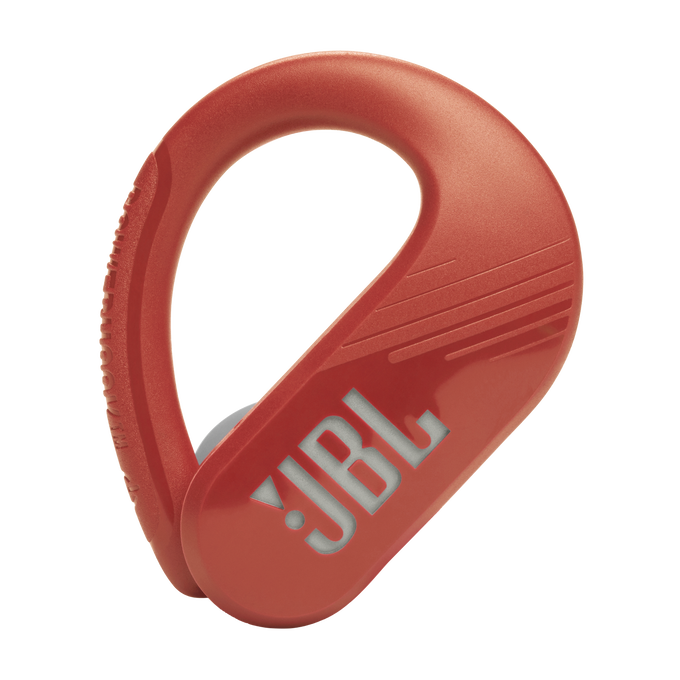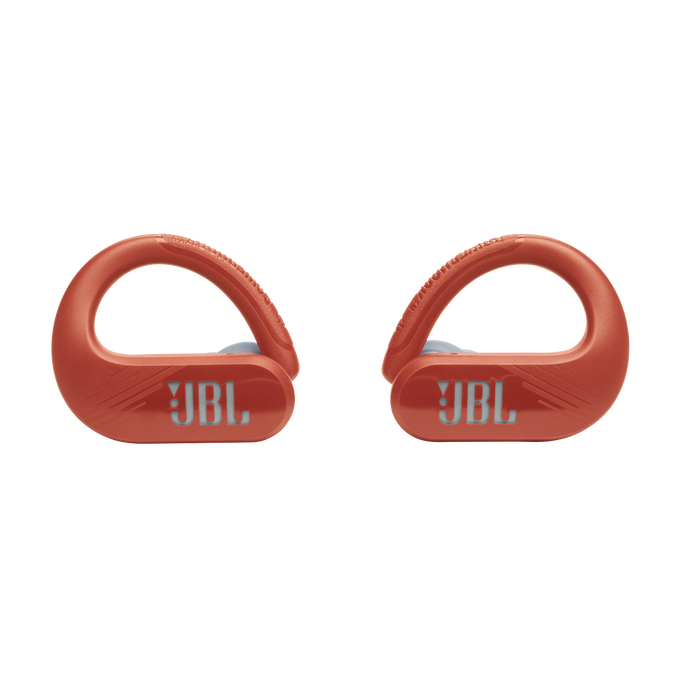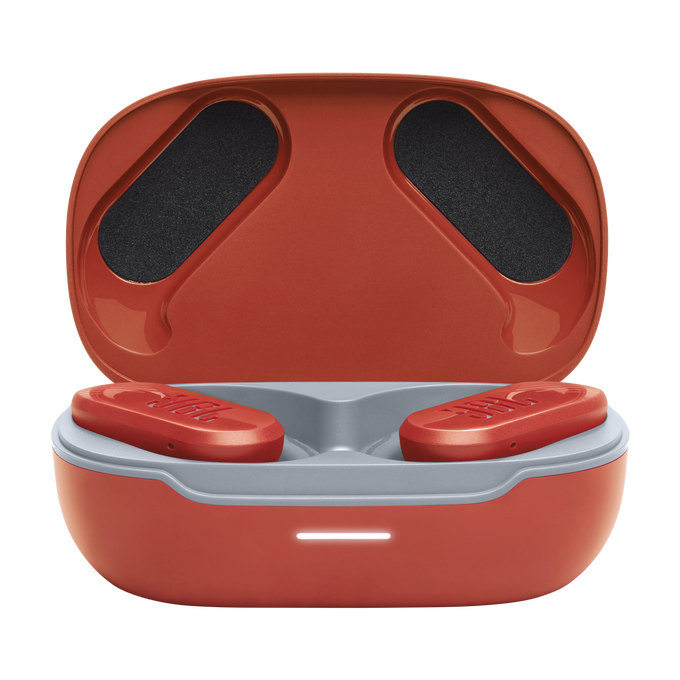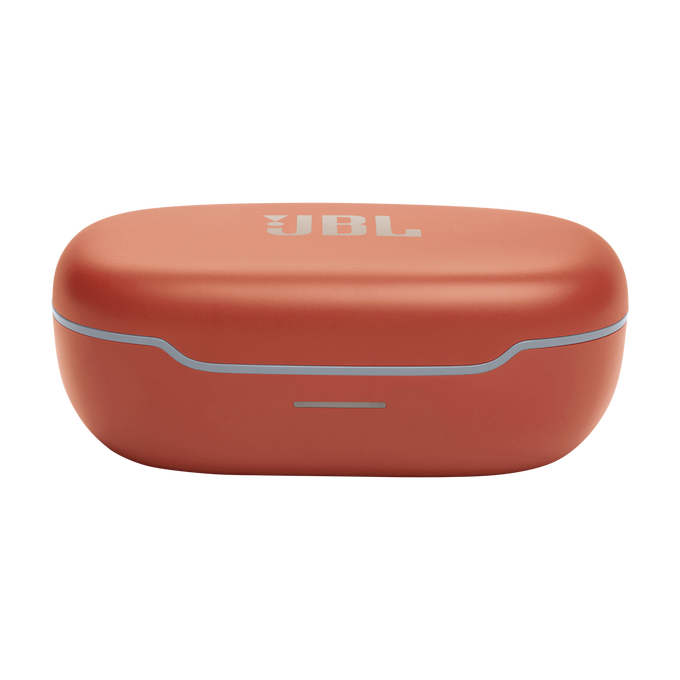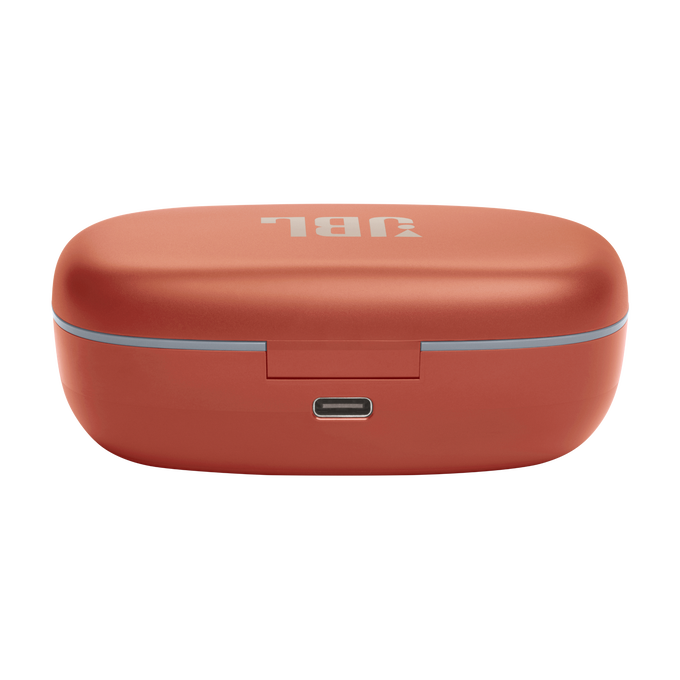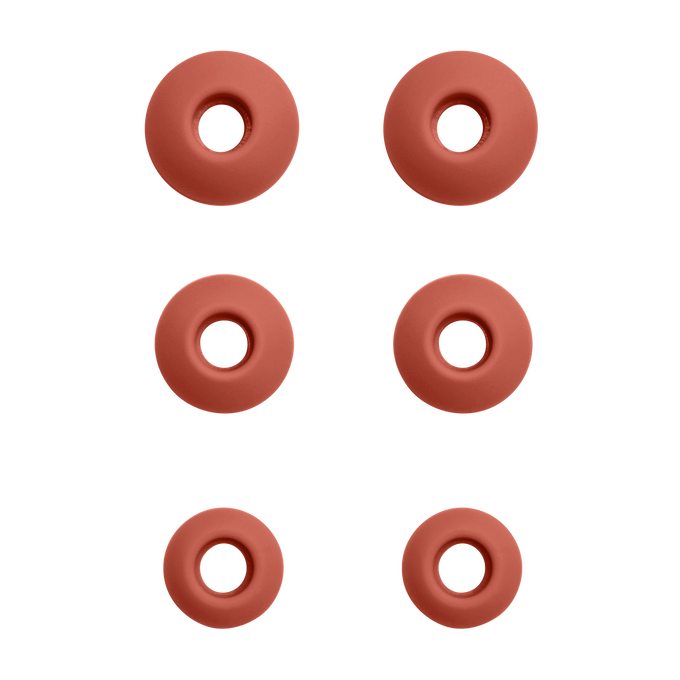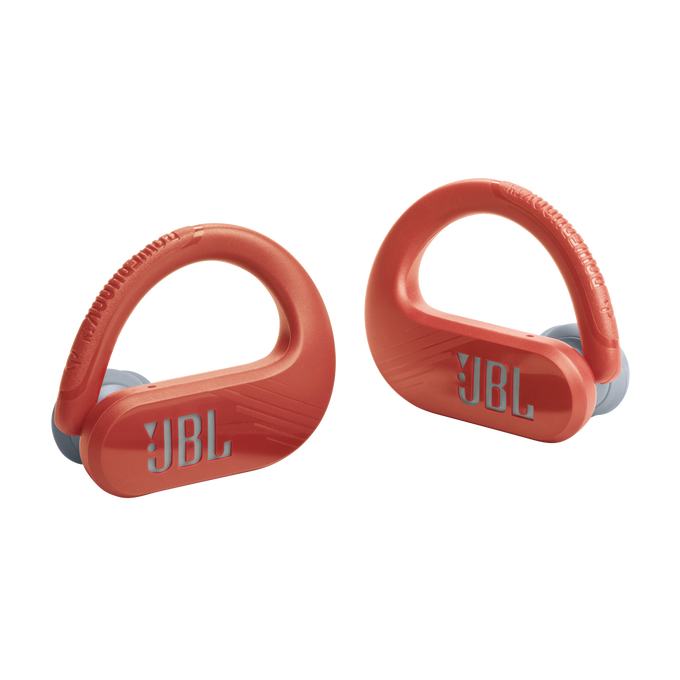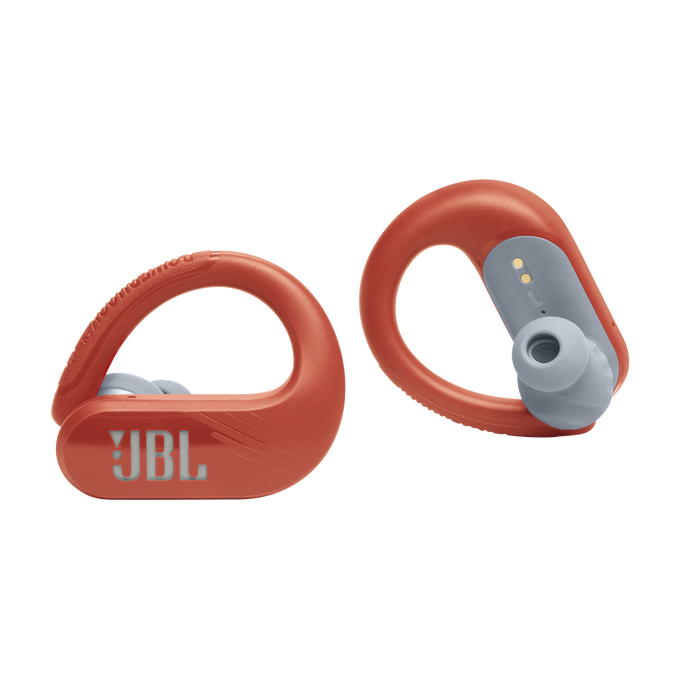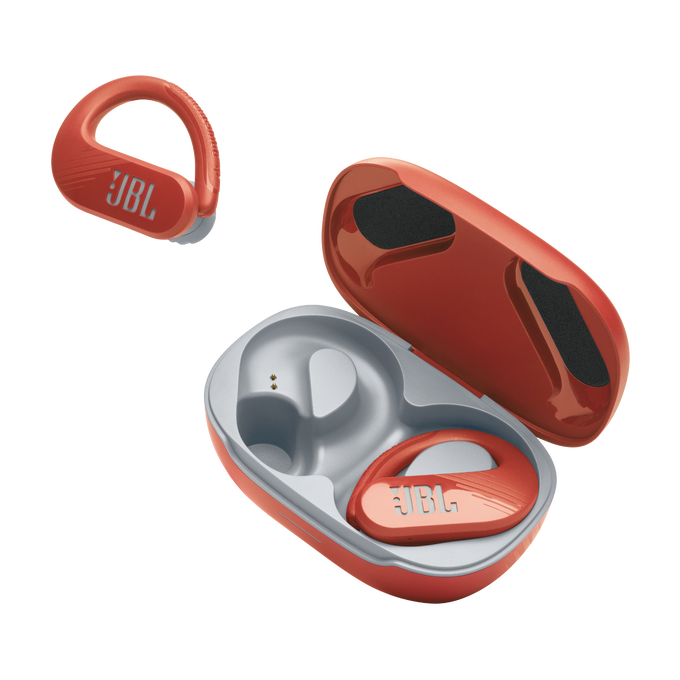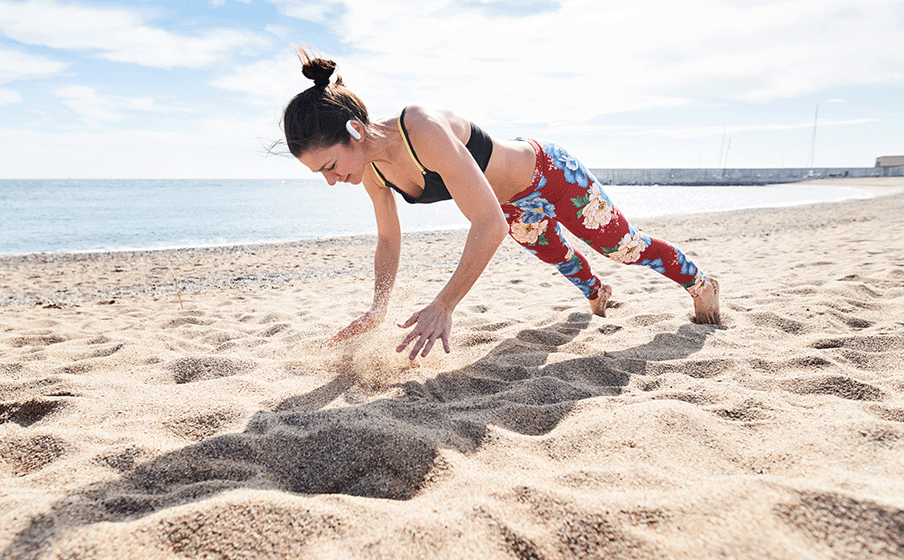 JBL Pure Bass-lyd
Få mest muligt ud af din yndlingsplayliste med fyldig bas fra en 10 mm dynamisk enhed, der leverer stærk lyd, når du har mest brug for det.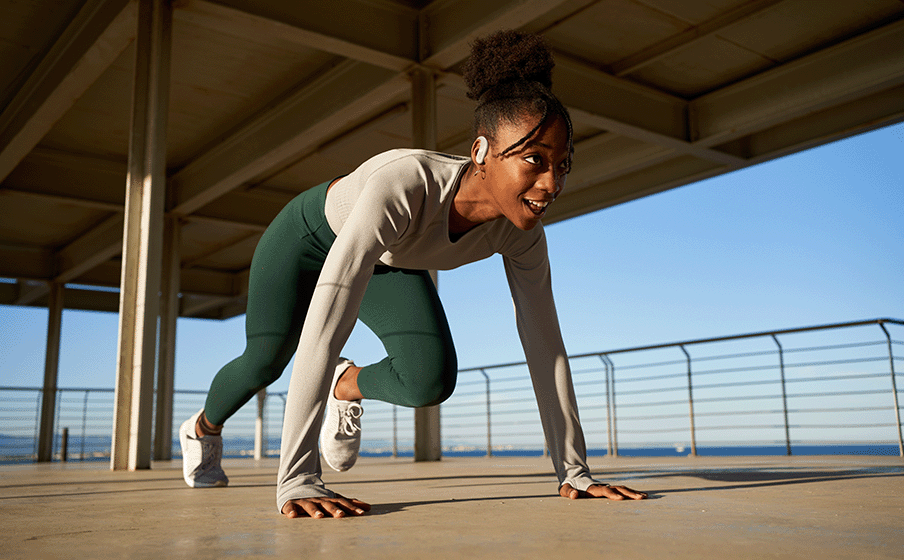 Op til 50 timers afspilning med lynopladning
Uanset om du måler dit energioutput i kilometer, kilo eller minutter, kan JBL Endurance Peak 3 matche dig beat for beat, med op til 10 timers batteristrøm i øretelefonerne og 40 i etuiet. Og når du har brug for et boost, kan du oplade op til en times spilletid på kun 10 minutter.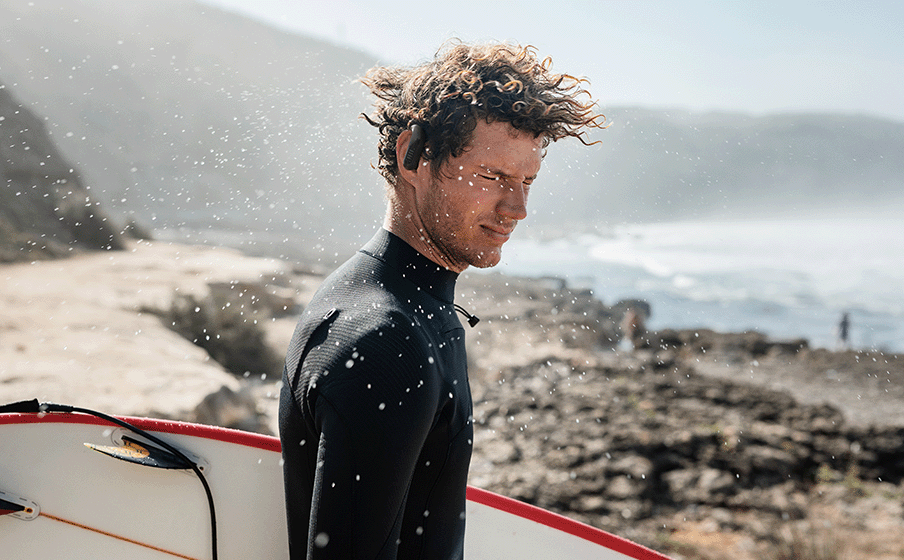 IP68 støv- og vandtætte
En IP68-klassificering betyder, at JBL Endurance Peak 3 øretelefonerne er klar til dine mest aktive eventyr, uanset vejret. Og de holder i 30 minutter ved dybder på op til 1,5 meter i salt- eller ferskvand. Så du kan surfe med dine øretelefoner eller skylle dem efter en træning, alt sammen uden at gå glip af et beat.
Funktioner

Ambient Aware og TalkThru
Uanset om du er ude at løbe eller i zonen i fitnesscentret, gør TalkThru det nemt at foretage og høre opkald hvor som helst. Og med Ambient Aware kan du være opmærksom på dine omgivelser uden at tage hovedtelefonerne af.

Klare, tydelige opkald med 4 mikrofoner
Selv på en blæsende cykelsti vil din stemme blive hørt takket være dobbelt stråleformende mikrofoner i hvert øre, der er med til at sikre klar kommunikation. Og med VoiceAware kan du vælge, hvor meget du vil høre af din egen stemme, ved at kontrollere, hvor meget lyd der skal sendes tilbage fra mikrofonen til dine ørepropper.

Powerhook™-design giver en ergonomisk pasform
JBL Endurance Peak 3 kan justeres, så den passer komfortabelt med en bøjelig TwistLock™-ørekrogforstærkning, der sikrer, at dine hovedtelefoner ikke falder ud – selv under dine mest aktive øjeblikke. Og når du tager dem af, slukker øretelefonerne automatisk, selvom du ikke lægger dem tilbage i opladningsetuiet.

JBL Headphones-app
Træn på din egen måde. Tilpas dine hovedtelefoners indstillinger til dine behov med den dedikerede JBL-app.
Detaljer & Downloads
Item# JBLENDURPEAK3COR
Beskrivelse
Gør aldrig ondt og falder aldrig ud

Din livsstil er aktiv – du har brug for trådløse øretelefoner, der kan følge med. Endurance Peak 3 er den perfekte træningspartner, der spiller dine motiverende playlister for dig med op til 50 timers afspilning og den fyldige JBL Pure Bass-lyd, du kan mærke i dine muskler. Det holdbare IP68-støv- og vandtætte design kan klare selv de mest støvede bjergruter og den mest svedige træningssession, mens en bøjelig TwistLock™-ørekrogforstærkning garanterer en sikker, behagelig pasform, der bliver siddende, uanset hvordan du bevæger din krop. Du kan føre krystalklare samtaler overalt, mens du fastholder opmærksomheden på dine omgivelser, så du bevarer forbindelsen med verden, uanset hvor din træning fører dig hen.
Specifikationer
Enheds-størrelser (mm)

10
Lydspecifikationer
Enheds-følsomhed ved 1kHz/1mW (dB)

102 dB SPL@1 kHz

Dynamisk frekvensområde (Hz)

20 Hz - 20 kHz

Impedans (ohm)

16
Mål
Charging Case Weight (oz)

2.7

Earpiece Weight (oz)

0.9

Vægt (g)

76

Vægt (g)

25
Specifikationer, styring og tilslutning
Bluetooth-profiler

A2DP V1.3, AVRCP V1.6, HFP V1.7

Bluetooth-frekvens

2.400 GHz - 2.4835 GHz

Bluetooth sender-modulation

GFSK, π/4 QPSK, 8DPSK

Bluetooth sender-effekt

< 14 dBm

Bluetooth-version

5.2
Batteri
Ladetid (timer fra helt afladet)

2

Maksimal spilletid (timer)

10

Taletid (timer)

5.5
Egenskaber
Bluetooth

Ja

Charging cable

Ja

Lader lyd fra omgivelserne passere

Ja

Indbygget mikrofon

Ja

Smart opladningsetui

Ja

Håndfri opkald

Ja

JBL Pure Bass-lyd

Ja

PowerHook™

Ja

Genopladeligt batteri

Ja

Lynopladning (5 min. = 1 t spilletid)

Ja

Svedsikre

Ja

Multifunktionel TalkThru-knap

Ja

TwistLock® teknologi

Ja

Vandtæt

Ja

Trådløse

Ja
Dokumenter og downloads
Kunde-anmeldelser
Rated

5

out of

5
by
Dabri3007
from
Super headphones
JBL Endurance Peak 3 I have owned the headphones for some time now and have loved them from day one. But from the beginning, when the in-ear headphones arrived, I had to try them out immediately. They were already pre-charged, so I didn't have to charge them before I could enjoy testing them. Point one - they are wireless, no more annoying cords. Point two - off into the ears, a bit complicated on the first try, but on the second I got the hang of screwing them in. Provided you pull the earpiece over your ears, the headphones go on by pulling to connect. With my Samsung Galaxy S21 Ultra, the headphones connected immediately without any problems. I then downloaded the JBL Headphones app from the Play store to fully set up and use the headphones. The app recognizes the headphones immediately and I could make various settings in the app, but this is not about the app, but about the headphones. First Impression: Seem a bit clunky at first, but after you have them in your ears, I find them just right, they fit the ears really well. There are 3 different sized earplug attachments included. I opted for the smallest one. Everyone has different sized earpieces. After everything was set up, on my part, I finally let the music play to test for sound and ambient noise. So off to the outside and go hiking. Music on - world off. The sound, after I had configured myself the in the app, was JBL faithful very good, neat bass without overdriven to sound. Clear clean sounds even in high volume mode absolutely top. My expectation was high and was not disappointed. The battery of the headphones has held without further pre-charging. Ambient noise I could not perceive in the mode. So super sound the whole hike away. Phone calls: While using the headphones, I got a call in, immediately the music went off and I could take the call. I could clearly understand the person I was talking to. My conversation partner also understood me wonderfully. Wonderful to have such a clear conversation without having an annoying cell phone to my ear. Waterproof? Unfortunately, I can't say much about this topic. So far, I've only used the headphones in dry conditions. Sweat makes the headphones nothing, I can say that with certainty, because I already sweat a lot, especially with a lot of movement. Storage: Included is a quite compact charging tray, in which the headphones are placed. So just disappear into the pocket is rather bad, but it is quite large. I know it from other JBL in-ear headphones already a lot more compact. Personally, this does not really bother me. Wearing comfort: Permanently wear the headphones for several hours no problem, slight pain I gladly accept, with the good sound. Conclusion to date: For me, the JBL Endurance Peak 3 are absolutely top, and I hereby express a clear recommendation for the headphones. Price-performance is in order. Even if the headphones her stands in the high segment of prices, it is always justified. From 25 € headphones I can of course not expect as much as from almost 100 € headphones. The price of the JBL Endurance Peak 3 is between 90 € and 100 €. JBL has not disappointed me, and I like the Endurance Peak 3 very much. Thumbs up!
Date published: 2022-11-06
Rated

4

out of

5
by
Myownplay
from
Nemt at tage i brug og få til at passe
Jeg har testet disse høretelefoner gennem Reviewclub i en uges tid efterhånden, og de er super nemme at parre og forbinde via Bluetooth, og de medfølgende eargels i forskellige størrelser gør at man nemt kan få dem til at passe til ens ører. Formen og udformingen af selv høretelefonerne gør at de sidder perfekt både på og i øret når man bruger dem til aktiviteter som løb eller styrketræning, og det smarte ved dem er netop at man kan bruge dem selvom man er i samme rum som andre, da man via Ambient Aware der gør at man godt kan høre hvad der foregår omkring en. En anden super feature er det at de selv slukker når man tager dem af, så man behøver ikke at tænke over om man rent faktisk fik slukket for dem, og når man så ligger dem i den medfølgende opladningsetui, så er der strøm på dem til næste gang man tager dem i brug.
Date published: 2022-10-25
Rated

4

out of

5
by
Havenizzen
from
De falder aldrig af!
Har testet produktet i ca 14 dage. Har benyttet det til daglige cykelture, havearbejde. Både til musik og podcast. Først skulle jeg lige lære at placere dem i øret. Det tog noget tid, og i starten var jeg noget træt af at skulle bruge så lang tid på at sætte dem ordentligt på øret. Det går noget hurtigere nu, men undgår stadig ikke at slå det ene og andet til/fra under påsættelsen. Når de så sidder fast, så sidder de meget godt fast. Det er rart hvis man bevæger sig meget under løb/cykling. De ryger absolut ikke af. Etuiet et noget stort at have i lommen sammenlignet med andre lignende produkter. Det værste ved etuiet er at det er noget bøvlet at få op. Der burde være en lille rille i plasten fingeren kan få fat i. Lyden er fin til prisen. Har oplevet væsentlig bedre lyd på andre JBL earpods, men også til en noget anden pris.
Date published: 2022-10-24
Rated

4

out of

5
by
Nenni1919
from
easy to use
First off - My last pair of headphones were the typical rickety parts of a walkman. Who would have thought 20 years ago that such high-tech devices would develop from this! Electronics are constantly on the decline. If you are immediately addicted to something, buy recommendation! At Stiftung, good places were occupied. Everything works. great bass Music stops when you take it out. All settings can be individually assigned and adjusted via the JBL app. If there is strong wind or road noise, simply change the setting and you won't hear anything from the environment! Or you leave it and drive through traffic more safely. Easy to use. Charging works great with the box. The color is great. After 4 weeks of testing I have nothing to complain about. I can highly recommend it. I'm missing something that you can change the size of the head.
Date published: 2022-11-17
Rated

3

out of

5
by
EVMB
from
Okay headset, med minus og plusser
Jeg tester dette gennem riviewclub. Lyden er ok og pasformen fin da jeg skiftede til de mindste dutter. De sidder rigtig godt fast på øret og det er første gang jeg har prøvet nogle, som ikke hele tiden skal skubbes lidt ind. Men jeg synes det er et kæmpe minus at kun 1 enhed kan være koblet til den af gangen, da jeg skifter meget mellem min iPhone og iPad. Et andet minus er at jeg synes de ser meget klodset ud og fylder meget.
Date published: 2022-10-26
Rated

5

out of

5
by
Maitestar
from
Good for jogging
I've been using the JBL for a few weeks now. I am very satisfied with these Bluetooth headphones. They are a loyal companion to me when jogging, working and just listening to music. They stick well in the ear. Thanks to the included plugs, the headphones can be used in any ear. They held up very well while jogging. The diversity of the headphones convinced me. The associated application is self-explanatory and easy to use.
Date published: 2022-11-18
Rated

4

out of

5
by
DannyR
from
Good for fitness
I have been using the JBL Endurance Peak 3 for about a week, they are great for working out, these earbuds have good bass and great sound. I have rather small ears, but the fit is comfortable and allows me to move around without worrying about one of the earbuds falling off. I would highly recommend these headphones for fitness, for everyday use JBL has some other products that are better. Tested through reviewclub.
Date published: 2022-10-26
Rated

4

out of

5
by
Maxima
from
God lyd!
Jeg er tester af JBL endurance peak3 og må sige at jeg er ganske udmærket tilfreds. Der er god lyd og en sikkerhed i, ikke at tabe dem under aktivitet. Jeg går efter en god bundløs, bas og klar lyd, og her er app'en helt klart en fordel. Her kan man indstille discant og bas så det bliver tilfredsstillende at lytte til. Der er forskel på at lytte til musik kontra podcasts.
Date published: 2022-11-02
Rated

5

out of

5
by
Max1978
from
Great product!
With all headphones I have used so far, I had the problem that they fell out when I moved a little. With the JBL Endurance Peak 3, I found headphones that have a great sound and, for their size, have very good ambient suppression and are really great for sports activities. They are very easy to use and pair great!
Date published: 2022-10-31
Rated

4

out of

5
by
Upel1981
from
Sidder godt i ørene
Jeg har testet JBL Endurance Peak 3 i lidt over en uge. Generalt er de rigtig gode, fin pasform, god lyd, god batteri levetid, nem at installere. Jeg har brugt dem en del til sport og er slet ikke nervøs for de falder ud. Det er bare dejligt at når man tager dem ud af ørene så slukker de selv.
Date published: 2022-10-26
Rated

3

out of

5
by
Tina H
from
God lyd og batteri.
Jeg tester I samarbejde med Reviewclub dette headset. Lyden er super god, og batteri tiden er rigtig god. Det store minus er at det ikke er behageligt at bruge. Har man små ører, kan man slet ikke bruge det.
Date published: 2022-10-24
Rated

4

out of

5
by
MajaB
from
Fantastisk lyd
Fantastisk lyd og nemme at bruge. De var lette at tilkoble telefon og funktionerne var nemme.
Date published: 2022-10-24
Rated

4

out of

5
by
SRBJESSEN
from
Super fine øretelefoner med et par minusser.
Jeg er tester for ReviewClub, og har testet disse øretelefoner i en uges tid. Lydkvaliteten er super god, god bas og lækker mid-tone. De har også både Ambient Aware og Talkthru. Ambient aware slipper alle lyde dæmpet igennem, hvilket fungerer godt, men jeg syntes der er ret meget baggrundsstøj ved brug, Talkthru lukker også næsten alle lyde ind men fokuserer på stemmer fremfor "alle" lyde. Der er mindre støj på Talkthru, men stadig en del. Begge funktioner har for meget støj til mig, så det er ikke funktioner jeg bruger meget. Pasformen er super god til mine ører. De slutter tæt og bøjlerne sidder virkelig godt over ørene. De er lidt klodsede/store og derfor ikke behagelige at ligge på en pude med. Men da de er fokuserede på træning og aktivitet ser jeg det ikke som et stort problem. Touch-styringen fungerer godt, dog ville jeg have foretrukket enten knapper eller flere touchzoner, da man kun kan vælge et sæt funktioner til hver side og derved mister muligheden for at for eksempel slå Ambient Aware og Talkthru til samtidig med at styre både musik på venstre side og volumen på højre side, så hvis du er ude at løbe kan du altså vælge at styre musik og volumen, men ikke slå Ambient Aware eller Talkthru til hvis du skal orientere dig i trafikken eller høre hvad andre omkring dig siger.
Date published: 2022-10-24
Rated

4

out of

5
by
StephaneCru
from
My first wireless headphones: Great model!
I love these JBL Endurance Peak 3 - they're my first wireless, waterproof headphones and I'm thrilled with them! I work out a lot and sweat a lot. It was important to me that the headphones fit well in my ears (compared to Apple for example) but also that they were sweat/water resistant. I run/swim about 3 times a week and these headphones fit really well - I didn't have to put them back on even after 2 hours of sports. I also tried any of the silicon parts furnished with the headphones. Also, I tried a friend's headphone before and the battery didn't last long. With these headphones I was able to do about 40 hours of sports/activities without recharging them - it's really great! I have the impression that the case also allows you to recharge them very quickly. The "Ambient Aware On/OFF" system acts as a noise canceling device and therefore allows you to isolate yourself from external noise. I live in a bustling street and cars noise was almost non-existent with this mode. The microphone also seems to work very well because my friends and family could hear me perfectly. I am not used to using wireless phones and was therefore prejudiced about this. A few flaws though: - Wearing earplugs and a FFP2/covid mask is not very pleasant, even annoying. The same is true with headphones and sunglasses. - I did not find the function to manage the volume or change music directly from the headphones which was not practical - especially while running for instance. - I don't know if it comes from the phone or from the headphones but I had the impression that my battery is much less efficient if the headphones are connected.
Date published: 2022-10-31
Rated

4

out of

5
by
the_years_gone_by
from
Great for outdoor!
The In-Ear headphones have arrived pre-charged in a small cardboard box. Inside was the charging box, containing the in-ear headphones. Further included was a short charging cord and three different exchangeable ear tips (S/M/L), for getting the perfect fit for the individual ear sizes. Since the headphones were specially designed for sportive activities, they additionally have clips, which are put behind the ears, guaranteeing the headphones to stay in the ears, while moving heavily. I've chosen wireless headphones with the sport clips on purpose, since I always fear to them, just falling out of my ear without recognizing and the clips give me the extra potion of trust using the headphones frequently and I have to admit, it helps. The clips have enough rigidity to give a good hold, giving still a comfortable fit due to the soft rubber coating. He clips have a second function, as soon as you bend them, the headphones switch on automatically, start an automatic pairing mode and connect then to the cellphone, if Bluetooth is already switched on and the headphones have been paired before. You don't have to use both headphones simultaneously, there is also the option to use just one of the headphones for "mono-mode". With my Huawei, the headphones could be paired very easily and connection was immediately established, after successful pairing, without any problems. With the JBL headphones app (available for Android and iOS), various settings can be adjusted for the headphones, i.e. there is a equalizer to find the perfect sound for you favorite style of music or the assigning different functions to the touch button on each headphone. Charging from 0% to 100% will need about 2h. There is a little LED in front of the charging box, so you can always see the state of battery. The headphones are rated as IP68, means they should be water- and dustproof, so perfectly protected for running sessions in the rain or sweaty workouts on hot days. Besides listing to music, audibles or podcast, the headphones are also equipped with a microphones, so they can be used as headset for calls or phone conferences. The sound and voice is clear and precise, making it very comfortable to make calls handsfree. Negative points: Wearing earplugs with earpieces and a FFP2/covid mask is very annoying, also if you have sunglasses or glasses at all. There is just one big button for all different control settings. So you have to keep different tap and hold commands in mind. All in all they are a bit clunky for small girls like me, but fits perfect for my boyfriend. Price-performance ratio is absolutely okay and although they rather belong to the higher priced models, sound quality and wearability makes it worth to spend the money.
Date published: 2022-11-12
bvseo_sdk, dw_cartridge, 18.2.0, p_sdk_3.2.0
CLOUD, getReviews, 13ms
reviews, product
Spørgsmål og svar
bvseo_sdk, dw_cartridge, 18.2.0, p_sdk_3.2.0
CLOUD, getContent, 24ms
questions, product
bvseo-msg: Unsuccessful GET. status = 'ERROR', msg = 'Not Found.';