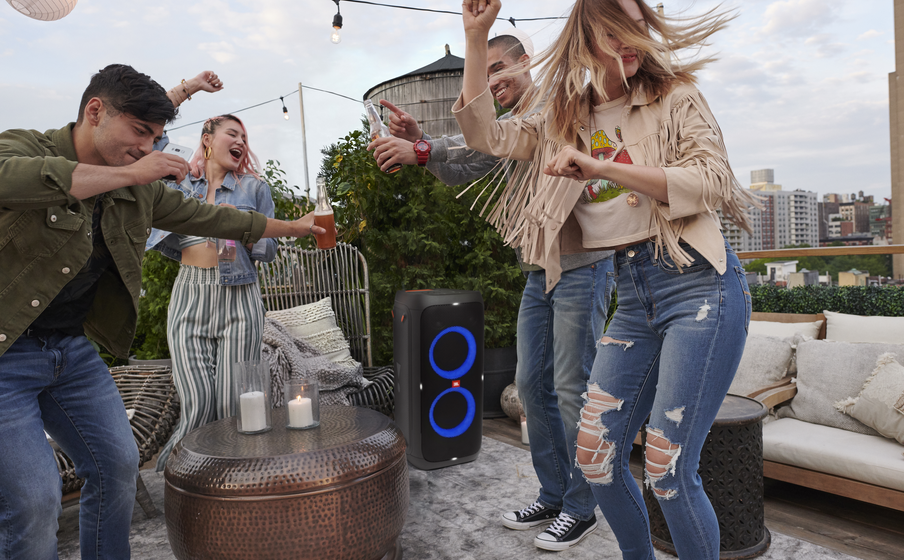 Kraftfuld JBL-signaturlyd
Rundt om hjørnet eller på stranden: Sørg for, at man kan høre din fest med 240 watt kraftig JBL-signaturlyd. Syng, rap, spil guitar – og skru så op for bassen, og se, hvordan der kommer gang i dansegulvet.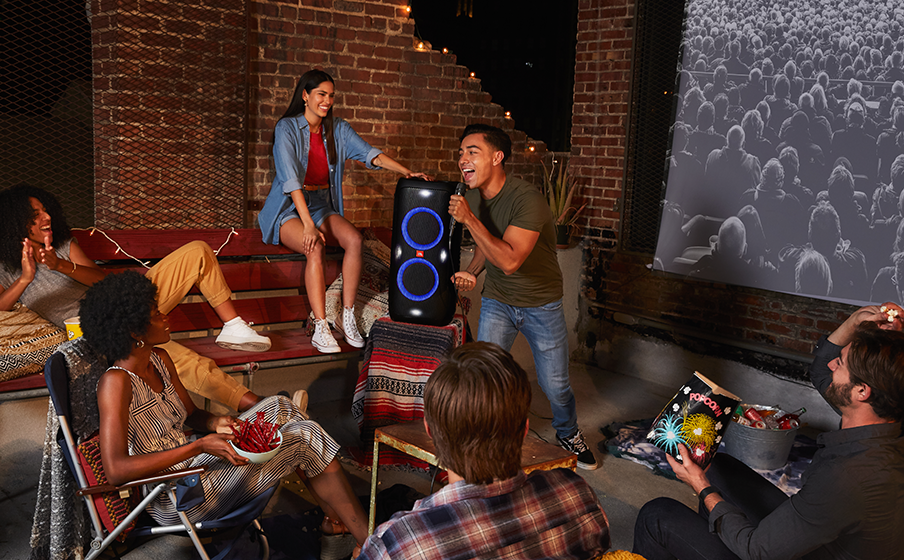 Lys natten op
Fortryl dit publikum med et fascinerende og dynamisk lysshow, der danser til musikken. Der findes en indstilling til enhver atmosfære med diskrete og pulserende lyseffekter.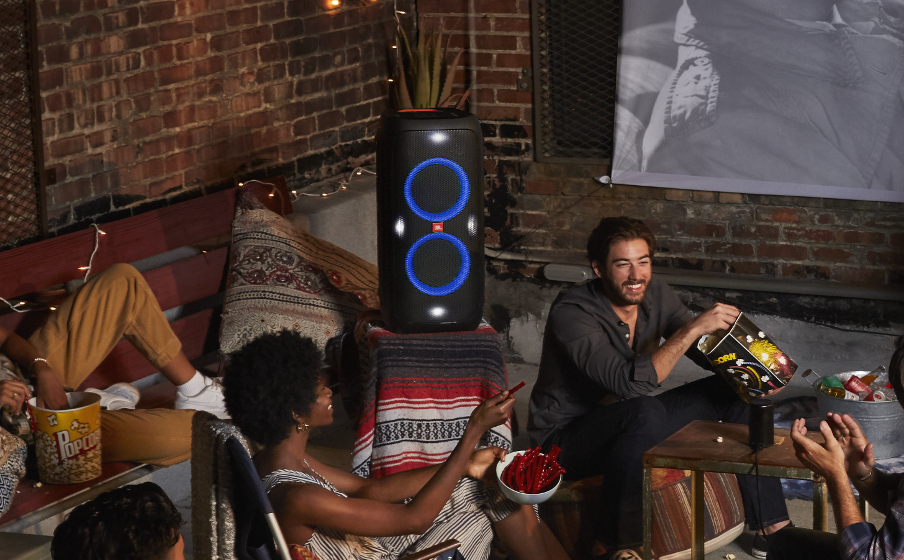 Hold festen i gang
Hold den gående hele vejen fra start til den lyse morgen med 18 timers musik for fuld udblæsning. Vil du feste endnu længere? Så sæt JBL PartyBox 310 i en stikkontakt, og dans hele weekenden.
Funktioner

Tag den med overalt. Fest overalt!
Hvem siger, at kun klubber har stor lyd? Med teleskophåndtag og indbyggede, letglidende hjul kan du flytte festen fra din terrasse til parken – og alle steder derimellem.

Spring ud
Tag den fra en fest i baghaven til et poolparty. JBL PartyBox 310 er udstyret med IPX4 vandbeskyttelse og holder musikken i gang – uanset vejret.

Spil højt. RIGTIG højt.
Tilslut kompatible højttalere trådløst med TWS (True Wireless Stereo via Bluetooth for at tilslutte op til 2 party-højttalere) eller med kabel fra RCA-udgangen.

Lydeffekter sætter festen i gang
Få det endnu sjovere med festlige lydeffekter, der ikke kan ignoreres. Vælg et signalhorn, bifald – endda et "buu" – for at få dine gæster til at huje og grine med.

DJ i mørket
Festen stopper ikke, når solen går ned. Kontrolpanelet på JBL PartyBox 310 har indbygget baggrundsbelysning, som aktiveres i mørke. Du kan holde gang i musikken uden behov for en lommelygte.

Det hele er i appen
Styr din fest fra din telefon med PartyBox-appen. Uanset om du står på DJ-podiet eller slapper af under træerne. Skift numre, lav om på lysshowet, styr karaokefunktioner og meget mere med få tryk og strygebevægelser.

Stå fast. Ind med god lyd
Løft festen til nye højder – bogstavelig talt. JBL PartyBox 310 passer til de fleste højttalerfødder, så du kan hæve den fra jorden, så den ses og lyder endnu bedre. (Højttalerfødder medfølger ikke).

Syng en solo – eller en duet – med indbygget karaoketilstand
Det er din tur til at indtage rampelyset. Dobbelte indgange til mikrofon og guitar gør enhver fest til en karaokefest, og den indbyggede vokalstemning får din stemme til at lyde fantastisk.

Stream din musik på din måde
Sange. Playlister. DJ-mixes. Spil, hvad du vil, når du vil. Fra din telefon eller en anden enhed med Bluetooth. Alt, du har brug for, er musikken. Og lysten til af spille den højt.

​Tryk "Play" på en af dine playlister
Hør dine yndlingssange, uden at du behøver bede om det. Smid din playliste på en USB-nøgle, sæt den i den indbyggede USB-port, og spil dine favoritnumre. Nemt og ubesværet.

Føl elektriciteten
PartyBox 310 kan sættes i overalt, hvor der er en stikkontakt, fra havefester til halfester. Tager du festen med på farten? Slut den til din bil, autocamper eller partybus for at holde stemningen gående, så længe dine gæster kan holde dansen gående.
Detaljer & Downloads
Item# JBLPARTYBOX310EU
Beskrivelse
Utrolig JBL-lyd med flotte lyseffekter

Kraftfuld lyd, flotte lyseffekter og utrolig ydelse skiller denne højttaler ud fra mængden. JBL PartyBox 310 samler en komplet fest i en transportabel, stænksikker maskine uden sidestykke. Skru op for din yndlings-playliste overalt: fra hjemlig komsammen til dans på stranden. Få den helt store feststemning frem med 240 watt JBL-signaturlyd og et synkroniseret lysshow, der svinger med rytmen. Sæt stikket i, og hold festen i gang hele natten. Eller rul den over til lejrbålet, og udnyt de 18 timers batteritid. Start en fest med JBL PartyBox 310.
Specifikationer
Spilletid (timer)

18

Udgangseffekt (W)

240
Lydspecifikationer
Dynamisk frekvensområde (Hz)

45 Hz - 20 KHz (-6 dB)
Mål
Mål (cm)

68.8 x 32.6 x 36.8

Mål (inch)

27 x 12.8 x 14.5

Vægt (kg)

17.42

Vægt (lbs)

38.4
Specifikationer, styring og tilslutning
Bluetooth-profiler

A2DP 1.3, AVRCP 1.6

Bluetooth-frekvens

2.4 – 2.48GHz

Bluetooth sender-modulation

GFSK, π/4 DQPSK, 8DPSK

Bluetooth sender-effekt

15dBm (EIRP)

Bluetooth-version

5.1
Batteri
Egenskaber
3,5 mm lydindgang

Ja

Bluetooth

Ja

Charging cable

Ja

Karaoke-funktion

Ja

Lysshow

Ja

Stænksikker

Ja

Wireless

Ja

Genopladeligt batteri

Ja

Ægte trådløse

Ja
Notifikation
Bluetooth®-mærket og -logoet er registrerede varemærker tilhørende Bluetooth® SIG, Inc., og enhver brug af sådanne varemærker af HARMAN International Industries, Incorporated, sker under licens. Andre varemærker og varenavne tilhører de respektive ejere.

Egenskaber, specifikationer og udseende kan ændres uden forudgående varsel.
Det er der i æsken?
1 x JBL Party-højttaler 310
1 x lynstartguide
1 x garantikort
1 x sikkerhedsark
1 x AC strømkode (AC-stik varierer efter region)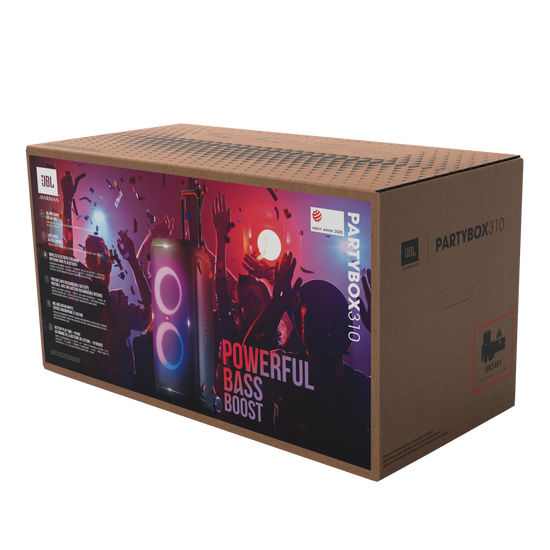 Dokumenter og downloads
Kunde-anmeldelser
Rated

4

out of

5
by
Ayamma coco
from
I love it!
I recently bought JBL PARTYBOX 310 from Bestbuy. I love it and it plays really well, but I am deeply disappointed that such a good product does not have a remote control. I have been surfing through the internet to see if there's a remote control that can work but so far has been unsuccessful. I want to be able to turn on my speaker from my bed. Can JBL do something about this? Thanks
Date published: 2021-05-22
Rated

5

out of

5
by
George806
from
Blows your Mind!
Complete speaker for all occasions. JBL Partybox 310 is not only a speaker but an amplifier, a public announcement system, with an attractive light show. The speaker is portable with wheels and has an extendable handle and can also be mounted on a speaker stand. The speaker has a bass enhancement to balance both music and voices. The sound is incredible and can fill an entire house with amazing sound. JBL has done it again! Recommended to all music lovers.
Date published: 2020-11-22
Rated

1

out of

5
by
Noel4572
from
Good but needs and update ASAP
After owning this speaker for a few months now this speaker need and update where it allows you to use the equalizer for music and not just karaoke because this speaker can sound muffled at times. So please JBL send an update to make the highs sound better or enable that equalizer .
Date published: 2021-01-28
Rated

4

out of

5
by
Nutter
from
Good Bass and amazing sound But...
I love this when I first bought it a month ago. Then apparently playing it at max volume causes the Amp and speaker to work hard causing smelling and heating it up. Which I'm confused because if it isn't supposed to go to 100% volume, why make a product that's meant for parties? I love it being at 100% because it sounds AMAZING, but it'd sad to hear I gotta make sure it doesn't burn it and it's just, frustrated me when I heard this, I wish I would've known while looking into them
Date published: 2021-09-25
Rated

5

out of

5
by
nnutman
from
Great speaker for any event!
Well, Wow! this is one of the best speakers I have heard for a long time, it comes with a price (~500$) but the sound quality is just amazing! This speaker has wheels and a handle so you can walk with it like a small suitcase, very easy to move between rooms if you prefer to lift it (it is a little heavy) there are 2 handles that will help you. The speakers have lights that move according to the music you play, very cool, and a great item for any size of party in the back yard. (you can turn off the lights from the speaker) There is an app (from JBL) that you can download and you can then change the lights, have some D.J cool noises, and more. The battery seems to last long you the product comes with a cable to charge it. There is a Karaoke mode (imagine the backyard party with your own Karaoke) and you can even connect your guitar to this speaker (I did not try it yet). Setting the speaker was very easy, it connected very quickly to my Desktop and Android Mobile phone. you can also connect it to a TV using Bluetooth - very good sound! You place a tablet on top of the speakers and this speaker can connect to your 12v car charger as well... Overall, a huge and great speaker with sound quality that you cannot go wrong, this is a Party Box and can easily be your main house speaker... Enjoy!
Date published: 2020-11-18
Rated

5

out of

5
by
aniket3622
from
Amazing speaker with power packed features
I got the Partybox 310 speakers last week, and I have been enjoying them thoroughly so far. The sound quality is excellent with crisp and clear bass even at high volume. I could not even raise the volume above 60%, the bass is that good. The battery life has been exceptionally good, as I have songs playing on the speakers throughout the day because of the lockdown. My niece loves the lights, and they look really good in person rather than in advertisement. I have not tried the Karaoke feature yet, but will be updating the review once I try that. Also, the wheels and the handle makes it quite easy to move the speakers around. I would recommend this beast of speakers to everyone as it is worth every penny you pay for.
Date published: 2020-11-26
Rated

5

out of

5
by
danngarsvt46
from
Looks Great, Sounds even better!
The JBL Partybox 310 is an impressive portable party speaker that makes it easy to bring the party anywhere you go. Whether you are pumping out the dance music or singing the night away to karaoke tunes, this speaker steps up and delivers way more than its size indicates. The overall sound and performance rivals some of the pro audio speakers I use. The Partybox 310 delivers the powerful JBL sound I have always enjoyed. The sound output when running on battery is more than adequate for any space and gets even louder when plugged into power. I rarely had to turn the volume up past half way in a small ballroom space. The 310 was able to fill the room with rich full sound. The bass response is extremely immersive. It feels like there is a subwoofer in the room. It is incredible that a single speaker can deliver so much sound. One speaker is all you need for the party. The constantly changing lighting and strobes follow the beat and add that extra eye candy to your parties. Bluetooth connection is easy and fast. I had no issues connecting several different devices. The slot on top of the speaker is perfect for holding a device such as an Ipad. I placed my Ipad on top facing forward and played karaoke videos so the lyrics could be seen. Another nice feature is the ability to connect a wired microphone along with a wired instrument such as a guitar or keyboard and control their inputs independently. The speaker has a great overall sound so Little effort was needed to mix the music and microphone. These inputs are nicely concealed under a heavy rubber cover to keep water and dirt out when they are not in use. The top cover is cleanly laid out and easy to use. The buttons conveniently illuminate in dark areas automatically and are easy to see. The available APP is a convenient and welcome addition as it gives you nearly full control of the speaker which is nice when used on a speaker stand and the controls are not easily accessible. You can customize the lighting, adjust bass boost, trigger DJ effects, and fine tune the microphone audio when one is attached. The Partybox 310 is easy to transport using the built-in wheels and telescoping handle. The speaker is a bit heavy but the handles on top and bottom make it easy to lift. The extra weight of the speaker is directly related to its quality. The speaker is solid and extremely well built. The attention to detail is evident with various JBL logos on all sides. All the panels fit together perfectly and the entire speaker feels super durable. One co-worker called it Military Grade. Overall, this is an extremely impressive speaker that delivers in all areas. It sounds great, looks great, and has all the features you need to easily bring the party anywhere you go.
Date published: 2020-11-22
Rated

5

out of

5
by
AlH93
from
Best thing I've ever bought!
I have been on the hunt to replace a 10 year old hifi system which seemed to have a great sound and I really struggled to find anything as good in my desired price range. I did a fair bit of research and this product seemed to have solid and consistent reviews and let me tell you, this speaker does not disappoint. It absolutely goes off. I haven't been able to test it to its full capacity as the room starts to shake around 20% of max volume. I can see some great parties coming up! I love all the additional features and despite not being overly bothered about the lights, they are brilliant and add a great vibe. A cracking product and worth every penny. If you buy you will not regret it.
Date published: 2021-09-10
Rated

5

out of

5
by
MADs100
from
Brilliant Speaker!!
Bought this a couple of weeks ago and its quite simply brilliant. Worth every penny
Date published: 2020-10-19
Rated

5

out of

5
by
Johnnyboy2020
from
OMG -- Sounds Amazing compared to the bose S1
I recently made this purchase at BestBuy after selling my Sony XB90 and Bose S1 for something more to my taste and wow it was a perfect choice for me. The Bass is amazing on this thing crystal clear even at full volume and the high's could be a bit more crispier but they are good. I have no had time to test the battery life but I'm sure I can get my 5 hours out of it with no problem. These are not that heavy but the handle and the wheels making getting this thing around very easy. I'm simply impressed. Now my next goal is to get the party box 1000....I bet those bad boys are awesome as hell
Date published: 2020-11-06
Rated

5

out of

5
by
AshishMahi0322
from
Party Begins with JBL Patrybox 310
This speaker is a beast in its class of party speakers. It is power packed with 240W RMS, which gives amazing sound when you are partying in your backyard or in an equally large place. Few of the best features on top of the sound are - The lights that gets displayed on the speaker, which are in sync to the music being played. - With the draggable option, It can be transported easily like your cabin baggage. - It can also be paired with other bluetooth speakers or other speakers for even louder music. - Being water resistant, you need not worry of partying with JBL 310 in a drizzle. - Amazing playback time on battery. My tag for JBL products are J - Just B - Buy it and L - you'll Love it
Date published: 2020-11-13
Rated

5

out of

5
by
Mimi peg
from
Great speaker for the whole family
Love the Dj feature, the PARTYBOX app works great. It's loud enough for a big party. Battery life is amazing. Sound quality is great. No complaints
Date published: 2021-05-16
Rated

5

out of

5
by
mbigger1166
from
Impressive sound and value.
Its hard to believe this speaker is only $500. I have listened to 40 different songs the Beach Playlist 2020 on Spotify for testing. I'm impressed with the mid and highs. That's not the area where this speaker is suppose to shine. It's heavy on the bass. The two levels of bass boost are not necessary, but the first level is fun. It sounds great without the bass boost. With the first level of bass boost, you feel like you are in a club and its a little strong for my taste. I expected to have to compromise some clarity for all the bass and that didn't happen. The only problem I have now is deciding if I want two. Not sure where I could crank up two of these since I live in a residential setting. Maybe I can drive out of town about 10 miles and crank them up since they are battery powered!!
Date published: 2020-11-03
Rated

5

out of

5
by
Codygoose
from
Awesome speaker!!!!!!
This speaker is Phenomenal it's so clear. The best speaker I've ever gotten hands down. The guys in the shop love it. It covers the whole shop with sound. I highly recommend it. Jbl has the best speaker out there no one else comes close. If you like to party the party box 310 is for you.
Date published: 2020-11-11
Rated

5

out of

5
by
LockdownCol
from
A Really Excellent Speaker! A Beast!
I bought this not sure if it would be too loud, too much bass or too flashy - I was all wrong!. The sound is awesome and I use this in my flat and have it up to 20% volume normally and it is perfect but it can go so so so very much louder if needed. The lights look really crap on the advert, and might only impress a 10 year old, but I have come to absolutely love them! Working at home going lockdown-loco, I have them on all the day whilst working - maybe not JBL's intention to have them to relieve the boredom between Teams meetings, but they do that and do it very well ;-) They also have a button which plays a "Who lets the dogs out" style Woof when you press it, but that is not used at all :D Overall, I am really pleased with it and it and might even get a second one to link it to and a pair of tripod stands. It is so much better than my previous small £130 bluetooth speaker. If lockdown goes on any longer, I might even get some twin turntables!
Date published: 2020-10-13
Rated

5

out of

5
by
J805
from
JBL did it again with new partybox 310
I grab this little dj speaker for personal enjoyment One of the best out there I think JBL cross the limits with this little speaker all can said that am Very happy. Keep up the good work.
Date published: 2021-01-28
Rated

1

out of

5
by
Janusz
from
JBL NEW PARTY SPEAKER 310
Great slick design and beautiful led lights, but not enough watts power very compromised tweeters and bass no sound equalizer for most inputs except mice and guitar, only 1/4 jack inputs, terrible JBL application can't make it work with speakers due no BT working connection issues. I have JBL in my car that is better. The subwoofer only 2 settings, the speaker has no remote control, not worth the money. Best Buy store some support, ABT Electronics better CS support for party settings you need min 2,500 Watts. Easy to rolling option.
Date published: 2021-01-09
Rated

5

out of

5
by
fayhope
from
WOW! This speaker is the BEST!
JBL makes amazing products and I am always impressed, but this one is my favorite by far! The bass! OMG! You will be amazed. It is a really big speaker, but the wheels and handle make it so easy to maneuver. The sound? CRYSTAL CLEAR! You just decide how loud you want that beautiful sound! I haven't turned it up over 50%. I am telling you, get this one. You will not be disappointed. It is a BEAST!
Date published: 2020-11-13
Rated

4

out of

5
by
MECKY
from
Great features
I bought this 4 months ago but battery last only 4 hrs playing time since I bought it, from the specifications it should long 18 hrs playing time. How can you help me may be there is some settings I should do?
Date published: 2022-06-29
Rated

5

out of

5
by
Whiskerswoman
from
Best Sound On Wheels !!
We took our JBL party box 310, to our local karoke bar. The sound was better than the professional D.J. equipment. Super pleased we can connect our microphone and we are set to have any event anywhere and anytime. Never have to pay a professional D.J. again.
Date published: 2020-12-03
Rated

5

out of

5
by
KAmin
from
I'm loving this box
The party box is much bigger and heavier than I thought. Once I started working with the features I was impressed. If you like a big sound with versatility that you can take most places, buy one. It's a great gift idea
Date published: 2020-11-24
Rated

5

out of

5
by
foots
from
Very Suprised
I got this the moment it was back in stock and my only regret is that I did not buy 2 of them. They are again out of stock but when it's available I will surely get another one.
Date published: 2022-06-16
Rated

5

out of

5
by
jhalnbk
from
You'll want to buy this speaker.
This speaker is BOOMIN! My family used to have some old speakers connected to a receiver, and don't get me wrong for the age they still were very good. Both speakers were a good 4 feet tall. However this speaker easily replaces both of them, and has much better sound quality, as well as being easily portable. Setup, and connection to my devices was very easy and as soon as I started my music I knew I had made a good choice. I listen to lots of different genres of music, and this speaker is able to play all of them with great sound quality. For college kids, or people who like to throw parties. I would highly recommend, between the sound and also the really cool lights it will 100% bring the energy. If you're a person with a home gym, and you like to workout to music. This speaker will be more than enough.
Date published: 2020-11-13
Rated

5

out of

5
by
Twigs
from
This puts the GIGANTIC P in Party!!
I have been an audiophile which seems to be an eternity and the development of wireless speakers has progressed so much that it has become essential in our daily living. So who in their right mind develop a 40-pound speaker that looks like a medium-size golf cart and enough lights to pull over a police car? Well JBL did and give those engineers a raise! I did not know what to expect when first turning it on but when I did it put an ear to ear grin on my face. This thing while sounding great is just a blast watching the lights dance to the music. More than enough oomph to give the bassaholics a reason to celebrate and enough options to give a techy a reason to live. It is simply great that JBL steps out of the box and produces a fantastic and fun machine. Friday night pool parties will never be the same!
Date published: 2020-11-12
Rated

5

out of

5
by
James Douglas
from
Great Speaker !!!
This speaker is awesome !!! Amazing bass, even outside. I guess the only thing I would add to this is a remote control even if just for the volume.
Date published: 2021-05-15
Rated

4

out of

5
by
Sam345
from
Good bit of kit
I bought this a month ago for a party, it's a good speaker but not as loud as you would think, a little expensive for what yo get
Date published: 2022-03-12
Rated

5

out of

5
by
BHUSHAN J
from
The Ultimate Party Machine!
So, I took a week to review the product and after checking all the aspects of it, I am writing this review. So over all I will give 5 stars for this product. I compared Sony MHC-V series speakers, LG XBoom speakers and Samsung T series speakers.. This JBL Partybox 310 is a very good upgrade over its previous version (300). What you get compared to above: 1. Boom blasting Bass feature!! Super Bass, 2. Perfect treble which is good on ears. 3. Awesome Party LED lights in the speaker which you can costomize using your phone with JBL application. 4. It's a massive upgrade over its previous version with telescopic handle and wheels which helps to you Cary this heavy speaker effortlessly and its water proof too with IPX4. 5. You also get powerful 240 watts sound output with 2 mic input, Blutooth 5.1, USB audio, Aux audio input along with 18 hours of battery backup. With all of these above features, the JBL Partybox 310 is the Best party speaker what you can buy over Sony, LG and Samsung. Only thing which felt was missing is the FM radio feature. Which can be used along with karaoke mode and DJ features. Recommended this product over others mentioned above.
Date published: 2020-11-21
Rated

1

out of

5
by
Hugh Janus
from
When is the Partybox 310 gonna be back in stock?
Disappointed that there is such a long wait for the Partybox 310 to be back in stock. I've been watching for a few months now!! I guess I'll spend my money elsewhere.
Date published: 2022-01-30
Rated

5

out of

5
by
Yaz1975
from
Improved on the previous generation
So I also own a Partybox 200 and I love that unit. When this arrived and was unboxed, it's almost identical in terms of dimensions. Huge bonus in that it has a battery so going cordless/mobile is incredibly easy. Added to that is that it's set up like a roller luggage suitcase. 2 wheels, telescoping handle, makes it a breeze to wheel out to the patio and have huge sounds on the go. I'm also a guitar player and I'm glad to see that they kept the mic and guitar inputs as it makes for a passable amp/PA in casual settings. This thing is LOUD. Like crazy loud. great clarity of sound, better EQ adjustments than the prior generation. More light options to have fun with. It does have 3 built in sounds that I don't see me using much although they were fun to discover. Pairing was super fast and easy, hit the bluetooth button, tap it on your phone and you're good to go. Like I said, HUGE sound, you can easily entertain a large party with no trouble. For me this was a big improvement on the last version and I couldn't be happier. Build quality seems just as good, it's solid and fairly heavy so the wheels and handle really help with transporting it. Really glad I have it, it serves as the main speaker system in my living room. I can't see needing anything else. Big thumbs up
Date published: 2020-11-19
Rated

4

out of

5
by
National Dance Institute
from
Great for small outdoor performance
I bought a pair of these to use as monitors for a dance troupe at an outdoor performance. They worked well as rehearsal sound as we set up the main PA, and even better editing performance. As we didn't bring a subwoofer, the deep bass filled in nicely for the show. 4 hours at full volume, and we still had over half the battery charge left over! I wish they had a through output that was XLR or 1/4 inch, but we made do with the mini jack. Highly recommend
Date published: 2021-05-17
bvseo_sdk, dw_cartridge, 18.2.0, p_sdk_3.2.0
CLOUD, getReviews, 7ms
reviews, product
Spørgsmål og svar
how do i pair this speaker to another, and does it have to be the same type of speaker or can i buy a different one to pair it to?
Our Partybox 310 can be paired via TWS with a similar model and with the Partybox 110, 710 or Encore/Essential. To activate TWS mode, Press the buttons labelled TWS on both speakers to connect the speakers in TWS mode. TWS can also be activated and deactivated remotely in the JBL Partybox app
Date published: 2022-12-05
When will the PARTYBOX 310 be available again? Thanks 
We have no news yet of when we'll have stocks of our JBL PartyBox 310. Please subscribe to our newsletter at the bottom page of our website, to receive the latest news and updates regarding our products: https://www.jbl.com/
Date published: 2022-04-19
The Partybox 300 has a significant delay when using the AUX IN rendering it unusable as a monitor for live performance. Has this issue been fixed with the 310?
We would like to get more information to help you out, please contact us so we can assist you:https://bit.ly/2zwFkYM
Date published: 2021-06-06
With proper trrs-trs adapters, could the daisy chain out be used to input audio to a phone for recording audio and/or web streaming? I assume the signal is mono balanced at line level correct?
Our JBL PartyBox 310 doesn't have a recording function. You can use a mic and connect it to the speaker while it's connected to a source device via BT so you can utilize them at the same time.
Date published: 2022-11-15
Can the JBL 310 withstand sand? Like could I bring it to the beach or would I risk damaging it?
Our JBL Partybox 310 is rated IPX4, which means that it can withstand water splashes from any direction but can't be submerged in water. Also, exposing it to sand may harm the speaker if it reaches its internal parts.
Date published: 2022-12-26
On the Partybox 310 and the 710, does the USB port also charge the connected device ie: iPad, iPhone, iPod etc...?
Thank you for your question. Yes, both JBL Partybox 310 and the JBL Partybox 710 have a USB port that can be used to charge your devices. Should you wish to receive further support, you may contact the Harman Customer Support team by telephone, email or chat in order to receive direct assistance. Please see https://uk.harmanaudio.com/support-contact.html#ns for further details. Thank you.
Date published: 2022-12-15
How many party box 310 can I daisy chain and would the volume go up and down in all of them simultaneously?
You can connect two JBL PartyBox 310 TWS (True Wireless Stereo) feature. You can connect up to three speakers when using a wire by creating a daisy-chain connection with the speakers.
Date published: 2022-01-27
I've been checking this page for a long time now, and every time I'm greeted with it being out of stock.  I'm really wondering when, and where I'll be able to buy this speaker!  
The stocks for our JBL PartyBox 310 may arrive in October. You could also check our authorized distributors like Amazon to inquire for availability.
Date published: 2021-09-25
when will the JBL PartyBox 310 be available? I'm needing to order 2 for a party by the beginning of next year 2022. 
We have no news yet of when we'll have stocks of our JBL PartyBox 310. Please subscribe to our newsletter at the bottom page of our website, to receive the latest news and updates regarding our products: https://www.jbl.com/
Date published: 2022-04-11
Has it got speaker pole mount at bottom
Thank you for your question. Yes, the Partybox 310 features a 36 mm pole mount hole at the bottom. Should you wish to receive further support, you may contact the Harman Customer Support team by telephone, email or chat in order to receive direct assistance. Please see https://uk.harmanaudio.com/support-contact.html#ns for further details. Thank you.
Date published: 2021-06-06
i've bought two partybox 310 and the bass is insane without any boost so i think it will be nice to have an option in the app for reducing the bass a little bit
We appreciate your feedback and we'll send it to the right department.
Date published: 2021-06-06
Can I buy a spare battery? Is it easy to replace? Need to ensure have 8 hours of battery induced music, regardless of sound level, please advise.
Unfortunately, we do not sell battery replacements for our portable headphones and speakers. You may check for availability from third-party repair centers.
Date published: 2021-06-06
Can I connect a party box 300 to a party box 310?
Our JBL PartyBox 310 can't connect to other Partybox models such as the Partybox 100, 200, or 300 via TWS connection. The PartyBox 310 can only connect to another Partybox 310 using TWS connection.
Date published: 2021-06-27
Can the speaker be used while laying on its side?
Yes. Our JBL PartyBox 310 can be used horizontally (laying down) and vertically (standing). It has rubber pads on it's side serving as support when it will be used in horizontal position.
Date published: 2022-10-21
Does the JBL party box 310 fit on the JBL Tripod Stand (Manual Assist)
Our JBL PartyBox 310 has a 36 mm receptacle for the stand. You can purchase a compatible stand from third-party sellers. Please make sure that the stand you're planning to purchase supports the weight of the speaker which is 17.4 kg/ 38.4 lbs.
Date published: 2021-10-11
It says party box 310 is coming soon....but product is in the market? how come?
Thanks for bringing this to our attention. For product pricing and availability, please contact your local JBL support.
Date published: 2021-06-06
Can it be connected to other JBL partybox models?
The Partybox 310 cannot connect to other Partybox models such as the Partybox 100, 200, or 300 via TWS connection. The Partybox 310 can only connect to another Partybox 310 with TWS connection. Unlike the Partybox 200 and 300, the 310 does not feature RCA connections.
Date published: 2022-10-13
Can you completely turn all of the lights off?
Yes you can, simply, press and hold the lightshow button on our JBL PartyBox 310 to turn it on/off.
Date published: 2021-06-25
Is the jbl partybox released yet?
Please subscribe to our Newsletter to be informed on our products and updates.
Date published: 2021-06-06
There is no song titles or numbers or folders from media from usb in the app. It would bee nice to have that, maybee is it possible with update jbl partybox app? Thx
We appreciate your feedback. We're always looking for ways to improve, so we'll make sure to submit your feedback to the right department.
Date published: 2021-06-06
I bought two Partybox 310 speakers and have a wireless mic which inputs to one of the speaker mic jacks. Is there a way to use TWS to have the mic broadcast through BOTH speakers?
Unfortunately, it will only broadcast on the speaker where the wireless mic is connected if you use TWS. But it's possible to pair the wireless mic to one of the JBL PartyBox 310 then connecting the speakers via a daisy chain using a 3.5mm Aux cable to have the mic broadcast through both speakers.
Date published: 2021-06-06
Does it support aptx hd Bluetooth codec? Where I can see the bluetooth codecs?
Here are the Bluetooth profiles of our JBL PartyBOx 310: A2DP 1.3, AVRCP 1.6
Date published: 2021-06-25
Would it work to connect a Partybox 310 daisy-chain out to an Encore Essential AUX then just adjust volume manually on the Encore Essential?
Thanks for inquiry. Yes, it is possible to connect our JBL Partybox 310 with the Partybox Encore Essential via Daisy chain. Please note that the Partybox Encore Essential only have Aux in connections, so these models would need to be at the end of the Daisy Chain.
Date published: 2022-11-04
So the party box on-the-go comes with one microphone but shows two holders for mics like you can purchase another. Can you also buy this same JBL branded mic for the party box 310? I want the 310 for karaoke with two mics. Do you also have a bag or cover?
The included wireless microphone with the JBL PartBox On-the-Go will not work with the PartyBox 310. Unfortunately, we don't have a bag or case for this speaker.
Date published: 2021-06-06
Is this speaker suitable for DJing (beatmatching), specifically a low latency way of connecting from a mixer to the speaker (wired or otherwise)?
Thank you for your question. The latency is not specified for any of our consumer products as they are not designed for professional use. However, you have 30 day right of return if the product is purchased directly from https://uk.jbl.com/ in case the product does not match your needs. Should you wish to receive further support, you may contact the Harman Customer Support team by telephone, email or chat in order to receive direct assistance. Please see https://uk.harmanaudio.com/support-contact.html#ns for further details. Thank you.
Date published: 2022-10-22
Hi I am interested in purchasing three 310 party box speakers for my backyard.  I want to have them in three separate locations.  I want them to pair to each other playing the same music from a cell phone.  Is this possible?
Our JBL Partybox 310 can only connect to another Partybox 310 for TWS connection and has a Bluetooth range is 10m (33ft). Please avoid walls because it can interfere with the connection of the speaker. Bluetooth signal can't pass through walls.
Date published: 2021-07-04
Can you hook up a wireless mic to the partybox 310??
Our PartyBox 310 has a 1/4" microphone input. You can try to use a wireless mic with a compatible adapter to the input of the PartyBox 310.
Date published: 2021-06-06
Can I plug 2 microphones to this unit? If so, what do I need to buy to connect them? Thank you!
You could directly connect two wired microphones at the back of our JBL PartyBox 310. Slide the small switch below the mic 2/guitar input that shows the mic 2 icon and plug in the microphone. If you need more help, please reach out to our JBL Customer Support.
Date published: 2022-06-23
I only used my JBL Partybox 310 unit twice. Putting it up for sale. Can the new owner re-register the product? I still have the box, the unit is in mint condition. Do I delete my registration so that the new person can register it Or it can be transfered
The Product registration of our JBL devices is non-transferable. Please note that the warranty of the device will not carry-on to the 2nd owner of the JBL Partybox 310.
Date published: 2021-10-17
With the tws can you link a part box 300 with a party box 310?
Thank you for your question. The Partybox 300 and 310 can only be paired to another of the same model in TWS mode, however, you can still daisy chain the speaker by using a wired connection. Should you wish to receive further support, you may contact the Harman Customer Support team by telephone, email or chat in order to receive direct assistance. Please see https://uk.harmanaudio.com/support-contact.html#ns for further details. Thank you.
Date published: 2021-06-06
bvseo_sdk, dw_cartridge, 18.2.0, p_sdk_3.2.0
CLOUD, getContent, 6ms
questions, product