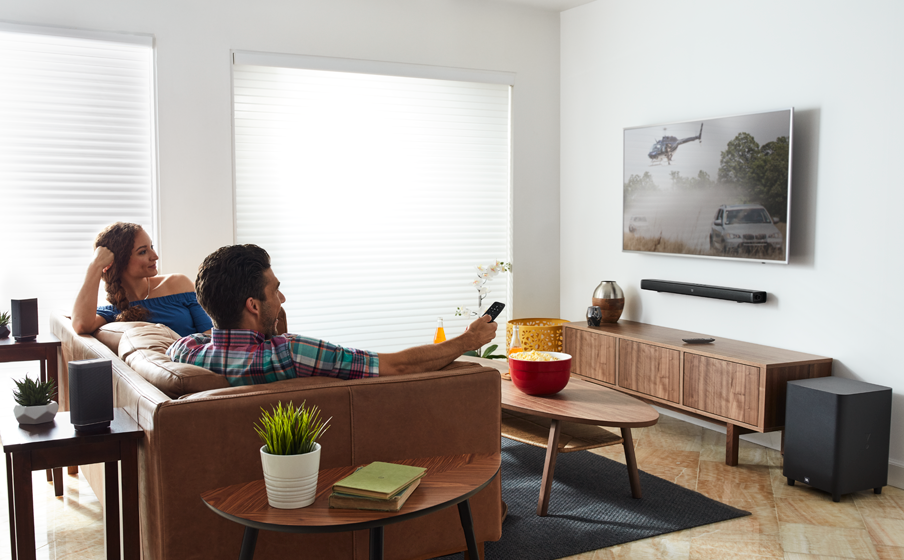 JBL 5.1 Surround Sound med 510 W effekt
Sikrer en lydoplevelse af høj kvalitet med dine film og din musik.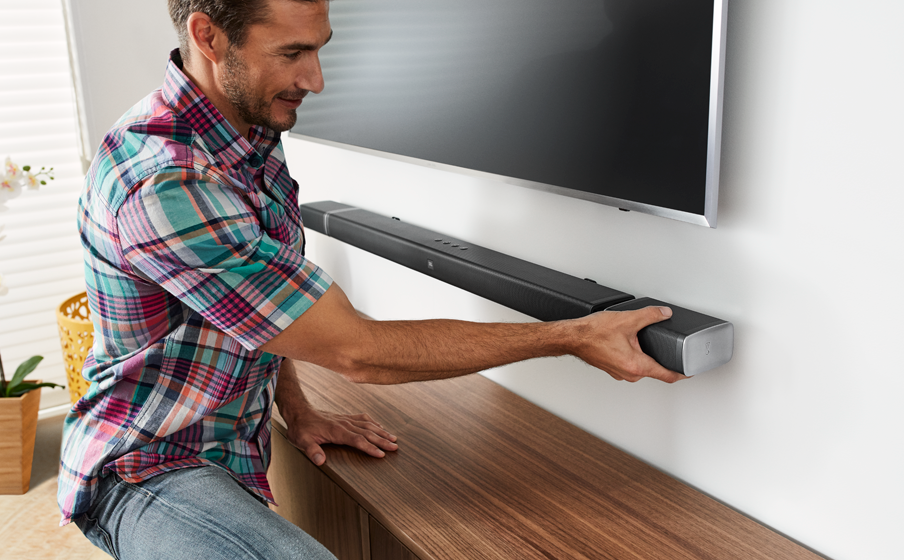 Aftagelige, batteridrevne, trådløse surround-højttalere
Nyd ægte trådløs surroundlyd i biograf-lignende 5.1 kanaler med 10 timers spilletid.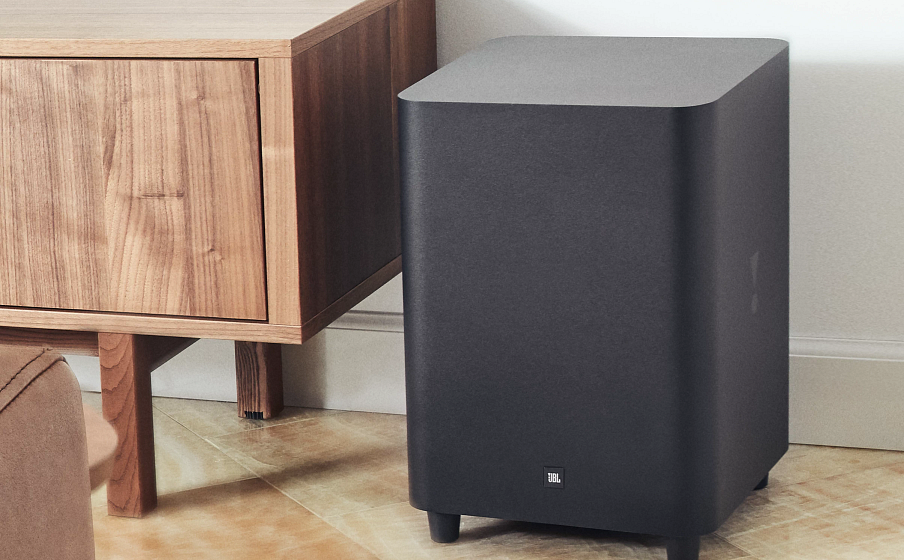 Medrivende bas fra en 10" (250 mm) trådløs subwoofer
Nyd den fyldige og medrivende bas og de fleksible placeringsmuligheder uden besværlige kabler.
Funktioner

Ægte 4K-forbindelser med 3 HDMI-indgange og en HDMI-udgang (ARC)
Du kan nemt tilslutte alle dine 4K-enheder og opgradere din hjemmeunderholdning til Ultra HD.

Trådløs musikstreaming med Bluetooth
Afspil al din musik trådløst fra enhver mobil enhed.

Fungerer med dit TV's fjernbetjening
Denne JBL-soundbar er designet til at fungere med mange af de mest populære tv-fjernbetjeninger, så du kan bruge din eksisterende tv-fjernbetjening til både dit tv og din soundbar.

JBL SoundShift®
Giver dig mulighed for straks at skifte mellem lyden fra dit TV og lyden fra din mobiltelefon eller tablet.
Detaljer & Downloads
Item# JBLBAR51BLKEP
Beskrivelse
Din ultimative og helt trådløse filmoplevelse.

JBL Bar 5.1 forvandles fra en soundbar til et ægte trådløst 5.1 hjemmebio-system, der giver en fantastisk film- og musikoplevelse. Soundbaren har to aftagelige og batteridrevne trådløse surround-højttalere med 10 timers spilletid, 510 W samlet systemeffekt, en 10 tommer trådløs subwoofer, tre HDMI™-indgange til tilslutning af 4K-enheder og Bluetooth. Med Dolby® Digital, Dolby Pro Logic II og DTS vil film, musik og videospil lyde mere fantastisk end nogensinde før. Soundbaren har JBL SoundShift®, så du lynhurtigt kan skifte mellem lyden fra dit TV og Bluetooth-lyden fra din mobiltelefon eller tablet. Soundbaren er programmeret til at reagere på din TV-fjernbetjening, så du kan styre alt med din nuværende TV-fjernbetjening. JBL Bar 5.1 skaber en helt ny soundbar-oplevelse.
Specifikationer
Samlet maks. effekt

510 W

Maks. SPL

104 dB

Frekvensområde

35 Hz til 20 kHz

Soundbarens vægt

3,9 kg

Subwooferens vægt

13 kg

surround-højttalerens vægt

0,6 kg
Mål
Soundbar-enhedernes størrelse

6 x 2.25" racetrack-drivere, 3 x 1.25" diskanthøjtaler

Subwooferenhed

10"

Soundbarens mål (B x H x D)

1148 x 58 x 93 mm

Subwooferens mål (H x B x D)

440 x 305 x 305 mm

surround-højttalerens mål (B x H x D)

165 x 59 x 93 mm
Specifikationer, styring og tilslutning
Bluetooth-version

4.2

Lydindgange

1 analog, 1 optisk, Bluetooth
Antenna Input
HDMI-videoindgange

3

HDMI-videoudgang (med Audio Return Channel)

1

HDMI HDCP-version

2.2
Dokumenter og downloads
Kunde-anmeldelser
Rated

5

out of

5
by
Pranav
from
Great soundbar and amzing sub
I'm very much pleased with my purchase of this soundbar. The sound quality is phenomenal with deep base! The sub literally shakes your room! I'm not an expert on sounds but I felt sound was comparable to bose soundtouch 300 with sub and surround package which costs way more. The setup was very easy (just one HDMI cable) to connect to TV. The soundbar can be controlled with TV remote just fine. The Bluetooth also works as expected and once paired, very easy to switch to bluetooth without having to use the remote. Overall, very happy with the purchase and I would certainly recommend it for anyone looking for soundbars in this price range
Date published: 2017-12-13
Rated

5

out of

5
by
Average John Doe
from
Best system for the price. No contest.
I have a Bose soundbar with subwoofer for almost 3 times the price. While I am completely satisfied with my system my friend didn't want to spend that much money. After some research I recommended this setup and I'm thoroughly impressed. The unit is nice looking, has a slick wall mount system included and the detachable speakers are versatile. The sound is not "tinny" at all and this is in a huge family room (18x26 with 16' ceiling) and hardwood floor with no rug. Outstanding base response. With proper setup - setting the speakers in the position you're going to have them in and doing the calibration - I think you'll be quite pleased.
Date published: 2020-05-18
Rated

3

out of

5
by
aaustintris
from
Great Sound When It Works
This soundbar came with NO instructions other than a quick set up guide and the legal booklets. When it works, it sounds pretty good but it constantly mutes without any mute button being pressed, it goes off and on at seemingly random times and I've yet to be able to sync my phone to it. I'm sure these problems could all be fixed or at least understood if I had an instruction booklet but there isn't one and I don't find one online. We bought it because the satellite speakers have no power cords so we will most likely keep it. Without that feature, it would be going back. Really, for that amount of money Harmon can't post instructions on line?
Date published: 2017-12-04
Rated

5

out of

5
by
UA_Coach19
from
Thundering BASS
I bought this product last week and I have turned on the Dallas Cowboys game and you could hear everything so crisp. With my previous system I couldn't hear the intricate little background sounds like I can with this system. The bass is extremely loud and it makes my entire house shake. I love bass so this system suits me perfectly. Music is clear and it is easy to control the system through the remote. I would highly recommend this if you are an avid movie watcher or love playing your music loud. The sub is probably a good 40 pounds so that right there shows the quality of the product.
Date published: 2017-12-19
Rated

1

out of

5
by
Frustrating
from
Wifi interference with system
The JBL system uses the same frequency as a common router will. This product will exhibit major interference due to this fact. The satellite speakers drop out and the subwoofer cracks and pops. If you have a mesh wifi system or even a router that is closer than 20' from the spud system DO NOT BUY THIS as you'll be very disappointed. JBL only offers the solution of (move your surround or router farther that 20' from one another). Well if you have quality mesh point wifi that literally is not possible. JBL you need to disclose this upfront rather than people scrambling for solutions. Disappointed after years of enjoying their products.
Date published: 2021-04-01
bvseo_sdk, dw_cartridge, 18.2.0, p_sdk_3.2.0
CLOUD, getReviews, 4ms
reviews, product
Spørgsmål og svar
I noticed when the sound bar is on my Wi-Fi connectivity slows down on 5G. If I turn the rear speakers off the speed comes back up is anyone else having this problem and how to fix it
I had to go into my wifi router setting and change my 5G network channel to "auto" this allows my router to find the channel with the least interference and seems to have fixed the issue... for now 
Date published: 2021-08-01
Can the rear speakers be constantly connected to the power outlet rather than being put back to the main soundbar for recharging? I noticed some mini USB sockets in the rear speakers but wanted to double check. Thank you!
Doesn't look like Danny H is correct. The manual clearly says this about the remote speakers: • As an option, each wireless surround speaker can charge via the USB connector, located on the bottom of the speaker
Date published: 2021-06-06
Do the dimensions stated for the soundbar include the detachable rear speakers?
Ren at customer service is incorrect. The bar is 33" without surround sound speakers attached. The bar is 45" with the surround speakers attached. I got mine in the mail today and measured.
Date published: 2021-06-06
How can I keep the detachable speakers awake / wake them up when having a dedicated charging cable plugged in?
I just realized that with my current set up of with my speakers on stands and charging via usb, but each morning I have to manually turn on the satellite speakers. Turning on the sound bar does not automatically turn on the wireless speakers. So I have to climb around my furniture to get to the speakers to turn it on. I may return them because it's such a hassle. 
Date published: 2021-06-06
If I want to watch TV quietly, like after the kids go to sleep is it possible to turn off the bar and subwoofer and only use the surround speakers placed close to my couch.
No. You can turn the bass all the way down, and put the system on night mode, which reduces the dynamic range (reduces loud sounds) but the sound will still come out of the soundbar. Only surround sounds come from the rear speakers.
Date published: 2021-07-24
Hi, when I paired my soundbar with my TV using ARC, the sound bar automatically turns to mute and cannot be canceled by either TV or soundbar's remote. I can reboot the TV or switch the source of the soundbar to solve the problem. Is it normal?
Hello, I have exactly the same problem. It's always on mute, I have to power it off and on, and switch tv audio output settings all the time !!
Date published: 2021-06-06
Hi, I paired my soundbar with my TV using ARC., this way I can also use my tv'S remote controller for the sound bar. WHen I turn off my tv, the soundbar goes on standby mode. Is there a way to to make it turn off completely when turning off tv? Thanks!
no
Date published: 2021-06-06
Hi! Can someone advise what is the real size (the lenght) of the soundbar along with the two surround speakers attached to it! Thanks guys!
Its 33" without the two rear surrounds and 44" with both attached. 
Date published: 2022-04-24
bvseo_sdk, dw_cartridge, 18.2.0, p_sdk_3.2.0
CLOUD, getContent, 5ms
questions, product