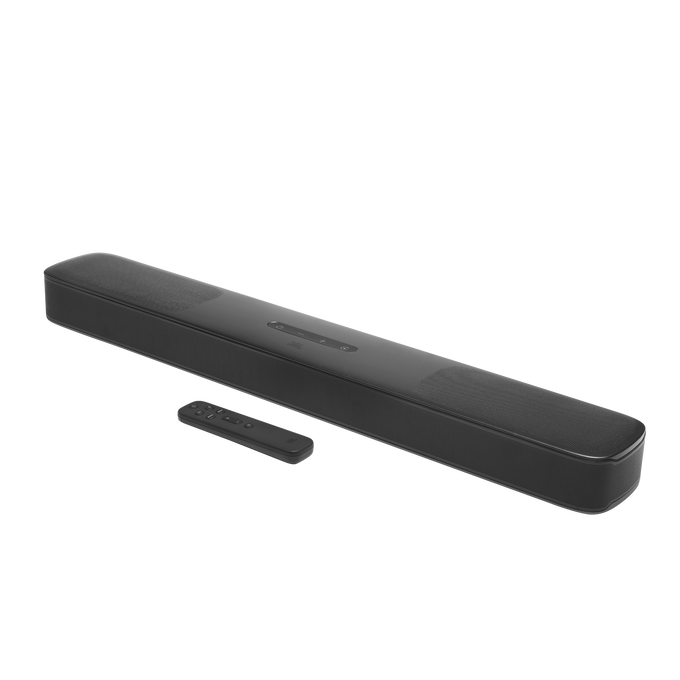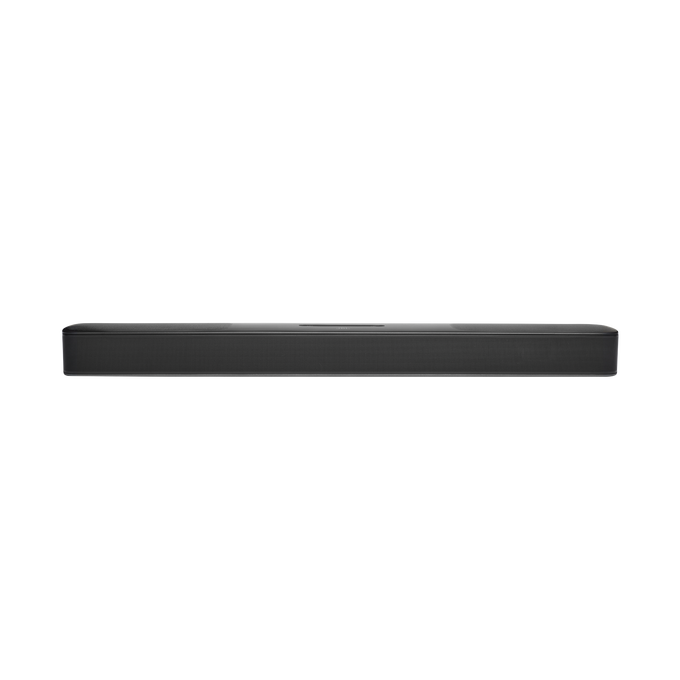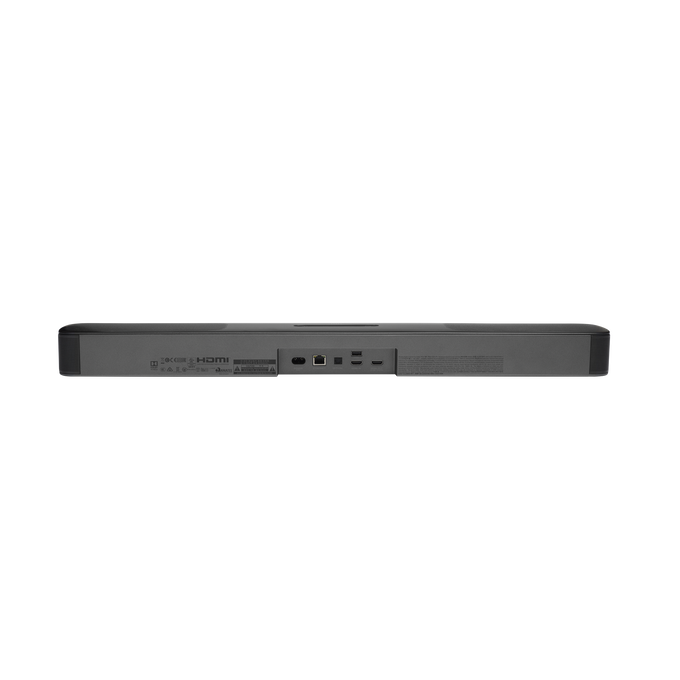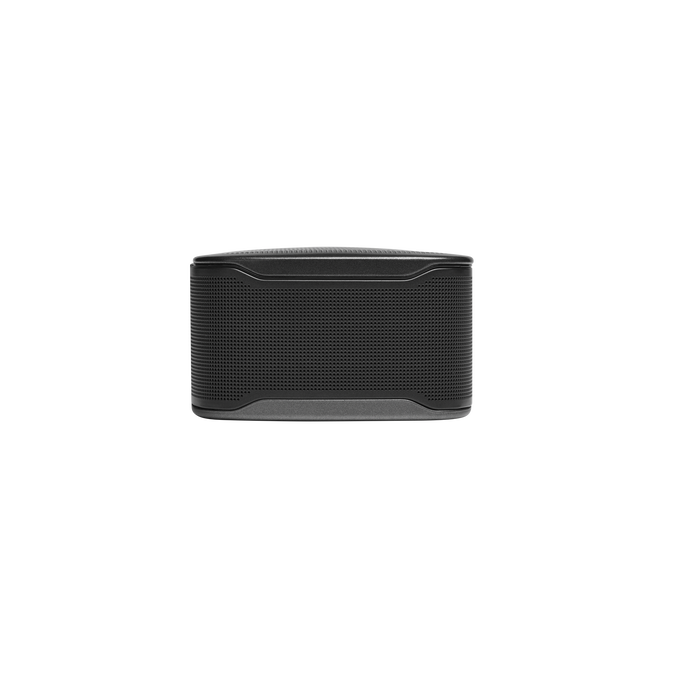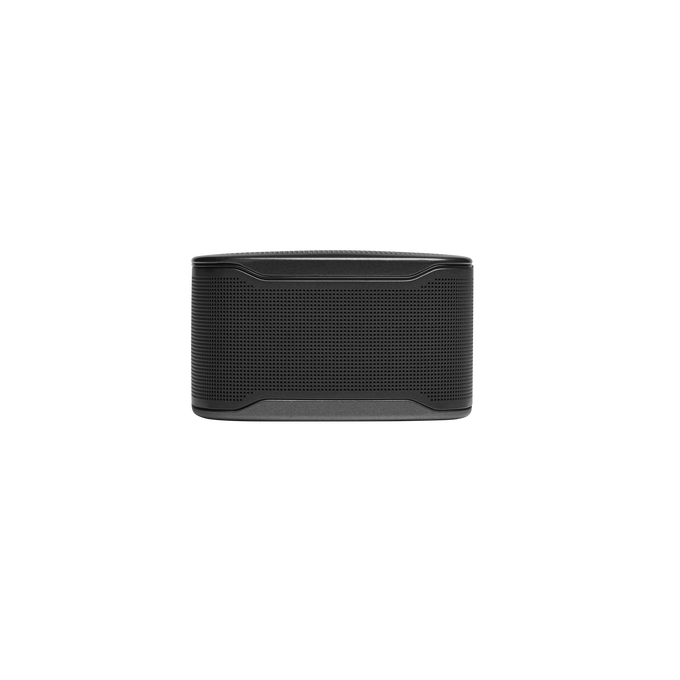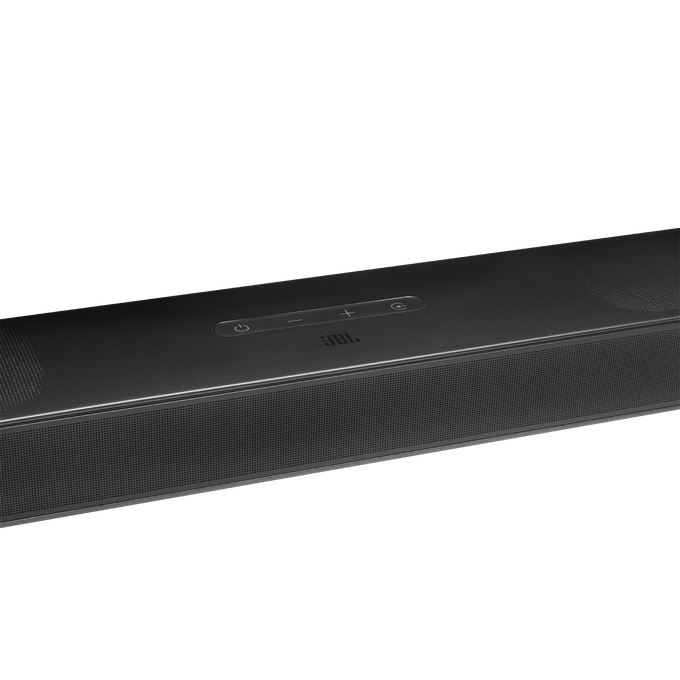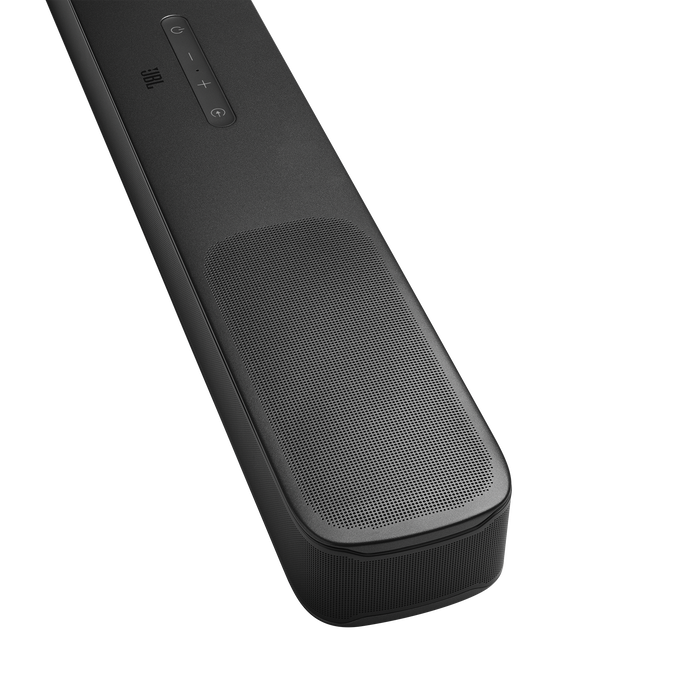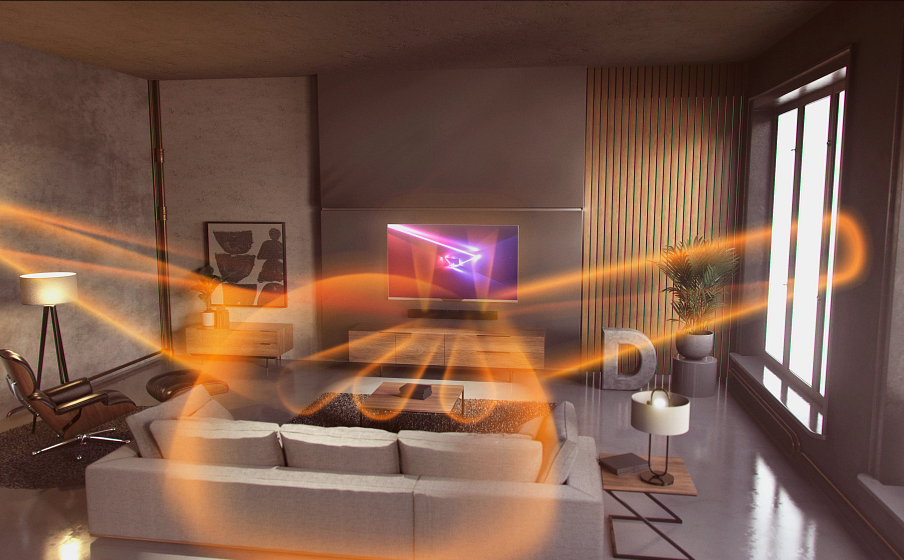 Dolby Atmos® og MultiBeam™ Surround Sound
Opgrader din oplevelse af film og spil fra ordinær til ekstraordinær. Den indbyggede Virtual Dolby Atmos® giver dig en omsluttende og medrivende 3D-lydoplevelse. JBL MultiBeam™-teknologi skaber et bredt lydbillede i alle hjørner af lokalet, så du kan høre enhver detalje fra din foretrukne musik, tv-serier og spil uden behov for flere højttalere. Oplev film og spil med en helt ny dimension.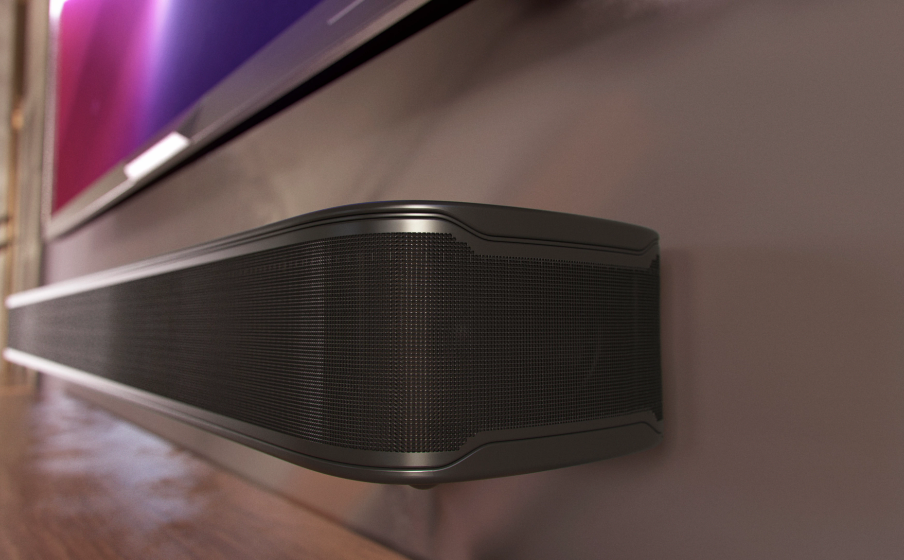 Kraftfuld bas uden separat subwoofer
Oplevelsen i din hjemmebiograf bliver rigere og ekstra intens med dyb og kraftfuld bas takket være fire indbyggede passive enheder.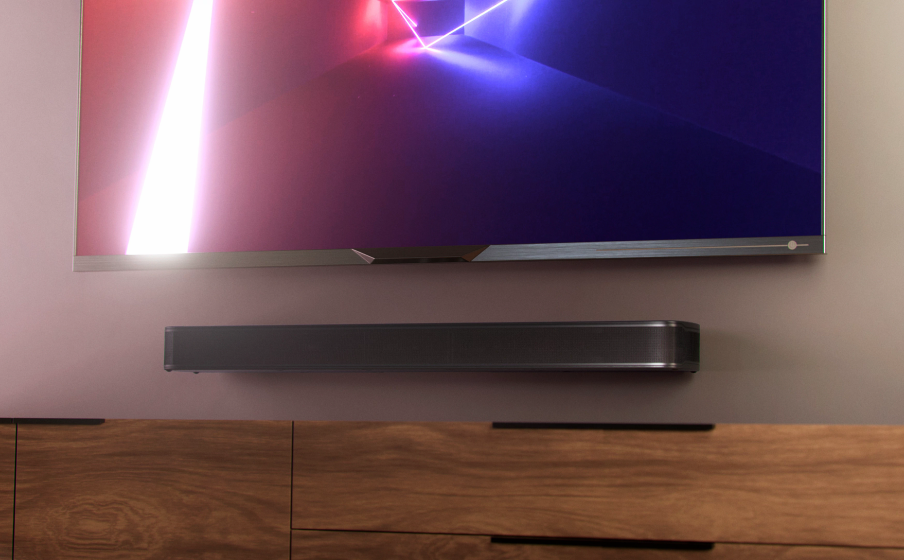 Chromecast built-in™, AirPlay og Alexa Multi-Room-Music (MRM)
Med AirPlay, Alexa Multi-Room Music og Chromecast built-in kan du trådløst afspille alt dit foretrukne online-indhold i fantastisk lydkvalitet med et enkelt fingertryk.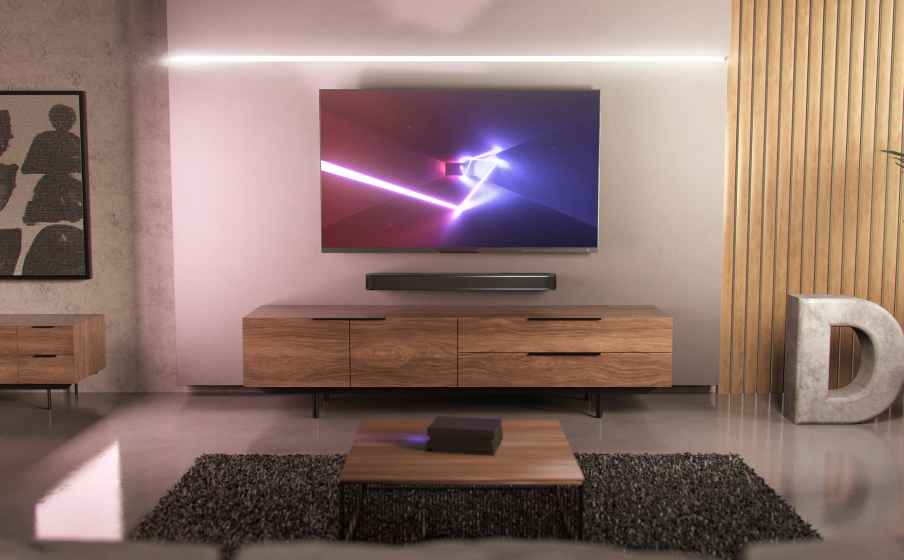 Ultra HD 4K Pass-through med Dolby Vision™
Dolby Vision er et High-Dynamic Range (HDR) 4K-videoformat, som vokser i popularitet og findes i stadig flere 4K HD Blu-ray-afspillere samt adskillige populære streamingtjenester. Sammen med vores 4K-pass through får du perfekt lydkvalitet, som matcher billedet.
Funktioner

HDMI eARC
Med HDMI eARC kan du nyde lyd af højere kvalitet, inklusive Virtual Dolby Atmos® på din JBL Bar 5.0. Du kan nemt og praktisk tilslutte din Dolby Atmos-afspiller til enten dit tv eller din soundbar.

Automatisk MultiBeam™-kalibrering
Kalibrér din soundbar til den bedste surroundlyd – baseret på forholdene i netop dit lokale.

Mulighed for lyd i flere rum
Takket være Chromecast built-in™ og Alexa Multi-Room-Music kan du lave en multirum-opsætning, så du kan lytte til den samme musik i alle rum eller forskellig musik i hvert rum.

​Trådløs afspilning med Bluetooth
Er du ikke i humør til en film eller et spil? Intet problem. Med den kompakte JBL Bar 5.0 MultiBeam soundbar kan du også nyde trådløs afspilning af musik via Bluetooth fra din telefon eller tablet.

Fungerer med stemmekontrol
Har du allerede en enhed med Google Assistent, Alexa-stemmekontrol eller Siri? Bare tilslut dem til din soundbar og begynd at streame din musik med en enkel stemmekommando.
Detaljer & Downloads
Item# JBLBAR50MBBLKEP
Beskrivelse
Oplev fyldig 3D-surroundlyd derhjemme

Oplevelsen af film og spil bliver mere medrivende end nogensinde før med den uovertrufne kombination af JBL MultiBeam™-teknologi og Virtual Dolby Atmos®. Mærk lyden hele vejen rundt, når du kastes ind i kampens hede med dyb bas uden behov for en ekstra subwoofer. Den har Chromecast built-in™, AirPlay og Alexa Multi-Room Music (MRM) for utrolig nem trådløs musik og mulighed for lyd i flere rum. Med Bluetooth kan du også nyde musik fra din smartphone eller tablet. Takket være det strømlinede design med gittermønster og metaloverflade passer JBL Bar 5.0 MultiBeam ind i ethvert hjem. Den er kompakt og nem at bruge. Du kan styre den med din tv-fjernbetjening eller den medfølgende intuitivt designede fjernbetjening.
Specifikationer
•Samlet højttalerudgang (max. @THD 1 %)

250 W

•Soundbars udgangseffekt (max. @THD 1 %)

5 x 50 W

Transducer

5 x 48 mm x 80 mm racetrack-enheder + 4 x 3 tommer (7Transducer

Strømforsyning

100 - 240 V AC, ~ 50/60 Hz
Lydspecifikationer
Max SPL

92 dBA

Frequency Response

50Hz - 20KHz

1 Optical, Bluetooth, Chromecast, AirPlay 2, Alexa MRM, USB

MP3 Codec

MPEG 1 lag 2/3, MPEG 2 Lag 3, MPEG 2,5 Lag 3 (kun USA), Dolby Atmos, PCM
Mål
Mål (B x H x D)

709x 58x 101 mm

Vægt

2.8kg
Specifikationer, styring og tilslutning
Type A, USB-strømdata

5 V DC, 0,5 A

(*USB-afspilning understøttes I den amerikanske version. For andre versioner er USB kun til service.)

Bluetooth-version

4.2

Bluetooth-profil

A2DP V1.2, AVRCP V1.5

Bluetooth-frekvensområde: 2400 – 2483,5 MHz

Bluetooth-sendeeffekt

<10 dBm (EIRP)

Wi-fi-netværk

IEEE 802.11 a/b/g/n/ac (2,4GHz/5GHz)

2,4 G wi-fi-frekvensområde

2412 - 2472 MHz (2,4 GHz ISM Band, USA og Canada 11 Kanaler, Europa og andre 13 kanaler)

2,4G wi-fi-sendeeffekt

< 20 dBm (EIRP)

5G wi-fi-frekvensområde: 5,15 - 5,35GHz, 5,470-5,725GHz, 5,725 - 5,825GHz

5G wi-fi-sendereffekt

< 23 dBm (EIRP)
Det er der i æsken?
1 x Soundbar
Fjernbetjening med 2 x batterier
Strømledninger (op til 8 stk. afhængigt af regionens varenummer)
1 x HDMI-kabel
2 x L-formet vægmonteret beslag med skruer
Startguide
Garantibevis
Sikkerhedsblad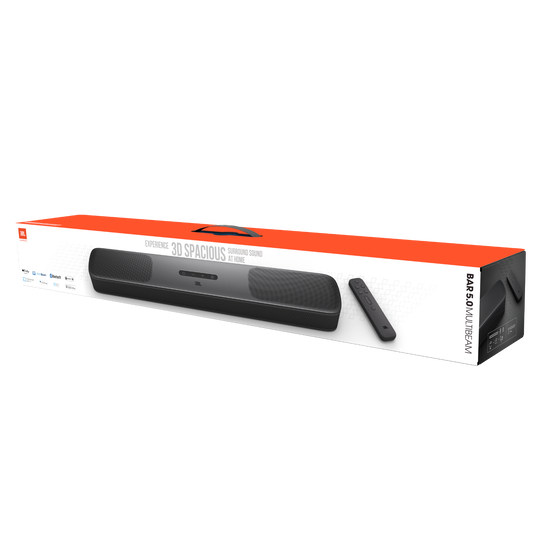 Dokumenter og downloads
Kunde-anmeldelser
Rated

4

out of

5
by
Nofd27602760
from
Great soundbar
I am reviewing the new JBL Bar 5.0 Multibeam Sound Bar. This is replacing a 2 year old JBL Soundbar 2.0 All In One. What a big difference sound is much crisper and has a better true surround sound. Voices are clear when watching movies. Very easy to mount with included wall mount brackets. Only negative was I had to put knew anchors in wall do to new bar being a little longer and different bracket holes. I would like to see JBL use similar brackets across all their sound bars. Definetly would recommend to anyone looking for a good affordable, easy to hook up soundbar.
Date published: 2021-02-27
Rated

5

out of

5
by
Handy Andy
from
Took our budget tv from meh to wow
We decided to get this in hopes to improve the sound on a hisense flat tv we got for the living room that had very flat unimpressive sound. It is a very nice improvement and has a much fuller range of sound! It is plugged to the HDMI port with ARC so that it just comes on automatically when the TV is turned on so its very user friendly. There is a nice hidden display in the front that shows which input is selected while you are changing inputs and then goes away which is nice and stealth. It has google assistant and alexa but we have those turned off so our kids don't abuse the priveledge. You can use it to stream music to via bluetooth, but we have other speakers in the house for that purpose so we mostly use it for the tv sound.
Date published: 2021-03-22
Rated

5

out of

5
by
Skez
from
Good all round speaker and bass perfect for TV
Purchased via Amazon, I always check for a 'Used - Very good' option and picked this up for £183. Easy to set up via ARC to my TV and the fitting process to hang on the wall is a doddle thanks to the template provided, you just need a spirit level. It looks very well bit and fits nicely on the wall without sticking out too much. Sound is rich with good bass for a TV, if you wanted to play some tunes it definitely woudl handle that. I've also watched the shout out scene in 'Heat' using the bar and it was immense. Well worth the money IMO
Date published: 2022-05-17
Rated

1

out of

5
by
SanJag
from
Not worth it
I am returning the item as it is not great. 1. the connections intermittently cut several times mainly bluetooth and the remote control doesnt seem to pick up all the time. the sound is ok but not as good as was expecting. The alexa compatability is not good either ive had alot of issues with it already despite being brand new. Tried to contact customer service but they werent very helpful so am returning for a refund and will buy something else!
Date published: 2022-03-01
Rated

4

out of

5
by
CDGM
from
Good for the price.
I bought this in the January sale so the price was good. It was quite easy to set up for normal use with a smart TV and sky Q box. I did down load the JBL bar app but still can't get that to connect through the WiFi. I used the Google home app wich did connect it straight away. I love the fact that it all runs off one remote so you don't have to mess around with different remote to turn the volume up and down or turn it on or off. We have a medium sized living room and it fills the room with sound and the base is nice, I set it on the highest setting at first but after a few films thought I would turn it down a little for the neighbours sake... Overall I'm very happy with the sound bar.
Date published: 2022-02-01
Rated

5

out of

5
by
Thw1110
from
Awesome sound in a compact package!
I received the JBL 5.0 MultiBeam sound bar about a month ago and wanted to spend some time with before doing a review. I really wasn't expecting this little soundbar to have any low bass but I was Pleasantly surprised. It has plenty enough bass for most people who desire a surround sound system in an all in one package. It can get really loud and the JBL multi beam technology really sounds awesome. .
Date published: 2021-04-11
Rated

4

out of

5
by
matthesen
from
God lyd og fint design
Jeg har fået denne soundbar på prøve i 4 uger og det er min første soundbar. Indtil da har jeg brugt lyden fra TV'et. Den var super nem at komme i gang med og fungerer i bund og grund godt. Den leverer en god lyd med en god dybde. Jeg bruger den også til at høre musik på og synes det giver en god oplevelse. Efter udpakningen var den tilsluttet og i gang efter et par minutter. Plus: - Hurtig opsætning - God lyd - Fin størrelse og design Minus: - Lyden varierer meget fra kanal til kanal - Har oplevet to gange, at den falder ud - Savner mulighed for tilslutning af ekstern subwoofer
Date published: 2021-03-17
Rated

4

out of

5
by
Aditya Kumar
from
What a massive upgraded over bulit in TV speakers!
Pros: sound is amazing for how small this thing is and I'm really impressed with how clear everything sounds. Great bass not overpowering but solid. ( You can change bass level) Supports earc i was able to plug in my Xbox Series X to the Soundbar and getting got Dolby Vision/Amos working. If you decide to plug you console in to the Soundbar I would suggest getting a HDMI 2.1 cable if you have a PS5/Series x console. Cons: even after calibration virtual Dolby Atmos seems pretty gimmicky on this Soundbar though it sound rich and more alive but Don't except it to be like a real chinema or a home theater experience. I have given it 4 stars just because i was not happy with Virtual Dolby Atmos. Otherwise everything is excellent.. I believe for this pirce if you're looking for a compact and sleek looking soundbar which gets pretty loud and also bass is excellent, just go for it. I
Date published: 2022-01-11
Rated

5

out of

5
by
Ethan222_
from
Great bass from a sleek setup
Overall, for the size of this soundbar, the bass is pretty great, as no extra subwoofer would be needed for most rooms. I have a 40 inch TV in my room and this bar fits well in front of it. The sound fills the room very well, and honestly can even fill an entire living room just fine. I love that it has controllable bass, once turned up, it is pretty great! I like that I can stream to this bar at any time through my phone as it's always on standby, so instantly I can connect through my favorite music streaming service. One thing, however, it seemed like the HDMI connection to a TV did not carry as good of sound. Overall, for the price, this soundbar easily can be the only system needed for a home theater!
Date published: 2021-03-04
Rated

5

out of

5
by
Abash
from
Great soundbar!
This is a pretty neat soundbar from JBL. We recently upgraded to LG OLED TV and were looking for a soundbar in $300-400 range. Initially narrowed down to Bose Soundbar 300 and Sonos Beam. Sonos doesn't have a remote and I wasn't thrilled to use smartphone app all the time and that was deal breaker. We ordered Bose soundbar 300 but returned it very next day, as it lacked bass, surround etc. Then came across JBL multibeam 5.0. This soundbar was breeze to setup and paired with LG Oled quickly via HDMI eARC. Sound quality is very good. After calibration it sounds even better and soundstage appears quite wider. Soundbar supports Virtual Dolby Atmos but at times it feels enabling Atmos makes dialogue muddy (we noticed this with Ironman movie on Disney+, but Aladdin was ok with Atmos enabled). When Atmos was disabled soundbar displayed Dolby Digital Surround DD+ on its display and Surround seems to be working quite well with side firing speakers. Even without subwoofer this soundbar has great bass (we set it level 2, default is level 3); you can hear the rumble in action packed sequences. Dialogues are very clear. Apple Airplay setup was quick and easy. Overall great soundbar for the money.
Date published: 2021-07-19
Rated

5

out of

5
by
rlmoyer
from
Perfect apartment soundbar!
This soundbar delivers pretty incredible performance in a small footprint. It's very crisp and clear. It takes away that "wait, turn it up I couldn't hear them talking/oh no explosions turn it back down!" that you deal with listening on your TV. The surround sound multibeam set up is pretty effective. Obviously not like real satellites, but it has such a wide sound space and provides great depth of sound. It allows you to discover lower tones that normal tv speakers don't. It bills itself as a bar that doesn't need a dedicated subwoofer, and it delivers. Now your couch won't rumble like it might with a real subwoofer, but it sure does sound like it does 90% of the time. It has the full bass of a subwoofer, without the rattling lows that would bother your neighbors. It's build quality is top notch, made of actual metal unlike most sound bars, adding to its premium feel. It has a fun display on the right side with scrolling words to show what mode or audio type you're listening to. And a simple basic remote. I'd also like to mention the fact that it has blue tooth connection, so you can connect your phone or computer to it, which is great! It also can connect to your home networks (Chromecast, Alexa, and Airplay) - I don't have that in my apartment, but it's a great feature to have as an option if I ever get it. You can connect your certain buttons of your TV remote to the soundbar, but I haven't been able to get it to work. It very well might be my TV remote control! Honestly though, it's not big of deal having two remotes. The only real con to the sound bar, in my opinion, is the lack of an easy settings menu. There is no button on the remote to change any settings of the soundbar, nor is there on the soundbar itself. You have to download the manual from the internet to figure this stuff out and it's a bit cumbersome to change the settings. I would have expected to be able to easily change at least some settings like increasing speaker volume for specific speakers i.e. center, sub, or satellite from the remote with a settings menu, but alas, the settings options aren't that easy. However, it does have automatic multibeam calibration, virtual dolby atoms you can turn on and off, pretty easy bass adjustment, and smart mode that you can turn and off for rich sound effects. TLDR it's amazing if you don't have the space for a full surround sound set-up or bar with sub and satellites! Just missing an easy way to change settings, but luckily it sounds and works well enough without. It's a great fit for apartments or any rooms that you want better sound without a system, like a bedroom. I definitely recommend this soundbar!
Date published: 2021-03-26
Rated

4

out of

5
by
Ajm999
from
Good features
Sound is good but voices not so, seem to get drowned out by music and sound effects. Would be nice if an update could change this. Also would have been nice to have more buttons on the remote for extra settings as some are quite awkward to get to.
Date published: 2022-03-05
Rated

5

out of

5
by
garveyals
from
Incredibly brilliant product, better in allaspects
This soundbar is far smaller than what I had before but provides a much better sound with a unique cinematic experience through innovative technologies. The device is very easy to set up using the Google Home app and is pretty seamless. I really like the front display that displays the volume, modes, and other settings such as wifi/Bluetooth which makes it easier for the user. What really caught my attention is the unique sound experience it delivers with punchy bass, crisp and clear sounds. The sounds echo in my living room and bring a surround sound experience, truly incredible. Another overhaul JBL did was the remote, simpler, smaller, easy buttons and the button clicks nicely compared to the previous remote model. This product I received as a test product, regardless, a fair and honest review is the only road I travel to be fair, honest, and product feedback.
Date published: 2021-03-01
Rated

4

out of

5
by
Robyutt
from
Perfect for our bedroom TV!
This is a very interesting soundbar ideal for smaller rooms. I have tested it over the past couple of days both in my Living room where I currently have a 2.1 channel soundbar set up with a wireless woofer and in my bedroom where I was using to built in speakers. First my experience in the living room replacing the old system. This is a room that's roughly 15x20 with a 65 inch screen positioned about 10 feet from the couch. I watched trailers for several action movies on Netflix and Disney+, Guardians of the Galaxy, And some episodes of clone wars. The sound was impressive for such a compact soundbar. I noticed it was taking up about 20% less space than its predecessor. Easily noticeable. Calibration was super easy and I found the atmos virtualization passable in this setting. However, ultimately I decided I missed the feedback of a physical subwoofer more than I enjoyed the surround effect. I connected to this tv through HDMI Arc. The sound quality was slightly higher than my current 2.1 set up, but I ultimately moved this to the bedroom. In the bedroom this soundbar totally exceeded expectations. It fits nicely on top of my drawers and looks premium. This TV is much older and so the only Option was to connect through toslink cable. This room is roughly 10x15 and the chair is about 12 feet from screen. In this smaller, more enclosed room I was truly impressed. I knew it would be a big upgrade but after several more clone wars episodes I decided I liked it so much for the space and that it was here to stay. Perfect place for it and couldn't recommend it more for bedrooms and dens/caves. I tried setting up the smart features while testing audio. Airplay 2 worked very well. Multi room audio was a breeze. I did not have the same experience with the Google features. Adding it to the my Google home app failed repeatedly and the "ok Google" feature labeled on the packaging doesn't seem to work. Or maybe that's only because it hasn't connected correctly. Not sure. Either way that is the main reason this got a 4 instead of a 5. Was hoping that Google assistant was on board the way the box made it look, maybe it will be in a future firmware update
Date published: 2021-02-27
Rated

2

out of

5
by
Example bob27
from
Good sound, annoying feature
Really good sound quality at this price, easy to use, fantastic customer service response time. Unfortunately more than 6 months after purchase mine has started scrolling a message 'CHROMECAST, AIRPLAY READY' every 60 seconds and apparently there's no fix. It's incredibly annoying and distracting to see that below the TV when the room is dark, so I've had to stick a piece of cardboard on the front of it!
Date published: 2022-07-02
Rated

5

out of

5
by
josh408
from
Great Sound
So happy with this product. Not only does it look awesome, the sound is excellent. I have had soundbars in the past that have wireless subwoofers and although this does not come with a wireless subwoofer, it still has excellent base. The speaker has a very clean display that shows if you are connected through bluetooth, HDMI, TV, etc. which is very easily controlled from the top of the device or the remote. I use it for both movies and listening to music. Watching movies is so much more thrilling with this soundbar as it enhances the experience compared to the traditional tv speakers. The bluetooth connection is seamless and the quality is crisp. I would highly recommend this product for anyone looking to enhance their music listening/movie experience. The mount is very easy to install and it looks custom mounted under the TV as well. JBL has done it again! Another great product.
Date published: 2021-02-27
Rated

4

out of

5
by
Wayloud
from
At first I hated it. Now, it is essential!
JBL BAR 5.0 Multibeam The BAR 5.0 is a new sound bar from JBL. At first listen I hated it. Now I do not want to be without it… When JBL offered the BAR 5.0 for my consideration I gladly accepted. While waiting for the shipment to arrive I checked to find scant information online. There is a nifty video from JBL showing an exploded view of the speakers' components and some press releases but little more. This unit is hot off the drawing board! Touting Dolby Atmos processing, connectivity out the wazoo, five 50-watt amplifiers, forward and side firing drivers, a 3-D sound field, and deep bass all in one unobtrusive little box and…wait for it, no sub…this could be interesting. The 5.0 is, first and foremost, a sound bar. Designed for smaller TVs and intended to provide an extended sound field in smaller spaces. I employed a 32" base model flat screen as my test TV. Admittedly, the thin, tinny sound produced by this modest device sets the audio fidelity hurdle pretty low, but we are here to not to compare but to discuss the 5.0 and its ability to enhance the viewing experience. Yes. The JBL 5.0 makes all TV better! With the Atmos Surround enabled, dialog is clear and present while background music and sound effects emit from their proper place in the, background. This alone sells me on the unit. A typical surround system with a powered sub is great for movies, sports or other "immersive" programs. Often though, for the news or other dialog-based programs that same sound system is too "commanding". So, one disables the surround system. The Dolby Atmos is great to leave on all the time. It does not become overpowering thus allowing conversation. There is no "sweet-spot". The sound is consistent throughout the room. Plus, without a sub transferring sound to the floor, the room can fill with sound and still not disturb the neighbors…or wake the baby. Mind you, this thing gets real loud! If disturbing the neighbors is your goal… Without question immersive shows will blow you away. Atmos is super cool. Sounds do indeed seem to come from above, below and behind. The JBL 5.0 does have lots of ways to connect including Bluetooth. I paired my Android tablet to listen to music. This is where the unit falls a little flat. For me, the 5.0 would be for background music while playing board games or visiting with friends. It does not sound bad when playing back pre-recorded music just not the JBL sound I know and love. All the elements are there; deep lows, articulate mids and sparkling highs, just not at the same time. Maybe a different tablet would have given me better EQ control but the pre-programmed EQ of the 5.0 left me a bit disappointed. The lack of EQ does bother a control freak like me. And yes, it took a few hours of listening to become acoustically accustomed to the reflected sound. While not my choice for listening to music it is now essential for TV viewing. All things considered; I think the JBL 5.0 is the perfect sound bar to get a big experience from a small TV.
Date published: 2021-03-16
Rated

5

out of

5
by
Scobey316
from
Great sound, great look!
I was looking to improve the audio system to go with my 55" LG BX. My lounge is small, and doesn't really suit a full surround system. After a bit of adjusting, I'm extremely happy with it. You have to remember, this is a £300 soundbar, and not a full surround sound setup. I've connected it to my OLED via the hdmi eArc with a 2.1 hdmi cable. The tv is Dolby Atmos compatible, as is my Sky Q box. If you have Sky Q, it's worth going into audio settings and changing them to Dolby Digital Plus if you're TV is Dolby Atmos compatible. I also did the same with my TV settings. My TV is in the corner, not flat against a wall, and I think this may take a bit away from the way the sound is projected off of the wall. With 5 base levels, I find 3 is absolutely fine. Also, I suggest keeping Dolby Atmos on. Anyway, onto the performance... As far as I can see, I have it set up to the absolute best it can be. eArc, 2.1 cable, DDplus selected, and the sound is great. The best way to describe it for me, is that the tv feels like it's 20" bigger. You can hear sound all around. It's immersive. The sound feels like it's travelling from one side to another. I certainly feel like the sound is much better with UHD or Dolby Atmos content, but standard HD movies still sound very good. Dialogue is good, and it's a balanced sound. Highly recommended the multibeam.
Date published: 2021-10-26
Rated

5

out of

5
by
Andre G
from
WOW - Superb Sound!
Plugged-in and tested with Dolby Atmos demo and some Dolby Atmos enabled movies... Wow! The soundscape is superb. The virtual effect is incredible. Fills my 3.5m x 6m front room perfectly. It sounds like I have speakers all around the room. My favourite music is Liquid Drum n Bass (vocal, harmonic and bassy). The MultiBeam creates a 'well balanced' sound with Bass set to level 4 (Bass level 5 also works well without distortion but the sound to me is more balanced at 4). I'm so happy :) :) :) Thank you JBL.
Date published: 2021-03-10
Rated

5

out of

5
by
Jorgeivan1090
from
Awesome sound, really!!
I am really happy I got this product, first of all, i just want to say wow! I've had JBL Boost Tv which was pretty good, now with the multibeam is another story. The sound quality is just amazing, even though it is smaller than other sound bars. this new virtual dolby atmos tech is just another level, you do not need an subwoofer in order to get the best of it, it has it all. it provides an immersive listening experience, very compact, very reasonable price for all you get. Try it! you will not regret it!
Date published: 2021-02-27
Rated

5

out of

5
by
GRS67
from
Powerful sounding, thrilling when withotrues sourc
Happy to be the first to leave a review for the JBL 5.0 Multibeam Soundbar. Having upgraded from the bar 2.0 the difference is night and day, the 5.0 is a powerful well built soundbar that will elevate your TV and especially 4K movies to a new level! Pairing with my 4K blu ray player using the HDMI in port was super easy, the multibeam set up was very simple and effective. Watching a 4K UHD Blu Ray disc (Game of Thrones Season 1) the clarity of the sound was thrilling, the 'Virtual Atmos " feature really did give the effect of sound uplifting. Regular TV watching is also enhanced by the front speaker for clearer dialogue. Music sounds punchy with the bass not overpowering at the default setting of 3 /5 I'm very happy with my purchase and would definitely recommend.
Date published: 2021-03-05
Rated

5

out of

5
by
ash_uk19
from
Great Value
Really good compact sound bar with all the basic features you would need. My only complaint would be i wish the remote had a few more buttons to make navigation of certain settings easier.
Date published: 2022-05-18
Rated

5

out of

5
by
Sledgeham2787
from
Beautiful product
I cannot believe how amazing this product is. Wait, of course I can. Its JBL. Great quality. Durable. And booming clear sound blasting from the speakers. HIGHLY RECOMMENDED!!!
Date published: 2021-03-02
Rated

5

out of

5
by
Ric84
from
Awesome
Really surprised by the quality of sound from such a small bar. For almost half the price I'd buy this over the Sonos Beam G2 that I have in the other room.
Date published: 2022-03-03
Rated

4

out of

5
by
Trine N
from
Super god lyd.
Jeg har fået lov til at teste denne soundbar og havde jeg ikke en sonos sound bar i forvejen, ville denne klart være en mulighed. Den giver super god lyd, men man mangler let muligheden for at kunne koble eksterne højtalere/subwoofer til. Den giver god lyd hele vejen rundt pga det smarte højtalere. Dog kunne det godt forventes at lyder ikke skifter, når man skifter kanal eller når du har haft slukket og tændt tv'et igen. kæmpe plus at der er indbyuget chromecast i Soundbaren
Date published: 2021-04-01
Rated

5

out of

5
by
MMafia09
from
Great sound bar with a very full sound!
This was easy to setup, and fit right where it needed to fit right by my TV, The sound was full and now my TV is not quiet at all.
Date published: 2021-02-23
Rated

1

out of

5
by
Matt soundbar
from
Very poor sound bar- avoid
Very poor sound bar. The sound is very flat and there is no real definition to it. It has less bass than the TV speakers even with the bass setting turned up to 5. Was extremely disappointed with this especially at the price point.
Date published: 2022-01-26
Rated

4

out of

5
by
Sanders92
from
Lækker lyd
Jeg har fået lov at teste dette produkt. Fantastisk lyd både når det gælder TV og film men især musikken får et boost og en fantastisk lyd. God bas og fyldig lyd der flyder gennem hele rummet. Nem opsætning og at koble til TV'et. Det er muligt at benytte stemmestyring, men så langt er jeg endnu ikke nået. Fed feature at den har indbygget chromeast. Den var dog lidt svær at få til at fungere med mac. Men det skyldes nok mest mine tekniske egenskaber. Da det først virkede var jeg glad for, at kunne streame. Designet er elegant, størrelsen er til den aflange side, hvilket man lige skal være opmærksom på, at man skal have plads til, men det kan man godt leve med, da designet jo er pænt og diskret. Altså en rigtig god lyd og fin mulighed for at streame. Prisen ligger måske lidt højt selvom det er en god soundbar med intens afbalanceret lyd.
Date published: 2021-03-22
Rated

5

out of

5
by
E Pehrsson
from
et musthave for lydelskere
Og hold da vimmer en lækker lyd der kommer ud af den. Hvis man ikke har meget plads, men gerne vil have god kraftig lyd, er det uden tvivl Bar 5.0 MultiBeam man bør vælge. Har endnu ikke turde skrue helt op (for den kan spille VIRKELIG højt), da jeg tror mine naboer de ville brokke sig. Udover at være fantastisk at spille musik på, giver den også lige det ekstra når man ser en god action film på tvet
Date published: 2021-03-17
Rated

5

out of

5
by
Hankberg
from
Superb value and sound for reasonable cost.
Very Satisfied, and pleasantly surprised. For a soundbar without a separate Sub-woofer the JBL BAR 5.0 does an excellent job. If BIG, room shaking bass sounds are your thing… you'll want something with a separate sub-woofer though. But the BAR 5.0 does provide a very strong Bass soundtrack with its built in Sub's, especially after a couple of days running in. Overall the sound is very rewarding. It's enveloping, and especially, it's easy to listen to. Not harsh and tiring on the ears… a big plus I think. Dialog is also really good, due to having a central channel I believe. There is no dialog enhancement feature on this unit, but it is far superior to my previous 2.1 soundbar WITH a dialog feature. My wife is no longer constantly adjusting the volume UP to hear what's being said in quiet sections, (especially on films and NETFLIX, etc.) and then having to turn it down back DOWN for the normal level of sound. A BIG win for the BAR 5.0! Airplay 2 playback is also really easy to use and rewarding for music, as would be chrome-cast I'm sure. It's not hifi separates quality, but better than expected and great for general listening. Basic set up was a doddle with HDMI ARC, and the additional HDMI input on the bar for the BlueRay player is just what was needed. I did struggle a bit with the Airplay 2 setup due to my reading of the full manual instructions. It has Chromecast and Alexa integration too. Setting up the MULTIBEAM calibration was simple and worked as per the manual. The little Remote control works fine and is actually quite nice in use. Also, all the basics worked straight away on my Panasonic OLED TV remote. Easy. The ATMOS surround over-head sound is a bit underwhelming, but Game of Thrones on BlueRay DVD gives a Very engaging listening experience. As does NETFLIX 4K playback. Also our room isn't an ideal shape, others may get be better 'effects'. In Summary: Very good sound quality, technically up to date, and easy to setup/use. Very good value in its price range. Very satisfied! I do recommend printing the Manual from the JBL website.
Date published: 2021-03-09
bvseo_sdk, dw_cartridge, 18.2.0, p_sdk_3.2.0
CLOUD, getReviews, 8ms
reviews, product
Spørgsmål og svar
Is there a way to boost the dialogue over the ambient sound?
Our JBL Bar 5.0 Multibeam doesn't have a feature to boost or adjust the dialogue audio.
Date published: 2022-09-18
What is the purpose of the network port on the back? What can I use it for?
Our Bar 5.0 Multibeam has ports to connect to your home network through an Ethernet connection. This is for connecting your soundbar to your home internet.
Date published: 2022-06-11
Can I use the JBL multi beam remote to skip Bluetooth tracks
Thank you for your question. Unfortunatly the remote does not have a forward or backwards button. However, you can skip tracks from the source device. Should you wish to receive further support, you may contact the Harman Customer Support team by telephone, email or chat in order to receive direct assistance. Please see https://uk.harmanaudio.com/support-contact.html#ns for further details.  Thank you.
Date published: 2022-03-07
"Chromecast airplay ready" message keeps scrolling every few minutes which is very distracting. The bar is connected to WiFi and setup through Google home. Is there a fix for the problem?
Thank you for your question. Could you please be so kind as to contact our Support Team on https://support.harmanaudio.com/gb/en/customer-service/contact.html for further assistance. Should you wish to receive further support, you may contact the Harman Customer Support team by telephone, email or chat in order to receive direct assistance. Thank you.
Date published: 2022-10-25
In the photos the bar is wall mounted, but on the back of the bar there's no mounts or hang holes. So, how can this be wall mounted? And how can it be mounted when the wires are in the way? All ports are in the back, but no bluetooth support.
Our JBL Bar 5.0 Multibeam can be connected through Bluetooth with your Bluetooth devices, such as a smartphone, tablet, and laptop. It also comes with a set of 2 x L-shape Wall-mount brackets. Here's how to set it up: 1. Preparation: a) With a minimum distance of 2" (50mm) from your TV, stick the supplied wall-mounting template to a wall by using adhesive tapes. b) Use your ballpen tip to mark the screw holder location. Remove the template. c) On the marked location, drill a 4 mm/0.16" hole. 2. Install the support for wall-mounting bracket. 3. With the screw, fasten the wall-mounting bracket onto the bottom of the soundbar. 4. Mount the soundbar.
Date published: 2022-11-30
Can the soundbar be paired with other speakers to create a surround setup?
Thank you for your question. It is not possible to add other speakers to the Bar 5.0 MultiBeam to create a surround setup. Should you wish to receive further support, you may contact the Harman Customer Support team by telephone, email or chat in order to receive direct assistance. Please see https://uk.harmanaudio.com/support-contact.html#ns for further details. Thank you.
Date published: 2021-06-06
I would very much like to turn off the frequent "CHROMECAST AIRPLAY READY" message flashing across the display. How do I do that?
Thank you for your question. I am sorry that your Bar 5.0 MultiBeam is showing "Chromecast Airplay Ready". This is fixed with our most recent software update, which you can find here: https://harman.widen.net/s/jgvqpqjbxw/firmware_update-jbl_bar_5.0_multibeam_version_21.21.41.70 Please refer to the user manual for instructions on how to update your Bar 5.0 MultiBeam. If you no longer have these instructions, they can be downloaded here: https://dk.jbl.com/on/demandware.static/-/Sites-masterCatalog_Harman/default/dw4275e512/pdfs/JBL_Bar%205.0%20MultiBeam_QSG_Global.pdf If this advice does not help you to solve the problem, we invite you to contact the Harman Customer Support team by telephone, email or chat in order to receive direct assistance. Please see https://dk.harmanaudio.com/support-contact.html#ns for further details. Thank you.
Date published: 2021-09-27
Hello, Where can I find the full list of supported Alexa commands? Thanks
Thank you for your question. we do not make the commands available for Alexa as we are not the ones making the voice assistant. I would suggest contacting the Alexa support for this directly. Should you wish to receive further support, you may contact the Harman Customer Support team by telephone, email or chat in order to receive direct assistance. Please see https://uk.harmanaudio.com/support-contact.html#ns for further details. Thank you.
Date published: 2022-09-09
I want a sound bar that does not let the BASS take over , fed up trying to turn the volume up/down when a loud passage comes on , will the 5.0 have a good adjustment facility to take the bass lines away to offer say a night time facility.
Thank you for your question. The Bar 5.0 soundbar has build in subwoofers to produce the bass sound. While they are smaller then a traditional subwoofer, they still produce a lot of sound. Should you wish to get further recommendations, you may contact the Harman Customer Support team by telephone, email or chat in order to receive direct assistance. Please see https://uk.harmanaudio.com/support-contact.html#ns for further details.  Thank you.
Date published: 2022-07-17
Does this speaker have an aux/3.5mm output? 
Thank you for reaching out. Our JBL BAR 5.0 Multibeam Soundbar has an ethernet, optical, USB, HDMI IN and HDMI OUT ports. This unit doesn't have a 3.5mm aux output. Please visit our website to get more information about this product. https://bit.ly/2YAxrBz
Date published: 2021-11-10
Can I use my google chromecast tv remote to work the soundbar?
Unfortunately, the remote of the google chromecast tv would not work with the Bar 5.0 Multibeam.
Date published: 2021-06-06
Can you advise length of Power and HDMI leads please.
Thank you for your question. I can confirm you that the powercable of the JBL Bar 5.0 MultiBeam is 1,4m length and the HDMI is 1.2m length. Should you wish to receive further support, you may contact the Harman Customer Support team by telephone, email or chat in order to receive direct assistance. Please see https://uk.harmanaudio.com/support-contact.html for further details. Thank you.
Date published: 2021-11-08
What are the differences, if any, between the product numbers ending UK and EP ?
Thank you for your question. The differences between the two is that one is for the UK market, the other for EU market. The differences will be regional (different plugs) Should you wish to receive further support, you may contact the Harman Customer Support team by telephone, email or chat in order to receive direct assistance. Please see https://uk.harmanaudio.com/support-contact.html#ns for further details. Thank you.
Date published: 2022-06-29
Can I connect this to my tv through Wi-Fi or Bluetooth as my tv is on the wall and don't want wires hanging down and also don't want the bar hanging on the wall
Thank you for your question. You will require to connect to the TV either the HDMI Cable to TRV's HDMI (ARC) port or via the optical cable. Should you wish to receive further support, you may contact the Harman Customer Support team by telephone, email or chat in order to receive direct assistance. Please see https://uk.harmanaudio.com/support-contact.html#ns for further details. Thank you.
Date published: 2021-11-29
Can I add my own sub woofer to the 5.0 multibeam
Thank you for your question. Unfortunately, it is not possible to add a sub woofer to the JBL Bar 5.0 Multibeam. Should you wish to receive further support, you may contact the Harman Customer Support team by telephone, email or chat in order to receive direct assistance. Please see https://uk.harmanaudio.com/support-contact.html#ns for further details. Thank you.
Date published: 2022-09-11
1) I have an older TV without ARC how do I connect will I still be able to get Atmos/Dolby Digital/DTS etc. 2) I have a 4k UHD firestick streaming all streaming services. What's the best way of connecting it to get Atmos/Dolby Digital/DTS etc.
Bedankt voor uw interesse in onze Bar 5.0 soundar. Wanneer uw televisie niet beschikt over een HDMI arc aansluiting, dan raden wij u aan om de Bar 5.0 soundbar op de volgende manier aansluiten, zodat u alsnog gebruik kan maken van de Surround opties van de Bar 5.0 , en uw Firestick streaming service. Wij raden u aan om de soundbar op uw televisie aansluiten door gebruik te maken van de meegeleverde HDMI kabel. Nadat u de soundbar op uw televisie aangesloten heeft, mag u uw Firestick, direct op de soundbar aansluiten. De soundbar zal de audio van uw bron apparaat afspelen, en de video naar uw televisie doorsturen. Zodat u zowel beeld , als geluid heeft. Wij willen u er alleen wel op wijzen dat het in deze opstelling niet mogelijk is om meerdere HDMI apparaten aan te sluiten. Omdat de Bar 5.0 maar 1 extra HDMI aansluitingen heeft. Wanneer u meerdere HDMI apparaten aan wilt sluiten, zoals bijvoorbeeld een televisie decoder. Dan zou u de HDMI kabel tussen uw soundbar, en de televisie kunnen omwisselen voor een optische kabel. En uw bron apparaten hierna met de televisie kunnen verbinden. Maar in deze opstelling is het helaas niet mogelijk om gebruik te maken van de Dolby Atmos optie. Een optische kabel ondersteunt alleen 5.0 Dolby Digital. Indien u nog verdere ondersteuning wenst, gelieve dan het Harman Customer Support team te contacteren per telefoon, e-mail of chat voor directe hulp. Zie https://www.harmanaudio.nl/support-contact.html voor meer informatie. Dank u.
Date published: 2022-03-31
My TV only has HDMI ARC. Do I need eARC to take advantage of the virtual Dolby Atmos?
hi there, apart from Dolby Vision support, does the soundbar also support HDR10, HDR10+, and HLG? What happens if I feed the soundbar a HDR HLG stream from Sky Q connected to the HDMI IN port? I don't want the Sky Q box connected to the HDMI port on TV.
I'm putting together a cinema room. I intend to put a Firestick (with Bluetooth) in the back of the projector and Bluetooth the sound to a soundbar. Would this be possible with this bar? I don't want lengthy wires trailing all round the room. Thanks
bvseo_sdk, dw_cartridge, 18.2.0, p_sdk_3.2.0
CLOUD, getContent, 103ms
questions, product