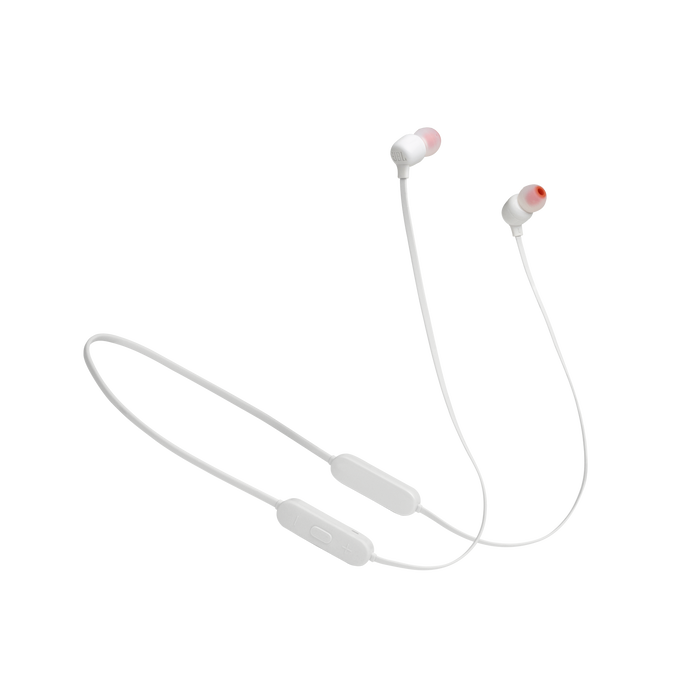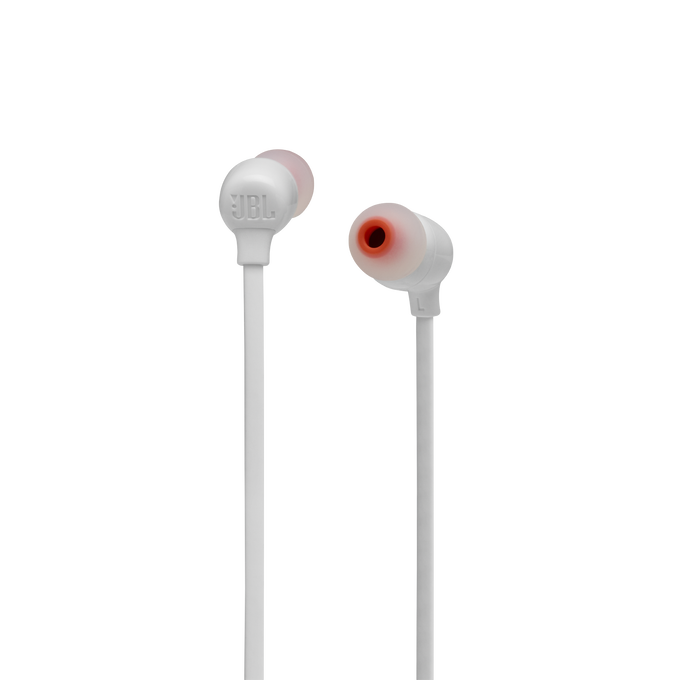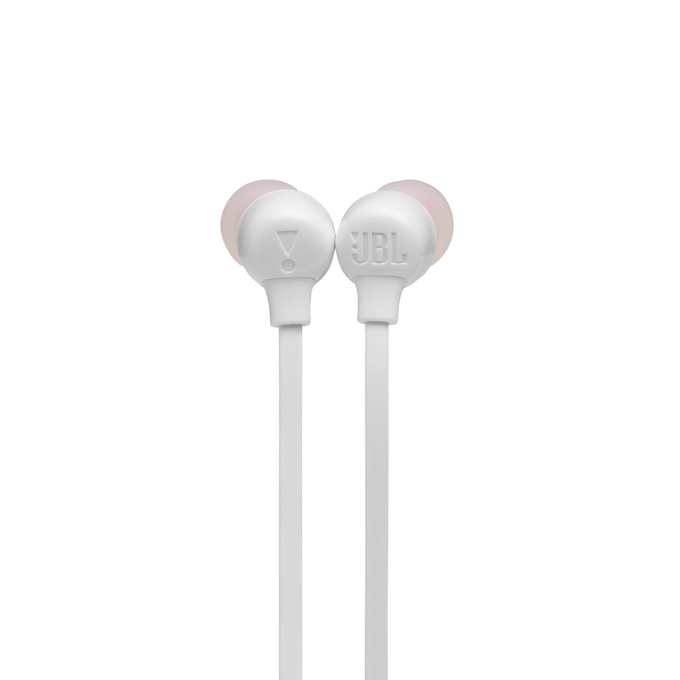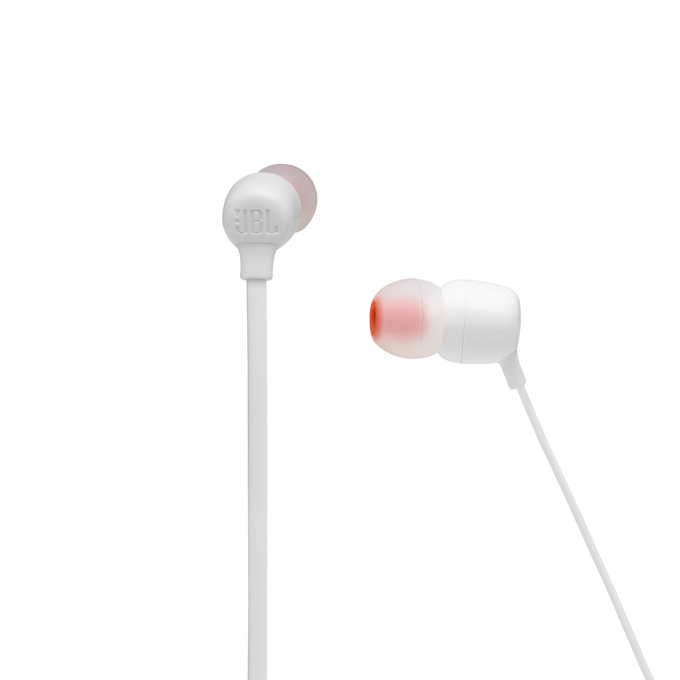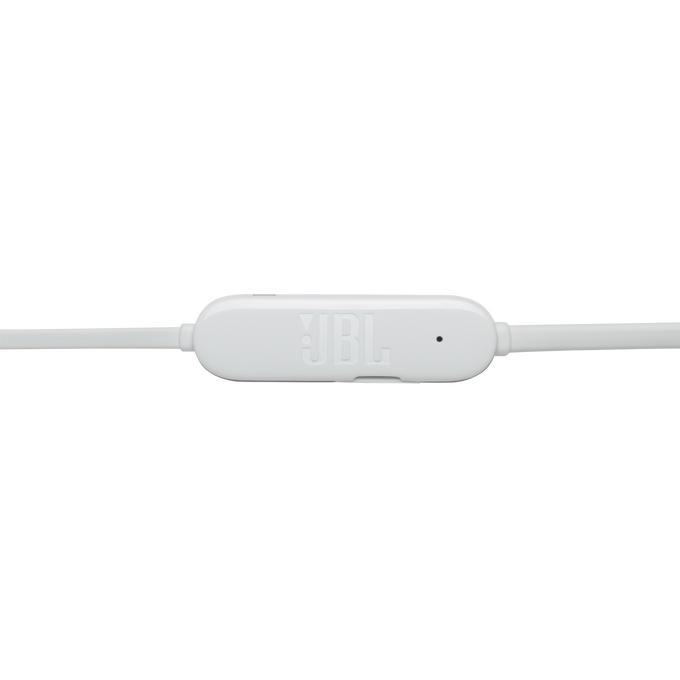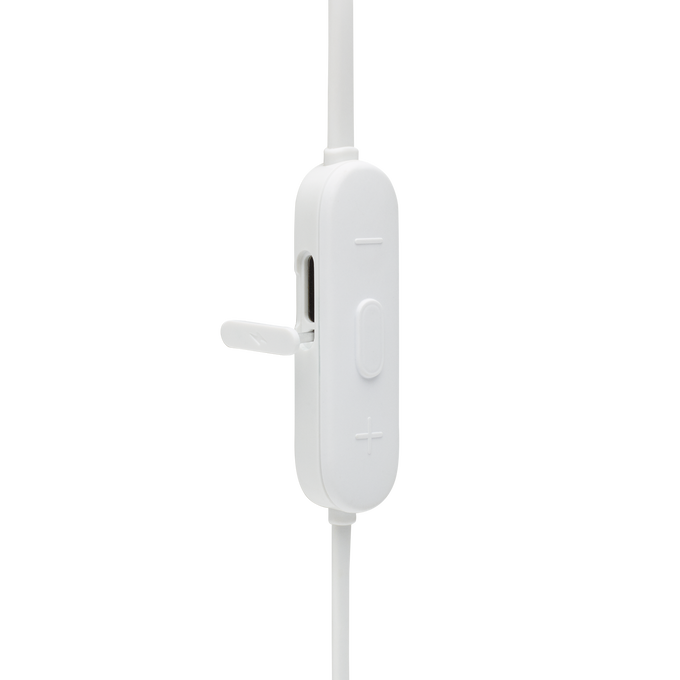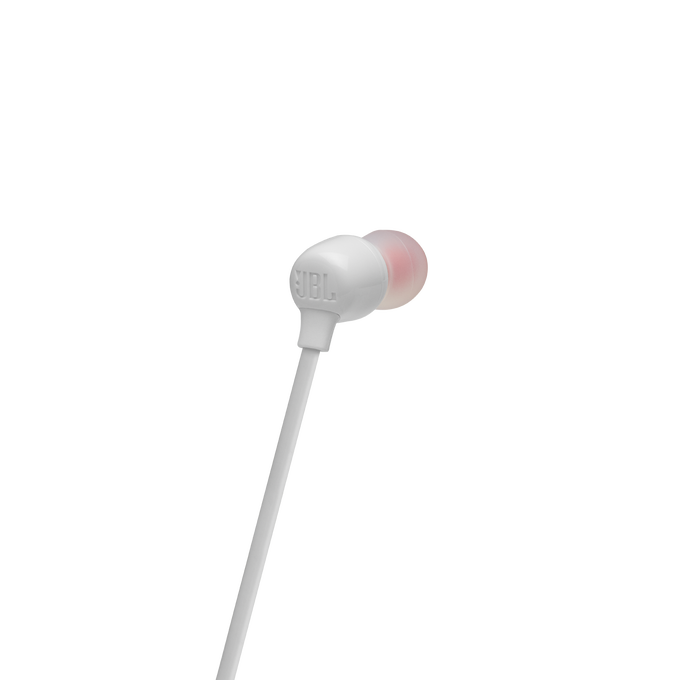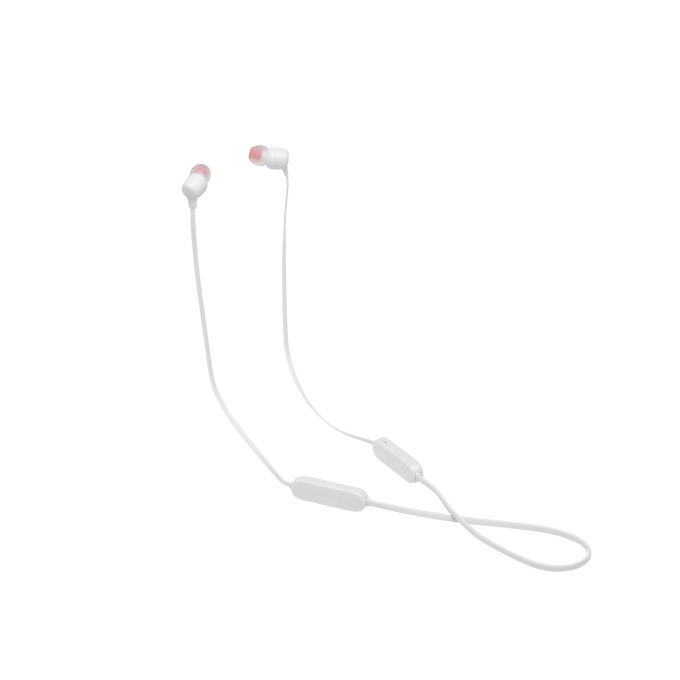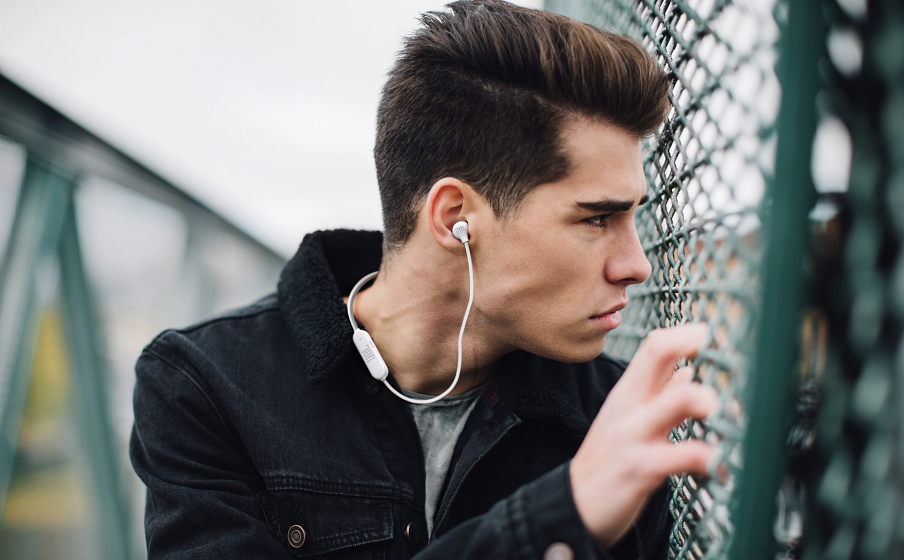 JBL Pure Bass-lyd
I over 70 år har JBL skabt den præcise, imponerende lyd, man finder på de store spillesteder rundt om i verden. Disse hovedtelefoner gengiver den samme JBL-lyd med en bas, der er både dyb og kraftig.
Bluetooth 5.0​ for kvalitet helt uden tab
Afspil din yndlingsmusik i superhøj kvalitet takket være Bluetooth 5.0.
16 timers batteritid med lynopladning
Det indbyggede batteri giver 16 spilletid, som på 2 timer hurtigt kan genoplades med type C-kablet. 10 minutters genopladning giver din 1 times afspilning.
Funktioner

Magnetisk kabelhåndtering
Sørger for, at hovedtelefonerne bliver på deres plads omkring halsen uden at blive sammenfiltret, når de ikke er i brug.

Flerpunktsforbindelse
Gør, at du nemt kan skifte fra en video på din tablet til et opkald på din telefon, så du aldrig går glip af et opkald

Stemmeassistent er understøttet
Få nem adgang til din smartenheds stemmeassistent fra hovedtelefonerne.

3-knaps fjernbetjening med mikrofon
Foretag trådløse opkald, og hold styr på din musik uden at bruge hænderne.
Detaljer & Downloads
Item# JBLT125BTWHT
Beskrivelse
En tag med-løsning, der lyder fremragende.

Med JBL Pure Bass-lyden tilbyder JBL TUNE 125BT en trådløs løsning uden tab af lydkvalitet. De er nemme at tage med og bruge i hverdagen. Desuden har du mulighed for at foretage eller besvare håndfri opkald, og du får 16 timers batterilevetid. Forestil dig hovedtelefoner, der oplades på blot 2 timer, fås i 6 flotte, nye farver, har et fladt, filterfrit kabel og vejer så lidt, at de er behagelige at bruge flere timer i træk. De indbyggede magneter sikrer, at hovedtelefonerne ikke dingler, og med flerpunktsforbindelsen mister du aldrig et opkald. Så det er let at se, hvordan JBL TUNE 125BT-hovedtelefonerne kan blive en vigtig del af din musikalske hverdag.
Specifikationer
Enheds-størrelser (mm)

8.6
Lydspecifikationer
Enheds-følsomhed ved 1kHz/1mW (dB)

96dB SPL/1mw

Dynamisk frekvensområde (Hz)

20 Hz – 20 kHz

Impedans (ohm)

16
Mål
Enhedsstørrelse

8,6 mm

Vægt

16,2 g
Specifikationer, styring og tilslutning
Bluetooth-profiler

HFP v1.5, HSP v1.2, A2DP v1.2, AVRCP v1.5

Bluetooth-frekvens

2.402GHz-2.48GHz

Bluetooth sender-modulation

GFSK, DQPSK, 8-DPSK

Bluetooth sender-effekt

0~4dBm

Bluetooth-version

5.0
Batteri
Ladetid (timer fra helt afladet)

2

Maksimal spilletid (timer)

16
Egenskaber
Bluetooth

Ja

Charging cable

Ja

3-knaps-fjernbetjening med mikrofon

Ja

Indbygget mikrofon

Ja

Sammenfiltringsfrit, fladt kabel

Ja

Håndfri opkald

Ja

Øretelefoner med nakkebånd

Ja

JBL Pure Bass-lyd

Ja

Flerpunktsforbindelse

Ja

Genopladeligt batteri

Ja

Lynopladning (5 min. = 1 t spilletid)

Ja

Trådløse

Ja
Dokumenter og downloads
Kunde-anmeldelser
Rated

3

out of

5
by
NC428
from
Good but not great
The packaging looks nice and shows the headphones and the technical spec. These are very easy to setup. They come with different size tips and a very short usb c cable . The earphones are very long and have controls for volume etc. They are also very quick to charge and the battery lasts for a long time. I found these to be good at playing music which was very clear and appropriate. However i did not have such an enjoyable time taking calls on these earphones. The caller sounded muffled and unclear. Plus they were struggling to hear me. I tried adjusting them but this did not fix the issue. I also must mention that i tried these whilst in the gym and they stayed in very well even whilst on the treadmill. This is another plus point for them. If you intend using them for music then you should consider these. If however you intend to take calls on them i would look for a different headphone .
Date published: 2021-06-09
Rated

5

out of

5
by
mariaisager
from
Super gode høretlefoner
Jeg har testet JBL Tune 125 BT i en uges tid nu. Jeg har været rigtig glad for dem , de har en god pasform så de falder ikke ud at ørene, Syntes faktisk også det er fint der en ledning imellem høretelefonerne, det gør at hvis du er ude og arbejde og har dem på, så kan du tage den ene eller begge ud af ørene og lade dem hænge ned langs brystet og så kan de faktisk med deres magnetisk funktion sætte sig sammen så du ikke taber dem. Selve lyden er som de fleste andre høretelefoner super fin. ikke noget specielt her Funktionerne for selve knapperne er meget nemmer og finde ud af. der er en super lang batteritid på dem, hvilket jeg er meget glad for.
Date published: 2021-04-26
Rated

4

out of

5
by
Thereplicant
from
Packs a punch!
I've had these headphones for just over a week. They come very well packaged and are incredibly easy to setup, basically click the power on for 2 secs and then connect to your Bluetooth on your phone. As for the sound. The vocals are clear and there is a decent amount on bass and spatial sound. The are also really quite comfortable in the ear and block out external noise. If your looking for a decent set of wireless in ear headphones at a more than decent price then you can you can't go wrong with this lot.
Date published: 2021-05-05
Rated

5

out of

5
by
BigFugawee
from
Very comfortable!
I have been looking for some in the ear headphones that wont fall out all the time. These are super comfortable. The cord you put behind your neck so if one comes out,they just hang there. The sound quality is good,better at higher volumes. Bass response it good too! What I noticed immediately,the packaging. Although this has nothing to do with the quality of the product, There is a white sticker on the cord,which is a pain to remove. Have to be super careful you don't cut the wire. Anyway,I like them and will wear them often. They are very comfortable. Battery life is good too.
Date published: 2021-06-04
Rated

4

out of

5
by
Prik
from
Rigtig fine til prisen
Headsettet er lette at anvende. Ledning rigtig fin og laver ikke meget støj til lyden i headsettet, hvilket jeg før har oplevet ved andre headset. Der er tre knapper til betjening så simpelt at finde rundt i. Jeg kan have lidt udfordringer med at få ramt de rigtige knapper, da betjenings knapperne kan sidde på skulderen, og derved vende modsat af hvad man regner med. Lyden er god, dog ikke meget "bund" og bas. Det er et fint headset til sport. det falder ikke ud af ørene og har en fin konstruktion med magnet der holder samlet, så det ikke tabes. Alt i alt fornuftigt headset til prisen.
Date published: 2021-04-27
Rated

5

out of

5
by
TinaTiny
from
God lyd og praktisk i brug
Jeg har testet JBL TUNE 125BT i en uges tid. Primært til musik på farten, men også til lydbøger. Begge dele har været en succes. Lyden er god, og så synes jeg det er fantastisk ikke at have en ledning der først skal vikles ud og derefter hænger og dasker. Jeg lærte ret hurtigt at styre de forskellige knapper, selvom jeg lige skal vænne mig til at de ikke er synlige. De sidder også godt i ørerne, og det er et stort plus at der er tre størrelser af dutter. Desværre kan jeg simpelthen ikke skifte til de små dutter, som ville passe mig bedre, især under løb eller lignende aktivitet.
Date published: 2021-04-30
Rated

5

out of

5
by
gravity2
from
Great travel headphones
I like the string design because it wraps around the back of your neck and is less likely to fall to the ground. The 2 pieces on the string create a counter balance for the earplugs and make both ends weigh equally which helps the string stay in place. This design probably gives the headphones more battery storage. The sound is top notch as you can expect from JBL speakers with clarity and deep base. The headphones do not come with a pouch for storage but I put them in the sunglass case while not in use and just grab the case for both accessories whenever I travel.
Date published: 2021-06-03
Rated

5

out of

5
by
Chloehillman
from
Amazing sound
I got these a few weeks ago and all I can say if for the price you can't go wrong! I was looking at multiple different wireless headphones for when I'm out and about and these are the best for the price. The sounds is clear and they are super comfy in your ears even after a long time.
Date published: 2021-05-06
Rated

5

out of

5
by
Acab acab
from
GREAT HEADPHONES
5 stars jbl never dissapoint! Sound is awesome bass even better than i taught it would be...
Date published: 2021-07-29
Rated

5

out of

5
by
Claudia34
from
Excellent for the price
I purchased these from Staples (for original price) two months ago after losing an expensive pair of wireless ear buds. The sales associate recommended this pair and so far I'm very happy. The sound quality is good and they do a great job of blocking out exterior noise. They're so good at noise blocking that I usually need to remove my buds (even turned off) to have a conversation.
Date published: 2021-11-08
Rated

2

out of

5
by
onecrane
from
Unusable with Android
I have a few JBL products I'm happy with, so I bought these blind when looking for a new Bluetooth headset. They are really, really bad with Android devices (at time of writing anyway). I'm on a Google Pixel with the latest Android updates, nothing crazy. Sometimes I want to listen to stuff, and sometimes I want to talk on the phone, and I have to specifically configure my Bluetooth settings to tell it which I want to be able to do, because if I have it enabled for phone calls, then I can't listen to media (no sound). And as others have reported, the microphone quality is abysmal. Everybody I've talked to over the phone has struggled to hear me, and voice recording on the phone through the headset reveals terrible quality. Won't trust a JBL product again without doing research.
Date published: 2021-11-08
Rated

5

out of

5
by
Holly day
from
High quality audio and comfortable
The earbuds are very comfortable and fitted to the ears. The high quality audio makes them perfect for watching movies, listening to music while laying down and while working with computer. I also like the controls available on both sides to change the volume and pause songs.
Date published: 2021-07-18
Rated

4

out of

5
by
Meg1805
from
Great sound quality
These Earphones have been nothing but great since I received them. The bass is amazing when listening to music such as electronic and drum and bass. I haven't got round to listening to any other genres with these yet but I'm very excited to do so
Date published: 2021-05-04
Rated

3

out of

5
by
Wjo24
from
Sound is great. Not made for running
They have a long cord which catches on any and every item of clothing or backpack. They also are off balance with the tiny earbuds, a long cable and two dangling rectagular battery components. If you are walking, running or doing anything active, they will fall out with every step as the two dangling parts weigh on the structure. I had mine for a week, before I lost them. They where we're hanging around my neck while running. While the magnet is strong, it should have a small zip case for storage
Date published: 2022-07-17
Rated

3

out of

5
by
Doopsi
from
Quality Sound, Very Long Cord.
The sound quality is good. Listening to music, podcasts, and youtube videos I have had no issues with the sound. The bass is good, and the sound is crisp. The button pad attached to the cord also integrates well with the media i use, being able to to push a button on the headphones to skip the song or pause the youtube video without having to touch my phone is very convenient. This is especially true for when I use it while running. The battery life has also done very well, I can go several days without having to charge it. There are some things I feel could be improved about the product. The cord is excessively long. You can see in one of my photos that the cord is as long as my leg is and I am 6 feet tall. sometimes this can be annoying while working out because the cord will swing around too much if i am changing directions or it will get caught on or between things. So I think the cord length could definitely be shortened. If you are someone who is shorter than I am then the cord will probably feel even longer to you. Overall it is not a bad product. If you do not live a very active life then I think these headphones would do just fine for you as you would not run into the same issues.
Date published: 2021-06-15
Rated

5

out of

5
by
Dittegl
from
Rigtige gode høretelefoner
Jeg har prøvet JBL Tune 125BT et par gange nu. Det var nemt at tilslutte headsettet til telefonen, jeg fandt et par de dutter der passede til mine øre, der var 3 forskellige størrelser med, så der skulle være en størrelse til alle. Det første jeg ville, var at høre musik, dette fungerede upåklageligt, både lyden, samt måden man skruer op og ned på. Jeg forsøgte mig også med en lydbog, her var lyden også rigtig god, og det var muligt at pause den på ledningen. Ydermere snakkede jeg i telefon, jeg kunne tage telefonen direkte på ledningen, samt også lægge på igen. Jeg er fan af den korte ledning, hvor mikrofonen sidder som den skal, så den man snakker i telefon med også kan høre en, samt man ikke skal have en ledning i telefonen. Der er magneter i selve høretelefonerne, hvilket gør, at de ikke filtrer helt sammen i lommen.
Date published: 2021-04-28
Rated

4

out of

5
by
MelissaPH
from
Gode høretelefoner til god pris
Jeg har testet disse høretelefoner via Reviewclub/Buzzador. Synes bestemt det er fornuftige høretelefoner. Kvaliteten er god i forhold til prisen, og lyden er fornuftig i dem. De er blevet brugt meget på barnevognsture med min datter, hvor ledningen mellem høretelefonerne bestemt har været en fordel, når jeg lige har skulle lytte til hende. De sidder utrolig god i ørene, og falder ikke ud når der lige skal komme lidt sved på panden.
Date published: 2021-05-11
Rated

4

out of

5
by
Shika
from
Nice!!
The quality of these headphones is great! The bass is really nice! Fits in my ear well. I just didn't like the two pieces on the left and the right side that are used for speaking and volume. I attempted to use these when I went to the gym, but when I ran on the treadmill, the two pieces kept hitting me. Very annoying. Other than that, they're good. I like that you're able to connect it to 2 devices at the same time! Great feature!
Date published: 2021-06-04
Rated

5

out of

5
by
gspfunk
from
Outstanding Clarity
For the price point I was really surprised at the clarity and musical detail in these earbuds. The design is not new, which is probably why they are cheaper, but the performance is really good and I appreciate the magnetic earbuds to keep them around your neck. I was a little disappointed that they don't show up in the JBL headphone app where you can customize the EQs, but again, that's probably because of the lower price point.
Date published: 2021-06-05
Rated

5

out of

5
by
LouRose87
from
Fed lyd! Lækkert design.
Jeg har haft dem et pr uger nu. Jeg er super tilfreds! Mit førstehåndsindtryk var klart bass lyden... super fed! Og man skifter nemt til et opkald og tilbage til musikken igen. De tre forskellige str ørepropper er G-E-N-I-A-L-T da jeg faktisk bedst trives med de små. (Mellem str der sad på fra start.) Sidst men ikke mindst - fedt at lade kablet er orange og let at genkende. Alt i alt super lækkert produkt for pengene.
Date published: 2021-05-03
Rated

3

out of

5
by
EliBie
from
De er okay
Jeg tester dem gennem buzzador. De er okay, men lyden er ikke super god.. den er lidt metallisk. Ledningen synes jeg desværre er for lang. Den er lidt i vejen. Og når man bare har den i det ene øre, vil den anden hænge længere og længere ned. Der kunne det være smart med en lille klips til kraven. Men smart at der er lidt magnet, så når begge hænger ned kan de hænge sammen :) Den er nem at sætte op til mobilen.
Date published: 2021-05-11
Rated

5

out of

5
by
reded
from
Light weight, great sound
These are nice light weight headphones; the sound is wide and airy (which was a surprise) with a great bottom end. It's not overpowering though but warm sounding. The controls are usable, but I think its a personal thing that my fat fingers and the fact I can't remember what all the commands are, means I only use for power and volume. The battery charges fast and lasts long enough for excersie or my work meetings.
Date published: 2021-06-04
Rated

5

out of

5
by
Kian97
from
Rigtig god høretelefoner
Jeg har brugt disse høretelefoner en uge nu. lyde kvalitet er rigtig god og den har en god bass. Jeg har også brugt dem under træning, de er meget behagelig at have på, og det har fungeret godt. Batteriet holder godt, jeg kan nemt bruge dem i løbet af en dag uden at tænke på at set dem til opladning. Jeg synes at man får en rigtig god produkt til prisen, og jeg har været glad for at bruge dem.
Date published: 2021-04-27
Rated

4

out of

5
by
Maximus2022
from
Rigtig gode - men de slukker automatisk
Jeg har købt disse til brug på arbejde til at snakke i telefon med. Lydkvaliteten er ganske fin og jeg er overordnet glad for dem. Men det er virkelig irriterende og virkelig et stort minus, at de slukker automatisk, når de ikke har været brugt i et stykke tid. Så når telefonen ringer, skal man lige have sikret sig, at head-settet er tændt, inden man kan tage telefonen.
Date published: 2022-09-01
Rated

5

out of

5
by
Genae31
from
Great sound!!
Decided to get this pair if headphones after seeing great reviews. I was in need of a pair that focused on sound clarity but not taking away from the bass. These definitely did the job! Great for my evening walks or even just cleaning around the house! In love for sure with the quality. Great hold on battery life as well, user friendly! Would recommend for sure!!
Date published: 2021-06-07
Rated

5

out of

5
by
michaelp
from
Easy to use!
These earbuds are very comfortable. They have long battery life and stay connected to my phone well. The sound quality is decent, but nothing great. I'd say they sound sorta average. Definitely clear enough for listening to music on the go or doing voice calls. I think these would be great workout earbuds. The microphone quality is pretty good also.
Date published: 2021-06-09
Rated

3

out of

5
by
Jensoles
from
Passede ikke til min løbestil
Jeg tester disse for Reviewclub og har haft dem en uges tid. Lydmæssigt er de okay, dog er der lidt skratten når man ender i den høje ende. Mht pasform så passer de fint i ørene, men det med den lange ledning når man løber som hopper rundt omkring er ikke ideelt. Betjening er intuitiv som de fleste og skønt man fx kan skrue op/ned og skifte numre.
Date published: 2021-05-02
Rated

2

out of

5
by
Superpotamus
from
Great price..that's where it ends
They have a blue light on them that's so bright you can light up an entire room at night... Very bad if you want to use in the dark. They are not that loud you can barely hear them while mowing the lawn. The sound quality is not the best for JBL. I guess you get what you pay for. The cord could be longer on them. Two stars only bc of price.
Date published: 2022-09-22
Rated

4

out of

5
by
Sush_87
from
Good but could have been better
These wireless earphones are good. Good Quality material is used overall. Comfortable fit in ear. Pros: built quality. Comfortable in ear fit battery backup User friendly. Connects 2 devices at a time. Fast charging Bluetooth range Cons: Carry pouch should be provided in the box Low sound output Audio quality
Date published: 2021-12-13
Rated

3

out of

5
by
Maienghave
from
God lyd - dårlig pasform
Jeg er blevet udvalgt af Reviewclub til at teste JBL TUNE 125 BT. Jeg må desværre sige, at jeg har opgivet at teste. De passer slet ikke i mit øre og falder ud - de tunge "klodser" gør at den mindste bevægelse gør, at de falder ud af ørerne. Lyden er rigtig god i headsettet, men får det ikke testet yderligere. Desværre.
Date published: 2021-05-03
bvseo_sdk, dw_cartridge, 18.2.0, p_sdk_3.2.0
CLOUD, getReviews, 7ms
reviews, product
Spørgsmål og svar
bvseo_sdk, dw_cartridge, 18.2.0, p_sdk_3.2.0
CLOUD, getContent, 5ms
questions, product
bvseo-msg: Unsuccessful GET. status = 'ERROR', msg = 'Not Found.';