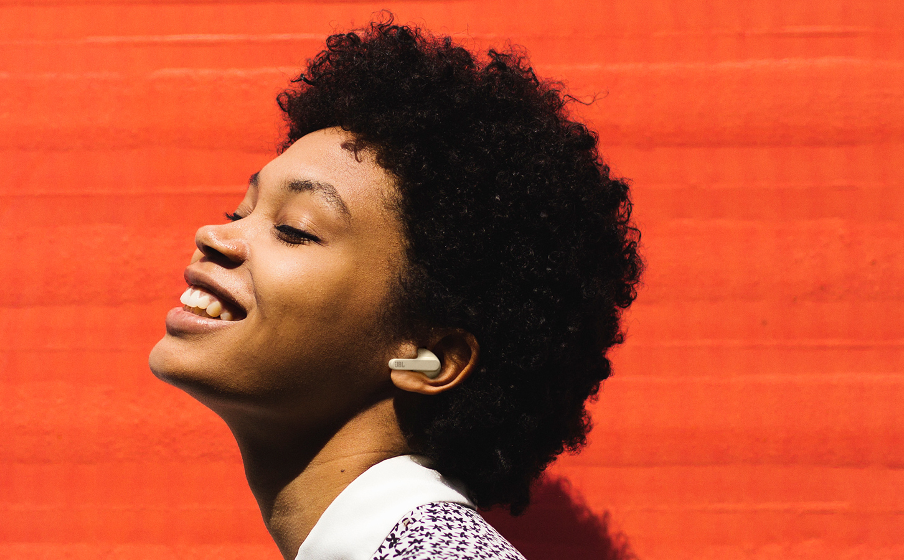 JBL-signaturlyd for den bedste lydoplevelse
Live Pro+ TWS-hovedtelefonerne giver den bedste lyd til enhver enhed. De er små, men kraftfulde med dynamiske enheder på 11 mm, som leverer den ekstraordinære JBL-signaturlyd. Hele dagen, hver dag.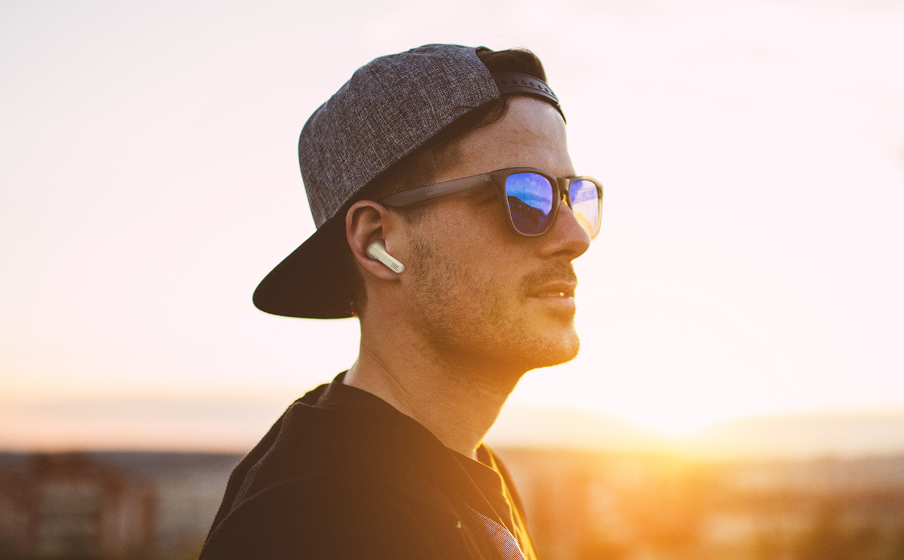 ​Adaptiv støjreduktion med Smart Ambient
Adaptiv støjreduktion betyder nul forstyrrelser, når du vil fokusere på dine studier eller fordybe dig i musikken. Og hvis du vil høre verden omkring dig, uden at tage hovedtelefonerne af, skærper Smart Ambient lyden fra omgivelserne.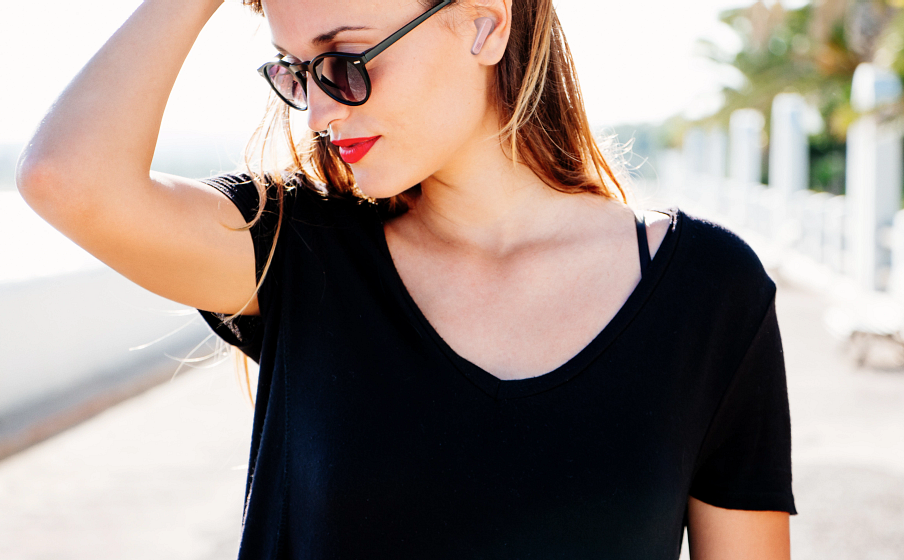 Op til 28 timers batteritid, trådløst opladet
Med op til 7 timers afspilning plus 21 i etuiet, og lynopladningen af JBL Live Pro+ TWS, har du lyd til hele dagen. Du kan nemt hente strøm med lydopladning af JBL Live Pro+ TWS og Qi-kompatibel trådløs opladning
Funktioner

Seks mikrofoner for perfekte samtaler – ingen støj
Savner du møder ansigt til ansigt? Takket være teknologien til isolering af støj og vind og stråleformede mikrofoner, går din stemme klart igennem, så du får fornemmelsen af en personlig samtale.

Dobbelt forbindelse + synkronisering og hurtig parring
Så snart du åbner etuiet, parres hovedtelefonerne med din enhed, og du er klar til at høre musik, foretage opkald i mono/stereo eller aktivere din stemmeassistent i et eller begge ører. Og med JBL-appen er det nemt at tildele funktioner til hvert ørestykke. Med Googles Fast Pair-teknologi forbindes JBL Live Pro+ TWS øjeblikkeligt til din Android-enhed. Du kan også parre med andre enheder ved blot at trykke på enhedernes skærm.

Få hjælp bare ved at bruge din stemme.
Få hjælp fra din foretrukne stemmestyrede assistent ved at bruge din stemme eller trykke på ørekoppen. Aktiver aktiv støjreduktion eller Ambient Aware, tjek batteritid, eller sluk for JBL Live Pro+ TWS - blot med din stemme og Hey Google. Brug den helt nye JBL-app til nemt at indstille dine foretrukne stemme-assistenter. (*) Understøttes kun på Android. (**) Android 6.0 eller højere er påkrævet for fuld adgang til Alexa-funktioner, når denne enhed bruges.

Vandafvisende med komfortabel og sikker pasform
Tag fantastisk musik med dig overalt. JBL Live Pro+ TWS hovedtelefonerne er vandafvisende (IPX4-certificeret) og leveres med fem sæt ørespidser af silikone som sikrer en perfekt pasform.

Gør dem personlige med My JBL Headphones-appen
Dine hovedtelefoner skal tilpasse sig dig, ikke omvendt. Lyden og funktionerne i JBL Live Pro+ TWS-hovedtelefonerne kan nemt personliggøres med den gratis app My JBL Headphones: Skift EQ-indstillinger, vælg din foretrukne stemmeassistent, og tjek den bedste ørespids til dit øre med blot nogle få trin.
Produkt-sammenligning
LIVE-PRO-PLUS-TWS-
LIVE-PRO-2-TWS-
TUNE230NCTWS-
TUNE-FLEX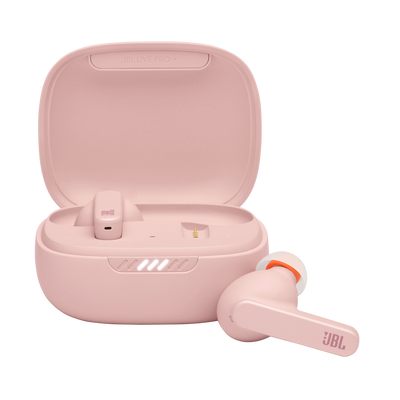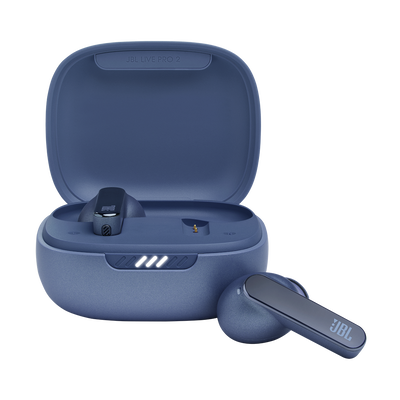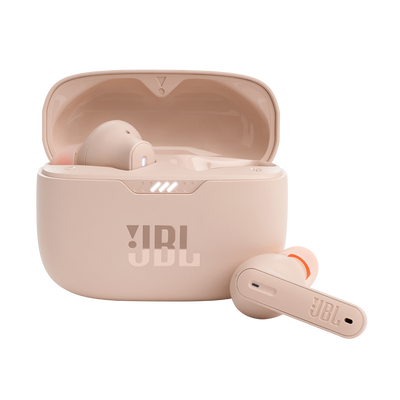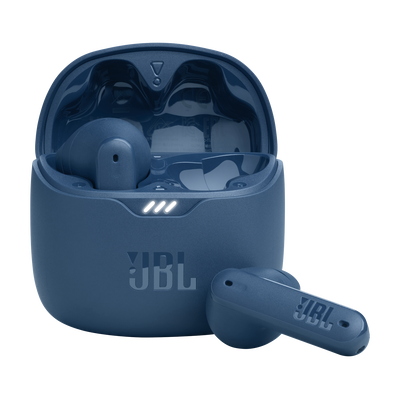 Batteri
Maksimal spilletid uden aktiv støjreduktion (timer)
7
Maksimal spilletid uden aktiv støjreduktion (timer)
10
Maksimal spilletid uden aktiv støjreduktion (timer)
10
Maksimal spilletid uden aktiv støjreduktion (timer)
8
Funktioner
Lynopladning (5 min. = 1 t spilletid)
Lynopladning (5 min. = 1 t spilletid)
Lynopladning (5 min. = 1 t spilletid)
Lynopladning (5 min. = 1 t spilletid)
Detaljer & Downloads
Item# JBLLIVEPROPTWSPIK
Beskrivelse
Mere musik, mindre støj

JBL Live Pro+ TWS leverer den bedste lyd, uanset hvilken enhed du bruger. Nyd en fordybende og totalt trådløs oplevelse med den utrolige JBL-signaturlyd. Lad Smart Ambient forbinde dig med omgivelserne, eller fokuser på musikken med adaptiv støjreduktion. Skift nemt fra musik til gruppeopkald med fire stråleformede mikrofoner (to pr. side), som indfanger din stemme, så det føles som at tale ansigt til ansigt. En tredje mikrofon reducerer støjen fra omgivelserne. ​Få hjælp fra din foretrukne stemmeassistent med din stemme eller et tryk på ørekapslen. Hvis du opsætter Hey Google, kan du aktivere funktioner på dine JBL Live Pro+ TWS blot med din stemme. Alle kommandoer sidder i ørestykkerne, så du kan styre musik og opkald med blot en finger. Med op til 28 timers spilletid fra Qi-kompatibel, trådløs opladning og superhurtig, trådløs opladning, er de altid klar til sætte energi til din dag. (*) Understøttes kun på Android. (**) Android 6.0 eller højere er påkrævet for fuld adgang til Alexa-funktioner, når denne enhed bruges.
Specifikationer
Enheds-størrelser (mm)

11

IP Code

IPX4
Lydspecifikationer
Enheds-følsomhed ved 1kHz/1mW (dB)

102

Dynamisk frekvensområde (Hz)

20 Hz – 20 kHz

Impedans (ohm)

16

Antal dynamiske enheder pr. øre

1
Mål
Charging Case Weight (oz)

1.7

Earpiece Weight (oz)

0.4

Vægt (g)

49.5

Vægt (g)

10
Specifikationer, styring og tilslutning
Bluetooth-profiler

A2DP V1.3, AVRCP V1.6, HFP V1.7

Bluetooth-frekvens

2.4 GHz – 2.4835 GHz

Bluetooth sender-modulation

GFSK, π/4DQPSK, 8DPSK

Bluetooth sender-effekt

0 - 13dbm

Bluetooth-version

5.0
Batteri
Ladetid (timer fra helt afladet)

2

Maksimal spilletid uden aktiv støjreduktion (timer)

7

Maksimal spilletid med aktiv støjreduktion (timer)

6

Maksimal spilletid (timer)

7
Egenskaber
Charging cable

Ja

Stemmeassistent

Ja

Lader lyd fra omgivelserne passere

Ja

Indbygget mikrofon

Ja

Håndfri opkald

Ja

Den berømte JBL-lyd

Ja

Svedsikre

Ja

Multifunktionel TalkThru-knap

Ja

Ægte trådløse

Ja

Trådløse

Ja

Touch-knapper

Ja

Adaptiv støjreduktion

Ja

Smart opladningsetui

Ja

Lynopladning (5 min. = 1 t spilletid)

Ja

Genopladeligt batteri

Ja

Bluetooth

Ja
Det er der i æsken?
JBL Live Pro+ TWS
1 x 5 størrelser ørespidser
1 x type-C USB-opladningskabel
1 x opladningsetui
1 x garanti/advarselsark
1 x startguide/sikkerhedsdatablad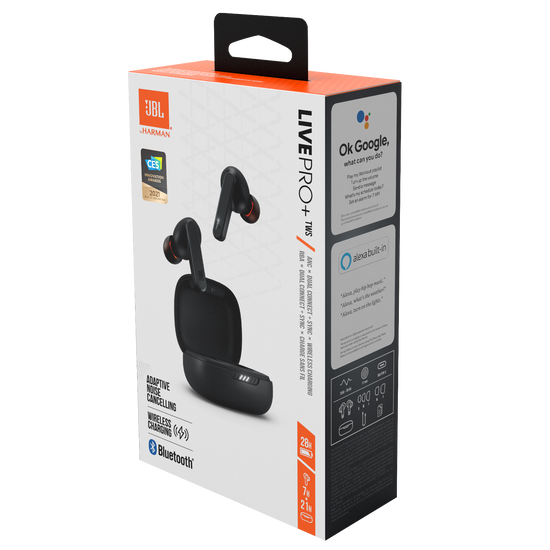 Dokumenter og downloads
Kunde-anmeldelser
Rated

1

out of

5
by
Harmon is horrible
from
Horrible customer service. Just horrible.
When purchasing I was told one thing. Now I am being told something different. Won't let you speak to a supervisor and was hung up on twice.
Date published: 2021-12-27
Rated

5

out of

5
by
Teleblues
from
JBL Signature Sound!
JBL once again manages to amaze. Absolutely the best clarity and tight bass in any earbuds I've ever used. The noise reduction is impressive as well. I have other true wireless earbuds but they are fairly bulky and tend to fall out, these are extremely compact and lightweight and stay put during workouts. Charging time is impressive as well, 10 minutes yield a full hour of use and a full deep charge gives up to an amazing 28 hours of play when not using the noise canceling feature. Wirelessly charging and "Ok Google" & "Alexa" make operation a breeze.
Date published: 2021-04-03
Rated

2

out of

5
by
liam1401
from
Didn't work properly
The fit of the earphones is weird and the interchangeable earphones are hard to change. Sound quality is good but the volume really doesn't go loud enough unless you play with the EQ but that reduces the quality. The gestures just don't work sometimes and the auto-play and pause when you take them out is very hit and miss as to whether it will register it. I ended up sending them back as even with 20% discount, they weren't worth £99.
Date published: 2021-10-27
Rated

1

out of

5
by
Anonymous
from
Very Very Poor !!!
The fitting in your ear is horrendous, they give you very very fragile rubber fittings that don't go very far into your ear so they are literally falling out , when you turn your head one or the other switches off as it thinks you have taken them out , I have wasted £160.00 on them. Please do not buy them
Date published: 2021-10-09
Rated

4

out of

5
by
Vicke76
from
Nice in-ears
I´ve tested this small gadget for about 2 weeks now. Although I´m not that experienced with this kind of in-ear I must say I like them a lot. Quick pairing, easy to fit, very clear sound. Feel "robust".
Date published: 2021-09-21
Rated

4

out of

5
by
Travi
from
A pair that gets loud enough
The sound and features are great! If I could change one thing it would be with the talkthru mode. When on noise cancelling and ambient mode they get loud enough to emerse yourself however talkthru mode is a touch too quiet. I understand in talkthru you obviously should be able to hear a convo while in it, but it's be nice to have the volume go a little higher so you could leave it in talkthru mode while working where it permits it
Date published: 2021-04-27
Rated

5

out of

5
by
Chaphole
from
Stays in place and sounds amazing
As usual, JBLs audio quality is on point. I was cautious about buying headphones of this style because I move around a bit and was worried about loosing them. So far, they seem to stay in place and make a tight seal for superior audio quality. Pairing was easy as pie, battery life is excellent and the charging case makes it easy to eke them ready for use. Make sure to download the JBL headphones app to get the best sound quality.
Date published: 2021-05-11
Rated

2

out of

5
by
ConnerE
from
Definitely not worth the money!
I've tried multiple different leading brands of bluetooth headphones and these are not the way to go. Luckily I got these for $90.. they are barely worth that! Sound quality is eh. The equalizer is all out of whack and you gotta figure that out. Even after, there are better options out there. The microphone suuuucks! Don't use in the car or anywhere with sound.. people can't hear anything. My pair of Samsung headphones are waaayyy better. When you've got the headphones in but you're not playing any sounds, they have this high pitch tone that is terrible. The noise cancellation is comparable to gen 1 apple airpods.. maybe!! That would be a bit of a reach still. They don't stay in your ears well if you're moving around a lot. And yes, I did change out the buds and it helped but not much. I'd recommend buying buds from Amazon to replace.
Date published: 2022-01-30
Rated

5

out of

5
by
brandonCLT
from
Had a conversation while mowing the lawn
I thought these might be good for me. I need them for making phone calls and listening to music, often times in noisy environments (server rooms). Before I could test them at work I had them on while mowing the lawn and accidentally answered a phone call. I was surprised when calling party reported they could hear me fine and we proceeded to have a 15 minute conversation while I operated the mower. Battery life seems good for my use case. Changing ear tips to find a comfortable fit was easy. These blew me a way. I will definitely recommend them.
Date published: 2021-12-13
Rated

5

out of

5
by
fdnj
from
Second pair of ears
For many people these will be ideal earbuds. As any with experience of JBL speakers or audio systems will expect, the sound is excellent. The bass is deep and clear without overpowering the mix which is dynamic with excellent clarity. And that is out of the box; downloading the companion app makes it even better with enhanced control of all dynamics. The ANC is very impressive offering different levels of filter for different situations. The ambient modes are equally as good and the hear-through mode particularly useful. Ear detection pauses music when one or both earbuds are removed. JBL/Harman has made sure that these units work with multiple voice assistants - Siri, Google Assistant and Alexa are all catered for and the microphones caught anything I asked. Call quality is equally good. The charging case is neat and feels good to the touch. Charging is via wireless charger or USB-C. The packaging is really good very well packed compact and neat. The controls are soft touch and are sensitive and it is too easy to accidentally change a setting or activate the voice assistant when just trying to adjust the fit. The silicone from which the tips are made seems to be less grippy than many, having a smoother surface. The build quality is pretty good too, the plastic feels nice, and the opening mechanism is smooth. They are amazingly comfortable and come with a huge range of tips to fit different ears, the app even tells you if the fit is good or not. Taking out one earbud allowing you to hear outside through both of your ears, it makes using these a lot more convenient. For people like me there is an EQ in the app which comes with only 3 presets: Jazz - boosts the bass and treble to make these even more V-Shaped. Vocal - lowers the bass and raises the Mids. Bass - just raises the bass. Connectivity is exceptionally good. my phone was asking me to pair them before I had chance to open my lock screen, they are magic! The app is amazing it updates your buds and shows you all the information about them battery life on each bud and the case also lets you change the sound preferences, these are one of a kind.
Date published: 2021-04-17
Rated

3

out of

5
by
MBR0121
from
Decent
Were they good? Yes. Were they worth over $150? No.
Date published: 2021-08-11
Rated

1

out of

5
by
Cdublu
from
Huge disappointment
I bought these about a month ago or so, and iam very disappointed with them. The sound quality is great, though I wish i didn't have to max out the volume to get a sound level I enjoy with other buds. However, they keep unsyncing. I will be listening to music and BLEEEP, no sound, paused song. Start song again, 2 seconds later stopped. The app is horrible. It was hard enough to get the buds calibrated. Why would you make getting a good fit mandatory to use the app? And then trying to use adaptive sound or noise canceling is a pain. Ended up deleting the app and things were better for awhile and then the stopping kept happening. Also not happy with the design of the ear peice. I want them in my ear. I love JBL. I have 4 speakers, including the boom box. But iam so disappointed with this product. The sound is amazing, but the app and the constant pause issue left me frustrated and wishing I didn't spend all that money on somthing so under developed.
Date published: 2021-09-16
Rated

5

out of

5
by
DatGuy_Shawnaay
from
The Features: Sheeeeesshhhh
Long story short. They're elite! While I have a fair selection of headphones and earphones to compare the quality of the sound too, I think that these TWS earphones are pretty good. The Live Pro+ seems to mainly focus on the Lows while the Mids and Highs take a slight dip compared to the former. Nothing wrong. Seems to be a JBL specialty as they mention in the features. It's all pretty clear, nonetheless, and is plenty punchy. Beyond sound, the Live Pro+ took some time to get used to in my ear and you might find yourself fiddling with the earbuds a few times before finding the right fit, at least for me. After a while, they sit comfortably and do a decent job of passively isolating sound. As for features, where do I begin? Yessssss JBL, ANC combined with ambient modes, and the ability to sense when the earphones are in your ears or not (to play/pause) are all amazing features to have! What's even better is that these earphones have a dedicated app to locate the earphones when they're lost, but most importantly you are given massive flexibility in terms of customising the taps on either earbud - which, I must add, have one of the best responsiveness to earphones I have come across - which, I love! The noise-canceling is by no means the strongest but it is effective. Noise that is consistent is most likely to be blocked out while higher-pitched noises will probably seep through. I appreciate that you can also see how much charge is left in your case; the ability to customise the EQ to your own preference (the range is quite broad); the fast pair; and having USB-C as the standard for charging. I don't have a wireless charger to test the wireless charging but I'm glad that I have it for when I do jump on that bandwagon. The call quality seems to be very good. I did not once get a complaint about echoes or any static noises so I'm pleased. As for the negatives aspects of these TWS, I would say that one downside is the ambient mode. Sure you have "Talk Thru" but there is not enough sound being picked up by my mics to hear people talk to me clearly. I might as well take the Live Pro+ out to talk. Even the ambient mode is not that effective at letting the background noises creep in. Might need to update the sensitivity here. Another issue is that the battery is actually pretty short. I didn't think it would affect me but they do have a short life span from my perspective. So: What's Good? -Punchy Bass for small TWS Earphones -ANC -Responsive & Customisable Tap functions -The Dedicated App -Fast Pair -Bluetooth 5.0 -Automatic play/pause based on whether the earphones are connected to your ear -Wireless Charging What's not so good? -Ambient & Talk Thru needs a sensitivity adjustment -Battery Life -Takes an adjustment period to wear Overall: It's bussin!
Date published: 2021-04-25
Rated

5

out of

5
by
Steven S
from
Professional Sound!
The JBL Live Pro + TWS deliver excellent noise cancellation as well as having the option for ambient listening for those that choose to be more aware of their environment. All of these features plus a customizable EQ with more options of optimizing actual Bluetooth settings (such as a video mode to better sync audio with video) while delivering a surprising sound from these tiny in-ear headphones. All of the above-mentioned features are customizable after downloading the JBL Headphones app. Please note noise canceling and ambient sound control are one or the other but not both at same time or you can simply turn them both off. The third option (called smart audio & video) deals with optimizing the actual Bluetooth connection stays in one mode or another at all times. Under noise canceling there are 3 modes that seem to go from more daily noise canceling (this was the my favorite mode that seemed to simply get the job done) to travel mode (planes and trains) to an active mode that seems to block noise maybe a tad less. The ambient sound control has two options with are ambient aware (felt like a solid ambient mode) and talkthru which seemed to lower the listening volume while raising what the mics were picking up. There is also a customizable EQ that comes with three presets: jazz, vocal and bass plus the ability for the user to add their custom tweaks. I personally seemed to lean toward the jazz preset with the lush bass but that was just my preference. The overall sound stage was definitely sweet. I listened to Taylor Swift, Lil Baby, Pantera, Herbie Hancock plus a whole lot more. This is an area I'm glad the app has EQ settings for not just myself but everyone to have a chance to dial in their sound preferences. The horns and guitars are crisp, and the bass sounds deep. Vocal's sound clean and pure and nothing seemed to really drown out or overpower another area of sound. I took a phone call to test the quality and the caller said they could not tell I was using anything different. The specs boast "voice clarity with 3-mics technology" and from what I could tell they seemed to deliver. Overall, I'm glad to own these and thankful (once again) JBL got the whole dual connect part absolutely seamless. If I just want one side in my ear, it simply lets me do that without a finicky connection hassle! Thanks for keeping this process simple JBL! A few more notes about the JBL Live Pro+ TWS: • Case uses USB-C to charge or wireless charging • IPX4 water resistance • Comes with several ear tip sizes to fully customize the fit • Will work with google assistant and alexa • Battery boasts 6hrs+18hrs(case charging) with noise cancelling on and 17hrs+21hrs with noise canceling off
Date published: 2021-04-12
Rated

2

out of

5
by
Np23
from
Sound quality is not great
I have a JBL speaker that's amazing. I thought the headphones would be too. They volume is quite and there is almost no bass to your music. All the lower tones are lost. Also the tap feature is too sensitive and my headphones shut off and change settings on their own during my workouts if my hair touches them or they get jostled in my ear. they also fall out of my ears while running.
Date published: 2021-08-03
Rated

5

out of

5
by
bjbj81
from
Great sound!
I really recomend JBL Live PRO+ TWS (OPT II). The connection with my iphone 8 works nice, they start playing my favourite pod when I put them in my ears. I use them when I take the bike to work, they have nice fit in ear. They are easy to charge and then have great battery time. As a summary I really recomend these if you need earbuds when you are active.
Date published: 2021-09-23
Rated

5

out of

5
by
LeLadybird
from
Totally awesome TWS
Great sound, great battery life, super comfortable. I have Tinnitus and I sleep with these in with continuous music to mask the ringing in my ears. Low battery warnings are unwelcome REM intrusions so the battery life was the big draw for me. Very compact pocket size pod is easy to carry and takes up very little table space while charging.
Date published: 2022-01-23
Rated

5

out of

5
by
TONCHY78
from
Utrolig gode ørepropper
Utrolig let at bruge, jeg kan tilpasse EQ til min præference, støjreduktion har forskellige niveauer! Kassens taktile fornemmelse er fænomenal, de passer perfekt og fører dig gennem den ideelle pasform i øret for at få mest muligt ud af lydoplevelsen. Disse ørepropper er meget komfortable, alt er solid byggekvalitet og føles ikke billigt. Disse ørepropper har chokerende god lydkvalitet for at være så små, krystalklare højder, fuldt rene mellemrum og dyb dyb bas til et ørepropp. Jeg tror, ​​lydkvaliteten og vandmodstanden alene gør dette par knopper værd for optagelsesprisen. Trådløs opladning og "Ok Google" & "Alexa" gør betjeningen til en leg. Jeg kan varmt anbefale disse og vil fortsætte med at bruge dem som en del af den nye daglige bæreopsætning. Tak JBL!
Date published: 2021-04-29
Rated

5

out of

5
by
Fahla63
from
Good headset
I have been testing JBL Live Pro + TWS for about a week now. The app is good, and you can see the settings clearly and it is easy to understand. You can change the equalizer settings there as well, which I like. It was a bit difficult to set the headphones by tapping them, but very easy in the app. They are very comfortably in the ears, even though I have issues with my ears. I have tested them both with music and by listening to audiobooks. The music listening is good, nothing to complain about. But when listening to audiobooks, you cannot have either "Ambient Sound Control" or "Noce cancelling" activated because it is a small "background noise" that interferes with listening. That is very disturbing. I have not used the headset for many hours a day. When I am not using them, I put them in the box. The battery charge is still 100%. Which is really great. I recommend the headset to those who want a good and comfortable headset for listening to music.
Date published: 2021-09-22
Rated

5

out of

5
by
mbjornbe
from
Surprisingly good sound and features
I was given the opportunity to test these headphones via test. I had no special expectations for the product. But once I got them home, charged and tested them, but I was extremely positively overwhelmed. Very good sound, heavy bass. In addition, they have both ANC and an excellent app where you can set EQ as desired
Date published: 2021-09-16
Rated

5

out of

5
by
Eldflamma
from
Love them
I bought them a month ago and I use them every day. They fit perfectly in my ears and the sound is magic. I have tried other in ear headphones but they all been useless when I've been in the gym. This one stays in the ear even in the hardest training. I really recommend them.
Date published: 2021-10-17
Rated

4

out of

5
by
Dino69
from
Utrolig god lyd
Jeg har testet JBL Live Pro + TWS, De har en rigtig god pasform i øret uden at trykke så man får ømme øre! Lyden er som jeg forventede fra JBL, der er altid utrolig god lyd og godt med bas hvis det ønskes. Jeg har testet på jobbet hvor der er mange løft og jeg skal bukke mig mange gange, på intet tidspunkt faldt de ud. De er også testet ud både i regnvejr og tør vejr, det ændrede ikke på noget. Det eneste lille minus jeg har er: lidt for følsomme i touch brugen af dem. alt i alt, en god investering.
Date published: 2021-05-07
Rated

5

out of

5
by
mydoglouie
from
Outstanding sound, Very Comfortable, Mic is best
Wow, these are by far the best small earbuds ever. The case is top notch quality. Perfect size. Super small fits in pocket. The earbuds sound great, bass is phenomenal. Treble and mids mix together perfectly. Best part of these earbuds is the dual microphones. When making a call the person on the other end hear you plain as day. Perfect for video calling. as well as phone calling. Love it. I use Siri and it works great. In my opinion, these are way better than Apple air pods. Sound so much better, better bass and work outstanding with voice. These are very small and fit in your ear nicely, hardly move at all. Not sure how good they will be exercising, But I'm sure they would be just fine. Have not fallen out of my ears yet, running around the house and yard. Highly recommend !!
Date published: 2021-04-08
Rated

4

out of

5
by
JessieL
from
Good headphones
I have had these now for almost a week and I have to say I really enjoy them. The sound is very good and the buttons are easy. The only issue I have is that my ear is a bit too small so after waering them for a while my ear starts to hurt a little.
Date published: 2021-09-14
Rated

4

out of

5
by
BigNinoG
from
God til prisen
Udmærket produkt med fine funktioner. Nem og hurtig at oplade og opbevare samt oplade på farten. Lyden er god, men har sine udfordringer ved brug til telefoni, video opkald, m.m. Gode muligheder for justering af størrelsen af inears så man får mest muligt komfort ved brug. Funktioner med touch er brugbare så længe man husker hvilken side de er på. Et stort minus herfra er at man skal have producentens app for bt connection og ikke bare kan plug & in play. Alt i alt rigtigt godt produkt til prisen.
Date published: 2021-04-13
Rated

1

out of

5
by
Kiddos
from
Wish I could give a review, if I would only receive the product first, this order was placed November 24 and no specific delivery date has been given, is this a wait and see situation? Would love to get specifics on delivery, thanks
Date published: 2021-12-13
Rated

5

out of

5
by
HumbleTribe
from
NEXT BIG THING!
I received these to test out and my honest opinion.I started to use these at the gym instead of my apple air pod pros. I wanted to see what the amount of movement that I make do they move or would I have to adjust them. Surprisingly I didn't have to do much. The noise cancellation is great, the look is very nice and the feel of the cups. I love how it comes with interchangeable cups just Incase you have big or small ears. I honestly love the sound and I love has never disappointed with the bass feel that I love! The app gives you full control over everything and the case being small enough to be able to place anywhere and not a huge big bulky charging case like the beats pros. One more thing it does charge with usb c which is a huge help because that's all I have now. NO MORE MICRO CHARGERS!
Date published: 2021-04-13
Rated

5

out of

5
by
Sofiabergsten1
from
Love this is the best!
I bought this for a week a go and i just love this. The sounds is perfect and the Products are a perfect design ! They are perfect match exactly in the ears and you cant hear the sounds outside i really love this!
Date published: 2021-09-20
Rated

4

out of

5
by
Jason1
from
Good product
Great product. I like the product, but seems the volume will not go loud enough to drown out people's conversations. The volume needs to go louder so you can hear your music and drown out people's conversations.
Date published: 2021-12-07
Rated

5

out of

5
by
Vicky
from
Extremely comfortable!
Been using these buds for about a week now and I'm extremely impressed. They're very lightweight and comfortable. They make my previous ear buds, which I thought were light, seem much heavier by comparison. I've done HIIT and dancing workouts and they've stayed put, never thought twice about them. The touch controls on the buds are extremely responsive, I especially love that I can customize them through the app, hooray for quick volume controls! The sound quality right out of the box is average, but the JBL app is where the magic happens. I made a few tweaks and the sound is incredible. You can quickly customize a few presets as well, to adapt to your listening environment and music types. The noise cancellation is better than expected for wireless earbuds. I've used them for video and audio call on my phone and the microphone quality is exceptional. Bottom line: these are exceptional quality, work-horse, jack of all trades earbuds. They can easily tackle workouts, zoom calls, leisure music, noisy subways and everything in between. Oh, and they're extremely comfortable.
Date published: 2021-04-10
bvseo_sdk, dw_cartridge, 18.2.0, p_sdk_3.2.0
CLOUD, getReviews, 9ms
reviews, product
Spørgsmål og svar
bvseo_sdk, dw_cartridge, 18.2.0, p_sdk_3.2.0
CLOUD, getContent, 6ms
questions, product
bvseo-msg: Unsuccessful GET. status = 'ERROR', msg = 'Not Found.';