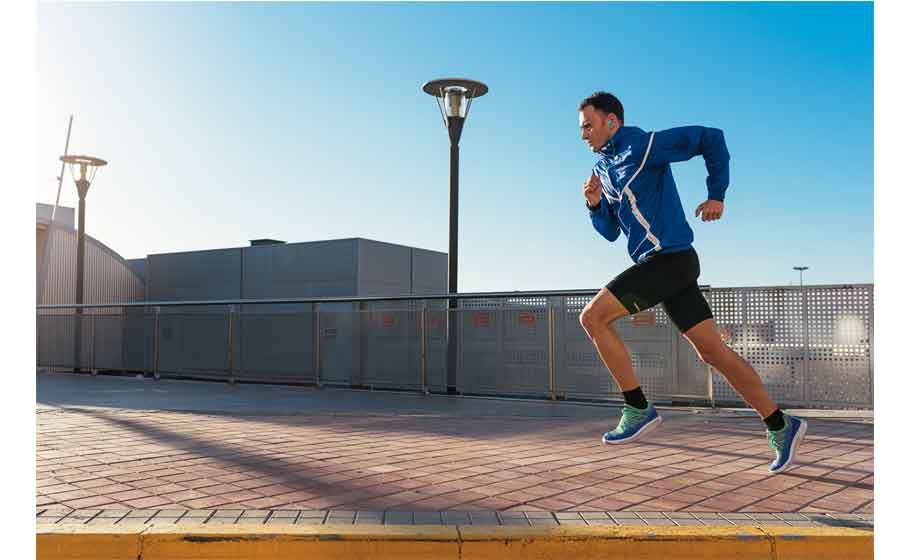 Fliphook™
Med det fleksible tovejs design kan du bære hovedtelefonerne enten i eller bag ørerne.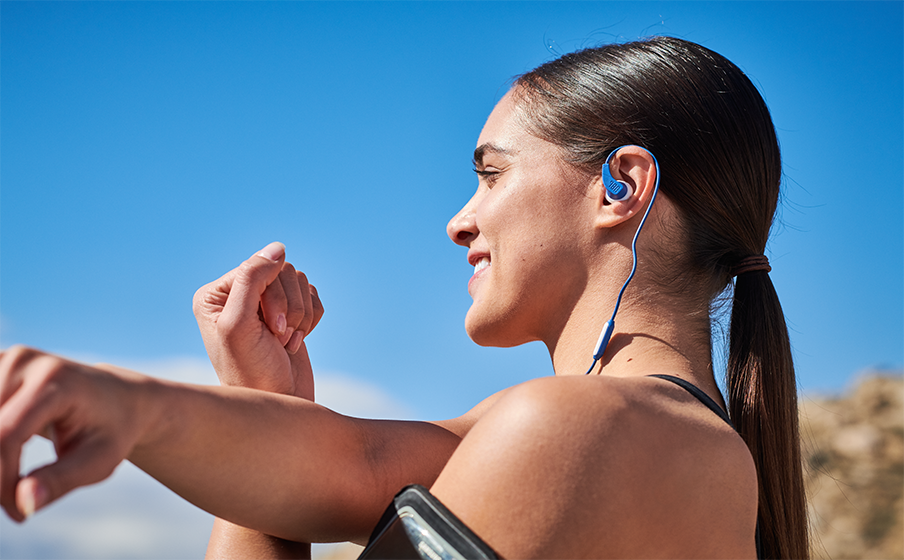 Gør aldrig ondt. Falder aldrig ud.
Med TwistLock™ og FlexSoft™ teknologierne er disse hovedtelefoner lette og ergonomiske med sikker pasform, uanset hvordan du træner..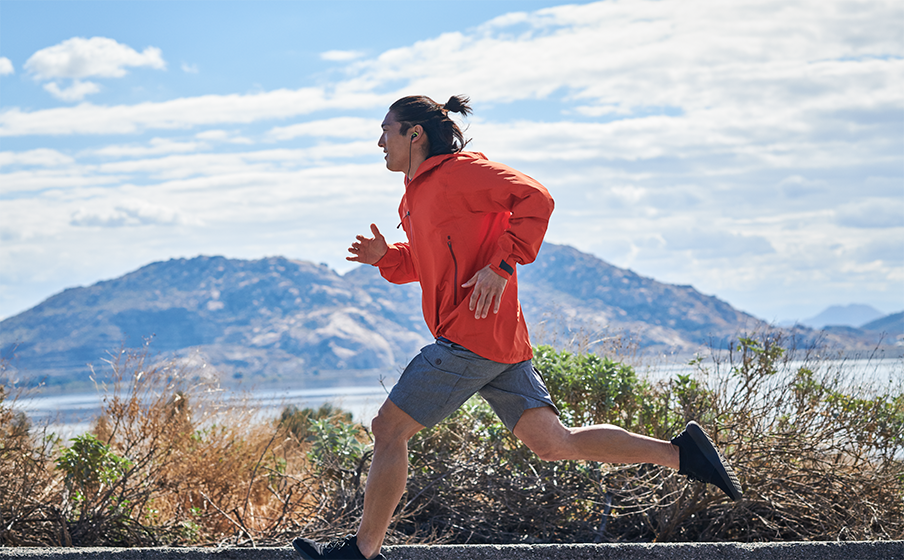 Svedtætte
Udformet til at modstå din mest krævende træning - både inde og ude under alle vejrforhold.
Funktioner

Håndfri opkald
Den integrerede et-knaps-fjernbetjening med mikrofon giver dig håndfri opkald, så du kan fokusere på din træning. Et langt tryk på knappen aktiverer Google-assistenten eller Siri.

Magnetiske ørestykker
Magnetiske ørestykker giver nem kabelhåndtering, når hovedtelefonerne ikke er i brug.
Detaljer & Downloads
Item# JBLENDURRUNBLK
Beskrivelse
Gør aldrig ondt. Falder aldrig ud

​​​Resultater er vigtige, og når du har de perfekte hovedtelefoner, kommer der intet i vejen for dig og din træning. FlipHook™ ​designet tilpasser sig i eller bag øret for maksimal komfort. Den komfortable kombination af FlexSoft™ ørepropper og TwistLock™ teknologi sikrer, at disse ørepropper med garanti aldrig vil gøre ondt eller falde ud. Og hvis du tror, at en smule sved eller regn kan ødelægge din løbetur, kan du tro om igen. Med IPX5 svedbeskyttelse er JBL Endurance RUN hovedtelefonerne med dig hele vejen, og den integrerede mikrofon med fjernbetjening betyder, at du aldrig behøver rode i lommen for at besvare et opkald.
Specifikationer
Hovedtelefonernes stik-type

3.5 mm

Enheds-størrelser (mm)

8.2
Lydspecifikationer
Antal dynamiske enheder pr. øre

1.0

Dynamisk frekvensområde (Hz)

20Hz – 20kHz
Batteri
Dynamisk frekvensområde (Hz)

20Hz – 20kHz
Egenskaber
Understøtter Siri, Google Now

Ja

Håndfri opkald

Ja

Comfort Stay Secure Fit

Ja

Svedsikre

Ja

TwistLock® teknologi

Ja

Øretelefoner

Ja

IPX-rating

IPX5

Genopladeligt batteri

Ja
Det er der i æsken?
Hovedtelefoner
3 størrelser ørepropper
1 adapter
1 garanti / advarsel
1 x sikkerhedsark / Kvikstartguide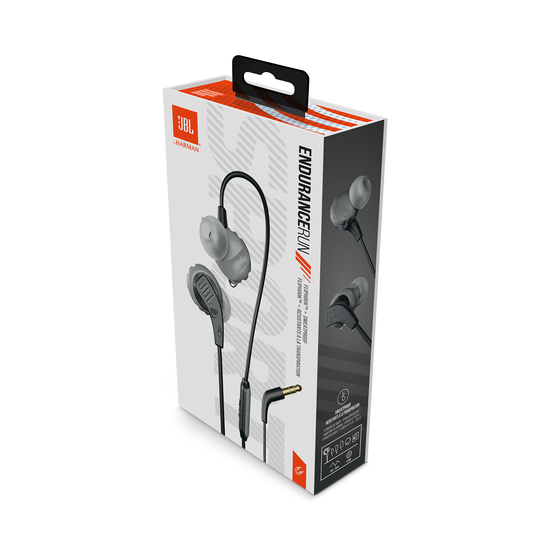 Dokumenter og downloads
Kunde-anmeldelser
Spørgsmål og svar
What is the "JBL signiture sound with Pure Bass" , as stated with the Inspire models, but not the Endurance series?
The "JBL Signature with Pure Bass" headphones focuses more on the bass levels, making you hear a more bassy sound. The Endurance series does not have this feature so you'll hear equal levels of bass and treble.
Date published: 2021-06-06
I bought these headphones today and was looking forward to the song control with even going reverse.However, touching the button 3 times does not lead to jump to the previous track?Twice is going forward as expected, but three times doesn't makeDifference
Hi, I can confirm that this does work as intended. A doubleclick on the button skips forward, and 3x skips back. I would like to advise you to first try this with a different mobile device ( If you have an IOS device, try it with an Android, and of course vice versa if you have an Android :) ) If this still doesn't work, please return with the headphones to the store where you have bought them, so this can be investigated for you. Our Customer Support team is of course also able to assist you where needed
Date published: 2021-06-06
Can these be used with a car stereo that has bluetooth?
As the name suggested, JBL Endurance RUN Sweatproof "WIRED" Sports In-Ear Headphones, this is not a Bluetooth device. Using this with Bluetooth ONLY device is not recommended, device with a 3.5mm jack would be a better choice.
Date published: 2022-11-23
Is this earphone in Australia 
It's available in Australia from JB Hifi and Big W among other stores.
Date published: 2021-06-06
Are these the same earbuds that come with the Samsung Note 8 ? I seem to have lost the JBL earbuds that came with the Note 8 and I really enjoyed them!
No these aren't bundled with phones, I believe you may be looking for the "Tuned by AKG" Samsung earphones which are Samsung model number EO-IG955. Watch out for fakes of those, the real ones tend to be around $40 or more.
Date published: 2021-06-06
Why are both ear phones labelled with an R and an L, which side is which?
The gimmick is these can be worn over your ear with the cable going up, but when doing so they go on opposite ears. You should always go by the bottom L/R marking, not top. That way, when you have them with the cable going up, the other marking becomes the bottom one. Another way to remember is that the marking you want will have the letter (L or R) up the right way.
Date published: 2021-10-16
Can the remote control music (i.e. pause, skip song, etc.)?
Yes-you are able to control the tracks. To pause/play press the center button for 1 second. To skip tracks forward press and hold the volume+ button for 2-3 seconds. To skip track backwards press and hold the volume - button for 2-3 seconds.
Date published: 2021-06-06
can i safely use it while taking a shower or in heavy rain? thanks
Hi there, we're here to help. JBL Endurance Run earphones are designed to be sweat proof, using these while having it exposed on water, such as rain could cause water damage to your earphones. We suggest getting JBL Endurance Sprint instead if your main goal is to use your earphones for water related activities. This was designed with an IPX7 rating which protects the headphones from getting damaged from sweating or running during the rain. We see that you're located in Indonesia, so if you need more information please reach out to your local support PT IMS, you can email them at jumari.zen@imsindo.co.id
Date published: 2021-06-06
bvseo_sdk, dw_cartridge, 18.2.0, p_sdk_3.2.0
CLOUD, getContent, 4ms
questions, product