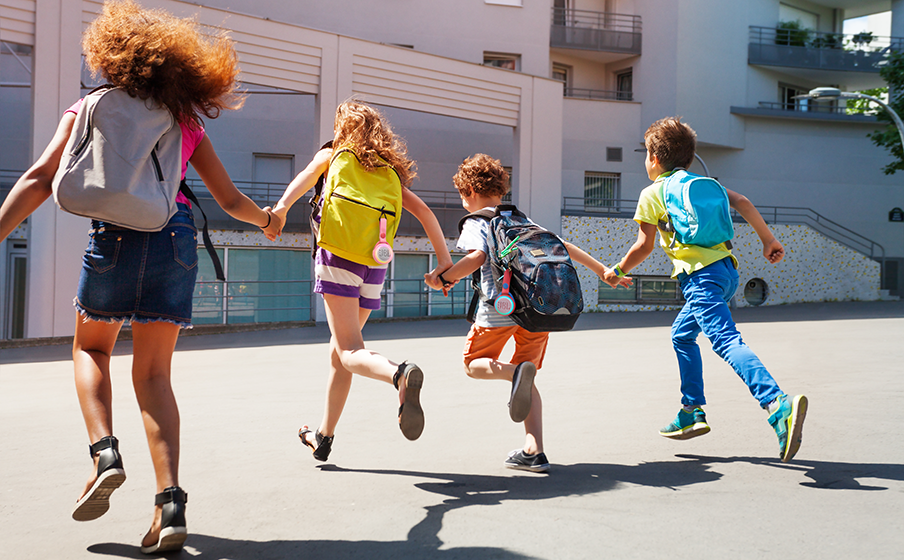 5 timers spilletid
Det indbyggede genopladelige batteri giver op til 5 timers spilletid.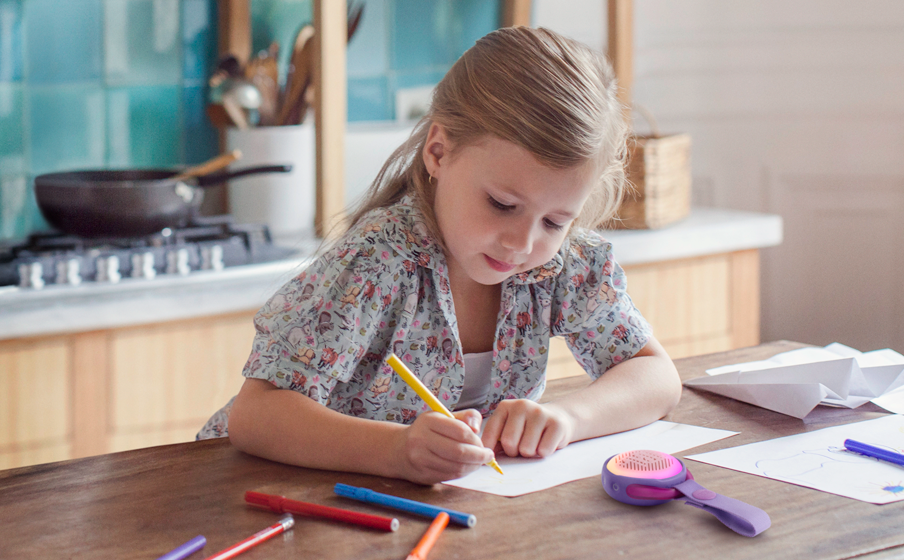 Vandtæt (IPX7)
Tag JBL JR POP med til stranden eller swimmingpoolen. Du behøver ikke bekymre dig over, om den bliver våd - eller endda falder i vandet.
Funktioner

Trådløs afspilning med Bluetooth
Trådløs afspilning af lyd i høj kvalitet fra din smartphone eller tablet.

Indbyggede lystemaer med flere farver
​Designet til at skabe mere sjov og interaktion med indbyggede lystilstande i flere farver. Vælg mellem fem lystemaer.

Ultra-bærbar med rem
Designet er kompakt, så det er nemt at tage musikken med, og børnene kan bruge remmen til at sætte højttaleren fast på deres rygsæk.

Gør den personlig – klistermærkesæt
Børnene kan gøre højttaleren helt personlig med de medfølgende klistermærker.
Detaljer & Downloads
Item# JBLJRPOPPUR
Beskrivelse
Stor lyd til små musikfans

Børn kan feste som popstjerner med Bluetooth-højttaleren JBL JR POP. Forældre behøver ikke bekymre sig, for den er lavet af holdbare materialer og er endda helt vandtæt. Den er udstyret med et genopladeligt batteri, som giver op til 5 timers spilletid. Med de sjove indbyggede lystemaer lever de små musikfans sig endnu mere ind i musikken. Ultra-bærbar med rem, og størrelsen passer til små hænder. JBL JR POP leverer selvfølgelig også den fremragende, berømte JBL-lyd, og den er robust nok til at klare legepladsens udfordringer.
Specifikationer
Lydspecifikationer
Dynamisk frekvensområde (Hz)

190Hz-20kHz
Mål
Mål (inch)

3.5 x 1.6 x 3.0

Mål (cm)

8.78 x 3.97 x 7.55

Vægt (kg)

0.12

Vægt (lbs)

0.27
Specifikationer, styring og tilslutning
Bluetooth-profiler

A2DP V1.2, AVRCP V1.5

Bluetooth-frekvens

2.402-2.480GHZ

Bluetooth sender-modulation

GFSK/DQPSK/8DPSK

Bluetooth sender-effekt

0-4dBm

Bluetooth-version

4.2
Batteri
Ladetid (timer)

2

Spilletid (timer)

5
Egenskaber
Charging cable

Ja

Lysshow

Ja

Vandtæt

Ja

Wireless

Ja

Genopladeligt batteri

Ja

Bluetooth

Ja
Det er der i æsken?
1 x JBL JR POP-højttaler
1 x Micro USB-kabel til opladning
1 x sikkerhedsdataark
1 x lynstartvejledning
2 x ark med klistermærker
1 stk. Garantikort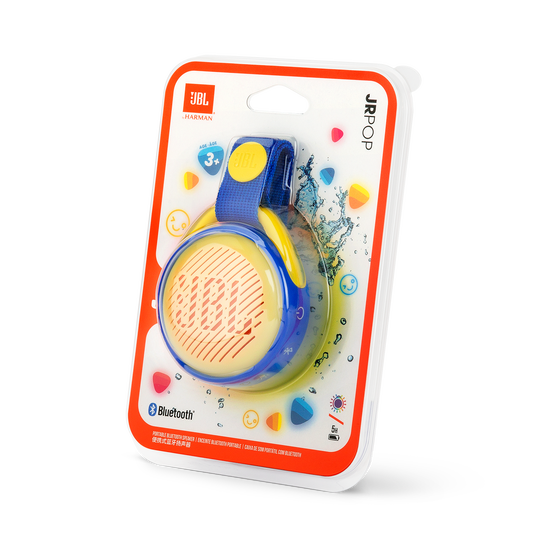 Dokumenter og downloads
Kunde-anmeldelser
Rated

5

out of

5
by
Jenny172
from
Love it!
I just received mine and I was eager to try it out. I am surprised at the sound quality. Sounds so much better than my cellphone speaker. I brought this for me (adult) to use when I go roller skating or to the beach. I think I'll be using it around the house too while the phone charges. You still have to control the music from your phone or device but I really like this. I like that I can strap it to my mini book bag while I skate and still pay attention to what goes on around me. It also has lights, volume control and an on/off button. It's better than I thought it would be. I love it!
Date published: 2020-05-01
Rated

5

out of

5
by
Studio8two7
from
A great visual-sound entertainment!
As we are getting off the car to go walk on the beach we notice the JBL jr strapped to my brother's bookbag. They walked the entire hour singing to their YouTube kid songs as the light kept them entertained from time to time. Great design, colorful and loud enough to entertain the whole family with their dance. A perfect companion for my 3 year old brother and 5 year old cousin.
Date published: 2019-05-02
Rated

5

out of

5
by
Jus Another Consumer
from
Very Cool Speaker For Kids.
I had this speaker for a few days and my 8 year old is really enjoying it. It's cute design and features make it a great for kids in that age group. It's waterproof design is a big plus, and it's color changing light-up feature is definitely very cool (Which btw can be turned off). Bluetooth connection went effortlessly and I was not expecting a speaker this to get as loud as it does. One small issue I had (which isn't specific to his product) is that when the speaker is underwater the music sounds very distorted, and it will be so even after it's out've the water, until the water drains out and dries up. Other than that there's nothing else I'd complain about.
Date published: 2019-04-14
Rated

4

out of

5
by
J123j
from
A great little speaker, but not quite perfect.
I got this speaker as part of JBL's Backstage Pass program a few days ago and so far I like it. It's small, has good sound, and has some features that are good for kids. The light is kinda cool, and the strap is perfect for hanging the speaker from all sorts of kid's stuff. I haven't measured battery life yet, but I would expect it to be quite good. The only downsides to it that I've noticed so far are the lack of an aux input and the lack of a play/pause button. I play some of my son's audio from my Sansa Clip+ through an aux cable, but that's not possible here. And when I use a bluetooth speaker with my phone, I like to be able to play/pause from the speaker. I don't think either of these matter for a kid's speaker though, so this will do the trick on that end. Overall, quite a nice little speaker for kids, if you can live with a couple small things missing.
Date published: 2019-04-15
Rated

5

out of

5
by
Hatnavmom
from
Great Sound Quality
The JBL JR POP is a fun little bluetooth speaker that lights up and can be attached to a belt loop or backpack with a snap button. I found it useful to hang on something outside while the kids played and it worked well too. The button is secure and you don't have to worry about it snapping off of whatever you attach it to. The sound quality is great and the kids enjoyed the fun color and flashing lights. It is made of heavy duty plastic that will withstand drops from active kids. We did not test this out by submerging in water but it sounded fine and there were no adverse affects when it was splashed with water. I received the JBL JR Pop in return for an honest review.
Date published: 2019-04-16
Rated

5

out of

5
by
BBoxxer
from
Awesome for your little rock star!
Our 3 year old son loves this speaker. He takes it into the bath with him, dances around the house with it, and keeps it with his "real things" (i.e. grown-up items, like an old Blackberry that he plays with.) He already loves music, so has gotten a lot of milage out of his POP already. JBL built it nice and tough so despite his best efforts, he won't be able to destroy it! As parents we appreciate the fact that the volume level has been kept at hearing safe levels, so when he sticks it up to his ear he isn't doing harm. All around great product that we will use for years to come!
Date published: 2019-04-18
Rated

5

out of

5
by
_Jennifer_
from
Amazing sound
I didn't expect the quality of the sound coming from a small device to be so good! I'm definitely impressed and have joined the JBL family for life!
Date published: 2020-05-11
Rated

5

out of

5
by
Mickey freak
from
Good sound small enough to carry at work and listen to
Date published: 2019-06-18
Rated

2

out of

5
by
HennaByJax
from
Ummm. It's colorful.
Bought this for the skate crew. Everyone got one actually. The volume is very low. Not ideal for groups of people. They speakers don't connect to eachother like we thought. Mine doesn't hold a battery very long either. But. It does work. So. Great for that.
Date published: 2020-05-21
Rated

5

out of

5
by
Kapil
from
Great features in a compact package!
My 10 year old son has been using this for a couple weeks now and he loves it. His main use-case is moving around with his iPad and playing video games and using this speaker as his output audio device. Quite convenient for him to carry around, and the light show that it provides is quite futuristic and actually practical, such as when he's riding his bike in the night he is able to listen to his music as well as be clearly visible for nearby drivers. His sister has the JBL Clip and he likes this one because of the cool lights. He thinks the sound is great and louder than he expected. The strap is super useful allowing the speaker to be attached to a variety of surfaces (such as a bike handle or shower bar). Overall great speaker.
Date published: 2019-04-25
Rated

5

out of

5
by
Nichole420
from
Small but loud.
I bought this to listen to while kayaking. It's smaller then i expected but don't let that fool ya. It's loud and sounds great
Date published: 2020-05-06
Rated

5

out of

5
by
Melle78
from
Love Love Love
I brought this for my triplets to hang on their stroller when we take afternoon walks. I love it so much. It has a great sound to be so little and my girls (17 months old) love the lights. I must admit I love the lights also, they are so pretty. I think I use this speaker in the house more than on their stroller. I wish I would have brought myself one and I have 8 Bluetooth speakers already but love this one.
Date published: 2020-07-14
Rated

5

out of

5
by
SWFarmHouse
from
Super Fun!
Bought this for the speaker to use out by the firepit at night. It's fun and fabulous with the lights which also help to keep it from getting lost. If I'm using other times, it is very convenient to turn the light off. It's small and convenient to use with the strap being able to attach to clothes, packs and purses I've tried so far and the size doesn't affect the JBL's awesome loud crisp speaker sound.
Date published: 2020-11-09
Rated

5

out of

5
by
Soorena
from
Lovely lollipop, Great device for everyone, Small but powerful in its own right. I like it.
Date published: 2019-07-16
Rated

5

out of

5
by
Mila walks
from
Love it
Bought it and very easy to connect. Had a cool vibe to it, can't wait to take it to the beach.
Date published: 2020-05-04
Rated

5

out of

5
by
Vonna
from
Great Size
Small but packs a great punch. I love it it's very portable but still is loud.
Date published: 2020-05-13
Rated

5

out of

5
by
jjjj123
from
Changing colors a bonus
My one year old grandson carries it around and dances his little feet off.
Date published: 2020-09-17
Rated

4

out of

5
by
Alyssa C
from
My son loves this!
We purchased this because my 3 year old is constantly stealing our speakers to listen to music. Of course we have to set it up for him, but he carries this thing around like it's gods gift to Earth. We strap it on his stroller wagon when going to the park and it has help up wonderfully to the weather and getting beaten around in the back of my car while traveling. He absolutely loves the lights, it's light weight, it's easy to clip on and off, very durable, waterproof, floats, has great sound quality, is easy to pair up - what else could you want? Like other reviewers mentioned, I would like a play/pause button, but we can live without it. I would highly recommend this if you're in the market for an affordable, quality, durable speaker.
Date published: 2021-08-13
Rated

5

out of

5
by
Handy Andy
from
Fun Little Speaker!
We've been using this little speaker for a couple of weeks now. It is very easy to pair up with our android phones first off, so that's nice. We've used it for music while the kids are in the tub, we use it for music in the shower in the morning, and have used it for bedtime soothing music. The color changing light show can be turned on for "dance party mode" as our kids call it, or turned off if you just want music. Its nice not having to worry about water getting splashed on it from the tub or shower. The sound isn't huge, but it is pretty impressive for a speaker the size of a hockey puck. We haven't had to charge the battery yet listening to it for a half hour or so about every other day, so I'd say the battery life is also pretty good for it's size.
Date published: 2019-04-22
Rated

5

out of

5
by
BGDell
from
Great speaker and durable too!
Bought this fir my son who has special needs. He loves music and loves to hold this speaker in his hands and listen to music on Spotify. Sound quality is great and it's durable after being thrown a couple times. This makes a great gift for kids!!! I bought a second one to leave at school. They use it to motivate him during physical therapy!
Date published: 2021-02-13
Rated

4

out of

5
by
Sean322
from
ChildProof
I would recommend it to someone with our without kids. It certainly stands up to the rough nature of a kid and offers a low price option in an ever growing speaker market. Having good durability and above average sound are the key features in a travel speaker. This speaker tackles all of the above with additional flare. I allowed 7 Days for both myself and Daughter to use this product before leaving this review. I will list the Pros and Cons from both our views to humor you! Adult Pros: Good sound below 75% volume Cool Color housing Lights to music interesting Durable for both Waterproofing/Dropping Good battery life Favorite is the snap strap to hang it on things/ better than clip Kid Pros: "I can use this for bath time?!?" *Drops it 14 times in one day...Keeps on playing "Look at the pretty lights." Adult Cons: Uses Micro Usb instead of USB C Sound over 75% gets very muddy Kid Cons: "its not working" (Battery died/Impatiently waited for it to recharge)
Date published: 2019-04-19
Rated

5

out of

5
by
PeggySue
from
Not just for kids
Got this for my music loving, always singing, three year old. She absolutely loves it and takes it everywhere. Her dad is a cyclist and will be purchasing another one for when he rides. He rides at night so the lights help so that he could be seen by drivers and he could turn off the lights if he wants too. Great sound, sturdy, not great once water touches the face of it though, you can't really hear anything once it goes into water. You'll have to blow the water away from the speaker for it to sound clear again.
Date published: 2020-08-21
Rated

5

out of

5
by
SurfCity
from
Excellent
This little speaker is a beast. I bought it to take surfing with me so I could connect it to my fitbit and listen to music while I wait for waves. I have taken it out on five different occasions now. Been absolutely slapped around by wind, sand, and water, and this little guy does not care. Perfect performance throughout. My only note is that water does tend to get caught in the mesh cover and reduce sound quality, but a quick blow-off and it's right back as if nothing happened. Best $25 I've spent in a while.
Date published: 2020-06-15
Rated

5

out of

5
by
MNKY
from
Great for kids!
The JBL JR POP is the perfect portable speaker for kids. My daughter had a very easy time figuring out how to connect by Bluetooth, power on and off, turn the lights on, and unclip the strap to hang it anywhere. The sound is amazing! Lights are very pretty and fun! The product is super light weight so easy to take along on a backpack, bike, or just holding it. Great durability when it is accidentally dropped. The package was very easy to open. Charging is a breeze. Speaker does go for hours! Love this product!
Date published: 2019-04-12
Rated

5

out of

5
by
Loomie25
from
Perfect product
I received this product to test and i must confess I have concerns about returning it. My little one has taken to the product instantly. Volume level is finely balanced. Not too loud. The lights around the speaker also add to the attraction. He takes it everywhere and hangs it anywhere he can. The design is also very practical and sturdy at the same time stylish I might have to get him a Spotify account now. A truly amazing product
Date published: 2019-01-15
Rated

5

out of

5
by
Harley Qs mom
from
Big sound that doesn't break the bank
I was looking for a small portable Bluetooth speaker. I looked at the JBL Clip and ultimately went with this one. The clip was $70 compared to the $25 dollar price tag for JBL Jr Pop. The Jr Pop offers the great sound you'd expect from the JBL brand with added benefit of being durable enough to handle all a kid could throw at it. Also the strap makes it easy to attach to almost anything! Did I mention the $25 price tag??? Will definitely be picking up another one for this forty something kid at heart!
Date published: 2020-08-06
Rated

5

out of

5
by
Kalicat
from
Super fun and neat!
I received this item as part of the JBL Backstage pass program. I wanted to take the time to use it before writing a review. I've taken this product to the beach and the pool. JBL has outdone themselves again with the quality in sound. The JR Pop gets pretty darn loud!! The only thing it's really missing is the bass. I have a JBL Flip and love my bass. However, this item is intended for kids, so it's fine without. My favorite feature is the LED lights. It makes this item very neat and fun, but also serves a purpose if you are wearing it an night time for better visibility. Also, this item is waterproof, so I put it to the test and threw it in the pool. The speaker didn't play while wet, but it's definitely waterproof! It's also buoyant, which is awesome! It just floated in the pool. Very cool, JBL!! As far as I can tell, this is a great item for kids. Thank you JBL for allowing me to be a part of the Backstage pass program. I love my JBL speakers!!! P.S. JBL has great customer service. I've had to call the regarding previous purchases and they were fantastic.
Date published: 2019-04-24
Rated

5

out of

5
by
Alty
from
Kid loves it, Practical and durable.Great Value !
My son has been using this for over a week now and absolutely loves it. its very practical and he can attach it to his bike and bag and the ligthing effect really helps him stand out among his friends. i like that its waterproof so he can take it to the pool. its also made to last and can take common kid accidents and it has already survived a few drops in the house. we also like the rubberized exterior which makes it easy to maintain as we jsut wipe it with a wet cloth and its like new again!
Date published: 2019-04-15
Rated

3

out of

5
by
Austin0714
from
Good for kids
This product is very good quality for kids. lights the sound and the durability if all very good for kids . I would recommend it for a kids that is about 8 or younger parents it's a mist buy for you kids
Date published: 2019-04-10
Rated

5

out of

5
by
Britania
from
Better then I thought !
My husband bought this for our son. The sound quality is amazing and loud for this little speaker ! I bought myself one and my husband got himself one. We clip them to our kayaks when we are out kayaking ! My son loves it he is 8 years old. He also likes to bring it with him in the yard when he goes swimming and brings it with him on his bike. Did I mention the sound quality is amazing ! You won't regret buying it. Like I said we bought 3. It also makes a great gift or stocking stuffer.
Date published: 2020-08-09
bvseo_sdk, dw_cartridge, 18.2.0, p_sdk_3.2.0
CLOUD, getReviews, 6ms
reviews, product
Spørgsmål og svar
Will it work if the device is in an adjacent room?
Definitely. The speaker will work anywhere. It does not limit to what room or space it is in.
Date published: 2021-06-06
How does it work if I get a call or message? Does it interupt the music? 
Thank you for your question. When you use the JBL Pop and the connected sound source receives a phone call, the music will mute and the music will turn back on when the call has ended. Text messages should not affect the music. Should you wish to receive further support, you may contact the Harman Customer Support team by telephone, email or chat in order to receive direct assistance. Please see https://dk.harmanaudio.com/support-contact.html for further details. Thank you.
Date published: 2021-06-06
Can the lights be turned off?
Thanks for reaching out. If you want to turn on/off the light mode, just press the light button. If you have other questions or inquiries, please submit a case request at https://www.jbl.com/support-contact.html and the Customer Service Team will be more than happy to assist you.
Date published: 2021-06-06
Hi, Can the Bluetooth name be changed on the JBL JR POP?
Hi Jesper, and thank you very much for your interest! There is no provision in the JR POP for changing the BT name. Only if your phone offers this option, can you do it, and then you will find that it is possible with other BT speakers as well. A model such as Charge 4 has this option, in the app that we have for BT speakers. I hope this helps.
Date published: 2021-06-06
Does this speaker have a port to plug in devices that do not have bluetooth?
Our JBL JR POP does not have an aux port to connect wired devices that doesn't have Bluetooth. If you have more questions, please contact us here. https://bit.ly/2zwFkYM
Date published: 2021-06-06
Is it possible to sync multiple JBL Jr Pop's together to play the same song while connected to one device?
Unfortunately, our JBL JR POP doesn't have the JBL Connect/Connect+/PartyBoost feature that will allow this.
Date published: 2021-06-06
Does it float in water
Our JBL JR POP has an IPX7 rating, which means that it can be submerged 1 meter (3.3feet) underwater for up to 30 minutes, but it doesn't float on water.
Date published: 2021-06-06
Can you use this speaker in the shower?
Hello Jackie, Thank you for your question! Yes, the speaker can be used in the shower. All JBL portable speakers are fully waterproof by design. Jaunius
Date published: 2022-07-26
Is the JR POP just as loud as the regular speakers..?
Our JBL JR POP still delivers the great JBL signature sound so it is a loud as regular portable Bluetooth speakers. To learn more about the JR POP, you may visit our website at :https://www.jbl.com/bluetooth-speakers/JR+POP.html
Date published: 2021-06-06
Does it have an aux connection? And how does it charge
No, it only uses Bluetooth to receive and play music. It comes with a micro USB cable that you can use with your existing phone or USB devices' power adapter. It should be rated 5V with at least 1A of current.
Date published: 2021-06-06
Will this pair with Alexa or other smart speakers?
Our JBL JR POP doesn't support voice assistants.
Date published: 2021-06-06
What is the sound quality for playing classic music? 
Our JBL JR Pop performs well on a Classical music since it does not need too much punch on the lower end. The highs and mids should sound clear.
Date published: 2022-06-01
How loud is the speaker?
Our JBL Jr Pop has a Frequency response of 190Hz–20kHz.
Date published: 2021-06-06
Can you use the jbl connect app with this speaker?
Thanks for your interest in our product. Our JBL Jr Pop can't be used with the JBL Connect app because it does not have the Connect feature.
Date published: 2021-06-06
Hello! What is the range of this speaker? (e.g. If i had my phone 35 feet away can I still hear my music?)
The Bluetooth range is up to 33 feet depending on the obstacles and interference blocking the signal going to the speaker.
Date published: 2021-06-06
Does this pair with an apple watch as well?
Yes, JBL JR POP can pair with Apple Watch via Bluetooth connection. Jaunius
Date published: 2022-07-26
When will this product be restocked in colors besides pink? I really hope this product is not being discontinued.
Our JBL JR Pop is not yet discontinued and will be restocked with different colors this month.
Date published: 2022-07-26
How do I know when battery is at full charge ?
Our JBL JR Pop has an LED indicator in the side of the speaker that lights up when it's fully charged. Some phone models will show the battery level of your connected devices.
Date published: 2022-07-26
how close does the speaker have to be to the phone
Thank you for your question. The Bluetooth signal between your phone or tablet and the speaker must be within 6 meters. Further away than that and the connection will drop or start to have dropouts and interference. Should you wish to receive further support, you may contact the Harman Customer Support team by telephone, email or chat in order to receive direct assistance. Please see https://uk.harmanaudio.com/support-contact.html#ns for further details. Thank you.
Date published: 2021-06-13
Are you abe to change the track on the speaker instead of kids having access to my device?
Our JBL Jr Pop has controls on the speaker for adjusting the volume, turning the lights on or off, or Bluetooth pairing. The music or track control can only be made through the connected device.
Date published: 2021-06-06
Can you pair this speaker with the second generation IPad?
They should be backward compatible. But - since each version brings new functionalities with it, only the basic function set is backward compatible all the way.
Date published: 2021-06-06
If i connect my device to my phone and I move a couple of feet away from the speaker, the music is staticky. Is that normal? 
Yes, it is normal when there are strong Wireless devices nearby or obstructions between the JBL JR POP and the source device.
Date published: 2021-06-06
Can I pair 2 JBL JR POP Waterproof Portable Bluetooth Speakers with one device
Thank you for your question! It is unfortunately not possible to pair two JBL JR POP speakers to one smartphone as they do not support Dual Audio. If this advice does not help you to solve the problem, we invite you to contact the Harman Customer Support team by telephone, email or chat in order to receive direct assistance. Please see https://uk.harmanaudio.com/support-contact.html#ns for further details. Thank you.
Date published: 2021-11-21
I got mine today but I'm having problem pairing it , it won't recognize it on any device I have ( iPhone 11 , iPhone7 , hp laptop , how can I fix that problem ? I'm following all the instructions but it's not possible 
We would like to get more information to help you out, please contact us so we can assist you:https://bit.ly/3hH8oBR
Date published: 2021-06-06
bvseo_sdk, dw_cartridge, 18.2.0, p_sdk_3.2.0
CLOUD, getContent, 18ms
questions, product