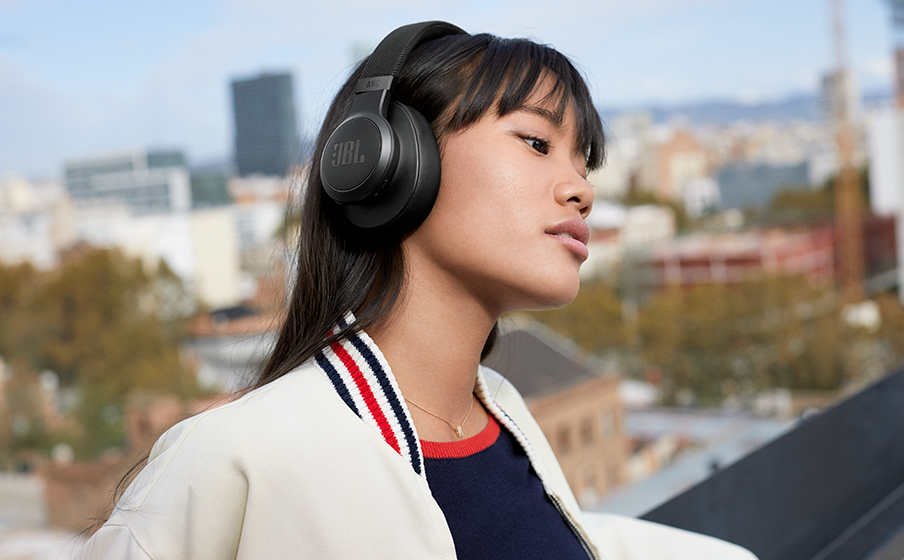 JBL's berømte signaturlyd
40 mm-enheder og en lydsignatur, der genfindes på de mest berømte spillesteder over hele verden.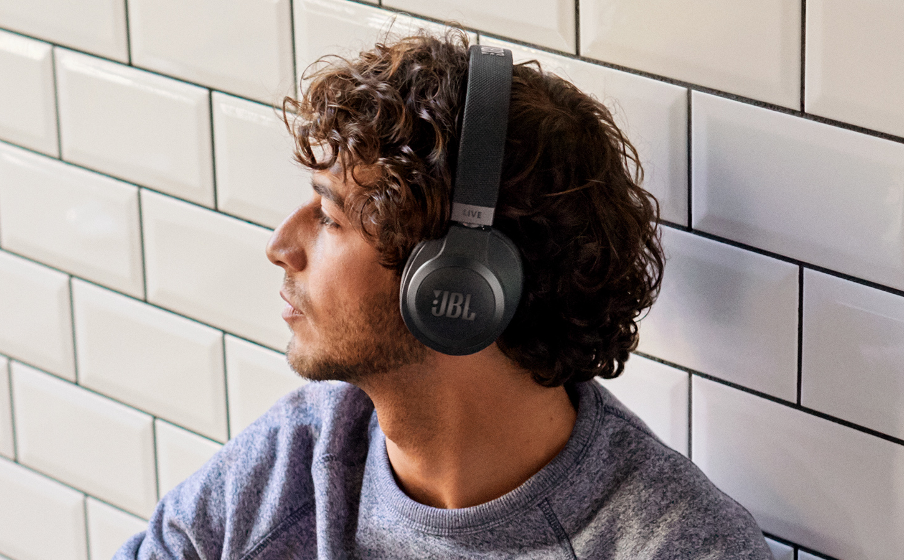 Hold støjen ude. Eller inde. Du vælger selv.
Hold støjen væk, og bevar fokus på musikken, med den adaptive støjreduktion. Med Ambient Aware-teknologien er det sikkert for dig at gå på trafikerede gader, fordi der skrues op for de omgivende lyde. Med TalkThru dæmpes musikken, mens tale forstærkes, så du nemt kan snakke med folk uden at tage hovedtelefonerne af.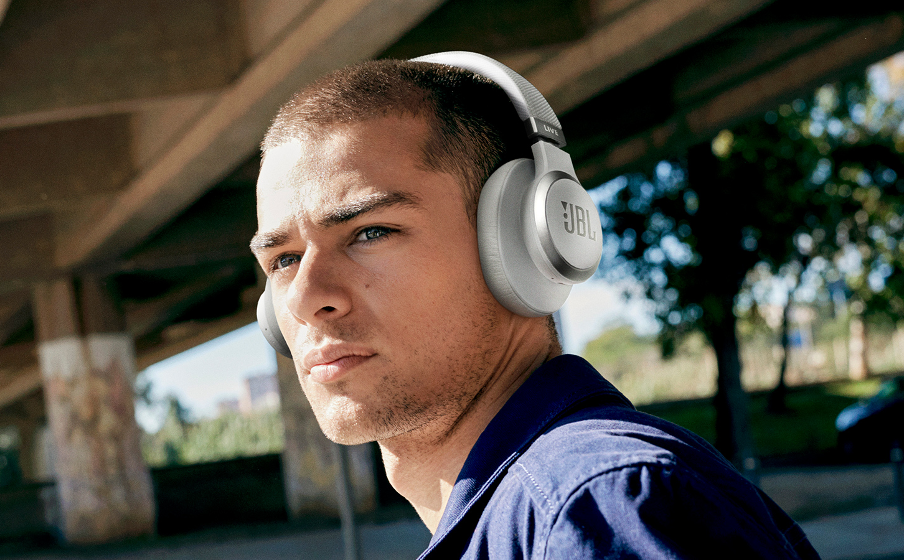 Få hjælp bare ved at bruge din stemme.
Få hjælp fra din foretrukne stemmestyrede assistent ved at bruge din stemme eller trykke på ørekoppen. Aktiver aktiv støjreduktion eller Ambient Aware, tjek batteritid, eller sluk for JBL Live 660NC - blot med din stemme og Hey Google. Brug den helt nye JBL-app til nemt at indstille dine foretrukne stemme-assistenter. (*) Understøttes kun på Android. (**) Android 6.0 eller højere er påkrævet for fuld adgang til Alexa-funktioner, når denne enhed bruges.
Funktioner

Håndfri samtaler i perfekt stereo
Hold kontakten til din verden ved at styre telefonopkald med knapperne på ørekoppen. Mikrofon-teknologien giver opkald i perfekt stereo. Med VoiceAware kan du regulere omfanget af det mikrofoninput, der sendes tilbage til ørepropperne, og vælge hvor meget du vil høre af din egen stemme.

Op til 50 timers batteritid og lynopladning
Rock igennem i op til 50 timer (eller op til 40 timer med ANC og Bluetooth tændt)! En hurtig opladning på 10 minutter giver dig hele 4 timers ekstra spilletid. Dine hovedtelefoner tilpasse sig dig, ikke omvendt. Lyden og funktionerne i JBL Live 660NC-hovedtelefonerne kan nemt personliggøres med den gratis app My JBL Headphones: Skift EQ-indstillinger, vælg din foretrukne stemmeassistent, juster Smart Ambient-indstillingerne og meget mere ved at hente den gratis app.

Behagelig pasform med hovedbøjle af stof og etui
Live 660NC er formet omkring dit hoved med en velsiddende hovedbøjle af stof og bløde ørepuder, som er super-komfortable. Det bløde etui beskytter hovedtelefonerne, når du er på farten.

Automatisk afspilning/pause
Din musik sættes automatisk på pause, når du tager hovedtelefonerne af, og starter, når du tager dem på igen. Du behøver ikke engang tænke over det.

Flerpunktsforbindelse
Gør det nemt at skifte fra én Bluetooth®-enhed til en anden. Du kan nemt skifte fra en video på din tablet til et opkald på din mobiltelefon, så du aldrig går glip af en samtale.

Google Fast Pair
Takket være Googles Fast Pair-teknologi forbindes JBL Live 660NC øjeblikkeligt til din Android-enhed. Du kan også parre flere enheder ved blot at trykke på enhedernes skærm.

My JBL Headphones-app
Dine hovedtelefoner tilpasse sig dig, ikke omvendt. Lyden og funktionerne i JBL Live 660NC-hovedtelefonerne kan nemt personliggøres med den gratis app My JBL Headphones: Skift EQ-indstillinger, vælg din foretrukne stemmeassistent, juster Smart Ambient-indstillingerne og meget mere ved at hente den gratis app
Detaljer & Downloads
Item# JBLLIVE660NCBLK
Beskrivelse
Tryk på afspil, luk forstyrrelser ude.

I din verden er musik altafgørende, så tag et par JBL Live 660NC på, og gør din dag endnu bedre. JBL Live 660NC-hovedtelefonerne er udstyret med effektive 40 mm-enheder, som leverer den berømte JBL-lyd med forbedret bas, så hvert eneste nummer lever. Og når musikken er det eneste, der betyder noget, kan du med den adaptive støjreduktion lukke-omgivende lyde ude, så intet forstyrrer dig. Ambient Aware holder dig sikker, når du går på gaden med musikken tændt. Og med TalkThru kan du snakke med folk uden at tage dine JBL Live 660NC af. Brug for en hjælper i hverdagen? Få hjælp fra din foretrukne stemmeassistent med din stemme eller et tryk på ørekapslen. urn:oasis:names:tc:xliff:document:1.2http://www.gs4tr.org/schema/xliff-ext​Hvis du opsætter Hey Google, kan du aktivere funktioner på dine JBL Live 660NC blot med din stemme. Ren magi! Hovedtelefonerne er lette og komfortable takket være det blødt-polstrede hovedbånd. Du kan nyde op til50 timers trådløs musik med aktiv støjreduktion slukket. Samtaler afspilles i perfekt stereo, og med det praktiske aftagelige kabel kan du rocke videre, selv om batteriet er tomt. Når de ikke er i brug, sættes dine Live 660NC automatisk på pause, og de begynder at spille igen, når du tager dem på. Slå dig løs, mens du stadig er tunet ind, med JBL Live 660 NC-hovedtelefonerne. (*) Understøttes kun på Android. (**) Android 6.0 eller højere er påkrævet for fuld adgang til Alexa-funktioner, når denne enhed bruges.
Specifikationer
Enheds-størrelser (mm)

40
Lydspecifikationer
Enheds-følsomhed ved 1kHz/1mW (dB)

97 dB SPL@1 kHz/1 mW

Dynamisk frekvensområde (Hz)

16 Hz – 20 kHz

Impedans (ohm)

32
Mål
Vægt (g)

265

Hovedtelefonernes kabel-længde (m)

0.2

Headphone Cable Length (ft)

0.7

Ear Cup External Height (in)

3.7

Ear Cup External Width (in)

3

Ear Cup Internal Height (in)

2.5

Ear Cup Internal Width (in)

1.9

Ear Cup Depth (in)

0.8

Højde (cm)

9.3

Bredde (cm)

7.6

Indre bredde (cm)

6.4

Indre højde (cm)

4.7

Dybde (cm)

2.1
Specifikationer, styring og tilslutning
Bluetooth-profiler

HFP V1.7, A2DP V1.3, AVRCP V1.6

Bluetooth-frekvens

2.4 GHz – 2.4835 GHz

Bluetooth sender-modulation

GFSK, π/4 DQPSK, 8DPSK

Bluetooth sender-effekt

< 10 dBm

Bluetooth-version

5.0
Batteri
Ladetid (timer fra helt afladet)

2

Maksimal spilletid uden aktiv støjreduktion (timer)

50

Maksimal spilletid med aktiv støjreduktion (timer)

40

Maksimal spilletid (timer)

50
Egenskaber
Bluetooth

Ja

Charging cable

Ja

Adaptiv støjreduktion

Ja

Lader lyd fra omgivelserne passere

Ja

Indbygget mikrofon

Ja

Stofpose

Ja

Bekvem og velsiddende stof-hovedbøjle

Ja

Håndfri opkald

Ja

Den berømte JBL-lyd

Ja

Flerpunktsforbindelse

Ja

Over-ear

Ja

Genopladeligt batteri

Ja

Fjernbetjening på ørekopper?

Ja

Lynopladning (5 min. = 1 t spilletid)

Ja

Multifunktionel TalkThru-knap

Ja

Trådløse

Ja
Det er der i æsken?
Live 660NC
Lydkabel
Type-C-opladningskabel
Etui
1 x garanti / advarselsark
1 x startguide / sikkerhedsdatablad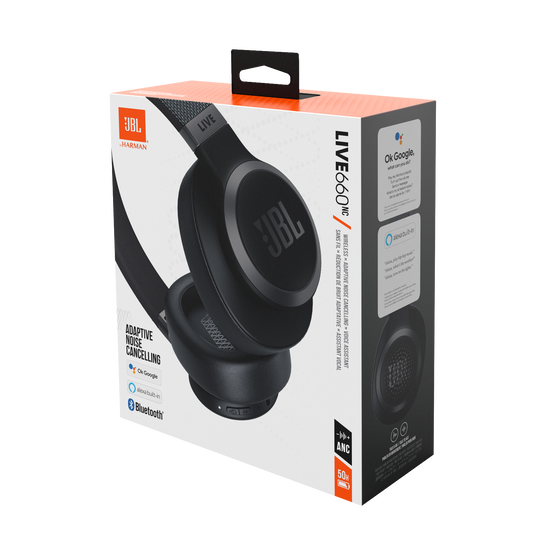 Dokumenter og downloads
Kunde-anmeldelser
Rated

2

out of

5
by
ThDis
from
Faulty/ bad warranty-performance
The headphones seemed to be great - good app, great sound. Since I couldn't charge the battery I had to send it in at JBL Germany, where I currently live. The headphones that were barely 3 weeks old when I had to send them in at some repair-service-firm. Neither can I get hold of anybody competent at JBL Germany nor does anybody of their repair-service react to my mails. I'd have expected JBL to send a replacement immediately instead of which I've been a longer time without than with these headphones. Summary: Probably good headphones, very bad warranty-/repair-service.
Date published: 2021-11-19
Rated

5

out of

5
by
SantiagoG6
from
Live Sound Quality + Easy2Use Handsfree Features!
Durability 5/5 Battery last forever so do not have to worry about having to charge them everyday or every other day. They are built really well. Ear muffs are real leather and the build and quality of them do not feel plastic like at all. Definitely headphones you can take with you anywhere. Carrying Case Helps Alot. Sound Quality 4/5 What you expect of JBL Sound Clear Crisp Defined Sound that makes you feel like you are in the Studio. While I wish they were louder cannot complain about what I am getting for the price. Technologically Advanced 5/5 Will Pause Music When You Take Them Off and On! Adaptive Noise Cancelling, Google Assistant to where I can play music and make phone calls without grabbing my phone or having to go into my music app saves me time and makes it very convenient. Value 5/5 Everything you get for this price and the features in these headphones will keep you out of the headphone market for a good while and provide you longevity for the future and updates with the JBL app that will give it access to new features or upgrades it gets in the future. Comfort 4/5 Are Adjustable and fit any kind of ear, Really Comfortable and don't fallout. Just be aware can get hot and sweaty after a while of wearing them if you are using it for active use so make sure you wipe it down so that you don't get anything in them. More Detailed Review Below: Durability: 5/5 These Headphones are very sturdy and will hold up well for your active listeners. Helps Also they come with Carrying Case for the Gym! The ear muffs are leather and they are not plastic like and seem like they really put good work and quality in them I am impressed. The battery has lasted me for almost 5 days after full charge from using them at the gym and I work out for about 1 to 2 hours. So the standby time and active time cannot be beat after 10 hours of active time and over 5 days of standby time. Sound Quality 4/5 Sound is crisp can hear every instrument as well as your lows, mids and highs. Almost makes you feel like you are listening to your music in the studio or in person. Love the three features on the headphones where you can activate adaptive noie cancelling , have it off or even activate the headphones to have a clear conversation with anyone. One thing I will mention is be careful what app you use to listen to your music My Amazon Music with HD played louder and clearer than my Spotify. For a moment I was wondering why the music wasn't as loud and I discovered it was from that. Still wish the headphones could go a little louder in my opinion. Technologically Advanced 5/5: These headphones work for you and connect you in more ways than one. When first turning on I learned I can connect them thru the JBL App which allows me to set them up and keep them updated so its nice to know a company that provides update for their headphones meaning that even after a year they can have some of the same features and access as new ones release which helps with longevity of the headphones. I love the feature where whenever you take your headphones off it pauses the music and when you put them back on it plays again! Google Assistant is awesome on these headphones you can actually get access two ways. One by tapping your left headphone or activating voice recognition which just by saying Hey Google and say your command she does whatever you ask like send text message play music which means I don't even have to open my music app to listen to music or make a phone call. It does it for me from these Headphones that is awesome. You can of course with the buttons on the headphone itself pause music, skip/previous song, accept/hang up calls, pause calls and your normal volume up and down buttons which complete the easy accessibility and convenience these headphones provide. Value: Cannot beat the price for everything you get with these headphones and like I mentioned before the durability and build of the headphones itself to where they fit comfortably, the clear and crisp sound of the headphones and last but not least the JBL App and Features these provide will make you not have to replace your headphones for a while. Comfort: They fit well and are adjustable and the ear muffs can cover a wide variety of ears from small to big to which my ears were small and my big brothers were big and it fit both of us well. They also stay put well too to where if you do decide to do exercise they are not cumbersome and uncomfortable. Only thing I would say is they can get a little hot and can get sweaty when working out which is normal not alot of breathability when wearing them only thing that could bother someone. Honestly my days at the gym just got better and I might go more often since now I can listen to the JBL 660NC there and enjoy them and not worry about having to hear anyone or anything just the music unless I am taking a call of course.
Date published: 2021-04-29
Rated

4

out of

5
by
Joshuamez66
from
Great headphones but a little small for me.
Great headphones that sound great and are comfortable to wear. They have a nice bass to them along with clear highs and mids. The noise canceling works well (almost as good as my sennheiser px550) and with the app it works great and is easy to change settings. However the headphones are a little small for me. I would say I have a medium head with slightly larger ears than the average. The headphones themselves are comfortable but the ear cups are small. They are on ear headphones for me instead of over ear like they say. But they do fit my girlfriend ears perfect.
Date published: 2021-04-27
Rated

5

out of

5
by
Sinuhe_0123
from
Son loves these headphones!
These headphones have some really good sound and the noice canceling is also very good. I wear them for around 8 hours per day and I don't feel any real discomfort. Bluetooth pairs nice and the voice assistants also work great. I like the feature when the music stop after I remove my headphones and then resumes the music once I put them back on. It is also nice that you get a power button/slider to completely power off the unit when it is not in use. Phone call quality is also very good. My son tried out these headphones after I used them for a week and he took ownership of them now. I'm very happy with this product and it is definitely a good purchase if you are looking for a pair of headphones.
Date published: 2021-04-28
Rated

5

out of

5
by
Jcuevas
from
Amazing feature packed headphones!
I have been using the Live 660NC for a week now. Upon receiving them and opening them up I first charged them using the included usb-c cable. They charged very fast. After using them for almost a week and for a few hours a day, they are still almost fully charged. Rated for up to 50 hours of listening time on a single charge. Pairing was easy. Once I turned them on and paired to my iPhone I utilized the Jbl Headphone app to setup more features. The app asks what assistant you would like to utilize. Your options are Google or Alexa. I'm using Alexa at the moment. Using the assistant requires you to either touch the left ear cup or simply say the assistant's name. I typically call upon Alexa using moderate volume to turn on and off lights in my house and switching my alarm on and off. Works quickly and flawlessly. Great feature to have built into a headphone. The app also allows you to adjust the NC feature. You can have it on or off. Adjust your ambient awareness by amplifying the sound around you. Talk through raises ambient awareness and reduces Audio listening volume in order to have a conversation with someone while utilizing the headphones. NC works great with no annoying hissing at zero volume. The fit is a little tight but that is to aid in the function of NC. If they are to loose then the feature would work poorly and make unwanted sounds through the speakers. Sound quality is on point. The app allows you to adjust equalizer curves but I enjoy them flat. All sounds from bass to treble are present with nothing under or overbearing. Just a clear full sound at any listening volume. These get decently loud without hardly any sound leakage. The headphone are built tough! Super soft ear cups and strong headband with plenty of adjustment. I am truly enjoying these. They are my new go to headphone due to the sound quality, features and how comfortable they are to wear. I use them for hours without fatigue. I have headphones that have similar features but these are superior in every way. I highly recommend the live 660NC!
Date published: 2021-04-29
Rated

4

out of

5
by
Cosmo10911
from
Great Active Noise Cancelling w Fun Features
I do a lot of airplane travel for work and wanted to try the latest offering at a price that didn't break the bank. I chose to try the JBL Live 660NC active noise canceling headphones. Right out of the box...Wow! Great quality for the price! Not nearly as expensive as the competitors but equally as good if not better. My Breakdown: MATERIAL QUALITY: VERY GOOD-top of the line feel of the headphones. They are padded, comfortable and look cool! Everything is expensive to the touch and feels very durable. CARRYING CASE: Probably the weakest link for this product. It is a nice soft touch bag. It does work but when I am travelling, I would prefer to have the protection of an actual case. Still, though, not a deal breaker at this price point. COMFORT: out of the box they were a bit tight around my head/ears. However, after wearing them a few hours and stretching the cones apart, they were very comfortable. The headband is metal and will retain whatever shape that fits your head. BLUETOOTH: 5.0 it works well and can connect multiple devices. I had no issues with dropout. I was also able to get up from my airplane seat to go to the bathroom 7 rows up and no dropout. BATTERY: plays about 40 hours (with BT and NC on) but only requires 2 hours charge time. Superb! It uses a universal type C charging cable. NOISE CANCELLING: Noise cancelling is adequate. It will completely isolate average background noises (talking, intercoms, general "shopping mall" noises etc). It does struggle a bit with airplane engine noise when taking off and landing. Don't get me wrong, it does cancel the noise ...just not completely which is fine with me. There is a bit of "static" that can occur when landing as the engines are revved up to slow down the plane. It is not consistent but it can occur. It is a known limitation but once again...it is minor and doesn't detract from these headphones. There may be others out there that cancel airplane noise better but they don't sound as amazing as these and they are much more expensive. AMBIENT AWARE: When using Noise Cancelling, you can set how much outside sound you would like to hear. Basically, the ability to hear important things around you but still filter out noise. It works well and kind of nice when you need to hear announcements. TALK THRU: This feature allows you to take stereo phone calls etc while wearing your headphones. It works well but sometimes others on the other end say that my voice is a bit hollow or that there is noise in the background. JBL could improve this feature a bit. JBL APP: a must have with these headphones. It allows you to dial in the sound from several different music sources to tailor to your liking. You can also control noise cancelling, and ambient aware from your phone. It works flawless and is not a gimmick in any way. The customizable EQ makes the sound tailored to your taste. JUST DOWNLOAD IT! GOOGLE VOICE ASSISTANT/AMAZON ALEXA: I use google assistant regularly in my daily life so I set these up to use the Google assistant. It works flawlessly and a lot of fun to use. I turn on/off lights when I'm coming and going from my place, all from these headphones. It was easy to set up and no issues with that tech. It's pretty cool and really surprising in a headphone in this price range. SOUND QUALITY: Ok, now the reason why you buy headphones...the sound quality. These headphones have a very nice signature JBL sound to them. Deep punchy bass that is not overwhelming nice Vocals and detailed highs. I do feel that compared to the JBL Everest Elite 750NC that the 660NC lacks color and richness to the sound. The soundstage is not as wide or the instruments rich and full. I am being really nit picky here though. I had to go back and forth between the two with several songs to determine the difference in music quality. They are so incredibly similar but I feel the 660nc can be a bit harsh with hand claps and things of that detail. Once again, I still wouldn't hesitate to purchase these at this price point, they really are that good! OVERALL: These headphones are fantastic and you will be hard pressed to find anything this feature packed with this kind of music sound quality at this price point. I highly recommend them. The 4 stars is only because the color/detail/sound stage isn't as rich as I would expect and the active noise cancelling isn't perfect when flying (see above).
Date published: 2021-05-03
Rated

4

out of

5
by
tp123
from
So far so good
I received this headset a couple of days ago and so far they really have impressed me the smart features work really well and the noise cancelling application on this works perfectly. I am a large tech nerd and these headphones come with so many cool little features such as the way they pause the music when you take the headset off your ears and continue it when you place them back on. so far I am really impressed with these headphones and would highly recommended them.
Date published: 2021-04-26
Rated

2

out of

5
by
audiophilejbl
from
Terrible Bluetooth, otherwise Great
I have bought a few thousand dollars of JBL equipment this year, mostly their outstanding studio 5 series speakers. I also own the Tune 125BT. These headphones are great except for their Bluetooth. The headphones have massive difficulty maintaining a Bluetooth connection, and the multipoint feature DOES NOT WORK AT ALL. I have to forget and repair the headphones based on whether I decide to use them with my laptop or headphones. This is an issue to these headphones as the Tune 125 BT works flawlessly and has excellent multipoint. Disappointed.
Date published: 2021-12-13
Rated

5

out of

5
by
Seth007
from
Great sound, great features
FINALLY received this in the mail! PROS: Excellent sound, long battery life, great features. That noise cancelling feature really works, it almost feels like there's a pressurized seal around the headset. CONS: The adjustable headsets get loose over time. I've had them for a week and it definitely feel the difference. I just hope it doesn't get too loose over time.
Date published: 2021-04-26
Rated

5

out of

5
by
Bexbex999
from
Love these
I listen to a lot of music on the go-at the gym, jogging or on my commute to work so a decent set of headphones are a must. These tick all the right boxes. I find noise cancelling headphones can be heavy but not these. They are light enough to be worn when I jog without any neck issues (I have previously experienced this with other brands). The app makes customising these to my personal preferences simple and they always connect first time. Top notch.
Date published: 2021-05-28
Rated

4

out of

5
by
Genae31
from
Great features!
I love headphones, so I decided to try these. Connecting my headphones to my phones Bluetooth was a bit of a struggle, but once I got started and downloaded the app needed I loved the features. Has the option for foggle assistance or Alexa! Good sound quality, able to adjust the QE which is a big thing for me. Overall really liking my new headphones!
Date published: 2021-04-24
Rated

5

out of

5
by
Ethan77
from
Effortless Comfort
Is this a refreshing summer salad or my new favorite headphones with sound so crisp you would think it's a summer vegetable at the peak of season. These headphones shine bright when paired with the JBL app to dial in the audio to your taste. The noise canceling drowned out the large fan in my room and still provides all the bass and vocals I am after. Super comfortable on ear and great colors. A true daily driver for my go to headphones.
Date published: 2021-04-23
Rated

1

out of

5
by
Dmitrii2022
from
poor workmanship
half a year of gently used at home and it fell apart, the guarantee is denied. ps: be very careful when using or better buy something more reliable
Date published: 2022-02-01
Rated

1

out of

5
by
TimmD
from
I wish I had muscles like the rock
So I wear headphones all day for work, and it was time for a new pair. I really liked how sturdy these headphones felt, and they were accompanied by a photo of the rock, working out with them on looking very happy. SOLD! Well, if you like your head to feel like its in a vice, while a very small person sits on your head, these are the ones for you! I called to see if there was a trick to help with the comfort, and was told to extend the ear caps. hahahaha. I now have these 50 pound headphones that I guess I can use as a weapon if someone tries to steal my new headphones I had to buy.
Date published: 2021-11-11
Rated

4

out of

5
by
Iloveaudio
from
Great product!
I've had these for a few weeks and they're really comfortable and sound great. The different features are awesome- my favorite is that the headphones will pause whatever you're listening to when taken off and play again when put back on. The transparent and noise canceling modes are also really effective. Only reason I didn't give it 5 stars is because sometimes the app won't recognize that my headphones are connected to my phone- the settings will show that it's connected and I'll be listening to something but then upon opening the app it says they're not connected occasionally. You can still access the different modes from the buttons on the headphones, it's just easy to access from the app as well.
Date published: 2021-09-14
Rated

4

out of

5
by
RockyKarthik
from
Good, not Great. Loud, Tight, Heavy.
The sound quality is good, voice quality is too loud and annoying in high volume. Base is good, Noise Cancelling is mediocre. App should've had more options to customize music. Ear cups cushion is very soft and soothing on the ears, the headband quality is excellent but is too tight on my ears. I wish they're more light weight.
Date published: 2021-04-26
Rated

4

out of

5
by
Up the brae
from
Excellent
Had this product for a week so far and delighted. The noise cancelling is really impressive and sound quality excellent. I've found this so helpful when working from home and having to make calls whilst having young children in the house. Comfortable to wear and easy to use the function buttons, even whilst on the go.
Date published: 2021-04-26
Rated

5

out of

5
by
EURO
from
Awesome
We love the the Live 660nc. My wife tried them on and she just loved the noise cancelling. I thought the lightness was just right for me I don't like headsets that are to over exaggerated. These are the right size with an awesome sound. We really enjoy the Live 660nc . Awesome headset.
Date published: 2021-04-23
Rated

4

out of

5
by
Dannie86
from
Not bad
I have only had these about a week now. headphones are pretty cool. I love how they pause and un pause when taking off and on. The noise cancelling is brilliant. Sound and quality is quite amazing. Just 1 problem......when turned up to the highest volume they start to crackle.
Date published: 2021-04-26
Rated

5

out of

5
by
ChickenFried66
from
Comfort with great sound and ease of use!
I prefer over the ear headphones and these haven't disappointed me. In addition to being comfortable to wear for extended periods, they are easy to operate. I've used them while outside doing easy yard work and the noise canceling feature worked well, eliminating most of the sound from my gas mower. Inside they are a joy to wear and the sound quality is really better than most of my other headphones to the point that I actually listen to more music because of the sound and comfort. The volume reaches a level that is comfortably loud enough and doesn't distort when turned up all the way. The buttons for operation are easily accessible and are well laid out with none of them being hidden or difficult to find while wearing. The areas that contact my body are comfortably padded and don't squeeze too tight while being tight enough that I don't worry about them falling off. Off or on, they look stylish and the materials seem to be good quality with good craftsmanship. I'd definitely recommend to someone based on quality, appearance, and sound.
Date published: 2021-04-27
Rated

5

out of

5
by
hagaynor
from
Great sound great quality
These are great quality and have great sound. I love how well the noise canceling works. I took these with on our road trip and it helped me keep my anxiety under control for the whole six hour drive.
Date published: 2021-05-10
Rated

4

out of

5
by
cass33545
from
Pretty good
I see that a lot of the reviews are promotional, so I wanted to provide a non-promoted review. I do like the headphones. This is my first time buying headphones (not earbuds) and it is so nice! My ear don't hurt anymore, and these headphones fit nicely over my ears. They battery is exceptional and I rarely have to charge these. They definitely work for working out/running, but sometimes i hear a thumping sound when i step on the ground (could be just how I walk). I bought the white and so far there's no weird staining on the fabric and I've had them for 3 1/2 months. All of the features people describe in the review are true and work well. You can take the headphones off and the music pauses then resumes when you put them back on. They can pair to multiple devices at once which is nice if I need to switch sound going to my laptop instead of phone. Overall, it was a good buy for 100$ (got them on sale) but I don't think they're good enough quality to buy for full price. Don't get me wrong, I love the headphones and use them every day but some quirks make it not necessarily worth 200$ to me.
Date published: 2022-03-11
Rated

5

out of

5
by
Conboy
from
I Love Them
I have had them for about 3 weeks but use them for full time school and working from home full time so they have already gotten an awful lot of use. They're insanely comfortable and don't fatigue my ears at all. The headband is super comfortable and low key and I love that it is upholstered instead of just plastic. No problems bouncing between connected devices. They sound good to my ears and the mic is good enough for my needs.
Date published: 2022-01-19
Rated

5

out of

5
by
Roland of Gilead
from
Easy to use with great features!
This is my first set of noise canceling, over the ear headphones. The product is well packaged to prevent damage from drops at the retail level or storage. It contains the headphones, a black, cloth bag to store them in, the charging cable (which is not compatible with my two in ear JBL headphones) AND a cable to plug them directly into a device though it's not very long (that's what she said!). I plugged them into charge and it didn't take long. There is a claim on the box that a 10 minute charge is good for 4 hours of use. I didn't take the claim up. After a quick and painless connection via Bluetooth to my iPhone, I downloaded the JBL Headphones app as recommended. Once I selected my headphones it worked seamlessly. Instead of trying to use the small controls on the headphones, the app makes is easy to control all of the features. One design feature I really liked was the ear covers are tilted to the rear a bit. This makes them fit over your ears comfortably. There are three different levels for noise cancellation, one is just a pass through with no cancellation and allows you to hear a conversation very well. The second is limited and the third is almost complete cancellation which has some white noise. I listened to some music (Rammstein!) videos, movies, satellite radio, etc. I heard details in the music that I've never heard before. The sound quality was just fantastic. Really, everything was elevated in quality. I used them while mowing my lawn with the highest quality of cancellation and music and they did a great job of eliminating the mower sound. I didn't try the Google assistant or Alexa features as quite frankly, I hate them in general. Sorry I couldn't help you there. Overall, these are worth the money to purchase. I hope you enjoy these as much as I do.
Date published: 2021-04-26
Rated

4

out of

5
by
Kul27
from
A solid set of headphones
As usual, very clean and presentable packaging from JBL. Out of the box, battery was charged for instant use. Very comfortable on the head. Active noise canceling works moderately well. Certain frequencies still pass through. Bluetooth connection was easily done. Sound quality is good, but not great. I feel they should really bring you into the music. Not so much unfortunately. Overall a very good performing unit.
Date published: 2021-05-04
Rated

4

out of

5
by
mj92
from
not bad, not bad
I bought these on sale for Cyber Monday and i've been using them for about 2 weeks. I'm happy with the sound quality (the ability to make my own EQ setting is fun and helpful) and they're really comfortable and cute. Battery life is amazing, i haven't needed to charge them yet! The noise cancelling is a bit glitchy at times- sometimes there are some pops when i'm moving and using the noise cancellation, but it's been good when i'm not moving (on a train, at a desk). The headphones physically do a good job at blocking sound though, so i tend to leave noise cancelling off unless im commuting. I've yet to find a purpose for the ambiance setting- it's terrible on the go and any wind makes a loud whooshing sound- I mean really bad... I've taken a few phone calls with them and they're ok. If it's really loud around me, it picks up a lot of the noise through the mic and also quiets/muffles the sound from the other line... Works great for zoom though, in a stationary, quiet place. I also have yet to figure out how to trigger the voice control. I've accidentally triggered it twice when grabbing the left ear. Overall i can live with these quirks- they sound great, look great, charge lasts a long time and no problems with bluetooth connection- it's nice to be able to connect to two devices at once (i use it for phone and laptop).
Date published: 2021-12-15
Rated

1

out of

5
by
GoshinRyu
from
Disappointing on PC & Too Much Bass & Too Tight
Perhaps I have a larger than normal head or maybe these are made for little kids, but they are really tight. If you're going to use them for any extended period of time, 1+ hour flight, they get really irritating fast. No way to really turn down the bass on the PC. The EQ works fine on Android/iPhone, but if you are going to use these on PC, you're going to be miserable. I have Dolby Equalizer and no adjustments make any difference on the bass. It just sounds like constant thumping mixed with blown speakers while Shrek squeezes your head.
Date published: 2022-03-19
Rated

2

out of

5
by
David D
from
Poor performance
First off, I want to say that these headphones are decent. I had higher hopes for them. Ive been able to use them for a total of 15 minutes before the mid and low speakers in the left ear, and the low speaker in the right ear blew. I'm honestly pretty dissatisfied with them. JBL in recent years has been on the higher end of consumer speaker products. It could just be a "bad" pair but it is discouraging to try a new pair. I will remain hopeful that the exchanged pair will perform as expected. There was a firmware update available but after updating there was still no change. I will update the review and star rating once I've received a replacement pair. Just for the record, the song they blew while playing was Mama I'm Coming Home by Ozzy. Its bassy but nothing deep enough to cause that even if they were at full volume which they should be able to handle anyway.
Date published: 2021-08-12
Rated

5

out of

5
by
Beaglemommy
from
Great sound easy to use
Two weeks of use and I love these headphones. I am technologically challenged yet these are easy to use with Google and I know I have not yet learned all of the features. The sound quality is great (I have a surround sound system and high expectations), noise canceling effective enough to not hear beagle barking and I love features like how my movie will pause when I pull off the headphones. My only complaint is that the buttons on the headphones are so small and feel the same so my old fat fingers are not working well with them, removed a star in rating. But, it did lead me to use automated features so that is good. These headphones would make a great gift, especially for Mother's Day or Father's Day. Love the blue color, we bleed blue in KY.
Date published: 2021-05-04
Rated

5

out of

5
by
Oscardinsa
from
True sound.
Just arrived and with a charge it performed as advertised.
Date published: 2021-04-21
bvseo_sdk, dw_cartridge, 18.2.0, p_sdk_3.2.0
CLOUD, getReviews, 5ms
reviews, product
Spørgsmål og svar
i've never had a pair of noise cancelling headphones before - i really like that these headphones play white noise when in ANC/Ambient aware, is there a way to control it i.e make it louder/change it/ turn it off? Thanks
Thank you for your question. You can make some sound adjustments on the JBL Headphones app as well as controlling the ANC/Ambient aware. Should you wish to receive further support, you may contact the Harman Customer Support team by telephone, email or chat in order to receive direct assistance. Please see https://uk.harmanaudio.com/support-contact.html#ns for further details. Thank you.
Date published: 2023-01-03
My auto pause and play doesn't work, like It doesn't detect that it's on/off the ear. What can I do??? The option Is enabled on the app and I have reset everything that there is to reset but it still doesn't work. Help
Thank you for your question. Could you please contact our Customer Support Team on https://uk.harmanaudio.com/support-contact.html#ns for further assistance? Thank you.
Date published: 2022-10-22
will 660nc work with nintendo switch or PS4?
Our JBL Live 660NC is recommended to be used for streaming audio with mobile phones, tablets, and laptops. Using it with your gaming console or TV may cause audio-video delays since these headphones don't have APTX HD Low latency features. We would recommend checking our JBL Quantum Series Gaming headphones for gaming use.
Date published: 2022-12-30
What is the amp rating of charging block you recommend? My phone charging block is 20 amp, my car is 3 amp and another at home is 2.4 amp.
Most USB chargers for smartphones would work well with our JBL Live 660NC. Be sure that the charger is rated at least 2.0a (2 amps) or above output.
Date published: 2022-01-20
what is the cup size is the earcups bigger than live 650btnc
Our JBL Live 660NC has a 4cm size for earcups and has almost similar sized earcups as the Live 650btnc.
Date published: 2021-07-12
Hi, How long is warranty?
Thank you for your question. The warranty for this product is 2 years since the date of purchase. For further support, we welcome you to contact our JBL Customer Support team: https://support.jbl.com/gb/en/ Thank you.
Date published: 2022-06-20
How long is the warranty offered with this product?
Thank you for your question. For our products the warranty follows local legislation, which we follow when selling from our web shops. Should you wish to receive further support, you may contact the Harman Customer Support team by telephone, email or chat in order to receive direct assistance. Please see https://uk.harmanaudio.com/support-contact.html#ns for further details. Thank you.
Date published: 2021-12-31
When the headphones ran out of charge, will they still work when connected via the provided aux cable??
Our JBL Live 660NC should be charged first for it to work using the audio cable. Please visit our website to get more information about this product. Here's the link. https://bit.ly/3oxzNvz
Date published: 2021-12-30
Why can't I pare it to my phone 
We're sorry to hear about what happened. Please try to reset the headphones if this can help fix the problem. Press and hold the volume - and volume + button for more than 5 seconds to reset the headphones. Please try to pair the headphones to a different source ex. (phone, tablet) to check if it can pair with a different device. If the problem persists, please contact us, so we can assist in checking your options: https://support.jbl.com/us/en/#contact
Date published: 2021-07-20
Are these OSHA approved to use while working in a loud work environment?
We have the FCC/IC Statement, which means that our products comply with Part 15 of the FCC rules and Industry Canada license-exempt RSS standards. This part states: "Operation is subject to the following two conditions: (1) This device may not cause harmful interference; and (2) this device must accept any interference received, including interference that may cause undesired operation." If you have more questions, please reach out to our Customer Support. https://support.jbl.com/us/en/
Date published: 2021-11-23
On ear or over ear???
Thanks for reaching out. Our JBL Live 660NC is an over ear headphones.
Date published: 2022-07-11
Can I use these to listen to audio books downloaded on my Kindle? I am old (Lol) and I can no longer read printed books
Our JBL Tune 130NCTWS can connect to a source device via Bluetooth or 3.5mm audio cable. There should be no issues connecting these headphones to a Kindle device via Bluetooth.
Date published: 2022-12-12
If my headphones are dead, can I still use the aux to listen to music?
Yes, you can listen with our JBL Live 660NC and listen to music using the detachable audio cable even when your unit has no charge or has a low battery. Please note that the ANC feature will not work when you're using the headphones via a wired cable.
Date published: 2022-12-29
When will it get launched in india and what will be price in India
We have no news yet of when our JBL Live 660 NC would be released in India. Please subscribe to our newsletter at the bottom page of our website, to receive the latest news and updates regarding our products: https://in.jbl.com/
Date published: 2021-07-12
Can this be used with a connector to plug in to airplane TV's to watch movies etc? 
Thanks for your inquiry. As long as the audio port in the airplane has a 3.5mm port, the audio cable of our JBL Live 660NC Wired Headphones will be able to connect to it.
Date published: 2022-11-29
what features work and don't work when using the audio cable?
Our JBL Live 660NC's noise cancelling feature will not work when using a wired connection. You may learn more about the features of the JBL Live 660NC by visiting this link : https://bit.ly/3oxzNvz
Date published: 2021-10-11
Are there replacement ear pads available? Or covers?
Our JBL Live 660NC earpads part number is 08-HL66LR-000S. For pricing and availability, please contact our customer support at (877) 871-6755.
Date published: 2023-01-23
Is there a way to turn of the white light on the front right side of the headphones.
Unfortunately, the white LED battery indicator of our JBL Live 660NC can't be turned off, it is by default, to let the user know that the headphone is powered on.
Date published: 2022-01-18
How do I turn off the annoying beep that happens every time I move my head because the headphones think I took an ear cup off? I already disabled the auto pause but I still get the beep. Why is that necessary? Will there be an update to disable it?
Thank you for bringing this to our attention. We would like to discuss your support request directly with you and find a solution for you. Please reach out to JBL Customer Service for technical support and assistance. https://bit.ly/2WocMfi
Date published: 2022-04-22
Are these headphones made n USA I want to wear these headphones will mowing on my john Deere z turn riding mower Just how much noise do the headphones cancel out this kind of noise
Our JBL 660NC's are designed in the USA but assembled in China. These noise-canceling headphones aren't intended for use with heavy machinery. However, this will eliminate background construction noise and will sit comfortably on your head.
Date published: 2021-11-23
how do you get headphones louder
While your JBL Live 660NC is connected to your phone or source device. Keep on pressing the + button repeatedly until you hear a tone which indicates that the volume of the headphones is at maximum.
Date published: 2022-12-19
Can these simultaneously stream two device sources? (call/music and pc/Nintendo)
Our JBL Live 660NC supports a multi-point connection of up to 2 devices. However, you can only play audio from one source at a time.
Date published: 2022-11-20
Hi! Some reviews suggest that these headphones have an ip rating (ip5x i think) - is that correct?
Thank you for your question. The JBL Live 660NC are not IPX rated. Should you wish to receive further support, you may contact the Harman Customer Support team by telephone, email or chat in order to receive direct assistance. Please see https://uk.harmanaudio.com/support-contact.html#ns for further details. Thank you.
Date published: 2022-03-01
Do these headphones work with Siri?
Our JBL Live 660NC doesn't support SIRI because it features Google Assist as well as Alexa. For more information about the headphones, check it out here: https://www.jbl.com/over-ear-headphones/LIVE660NC-.html
Date published: 2021-08-04
Look had the rock edition l. They were Spectacular. But the head band Was garbage! So Now I get a Replacement from Jbl… which one's own up To the rock edition.
bvseo_sdk, dw_cartridge, 18.2.0, p_sdk_3.2.0
CLOUD, getContent, 121ms
questions, product