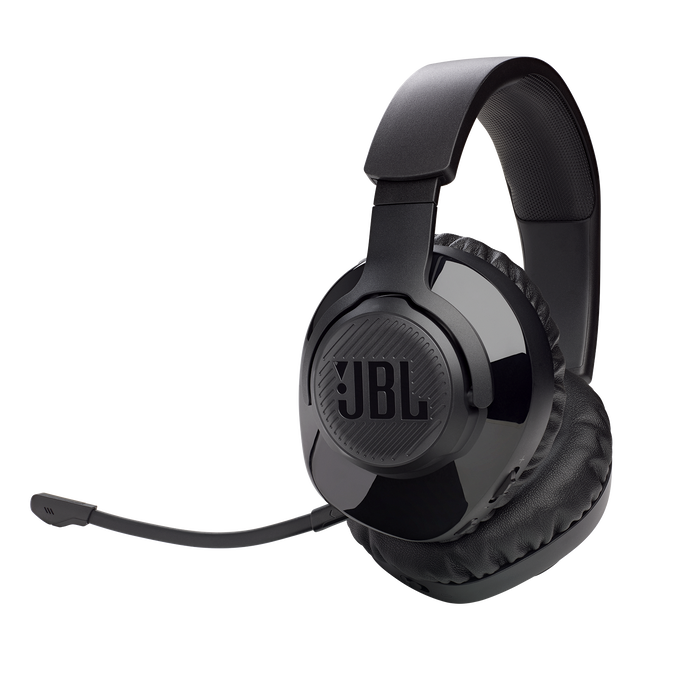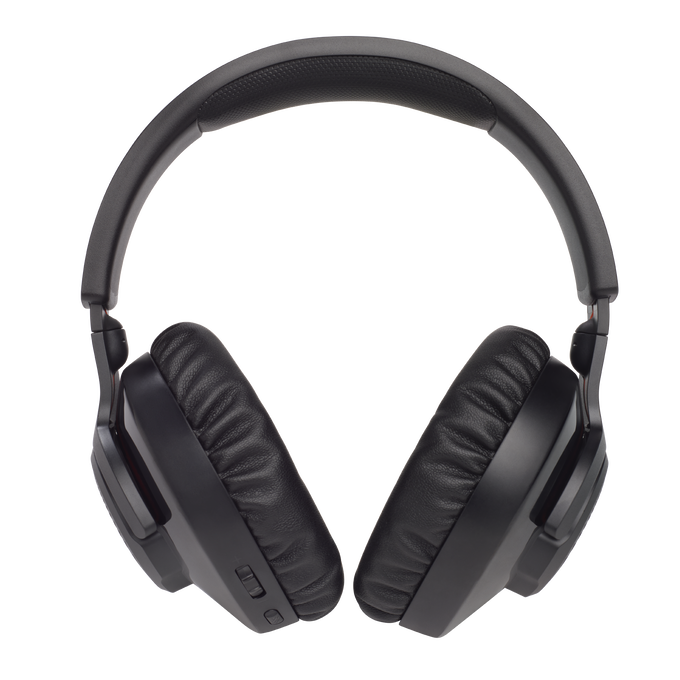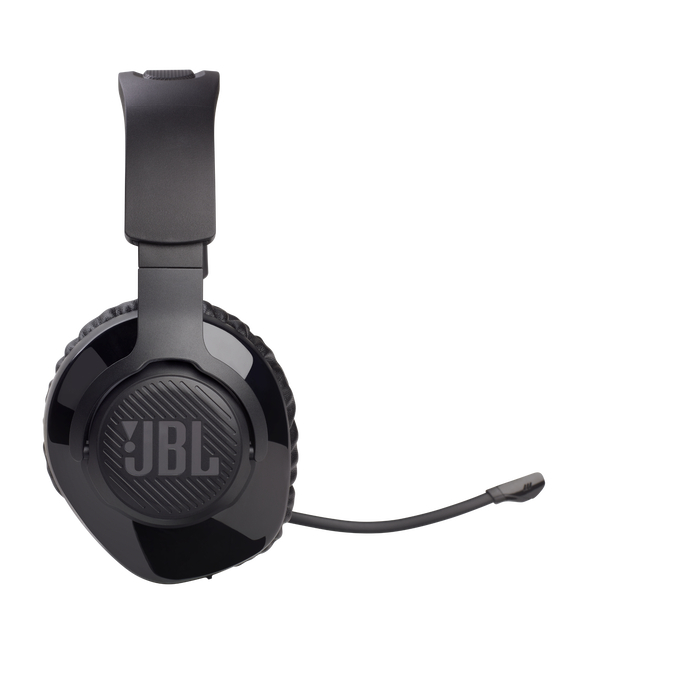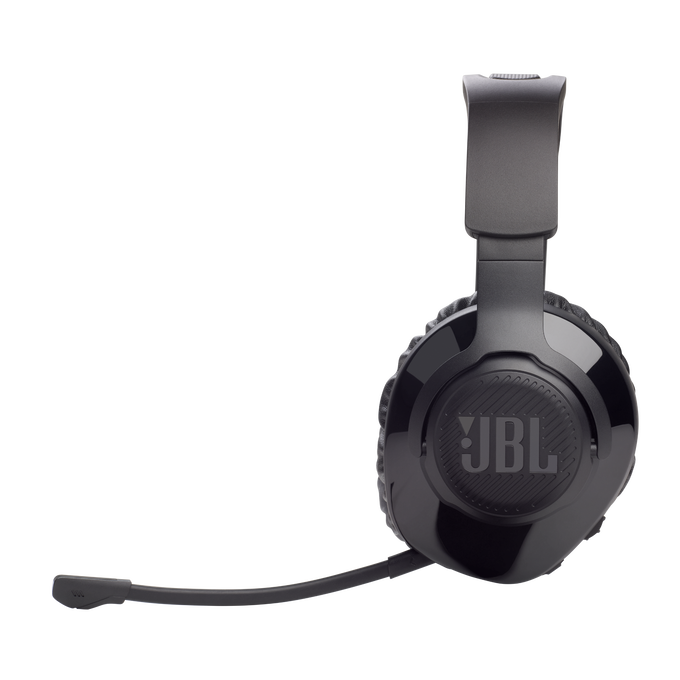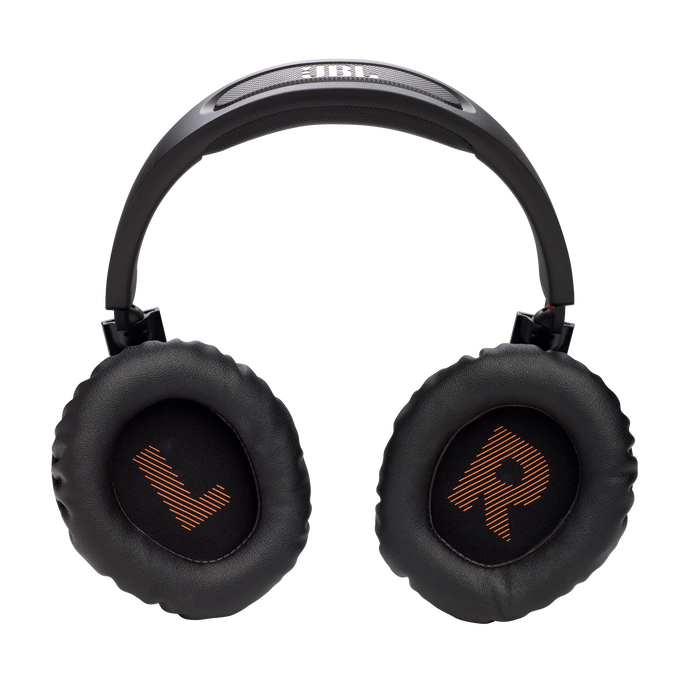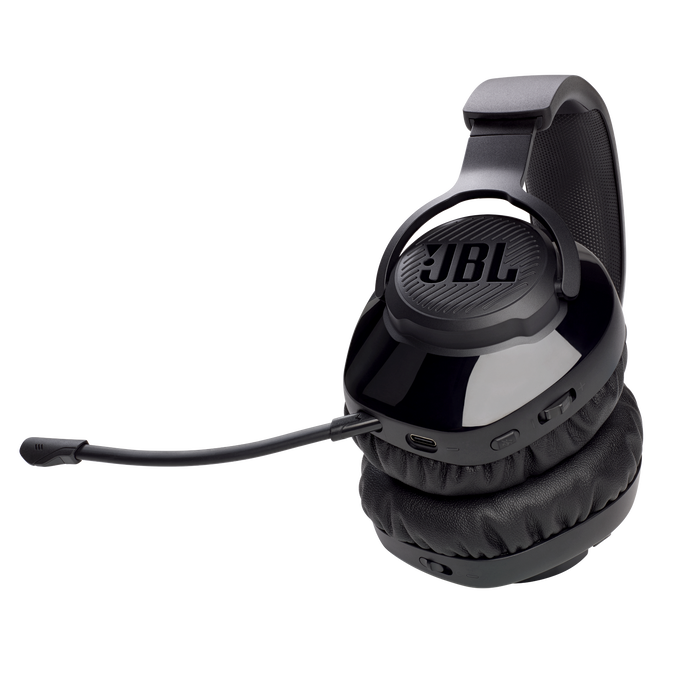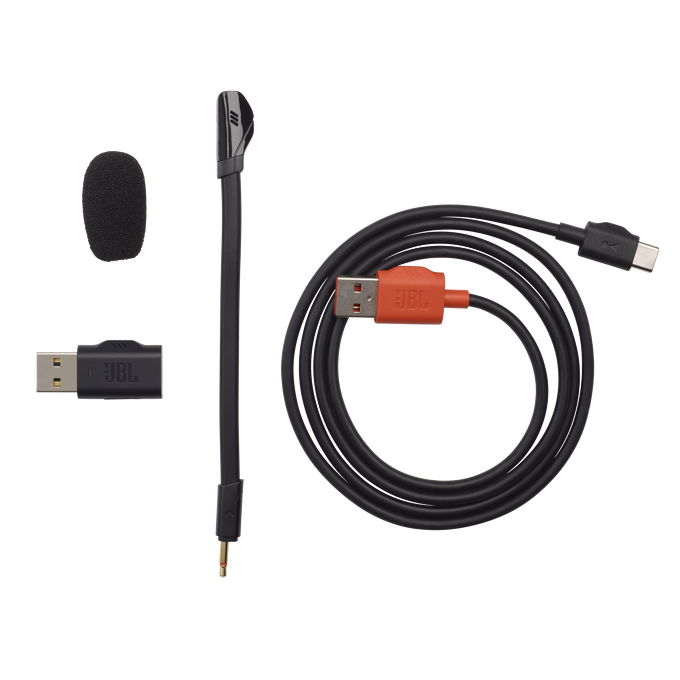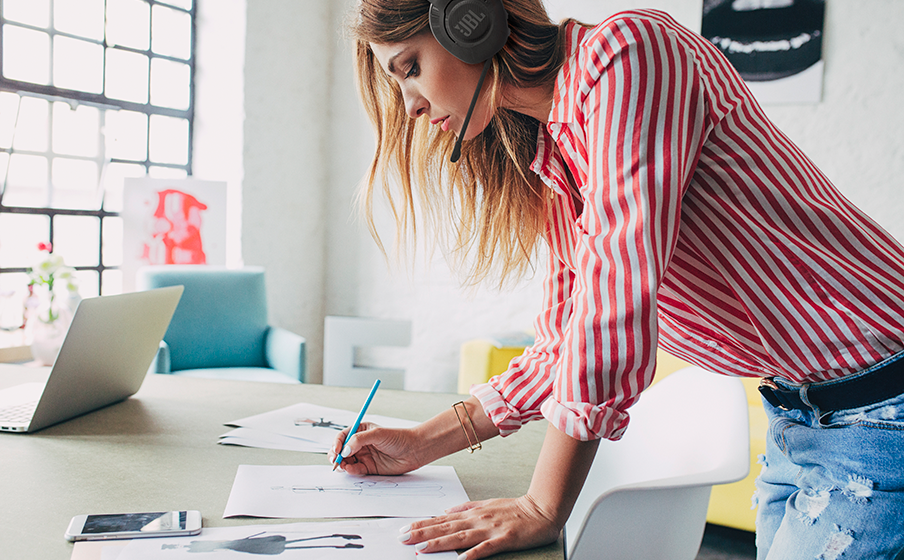 Tabsfri trådløs 2.4G-forbindelse med minimal forsinkelse
Den problemfri ydelse fra JBL Free WFH sikrer en stabil forbindelse til alle dagens opkald og videomøder uden forstyrrende kabler.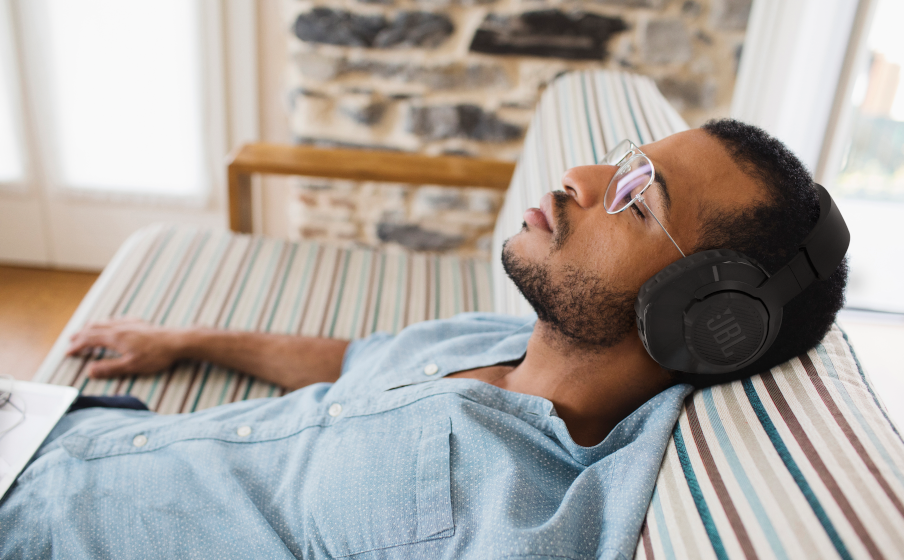 JBL-signaturlyd
Den kraftfulde JBL-signaturlyd leveres af 40mm-enheder, så både samtaler og musik gengives med utrolig klarhed, uanset om du lytter til David Bowie eller David fra regnskabsafdelingen.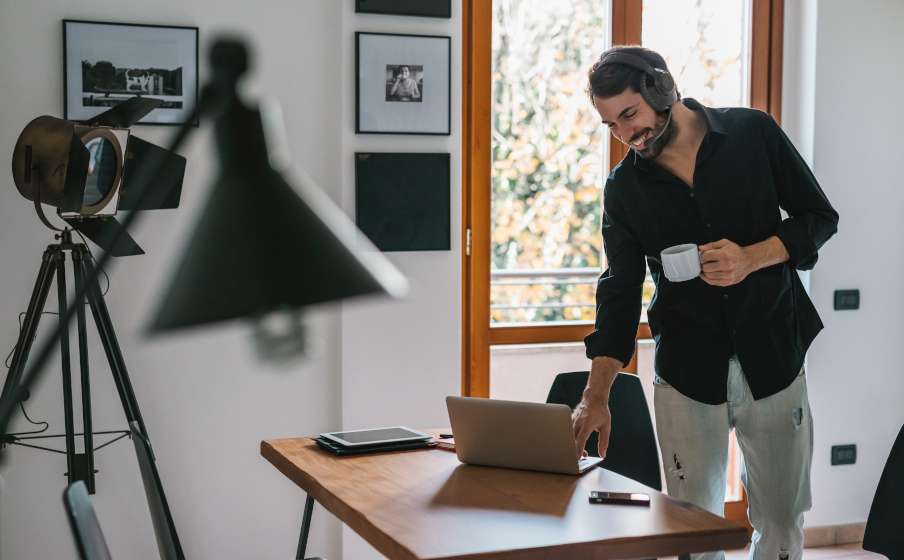 Aftagelig mikrofon med stemmefokus og støjreduktion
At have mikrofonen tændt eller ikke have mikrofonen tændt - det er spørgsmålet. Er du ved at koble dig på et Zoom-møde? Så er det tid til at aktivere mikrofonen, som har avanceret teknologi til støjreduktion og stemmestyring til lydløs tilstand. Men du kan også tage mikrofonen af, når du er klar til at fokusere på dit arbejde eller slappe af med din yndlingsmusik.
Funktioner

Lette og holdbare
Komfort er afgørende, når du skal gennem en lang arbejdsdag. Med lette, PU-beklædte ørepuder i memoryskum er disse hovedtelefoner designet til mange timers brug. Faktisk er de så komfortable, at du nemt glemmer, du har dem på!

Op til 22 timers batteritid med hurtigopladning
Måske får du aldrig brug for at arbejde 22 timer i træk, men JBL WFH Wireless hovedtelefonerne klarer opgaven. Blot fem minutters hurtigopladning giver dig en times spilletid. Perfekt til spontane møder.

Universelt kompatibel med chat-apps
Der er mange måder at kommunikere på nu om dage. Men uanset om du bruger Zoom, Cisco WebEx, GoToMeeting, Skype eller Microsoft Teams, kan du gøre det med JBL Free WFH Wireless hovedtelefonerne.

PC-kompatible
På farten, på kontoret eller arbejde hjemmefra? JBL Free WFH Wireless hovedtelefonerne virker både med pc og mobilen, så du kan holde forbindelsen, uanset hvor du er.
Detaljer & Downloads
Item# JBLFREEWFHWLBLK
Beskrivelse
Tabsfri trådløs forbindelse. Hurtig genopladning. Forbind bedre.

Tilpas dine forbindelser med problemfri ydelse og den klare, kraftfulde JBL-signaturlyd. Free WFH Wireless sikrer en stabil tabsfri forbindelse til samtaler, og den aftagelige mikrofon med stemmefokus og støjreduktion er universelt kompatibel med chat-apps som Zoom, GoToMeeting, Skype og WebEx. Med op til 22 timers batteritid går du aldrig glip af et opkald, og når batteriet er ved at være tomt, kan blot fem minutters opladning give dig en hel times spilletid. Få dit arbejde fra hånden, eller slap af med disse lette og holdbare hovedtelefoner. Ørepuderne i memoryskum er så komfortable, at du let glemmer, du har dem på.
Specifikationer
Enheds-størrelser (mm)

40
Lydspecifikationer
Enheds-følsomhed ved 1kHz/1mW (dB)

96

Dynamisk frekvensområde (Hz)

20 Hz - 20 kHz

Impedans (ohm)

32
Mål
Vægt (g)

220

Vægt (oz)

7.76
Batteri
Maksimal spilletid (timer)

22
Egenskaber
Charging cable

Ja

Indbygget mikrofon

Ja

Smart opladningsetui

Ja

Håndfri opkald

Ja

Den berømte JBL-lyd

Ja

Genopladeligt batteri

Ja

Ægte trådløse

Ja

Trådløse

Ja
Det er der i æsken?
JBL Free WFH Wireless headset
USB lydadapter
Skum til boom-mikrofonen
Startguide | Garantikort | Sikkerhedsark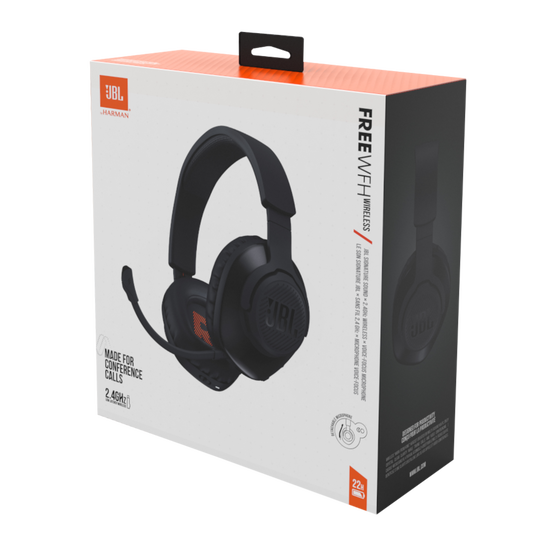 Dokumenter og downloads
Kunde-anmeldelser
Rated

4

out of

5
by
Bethieg
from
Top of the line sound!
I received these headphones to facilitate my review. Per usual, they have excellent JBL sound! The removable and adjustable mic is easy to use, and these make for great WFH headphones. They are so comfortable and can be adjusted to fit any member of my family. My favorite part though is that they can also be used with my phone or tablet by using a USB adapter, so they truly can be used for all facets of my life!
Date published: 2021-12-05
Rated

4

out of

5
by
Byron C
from
No Bluetooth
Good over all headphones if you're a business professional that spends a lot of time on call and zoom calls. Audio is clear and crisp and headphones don't get in the way at all. My only complaint is that they don't connect via just Bluetooth.
Date published: 2021-11-29
Rated

5

out of

5
by
halthupt68
from
Works as expected
When I first got these headphones it was an adjustment because I can't hear myself through the headphones so it was kind of an out-of-body experience but I got used to it quickly. Battery life is great, super comfortable over my ears, works great going between all the work video calls (Slack, Google Meet, Zoom, etc.). USB bluetooth receiver easy to use and intall on my Dell work comp.
Date published: 2022-03-10
Rated

1

out of

5
by
CAH444
from
No Bluetooth?
I got this headset to take work calls assuming that it would work with my phone but didn't realize until after I got home that this product does NOT have Bluetooth and is NOT compatible with phones.
Date published: 2022-05-26
Rated

5

out of

5
by
Williams
from
Light weight
I just received and connected to a chrome book for school and the sound is very impressive connection is seem less,design is good but could be better , product has no weight which is very good for hours of work and play I still need to connect to my Xbox to fully review
Date published: 2021-11-25
Rated

5

out of

5
by
Dustin
from
Great PC headset and mic
Much better sound and mic capabilities with this headset and mic compared to pc and other lap top computer audio and mic set ups, hearing and speaking are much more clear, the constant repeating on Zoom calls is much less and these enhance the Zoom calling experience.
Date published: 2021-12-01
Rated

5

out of

5
by
Juvie805
from
Best wireless headphones in the market good sound
Great wireless headphones,they work pretty well and i love to use them when am working from my computer. There is nothing better out there. Very good quality and best sound too. I enjoy this headphones every second.
Date published: 2021-12-17
Rated

5

out of

5
by
Wayloud
from
Get These Phones!
JBL FREE WFH Wireless Headphones for conference calls…sounds like a serious snooze but let me tell you, these phones are HOT! The 2.4 GHz wireless connection to ones PC is rock solid. The noise cancelling feature is amazing. AND The sound is phenomenal! Real quick; here's what I did. Whilst Zooming and listening to music I strolled through my neighbors welding shop to subject the signal to tons of EMF interference. Not once did these phones cut-out or even falter. On a Zoom conference call, outdoors, with a train passing by less than 300 yards away. The train was but a faint sound to participants while my voice was reported clear and, of course, quite full. I listened to these phones play music a bunch! They sound soooo good. Super articulate and precise these puppies sound too good to cost around $100! And LOUD! I love the analog style rotary volume dial on the earcup. Be careful though, these phones with their 40mm drivers get…LOUD! Great for conferencing, super for after work listening, and according to my poll of Zoom users, a great gift idea, the new JBL FREE WFH Wireless headphones are an absolute winner.
Date published: 2021-12-09
Rated

5

out of

5
by
Roadie8105
from
Outstanding Sound Quality!!
As a person that works from home and handles many calls a day I needed a reliable yet affordable alternative to holding a phone all day... thus I ordered the JBL FREE WFH Wireless Headset. Right out of the box you can just feel the quality. The headset is sturdy yet lightweight for even the most sensitive headphone users. The mic boom (voice focus directional) is detachable which is convenient when not handling calls and just listening to a meeting, music or playing games. I was not crazy about the lack of noise canceling associated with the mic. It will filter some noise (breathing, etc) but allows more noise than I expected. Very good cancelation but not the upper end JBL noise cancel we associate with their higher end products. I was very impressed with the compatibility of the headset utilizing direct chat applications such as Zoom Meeting, Cisco WebEx, GoToMeeting, Skype or Microsoft Teams. Sound is delivered thru reliable JBL 40mm drivers to ensure sound clarity and quality. Unit is compatible with all of my devices including PC, mobile phone, and laptop. Overall VERY good buy and reliability thus far!! Would surely purchase the unit again!!
Date published: 2021-12-01
Rated

3

out of

5
by
Christina
from
Built well, functional design needs work.
Starting with the pros - the actual item itself is quite easy to use, simple, and well made. Microphone quality: Above Average Sound Quality: Excellent Battery Life: Excellent Here are some of my issues with it - the configuration wasn't quite as simple as the quick start manual indicates (the quick start manual literally has no words explaining). On a Macbook I had to go into my sound settings and make sure that while it was connected with the USB source, the input/output for the JBL Free WFH was selected the first time using this product, and then after that it automatically sets the audio to the headphones, *whether or not they're on*. That's the biggest issue - I can't leave the USB source connected to my computer at all times, because whether the headphones are on or not my audio will be directed to it. I guess I can go in the settings every time but that seems more laborious than pulling out the USB. My biggest concern is that there is no slot in the headphones, no case, or no holder that would allow me to put the USB there when not using the headphones and I run the risk of losing it. To be honest, my desk at home isn't the neatest so that's a big risk. And there's no bluetooth function so if you lose the USB then you render the entire headset unusable. I also generally wish this came with a case or holder of some sort, because if I want to use it at a coffee shop or wherever that isn't my home, there's no easy way to transport these as they do not fold at all and are quite large.
Date published: 2021-11-27
bvseo_sdk, dw_cartridge, 18.2.0, p_sdk_3.2.0
CLOUD, getReviews, 4ms
reviews, product
Spørgsmål og svar
Are these headphones compatible with Avaya One-X? 
Yes. Our JBL Free WFH Wireless is supported by most PC apps and Avaya One-X can detect a wide variety of headphones.
Date published: 2021-12-07
Is this headset open or closed back?
Our JBL FreeWFH Wireless is a closed back headphones.
Date published: 2022-05-04
How would one connect the headphones to a Smartphone?
You could only connect our JBL Free WFH to a smartphone via its 3.5mm jack.
Date published: 2022-07-29
MacOS compatible?  The quick start guide and spec sheet seem to conflict on this point.
Our JBL Free WFH is compatible with both Windows PC and MacOS.
Date published: 2022-05-18
Does this system work with my iPhone 11
Our JBL Free WFH Wireless can only connect with devices that can support a 2.4ghz dongle connection. This unit doesn't feature Bluetooth connectivity.
Date published: 2022-08-10
Does this have call control? in other words, can you answer and hang up telephone calls wirelessly with this headset?
Our JBL Free WFH Wireless only has volume control and microphone mute/unmute. To end a call, you have to do it from the source device.
Date published: 2022-08-11
bvseo_sdk, dw_cartridge, 18.2.0, p_sdk_3.2.0
CLOUD, getContent, 37ms
questions, product