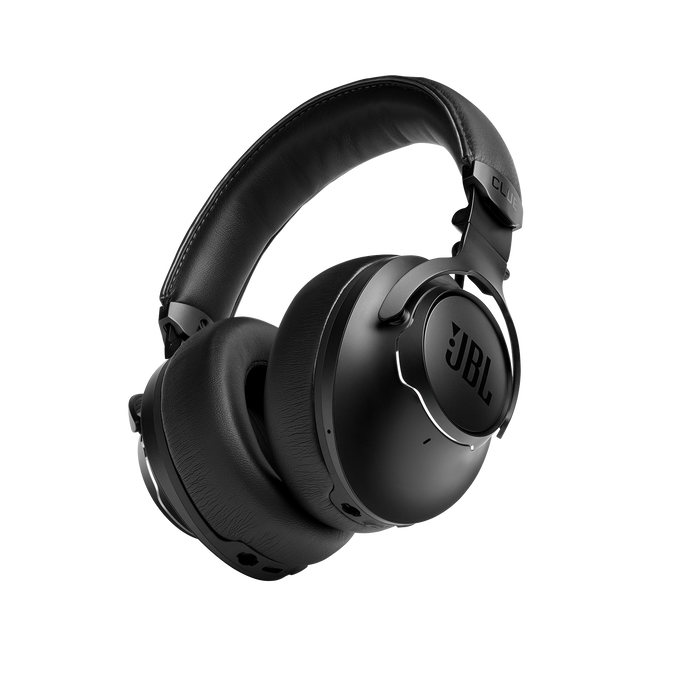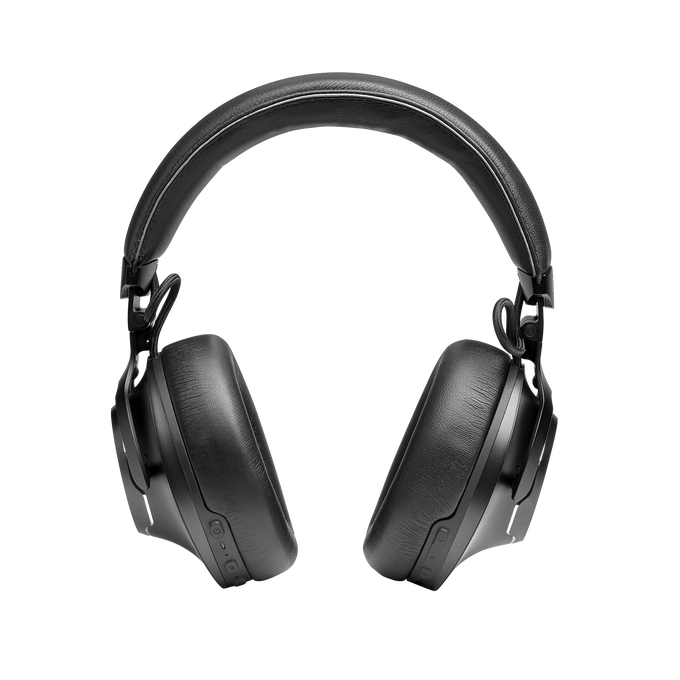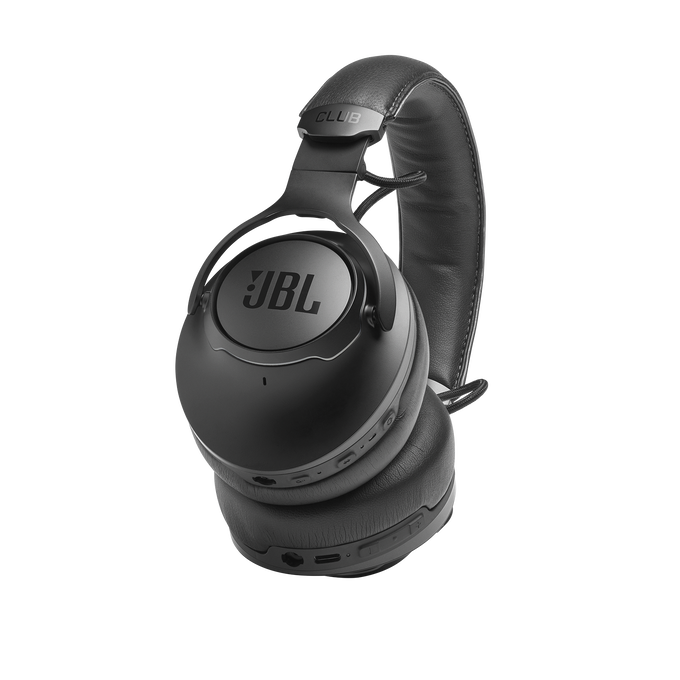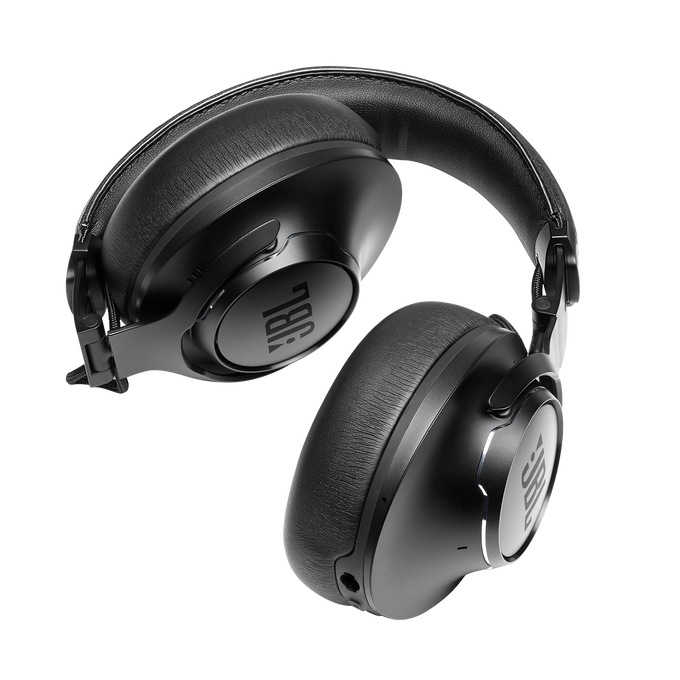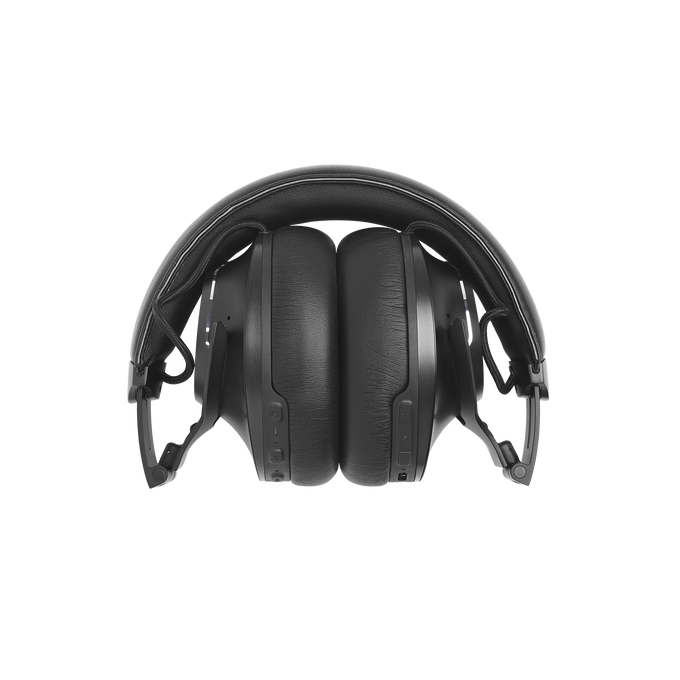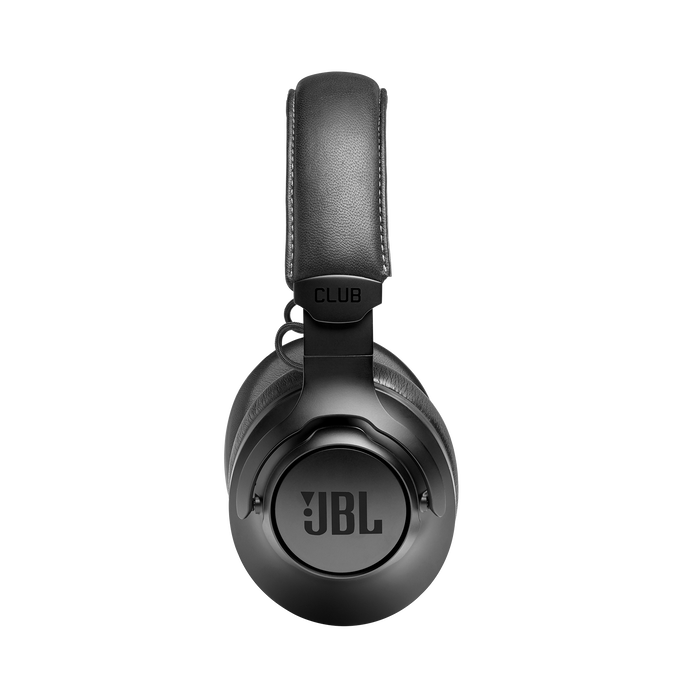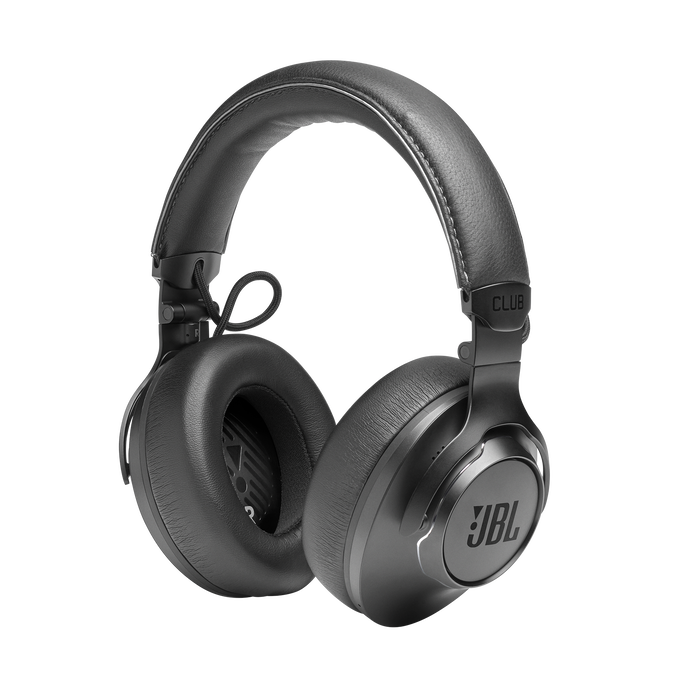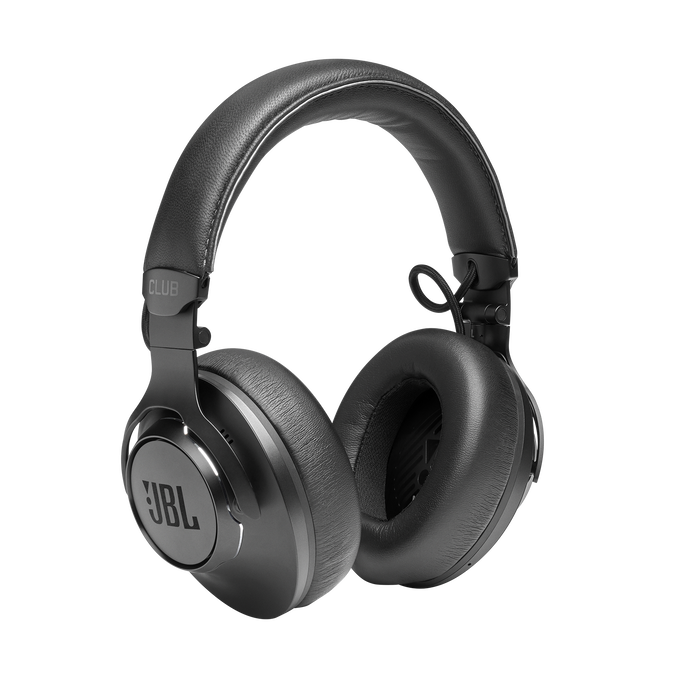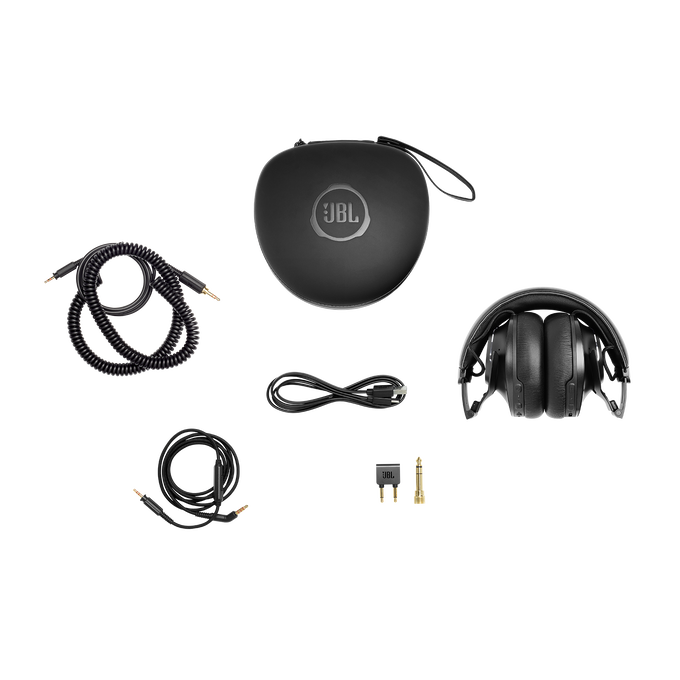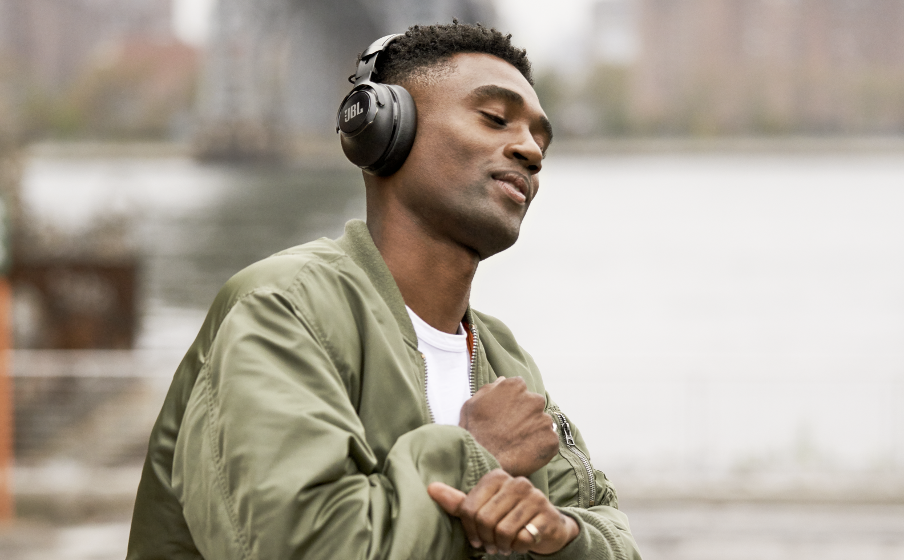 Lyd i pro-kvalitet
Du har aldrig hørt dine favoritsange på denne måde. Med den legendariske JBL Pro lyd i høj opløsning, og en specialudviklet orange 40 mm grafen-enhed, får du klarhed og detaljer, som løfter hver tone til nye højder.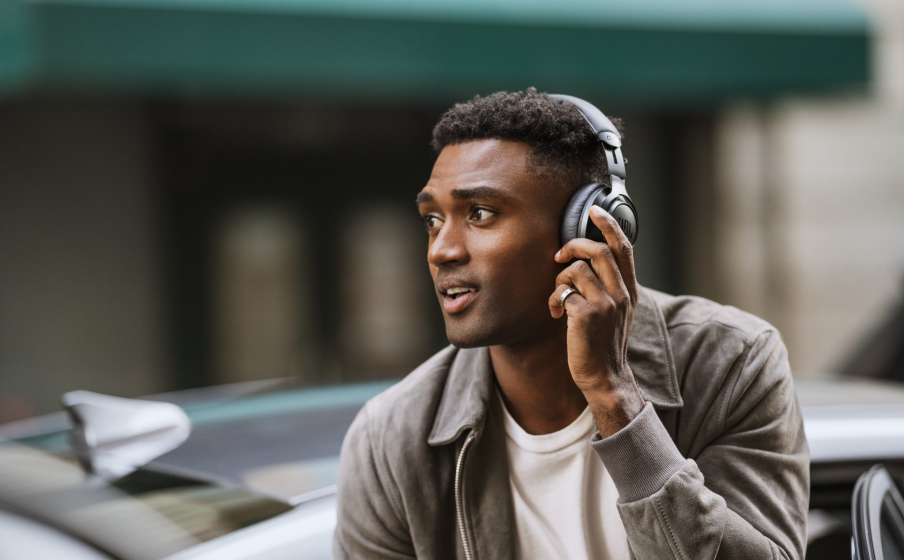 Luk alt ude
Sluk verden omkring dig, og dyk ned i din musik. JBL CLUB ONE hovedtelefonerne har ægte adaptiv støjreduktion, der tilpasser sig de skiftende omgivelser i realtid. De tager også højde for lydlækager som følge af hår, briller og hovedbevægelser. Og med funktionen SilentNow kan du nyde ægte adaptiv støjreduktion uden Bluetooth-musik, så du får fuldstændig fred.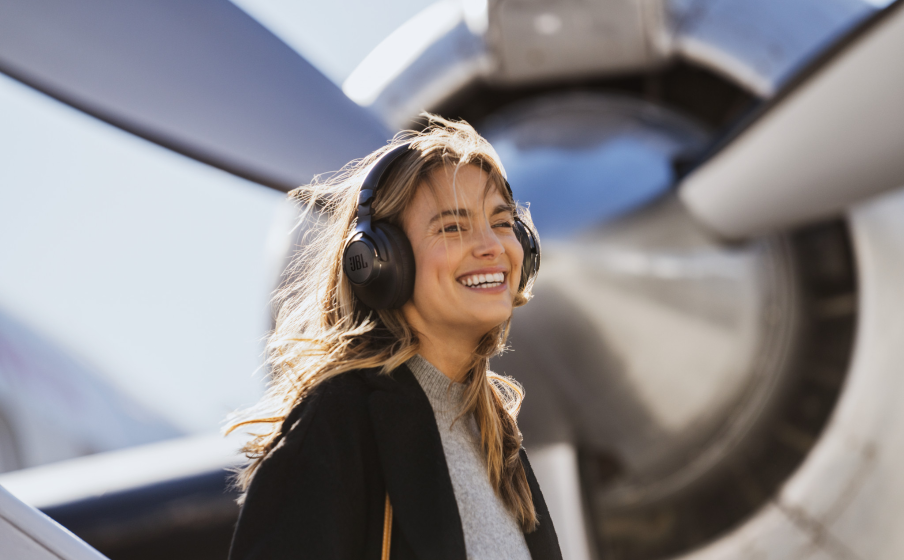 Forkælelse til dine ører
Dine ører får ikke brug for en pause fra JBL CLUB ONE hovedtelefonerne. De polstrede, ovale, omsluttende ørekopper holder komforten oppe fra sang til sang, fra playliste til playliste. Du får førsteklasses materialer med robuste metalhængsler, hovedbøjle i læder og stilfulde designdetaljer.
Funktioner

Få hjælp fra Google Assistent og Amazon Alexa
Send en besked, stil ind på din playliste, eller tjek vejrudsigten - uden at røre din telefon. Når du vælger Google Assistent eller Amazon Alexa i My JBL Headphones-appen, aktiveres din hjælpsomme stemmeassistent med et tryk på venstre ørekop. (*) Understøttes kun på Android. (**) Android 6.0 eller højere er påkrævet for fuld adgang til Alexa-funktioner, når denne enhed bruges.

Perfekte opkald med to mikrofoner
Du behøver ikke længere lede efter et stille sted for at telefonere. JBL CLUB ONE har to mikrofoner, der fjerner omgivende støj, så du kan tale overalt. Med Bluetooth 5.0 får du både trådløs musik og håndfri opkald på farten - helt uden problemer.

Hør det samme som dine foretrukne DJs
Nogle af verdens bedste DJs hjalp med at definere lyden i JBL CLUB. Du skal bare vælge din favorit DJ med STAGE+ funktionen i My JBL Headphones-appen. Så vil JBL CLUB ONE hovedtelefonerne automatisk kalibrere lyden, så du hører hvert eneste beat på samme måde som de professionelle.

Hør det, du vil, med Ambient Aware og TalkThru
Fasthold opmærksomheden på omgivelserne, mens du er fordybet i musikken. Et hurtigt tryk på Smart Ambient knappen aktiverer Ambient Aware, som forstærker den omgivende lyd uden at afbryde din playliste. Med TalkThru kan du skrue ned for musikken og forstærke stemmerne omkring dig, så du kan føre en samtale uden at tage hovedtelefonerne af.

Lad musikken spille i 45 timer
Hold fokus på musikken, ikke batteritiden. Nyd 45 timers Bluetooth-forbindelse, før du skal genoplade. Her er musik til hele dagen og natten - plus dagen derpå.

Kraftfuld lyd - på din måde
Det er okay at være kræsen. JBL CLUB ONE hovedtelefonerne har dobbelt aux-indgang, så du kan tilslutte kablet i begge sider. Uanset hvad får du 3.500 mW max. indgang og modstand mod strømudsving.

Lige så eventyrlystne som dig
Rejs aldrig mere uden dine yndlings-hovedtelefoner. JBL CLUB ONE kan foldes sammen til en bold, er holdbare og leveres med flyadapter. Smid dem i det beskyttende etui, og tag af sted. De er med på den værste.

Lyden er lavet til dig
Du ved, hvordan du vil have din musik. Det gør JBL også. JBL Club One hovedtelefonerne er udstyret med Personi-Fi. I få enkle trin kan du med Personi-Fi skræddersy din lydprofil baseret på køn, alder og præferencer, så du får den bedst mulige lytteoplevelse. Du finder Personi-Fi i seneste version af den gratis My JBL Headphones-app.
Detaljer & Downloads
Item# JBLCLUBONEBLK
Beskrivelse
Høj ydeevne fra professionelt inspirerede hovedtelefoner, som hiver dig helt op på scenen

Hør det samme som verdens førende musikere. JBL CLUB ONE hovedtelefonerne leverer den legendariske JBL Pro Sound, som hiver dig dybere ned i din playliste og fastholder dit fokus med ægte adaptiv støjreduktion. Disse professionelt inspirerede Hi-Res hovedtelefoner leverer lyd, der er skræddersyet til dine ører takket være personlig EQ og My JBL Headphones-appen. Førsteklasses materialer og designdetaljer som de robuste metalhængsler, hovedbøjlen i læder og de polstrede, omsluttende ørekopper betyder, at du aldrig får lyst til at tage dem af. Lyt som en pro - overalt.
Specifikationer
Enheds-størrelser (mm)

40
Lydspecifikationer
Enheds-følsomhed ved 1kHz/1mW (dB)

95

Dynamisk frekvensområde (Hz)

20 Hz – 20 kHz

Impedans (ohm)

32
Mål
Vægt (g)

378.5

Vægt (oz)

13.4

Hovedtelefonernes kabel-længde (m)

1

Headphone Cable Length (ft)

3.3

Ear Cup External Height (in)

3.7

Ear Cup External Width (in)

3.1

Ear Cup Internal Height (in)

2.4

Ear Cup Internal Width (in)

1.8

Ear Cup Depth (in)

0.8

Højde (cm)

9.3

Bredde (cm)

7.9

Indre bredde (cm)

6

Indre højde (cm)

4.6

Dybde (cm)

2.1
Specifikationer, styring og tilslutning
Bluetooth-profiler

A2DP 1.3, AVRCP 1.5, HFP 1.6

Bluetooth-frekvens

2.402 GHz - 2.480 GHz

Bluetooth sender-modulation

GFSK, _x001F_/4 DQPSK/ 8DPSK

Bluetooth sender-effekt

<4 dbm

Bluetooth-version

5.0
Batteri
Ladetid (timer fra helt afladet)

2

Maksimal spilletid med aktiv støjreduktion (timer)

25

Maksimal spilletid (timer)

45
Egenskaber
Bluetooth

Ja

Charging cable

Ja

Detachable Cable

Ja

Stemmeassistent

Ja

Adaptiv støjreduktion

Ja

Lader lyd fra omgivelserne passere

Ja

Etui

Ja

Håndfri opkald

Ja

Over-ear

Ja

Genopladeligt batteri

Ja

Multifunktionel TalkThru-knap

Ja

Trådløse

Ja
Det er der i æsken?
Aux-indgangskabel med fjernbetjening og mikrofon
Aux-indgang oprullet kabel
USB type C opladningskabel
Hårdt etui og fly-adapter
1 x garantibevis / advarselsark / lynguide / sikkerhedsark / app QSR
6,3 mm adapter
Dokumenter og downloads
Kunde-anmeldelser
Rated

5

out of

5
by
IagoAndTaja
from
Headphones to a next level
I've had other wireless over-ear headphones, but these JBLs are from another world, first of all, the weight is perfect, so light you barely feel it's on your head. The noise cancelling is also amazing, especially when you're near a vacuum cleaner or on a flight, it blows your mind how quiet it gets. The sound quality is great, the battery lasts longer than expected and the hard case makes it safe to travel, it doesn't matter where you put it.
Date published: 2020-08-17
Rated

5

out of

5
by
Lee G
from
Highly recommended!
The JBL Club One's are solidly built with premium materials. The sound quality is superb with a slight emphasis on treble and bass and the mid's are well balanced. They are solidly built with premium materials. These are one of the best bass per dollar headphones currently in the market. The bass is deep enough to the point that you can feel the vibration in your ears. They have all the latest features like Bluetooth 5.0, noise cancellation, smart ambient button for temporarily listening to your surroundings, built in microphone for wireless calling and they have a long-lasting 730mAh battery. The battery charge is rated at 45 hours via BT with noise cancellation turned off, 23 hours with BT and noise cancellation turned on and 25 hours wired with noise cancellation turned on. I tried them with my FiiO A3 portable headphone amp and I am truly impressed with the volume and bass levels they can handle. They are immensely powerful! These are real club or DJ headphones with the latest features. They are also the first headphones I have seen that have a 3.5mm input jack on each the left and right ear cups which is very convenient. The ear pads are well padded with nice soft materials, good for long listening sessions without fatigue. I had a chance to try the BT calling on a conversation that lasted over an hour which the person explained how he could tell I was speaking on a Bluetooth device however that I sounded very good. The package comes with the headphones, a compact case, a USB 3.0 charging cable, two 3.5mm cords, one of which is shorter than the other. The other is more like a DJ style spiral cord which is long, an airplane adapter and a 3.5mm to 6.3mm jack for wired connections to larger audio equipment. All in all, if you are looking for an excellent set of headphones that have all the latest technology and features, that sound great and can handle bass you need to check out the JBL Club One's. Pros: Solidly built, bass, treble, wired volume levels, 3.5mm inputs on each ear cup, fast USB 3.0 charging. Cons: Noise cancellation can be better.
Date published: 2020-08-16
Rated

5

out of

5
by
Lacey
from
So so great!
Overall, I love these headphones! They have so many features it took me a while to get it all figured out to be able to leave a review that covers it all. The noise canceling is above any other pair I have owned. I used these while on my riding lawn mower and it was substantially better than the pair any pair I had before. They comfort is amazing. I wore them for about 5 hours and never had any discomfort. They close easily and come with a protective carrying case. The battery was still full after this time. I was impressed. Thee multi point pairing works great. That was always an issue between mine or my husband and my phones and our laptop. My favorite feature is being able to use Amazon Alexa it makes life so much easier. Once again trying to text and mow my lawn is an epic fail. Now I can do it all! I love this feature. The JBL app is easy to use. With a push of a button I can ask Alexa the weather, updates in the news, to text someone. The Bluetooth range is great. I can move freely around my kitchen and living room while I am on a call. These are my new favorite headphones. I would highly recommend them. You will love them.
Date published: 2020-08-12
Rated

4

out of

5
by
Katytaty
from
Comfortable and great sound
The headphones are so comfortable to wear. Previous headphones I've not been able to wear for a long time but these I can wear for hours. The sound quality is great and perfect for on public transport when you want to cancel out the sound. All of which you can control on the app so they sound exactly how you want them to. They also come with a useful case so you can keep them protected when you're not wearing them - important for me when you spend this much on headphones and easily lose/break things.
Date published: 2020-03-27
Rated

5

out of

5
by
KjmBaleo
from
Perfect for the home, office, or home office.
Wow! I have been looking for that perfect pair of headphones for both work from home situations and general use. These fit the bill perfectly. Initial impressions: I was impressed by the build quality. Real metal parts, something of a rarity these days, provide a sturdiness that other most other brands lack. Sound: The headphones provide an excellent range of frequency response from nice low bass to surprisingly non-distorted highs. The microphone works great for conference calls and have had no issues with call quality. Comfort: I put these on when I get into the "office" and never take them off until I am ready to leave about 8 hours later, or leave them on as I go about my evening music/TV listening. They never feel heavy or cause any kind of irritation on my ears. Technology: The Bluetooth technology has great range. In addition, the support for multiple connections works great for having my phone and computer connected. I haven't taken full advantage of the Google Assistant feature but connecting was simple and painless using the My JBL Headphone App on my android phone. The app also allows for custom EQ or you can use many of the stock DJ profiles supplied. So far, this has been my best JBL app experience, they really upped their game with respect to the application stability and usability. Miscellaneous: Battery life is excellent and optional supplied cables are a major bonus if I forget to charge overnight. The ANC and talk through feature nice and I am sure when the "office" becomes a more interactive environment they will both come in handy. Conclusion: I have been searching for the perfect pair of headphones for both office and home use. The JBL Club One scores high marks on everything I need for both.
Date published: 2020-08-10
Rated

5

out of

5
by
68eight
from
Bullet Proof Build
These are the best built noise canceling headphones in the market.No cheap plastic here.The sound is amazing especially stand out in the mids and highs.The bass is tight and precise but the clarity on these is what stands out.There's an app where you can adjust Eq settings but I like them just the way they are.Bass heads might disagree and tweak them to there taste.Noise canceling is so good that I find myself listening to them at almost half the volume that I normally would.So I save myself from damaging my hearing.I'm not going to go into Google assistant or everything it can do with that feature because it will be a long review.While very useful it might be to much tech for some.You can just leave it off if you don't want to use It.While there are many headphones why do I choose these over the next? Build quality and materials is what sets them apart from the rest.
Date published: 2020-08-06
Rated

5

out of

5
by
Librow
from
I really look forward to using the Club One
I look forward to using the Club One headphones whenever I get the chance. I have been using them for a about two months. They are pretty comfortable and fit over my ears nicely. I like how heavy duty the feel. They don't feel cheap or flimsy. The sound they produce is really good. The JBL headphones app allows me to set the sound how I want it. The presets on the app are not ones that I would usually use but they are fun to play around with. The Club One's don't get overly loud but they do get louder than I need. Connections: They include many types of connections to make it accessible to many devices if I can't or don't want to use Bluetooth. The Bluetooth is good and smooth. It comes with two different wires so I can wire it into a device via 3.5mm aux plug. One cord has a mic control on it and puts the mic close to my mouth for a solid mic on calls. I really like that because I like to be wired to the device I am video call with. Both wires can plug into either side of the headphones with a locking 2.5mm plug and the typical 3.5mm on the other device side. It's nice to see the 3.5mm to 1/4" adapter for older and larger audio equipment. Its also nice that they included the airplane adapter for traveling. The only problem with the wired connectivity is I lose out on headset controls. Noise canceling is ok but still lets quite a lot of sound through at low volume. If the volume is a little higher it does a good job at blocking out voices and light noise. Using it in a very loud environment such as around heavy machinery, the sound will come through but greatly reduced. Buttons: I found the buttons to be fine to navigate if I am in a calm place such as my desk or couch. But in a busy setting, such as around machinery or working out, I found the controls to be a little difficult to navigate. Charging and battery life: The headphones come with a usb-a to usb-c cable so you can use a normal usb charging device to charge the headphones. The battery life for me has been excellent. And when I use It with the aux cable it doesn't use the battery so it can go even longer. Overall the Club One are a really nice pair of headphones that I found myself excited to use.
Date published: 2020-10-26
Rated

5

out of

5
by
wikdwizard
from
Great sound, and nice hardware
I use these while I'm working for quality sound and the noise cancelling feature to cover my loud chainsaws.
Date published: 2020-08-11
Rated

4

out of

5
by
rlmoyer
from
4.5 Stars - great over the ear headphones
The JBL Club Ones are a solid pair of over ear headphones. With even JBL sound and a very premium look and feel. They have more a mid focus naturally EQ wise - which I love because I didn't feel like I needed to change the EQ to hear what I prefer. And while the app gives you extra EQ control I personally found EQing these only ended up detracting from the over all tone even though I would normally have to EQ other earphones to enhance what I prefer. The features are decent, they have tactile buttons which are nice, though require slightly more force than you might expect. The active noise canceling works well for specifically low rumble sounds, engine noise for instance. Anything else just gets muted by the headphones physically. The active listening leaves a bit to be desired as it only opens up the sound a bit, but doesn't bump the sound up much or add an EQ bump to increase vocal clarity during talk through. The difference between talk through and smart ambient listening is negligible at best. Battery life seems great; I've had no issues with battery drain. Charging is quick - full charge probably only 40ish minutes. Comfort-wise they fit me great, but they do squeeze my boyfriend's head a little more than necessary (he's my model in the photos, I prefer not to post my face). They can make your ears a little sore after multiple hours of wearing them, but I haven't had that issue (guess my head is a little smaller than his). Accessory-wise the JBL Club Ones comes with multiple useful accessories, all of a good quality. The optional cables (which let you use the headphones wired without using battery) have a locking mechanism so they can't be pulled from the ear cup, and unlike most headphones you can choose which ear cup to plug it into - fantastic design feature! The included case is nice but lacks any storage for the accessories or charging cable, but keeps its stowaway footprint to a minimum and they can easily be taken anywhere with you. Overall these are a solid pair of headphones with good frequency response and sound stage, fine features, and a pretty comfortable fit. One thing I wish they had that bothers me personally is the earcups do not turn to fold flat. So if you're like me and put them around your neck when you take them off for a bit, they can squeeze your chin a minimal amount instead of laying flat on your shoulders.
Date published: 2020-08-14
Rated

5

out of

5
by
andygod75
from
Perfect sound and innovative tech.
I've had the earphones for several weeks now, and my goodness, they're amazing. They're top quality, they've thought of every detail. Download the JBL app to adjust the EQ to how professional DJ's would have theirs. You can also create your own personal EQ dependent on your personal preference. The noise cancelling is also the best I've experienced with adaptive sound depending of what you require. I wear glasses I have no sound leaking our and the fit is superb. The design is special, you can see the monitors in the ears, not something that you need to see, but it's the little touches like this that make me glad I have them. Also, the ear pieces don't fold like more on-ears do, they collapse in on themselves so that you still have full access to the charging port at the bottom of the headphones. Not that you need to charge them often, when they say 55 hours playback....they mean it. You wouldn't regret getting these beasts.
Date published: 2020-03-30
Rated

5

out of

5
by
AuthenticUser
from
Great product
I bought this approximately 15 days back and have a really nice experience thus far. The delivery was on time. Headphones got connected easily to phone, laptop, Alexa, Google assistant. One place where it can improve is mute/unmute button. Other area is connectivity to multiple phones or multiple services like alexa and Google at same time..
Date published: 2020-11-24
Rated

5

out of

5
by
Jorgeivan1090
from
Professional Sound, made for Pros
So many models in the market, I know it's hard to decide. The Club One headphones is one of the most complete I've tried so far. Somehow heavy, it manages to balance that heaviness with the sound and features. First of all, I want to mention, JBL has an app where you can customize the sound, which it's amazing. I've tried them for a week and this is my overall review. I took them for a walk, great for a walk, not so much for runners. I took them to a themed park, you know with all the noise, it's just perfect with the noise cancellation feature. I took them on a plane. Very compact, I love the case, the only think I dislike about it, it's that when you close them to store them, there is not separation in the case for them so the exterior makes contact with each other, and I have to be very careful cause I don't want to scratch them or something like that, other than that. Smooth all the way to landing. I took them to the beach to test them, I normally don't use headphones at the beach, I take my JBL charge with me but for review purposes, I did it. They don't get hot like other ones, even though I sweat a lot, it doesn't get stick to them. The most exciting part, I did all of these activities in one charge. ONE. they last up to 45 hours on a simple 2 hour charge. These come with a lot of accessories for different purposes, like Proffesional DJ's. I like the fact that they come with Alexa and Google Assistant. Overall satisfied. Go get them
Date published: 2020-09-15
Rated

5

out of

5
by
Philip626
from
JBL Club One set an new standard!
First of all, the headphone looks amazing. And yes, it is totally amazing. Simply the best on the market. So good aesthetic feel it has. Very light and also comfortable. The sound is as best as the looks. I really can't find any other headphones to compete with it. It is the best headphone experience in my life so far.
Date published: 2020-10-21
Rated

4

out of

5
by
Kwhytho
from
Excellent Replacement Headphones
I've had these headphones for about a week. I was using a Samsung Level Up pair which due to a design flaw, began cracking in several spots on the headband area. I saw a deal for these and decided to jump on it. So far I am rather impressed. Very durable/sturdy build and they also don't feel like they are going to fall off, like my previous Samsung headphones did. They are comfortable and the sound quality is great. I love that JBL includes a carrying/protective case as well, which also feels well-made/sturdy.
Date published: 2020-11-02
Rated

5

out of

5
by
NnekaAN
from
Your own personal concert!
There are many noise cancelling headphones out in the market, but I have never personally used one like this! It felt like I had my own personal concert in my ears. The sound quality was sublime! There was a harmonious balance between background music and voice, unlike some headphones highlight one over the other. The audio is well rounded out and even at the max volume the sound leakage is minimal. The Bluetooth connection is excellent. I placed my phone in my room and walked around my house. Even at a distance of over 12 feet, the connection was brilliantly stable. The noise cancelling features are brilliant! In fact, they work almost too well :D I would recommend that you do not listen at a high volume while walking, or you will not hear anything! The only thing that needs a bit of improvement is the battery life. I use it heavily and it lasts about 10 hours, which is good, but not great. I have had Bluetooth headphones that last for longer. All in all, a brilliant set of headphones for the price!
Date published: 2020-03-20
Rated

5

out of

5
by
Anonymous
from
Great Price and Sound
I was pleasantly surprised by the sound quality from these headphones. The noise cancelation is excellent. The fit is good for me and not uncomfortable at all as some have stated in their reviews.
Date published: 2020-11-02
Rated

4

out of

5
by
histar
from
Good noise cancelling
Well built headphones solid with a nice protective travel case. The sound quality is very good with clear ranges on bass and treble. Personally, as a smaller woman I found these a little heavy, but my husband loved them and found them very comfortable to wear for extended periods of time. Thankful for the optional cable, too many wireless don't provide this anymore, but the battery life is solid. Overall, a good serious pair of headphones, easily outclassing our old Beats.
Date published: 2020-08-31
Rated

5

out of

5
by
Jblenthusiast312
from
Premium build quality Superior sound
Love the fit and sound on these cans. They get surprising loud and the JBL Headphone app is easy to use and useful unlike many other companion apps
Date published: 2020-08-11
Rated

5

out of

5
by
Cornflake101
from
Great headphones
I bought these headphones a couple of weeks ago after my JBL Everest 750NC broke. The build quality on these are really well. They are made of all metal. Makes a little heavy, but still comfortable to wear for several hours. I wear these for up to 16 hrs a day. Suffer from severe tinnitus (ringing in the ears) so use them to try and drown out the noise in my head as best as possible. The sound quality sound good to me the mids and lows can't say much for the highs as I can't hear all of them due to the tinnitus and hearing loss. The bluetooth range on these are about 25 to 30 ft. Which isnt bad in my opinion. Battery life is between 16 to 24 hours a charge which is really good. They also have a app you can customize EQ with and five preset DJ settings with these which I found to be very useful. The Noise Cancelation works really well with these as well. Taking calls on these are really easy and both parties can hear clearly on them. I have a lot of headphones due to my medical condition with tinnitus JBL, Bose, Skull Candy as others and these are the best pair of headphones I have had. Would definitely recommend buying these.
Date published: 2020-07-08
Rated

3

out of

5
by
Anonymous
from
Clear sound
My headset came on time, just not enough bass a loudness
Date published: 2020-11-03
Rated

5

out of

5
by
Gargamel626
from
Blown away by the quality and sound
Whether you're a professional DJ a music producer or just an every day average Joe these are by far the best Bluetooth headphones on the market! As a sound engineer I do a lot of mastering for friends who are DJs and I would normally go with corded headphones due to the sound latency loss that usually comes with Bluetooth headphones but with these I feel they are as good or better then most of the professional corded headphones! Try for yourself and you'll see
Date published: 2021-10-13
Rated

1

out of

5
by
DeejayQuack
from
I NEED TO TALK TO HARMAN!!!!!!
I am a JBL/Harman/AKG fanatic and these are the the most complicated (trying to be too smart for you) headphones I have ever had from them. I currently have the HarmanKardon soho wireless...the "E55BT Quincy Editions". Before I think they were the 700BT (not sure) but these I was upset about my purchase within an hour and a half after my purchase.
Date published: 2021-12-30
Rated

5

out of

5
by
JD723
from
Everything I wanted and more!
For the last few years I've been using a used pair of JBL Everest Elite 750NC headphones and absolutely loved them! Recently the left headphone had stopped working and I decided I needed a new pair. After seeing that those specific headphones are now discontinued, I decided that the Club One seemed to be pretty much a newer and better updated version of the 750NC and figured I'd give them a try since I have never been disappointed with a JBL product in the past. I received my headphones in the mail yesterday and have been nothing short of blown away. I'm still getting used to all of the new features and the personalization options on the headphones app and they're pretty cool - but honestly I've just been using the included aux cord with the mic and remote and plugging directly into my phone more often than not. Even without the ANC on these headphones do a great job of cancelling out any outside noise which is awesome considering that means they'll still put out amazing sound even if they're not charged up. They're also incredibly comfortable to wear for long periods of time (fell asleep with them on last night) and the build quality and materials and aesthetics really are something else. All in all I'm very happy with my purchase and will be using these on a daily basis for years to come.
Date published: 2021-01-26
Rated

5

out of

5
by
Gerald M
from
Welcom to the Club
This head set is definitely of professional quality. I use in at work and home. The sound quality can't be beat and it blocks out any surrounding noise. You can truly hear your music the way it was meant to be heard. It come with a durable protective case. It comes with every hard connection cable and adapters that you will need for home, studio and airplanes. Also you can connect via Bluetooth. I love all the options on this headset.
Date published: 2020-08-07
Rated

5

out of

5
by
ThatGuyYouKnow
from
Best Headphones I have ever used!!!!
For the past couple of days I have been listening to these headphones almost non stop. I streamed some music from my phone, listened to an audio book and even hooked them up wired to my phone and computer to listen to some music. These sounded great in every scenario. I was blown away at how good these headphones sounded and that was before I even downloaded and used the JBL headphones app on my phone. Being able to switch the EQ or create my own for whatever I want to listen to is awesome. The build quality on these feel premium, and the noise canceling is top notch. The battery life has been as expected and I have only had to charge once in the past couple of days with noise canceling on. The Bluetooth range has also been excellent, while streaming from my phone I was able to walk all around my apartment without my phone in my hand and I had no connection issues. One of my favorite features is actually the ability to connect to my favorite digital assistant. I have smart devices throughout my house so it's nice to have the option to turn lights on and off as well as listen to my daily schedule with just the press of a button. I highly recommend these headphones especially for anyone that is looking for noise canceling. The only potential con I can see about these is that case only holds the headphones and not the included cables. I actually prefer this as my phone also uses USB-C so I always have a charger with me and I prefer using Bluetooth anyways.
Date published: 2020-08-08
Rated

5

out of

5
by
Jilljj
from
Great product
This is a solid product. It is fairly heavy but not so much that it is difficult to wear. I'm a pretty small adult (5ft) and did find that it fits fairly snug so I'm not sure how it would work for someone much bigger. The functionality is great, although it is taking me awhile to remember the multiple functions of some of the buttons. The instructions were easy to follow and the app is pretty easy to use. I usually use earbuds so I was pleasantly surprised with the sound of these headphones. I appreciated that it came with multiple cords/adapters that can be used. The carrying case will be handy as I will use these a lot when I travel. The length of battery life has been great. My only complaint is that when stretched to fit on my head, the top of the headphones flattens and rests on my head. It's not super comfortable but not terrible. Overall I would recommend these headphones.
Date published: 2020-08-07
Rated

2

out of

5
by
Irish44
from
Wind SUCKS
Overall they're nice, however if you get a little breeze it sounds like the earth is crumbling under you. Great for indoors but I cant ride a bike or go for a walk on the beach.
Date published: 2020-06-19
Rated

5

out of

5
by
Florida Man 27
from
Impressive
Overall the build quality is nearly perfect, the only thing that makes me a little nervous is the hinges where the ear cup rotates. It's not in danger of falling apart my view is more of long term durability, I'm sure it's more robust than it appears as it is metal after all. The accessories that come with the box are pretty robust and thorough although it would be nice to see future shipments come with a small power brick with the option to buy a fast charger at an additional cost directly from JBL. The sound quality is absolutely where the JBL CLUB ONE shines! These hands down are the cleanest sounding headphones I personally have ever used, allowing me to completely rediscover many hours of music while hearing chimes and background sounds that went unnoticed previously. The bass response is nice and level, providing just enough to make most genres of music come across clear and responsive. Personally I enjoy music with more of a punch in the lower frequencies and find that at times the JBL CLUB ONE can leave a little more to be desired that I'm sure could be mitigated with a future update to the companion smartphone app for these headphones. As of the time of this writing the "My JBL Headphones" does not have a native option to increase lower end response other than adjusting an on screen equalizer. The headphones are nicely constructed of "premium materials" making for a very appealing finish that really feels nice in the hands and makes them comfortable to wear for extended periods of time. These headphones have a very soft and plush ear cushion that can be a little hot to wear in any weather that resembles Florida but also provides plenty of sound isolation and comfort at more reasonable temperatures. Making phone calls is very clear for both parties due to the array of microphones around the headphones and the noise cancellation appears to also aid in call quality. I personally pre ordered these for $349 USD and received them on launch day via Amazon. I can definitely summarize them as being excellent, just not $350 USD excellent. If you can snag them for $299 I'd say that's where they belong but everyone will have their own idea of what something is worth. Definitely buy them though.
Date published: 2020-06-02
Rated

4

out of

5
by
rhdad42
from
Classic JBL Sound in a Premium Package
I've been researching NC over-ear headphones for quite a while and had been focusing on the big two heavyweights in the space (you know the two) when JBL came out with the Club One. I've been a big JBL fan since the 80s and read some good things about their new phones so I was intrigued. The first thing you'll notice about the Club One headphones is the heft. They're definitely heavier than I expected but I think it speaks more to the build quality than anything else. The weight is extremely well-distributed and the balance is exceptional. Wearing them for an extended period of time wasn't tiresome or uncomfortable at all. The metallic headband is padded and covered in leather, as are the memory-foam earpads. The pads attach to plastic earcups magnetically (a nice feature for easy changing if needed down the road) and connect to the headband with articulated metal yokes. I have a large head and these fit firmly without squeezing, something I often have issues with. When you're not wearing them, they fold into a small case for easy travel. I like the Bluetooth 5.0 compatibility, but wish they supported AptX instead of just AAC and SBC. I like the fact that they come with two cables to connect, and the twist-lock connectors can go in either the left or right earcup. ANC was solid, especially filtering out the low frequencies. I haven't been on a plane or a train, but when mowing the lawn with them on I was able to clearly hear my music instead of my Briggs & Stratton. Without music playing, there's a little bit of hiss, but nothing bothersome. I noticed only the slightest difference in the music with ANC on or off, and the JBL engineers deserve credit for that. Connecting to my Samsung Galaxy S20 Plus was simple, and the JBL Headphones App recognized the Club One immediately. On the app you can choose which setting you want the Ambient Mode button to use: Talk Thru, which lets you talk without removing the headphones; or Ambient Aware, which doesn't lower the music levels but does let you hear your surroundings. The latter would be great for walking through the city. You can also enable or disable ANC, choose your voice assistant (Google, Siri), or choose from one of the five DJ EQ presets. You can also create and save your own EQ presets. Now the important part – the sound. I picked Roger Waters' Amused to Death for my first test. It's a great recording, I know the album well, and the Club Ones delivered crystal clear performance. Stereo separation is fantastic, and there's a spaciousness that doesn't sound exaggerated. Bass is tight, though not overblown – the headphones didn't try to add extra low-end oomph, as some do. Even at uncomfortable listening levels, distortion was non-existent. Mids and highs were perfectly on point. Next I picked a few familiar tracks from the 80s to get a sense of the overall sound across genres. Michael Jackson's Beat It was incredible, from the synths to Eddie Van Halen's slightly distorted guitar solo. Then I picked Dire Straits' Money for Nothing, a track I used to use to test speakers from back in the day. On both tracks, the bass and drums were tight and not overstated but the real focus remained on the clarity of the mids and highs. Finally I chose a more recent song – Steven Wilson's The Raven That Refused to Sing. Wilson's vocals are exceptionally reproduced before strings, winds, Mellotron, and drums build to a sweeping finale. I listened to this on Blu Ray and it was moving, the JBLs took nothing away at all. If I had to nitpick I'd say that if anything these phones lack a bit of the warmth some might be looking for but they are DJ-inspired so to expect analog vinyl warmth might be asking too much. I mean, you wouldn't buy a Mustang if you wanted a pickup, would you? My only other "wish" would be to be able to switch some of the buttons on the phones themselves – specifically tappng the left earcup right now activates the voice assistant. I don't use the voice assistant, so to be able to turn ANC on and off would this would be a fantastic enhancement. That said, it's not something I'm holding against the Club Ones. Bottom line – I'm thrilled with these headphones so far. The noise canceling is good, the headphones are sturdy and well-made (albeit a little heavier than some competitors), and the sound is as good as I'd expect from JBL.
Date published: 2020-08-11
Rated

5

out of

5
by
Guerrero123
from
JBL Club One
I've been using these for a month and boy do these sound amazing! This is my first pair of over ear headphones and I am very impressed with the build quality of the JBL Club Ones, They feel very sturdy, feels like I can use these for years without having parts falling of or breaking, Metal in this product gives me a sense of quality and dependability for years, The app is pretty cool and pretty easy to customize to your hearing, which is a must have when it comes to my audio I Love setting My EQ's to my taste. Being on the move often means sometimes I'm not able to be around a power outlet , so the battery life these offer is amazing!, and if i'm ever out of battery Have a Cable which can be connected to my phone, and not to mention that I'm a left handed this makes it super easy to use it being wired. Overall these are a great! You won't be disappointed very interacitive headphones with great noise canceling features , and talk through features. I'm definitely getting my wife a pair for Christmas!
Date published: 2020-08-10
bvseo_sdk, dw_cartridge, 18.2.0, p_sdk_3.2.0
CLOUD, getReviews, 8ms
reviews, product
Spørgsmål og svar
Can the club one connect to two devices and change between them simultaneously?
yes
Date published: 2022-03-01
Do the Club Headphones support multiple bluetooth connection points?
Our JBL Club One can pair multiple devices but can only play one source at a time. If you need more help, please contact us here: https://bit.ly/2zwFkYM
Date published: 2021-06-06
What is the difference with this and the 950 anc besides leather on the club ones
There's a lot of differences between the two. They differ in frequency response, the Club ONE can play lower notes and has a little more power than the Club 950c. You can check out their spec sheets for detailed information.
Date published: 2021-06-06
I just got my club ones in the mail and they don't turn on, when I plug in with the aux cable they work but they don't turn on for Bluetooth and don't charge
We would like to get more information to help you out, please contact us so we can assist you: https://bit.ly/39hPHyX
Date published: 2021-08-21
Will the Harman AE/OE target be something we can tune for with Harman Personi-Fi?
You can sign up on our Newsletter to get more news and updates from us. www.jbl.com
Date published: 2021-06-06
When will Personi-Fi be ready?
Unfortunately, we don't have a specific date when Personi-Fi will be available in the US. You could sign up for the JBL Newsletter on our website.
Date published: 2021-06-06
can you replace the ear seals
We would like to get more information to help you out, please contact us so we can assist you: https://bit.ly/2zwFkYM
Date published: 2021-06-06
Available in UK but not US, terrible customer service team. It's beyond me that these are available in the UK but not available in United States and the only answer we can get from JBL is it'll be available this year while we have seven months until the e
Thanks for your feedback, it is always appreciated and will be sent to the right department.
Date published: 2021-06-06
Got these for my wife. After 3 months of perfect use, they no longer will charge. I only get 10% charge. I have used different usb-c cables and different chargers. Even a 60w Apple USB-C charger will not charge them. What are my options?
Thank you for bringing this to our attention. We'd like to work with you directly to troubleshoot the issues you're experiencing with our JBL Club One headphones. We'd also like to get more information from you so we can check your options. Please contact our customer support team at https://bit.ly/2WocMfi
Date published: 2021-08-23
I am not a gamer and do not listen to music. But I watch movies, so the delay excites me. Medium. sbc does not suit me. What is the codec in these headphones?
Our JBL Club One supports both AAC & SBC. If you need more help, please contact us here. https://bit.ly/2zwFkYM
Date published: 2021-06-06
Does the JBL CLUB ONE have the bass boost button on the ear cup just like the JBL CLUB 950NC's. Also which headphones have the most bass, the CLUB ONE or the CLUB 950NC.
Our JBL CLUB ONE doesn't have the bass boost button as our JBL CLUB 950NC has. CLUB 950NC has more bass with the help of the bass boost that ensures every crystal-clear note sounds like it's being played just for you.
Date published: 2021-06-06
Where does it made?
Our JBL Club One is designed in the US. The parts are assembled in China.
Date published: 2021-08-01
how do your headphones compare with your high quality speakers? which headphone best matches the quality of your speakers?
Hi there, Thanks for having interest in our products. One of our highly recommended headphones would be the JBL Club One, with Hi-Res audio, Legendary JBL Pro Sound, and a 40mm custom orange graphene driver, you'll get a wide range of detail and clarity that makes every note sing. To learn more about the Club One, you may visit our website at https://bit.ly/3qL9AqM
Date published: 2021-06-06
Will these headphones work to hook up to Sony Bravia Android tv system with a sound bar system?
We would like to get more information to help you out, please contact us so we can assist you:https://bit.ly/2zwFkYM
Date published: 2021-06-06
When are these headphones going to be available in Canada, i have been waiting quite a while now and still have not seen them. I have been given 3 different dates and all have passed and still they are not available for us here.
Thanks for your interest in our products. For availability and pricing, please contact our local support at https://bit.ly/372Gv1S
Date published: 2021-06-06
are these water resistant and sweat resistant if I wanted to work out with them? When will they be released.
JBL Club One is not waterproof nor sweat resistant. We're hoping to release JBL Club One this year. Please sign up for our newsletter for the latest updates about our promotions and product launches. Thanks.
Date published: 2021-08-07
Hi, is it possible to get them customised with my logotype/initials? Thanks!
We would like to get more information to help you out, please contact us so we can assist you:https://bit.ly/2zwFkYM
Date published: 2021-06-06
American Company. Available in the UK for over a month. Not available in US and no US released date announced. Why?
Thanks for your interest in our product. Unfortunately, there's no mention of a specific release date for our JBL Club Headphones yet. For the latest news and product releases, please signup to our JBL newsletter: https://www.jbl.com/subscribe.html
Date published: 2021-06-06
Can anyone tell me how these are in the gym. Ua project rocks are discontinued?
Our JBL Club One is not suitable for active sports since it is not sweatproof. You may want to check our active sports headset like the JBL Reflect Flow Pro, Endurance Race TWS etc.
Date published: 2022-09-07
Can we adjust the noise cancelling levels in the Club One?
Can we use the adaptive noise cancelling in Club One instead of True Adaptive noise cancelling
Why the club one doesn't get the base boost? It doesn't need it?
bvseo_sdk, dw_cartridge, 18.2.0, p_sdk_3.2.0
CLOUD, getContent, 129ms
questions, product