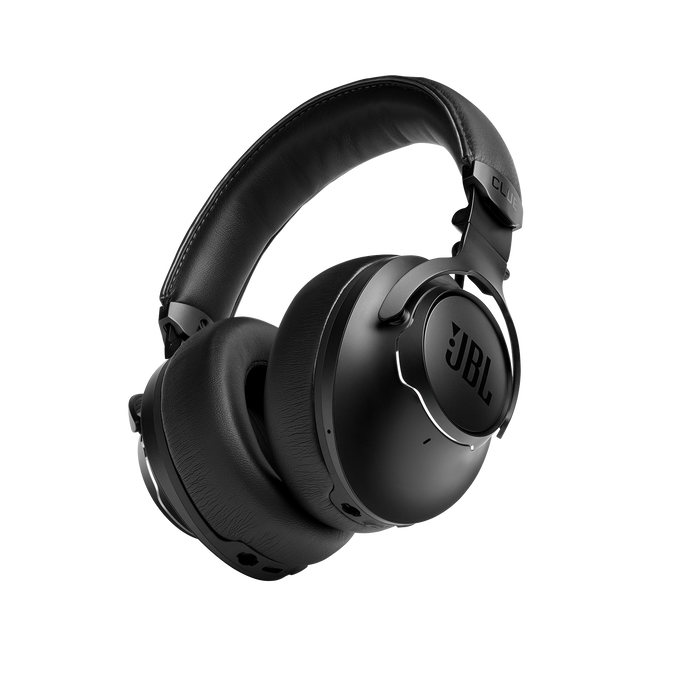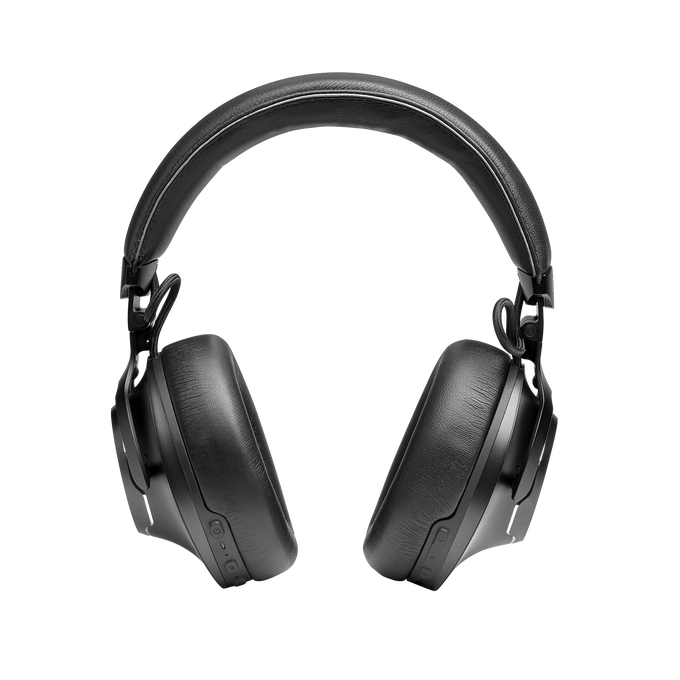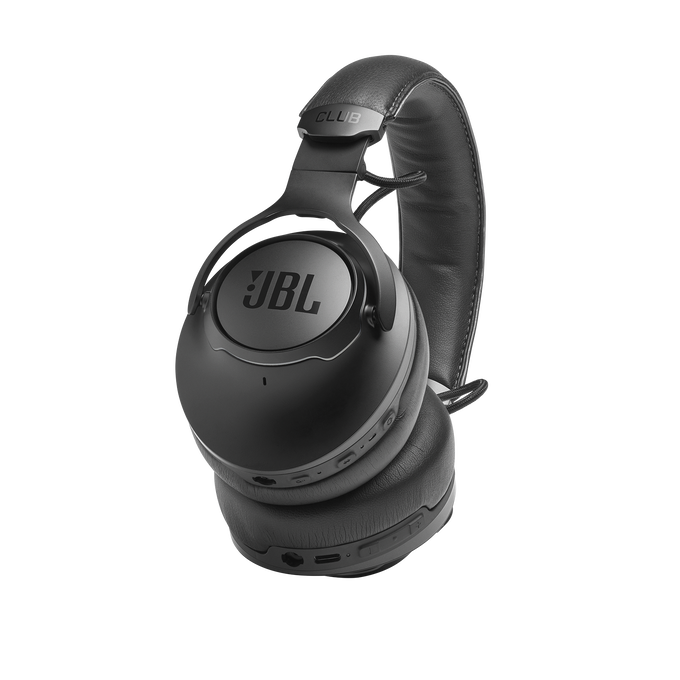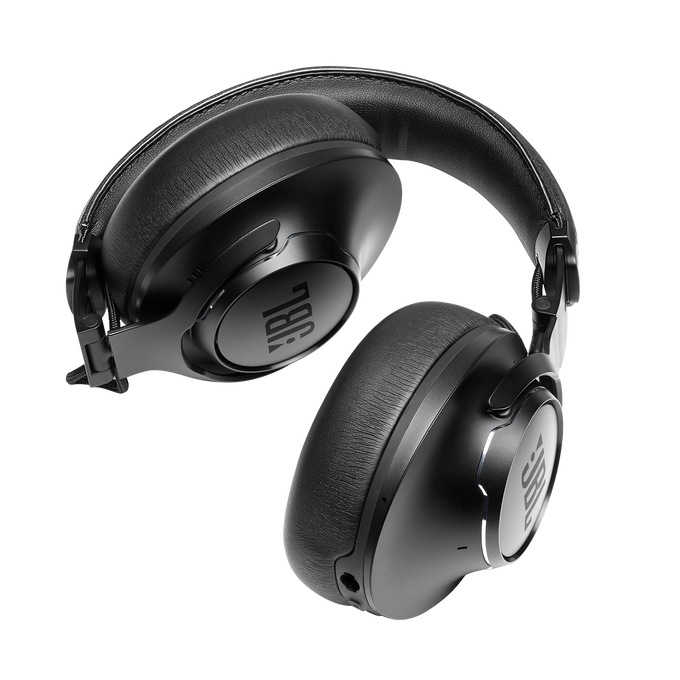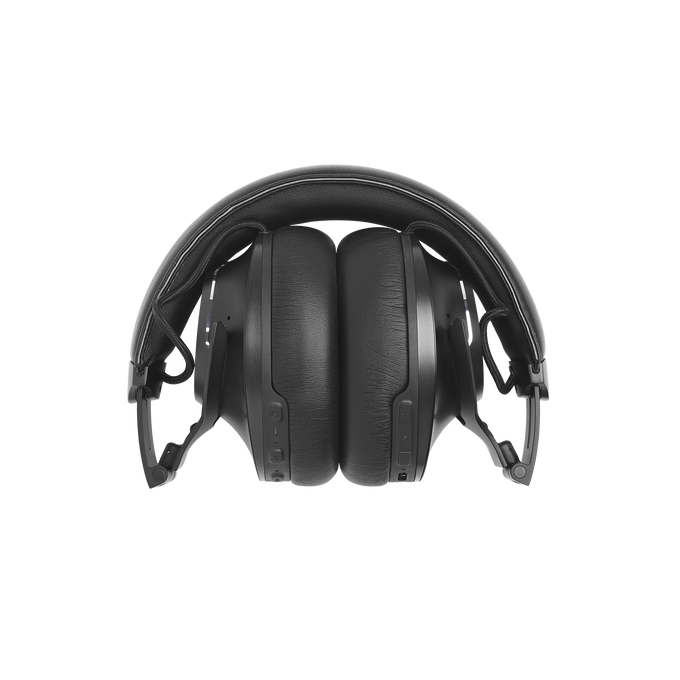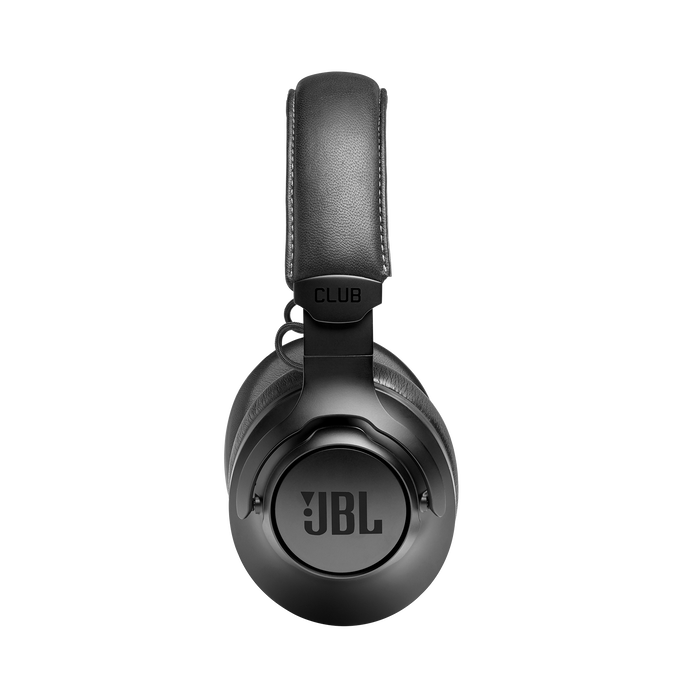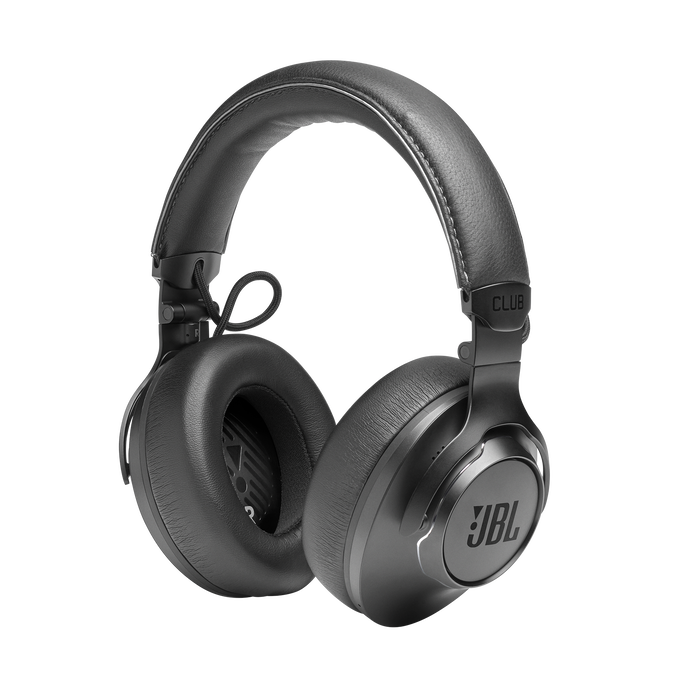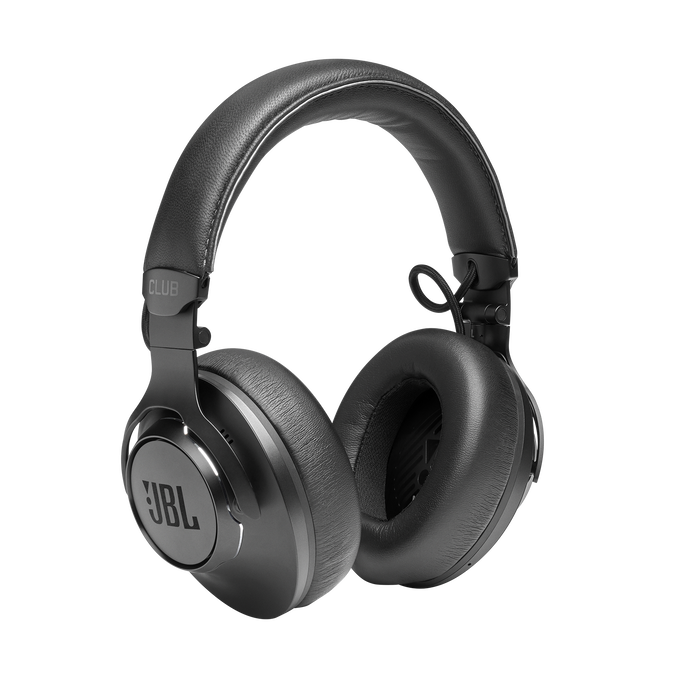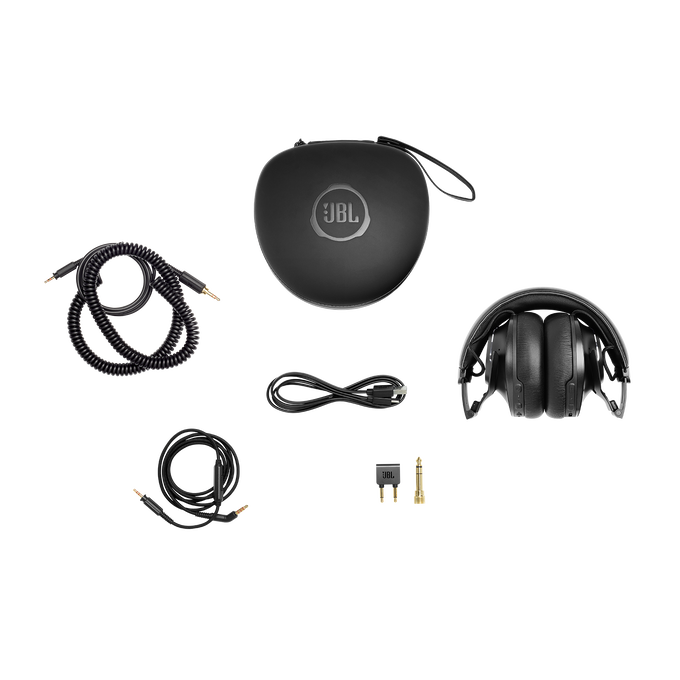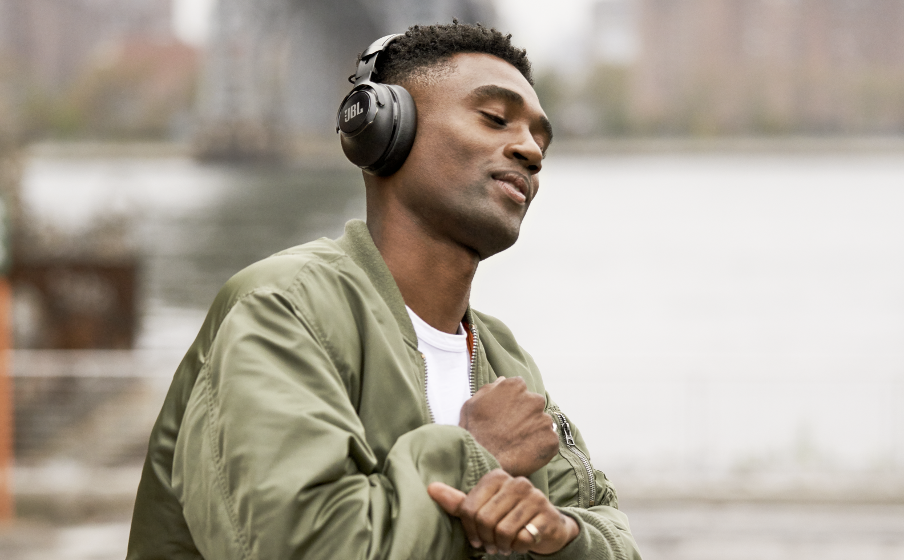 Lyd i pro-kvalitet
Du har aldrig hørt dine favoritsange på denne måde. Med den legendariske JBL Pro lyd i høj opløsning, og en specialudviklet orange 40 mm grafen-enhed, får du klarhed og detaljer, som løfter hver tone til nye højder.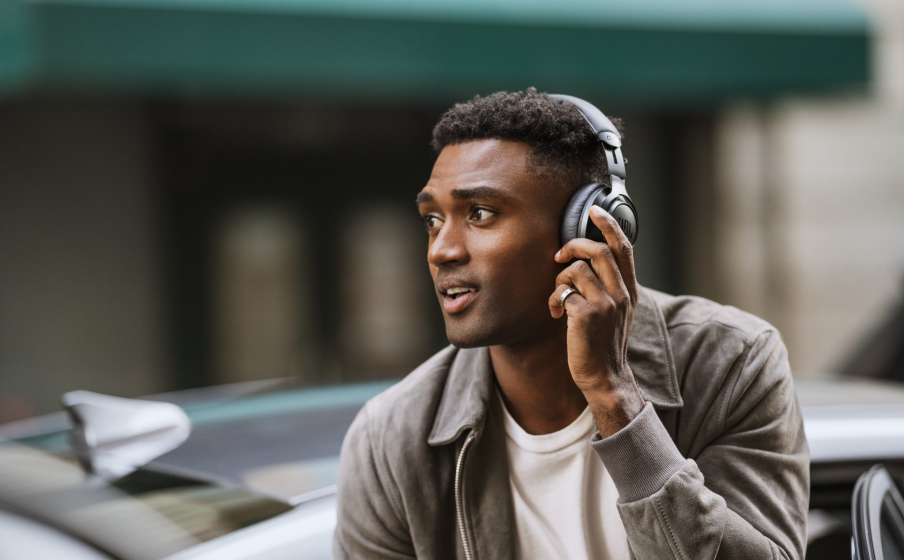 Luk alt ude
Sluk verden omkring dig, og dyk ned i din musik. JBL CLUB ONE hovedtelefonerne har ægte adaptiv støjreduktion, der tilpasser sig de skiftende omgivelser i realtid. De tager også højde for lydlækager som følge af hår, briller og hovedbevægelser. Og med funktionen SilentNow kan du nyde ægte adaptiv støjreduktion uden Bluetooth-musik, så du får fuldstændig fred.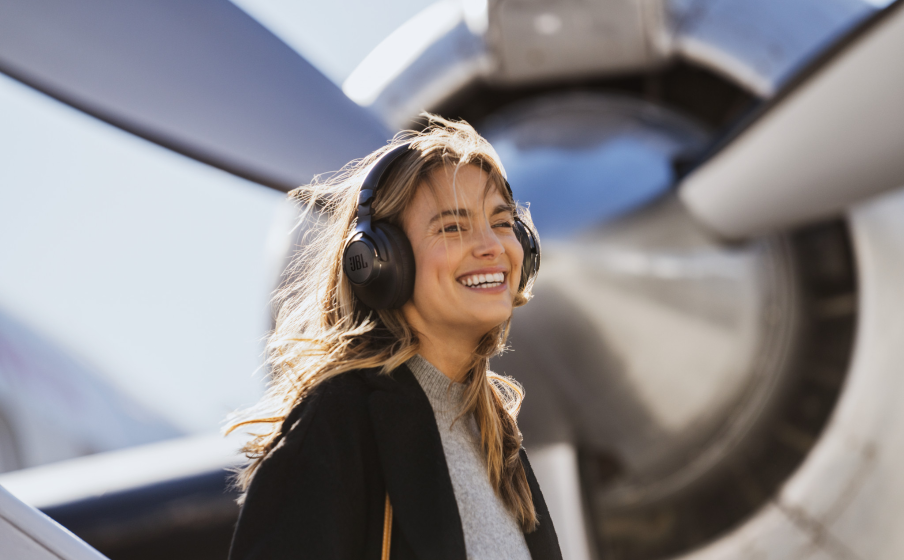 Forkælelse til dine ører
Dine ører får ikke brug for en pause fra JBL CLUB ONE hovedtelefonerne. De polstrede, ovale, omsluttende ørekopper holder komforten oppe fra sang til sang, fra playliste til playliste. Du får førsteklasses materialer med robuste metalhængsler, hovedbøjle i læder og stilfulde designdetaljer.
Funktioner

Få hjælp fra Google Assistent og Amazon Alexa
Send en besked, stil ind på din playliste, eller tjek vejrudsigten - uden at røre din telefon. Når du vælger Google Assistent eller Amazon Alexa i My JBL Headphones-appen, aktiveres din hjælpsomme stemmeassistent med et tryk på venstre ørekop. (*) Understøttes kun på Android. (**) Android 6.0 eller højere er påkrævet for fuld adgang til Alexa-funktioner, når denne enhed bruges.

Perfekte opkald med to mikrofoner
Du behøver ikke længere lede efter et stille sted for at telefonere. JBL CLUB ONE har to mikrofoner, der fjerner omgivende støj, så du kan tale overalt. Med Bluetooth 5.0 får du både trådløs musik og håndfri opkald på farten - helt uden problemer.

Hør det samme som dine foretrukne DJs
Nogle af verdens bedste DJs hjalp med at definere lyden i JBL CLUB. Du skal bare vælge din favorit DJ med STAGE+ funktionen i My JBL Headphones-appen. Så vil JBL CLUB ONE hovedtelefonerne automatisk kalibrere lyden, så du hører hvert eneste beat på samme måde som de professionelle.

Hør det, du vil, med Ambient Aware og TalkThru
Fasthold opmærksomheden på omgivelserne, mens du er fordybet i musikken. Et hurtigt tryk på Smart Ambient knappen aktiverer Ambient Aware, som forstærker den omgivende lyd uden at afbryde din playliste. Med TalkThru kan du skrue ned for musikken og forstærke stemmerne omkring dig, så du kan føre en samtale uden at tage hovedtelefonerne af.

Lad musikken spille i 45 timer
Hold fokus på musikken, ikke batteritiden. Nyd 45 timers Bluetooth-forbindelse, før du skal genoplade. Her er musik til hele dagen og natten - plus dagen derpå.

Kraftfuld lyd - på din måde
Det er okay at være kræsen. JBL CLUB ONE hovedtelefonerne har dobbelt aux-indgang, så du kan tilslutte kablet i begge sider. Uanset hvad får du 3.500 mW max. indgang og modstand mod strømudsving.

Lige så eventyrlystne som dig
Rejs aldrig mere uden dine yndlings-hovedtelefoner. JBL CLUB ONE kan foldes sammen til en bold, er holdbare og leveres med flyadapter. Smid dem i det beskyttende etui, og tag af sted. De er med på den værste.

Lyden er lavet til dig
Du ved, hvordan du vil have din musik. Det gør JBL også. JBL Club One hovedtelefonerne er udstyret med Personi-Fi. I få enkle trin kan du med Personi-Fi skræddersy din lydprofil baseret på køn, alder og præferencer, så du får den bedst mulige lytteoplevelse. Du finder Personi-Fi i seneste version af den gratis My JBL Headphones-app.
Detaljer & Downloads
Item# JBLCLUBONEBLK
Beskrivelse
Høj ydeevne fra professionelt inspirerede hovedtelefoner, som hiver dig helt op på scenen

Hør det samme som verdens førende musikere. JBL CLUB ONE hovedtelefonerne leverer den legendariske JBL Pro Sound, som hiver dig dybere ned i din playliste og fastholder dit fokus med ægte adaptiv støjreduktion. Disse professionelt inspirerede Hi-Res hovedtelefoner leverer lyd, der er skræddersyet til dine ører takket være personlig EQ og My JBL Headphones-appen. Førsteklasses materialer og designdetaljer som de robuste metalhængsler, hovedbøjlen i læder og de polstrede, omsluttende ørekopper betyder, at du aldrig får lyst til at tage dem af. Lyt som en pro - overalt.
Specifikationer
Enheds-størrelser (mm)

40
Lydspecifikationer
Enheds-følsomhed ved 1kHz/1mW (dB)

95

Dynamisk frekvensområde (Hz)

20 Hz – 20 kHz

Impedans (ohm)

32
Mål
Vægt (g)

378.5

Vægt (oz)

13.4

Hovedtelefonernes kabel-længde (m)

1

Headphone Cable Length (ft)

3.3

Ear Cup External Height (in)

3.7

Ear Cup External Width (in)

3.1

Ear Cup Internal Height (in)

2.4

Ear Cup Internal Width (in)

1.8

Ear Cup Depth (in)

0.8

Højde (cm)

9.3

Bredde (cm)

7.9

Indre bredde (cm)

6

Indre højde (cm)

4.6

Dybde (cm)

2.1
Specifikationer, styring og tilslutning
Bluetooth-profiler

A2DP 1.3, AVRCP 1.5, HFP 1.6

Bluetooth-frekvens

2.402 GHz - 2.480 GHz

Bluetooth sender-modulation

GFSK, _x001F_/4 DQPSK/ 8DPSK

Bluetooth sender-effekt

<4 dbm

Bluetooth-version

5.0
Batteri
Ladetid (timer fra helt afladet)

2

Maksimal spilletid med aktiv støjreduktion (timer)

25

Maksimal spilletid (timer)

45
Egenskaber
Bluetooth

Ja

Charging cable

Ja

Detachable Cable

Ja

Stemmeassistent

Ja

Adaptiv støjreduktion

Ja

Lader lyd fra omgivelserne passere

Ja

Etui

Ja

Håndfri opkald

Ja

Over-ear

Ja

Genopladeligt batteri

Ja

Multifunktionel TalkThru-knap

Ja

Trådløse

Ja
Det er der i æsken?
Aux-indgangskabel med fjernbetjening og mikrofon
Aux-indgang oprullet kabel
USB type C opladningskabel
Hårdt etui og fly-adapter
1 x garantibevis / advarselsark / lynguide / sikkerhedsark / app QSR
6,3 mm adapter
Dokumenter og downloads
Kunde-anmeldelser
Rated

4

out of

5
by
MOM Kagura
from
Great Sound But...
Really impressed with the clarity and detail of the sound quality. Definitely my favorite pair of headphones, and I've owned the 1000XM3 and Momentum 3. However, the app leaves something to be desired. When toggling with the EQ, the only thing it seems to do is "take away", not add to. You can crank the bass all the way up on the EQ and it will still be exactly the same as if you turned off the EQ entirely. If you crank up all the frequencies, it will sound exactly the same as turning the EQ off. Obviously it will sound better with a cable, and it does. The lows are very present on bluetooth but they only really come out with a cable and good DAC. I don't know what's going on with the ANC though, but you buy headphones for sound quality anyway. And again, about that app. I feel like these things could really be golden and perfect if the EQ could be properly used. I heard them mention something about Personi-Fi, but no updates were given. That may just be what they need. All in all, a very pro sounding headphone.
Date published: 2020-05-30
Rated

4

out of

5
by
Anonymous
from
Built quality, great features, great design!
I bought around two weeks ago and I have been using as much as I can. I'm pretty impressed with the sound quality. It could weight a little less, specially if compared to my Bose Soundlink II that I just replaced to this one.
Date published: 2020-11-03
Rated

4

out of

5
by
Julesy
from
Club One headphones
I really liked these headphones. The sound quality was great. They are comfortable to wear and came with a great compact case. They could maybe try to improve the microphone but generally really good product.
Date published: 2020-03-26
Rated

2

out of

5
by
AllyG
from
Expected way more
First impressions I am disappointed dont notice anymore noise cancellation then just from having them on. Expected louder and better sound considering there products :(
Date published: 2021-06-05
Rated

3

out of

5
by
Fabian 214
from
Amazing sound but lacks soundstage
I was expecting more from these headphones the way they where advertised they have great sound but lacks soundstage I'm hoping jbl will fix this issue in the future
Date published: 2021-09-14
Rated

5

out of

5
by
Elton1957
from
Nice!
Bought these on Brad's Deals last week and they're great! Sound quality is like the ones I used in the radio studio back in the day.
Date published: 2020-11-08
Rated

5

out of

5
by
Robs24
from
Great headphones!
Comfy around the ears, great sound quality, and long-lasting battery. I sat on my decision for a week and I'm so glad I bought them.
Date published: 2020-11-10
Rated

5

out of

5
by
Banzai316
from
Great sound, superb!
I really enjoy my new JBL Club one, great sound quality. Easily connect to my phone.
Date published: 2020-11-02
Rated

5

out of

5
by
hui0601
from
great features
I use these headphones every day to watch movies. Great sound wonderful headphones.
Date published: 2020-11-06
Rated

5

out of

5
by
Anonymous
from
Superb quality very nice.
I use these headphones every day to watch movies. Great sound wonderful headphones.
Date published: 2020-11-03
Rated

5

out of

5
by
Dan23
from
Excellent product
Confortable to wear and a great sound. Folds up easily to put in my carry on.
Date published: 2020-10-31
Rated

5

out of

5
by
Hunter19
from
They are just great headphones
I have had these for about 3 weeks wish I had got them early great sounds
Date published: 2020-11-05
Rated

5

out of

5
by
Anonymous
from
Amazing headset
They sound amazing best headset i bought.the quality is top notch.
Date published: 2021-06-25
Rated

5

out of

5
by
Rob24
from
great headphones
I love these headphones easy to use comfortable sound really good
Date published: 2020-08-07
Rated

2

out of

5
by
James7
from
poor user interface, firmware, physical design
Good luck getting them to connect and stay connected!
Date published: 2020-12-28
Rated

5

out of

5
by
akdı
from
protective bag nonsense
you only give protective bags on expensive products
Date published: 2020-05-07
Rated

5

out of

5
by
Masterprime57
from
Luxurious!
I am blown away by the JBL Club One! First off the battery life is insanely good, I charged them up to make sure they had full battery when I received them and that was 3 days ago.... I've been listening for a good 6 hours a day and I still have Like half a battery it's just crazy to me! The quality of these things is impeccable. From the metal, to feel of the rubberized buttons, down to the stitches on the padding these things are amazing!! Great looks and great comfort like I said I've been wearing these at least 6 hours a day since I got them and when I take them off there's no notice of irritation. The padding is that comfortable. Plus... We're talking about JBL here so the sound quality is amazing!!! If you download the app you can tweak it to your likings. In the stock settings out of the box I was impressed. I left my settings alone i was so impressed... I noticed it's not crazy loud? But, it is quite loud.. Don't get me wrong, it's prob a good thing, I woulda blown my ears out by now haha! The noise canceling features are incredible. Really helps you block out background noise and just focus on what your listing to. You can even lower it when your in public so you can hear people if you need to, via the button on the left bottom side. Course when your listing to your favorite songs someone's bound to call.... These baby's sound great on the phone! Total clarity!! Well I must admit I got these sent to me for part of the backstage pass program for testing, so I didn't pay for the pair I'm talking about.....BUT! These have impressed me greatly!!! So greatly I've already bought 2 more pairs for my family. Give um a shot you won't be disappointed!!
Date published: 2020-08-08
Rated

4

out of

5
by
Robyutt
from
SOLID product
These headphones feel premium. The metal construction is sturdy and the leather is a really nice touch where most competitors just use cloth. You can also see from the pictures that these fold in a unique way that makes them much more travel friendly. As far as build quality goes these are the best headphones I own, and I own a LOT (maybe 7ish..) of headphones. They are fairly comfortable. I have worn them for hours on end without my ears feeling overheated or any feelings of pressurization like some noise cancelling cans will give you. Not the most comfortable pair I own, but I think that is mostly because the ear cup is not quite large enough for my ears. I never thought I had large ears, maybe I do? (5'11" 170 for reference) The noise cancelling is quite good. To be honest I cannot figure out what the ambient aware feature does. I have walked around the block walked, in my office, in the living room with my daughter watching TV. I do not hear any but the occasional soft sound slip in with my music. I have done this both with ambient aware and without and did not notice any difference. Talk through is a nice feature that works much better than expected, but I had to be closer to the individual to hear them than I would like in the era of COVID-19. past 3-4 feet away I struggled to hear people using Talk through. Great feature, but could be a little better. The audio is bold. The bass sounds full, especially for headphones. I have kept the EQ flat for testing. I dabbled with the DJ presets to see how the app worked but ultimately decided to keep everything flat. The bass does have a tendency to bleed just a little. The highs could also be crisper, they get lost on occasion. I was very impressed at how well these work without ANC turned on though. Just plugging them in via AUX they are fantastic, far superior to others in the category when used in this configuration. I would never have considered plugging any other headphones in this category into my mixer to DJ, here i see no issue.
Date published: 2020-08-07
Rated

4

out of

5
by
tecks
from
Great sound but
Bluetooth: Can't go very far before bluetooth cuts out and back in (approximately 20' around 1 wall made of drywall). Bluetooth: Headphones have turned off twice. Seems to require the connection to the jbl app to be open with the LE bluetooth connection for auto shut off to work properly not the bluetooth connection for audio (did not test after firmware update). After disabling the auto off function no more shutdowns. Which means you have to be connected to the JBL app in order to have auto shut off with properly Connection seems to cut in and out every once in a while (haven't noticed since firmware update) Fitment: For my head shape, when looking down, headphones tend to slide down my head. A simple look up and head shake get them back in the right place but annoying to have to do it. Noise Cancellation: Seems to do a little better than Avantree ANC031 $80 headphones. Silent now mode: Testing near air compressor - lots of air compressor noise coming through. Can hear the fuzz/static/noise from the noise cancellation in both "silent now" mode and with device powered on using bluetooth with no music. At one point left ear cup was amplifying outside noise and right ear cup was noise cancelling... Can't get it to repeat. Turned headphones off then on and went back to normal. Usability: While charging doesn't allow music to play. Disappointing that ear cups don't fold 90 degrees to lay flat on chest. My user preference. Headache after first time wearing, potentially too heavy or clamping force too strong (not likely clamping force since they tend to slide off, or just was a day where I got a headache). Feels heavy for the first couple days but doesn't seem so bad after you get used to them. Feels very durable. Sound: Default equalizer: Good thumping base, sound quality has good note definition, I really enjoy the sound signature of these headphones. Google Assistant: keeps getting turned off automatically in the app. Frustrating when it's supposed to be a helpful feature not one you have to continually enable.
Date published: 2020-06-23
bvseo_sdk, dw_cartridge, 18.2.0, p_sdk_3.2.0
CLOUD, getReviews, 47ms
reviews, product
Spørgsmål og svar
bvseo_sdk, dw_cartridge, 18.2.0, p_sdk_3.2.0
CLOUD, getContent, 154ms
questions, product
bvseo-msg: Unsuccessful GET. status = 'ERROR', msg = 'Not Found.';