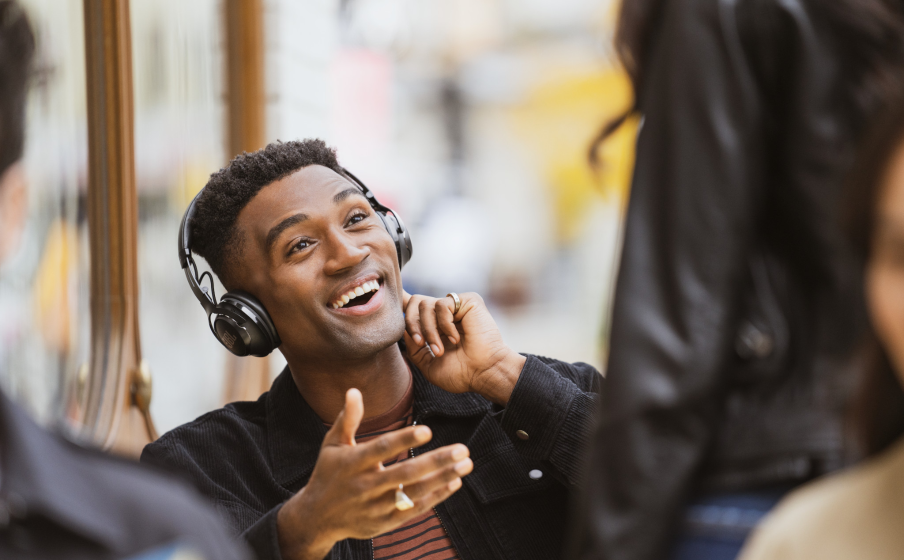 Vær midt i handlingen
Du behøver ikke billet til forreste række for at opnå samme lytteoplevelse. Lyd i høj opløsning og den legendariske JBL Pro Sound giver dig en bred vifte af detaljer og klarhed. Fordyb dig i lyden med de samme effekter, som da dine yndlingsartister skabte musikken.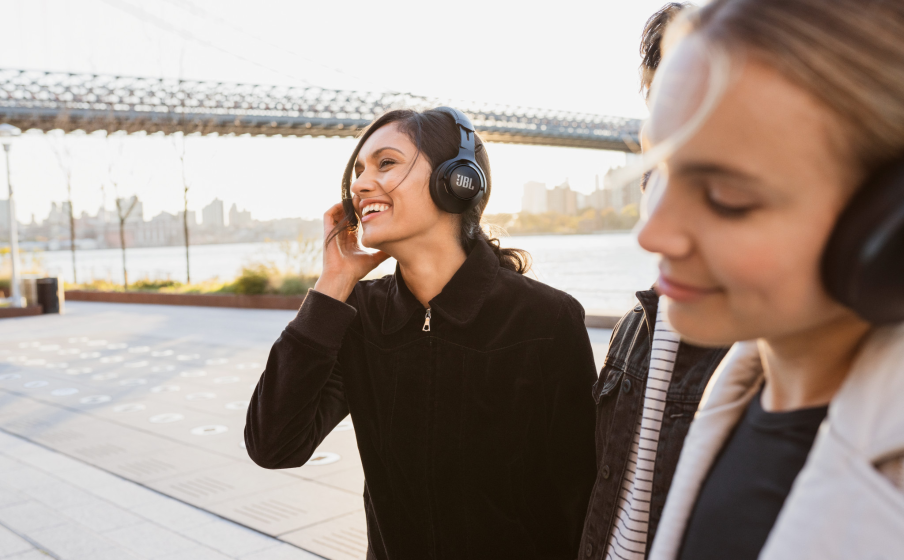 Pump bassen op med det samme
Du behøver ikke nørde rundt med knapper for at få lyden helt rigtig. Tryk blot på den dedikerede knap på højre øreprop for et øjeblikkeligt basboost.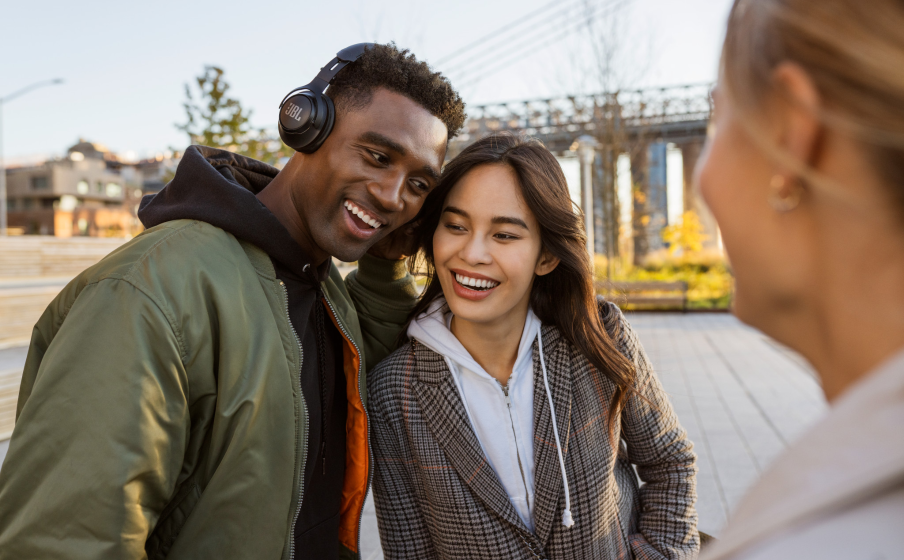 Behagelig pasform på øret
JBL CLUB 700BT-hovedtelefonerne er designet til at fordybe dig i musikken med polstrede ørekopper, der føles som om, de næsten ikke er der.
Funktioner

50 timers uafbrudt sjov
Du skal ikke bekymre dig om genopladning. Med 50 timers Bluetooth-spilletid får du brug for en pause, før disse hovedtelefoner stopper.

Styr dine omgivelser
Du kan stadig høre lyde fra omgivelserne med Ambient Aware og TalkThru. Vær sikker i trafikken, og tal med andre uden at fjerne dine hovedtelefoner.

Tag musikken med på farten
Tag dine JBL CLUB 700BT-hovedtelefoner med dig overalt. De er sammenklappelige og bærbare, så du kan tage dem med dig, uanset hvor din dag (eller nat) går hen, og de passer nemt i din taske.

Perfekte opkald med to mikrofoner
Ikke mere søgen efter fred og ro for at besvare et opkald. Dual-mic teknologien på JBL CLUB 700BT fjerner støj fra omgivelserne under opkald, så du kan telefonere overalt. Håndfri opkald og trådløs musik fungerer gnidningsløst takket være Bluetooth 5.0, så hovedtelefonerne altid er med dig på farten.

Få hjælp fra Google Assistent og Amazon Alexa
Send en sms, afspil din foretrukne playliste eller tjek vejrudsigten, alt sammen uden at røre telefonen. Vælg Google Assistent eller Amazon Alexa i appen My JBL Headphones, så er din stemmeassistent klar til at håndtere alt dette og meget mere. Du skal blot trykke på venstre ørekop. (*) Understøttes kun på Android. (**) Android 6.0 eller højere er påkrævet for fuld adgang til Alexa-funktioner, når denne enhed bruges.

Hør lyden som en professionel DJ
JBL har samarbejdet med nogle af verdens bedste DJs for at gengive lyden fra deres personlige studier, så du kan høre dine yndlingsmusik, præcis som de gør. Tryk blot på knappen STAGE+ i appen My JBL Headphones for at vælge mellem DJ-forudindstillingerne.

Lyden er lavet til dig
Du ved, hvordan du vil have din musik. Det gør JBL også. JBL Club 700BT hovedtelefonerne er udstyret med Personi-Fi. I få enkle trin kan du med Personi-Fi skræddersy din lydprofil baseret på køn, alder og præferencer, så du får den bedst mulige lytteoplevelse. Du finder Personi-Fi i seneste version af den gratis My JBL Headphones-app.
Detaljer & Downloads
Item# JBLCLUB700BTBLK
Beskrivelse
On-ear Bluetooth hovedtelefoner, der leverer lyd og ydelse i høj kvalitet

Suveræne detaljer, så du ikke går glip af en eneste tone. Dunkende, føl-det-i-dine-tæer bas med et tryk på en knap. DJ-forudindstillinger giver fuld kontrol over lyden. JBL CLUB 700BT-hovedtelefonerne er inspireret af professionelle kunstnere og leverer fremragende lyd i høj opløsning, der sætter dig i samme rum som dine favoritmusikere. Med et superkomfortabelt on-ear-design og funktionerne Ambient Aware og TalkThru plus kompatibilitet med Google Assistent og Alexa er det nemt at holde gang i festen.
Specifikationer
Enheds-størrelser (mm)

40
Lydspecifikationer
Enheds-følsomhed ved 1kHz/1mW (dB)

100

Dynamisk frekvensområde (Hz)

16 Hz - 22 kHz

Impedans (ohm)

32
Mål
Vægt (g)

283

Vægt (oz)

9.98

Hovedtelefonernes kabel-længde (m)

1

Headphone Cable Length (ft)

3.3

Ear Cup External Height (in)

3

Ear Cup External Width (in)

3

Ear Cup Internal Height (in)

1.5

Ear Cup Internal Width (in)

1.5

Ear Cup Depth (in)

0.6

Højde (cm)

7.5

Bredde (cm)

7.5

Indre bredde (cm)

3.9

Indre højde (cm)

3.9

Dybde (cm)

1.5
Specifikationer, styring og tilslutning
Bluetooth-profiler

A2DP 1.3, AVRCP 1.5, HFP 1.6

Bluetooth-frekvens

2.402 GHz - 2.480 GHz

Bluetooth sender-modulation

GFSK, _x001F_/4 DQPSK, 8DPSK

Bluetooth sender-effekt

<4 dbm

Bluetooth-version

5.0
Batteri
Ladetid (timer fra helt afladet)

2

Maksimal spilletid (timer)

50
Egenskaber
On-ear

Ja

Stemmeassistent

Ja

Lader lyd fra omgivelserne passere

Ja

Indbygget mikrofon

Ja

Stofpose

Ja

Håndfri opkald

Ja

Multifunktionel TalkThru-knap

Ja

Trådløse

Ja

Genopladeligt batteri

Ja

Bluetooth

Ja
Det er der i æsken?
CLUB 700BT
Aux-indgangskabel med fjernbetjening og mikrofon
USB type C opladningskabel
Etui
1 garantibevis/advarsel/lynguide/sikkerhedsark/Google QSR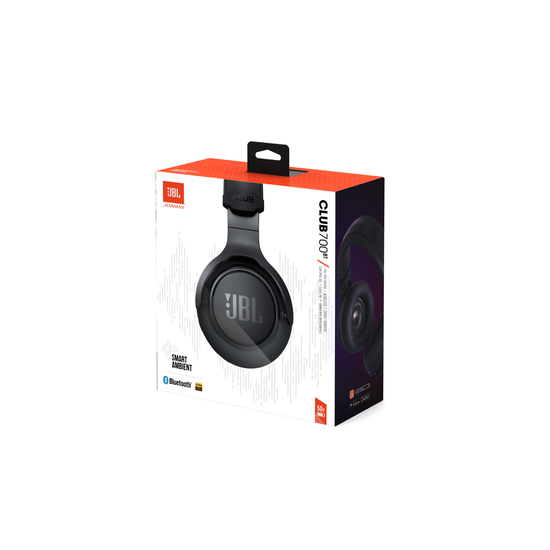 Dokumenter og downloads
Kunde-anmeldelser
Rated

5

out of

5
by
michaelp
from
High quality sound with great battery life!
Listening to music on these is great- they have excellent bass and the highs also sound very good and clear. The 50 hour battery life makes the CLUB 700BT stand out for me, as I can go well over a week using them frequently without charging and the foldable design makes them great for portability. Apart from being slightly heavy and lacking ANC, these headphones are amazing! They charge via USB-C and include an audio connection as well as a travel bag to protect the headphones. The built in microphones sound great and definitely have above average quality. The headphones have a premium feel and appearance. What makes these headphones stand out to me is the amazing bass and the exceptional battery life.
Date published: 2020-08-09
Rated

4

out of

5
by
Ray I Am
from
A GOOD PAIR WITH MINOR FLAWS
DESIGN/MATERIALS Not really a fan of In-Ear or On-Ear headphones, only ordered these because they were on sale. Always wanted the CLUB ONES because they are Circumaural which is my preferred type of headphones and the best in my opinion. Didn't think I'd like the design of the CLUB series but got this and did not mind at all. Earcup padding and headband padding is sufficient enough and they don't wrinkle over extended use as do most foam pads on some headphones. They remain smooth and soft as ever. I like the design of the headband even though they don't conform to the shape of the head and protrude outward from the temple, a design flaw I hate on headphones. The clamp force is adequate, something I think is important on headphones (an issue I had with the LIVE series and E series) as it helps create adequate seal thereby minimizing sound leakage. Seeing as this is an On-Ear headphone, that clamp force equates to sore ears, I would know because mine did hurt. This is one of the areas Over-Ear headphones shine. This is not to say the 700s are unusable, no, with time they'll adjust and conform to your ears. The exposed wires I don't mind, to me, it gives it that retro-like look aesthetically. Speaking of aesthetics, this one is well crafted I'll give them that, JBL hasn't really been ones to make innovative headphones, design-wise. In fact, their CLUB and TOUR series is the best amongst all in their drawer in my opinion. The mix of plastic and metal on the 700 I don't mind, its good looks alleviates this "mismatch" and the matte-black colour tops it off. On the left earcup there's the Power, Bluetooth and Ambient aware/Talktru button respectively. On the right is the Volume up, Pause, Volume down and Bass enhancer button respectively. The volume up also serves as a skip button and volume down as a previous button during playback by holding them for a few seconds. The pause button can also be used to pick and drop phone calls. Weight shouldn't be a problem, you'll feel them on but they won't weigh your head down. The headphone's proper fold mechanism when wanting to stow them away is a tad complicated, if you aren't careful you will damage them. I suggest simply folding in the earcups and just leave it at that. BATTERY Battery life, at a whopping 50 hrs, is adequate enough and the charge speed even makes it more fantastic. I tested them for 2 weeks, in the first week I used them for 23 hrs total stretched over four days and they only dropped to 90%. Upon continuous usage for another few days they hit the 60% mark before I charged them up again. It only took around 15 minutes to juice it back up to 100%. CONNECTION Connection is stable, the headphones use Bluetooth 5.0 even though it's not the latest version on the market but it still gets the job done. Also, this allows for simultaneous connection with two devices. I did notice, however, that walking away from the device being connected to brings about a breakup in connection and you begin to hear a cracking sound, so to avoid this I carry my device along. I should also note that the auto-off feature is an understated feature, it has come in handy in more ways than one and I wish other headphones will come with this as a standard feature. It can only be enabled through the JBL's headphone App by going into the app's settings. The Bluetooth codec is SBC with support for iOS' AAC codec, they do not support the apt-X codec series nor Sony's LDAC. SOUND Sound is good without any sound setting whatsoever. They sound great actively but a little faint passively unless you excessively increase the volume, although I suspect this might be dependent on the device being used. Listening with my laptop passively, this wasn't an issue, the sound was mesmerizing even at a mere 20% volume. Lows, mids and highs all came through to my very surprise. In the song We Only Come Out at Night by The Smashing Pumpkins, you can hear the reverberation from the heavy strungs of the guitar. In the song Yellow Flicker Beat, a soundtrack of The Hunger Games: Mockingjay, Part 1 by the New Zealander Lorde, you can discern the wavering in her voice as she hummed in the intro of the song. Although I did not test the headphones in active mode with my laptop, but they should sound just as good. The JBL app is not really needed but recommend, and it's nice to see JBL offering support across all the CLUB series including the 700 as they usually leave out support for the cheapest and lower end ones in a series. With the app, you can customize sound using an already-onboard equalizer presets along with those set by a few DJs. You can also customize sound yourself through a custom preset. The bass enhancer I don't find myself using, in fact, I prefer listening as-is without any EQ enhancer whatsoever or even the app. Like stated before, they do sound good but not as good, what I mean is when I tested them against a higher-end headphone (SONY'S WH-1000XM3) the 700 left a lot to be desired in all aspects of sound but you won't know until you test them against a better headphone. Google's assistant tags along with these headphones, if device supports it you'll get a prompt notification upon first time successful connection to set up the AI which isn't difficult. The surface area on the left earcup serves to activate the assistant which I like as opposed to a dedicated button/buttons on some other headphones. Although this has proven to be a little sensitive to the slightest of touch, just turning my head on a pillow with the left earcup activates the assistant which is a tad annoying because I have to be cautious now. One situation I find useful with the earcup serving as a voice assistant activation button is when you have your hands occupied, you can just use your forearm to gently press on it. The headphones work with most voice assistants, be that Alexa, Siri or even that one Bixby. Although for Bixby, you'll have to use your voice to activate it with the good here being that it'll work even if another assistant is currently set as the default. All in all, if you're really looking to get these you should go ahead but I will suggest waiting till the price drops during holiday sales events as they are a tad expensive at their regular price.
Date published: 2021-11-14
Rated

5

out of

5
by
josh408
from
Exceptional Design
These are great headphones!! The quality of the padding on the ears and bridge that goes over my head is very comfortable and even after wearing for a long period of time my ears do not hurt like some over the ear headphones. They have just enough bass and the sounds is very crisp. With the volume turned up I cannot hear any outside noise which is great for airplane travel. The aux chord that comes with them allows me to use them with my gaming console which is awesome because I can get a full gaming experience and really dive into the game. I am very satisfied with the longevity of the battery as well, that is something that is a must for me with headphones because there is nothing worse than having to constantly charge them and interfere with my listening experience. If you are looking for over the ear headphones that check all the boxes [sound quality, design, comfortability, battery life, usability], these are them.
Date published: 2020-08-04
Rated

5

out of

5
by
Anonymous
from
Best Headphones I have ever owned
I bought these knowing JBL products were great for sound with home theater speakers. I never anticipated the sound in these headphones would sound as crisp and clear as they do. I was blown away at the crisp sound with every genre of music I enjoy. Jazz sounded like I was watching it live, rock sounded like a concert, and everything in between sounded insanely awesome. I will be wearing and using these till they die. Incredibly happy with my purchase.
Date published: 2020-10-24
Rated

5

out of

5
by
greybeard70
from
These headphones are amazing!
I got my JBL Club 700BT headphones a few days ago. Right out of the box the Bluetooth was easy to set up, as was pairing the headphones with Google Assistant. The design is sleek and very comfortable on both the head and ears, which is important for over-the-ear headphones. The many features, including ambient smart sound allow you to hear what's going on around you as you listen to music, podcasts, or movies. This is a really neat feature. All the buttons are easily accessed and laid out well on the earpieces. Battery life is excellent with both music and podcasts, etc. I really like that they can be used as Bluetooth and also have a 3.5mm jack you can attach to listen via PC or laptop. As with any good pair of headphones the sound is the main attraction. I have listened to podcasts, movies, and many different styles of music to test out the capabilities. Let me tell you, I have never had a pair of over-the-ear headphones that sound this good. Great bass and treble balance, which is can be custom set via the app. Voices sound crisp and clear on podcasts, as well as movies. Bluetooth connectivity has yet to drop off. I think JBL has knocked it out of the park with these headphones.
Date published: 2020-08-06
bvseo_sdk, dw_cartridge, 18.2.0, p_sdk_3.2.0
CLOUD, getReviews, 5ms
reviews, product
Spørgsmål og svar
Are these noise canceling?
The JBL Club 700BTs are the entry-level headphones of a series designed specifically for touring DJs. They're the only on-ears among the three types, and unlike the other two, they don't have a noise-canceling feature.
Date published: 2023-01-12
Only the left speaker works when not using the wire. In bluetooth mode, the right speaker is completely dead- wont even play the on/off sounds. Only had these headphones for a week, what gives? Tried factory reset, nothing helps.
Facing the same issues, kindly help..
Date published: 2022-05-12
Does anyone have a solution to the fact that these aren't turning on? They were working, I charged them and then they will only show the white light when I am turning them on but will not turn on properly. I've emailed customer service but they aren't res
I am also facing the same issue. When contacted the Customer Support, they asked me to reset by pressing simultaneously the Volume + and - buttons for few 5 to 10 seconds but nothing happened. There is constant white light. No devices being connected. Cannot switch off the headphones too.
Date published: 2022-10-05
Can the on the ear pads be replaced with over the ear pads? If so, where can they be purchased? 
Thank you for your question, no, that isn't possible. If you rather want a OverEar Model I would recommend the Club 950. Kind regards
Date published: 2022-11-01
Can these hook up to T V?
Our JBL Club 700BT has Bluetooth, you can use it with your TV if t has Bluetooth capability.
Date published: 2021-06-06
Are these waterproof?
Our JBL Club 700BT isn't waterproof and doesn't have an IPX rating.
Date published: 2022-12-28
How can I pre-order this product or when will it be available?
It's already available for purchase at https://www.jbl.com/over-ear-headphones/JBLCLUB700BTBLKAM.html
Date published: 2021-06-06
Can I use for PC gaming/communicating?
Our JBL CLUB 700BT is recommended to be used for listening to music using your devices like phones, tablets, and laptops. You may experience audio-video delays when using it with your gaming PC. We would recommend checking our JBL Quantum Gaming headphones for gaming use.
Date published: 2022-11-07
bvseo_sdk, dw_cartridge, 18.2.0, p_sdk_3.2.0
CLOUD, getContent, 197ms
questions, product