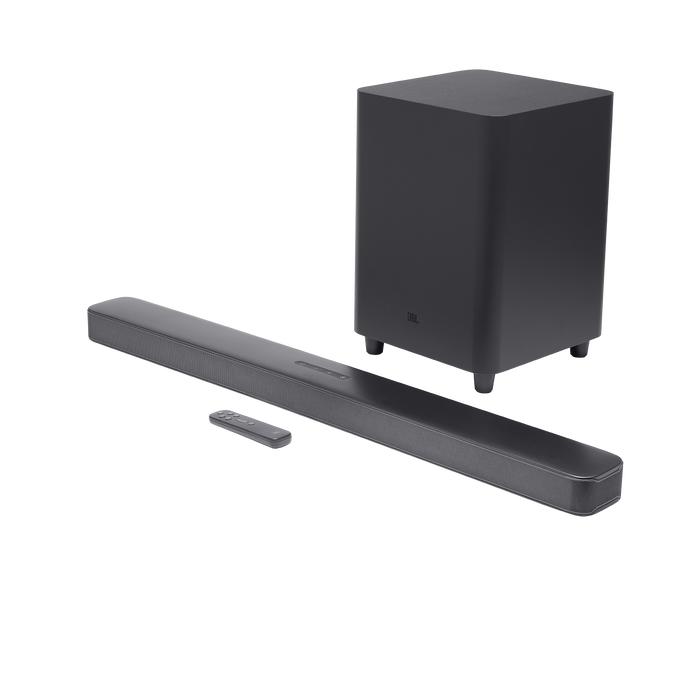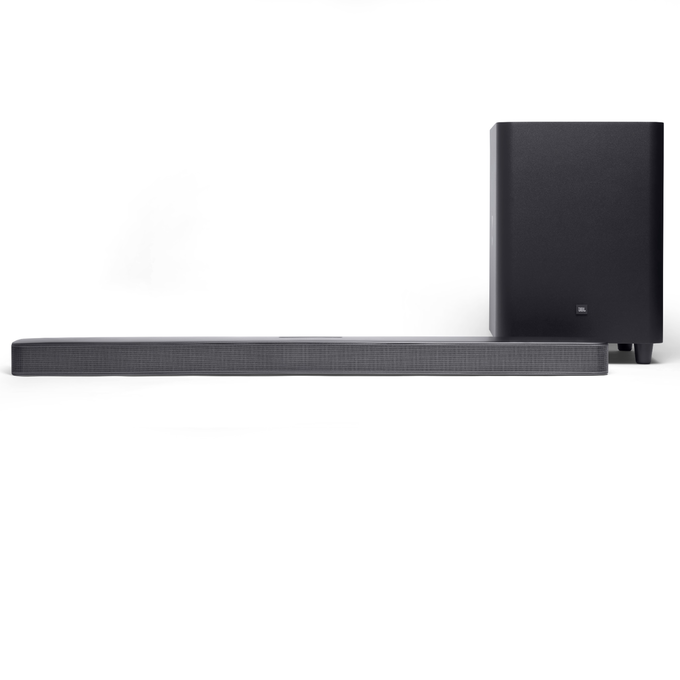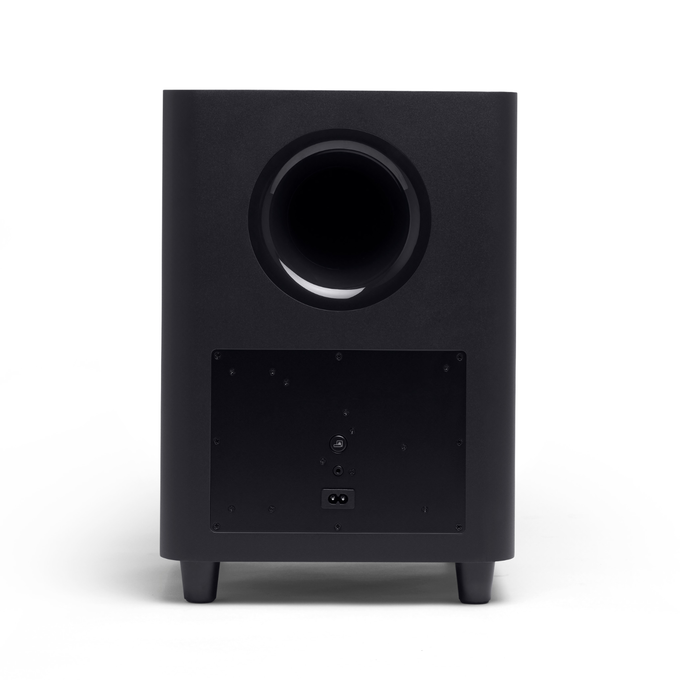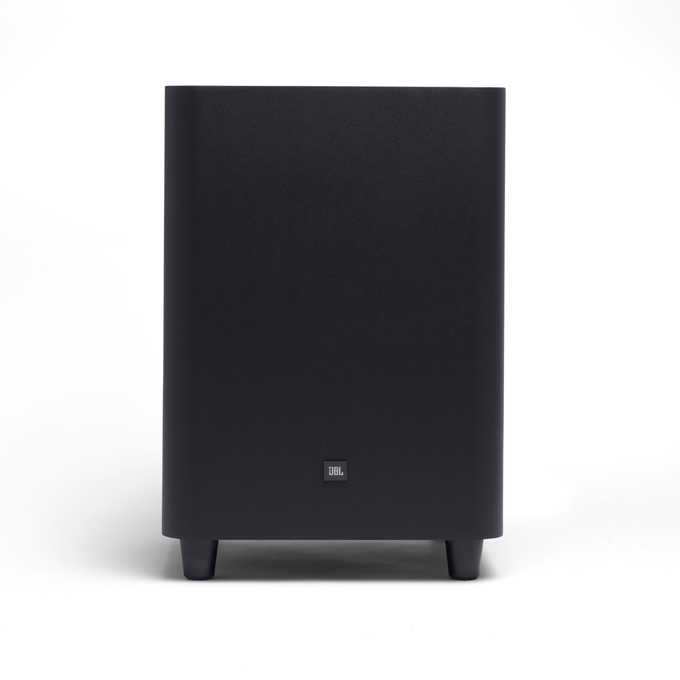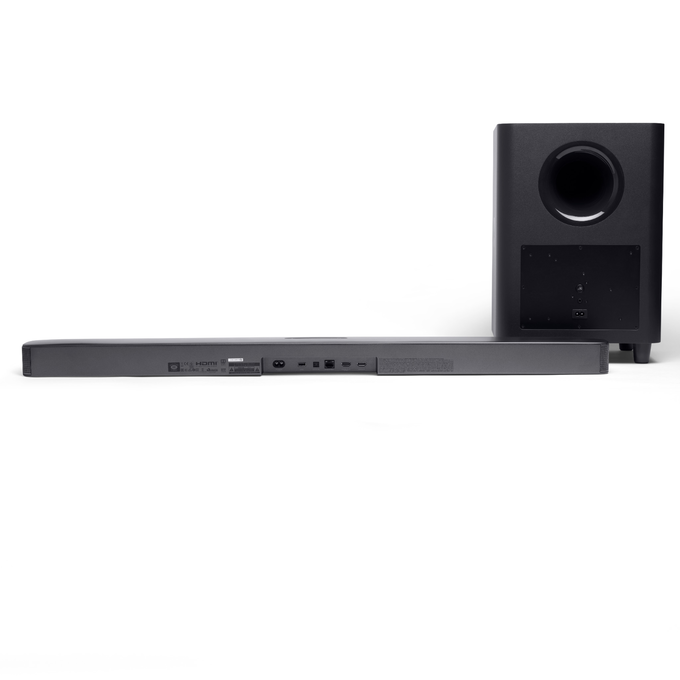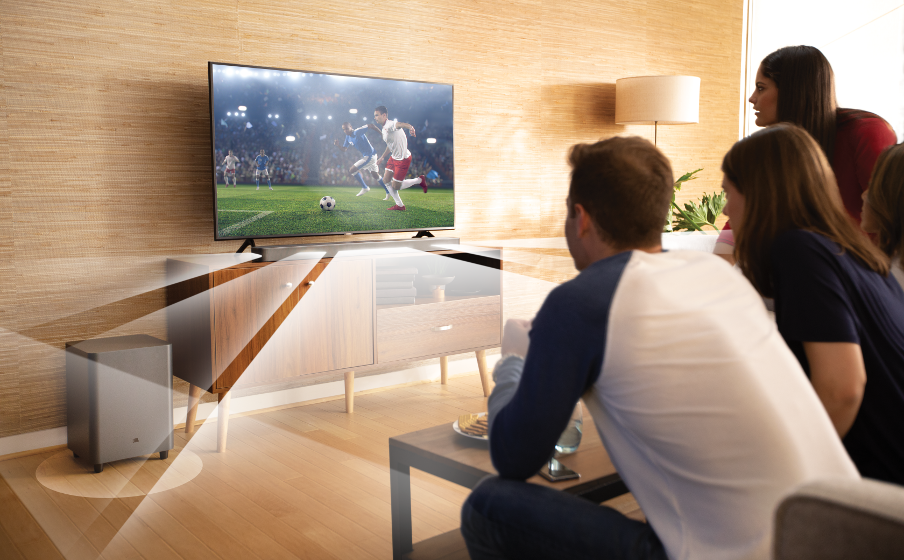 Kraftfuld lyd
JBL MultiBeam™ teknologi giver dig den ultimative biografoplevelse i hjemmet. Ingen ekstra højttalere eller kabler er nødvendige.
Du har kraften
Med 550 Watt udgangseffekt kan du opleve dine film og din musik som aldrig før. Fordybende, kraftfuld lyd, der matcher den visuelle oplevelse.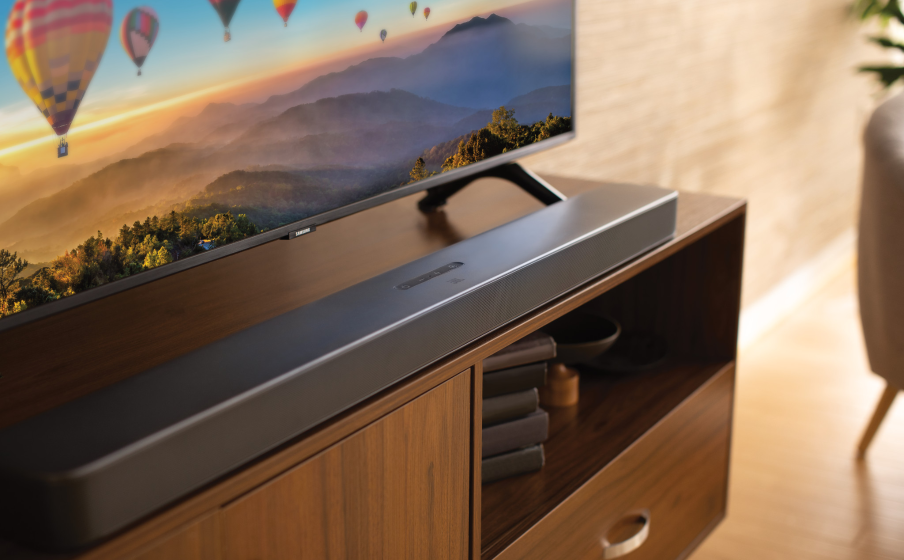 Føl bassen
Kraftig, præcis bas fra en mægtig 10'' trådløs subwoofer giver ekstra action til actionfilm og sikrer, at ethvert soundtrack lyder storslået.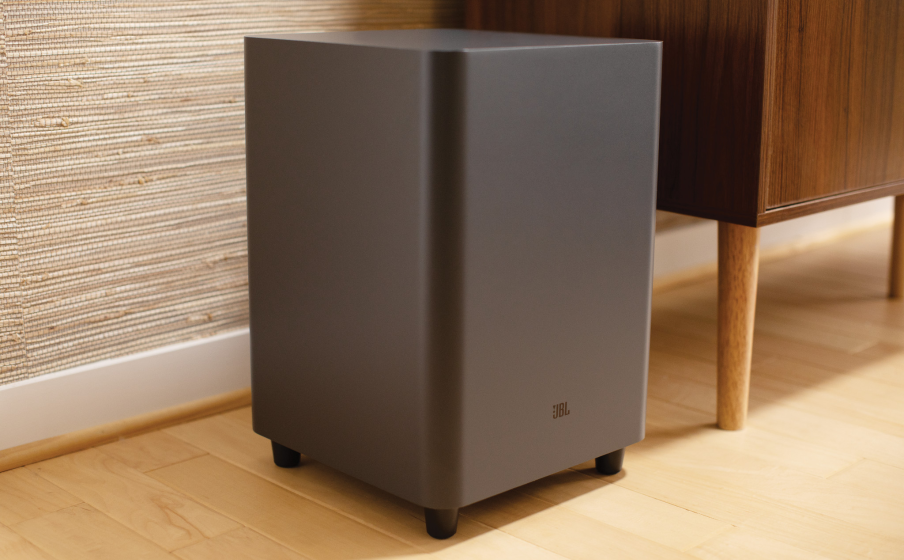 Indbygget Chromecast og Airplay 2
Med indbygget wi-fi og kompatibilitet med Chromecast og Airplay 2 kan du streame alt dit favoritindhold på nettet med fantastisk lyd og kun et enkelt tryk med fingeren.
Funktioner

Ægte HDMI 4K pass-through
Den bedste 4K videoopløsning fortjener den bedste lyd. Dit tv og JBL Bar 5.1 Surround er det ultimative par.
Afspil alt trådløst
Ikke i humør til film? Intet problem. Med JBL Bar 5.1 Surround kan du også afspille musik fra din mobil eller tablet trådløst via Bluetooth.
Detaljer & Downloads
Item# JBLBAR51IMBLKUK
Beskrivelse
Oplev panoramisk surroundlyd

Den imponerende JBL Bar 5.1 Surround leverer den ultimative oplevelse til hjemmebiografen. Væk alt hvad du ser til live med 550 Watt og en 10'' subwoofer: den drivende bas i en actionfilm, spændingen i en thriller - eller naturens skønhed i en dokumentar. Indbygget Chromecast og Airplay 2 lader dig streame og styre onlineindhold, og Bluetooth gør, at den musik du streamer også lyder godt. Den fantastiske surroundlyd leveres af JBL's MultiBeam™ teknologi. JBL har givet kraft til verdens biografer i mere end 75 år. Nu kan du opleve kraften i dit eget hjem.
Specifikationer
Model

Bar 5.1 CNTR (soundbar), BAR 5.1 SUB (subwoofer)

Strømforsyning

100 - 240V AC, ~ 50/60Hz

Soundbars udgangseffekt (max. @THD 1 %)

5 x 50W

Subwoofers udgangseffekt (Maks. @THD 1%)

300W

standby-strøm

<0,5W

standby-strøm i netværk

<2,0W

Driftstemperatur

0 °C - 45 °C

BAR 5.1 SURROUND er i overensstemmelse med Europa-Kommissionens forordning (EF) nr. 1275/2008 og (EU) nr. 801/2013.

Slukket-tilstand

Ikke relevant

Netværksstandby

<2,0W

Tid til standby

<20minutter

* Standby

Hvis alle soundbarens trådløse forbindelser deaktiveres, og hvis der ikke leveres lyd- eller videosignal til soundbar-enheden, vil den automatisk sættes på standby efter 10 minutter.

* Netværksstandby

Hvis nogle af soundbarens trådløse forbindelser aktiveres, men der ikke leveres lyd- eller videosignal til soundbar-enheden, vil den automatisk sættes på netværksstandby efter 10 minutter.

Enhver genaktivering af lyd- eller videosignalet vil bringe enheden fra standby til driftstilstand.
Lydspecifikationer
Samlet højttalerudgang (max. @THD 1 %)

550W

Maks. SPL

103 dB

Frekvensområde

40 Hz – 20 KHz

Lydindgange

1 optisk, Bluetooth, USB (USB-afspilning understøttes i den amerikanske version. For andre versioner er USB kun til service.)

MP3 Codec

MPEG 1 lag 2/3, MPEG 2 lag 3, MPEG 2,5 lag 3

MP3 samplingrate

16KHz – 48 KHz

MP3 bitrate

80 kbps – 320 kbps
Mål
Soundbar-enheder

5 x 4.690" racetrack-enheder + 2 x 1,25" diskanter på siden

Subwoofer-enhed

10"

Mål (B x H x D)

1.018 x 58 x 100mm / 40" x 2.28" x 3.94" (Soundbar); 305 x 440 x 305mm / 12" x 17,3" x 12" (Subwoofer)

Vægt

2,85KG (Soundbar); 10,62Kg (Subwoofer)
Specifikationer, styring og tilslutning
USB-port

Type A

USB-rating

5V DC, 0,5A

Understøttede filformater

mp3, wav

Bluetooth-version

4.2

Bluetooth-profil

A2DP V1.3, AVRCP V1.5

Bluetooth-frekvensområde

2.402MHz – 2.480MHz

Bluetooth maks. sendekapacitet

<11dBm (EIRP)

Modulationstype

GFSK, π/4 DQPSK, 8DPSK

Wi-fi-netværk

IEEE 802.11 a/b/g/n/ac (2,4GHz/5GHz)

2,4G wi-fi-frekvensområde

2.412-2.472MHz (2,4 GHz ISM-bånd, USA 11 kanaler, Europa og andre steder 13 kanaler)

2,4G maks. Wi-fi sendekapacitet

<20dBm

Modulationstype

DBPSK, DQPSK, CCK, QPSK, BPSK, 16QAM, 64QAM

5G wi-fi-frekvensområde

5,15 - 5,35GHz, 5,725 - 5,825GHz

5G maks. wi-fi-sendekapacitet

<22dBm

Modulationstype

QPSK, BPSK, 16QAM, 64QAM, 256QAM

5 G trådløs frekvensområde

5.161,35 - 5.245,35MHz, 5.736,35 - 5.820,35MHz

5G maks. sendekapacitet

<9dBm (EIRP)

Modulationstype

π/4 DQPSK
Dokumenter og downloads
Kunde-anmeldelser
Rated

5

out of

5
by
Loanshark73
from
Great, amazing room filling sound !
if you want a room filling SoundBar that's ready right out of the box this is it. Pros: Price $399, sleek design, sturdy well built and a massive subwoofer, Easy to setup just plug into your TV ARC HDMI. You can calibrate this Soundbar to better fit hour size room. The 5.1 Surround Sound works great with movies. I've tested with movies from Netflix, Disney+ and also Apple TV Greyhound. The sound just draws you into the movie. and the power of that subwoofer is ridiculous. At a total 550w of power this thing will shake your living room. Even the soccer games sound great. Cons: No Dolby Atmos
Date published: 2020-07-23
Rated

2

out of

5
by
Cory123
from
Great sound but shuts off
This unit sounds great as it should for the price. Good bass to it. However, it randomly shuts off when either listening to music from my phone or watching something on TV. The service team seems to have no desire to replace my product and only offered an update with a thumb drive. I have only used this for 3 months and I noticed it after 3-4 weeks of light use. If this unit has wifi and can update from the internet directly, then why am I being asked to go buy a thumb drive and download some software directly? I do not recommend this product as there are other companies who would take care of this issue immediately instead of email exchanges getting no where...
Date published: 2021-03-08
Rated

3

out of

5
by
Annoyed Tim
from
Not disappointed but not happy.
I have three JBL sound bars with my house. Unfortunately, this one doesn't hold up to the others. I have this one in my master bedroom. Quality of sound is decent. A little heavy on the high range. I don't like that you can't change from sports, music, movies or standard like I can on my other sound bars. My biggest complaint is you can't power off the device, it only goes into standby mode. I have the device connected via fiber optic to the TV. Despite the TV being powered off, the device will wake up and the display is extremely bright. I've always liked JBL, frankly, I wish I had done more homework on this one before purchasing.
Date published: 2020-12-08
Rated

4

out of

5
by
JBL Junkie
from
Great JBL Sound
I purchased this sound bar 2 months ago after reading the product features as I also own a JBL Bar 3.1 Sound bar that works and sounds awesome. This JBL Bar 5.1 Surround Sound Bar also sounds awesome however the owners manual needs correction regarding the bass control on the remote control. It says there is 5 levels to choose from & the display should say LVL1 up to LVL5. My sound bar actually says LOW, MEDIUM, HIGH so I only have 3 bass options. Does anyone else also see this? If so this either needs corrected in the owners manual or my sound bar needs updated to give me the 5 levels. That is why I rated this 4 instead of 5. Otherwise another fine JBL sound bar.
Date published: 2021-02-23
Rated

1

out of

5
by
jim99
from
Good sound but misleading and missing key features
Pros: This system does have good sound and good bass for a small to mid sized room. Cons: My main issue is that it claims to have Chromecast built in but can't stream video to the TV through the HDMI out on the soundbar. Why would you put a Chromecast in that can only stream audio. If someone wants to stream audio, they use bluetooth. So having a dedicated Chromecast in the sound bar that forces me to still have a chromecast on the TV is an absolute waste and completely miss leading in the description. Also there are no equalizer settings what so ever beside bass levels. Most others have a music, TV, or Movie mode. You have zero options. For this price the Chromecast should have video have some EQ options!
Date published: 2021-01-12
bvseo_sdk, dw_cartridge, 18.2.0, p_sdk_3.2.0
CLOUD, getReviews, 5ms
reviews, product
Spørgsmål og svar
Hello! We have a jbl bar 5.1 (550w) and since yesterday the volume became very low. Previously we used it on volume 3-4, which now equals to 11-12. Is this the result of a software update maybe? Power off & reset did not solve the problem. Peter
Regards everyone has managed to solve the above bugs since the update for me too it doesn't sound so as before and the dts sound is not handled either. thanks
Date published: 2021-08-22
I just bought the 5.1 surround system and the volume seems way lower then 5oo watts more like 50 why wont this go any louder ?
I also have the impression that it is not 550 watt.
Date published: 2022-09-06
It seems the bass levels have changed from low, mid, high to levels 1, 2, 3, 4, 5. Was this from a software update and was anything else changed?
This was as a result of software update
Date published: 2022-01-06
I just purchased this today and like it however I have a question. Is the max volume 32? When I was turning it up listening to a son after 32 it said "max" and wouldn't get any louder? Is that right? I've had cheaper sound bars that went louder.
Please share what's being done about this? Seen lots of comments around this on forums, reviews and FAQs . Seems to be the downfall of this soundbar. Can you please fix this asap?
Date published: 2022-07-23
I just got this bar and can't get smart mode to toggle off. Any suggestions? Holding the mute button does nothing.
To disable the smart mode, on the remote control, press and hold the mute button for more than 3 seconds then press vol +. If you need more help, please reach out to our Customer Support. https://bit.ly/3r5oWYM
Date published: 2021-12-11
What the difference with the other 5.1
Unlike the first JBL Bar 5.1, the JBL Bar 5.1 Surround Sound model doesn't have separate tweeters you can remove from the main body of the soundbar. Instead, there are two additional tweeters built into the sides of the soundbar. Using JBL's Multi-Beam technology, it will direct the audio across the room, giving the impression of actual surround sound. For more information, you can contact our Customer Support team at (800) 336-4525 from Monday to Friday - 9:00 a.m to 11:00 p.m (E.T) / Saturday & Sunday - 9:00 a.m to 5:00 p.m (E.T)
Date published: 2021-06-06
Is there a way to turn off the chime that sounds every time the volume of the soundbar is raised or lowered?
Go into the Google Home app and open the settings on the jbl 5.1 surround, look for playback sounds and disable it. Your JBL 5.1 needs to be connected to wifi to turn this off, its a feedback sound for Chromecast that makes this sound!!
Date published: 2021-11-13
HDMI Cable in HDMI/ARC port on TV does not produce sound, with or without an optical cable. Only the Optical cable alone works, which is not included. Problem - HDMI cable connections, can you suggest a solution so there's no need for optical to be used?
I am facing the same problem. There is no sound when I connect it via HDMI ARC with Netflix/DIsney in 5.1 audio setting(RAW/NO PCM). If I select stereo 2.0 then it worked. Serious problem with HDMI ARC. I further connect it via SPDIF/optical, it worked with 5.1 showing "Dolby Audio". So problem with HDMI, unable to decode RAW format 5.1. Kindly fix this ASAP.
Date published: 2022-08-22
bvseo_sdk, dw_cartridge, 18.2.0, p_sdk_3.2.0
CLOUD, getContent, 5ms
questions, product