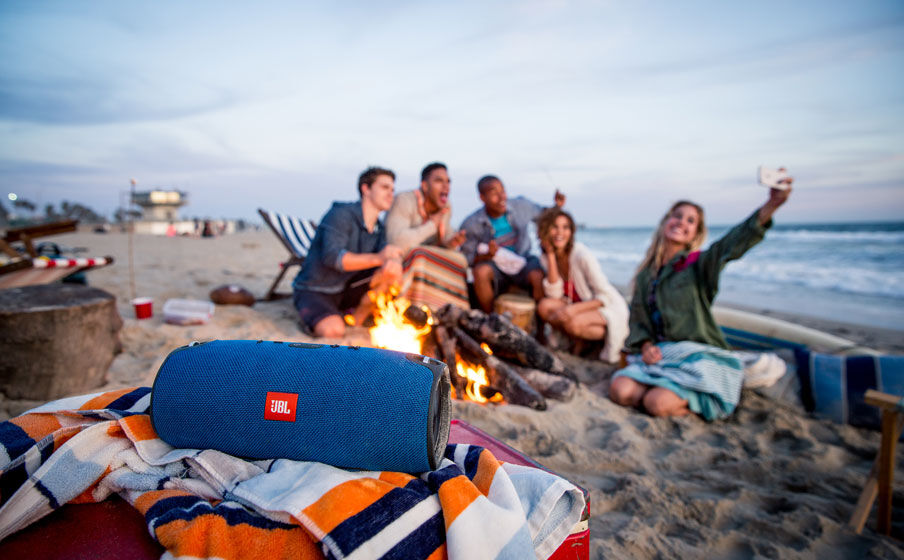 Trådløs afspilning via Bluetooth
Forbind op til tre smartphones eller tablets til højttaleren trådløst, og I kan skiftes til at afspille forbløffende kraftfuld stereolyd.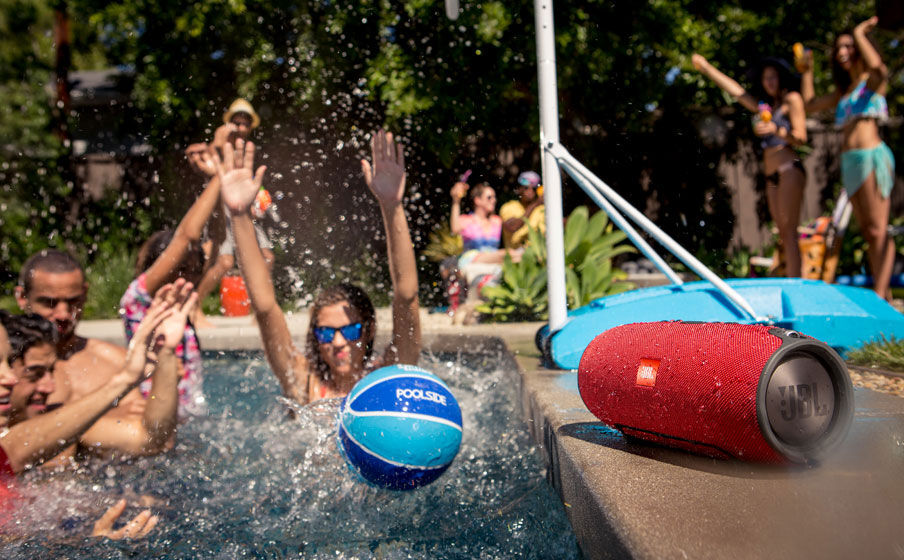 Genopladeligt batteri med høj kapacitet på 10.000 mAh
Det indbyggede genopladelige Li-ion batteri leverer op til 15 timers spilletid - og oplader andre enheder via to USB-porte.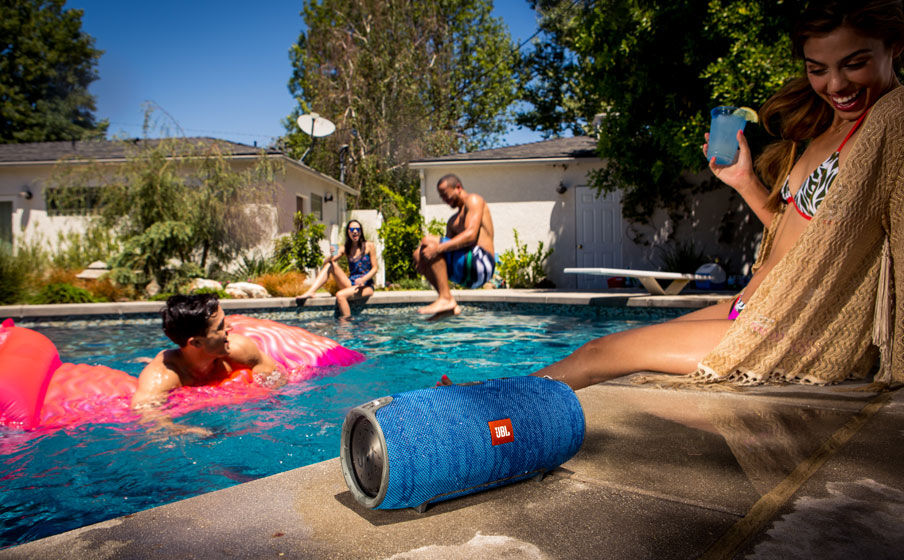 Højttalertelefon
Besvar opkald i krystalklar kvalitet fra din højttaler med et tryk på en knap takket være den støj- og ekkoeliminerende højttalertelefon.
Funktioner

Stænksikker
Stænksikker betyder, at du ikke længere behøver at bekymre dig om regn eller stænk – du kan tilmed rengøre enheden under rindende vand. Undlad dog at nedsænke den i væske.

JBL Connect
Opbyg dit eget økosystem ved at sammenkoble flere JBL Connect-kompatible højttalere for en endnu større lytteoplevelse.

Til din aktive livsstil
Holdbare materialer og det robuste gummikabinet betyder, at du kan tage højttaleren med på alle dine eventyr.

Integration af stemmeassistent
Få adgang til Siri eller Google Now fra din JBL-højttaler med et enkelt tryk på knappen.
Detaljer & Downloads
Item# JBLXTREMEBLKEU
Beskrivelse
Powerful sound, now transportable

JBL Xtreme er den ultimative bærbare Bluetooth-højttaler, der i en håndevending giver dig stor, kraftfuld stereolyd fra fire aktive transducere og to synlige JBL-basradiatorer. Det genopladelige Li-ionbatteri på 10.000 mAh leverer op til 15 timers spilletid. Med dobbelt USB-ladestik holder højttaleren både din musik og dine mobile enheder kørende, lige så længe du ønsker. Du kan være sikker på, at JBL Xtreme leverer varen, når du har brug for det – indendørs, udendørs, til festen ved poolkanten eller grillaften i haven. Det stænksikre design fås i sort, blå og rød. Oven i får du en højttalertelefon til håndfri samtaler i krystalklar kvalitet uden støj eller ekko. Med JBL Connect kan du trådløst sammenkoble flere Connect-kompatible højttalere og opnå en endnu større lytteoplevelse.
Specifikationer
Lydspecifikationer
Signal-to-Noise Ratio

80 dB

Frequency Response

70Hz – 20kHz
Mål
Mål (inch)

4.96 x 11.14 x 4.8

Mål (cm)

12.6 x 28.3 x 12.2

Vægt (kg)

2.11

Vægt (lbs)

4.65
Specifikationer, styring og tilslutning
Batteri
Ladetid (timer)

3.5

Spilletid (timer)

15

Batterikapacitet (mAh)

10,000
Egenskaber
JBL Connect

Ja

Højttalertelefon

Ja

Stænksikker

Ja

Auto-sluk

Ja

3,5 mm lydindgang

Ja

Powerbank

Ja

Wireless

Ja

Bluetooth

Ja
Det er der i æsken?
1 stk. JBL XTREME
1 stk. strømadapter
1 stk. strop
1 stk. lynstartvejledning
1 stk. sikkerhedsark
1 stk. garantikort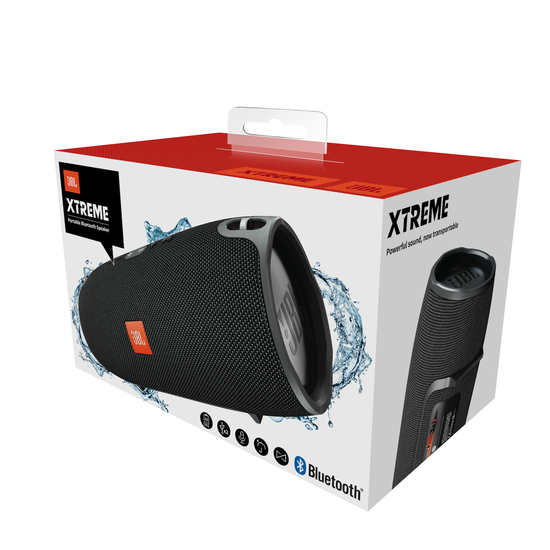 Dokumenter og downloads
Kunde-anmeldelser
Spørgsmål og svar
Hi. My JBL got a bit of a knock today - was in a case but was dropped on to the floor.. charging lights are still on when plugged in but it won't switch on at the power ON/OFF button.  Desperate for answer - use it for work every day!! Claire
Yesterday i was messing around with mine and it was dead. Totally! Its hidden override that you can try to get it work: plug in ac cord then press connect and + simultanously for about 10 seconds and red light lits at charging lights then release the buttons and unplug. Try again on off button. Saved me yesterday. Hope it helps you too! 
Date published: 2021-06-06
Hello, I recently purchased one, have no issues with the sound but I have like 4-5 hours of battery/charge - not even full sound - and when I charge it it quickly charges 4 lights but the 5. light never stops blinking even after 7-8 hours of charge.
The battery LED indicator on the XTREME, once charged, should stop blinking and show five dots lit, stating full charge. However, if the unit is being used while plugged in, the battery indicator would not stop blinking as the battery still drains power while being charged. If the speaker is switched off when charging, the battery lights should shut off when fully charged. Your unit seems to be behaving erratically. Please do submit a case to www.jbl.com/contactus for warranty claims on your speaker if the speaker is still under warranty.
Date published: 2021-06-06
I'm curios. Information from specifications sheet: High-capacity 10,000mAh Rechargeable Battery. And in another place in same document: Battery type: Lithium-ion Polymer (7.4V, 5,000mAh). What is correct?
The correct answer is, the Xtreme contains 2 * 5000mAh Lithium-ion batteries, totalling 10000 mAh.
Date published: 2021-06-06
I'm trying to use the radio from my iPod, but I need to plug in the headphones (headphones double as the antenna). Plugging in the headphones cuts off the bluetooth transmission. Is there anyway to use the iPod radio with the XTREME?
Thank you for the inquiry. No. The speaker is only capable of utilizing one source at a time. The receiving bluetooth signal or auxiliary input. Best Regards.
Date published: 2021-06-06
In the next firmware release, can you please allow a user to disable the loud/obnoxious sound effects when turning the unit on/off? I play soft music through it to put a kid to sleep, but the 'off' sound wakes him back up.
Thank you for your feedback. I can forward this to our Engineering department but no guarantee.
Date published: 2021-06-06
Hello, I have bought the JBL Xtreme since Christmas, and there is a problem with it now i can only listen to music with it for 1 hour when it totally switches off and can be ONLY turned on using the charger. How do i fix this. Contact more details
Hi, We are sorry to hear about your issue with the JBL Xtreme. We will contact you directly on how to get it solved.
Date published: 2021-06-06
How do I handle the battery for this can I use it an hour then plug it in to be charged fully for work and the first charge how long should I charge also can I leave it plug in till I leave for the day
Hello and thank you for the inquiry. Here is battery charge time information. Best Regards. Battery charge time: 3.5 hours Music play time: up to 15 hours (varies by volume level and audio content)
Date published: 2021-06-06
Hi my Xtreme while charging reaches 5lights while blinking then it goes back to 4lights blinking I assume it's fully charged cause when I unplug all lights light up but its worrying what do I do it isn't normal
me and my friend also have this problem jbl please answer this question this is not true answer
Date published: 2021-06-06
Why jbl xtreme keep charge forever 
My Jbl xtreme is off not connect to any device. But still last LED keep blinking 
Date published: 2021-06-06
Is it normal that my jbl xtreme stills charging after 12hrs and stills not done charging  ..its brand new 
Thank you for the inquiry. Please ensure the cable connections are secure and that there is no visible damage. Please attempt charging at an alternate power source. If the issue persists perform a reset. This product carries a 1 year manufacturers warranty. If the issue is unresolved please contact the dealer or retailer for return/exchange/service information. Best Regards. Reset: With the Xtreme ON, press and hold the VOL+ and Pause/Play buttons for 5-6 seconds. The Xtreme shuts down, and is now reset.
Date published: 2021-06-06
When using Bluetooth my JBL Extreme boosts the bass at low volume and then decreases the bass as volume increase. Does it do the same sound shaping on the AUX?
This is done because at lower volumes, the speaker has more headroom to boos the low frequencies. At a higher volume, this headroom is gone so it doesn't boost the bass. Whether you're using Bluetooth or the AUX port, it will shape the sound like this.
Date published: 2021-06-06
how do I know when my xtreme is fully charge
It would be nice if this was noted in the freakin directions! I can't believe I had to come to this site for the simplest info while there is 2 useless manuals in the trash.
Date published: 2021-06-06
My jbl won't stay on when I unplug it from the outlet. How do I get it to stay on once I have it unplugged from the wall outlet?
I've had exactly the same problem and brought it to the store. They sent it to the factory where they simply replaced the battery. And guess what? The problem wasnt fixed at all. So the XTREME went back to the factory again and they told me they dont know how to fix it. Luckily they replaced it for a new one but i'm not sure if JBL understands that this is a problem what only occurs when the XTREME is used a lot (for me it occurred after 1.5 year and with the XTREME of a friend of mine after a year)
Date published: 2021-06-06
idk what to do now my jbl xtreme is not working only with the use of my charger i dont ever have it for a month yet can someone help me !! 
It sounds like it o nly works when the XTREME is plugged into the wall outlet. If that's the case, try using a different charging cable and try alternating where you are charging it (i.e wall outlet). Let it charge until the white LEDs (Battery Level Indicator) become solid. I noticed that you are in Saint Vincent and the Grenadine. If this doesn't help, please contact the store where you purchased it and they will be able to help, or at least guide you to the people that can help.
Date published: 2021-06-06
Should I leave this speaker plugged in all the time when not using it or it will damage the batteries?
There is no harm in leaving the XTREME plugged in at all times, and then disconnecting to use in a portable application, when needed. This will work fine.
Date published: 2021-06-06
hello! i have a problem with my newly bought JBL Xtreme. when i connect it with my laptop, it sounds like an old fashioned radio. but it's perfectly fine with my smartphone and tablet. how can i fix this? Thanks
This can be caused by your laptop recognizing your XTREME as a hands-free device (headphone) instead of stereo. The XTREME can be used for both functions, but it would be ideal to use it as a speaker when listening to audio. Setting it as a "headphone" provides limited bandwidth to the speakers with focus on the XTREME's microphone instead of its audio quality. To change this, please go to your computer's Sound Settings and make sure that the Playback device is set as speakers and not headphones.
Date published: 2021-06-06
i just got my jbl xtreme two days ago and still on charge and does not reach full charge. i disconnecter. did a hard reset.when i switched it on i said full battery, switched it off again and plugged it in and it reads 3 dots, thrid blinks...
Software for PULSE 2 is not an option in JBL Connect app with Xtreme, just Flip 3 and Xtreme. The only thing you can do in the app is connecting two speakers. I'm currently on my third replacement Xtreme with this issue...
Date published: 2021-06-06
I have a question sir. How we can know if the battery is fully charged? Bec my jbl extreme i charge almost 5 hr i think. It doesnt full allways charging. I read the specs the actual is 3/5 hr. Thanks
With the Jbl xtreme on hold the volume up and Bluetooth button. It is now reset and will charge completely. I had the same problem. 
Date published: 2021-06-06
Is this a 360 degrees speaker?
No, the speakers in the XTREME are all front-firing. Though the design is cylindrical, there are no speakers that are pointed in the back part of the speaker.
Date published: 2021-06-06
Hi. My xtreme does not power on at all. It is brand new, has less than 2 days of use. When I try to power on without the cord, absolutely nothing happens. When I plug the power cord, the lights turn on in white and remain still but doesn't power on.
I recently bought a JBL Charge 3 and i couldn't find any reference for special button codes. Here are those i managed to discover so far: JBL Connect + Volume down - says the firmware number and blinks battery level diodes matching said numbers (coincidence?) Volume down + Bluetooth 10sec - turns off inbuilt EQ (and limiter?) JBL Connect + Volume up - weird mode, possibly FW update mode (to go back, connect to powersource and hold the combination again) Volume up + Play/Pause - resets the speaker
Date published: 2021-06-06
Hello! I bought Xtreme only in March 2016. During past 9 months I was able to use it within 2 days (on full battery). This week I found out that now I can use it only max. 3.5-4 hours (after full charge). Tell me please how this problem be solved?
The XTREME provides up to 15 hours of playtime when fully charged. What you are experiencing is certainly not normal. Please submit a case at jbl.com/contactus and our Customer Service team will be glad to assist you.
Date published: 2021-06-06
why i can't connect three jbl Xtreme? The description say that i can connect multiple jbl, but connecting three jbl Xtreme the third not play
Hey, the JBL connect feature only allow you to connect 2 speakers at a time ! Greets lenny
Date published: 2021-06-06
How do I get the firmware update that stops the 1-2 sec fade-in every time I switch songs?
I don't own the JBL Xtreme yet, but I understood that you must download the JBL Connect app to be able to update the firmware of the speaker 
Date published: 2021-06-06
The original Jbl xtreme is made in china?
Hi! The JBL JR300BT should sound well even in an international flight. If your kid is experiencing an issue that hte headphones does not sound clear, please submit a case request at www.jbl.com/support-contact.html and the Customer Service team will be more than happy to further assist you.
Date published: 2021-06-06
Mine battery last 1/2 hour. Why. I charge it while off while on. And no change 
What you are experiencing with the XTREME is not normal. The XTREME should provide you up to 15 hours of play time depending on volume level and audio content. For assistance, please submit a case at jbl.com/contactus and our Customer Service team will be glad to assist you.
Date published: 2021-06-06
Is there any sound equalizer app for JBL xtreme ?
That is correct! Our speakers, including the XTREME, are optimized to sound best with NO tonal adjustments and do not have an option to adjust bass or treble. Boosting frequencies to enhance bass and/or other sounds will likely result in reduced sonic quality and/or damage to the speakers. As an alternative, you can normally adjust this on the source device or on the application that you are using to play your audio.
Date published: 2021-06-06
How do I clean the xtreme cause I got marker on the front and it bothers me so I was wondering if there a good way of cleaning it 
A clean warm cloth with a little bit soap may help to clean the XTREME.
Date published: 2021-06-06
I have it connected via the Aux Port, not Bluetooth. I turn it on and it immediately tries to connect to a BT connection, even while playing music through the aux port. After less than a minute it turns itself off! How do I keep it turned on??
OK. This is embarrassing! Definitely pilot error. After continuing to fool around with the buttons and such I finally realized that when I powered it on there was only one tiny little red light on down at the bottom. Basically it was shutting down due to the battery running out! But it was plugged into the power source! Guess when I moved some things around it disconnected and the battery finally drained. "Is it plugged in? .... DUH!!!"
Date published: 2021-06-06
Can a total of 3 speakers be connected in JBL connect?
ive also heard from youtube comparisons that the xtreme will not get the "JBL connect+" update meaning it will only be able to pair with 1 other "JBL connect" device and none of the the new "connect +" devices which can pair with upto 100 others...i smell and xtreme 2 on the horison
Date published: 2021-06-06
Hi, do you have problem with lags on version 5.8 on xtreme? when i play the songs sometimes i have a little lag just for 0,5 second in diffrent part of music. i dont have this problem on my charge 2. im waiting for new version of firmware. 
Hi,   The problem in my jbl xtreme is with the motherboard. Jbl Service Was change my motherboard and i hope that was the end of my problem. 
Date published: 2021-06-06
bvseo_sdk, dw_cartridge, 18.2.0, p_sdk_3.2.0
CLOUD, getContent, 6ms
questions, product