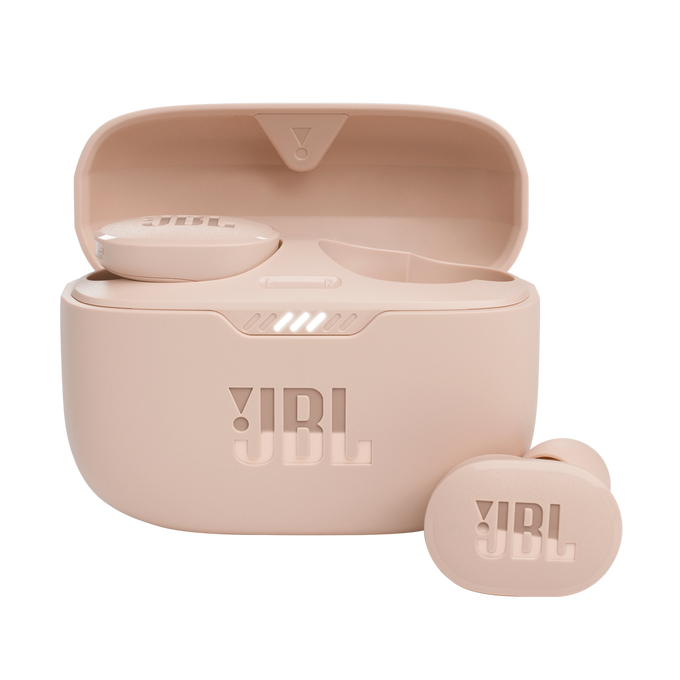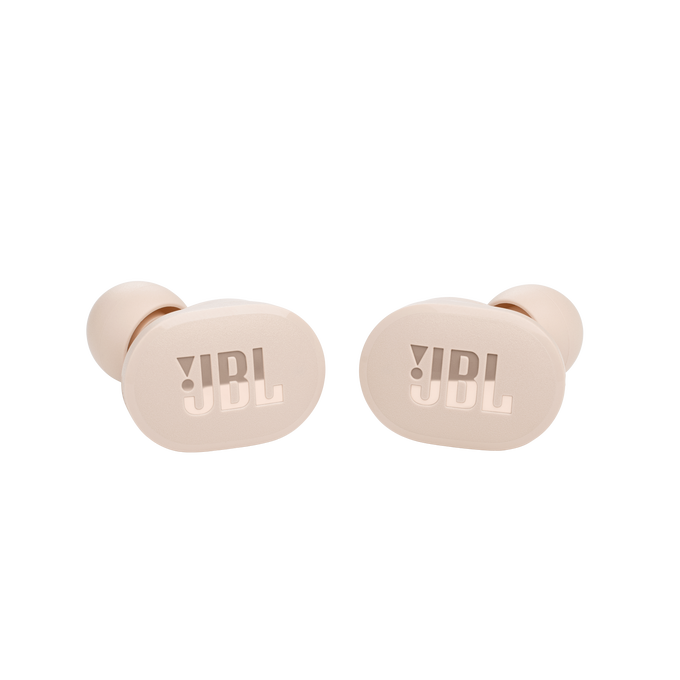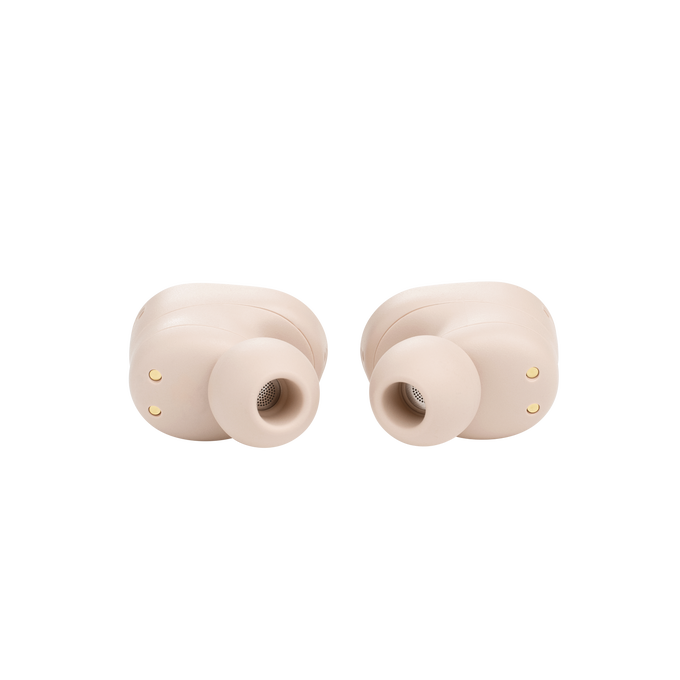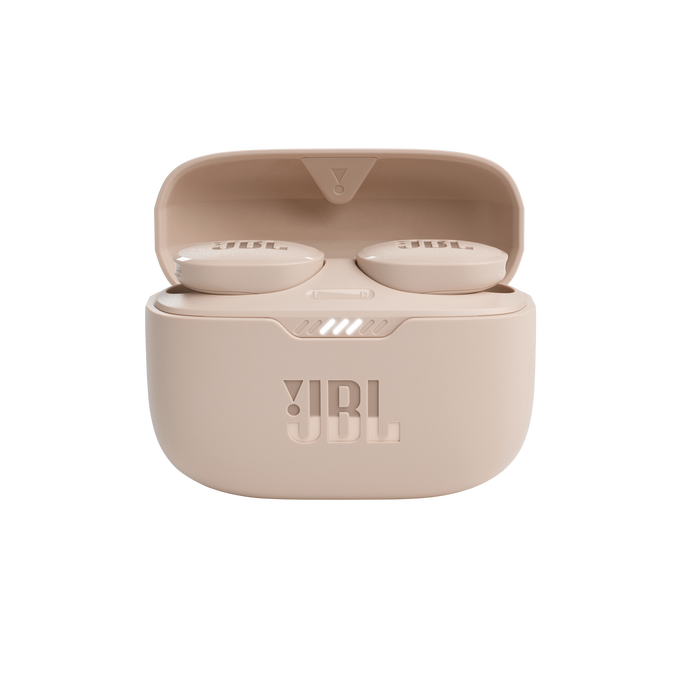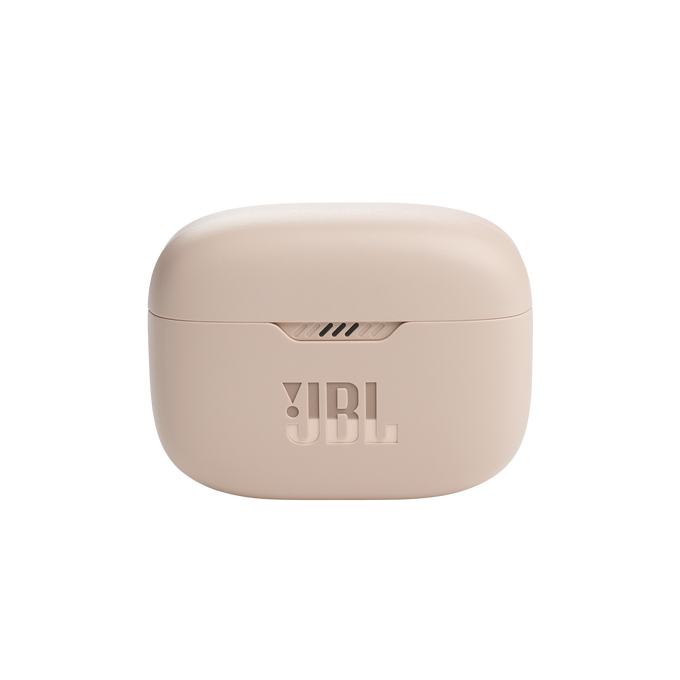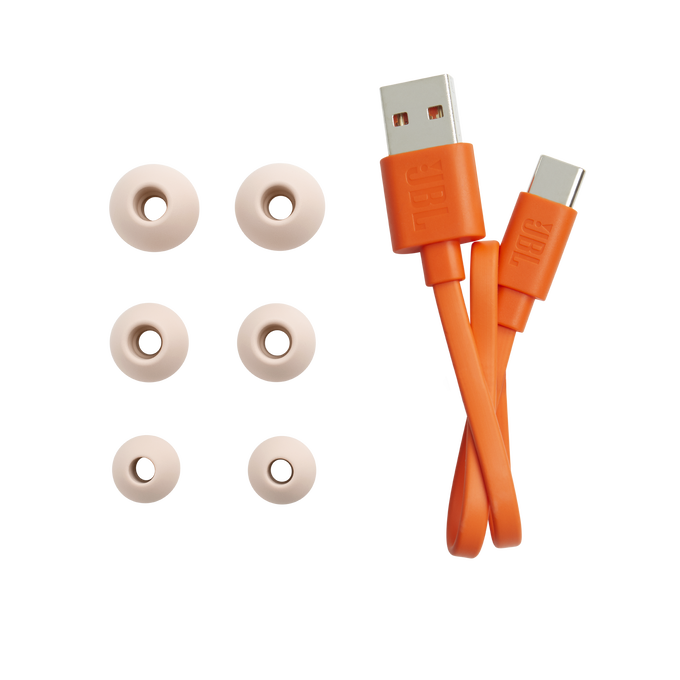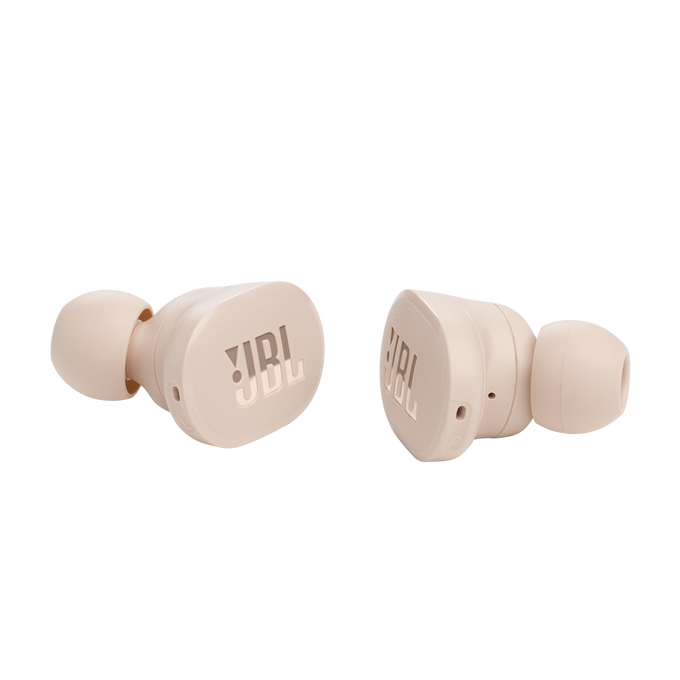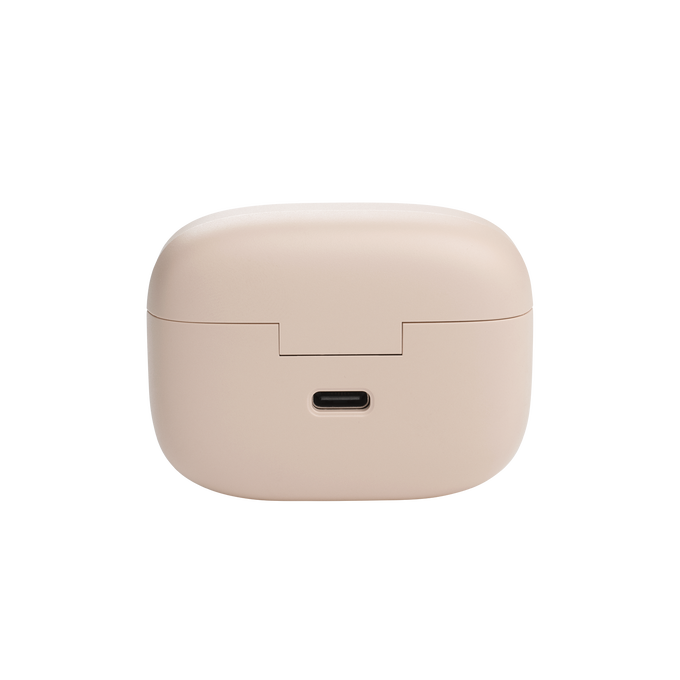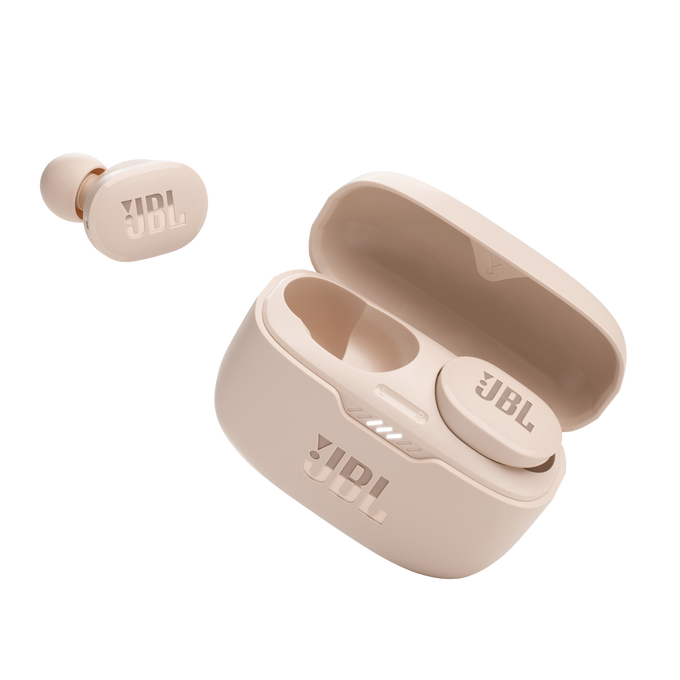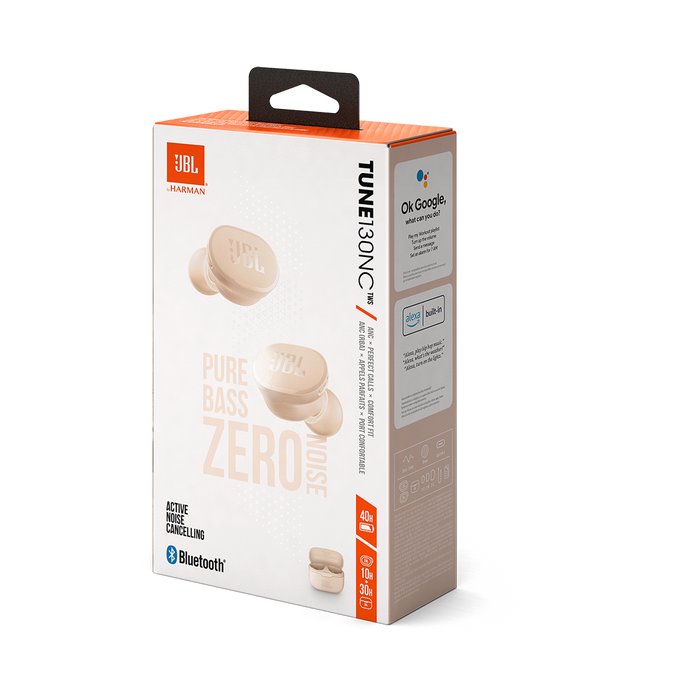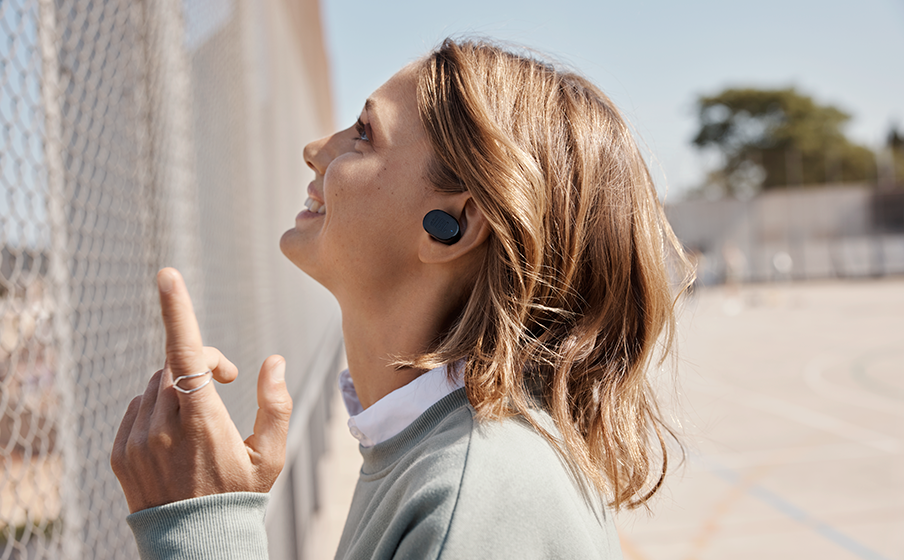 JBL Pure Bass-lyd
De smart designede 10 mm enheder, der forstærkes af prik-designet, leverer JBL's Pure Bass-lyd, så du kan mærke hvert eneste pulserende beat.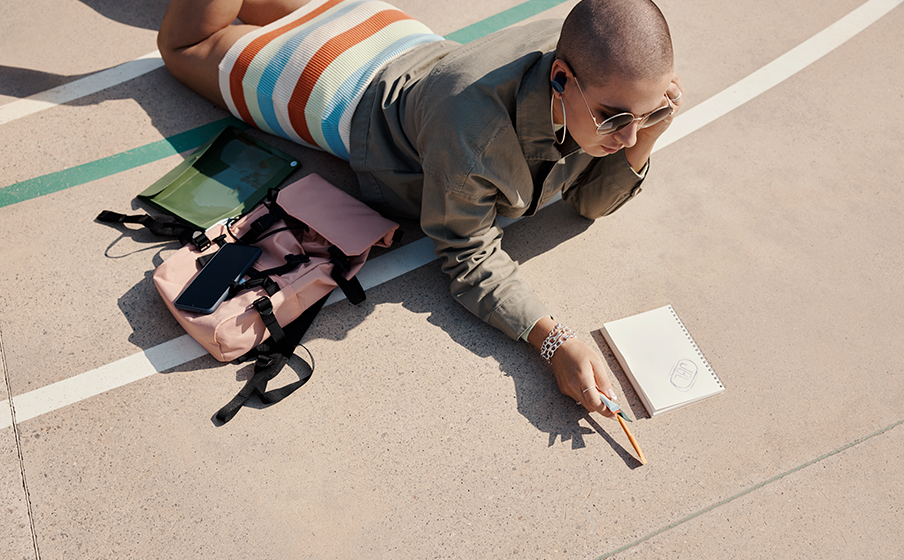 Aktiv støjreduktion med Smart Ambient
Hør mere af det, du vil, og mindre af det, du ikke vil. Aktiv støjreduktionsteknologi med 2 mikrofoner giver dig mulighed for at minimere forstyrrende lyde. Med Ambient Aware kan du stille ind på dine omgivelser når som helst, så du føler dig mere sikker ude i verden. Med TalkThru kan du give plads til en hurtig snak, uden at du behøver tage hovedtelefonerne af.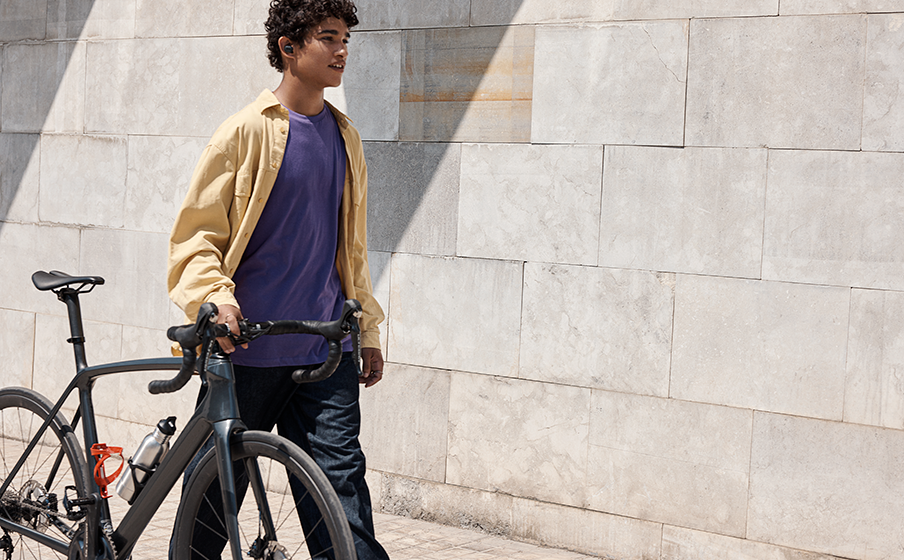 4 mikrofoner til perfekte samtaler
Nyd problemfri, håndfri samtaler i stereo. Tune 130NC TWS er udstyret med 4 mikrofoner, så din stemme altid går klart igennem. Du behøver aldrig mere tøve med at besvare eller foretage et opkald. Med VoiceAware kan du regulere omfanget af det mikrofoninput, der sendes tilbage til ørepropperne, og vælge hvor meget du vil høre af din egen stemme.
Funktioner

Op til 40 timers batteritid
Gå aldrig glip af noget med 40 (10+30) timers batteritid eller 8 timer plus 24 timer, når støjreduktion er tændt. Brug for mere strøm? Bare ti minutters lynopladning giver en hel times ekstra spilletid.

Vandtætte og svedtætte
Lad dig ikke afskrække af dårligt vejr. Med IPX4 vand- og svedafvisning er der ingen træning eller regnskyl, som Tune 130NC TWS ikke kan klare.

Pasform og komfort hele dagen
Dot-designet forsegler tæt og sikkert i øregangen. Det giver dybere bas, bedre isolering mod omgivende støj og fuld komfort, så du kan lytte hele dagen i ro og fred. Det eneste, du føler, er musikken.

JBL Headphones-app
Med JBL Headphones-appen kan du nyde din musik på din helt egen måde. Du kan tilpasse din lytteoplevelse, finde din bedste pasform, finde dine øretelefoner og endda skabe en lydløs boble, der giver ultimativ ro.
Produkt-sammenligning
TUNE130NCTWS-
TUNE230NCTWS-
LIVE-PRO-2-TWS-
TUNE-FLEX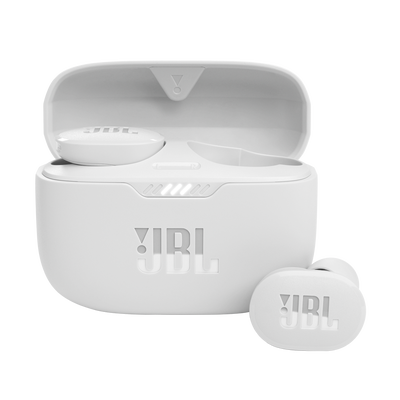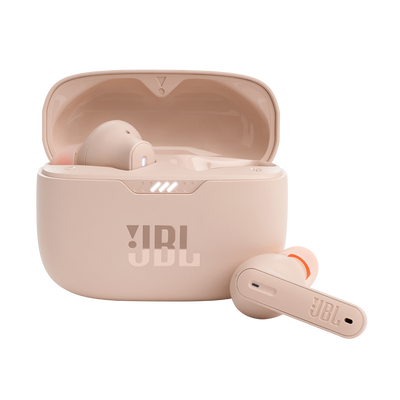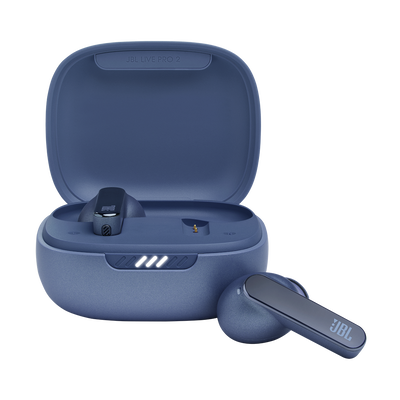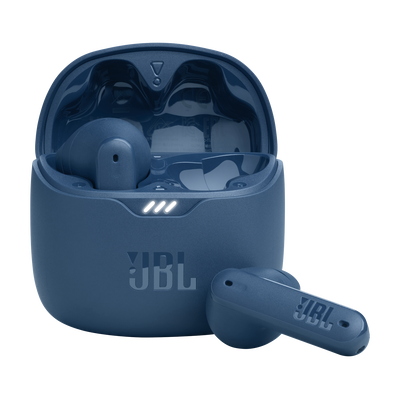 Batteri
Maksimal spilletid (timer)
40
Maksimal spilletid (timer)
40
Maksimal spilletid (timer)
40
Maksimal spilletid (timer)
Funktioner
Lynopladning (5 min. = 1 t spilletid)
Lynopladning (5 min. = 1 t spilletid)
Lynopladning (5 min. = 1 t spilletid)
Lynopladning (5 min. = 1 t spilletid)
Detaljer & Downloads
Item# JBLT130NCTWSSAN
Beskrivelse
Ren bas. Ingen støj

Klar dagen én sang ad gangen med JBL Tune 130NC TWS. De totalt trådløse øretelefoner giver dig 40 timers enestående JBL Pure Bass-lyd. Det ergonomiske og vandafvisende design sikrer fuld komfort hele dagen i al slags vejr. Opret forbindelse til samtaler nemt og problemfrit med 4 mikrofoner, der fjerner støj fra omgivelserne og giver perfekte opkald overalt. Med aktiv støjreduktion og Smart Ambient-teknologi vælger du selv, om du vil lukke verden ude eller interagere med dine omgivelser. Og det bedste af det hele er, at JBL Headphones-appen giver dig mulighed for at gøre hele din lytteoplevelse personlig. Hold forbindelsen til din verden, på din måde.
Specifikationer
Enheds-størrelser (mm)

10
Lydspecifikationer
Enheds-følsomhed ved 1kHz/1mW (dB)

103

Dynamisk frekvensområde (Hz)

20 Hz – 20 kHz

Impedans (ohm)

32

Antal dynamiske enheder pr. øre

1
Mål
Charging Case Weight (oz)

1.4

Earpiece Weight (oz)

0.4

Vægt (g)

40.4

Vægt (g)

11.4
Specifikationer, styring og tilslutning
Bluetooth-profiler

A2DP V1.3, AVRCP V1.6, HFP V1.7

Bluetooth-frekvens

2.4 GHz – 2.4835 GHz

Bluetooth sender-modulation

GFSK, π/4-DQPSK, 8-DPSK

Bluetooth sender-effekt

0 - 12dbm

Bluetooth-version

5.2
Batteri
Maksimal spilletid uden aktiv støjreduktion (timer)

10

Maksimal spilletid med aktiv støjreduktion (timer)

8

Maksimal spilletid (timer)

40
Egenskaber
Charging cable

Ja

Stemmeassistent

Ja

Lader lyd fra omgivelserne passere

Ja

Indbygget mikrofon

Ja

Håndfri opkald

Ja

JBL Pure Bass-lyd

Ja

Svedsikre

Ja

Ægte trådløse

Ja

Trådløse

Ja

Aktiv støjreduktion

Ja

Smart opladningsetui

Ja

Lynopladning (5 min. = 1 t spilletid)

Ja

Genopladeligt batteri

Ja

Bluetooth

Ja
Det er der i æsken?
1 x JBL Tune 130NC TWS-hovedtelefoner
1 x opladningsetui
1 x type-C USB-opladningskabel
1 x ørespidser i tre størrelser
1 x garanti/advarselsark
1 x startguide / sikkerhedsdatablad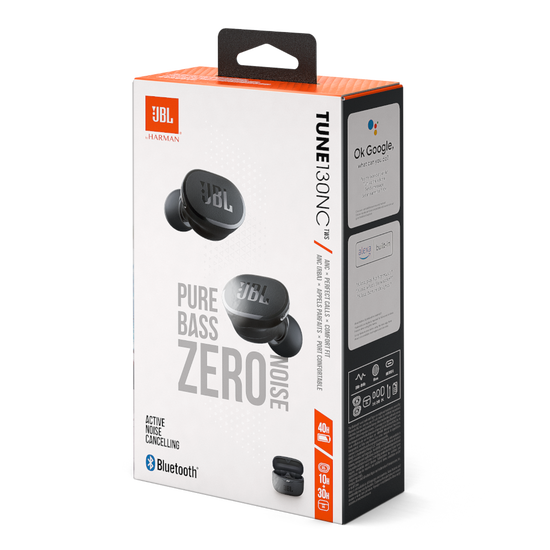 Dokumenter og downloads
Kunde-anmeldelser
Rated

4

out of

5
by
nnienkeeee
from
Nice product
I have tried the JBL Tune 130NC TWS. First I had some problems with connecting the JBL's to my smartphone but after it worked all fine. I think it's a very nice product because it is very small and you can take it easy everywhere. I like the black color and the sound is amazing! I would definitely recommend this product to others. I had never used these product before but I will definitely buy some new ones when I lose this ones.
Date published: 2022-05-16
Rated

4

out of

5
by
Brandon Abbey
from
Reliability vs. Cost
I have used pretty much all of my audio needs thru JBL and I have to say that every time I use the products vs competitors I am also stopped in thought because of how much detail and time is invested into the wireless headphones. I will continue to come back to JBL just because of how reliable the products are for what the price is. The bass is always on point and delivers a powerful punch while drowning out the environment.
Date published: 2021-11-27
Rated

3

out of

5
by
Alicia
from
Uncomfortable
The Audio quality is great. They earbuds are uncomfortable. Even with the different size ear pieces available. Picking them up it's near impossible to avoid hitting the command button. The case is nicely shaped and just the right size. They charge well with a solid lasting battery.
Date published: 2021-11-26
Rated

1

out of

5
by
Sean H
from
I bought these in May of 2022, and around December the left earbud started getting quite. I thought maybe it was just my ears, so I cleaned them but the problem remained. Next I thought the some dirt or dust got in the eabud, so I cleaned it while following the instructions from this website, but that didn't work. Out of nowhere it just starting working again, but then the right earbud stopped working. Every couple weeks it switches between the left and the right earbud, and it is really annoying when one earbud is working fine and the other is so quiet I can't even hear it. I have tried resetting the earbuds. I have unpaired and repaired them to my phone. I have searched the internet for a solution to my problem, and nothing works. I haven't even had these for a full year, so I am extremely disappointed, especially with how expensive the earbuds were when I purchased them
Date published: 2023-03-25
Rated

5

out of

5
by
Vicky
from
Packs a lot of features!
Been wearing these earbuds everyday for about a week now and I think I'm in love! First of all, they're light and extremely comfortable right out of the box. The sound quality is what you'd expect from JBL with a little extra bass kick. I often shy away from headphones that are bass heavy, but these give just the right amount of kick without being being noticeable. It's hard to explain, but I only noticed that it was bass heavy when I switched headphones, and realized how much I preferred the sound coming out of these buds. The touch controls are customizable and very responsive, I love being able to have playback and volume control on the earbuds. Bluetooth connection is seamless and very fast, even faster than my previous JBL wireless buds. The noise canceling is as good as you can expect from in-ear headphones. It drowns out my noisy roommate and coworkers, so I'm happy!
Date published: 2021-11-28
Rated

4

out of

5
by
Cleo_db
from
Good for sports
I got to test these airbuds I mostly used them at the gym and when dancing. They're great for that! The quality is good (not amazing, I've used other earbuds that had better sound quality), but for the price it's a good deal. I also used them while sleeping, they fall out of my ears when I sleep, so they're not the best for that. That's why I give them a 4 instead of a 5 They are
Date published: 2022-06-25
Rated

5

out of

5
by
Kevin Little
from
Great in noisy situations
These headphones are great! I have had them for almost two weeks, and I love them. They are very comfortable. They easily paired with several of my devices. I have had the unique ability to use them in a busy hospital setting, do to a surgery. Watching movies on my phone, the background noises seem to disappear. I would highly recommend this product.
Date published: 2021-12-04
Rated

5

out of

5
by
EdMC
from
Great sound, comfortable, and hold a good charge!
I have several pairs of JBL headsets as I have been extremely happy this this brand over many others I have tried. At this point, I have the whole family using various models of JBL wireless earphones consisting of over-the-ear, on-hear, and in-ear models. My wife and I prefer the in-ear for the low-profile and lightweight feel. I have a nice set of the JBL Tour Plus Pros which were by far the best set of wireless headphones I owned. Well at least until my wife decided to confiscate them. In any case, I came across the JBL Tune 130NC TWS in-ear set. Right up front I give them five-star rating on several aspects including audio playback, voice calls, battery life, compact size, quality, and comfort. They may not have quite as many features as my Tour Plus Pro's but they sound great and certainly do the job. The audio quality is great. The noise cancelling feature is awesome considering these are much smaller than my other pair. I use them for conference calls at work, especially when I'm working from home. The voice calls are crystal clear and I've had no complaints from conference participants in terms of hearing my voice. In fact, I would say they are a little better than my other pair. I'm guessing the 4-mic technology (2-microphones on each bud) are doing the trick. For the noise-cancelling setting, they drown out the usual house noises very well when I'm working from home. They also work great for working out and doing chores around the house. I also use them at night when I'm watching TV in bed on my phone while my wife blasts her shows on the TV. The battery life is really good for such a small set. According to the specs, JBL claims the 40 hours of play time (10 + 30 hours with case with BT; 8 + 24 with ANC on) which on average is fairly accurate. I was able to get about six hours of playback on a single charge with the noise-canceling feature on along with several phone conferences. I have only had them for a few weeks. However, based on the performance and battery lifespan of our other JBL headphones, I'm confident they'll hold over the test of time. In terms of compact size and construct, they are comparable to other high-end brands. However, this set is really compact. The case is also compact and well made. Overall, they are pretty lightweight but feel very durable. The controls are pretty basic but the touch controls are very simple and responsive. Comfort is a huge factor for me as earbuds I have used in the past tend to hurt after prolonged use. I'm guessing the lightweight of these, matched with the design, make for a good fit at least for my ears. The only complaint I have is they are a little cumbersome to get on my ears just right but I got more used to getting them on over time. Considering all of the other aspects of performance and sound, matched with their comfort, these are now my "go to" pair (and that's not just because my wife confiscated my other set). This set is pretty awesome and the price point is just right. They sound great, are comfortable, battery life is good, and they are built well. Given the price point is lower on average than other brands/models I have purchased, you can't go wrong with this set without breaking the bank. I'm a huge fan of JBL as this brand never fails to deliver and I highly recommend the JBL Tune 130NC TWS - true wireless earphones. I highly doubt you will be disappointed!
Date published: 2021-12-02
Rated

5

out of

5
by
Nik D
from
Great noise canceling earbuds!
I recently got these earbuds and decided I wanted to give an honest review so I took my AirPods out of my pocket and replaced them with these JBL earbuds. To say I was impressed would be an understatement. The noise canceling is great, sound quality even better, and the all around feel and fit of them was really good. The addition of the app and extra features such as talk through and active aware mode were amazing. The app was easy to understand and use and everything just made sense. The battery life was very good as even after 2 hours of using the buds, I had only dropped between 10/20% on either side and this was with noise canceling on. My two complaints I have are as follows: - You can't change the microphone to be only use one side. - They seem to back out of my ears a little bit over time and I have to keep pushing them back in, but it's not the same for everyone. All in all, these are a great stocking stuffer/small gift for a loved one in your family.
Date published: 2021-11-28
Rated

5

out of

5
by
BlondeAzn
from
Super Bass
I was super excited to have received these to use. They come in 3 colors and I have the white ones. The packaging is not bulky and easy to use. They come with 3 different sized ear tips and I use the smallest ones. The small ear tips fit perfectly in my ear where it won't fall off or cause discomfort. They connect to my phone easily and I haven't had an issue with it getting disconnected. The sound quality of these are AMAZING! I love being able to hear the bass of my music. I use these when traveling to work on the train and they are super noise cancelling. I use them pretty frequently and one charge would last me about 2-3 days depending on how long I use them in a day. Charging is also pretty quick which is a major factor for me since I'm always on the run. There is also a battery indicator on the case which is convenient. Another perk is I don't have to take my phone out to pause my music, i can just tap on the earbud and it'll pause. These will definitely be my go to headphones.
Date published: 2021-11-24
Rated

5

out of

5
by
Walter
from
Best earbuds I have tried!!
The JBL Tune 130NC TWS are awesome earbuds. They have a beautiful and comfortable design so that they can be used anywhere for long periods of time. They fit great in your ears due to the material they use, so there's no risk of losing them. They give amazing comfort, and the color (I got the blue) is really lovely. The presentation in the case is beautiful and the battery life is great (about 8 + hours with a single charge). I've been using them during my working hours, and it was really easy to wear them with my phone calls while enjoying my music. The active noise cancellation feature works amazingly eliminating ambient noises. The sound quality is great as is usual in all JBL products, with the perfect balance of frequencies. The JBL Headphones app allowed me to equalize and preset the earbuds easily for different sound sets. It allowed me to setup a voice assistant, change the equalizer., etc. The touch controls are easy to learn and work perfectly fine. In summary I love these earbuds and highly recommend them!
Date published: 2021-12-08
Rated

5

out of

5
by
Khuth
from
Great earbuds!
These are really great earbuds. The sound quality is super and they are great with cancelling out extraneous noise. Easy to operate and I love the charging case. Makes their longevity really great. Super price for the quality. I would definitely recommend!
Date published: 2021-12-15
Rated

2

out of

5
by
Jack2448
from
Not charging anymore
I was very happy with these for a while, i bought them about two months ago. In the past week they've just stopped charging. I'll leave them overnight but when I connect them to my phone in the morning the battery will only last 5 minutes.
Date published: 2022-02-20
Rated

5

out of

5
by
Red I Jedi
from
Brilliant
Having been after earbuds for a while i decided on these after much extensive research...i'm glad i did...fantastic sound quality and an app to accompany is an awesome idea...lets u tweak the sound depending on what ur listening to.
Date published: 2022-02-08
Rated

3

out of

5
by
yogi20
from
Great but...
I bought my JBL Tune 130NC TWS 2 weeks ago. I'm happy with how long the battery last but the performance is not quite I'm expecting compared to previous jbl earphones I had. It's not that loud and the bass not that good.
Date published: 2022-06-16
Rated

4

out of

5
by
Aaron G
from
Great sound customizable
These headphones are awesome. They are fairly light in your ears. My favorite thing about them is that you can use them with JBL Headphone app To tune your eq to your taste! That's a plus compared to other headphones.
Date published: 2021-12-08
Rated

5

out of

5
by
BigDaddyZ
from
Super 5X10
I have Every kind from Rayjay to bose" scullcandy etc.. these Are Absolutely Amazing..
Date published: 2023-03-26
Rated

3

out of

5
by
Jacmart
from
Looks great
Got these about a month ago for husband but he couldn't get on with them said they took too much messing with other than that they fit in the ear ok and would be comfortable to wear
Date published: 2022-01-12
Rated

5

out of

5
by
nasty
from
Big Value
Great value. Rich sound and slick interface. Works well for calls as well. Not idea for working out since the fit isn't very secure but for casual settings these are tremendous.
Date published: 2023-02-16
Rated

1

out of

5
by
Jeff 1064
from
Bad Buds
Got these as a Christmas present. Bad Buds. Uncomfortable in ears. Won't stay in ears with simple activity. Tap control won't work after 4 uses. Don't waste your money.
Date published: 2023-01-22
Rated

5

out of

5
by
1975Joost
from
Super god lyd og bass
God pris, god lyd og bass. Sidder godt i ørerne! Holder længe på én opladning. Er meget glad for mit køb:) Vil klart anbefale dem!
Date published: 2022-08-23
Rated

4

out of

5
by
Gamagama
from
Good sound quality Bluetooth connection not the be
Good sound quality with an amazing bass But the controles and Bluetooth connection is not the best, Can't connect with 2 devices
Date published: 2022-08-19
Rated

5

out of

5
by
Old duffer
from
Great stuff
First time purchase of this type of tech, great stuff for an old techphobic ancient one, it is easy to use and does a great job.
Date published: 2022-07-27
Rated

2

out of

5
by
JasB87
from
3 pair in 6 months
I have bought a pair of jbl tune 130nc from jbl about 6 months ago an when i got them they were fantastic sound was nice, loud, an crisp bass was on point to whatever setting i wanted it at an all was wonderful charging stayed charged no problem then after about 1 month of having them an using them every day about 3 or 4 hours at most a day they staryed acking up. The left earbud didnt stop working it was like it just went 3/4 down on the volume an i could not get it back to where the right one was basicly where i couldnt put it all the way up bc it was so loud when only using left all the way up i could barely hear it so i sent them in under my warranty bc you know they are expensive in my book for a pair of earbuds anyway. Most iv ever spent on any but i said well your using them often mine as well get a good pair to last an be good so i got them. Anyway got 2nd pair in an within 2 months that pair did the SAME EXACT THING. i was upset but not mad bc i believe things happen but im not hard on earbuds when i use them im in the house talking on phone or watching videos an stuff on my phone thats it when i go out i dnt use them much at all bc i just lik hearing everything from all my surroundings lol but anyway sent them in an got the 3rd pair had them about a 2 months an what do you know.... SAME THING left earbuds volume stopped working like it should. Not to mention to every pair i repaired them to my phobe an each other an cleaned them an NOTHING worked so now im sending this pair in an asked for a totally diff version of earbuds im not hard to get along with but dang $100 is alot for earbuds that dnt work but a month to 2 month at a time. I can say the best thing about it is that tho the JBL WARRANTY COMPANY is on point no hassle no issues just email them tell them what happened an they tell me how to send them in an wait 2 weeks an another pair is in my hand so the customer service is great with JBL company i can say. Anyway thats my review maybe just my badluck but 3 times in 6th months its hard to believe its only me.
Date published: 2022-08-11
Rated

4

out of

5
by
Jam Jam
from
Great earphones, but no volume control.
Great earphones and great sound, but no volume control why only 4 stars for that, but the meet all other expectations.
Date published: 2022-08-23
Rated

5

out of

5
by
Rocky09
from
10 time better than AirPods
I just got this for Christmas and a apple user and ex owner of AirPods these things are 10 time better
Date published: 2022-12-27
Rated

5

out of

5
by
Danelu
from
Great features and good price
I bought it as a present and my friend is very excited. Good features and good price as well
Date published: 2022-08-01
Rated

1

out of

5
by
Bah Humbug
from
BOO
L ear piece does not work…does not reset and now a new one will be too late for Christmas!
Date published: 2022-12-11
Rated

5

out of

5
by
Kidex
from
Great headphones
Very good quality type of headphones, good value for money. Recommend strongly
Date published: 2022-07-25
Rated

5

out of

5
by
Huey
from
Great EarBuds
I love these buds, the noise canceling is out of this world, and the Bass too
Date published: 2022-01-18
bvseo_sdk, dw_cartridge, 18.2.0, p_sdk_3.2.0
CLOUD, getReviews, 6ms
reviews, product
Spørgsmål og svar
bvseo_sdk, dw_cartridge, 18.2.0, p_sdk_3.2.0
CLOUD, getContent, 5ms
questions, product
bvseo-msg: Unsuccessful GET. status = 'ERROR', msg = 'Not Found.';