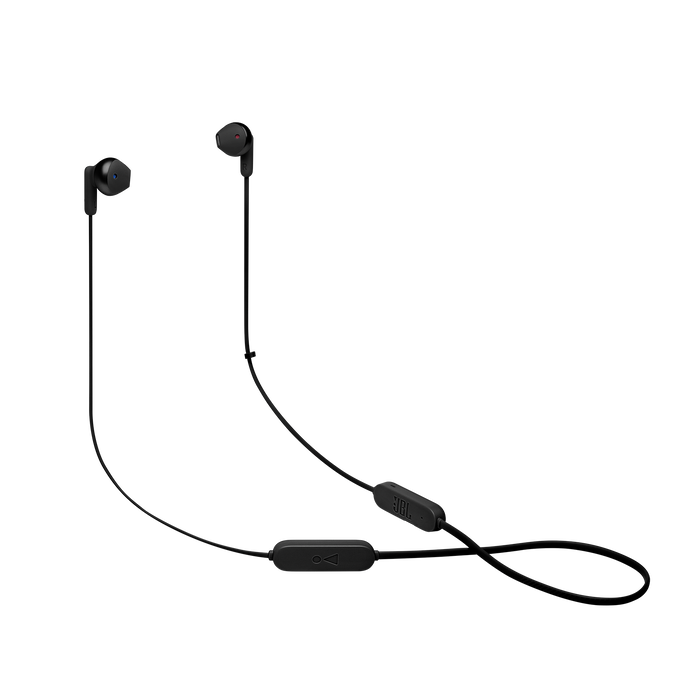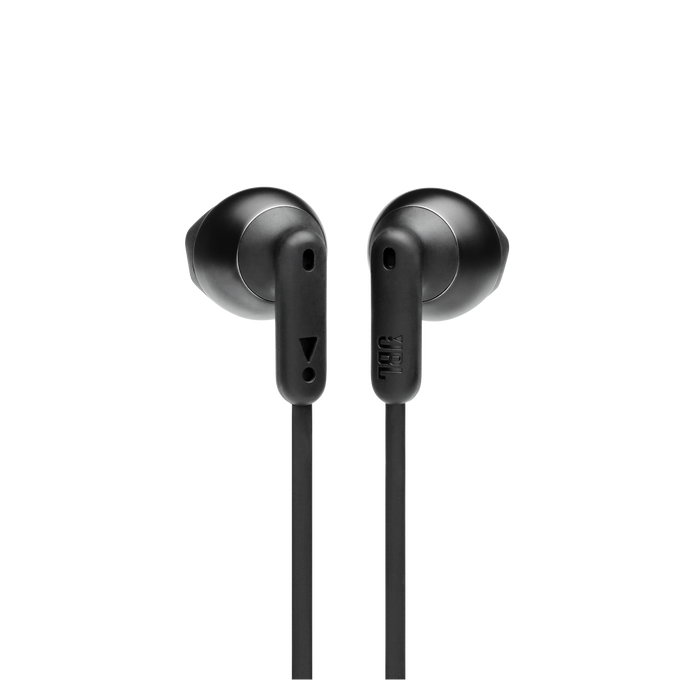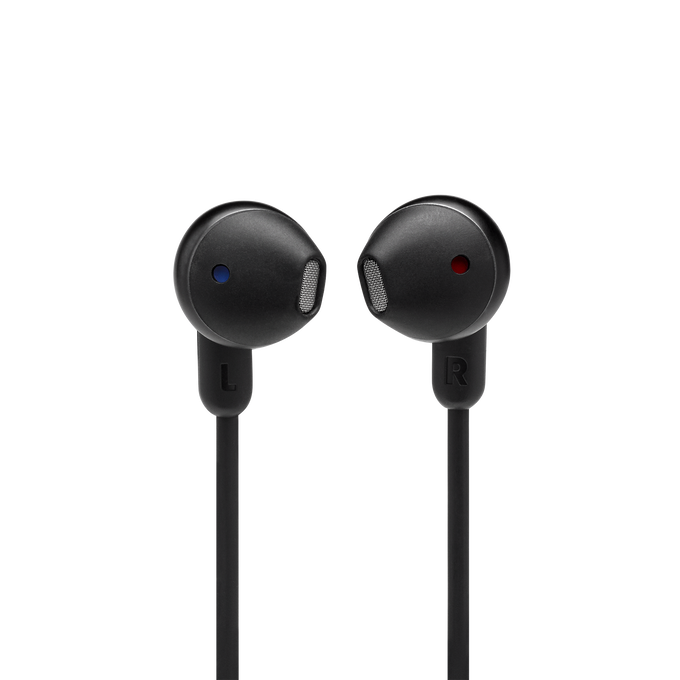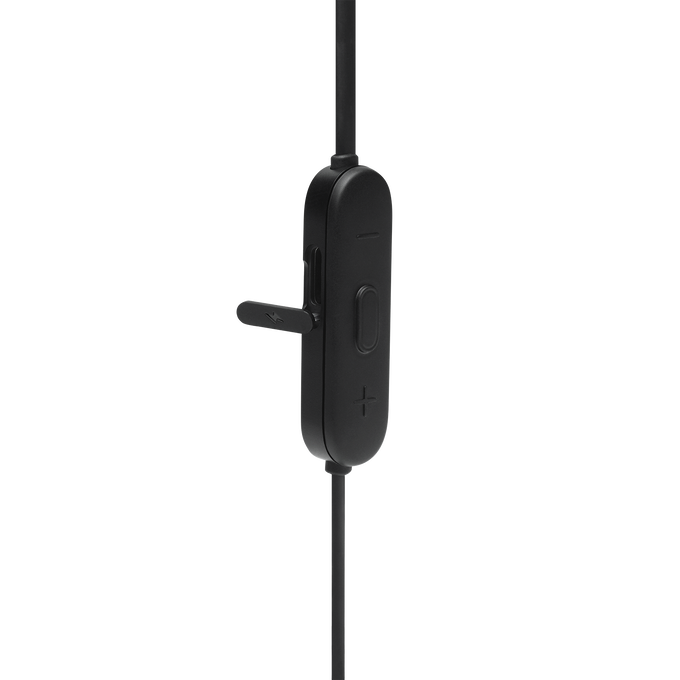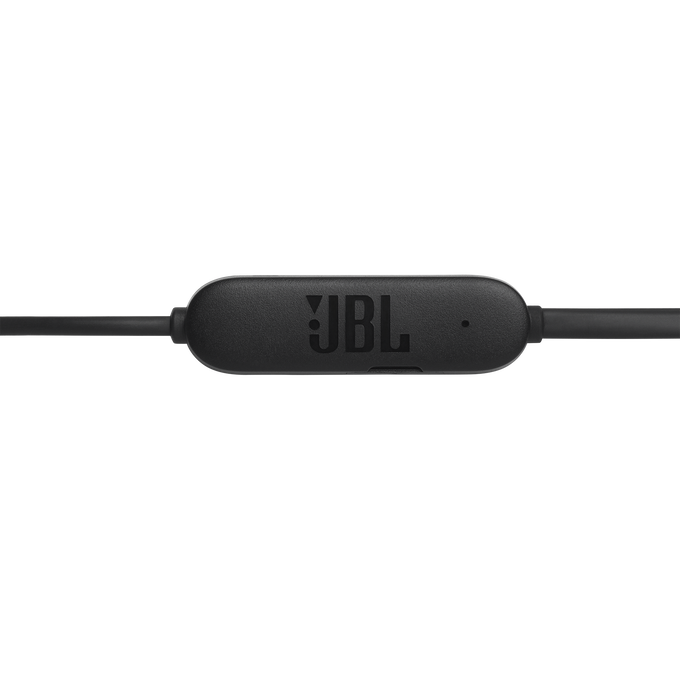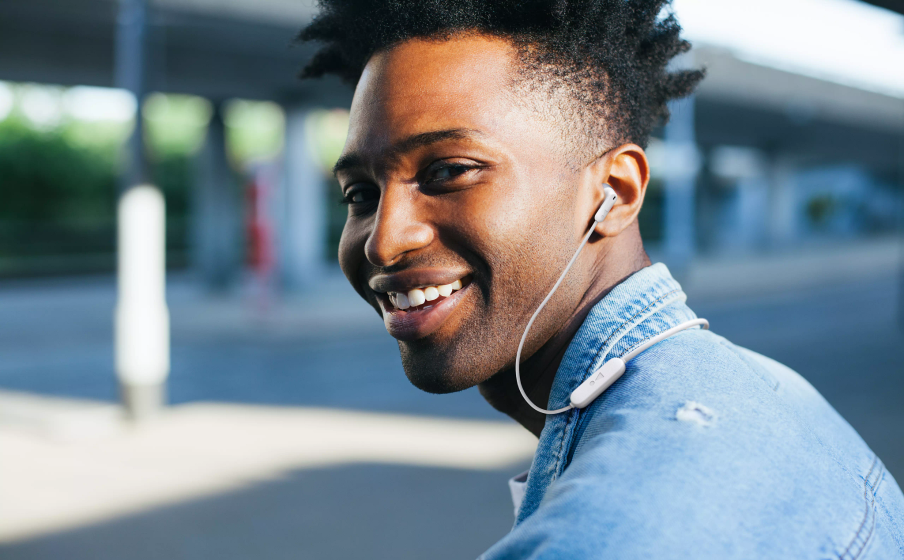 JBL Pure Bass-lyd
I over 70 år har JBL skabt den præcise, imponerende lyd, man finder på de store spillesteder rundt om i verden. Disse hovedtelefoner gengiver det ægte JBL-DNA med en bas, der er både dyb og kraftfuld.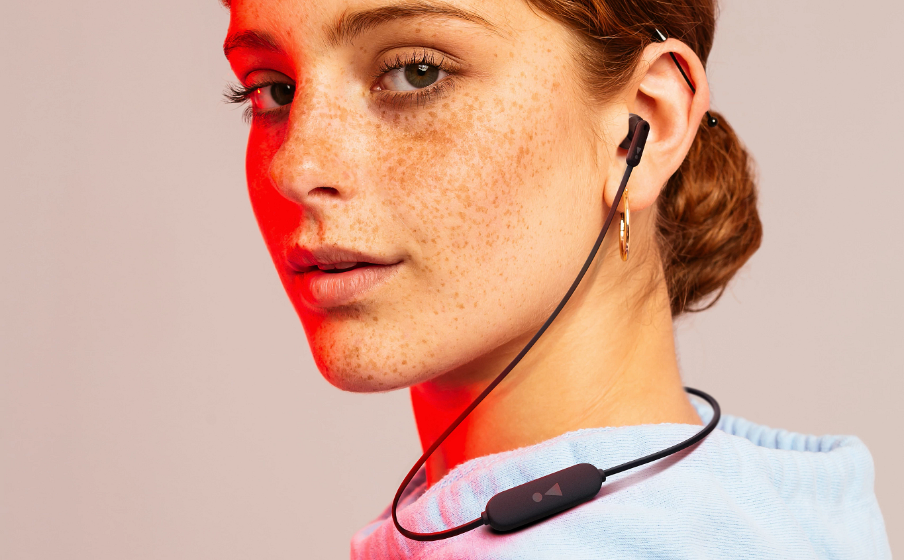 16 timers batteritid med lynopladning
Nyd din musik og besvar opkald i 16 timer. Få en fuld genopladning på 2 timer - eller 1 time ekstra med blot 10 minutters opladning.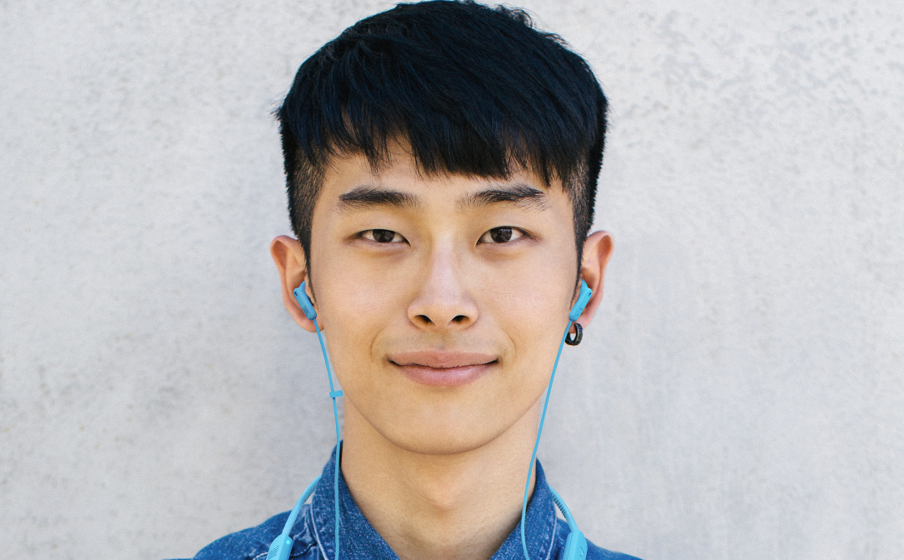 Håndfri opkald
Du kan nemt styre lyden og håndtere opkald fra dine hovedtelefoner med den praktiske fjernbetjening med tre knapper og mikrofon.
Funktioner

​BLUETOOTH 5.0​ giver tabsfri kvalitet
Afspil din yndlingsmusik trådløst i superhøj kvalitet takket være Bluetooth 5.0.

Sammenfiltringsfrit, fladt kabel
Det flade kabel er robust og filtrer ikke sammen.

Øretelefoner med komfortabel pasform
De bløde, ergonomisk udformede øretelefoner lader dig nyde musikken med fuld komfort

Flerpunktsforbindelse
Så du nemt kan skifte fra en video på din tablet til et opkald på din telefon. Så du aldrig går glip af et opkald

Stemmeassistent er understøttet
Få nem adgang til din smartenheds stemmeassistent fra hovedtelefonerne.
Detaljer & Downloads
Item# JBLT215BTBLK
Beskrivelse
REN BAS, UDEN KABLER

Vi præsenterer JBL TUNE 215BT-øretelefonerne med JBL Pure Bass-lyd. Batteriet giver dig 16 timers trådløs afspilning af JBL Pure Bass-lyd og håndfri håndtering af opkald. I det førsteklasses kabinet ligger et par 12,5 mm enheder, som giver seriøs baslyd, mens de bløde, ergonomisk formede ørestykker sikrer en behagelig oplevelse - selv ved mange timers lytning. Fjernbetjeningen med tre knapper og mikrofon på et kabel, der ikke filtrer, giver nem kontrol med musik og opkald og adgang enhedens stemmeassistent. Flerpunktsforbindelsen gør, at du aldrig mister et opkald. Derfor er JBL TUNE 215BT din ven - både i hverdagen og på farten.
Specifikationer
Enheds-størrelser (mm)

12.5
Lydspecifikationer
Enheds-følsomhed ved 1kHz/1mW (dB)

118 dB SPL@ 1kHz 1mW

Dynamisk frekvensområde (Hz)

20 Hz – 20 kHz

Impedans (ohm)

20
Specifikationer, styring og tilslutning
Bluetooth-profiler

HFP 1.7, A2DP 1.3, AVRCP 1.6

Bluetooth-frekvens

2.400 GHz - 2.4835 GHz

Bluetooth sender-modulation

GFSK, _x005F_x001F_/4 DQPSK, 8DPSK

Bluetooth sender-effekt

< 6 dBm

Bluetooth-version

5.0
Batteri
Ladetid (timer fra helt afladet)

2

Maksimal spilletid (timer)

16
Egenskaber
Bluetooth

Ja

Charging cable

Ja

Stemmeassistent

Ja

3-knaps-fjernbetjening med mikrofon

Ja

Indbygget mikrofon

Ja

Sammenfiltringsfrit, fladt kabel

Ja

Håndfri opkald

Ja

JBL Pure Bass-lyd

Ja

Flerpunktsforbindelse

Ja

Genopladeligt batteri

Ja

Lynopladning (5 min. = 1 t spilletid)

Ja

Trådløse

Ja
Det er der i æsken?
1 par TUNE 215BT-hovedtelefoner
1 x opladningskabel
1 x advarselsdatablad
1 x garantikort
1 x sikkerhedsdataark
1 x Lynguide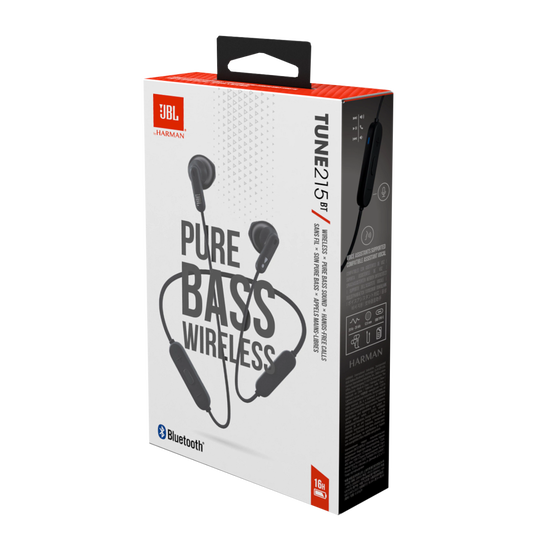 Dokumenter og downloads
Kunde-anmeldelser
Rated

3

out of

5
by
Moo6464
from
The style of these are really good and would be really good for someone who runs or exercise regularly as they will stay in your ears and the buttons are easy to reach. The sound on them is ok I have heard better. When using them if your not playing something straight away they will make a like bing noise what seems like every 20 seconds until you play something. On the box it says that they will be charged in 10 minutes however when I put them on charge I timed it and found that they needed longer then 10 minutes to charge.
Date published: 2020-12-22
Rated

5

out of

5
by
hearingbeeps
from
Update on my earlier review: Factory Reset to get
Apparently, instructions on youtube as to how to reset the 205bt's and similar models "somehow" worked on 215 bt: Wıth the power off (and after charging the earphones fully), pressing both volume buttons simultaneously for a while (10-20 seconds) or doing the same with all the 3 buttons --viz., power button included -- got rid of the beeping problem. I had unpaired the phone from all devices prior to doing that and now the connection is stabile. Hence, I upgrade the 4 star review. This should apply to the earlier 2 complaints on beeping in 20-seconds intervals too. 5 star then for this price range -- I only wish the official instructions showed how to reset the earphones.
Date published: 2022-07-27
Rated

5

out of

5
by
SandyD
from
Great sound
I have had these about a week now and JBL Tune 215BT have a really awesome sound. The are well made and fit my ears comfortably. They did not fit my better half's as well. I would do a fit test if I could before you buy. These are great and very easy to use and understand. The sound quality is superb. I could not hear hardly anything around me while using. I got about 11hrs of use on the first charge. I would highly recommend these. Another great product from JBL. Easy to use for phone calls as well. I had no problem hearing or talking with these also the other party had no problem understanding me.
Date published: 2021-06-11
Rated

4

out of

5
by
mb2800
from
God til prisen, men ikke hifi-lyd
Jeg har dagligt lyttet på disse headphones nu i ca 3 uger og kan kun sige, de er gode til prisen. Du får ikke suveræn lyd eller en masse funktioner som Noise cancelling, men de gør jobbet: spiller OK lyd. Deres batteritid er MEGET høj og der er nul problemer med tilslutning - lynhurtig bluetooth. Stikket man sætter oplader i er meget skrøbeligt, så jeg frygter, at det knækker en dag. I stedet for 100% wireless kan jeg ret godt lide det lille kabel mellem de to enheder, for det giver en god samling og gode knapper til betjening, dog burde det være lidt længere om med vægt, der holder det på plads
Date published: 2021-06-15
Rated

4

out of

5
by
Lou ise
from
Good sound , long life
I previously had the 205bt and was pleased with them although the battery life was short, I bought these as a replacement, I like the bud shape, The sound is clear but could be a bit more bassy. The battery life is great they last very long. I'd say it last 16 hours+ before needing a charge.
Date published: 2020-12-05
Rated

4

out of

5
by
Kiaa
from
Great bass
These earphones were great, when I've used them at home. I found them useful when exercising too. The bass was amazing, however they do make a noise when listening at times. Charging time needed longer than inticipated, however used them for an while when exercising (1hour). I did find the earphone had a comfort fit and used them for hands free calls. At times the earbuds would slip out. Great earphones which are wireless too.
Date published: 2021-06-22
Rated

1

out of

5
by
Kris23
from
Terrible
I bought about 2 weeks ago go them home- felt weird in my ears but I thought I just needed to get used to them. Within a week they stopped working about every 10 minutes. Would be in the middle of a song or a movie and there would be NO sound but music or movie would still be paying, I decided to return, web site for returning was not working so I decided to call the customer service phone line - that was a mistake. Waited over 40 minutes on the the phone for the lady to send me the return label. Defiantly not worth the $25 I spent on the headphones!
Date published: 2021-11-15
Rated

3

out of

5
by
Foriiido
from
20 sec beep sound
try update firmware and it fix that for me.........!
Date published: 2021-06-21
Rated

5

out of

5
by
Betsy7Cat
from
Love it, works great, can sleep with them
Very happy with these. Can't use wired ones anymore due to lack of headphone jack. I wanted a pair that connected to each other so I could sleep with them and worry less about losing them. But most wireless ones that are connected to each other are the silicone ones that fill your ears which wasn't comfortable for sleeping on my side. These are very comfortable. Plus, they will automatically power off after no activity for a while, which is a double bonus since I'm not awake to turn them off. And the sound quality is pretty good to boot.
Date published: 2022-04-10
Rated

4

out of

5
by
Kody217
from
Great ear buds with only 1 caveat
These ear buds really do pump the base. To my untrained ears the sound quality is pretty balanced while delivering ear thumping bass. The weighted sides rest in front of the shoulders nicely allowing you to jog without the buds shifting around in the ear The only downside to these is that they are a little loose in my ear, not enough to fall out while running but enough for it to bother me a little. This might just be me though as my girlfriend tried them and they fit snug in her ear. All in all great earbuds for the price!
Date published: 2021-06-12
Rated

5

out of

5
by
golfcat
from
Great for Workouts
These earbuds are terrific, particularly for working out. Having been through many iterations of buds that don't fit your ears, won't stay in during a run, or don't have sufficient sound to power through a workout, these stand up and hold up to a tough run. The battery life seems to be more than enough - I used them throughout an 8-hour workday, took them to the golf course for 9 holes, and ended the day with a 3-mile run, and the battery still held strong. Charging the buds is fast and efficient, with a short charge lasting at least an hour or so for those "oh no, my headphones are dead" moments. Would certainly recommend these to anyone, especially considering the competitive price point, and the features/sound quality above and beyond a $20 wired headset.
Date published: 2021-06-11
Rated

1

out of

5
by
SamuraiJake
from
They either fit perfect, or you're hosed.
Literally JUST bought these, they arrived today & I don't even need to charge them to know they are completely WORTHLESS TO ME. There is no way to make them fit a smaller or larger "ear hole" or whatever. SO - They either fit you perfect, or you are screwed. I can't get them to go in my ear & stay there sitting completely still, much less moving. I definitely feel like I just threw away what I spent. (which was ALOT LESS than the original ask for them. My 1st purchase with JBL ever, MIght be my last.
Date published: 2022-11-08
Rated

3

out of

5
by
Btotheryan64
from
Backup BT headphones
These headphones aren't bad, but they're not great either. They're just average in my opinion. I'm used to wearing ear buds on a daily basis. So when switching over to the 215's it's a bit of a downgrade in terms of fitment, and sound quality. But, they're not bad as back ups. I keep these in my car at all times in case I forget or drain my battery on my earbuds. The battery life is impressive and they're usb-c so they charge quickly.
Date published: 2021-06-10
Rated

5

out of

5
by
donfoolio
from
Extremely Comfortable, Light Weight + great sound
These headphones are super comfortable to wear. They are really light weight and have great access to the charging ports. I've been using them to switch between my laptop and cellphone during my work days and am able to transition between devices with no problem. Above all, the audio quality of these headphones is amazing. I love hearing the extra basslines in my daily hip hop and rnb playlists - its been really refreshing having a new pair of daily drivers to use for work and casual laptop use.
Date published: 2021-06-01
Rated

4

out of

5
by
Tranha
from
Good, okay
They're good headphones but i can't get over how big they are. They feel like they're designed for men or big ears, and they don'thave good grips. They fall out of my ears easily so often which is very annoying bc they're sport headphones. I can't concentrate on my work out when my headphones keep falling off. Would not recommend it for normal-sized ears people. JBL should note that in the description that they're a bit big. Regarding the quality, it's good and the microphone works well.
Date published: 2022-03-08
Rated

4

out of

5
by
Jart
from
Great lightweight earbuds with strong battery life
So far I'm really enjoying these earbuds. They are very easy to use and the battery life is impressive. I have used them for about 6 hours and have 70% battery remaining. I also like how lightweight they are and how quickly they pair to my phone. I wish the sound quality was a little better, but it is good for this price point considering the battery life. They are also a little uncomfortable. There is hard plastic on the bud itself and it is uncomfortable against my ear after a while.
Date published: 2021-06-16
Rated

4

out of

5
by
hagaynor
from
Sound is great
The sound was surprisingly great and they are easy to pair with all devices however the do don't fit in my ears comfortably. They felt loose.
Date published: 2021-06-23
Rated

5

out of

5
by
Mindy67
from
Great features
These are absolutely brilliant, they are light and compact and are handy for when your on the go and need to make a quick call.
Date published: 2020-12-28
Rated

4

out of

5
by
Bambino1242
from
True Bass!
If you are looking for wireless ear buds that have that hard hitting bass… then these are the ear buds for you. The highs and mids are not exactly the best, but you usually won't find that in small ear buds, neither did I expect to. I wear these while working out and they are great. Even when I'm walking around the house and need to be on the phone, the sound quality on the other end of the phone is amazing, according to people I talk to. The only downside I would have to say is that the bud itself was a little large, almost like a one size fits all kind of design. I would suggest they they offer a smaller designed bud with rubber size enhancers. That was my only complaint. Other than that another quality product from JBL. They gave me everything I was looking for and everything I expected a JBL product. Durable design and great sound.
Date published: 2021-06-08
Rated

4

out of

5
by
Logan123
from
Comfortable Earbuds w/ Great Battery Life
After using these for two weeks, through long walks, lounging around, and traveling through airpots, I've enjoyed these earbuds. They fit my ears nicely, and the blocks along the cord comfortably settle just above my collarbone. The button controls are easy to use. The battery life is outstanding. The sound leaves some to be desired, but they do sound pretty good. I'd say the best match for these is any easy-listening tune, shows/podcasts, and phone calls. The bass is lacking for heavy music listening, and the highs can be a tad tinny. Overall, the sound quality is adequate. It takes just a few hours to charge, and the battery had lasted me 12+ hours. Per usual, JBL gives you a nice package with the charging cable. I'd say these are a good product for the value. Don't expect to run in these, but for simple listening needs, they work great.
Date published: 2021-06-16
Rated

5

out of

5
by
sammiejay3
from
Great Headset
THis product has been very useful for me and what my ears consider to be music. The design of the headset allows for comfort inside of your ear canals. The sound is classic JBL (The bass hits clean and pure while the treble is not high to drown out the music, but not to low to not hear it). The design of the product allows for comfort around your neck while the piece connected to the right side allows for cords to be put together.
Date published: 2021-06-09
Rated

3

out of

5
by
laj91
from
Nogenlunde
Jeg har testet disse et stykke tid. Middelmådige høretelefoner. Men der er nu ikke meget bas i dem. Lydkvaliteten er heller ikke den bedste. Men de er rigtig praktiske og behagelige at bruge. Går man ind og ændre EQ på den enhed man afspiller fra, kan man forbedre lydkvaliteten en smule. De er fremragende til lydbøger og podcasts. Men med musikken er de ikke de bedste at bruge. men i forhold til prisen er de ganske ok
Date published: 2021-06-04
Rated

4

out of

5
by
m1te
from
Smarte headphoes
Dette produkt har muliggjort eller i hvert fald forenklet min brug af mundbind i offentlig transport sammenlignet med over ear-headphones. De er tilmed bedre i varmen end de store høretelefoner. Jeg er overrasket over, hvor god lyden er, når de er så små. Til gengæld holder de ikke fx trafikstøj ude. Betjeningen foregår let, og derer aldrig problemer med at koble på bluetooth.
Date published: 2021-06-24
Rated

4

out of

5
by
hearingbeeps
from
Factory Reset ot Firmware Downgrade/Reisntall?
I've been using these for quite a white. After the "20 second beep sound" problem (mentioned in another review) was solved (thanks to the instructions for a "firmware update", as a reply to the previous review here) they have been quite enjoyable. The seamless switching between the computer and the Android phone has been a plus, quite practical in daily use... The issue is that now the annoying beep sound is back -- 215BT may have gotten quite "confused" after they were successfully paired with a tablet as the third device (surely, only two simultaneous connections are possible among the paired devices, computer-phone-tablet... I am trying to have the firmware reinstalled or turn the earphones to their factory settings or have the firmware downgraded to then upgrade again. Is there a way to do any of that? (The JBL application for 215BT on the Play Store detects the firmware as up-to-date and allows for no further actions). Thanks
Date published: 2022-07-22
Rated

5

out of

5
by
Kevin1015
from
Great sound and can move around great in them!
I have been very happy with this product! The sound is great and the microphone works perfectly. I forgot how nice it was to have your headphones connected. Allows you to move around in them and not worry about them falling out. Also, convenient to leave them around your neck or hang over your ear when not in use. Overall, they're a great product!
Date published: 2021-06-22
Rated

3

out of

5
by
mrusmanali95
from
bluetooth multi connect not working properly
I bought these just to experience bluetooth multi connect feature... But i am disappointed, the headset dosent switch to 2nd device smoothly some times it works but mostly i hear no sound after i switch to 2nd device... also many devices find it very hard to discover for the first time.
Date published: 2022-11-23
Rated

5

out of

5
by
Robert85
from
Insane battery life!
JBL just never fails to impress me. The battery life is enought to last all day which is important to me. These headphones are not bulky at all, you can barely notice you have them on. The earbuds fit nicely and I like that I don't have to worry about losing the rubber tips. Amazing bass and sound quality as I've come to expect from JBL!
Date published: 2021-06-03
Rated

4

out of

5
by
utown
from
You can hear the bass
These earbuds have an interesting design, as they rest at the bottom of the outer-ear cup. It's very comfortable, and eliminates some of the pressure associated with some other earbuds. It also allows you to remain more aware of your surroundings. It has been a while since I tried earbuds that do not insert at least part-way into the ear canal. I thought that I would miss the noise isolation that you get with an inserted earbud, but I didn't. The more open, comfortable fit definitely has appeal. The earbuds paired easily. Controls are a little larger than expected, but clearly labeled an easy to use. The build seems to be solid. The sound profile is a little more tuned for bass than some other JBL earbuds that I've tried. That seems to be the trend these days, and it's nice to have earbuds that are capable of reproducing the lower tones. These are a solid option for anyone who wants a more open, less isolated experience.
Date published: 2021-06-08
Rated

4

out of

5
by
AlinaC23
from
Decent earphones
I have used these earphones for two weeks now and I find them pretty decent. Nice sound quality, really good battery life and super easy to operate. I have quite small ears so they can be uncomfortable after a few hours. For a pair of earphones advertising "pure bass sound" I found the bass quite disappointing, but overall not bad.
Date published: 2021-06-23
Rated

4

out of

5
by
Bjerknaes
from
God lyd og rækkevidde
Jeg har testet disse høretelefoner i samarbejde med reviewclub. De har en fin lyd, sidder godt i ørerne også under træning og løb, og er rigtig nemme at betjene. De kobler hurtigt op på fx mobilen og jeg har både brugt dem til træning, i den offentlige transport og på arbejdet til opkald, lydbøger og musik. Alt i alt et godt produkt.
Date published: 2021-06-04
bvseo_sdk, dw_cartridge, 18.2.0, p_sdk_3.2.0
CLOUD, getReviews, 33ms
reviews, product
Spørgsmål og svar
bvseo_sdk, dw_cartridge, 18.2.0, p_sdk_3.2.0
CLOUD, getContent, 157ms
questions, product
bvseo-msg: Unsuccessful GET. status = 'ERROR', msg = 'Not Found.';