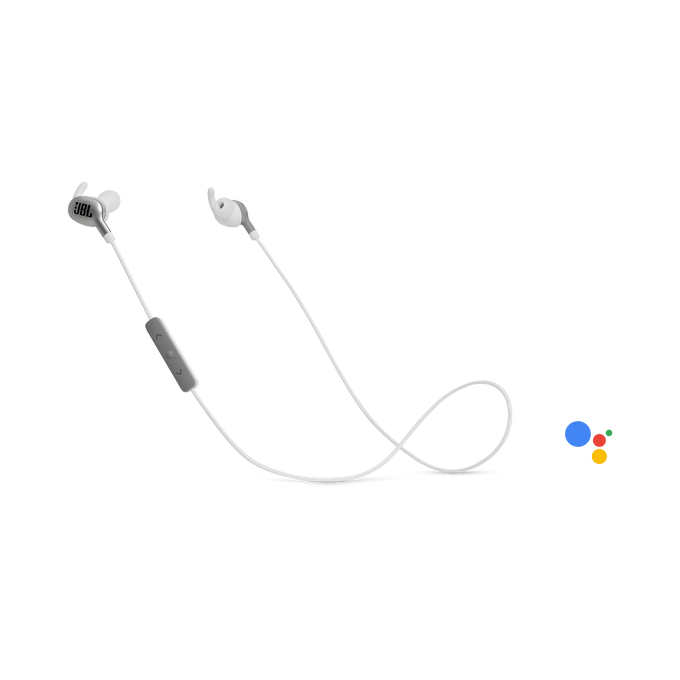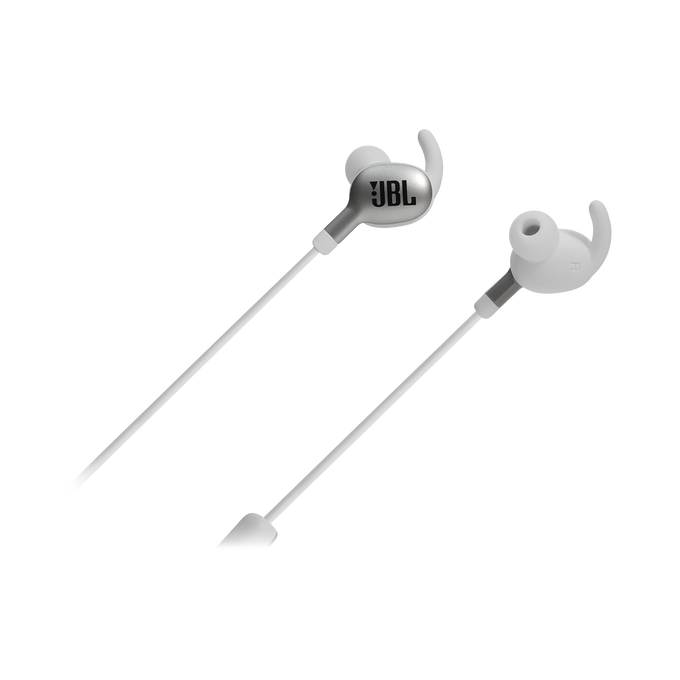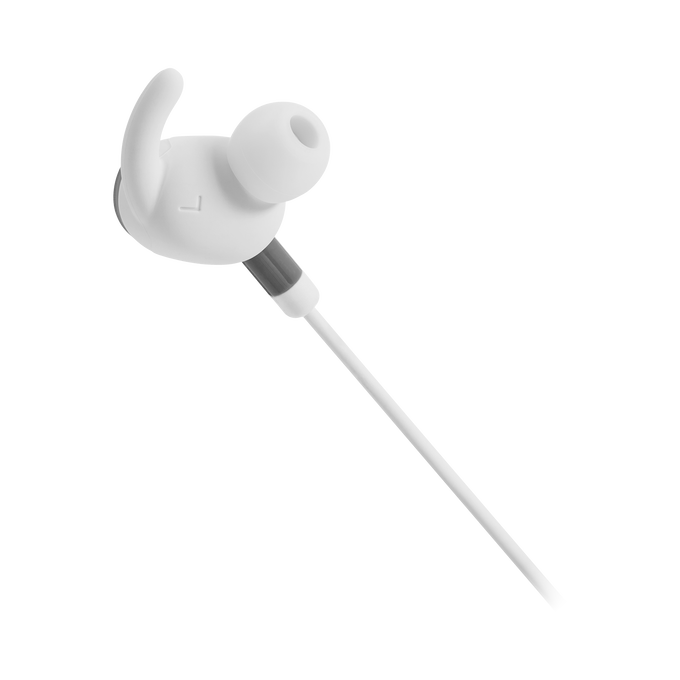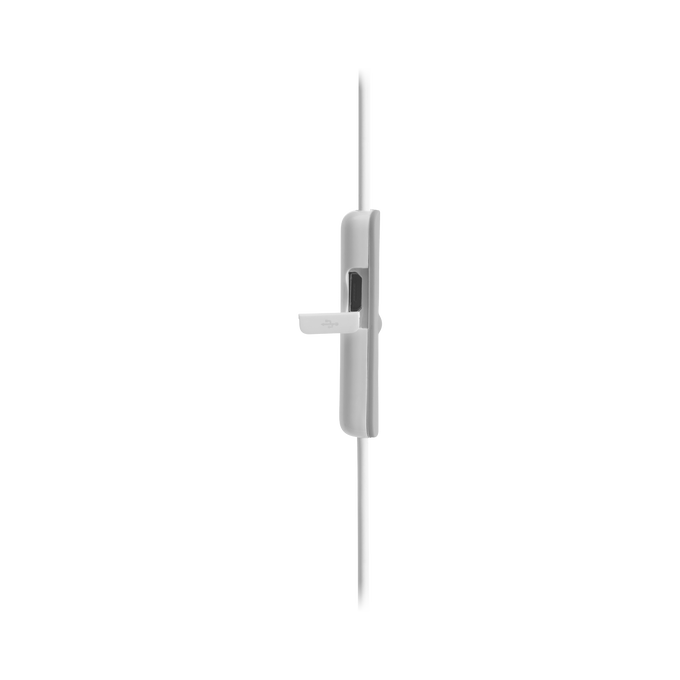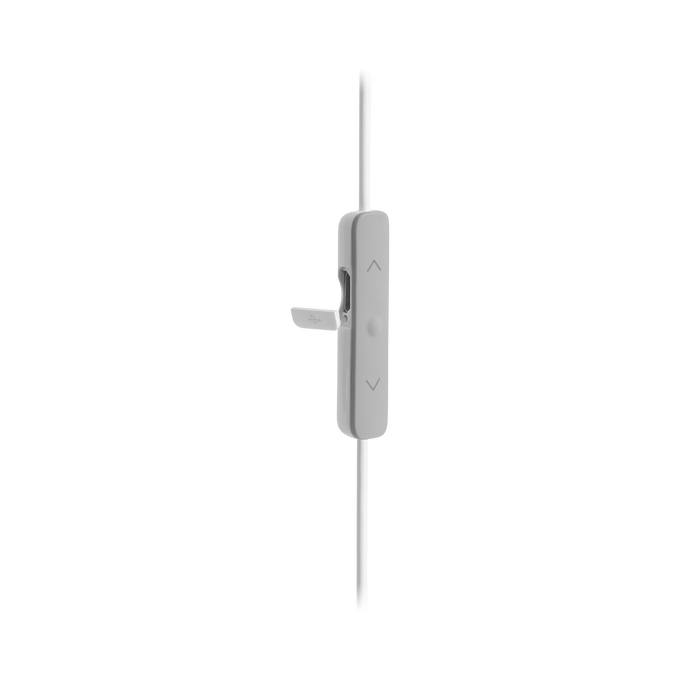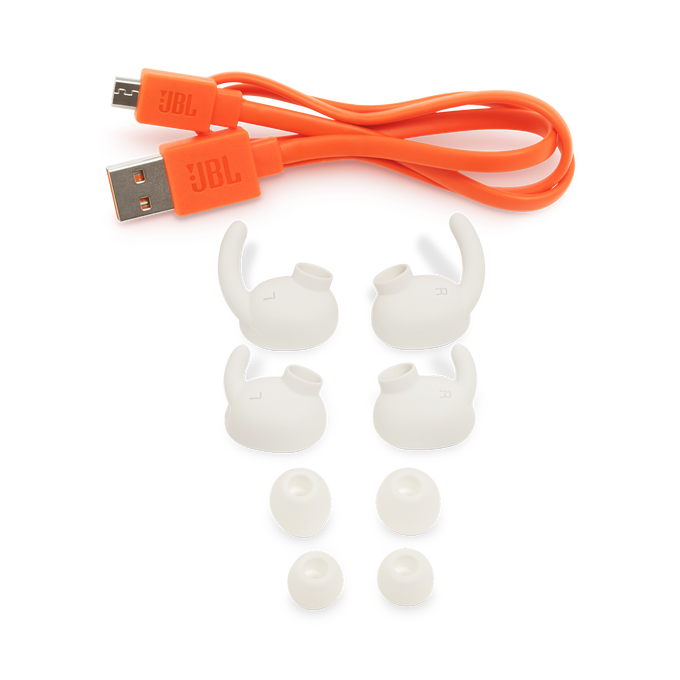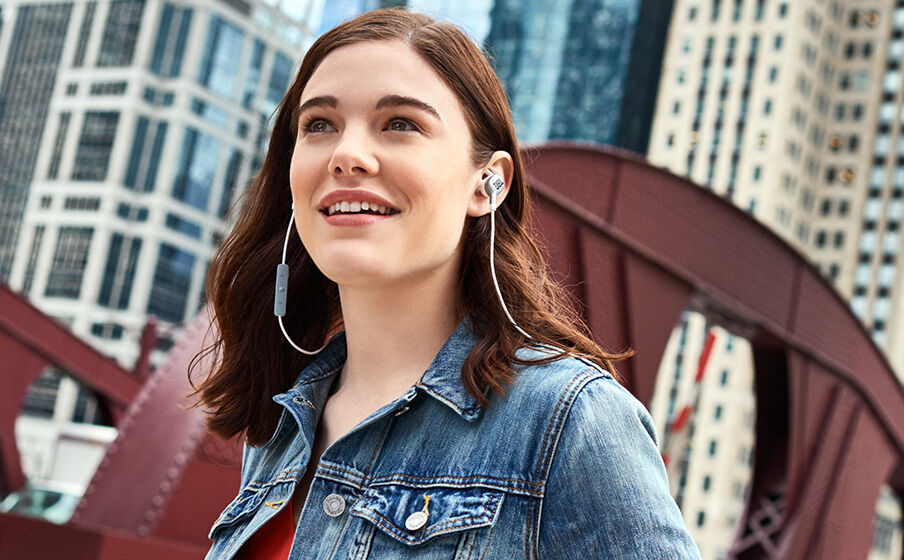 Bluetooth-forbindelse
Nyd al din musik trådløst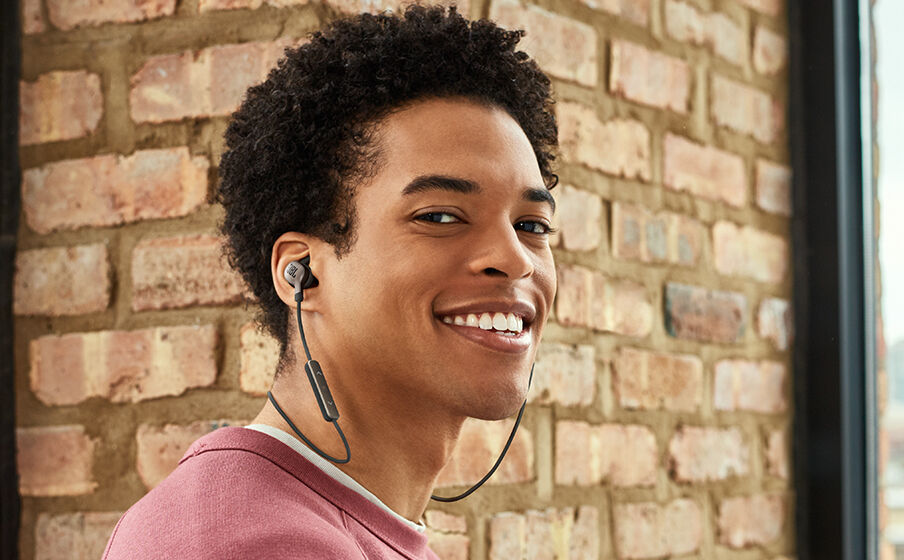 Få hjælp fra din Google Assistant
Google Assistant startes med en blot et tryk på fjernbetjeningen. Den giver fuld kontrol over din musik, og du kan modtage beskeder uden at røre din telefon.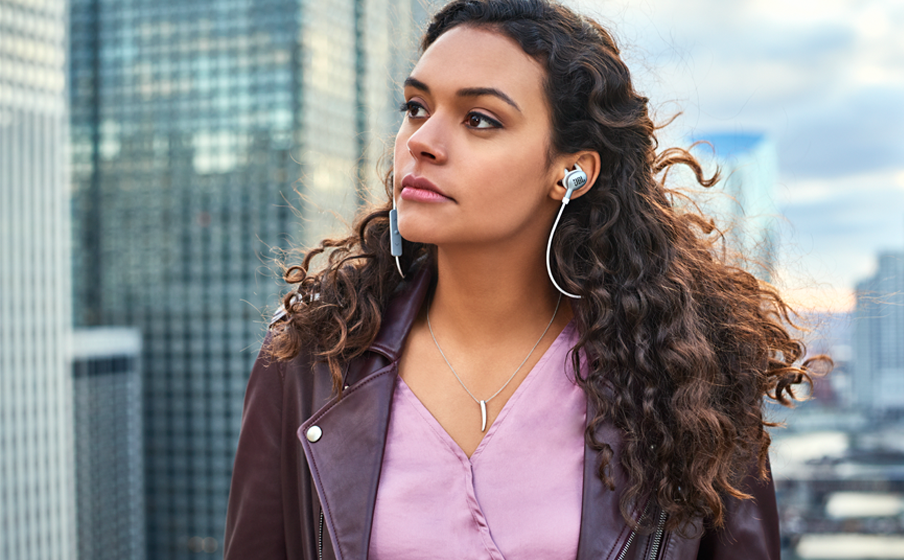 Legendarisk JBL Pro Audio-lyd
Nyd den samme medrivende oplevelse og fantastiske lyd, som JBL har leveret til koncertsale, studier og dagligstuer gennem 70 år.
Funktioner

Echo cancelling microphone
Indbygget mikrofon med ekkoreducering for krystalklare, håndfri opkald.

8 timers batteri og hurtig opladning på 2 timer
Indbygget batteri med micro USB-opladning giver op til 8 timers afspilningstid med hurtig opladning på blot 2 timer

Komfortable ørepropper
Ergonomiske ørepropper med ørekapper, som findes i 3 størrelser, så du får den optimale pasform med enestående komfort

Nem betjening
In-line fjernbetjening for nem musikbetjening og håndfri opkald
Detaljer & Downloads
Item# JBLV110GABTSIL
Beskrivelse
Trådløs oplevelse. Enestående komfort.

​De trådløse JBL Everest™ 110GA øretelefoner giver dig den legendariske JBL Pro Audio-lyd. Du kan nyde den dynamiske lytteoplevelse i op til 8 timer, og herefter klares opladningen på bare to timer. ​​Med Google Assistant kan du bruge stemmen til at styre musikken og modtage beskeder. Helt uden at gribe din telefon. Det kræver blot et tryk på fjernbetjeningen. Det ergonomiske design er tilpasset alle ørets konturer og sidder perfekt, så du får enestående komfort og mange timers lytteglæde. Oplev krystalklare, håndfri opkald med den indbyggede mikrofon med ekkoreduktion. Prøv at lytte.
Specifikationer
Enheds-størrelser (mm)

5.8
Lydspecifikationer
Enheds-følsomhed ved 1kHz/1mW (dB)

96dB / 1kHz, 1mW

Dynamisk frekvensområde (Hz)

10Hz – 22kHz

Impedans (ohm)

32.0

Antal dynamiske enheder pr. øre

1.0
Mål
Vægt (g)

15.3

Vægt (oz)

0.56
Specifikationer, styring og tilslutning
Bluetooth-profiler

HFP v1.7, HSP v1.2, A2DP v1.3, AVRCP v1.6

Bluetooth-frekvens

2.402GHz – 2.48GHz

Bluetooth sender-modulation

GFSK, π/4DQPSK, 8-DPSK

Bluetooth sender-effekt

≤4 dbm(EIRP)

Bluetooth-version

4.1
Batteri
Ladetid (timer fra helt afladet)

2

Maksimal spilletid (timer)

8

Taletid (timer)

8.0
Egenskaber
Håndfri opkald

Ja

Den legendariske JBL Pro Audio Sound

Ja

Flerpunktsforbindelse

Ja

Genopladeligt batteri

Ja

Lynopladning (5 min. = 1 t spilletid)

Ja

Trådløse

Ja
Det er der i æsken?
3 størrelser ørepropper
Opladningskabel
Etui
1 garanti / advarsel
1 x sikkerhedsark / Kvikstartguide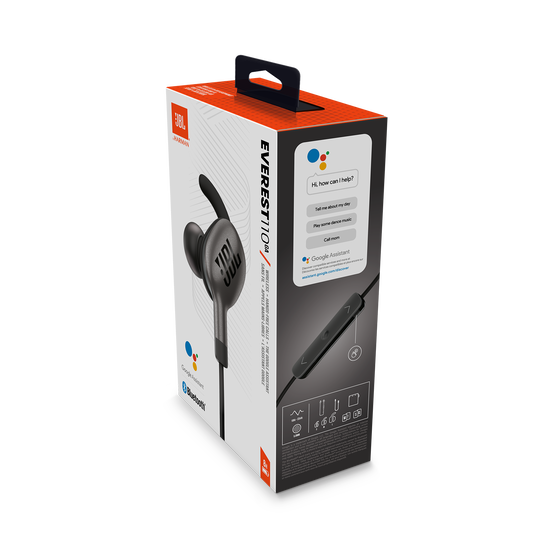 Dokumenter og downloads
Kunde-anmeldelser
Rated

1

out of

5
by
LDDD
from
Terrible sound
I've had these for a couple of weeks. I use them during my workouts. I've had many sets over the years and these are not even close to my favorites. I've had cheap sets from the dollar stores that sounded better. I am not happy with my purchase.
Date published: 2019-12-02
Rated

1

out of

5
by
Anonymous
from
Deceptive
They look like they go over the ear (ear hook) but there isn't one. Even with the ideal size head piece on the earphone, if you only have one earbud in for driving) the other one is heavy enough hanging pulls out the one in your ear. So about a "sport" JBL that does have an over the ear hook, and it disconnects 80% of the calls. Has the normal bad directions for usuage, and the sound UP/Down volume only disconnects your call when you try to use it. Even tried customer support but no help.
Date published: 2020-05-06
Rated

5

out of

5
by
Jimsim
from
Amazing after you adjust the earbuds
Just got these today and was not initially impressed. Very tinny and no bass. I was using with the installed medium ear buds. So I changed to the small buds. Worse. Then I changed to the large buds. Holy cow. The sound came alive. Full sound with plenty of bass and clear as a bell. Fitting the buds to your ear is critical for these headphones to work as designed. I became an instant fan. The audio is amazing. You can hear such small details and really blocks out the outside noise well.
Date published: 2020-04-01
Rated

5

out of

5
by
Migs
from
Price point
Not bad for the price. If you are looking for something not too expensive but good quality. Its the way to go.
Date published: 2018-12-20
Rated

4

out of

5
by
dmj7386
from
Great features
I bought three pairs for my kids. Good value, sound good.
Date published: 2019-01-02
Rated

5

out of

5
by
MML72
from
Waste of Money
The sound on these is good enough but it would not stay connected to my phone. I have no other problems with the bluetooth connection on my phone and this is the only device that has had this issue. Yes, I need to do research and troubleshooting and all that good stuff. I don't really have the time for that, let alone following through with a return. Very disappointing because I have been happy with JBL in the past.
Date published: 2021-08-11
Rated

1

out of

5
by
Rwil6126
from
My experience
Purchased just over 12 months ago. Nice sound, (not the best but OK) Google assistance works great. One problem! They have developed a fault! Fully charged in use, the control gets extremely hot and battery drains from full to empty in 10 mins. Currently waiting on product support. Will update review when resolved. 1 star rating due to current fault, otherwise it would be 4 stars.
Date published: 2021-01-13
Rated

2

out of

5
by
bustipandi
from
Do not last
Had to replace this earphones 3 times because the volume would lower by itself and then they stopped charging, in other words, died! Sound is good but these earphones are NOT made for sports, definitely not sweat resistant!
Date published: 2019-03-20
Rated

2

out of

5
by
Chad26
from
Good Headphones but broke within a year
Got these on sale and for the price they were a very good headphone. I used it for work, yard work, etc. Sound was good. The reason I'm only giving it 2 stars is that they stopped charging about 15 months after I purchased them. It's now out of warranty. While JBL did offer 30% off to purchase new headphones think I'll shop around for something that will last longer.
Date published: 2021-09-21
Rated

1

out of

5
by
TPan
from
This is like designed to ruin the JBL brand
After trying it for the past week and half, I decided to return this product. The main reasons are 1. Battery won't last as the website indicated(8 hours), it will last at most 4 hours. 2. The fitting is very uncomfortable, regardless of which setting I put on. Sound quality is horible even for the discounted price I paid.
Date published: 2020-04-22
Rated

5

out of

5
by
ShieldFM
from
Love them
I love these headphones. I have purchased two these, but unfortunately my puppy loved the just as much as me and has destroyed both pairs within days of owning them. Just wished they were cheaper so I could order another lol!
Date published: 2019-08-21
Rated

5

out of

5
by
Doodle
from
Great Sound!!
I bought these a few weeks ago because I wanted some wireless headphones for my walks. These are GREAT! After trying the different size earpieces, I found the perfect fit inside my ear. I can't believe how wonderful these are. Can't wait to see how they do when I mow the grass this summer. SO GLAD I PURCHASED THESE!!
Date published: 2020-04-24
Rated

1

out of

5
by
sadie05
from
Waste of money
These are inner ear buds and not comfortable at all. They sound quality is very poor too. I've tried all the different sized pieces, per another review, but none changed the bad sound and aching pain. Should've seen the overall stars and realized that was a bad sign. Save your money and use it to buy a better pair.
Date published: 2020-04-14
Rated

1

out of

5
by
MelMc
from
Terrible Battery
The specs say this item provides 8 hours talk time which is a lie. I charge these fully, turn them on at 8am when I begin working. By 11am I get my first low battery warning. I tried to contact JBL and never got a response. I need earbuds that will get me through my work day and these will not do it.
Date published: 2020-05-02
Rated

3

out of

5
by
Hrtampa
from
Short and choppy wireless range
I tried iPhone and MP3 player and both fail miserably when the antenna is worn behind the neck. The blue tooth connection appears to require nonobstructed air way. Ear buds are generous and well fitting, controls work correctly with iPhone. I expected significant better wireless connection.
Date published: 2020-04-30
Rated

2

out of

5
by
JamieCO
from
Not durable
Bought these for my son when he goes running. He really liked them at first but one of the earbuds stopped working after 2 months and the other side stopped working a month later. It was a pretty poor gift from me as it only worked for 3 months. Warranty coverage is non-existent.
Date published: 2020-07-27
Rated

5

out of

5
by
RSquared
from
Better than expected
I have used these almost daily since I received them two weeks ago. I recommend trying all the earbud sizes to ensure you get the best sound. I have used them on conference calls, on my treadmill, in my car, and on the golf course. Not complaints on quality or experience.
Date published: 2020-04-24
Rated

4

out of

5
by
Steinhaugen sound
from
Nice sound
I have a old reflect wired jbl earphone used in iPhone, perfect and impressive hifi sound made me to find another jbl earphone for my Android phone. I found this one, so far I am happy for clear sound and easy use although it does not have same great sound as the reflect.
Date published: 2021-07-10
Rated

5

out of

5
by
Inkicthus
from
Fabulous so far
To be fair, I've only used the headset for a few hours yet, but I am loving it so far! They are very comfortable, the sound is great, and the Google Assistant integration is spectacular. Maybe I'm still in the honeymoon phase, but I am very happy with this purchase!
Date published: 2021-06-21
Rated

4

out of

5
by
Anonymous
from
Great sound, great deal
I need more emails and marketing stuff from companies like I need a hole in the head. I find value in the one's from JBL. I picked up these great little headphones for a great price. Music sounds fantastic and they are comfortable in my ears also. Very pleased.
Date published: 2020-04-26
Rated

2

out of

5
by
StewBdoo
from
Disappointed!!!
Bought them as back up for another set I had. I'm wishing I had passed them up. Sound quality was weak, no matter what ear cushions you use. The fact that they are not for workouts does not help either. I'm just glad they were on sale when purchased.
Date published: 2020-05-07
Rated

1

out of

5
by
nnati
from
Quality of sound was not as expected
I bought a refurbished110GA, the product looks good andlooks well built but I notice when I increase the volume the quality of the sound was not as expected from JBL headphones, I decided to return this item and but the Live 220BT JBL headphone.
Date published: 2019-10-20
Rated

1

out of

5
by
Jdunn009
from
Uncomfortable
These headphones make me feel like someone is putting their big toe in my ear. I called and tried to exchange and they didn't do anything for me except send me more silicone pieces. I love JBL products but this specific model is disappointing.
Date published: 2019-09-07
Rated

5

out of

5
by
Jerry13
from
Sound great
I bought these to use for the gym, I had some wired earphones, but they kept getting caught on the equipment. So I bought these wireless headphones and they work great. Great fit, and don't slip out of my ear when working out.
Date published: 2021-07-13
Rated

3

out of

5
by
Batgirl
from
Charge life
I bought this a few weeks ago only pairing it to my tablet to watch Netflix. I'll turn it on, pair it and religiously turn it off after about 45min. I'm lucky to get 3 hours out of a charge...sometimes it closer to 2.
Date published: 2020-04-21
Rated

4

out of

5
by
Topped
from
Nice value
Just got them, volume is not as loud as I thought they would be. I am a senior and not sure how they fit in or on the ear kept falling out no instructions on how to insert. But I like the sound and Bluetooth
Date published: 2021-06-21
Rated

5

out of

5
by
rmoon
from
The best wireless buds I've ever used
This is a repeat purchase. They are so comfortable it is easy to forget I have them on. They don't move around regardless of activity or humidity/sweating and the sound is AMAZING. Will definitely buy again!
Date published: 2021-07-07
Rated

1

out of

5
by
Anonymous
from
Don't stay in ears
These headphones didn't stay in my ears, I tried all the different pieces and once I found a combination that I thought would work, as soon as I started walking around they fell out of my ears.
Date published: 2020-04-27
Rated

1

out of

5
by
wallace1234567
from
Broke twice in one year!
I purchased a pair of these headphones and within 3 months the bluetooth gave out. JBL replaced them, but 9 months later they are broken once again and without the warranty this time around.
Date published: 2019-01-28
Rated

4

out of

5
by
Smooth
from
Good sound quality
Was scheduled to arrive on the 16th received a notice that delayed now to arrive on the 17th eventually they arrived on the 18th other than that I'm happy with my purchase nice bass sound
Date published: 2021-06-20
bvseo_sdk, dw_cartridge, 18.2.0, p_sdk_3.2.0
CLOUD, getReviews, 6ms
reviews, product
Spørgsmål og svar
Could you tell me please what difference with EVEREST 110?
Thanks for reaching out, the only difference is the built in Google Assistant on the Everest 110GA. But the Everest 110 and the Everest 110GA has the same built and quality. If you have questions or concerns, please submit a case request at https://www.jbl.com/support-contact.html and the Customer Service Team will be more than happy to assist you.
Date published: 2021-06-06
The ringer and vibration are both set to off on my phone, yet it still rings and vibrates when these headphones are connected. Why is this and how do I shut it off?
We would like to work with you directly to help you with your issue. Please submit a case request at https://www.jbl.com/support-contact.html and the Customer Service Team will be more than happy to assist you.
Date published: 2021-06-06
While listening my 110GA tells me connected every few minutes??
Thanks for letting us know about this. We'll need more information from you so we can check on how we can help. Please send us an e-mail, and our Customer Support Team will be happy to assist you. We'd love to help. https://support.jbl.com/us/en/customer-service/contact.html
Date published: 2021-06-06
which is better JBL everest 110 GA refurbished or JBL live 200bt refurbished ??
It depends on what defines better for you. If you prefer more features with a slightly longer playtime, then it the Live 200BT. If you prefer comfort, then it will be the Everest 110GA.
Date published: 2021-06-06
I have a pair of Everest 110GA head phones. My battery is at 20% and playing just fine, but it keeps telling me the battery is low. Any way to turn off the battery warning?
The battery warnings for your Everest 110GA headphones cannot be toggled on or off. This is a built in feature on the headphones that is the only way for you to know that the headphones need to be charged soon. The headphones does not have an LED indicator for battery, nor does it have an app that allows such settings.
Date published: 2021-06-06
What are the changes for the latest firmware version 2.0.0?
We've checked on the relevant software version for the Android version and the Google Assistant version and doesn't show a 2.0.0. . If you need further assistance, please submit a case request at www.jbl.com/support-contact.html and the Customer Service team will be more than happy to further assist you.
Date published: 2021-06-06
My Everest 110 chages but doesn´t turn on. I have already tried t resete them pressing the + and - volume button for 5 seconds but nothing happens. What can I do?
Thanks for your time in reaching us. We'd like to get more information from you so we can look into it. Please send a case request to our Customer Support team at https://support.jbl.com/us/en/.
Date published: 2021-06-06
Seems unable to play any sound after I upgraded the Android system on my phone. But it worked fine with my iPad. Is there some kind of Bluetooth update in the Android update that breaks the audio data transmission?
Sorry to hear about the audio issues with your JBL Everest 110GA and your android device. Try checking the audio settings of your android device and see if the media option is selected which allows media audio output while connected. Should the issue persist, please contact our Customer Support team through this link, https://bit.ly/2qnIw89, and one of our representatives will reach out to you within 24-48 hours.
Date published: 2021-06-06
Are the headphones multipoint?
No, the Everest 110GA headphones are not multipoint headphones.
Date published: 2021-06-06
How can I tell percentage of charge left in the headphones.
Hi! The Google Assistant settings menu will inform you of how much power you have left in your headphones. In addition, Apple iOS system offers battery level indicator in their own OS system, which you can use to check battery level as well.
Date published: 2021-06-06
Does it have redial option?
Unfortunately The JBL Everest 110GA doesn't have the redial option. It can only accept or reject calls.
Date published: 2021-06-06
Delusione per questo prodotto che non ha mai funzionato bene, mi è stato anche sostituito in garanzia ma ho avuto sempre problemi con la connesione bluetooth che NON ha mai funzionato quindi soldi buttati!!!
Please contact our customer support team for your region. See contact details below. Kenwood Electronics Italia S.P.A. +39 02 204 821 info@it.jvckenwood.com
Date published: 2021-07-05
My jbl everest 110GA keeps saying power in on, power in and i can´t hear nothing what can I do?
We would like to get more information to help you out, please contact us so we can assist you:https://bit.ly/2zwFkYM
Date published: 2021-06-06
Is it waterproof
No, our JBL Everest 110BT is not waterproof.
Date published: 2021-06-06
When pairing with a Note 8, the Google Assistant doesn't work. On my pixel, a notification popped up to pair automatically, but with my note 8, the notification never appears. I can manually pair with Bluetooth, but then I don't get the assistant function
I have bought the earphones and its been a month. The earphones suddenly stopped getting charged !! Tried all combinations of Cable and adapter. I bought it in US and right now I am in India. Need help!!
bvseo_sdk, dw_cartridge, 18.2.0, p_sdk_3.2.0
CLOUD, getContent, 130ms
questions, product