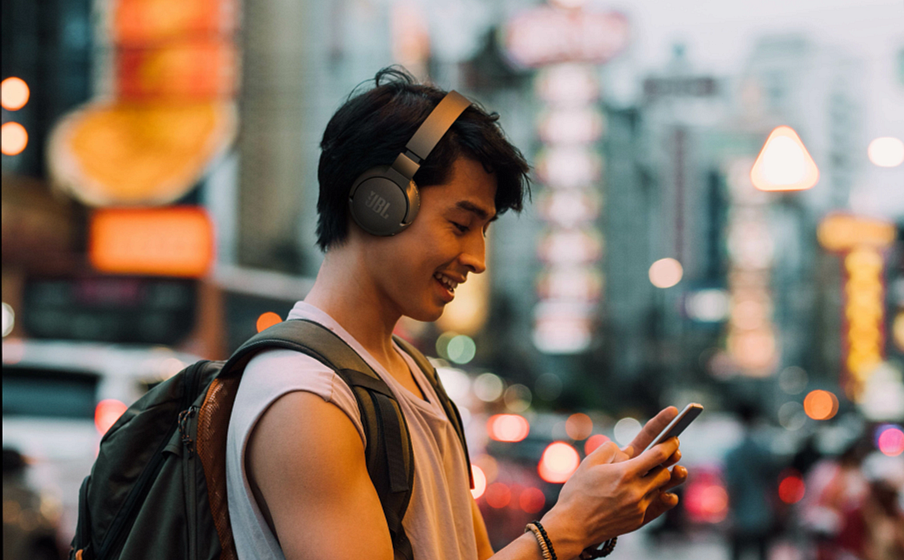 Aktiv støjreduktion
Hold støjen ude, og nyd din musik.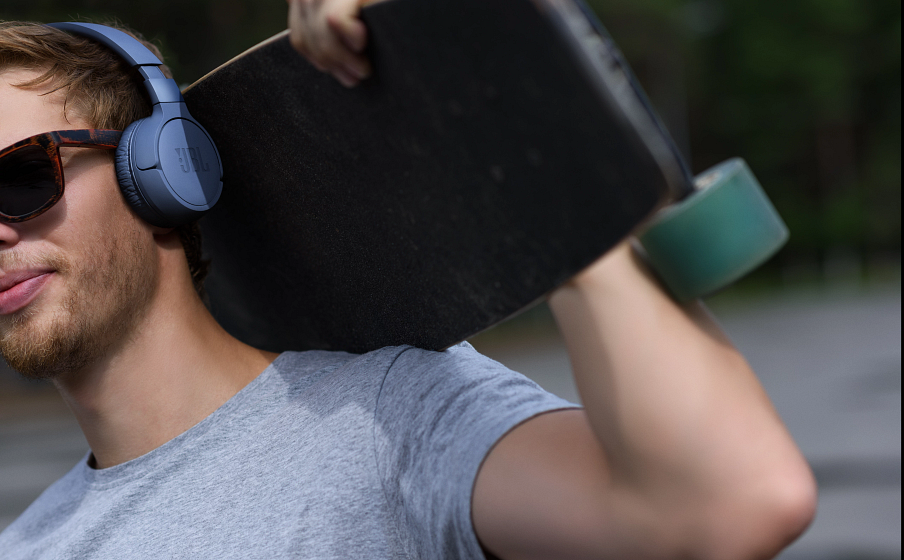 JBL Pure Bass-lyd
I over 70 år har JBL skabt den præcise, imponerende lyd, man finder på de store spillesteder rundt om i verden. Disse hovedtelefoner gengiver den samme JBL-lyd med en bas, der er både dyb og kraftig.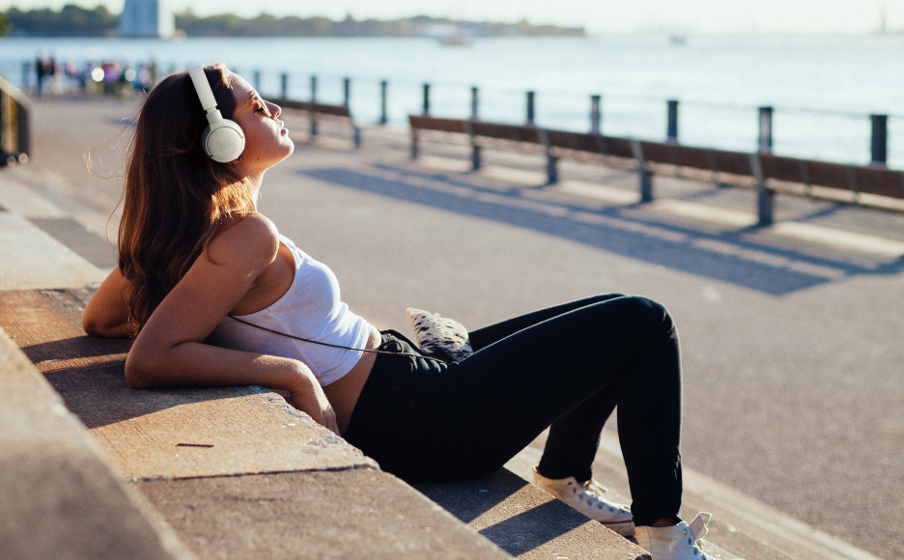 Op til 44 timers batteritid med aktiv støjreduktion slået til
Lyt trådløst i 44 timer med aktiv støjreduktion – underholdning, der bliver ved og ved. Eller op til 55 timer kun med Bluetooth. Få 2 timer ekstra med bare 5 minutters opladning ved hjælp af det praktiske type-C USB-kabel. Brug dem så længe du vil med det medfølgende, aftagelige kabel.
Funktioner

Håndfri opkald og hjælp fra stemmeassistenten
Du kan nemt styre lyden og håndtere dine opkald fra hovedtelefonerne med de praktiske knapper og mikrofonen på ørekoppen. Eller du kan bruge knappen på ørekoppen til hurtigt at aktivere din enheds stemmeassistent.

Trådløs afspilning med Bluetooth
Afspil stereolyd i høj kvalitet trådløst fra din smartphone eller tablet uden besværlige ledninger, takket være Bluetooth 5.0.

Let og foldbart design
De lette materialer er komfortable at have på ørerne. Og den robuste konstruktion sikrer, at du kan klappe disse hovedtelefoner perfekt sammen og ud igen i mange år.

Hurtig parring takket være Googles teknologi
JBL Tune 660NC parres øjeblikkeligt til din Android-enhed, så snart de tændes, takket være Googles Fast Pair-teknologi.
Detaljer & Downloads
Item# JBLT660NCWHT
Beskrivelse
Din musik, uden støj

Tune 660NC-hovedtelefonerne med støjreduktion giver dig fantastisk lyd, helt uden støj! Nyd op til 44 timer med JBL Pure Bass-lyd. Og genoplad på et øjeblik (blot 5 minutter for at få 2 ekstra timer på batteriet). Løbet tør for strøm? Sæt bare det medfølgende aftagelige kabel til for at holde gang i musikken. Par øjeblikkeligt JBL Tune 660NC til din Android-enhed takket være Googles Fast Pair-teknologi. Brug de praktiske knapper på ørekoppen til at styre lyden og opkald, og lad bare mobilen blive i din lomme. Vælg den farve, som bedst matcher dit humør. De er superlette og kan foldes helt flade, så du kan have dem med overalt og gøre din dag endnu bedre.
Specifikationer
Enheds-størrelser (mm)

32
Lydspecifikationer
Enheds-følsomhed ved 1kHz/1mW (dB)

100

Dynamisk frekvensområde (Hz)

20Hz-20kHz

Impedans (ohm)

32
Mål
Vægt (g)

166

Vægt (oz)

5.9

Hovedtelefonernes kabel-længde (m)

0.2

Headphone Cable Length (ft)

0.7

Ear Cup External Height (in)

2.9

Ear Cup External Width (in)

2.9

Ear Cup Internal Height (in)

1.3

Ear Cup Internal Width (in)

1.3

Ear Cup Depth (in)

0.7

Højde (cm)

7.3

Bredde (cm)

7.3

Indre bredde (cm)

3.2

Indre højde (cm)

3.2

Dybde (cm)

1.7
Specifikationer, styring og tilslutning
Bluetooth-profiler

A2DP v1.3, AVRCP v1.5, HFP v1.6

Bluetooth-frekvens

2.402 GHz-2.480 GH

Bluetooth-version

5.0
Batteri
Ladetid (timer fra helt afladet)

2

Maksimal spilletid med aktiv støjreduktion (timer)

44

Maksimal spilletid (timer)

55
Egenskaber
On-ear

Ja

Sammenklappelig

Ja

Stemmeassistent

Ja

Aktiv støjreduktion

Ja

Adaptiv støjreduktion

Ja

Indbygget mikrofon

Ja

Aftageligt kabel

Ja

Håndfri opkald

Ja

JBL Pure Bass-lyd

Ja

Trådløse

Ja

Genopladeligt batteri

Ja

Fjernbetjening på ørekopper?

Ja

Bluetooth

Ja
Det er der i æsken?
1 x Tune 660NC
1 x type-C USB-opladningskabel
1 x lydkabel
1 x garanti/advarselsark
1 x startguide/sikkerhedsdatablad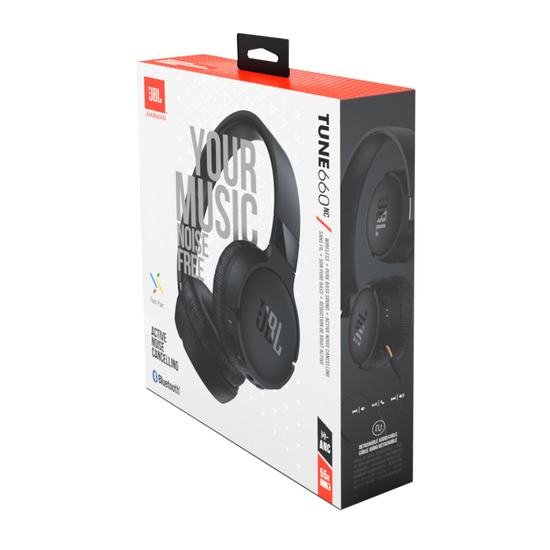 Dokumenter og downloads
Kunde-anmeldelser
Rated

5

out of

5
by
J123j
from
Comfortable headphones w/ great sound quality
These are great overall headphones. They're lightweight, comfortable, and have great sound quality. I'm definitely satisfied with these. First, in the area of comfort, it's important to note that these are on-the-ear headphones, not over-the-ear headphones. If that's an issue for you please just make sure you are aware. That being said, they are quite comfortable in my experience using them. They feel lightweight and stay secure without applying too much pressure on my ears. So wearing for a period of time won't be bothersome. Much of this is based on personal preference though. And just as important as comfort is sound quality. The sound quality is great. You can hear highs and lows well, they have great bass, plenty of volume, and the clarity is excellent. These are great for music, podcasts, or whatever you want to listen to. The noise cancelling works well in the situations I've tried it in, such as with a space heater running next to me and in a busy room with an active family around me. I'm not traveling much these days, so there's no way for me to try them in a plane or any really noisy environments like that. I expect they would work well though and give the noise cancelling you would need to comfortably listen to music or just to drown out the annoyance of plane noise. The connection was easy once I figured out what I was doing. The instructions advertised an automatic connection, but that didn't pop up until after I had manually connected. Then it tied the headphones to my Google account which is supposed to help in the future. I also tried connecting to the JBL Headphones app to figure out what that would add to the experience, but that part didn't work for some reason. It's not necessary really, as the bluetooth connection on it's own is easy enough and gets the job done well. The connection is strong, it didn't drop off and it stayed connected as I walked away from my phone and sound quality stayed great. The build quality of these headphones is great. They're amazingly sturdy despite how lightweight they are. There is nothing cheap about these things at all. I wouldn't want to go throwing them in the bottom of a backpack or gym back without a case, but if you don't mistreat them they should last for years. So in conclusion, the sound quality is great, the headphones are lightweight, and they are sturdy as anything. I highly recommend these headphones.
Date published: 2021-04-09
Rated

2

out of

5
by
Pernille23
from
Ok lyd
Lyden er ok i forhold til at høretelefonerne ikke går helt ud over ørene. Jeg er mere til dybere og kraftigere lyd, så de her levede ikke helt op til dette. Godt design og sidder behageligt på. Har prøvet produkter med bedre noise-cancelling funktion og syntes faktisk ikke at det rigtigt virkede.
Date published: 2021-04-20
Rated

3

out of

5
by
Cph2019
from
Ok lyd, ikke fantastisk
Lyden er ok til musik/pod-cast og mobil, men noise-cancelling er i den ringe ende. Pasformen er ok, men ikke god over længere tid. Byggekvaliteten virker generelt ringe og meget "plastik-agtig". Knapperne er direkte ringe, sidder for tæt - føles ens - og er svære at bruge når headsettet er på.
Date published: 2021-05-04
Rated

5

out of

5
by
Madz
from
Great headphones for gym
I love these headphones great colour (I got the pink) and really comfortable. The sound is great, noise cancellation is great if you go to gyms with loud music completely blocks it out while you are listening. They also compact down so not hard to pack.Highly recommend great value for price!
Date published: 2022-03-17
Rated

5

out of

5
by
wildhoney
from
great headphone
I have this headphone now approx 2 weeks. And it is just great. The sound is perfect. And easy to adjust sound and volume on my connected phone. It fits nice and gives high comfort wearing for a longer time. I love this headphone and started using it immediately frequently
Date published: 2021-04-28
Rated

5

out of

5
by
RLKK
from
Super fed lyd!
Har nu testet disse høretelefoner jbl- Tune 660 i en uge. Har en fantastisk lyd og bassen passer præcis til mit behov. Utrolig stabil og god kvalitet. Yderst lette og dækker kun lige øret. Lukker al unødig støj ude. Super gode til en pris der er til at betale. De skal blive mine
Date published: 2021-04-15
Rated

5

out of

5
by
Tino__
from
Great features, very satisfied
I brought these headphones on the 31st of August and received them on the 5th of September and was very happy. I wanted to receive them before college and I did. Perfect and they are kosher cancelling and the battery last a long time. Really Satisfied especially for the price
Date published: 2022-09-15
Rated

4

out of

5
by
Human
from
Nice headphones, but awful cable
I got these headphones for Christmas and love them! I use them every day. Aux cable included is a bit thin and cheap but they're nice. A minor issue I have with them is that the JBL Headphones app doesn't recognize them, but otherwise they're really nice headphones.
Date published: 2022-12-23
Rated

4

out of

5
by
DianeR
from
Great headphones
The NC is good. With the battery you can do a long time before you have to recharge it. The sound is perfect. It is easy to operate. Only I think it is too tight. That makes him uncomfortable with me. It is small to fold, so you can easily take it with you.
Date published: 2021-04-24
Rated

5

out of

5
by
Sickwit1611
from
Unbelievable sound quality
WORDS CAN'T DESCRIBE HOW GREAT THESE ARE!!!!!!!!!!! I was blown away by the crisp sound and deep base . They are light weight and even fold up for easy storage. The Bluetooth pairing was as easy as the directions said. GREAT JOB YOU GUYS !!
Date published: 2021-04-09
Rated

4

out of

5
by
Vet27
from
Great sound at any price point
The sound is all one could hope for at this price point. Excellent sound separation and sound sonic balance. These are a solid set of headphones that bring jazz to life. The noise cancelation does a great job in keeping you in the moment.
Date published: 2021-04-07
Rated

5

out of

5
by
Anonymous
from
Pure bass and the battery life
I bought this headphones for few weeks now and still very good like bass, I can hear or than the previous headphones and the battery is wonderful it's better than my two previous headphones combined so I would recommend these headphones
Date published: 2022-04-20
Rated

5

out of

5
by
nickname required
from
Excellent Comfort and Quality
Very comfortable and compact. Noise cancelling features work well, excellent to zone out on the commute home. Charge lasts quite a while, I use them fairly often throughout the week, and only need to charge it a few hours per week.
Date published: 2022-01-20
Rated

5

out of

5
by
Hana_0987
from
Really good sound.
I have been using these every day since I got them. Really good sound and bass. Really impressed. Really good for making calls too. Battery last really well. All and all very happy indeed.
Date published: 2022-04-08
Rated

2

out of

5
by
Nihat
from
Disappointment!
JBL was a brand I trusted a lot. That's why I bought it without trying it. But it's a disappointment in terms of sound quality and ease of use. I really felt sorry for the money I paid.
Date published: 2022-04-07
Rated

5

out of

5
by
WavyBacon
from
Worked Great!
I played some slipknot on these bad boys while my parents were yelling and I couldn't hear them at all! -I was in the back seat of the car they were in the front seats.
Date published: 2022-09-03
Rated

5

out of

5
by
Anonymous
from
Well worth the money
Got these around a month ago for the gym and I am delighted. Unsure how they wpuld be for cardio or running but very comfy when lifting. Sound quality is great too
Date published: 2022-01-18
Rated

5

out of

5
by
Beatrice O
from
Amazing Sound
These headphones provide an amazing noise canceling experience. The sound quality is outstanding, I would highly recommend these headphones to anyone!
Date published: 2021-04-11
Rated

5

out of

5
by
Mark H
from
Great headphones for the price!
I've sent back a few different brands headphones at this price point. These JBL's were by far the sounding and great noise canceling on ear headphones.
Date published: 2021-12-24
Rated

4

out of

5
by
Annefrb
from
Rigtig fine til mit behov
Nemt at komme igang. Bliver lidt varmt / stramt når de sidder i længere tid men mon ikke det er sådan med de fleste? Måske de giver sig lidt med tiden.
Date published: 2022-02-17
Rated

5

out of

5
by
Ammi
from
Great sound
I love the sound quality especially the great base and the noise canceling of the headphones! Makes traveling a lot nicer :)
Date published: 2022-04-08
Rated

4

out of

5
by
Nathalie Eriksen
from
God lyd men ingen mulighed for at deaktivere ANC
Jeg synes lyden er god og der er nok bas i, men funktionen med at de- og aktivere ANC virker ikke, selvom dioden lyser.
Date published: 2022-05-30
Rated

5

out of

5
by
Astonchristy
from
Excellent for noise cancelling
I'm happy I purchased the headphones from JBL. Best sound quality. I will be buying more products from JBL
Date published: 2021-06-18
Rated

3

out of

5
by
Crystal S
from
Sound is great. Disappointed in the noise cancel.
They sound great but the noise canceling is not effective. I was disappointed and ended up returning them.
Date published: 2022-01-18
Rated

5

out of

5
by
Ehh1
from
Love the new Headphones
I have really enjoyed my new headphones. They have great sound quality snd are comfortable on my ears!
Date published: 2022-01-06
Rated

5

out of

5
by
Bbbbb
from
I bought this a month ago and it's been working well. Seamless connection and good audio quality
Date published: 2022-03-07
Rated

5

out of

5
by
Kfriend
from
Great customer service
I've gotten multiple jbl products and they are all great. Great customer service
Date published: 2021-06-12
Rated

5

out of

5
by
CL12
from
Great sound
Bought this a few weeks ago and it's great. Haven't even had to charge it yet
Date published: 2022-03-18
Rated

2

out of

5
by
teeman
from
I LOVE MY HEADPHONE
I speaker stop working and I would like to know how to reset my headphone
Date published: 2022-09-09
Rated

5

out of

5
by
Iben
from
Trådløse høretelefoner
Fantastisk produkt - har flere af slagsen til et par teenagere
Date published: 2021-12-26
bvseo_sdk, dw_cartridge, 18.2.0, p_sdk_3.2.0
CLOUD, getReviews, 6ms
reviews, product
Spørgsmål og svar
bvseo_sdk, dw_cartridge, 18.2.0, p_sdk_3.2.0
CLOUD, getContent, 124ms
questions, product
bvseo-msg: Unsuccessful GET. status = 'ERROR', msg = 'Not Found.';