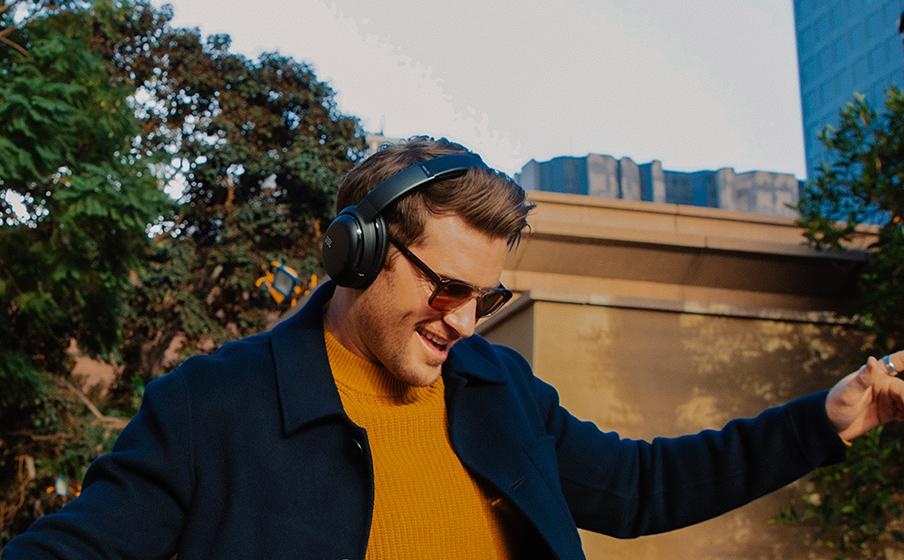 JBL's pro-lyd, i certificeret høj opløsning
Din musik vil altid lyde fantastisk takket være de dynamiske enheder på 40 mm: fra fyldig og kraftfuld bas til spændende toner i toppen. JBL Tour One-hovedtelefonerne er HD-lyd-certificerede og understøtter frekvenser op til 40kHz. Det er din sikkerhed for, at musikken altid lyder så godt som muligt.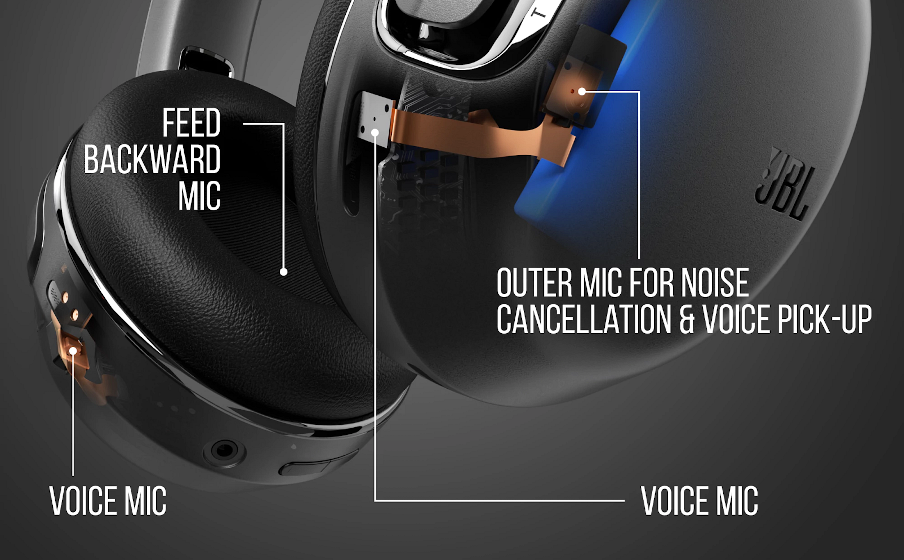 Teknologien med fire mikrofoner giver nøjagtige og tydelige opkald
Fremhæv din stemme, fjern støjen. JBL Tour One har 4 mikrofoner på ørekapslerne, som giver fremragende opkaldskvalitet. Med 2 adaptive, stråleformede mikrofoner gengives stemmer tydeligt og præcist. Teknologien med akustisk ekkoreduktion reducerer både ekko og støj. Føl glæden ved at samtale ansigt til ansigt - i alle dine møder og opkald. Med VoiceAware kan du regulere omfanget af det mikrofoninput, der sendes tilbage til ørepropperne, og vælge hvor meget du vil høre af din egen stemme.
Funktioner

Ægte adaptiv støjreduktion
Har du svært ved at finde ro og fordybelse? Skab dit ideelle miljø med JBL Tour One ægte adaptiv støjreduktion. Fordyb dig i musikken, luk uønsket støj ude, og fokusér på dine mål. Støjreduktionsniveauet tilpasses løbende de skiftende omgivelser, når du fx går en tur.

Ambient Aware og TalkThru
Fasthold opmærksomheden på verden omkring dig, mens du nyder din musik med Smart Ambient-teknologi. Eller tag en hurtig snak med en ven eller kollega via TalkThru, så du ikke behøver slukke for din musik. Styr disse funktioner med et enkelt tryk på en knap, og finindstil dem via appen.

​Bliv mere produktiv
Skab det perfekte lydunivers, hvor du kan fokusere fuldt og helt på dine opgaver. Har du brug for stilhed? Skab en lydløs boble med SilentNow, hvor støjreduktionen er aktiv, mens musikken er slukket. Dette hjælper dig også med at spare batteritid - ligesom Auto Off, der slukker dine hovedtelefoner efter en selvvalgt tidsperiode. Vågn op til My Alarm, finjuster din lyd med Smart Audio & Video, og nyd hvordan hovedtelefonerne automatisk sættes på pause, når du tager dem af (Auto-Pause). Alle disse funktioner styres med My JBL Headphones-appen.

Op til 50 timers musikafspilning
Dine JBL Tour One-hovedtelefoner holder dig forbundet dagen lang. Du får 25 timers afspilning med aktiv støjreduktion - og hele 50 timer kun med Bluetooth.

Håndfri stemmestyring
Aktiver din stemmeassistent med et enkelt tryk eller kommandoord for nem adgang til din digitale verden. Den præcise stemmeteknologi sikrer, at dine kommandoer går klart igennem. Stemmebeskeder er tilgængelige på flere sprog. (*) Understøttes kun på Android. (**) Android 6.0 eller højere er påkrævet for fuld adgang til Alexa-funktioner, når denne enhed bruges.

Få mest muligt ud af dine hovedtelefoner med den gratis JBL-app
My JBL Headphones-appen gør dit liv personligt: Indstil din personlige klang, tænd den adaptive støjreduktion, eller juster dine indstillinger for Ambient Sound Control. Hent appen gratis i din App Store.
Detaljer & Downloads
Item# JBLTOURONEBLK
Beskrivelse
Styr dine omgivelser. Styr din produktivitet.

Tag kontrol over dine omgivelser, og sæt skub i din produktivitet med JBL's utrolige pro-lyd. Med smart intuitiv betjening, overlegen ydelse og elegant design eliminerer JBL Tour One forstyrrelser i realtid med ægte adaptiv støjreduktion, så du kan fokusere på dit arbejde eller fordybe dig i musikken. Hør eller udeluk lyde og stemmer omkring dig med Smart Ambient, og nyd krystalklare opkald, selv i støjende og blæsende omgivelser, med et tryk på en knap. Den certificerede HD-lyd understøtter frekvenser op til 40 kHz. Det er din sikkerhed for en ideel lytteoplevelse, som varer hele dagen med imponerende 50 timers konstant afspilning. Få mest muligt ud af JBL Tour One-funktionerne med den gratis app.
Specifikationer
Enheds-størrelser (mm)

40
Lydspecifikationer
Enheds-følsomhed ved 1kHz/1mW (dB)

95 dBSPL @1kHz

Dynamisk frekvensområde (Hz)

["10 Hz - 40 kHz (Passive)", "10 Hz ~ 22 kHz (Active)"]

Impedans (ohm)

32
Mål
Dybde (cm)

2.1

Ear Cup Depth (in)

0.8

Højde (cm)

9.7

Ear Cup External Height (in)

3.8

Bredde (cm)

7.8

Ear Cup External Width (in)

3.1

Indre bredde (cm)

6.2

Ear Cup Internal Height (in)

2.4

Indre højde (cm)

4.2

Ear Cup Internal Width (in)

1.7

Hovedtelefonernes kabel-længde (m)

1.2

Headphone Cable Length (ft)

3.9
Specifikationer, styring og tilslutning
Bluetooth-profiler

HFP V1.7, A2DP V1.3, AVRCP V1.6

Bluetooth-frekvens

2.4 - 2.4835 GHz

Bluetooth sender-modulation

GFSK, π/4DQPSK, 8DPSK

Bluetooth sender-effekt

<8 dBm EIRP

Bluetooth-version

5.0
Batteri
Ladetid (timer fra helt afladet)

2

Maksimal spilletid uden aktiv støjreduktion (timer)

50

Maksimal spilletid med aktiv støjreduktion (timer)

25

Maksimal spilletid (timer)

50
Egenskaber
Bluetooth

Ja

Charging cable

Ja

Flight adapter

Ja

Remote control on ear cups

Ja

Stemmeassistent

Ja

Adaptiv støjreduktion

Ja

Lader lyd fra omgivelserne passere

Ja

Indbygget mikrofon

Ja

Etui

Ja

Håndfri opkald

Ja

Genopladeligt batteri

Ja

Multifunktionel TalkThru-knap

Ja

Trådløse

Ja
Det er der i æsken?
1 x JBL Tour Pro+ TWS-hovedtelefoner
1 x type-C USB-opladningskabel
1 x etui
1 x lydkabel
1 x flyadapter
1 x garanti/advarselsark
1 x lynvejledning / 1 x opsætningsvejledning til Google Assistent / 1 x opsætningsvejledning til Amazon Alexa / sikkerhedsark
Dokumenter og downloads
Kunde-anmeldelser
Rated

4

out of

5
by
Anonymous
from
Good but bass is missing
first of all, the design really appealed to me. the extra packaging looks super classy and protects the headphones well. the auricles are nice and big. the jbl app allows you to make even more settings. however i miss the bass in some of the songs. this cannot be reinforced in the app either. I am very disappointed with this. the headphones are great for podcasts. especially with the noise suppression. especially when you are in a noisy environment, this is very pleasant. I also think the function is great, being able to pause and play again simply by pressing lightly. also that the battery is announced to me is very good. the battery lasts a long time
Date published: 2021-06-23
Rated

4

out of

5
by
Lugi1988
from
Great sound, mediocre ANC
I've been using the JBL Tour One for around a week now and I'm mostly satisfied. Let's start with the parts I like. The heandphones have a great an comfortable fit and I can wear them for hours. The built quality is pretty much what I expected. I've used around 10 different pairs of bluetooth headphones, and the JBL are solid an I like their look. Another great advantage ist the JBL app, which offers great customisation and quite a few useful features like switching the commands of buttons or the EQ which can be set as one prefers. That leads to the sound. I didn't like the "out-of-the-box" sound that much, but after playing with the EQ a little while, I found the perfect sttings for my personal preferences. I love the sound of the Tour One especially for music, but listening to podcast or watching Netflix is great as well. I also had no noitceable audio delay when watching Youtube or Netflix. The touch controls as well as the buttons are great, as soon as you get used to their positioning. Call quality is fine, also I've used better ones. Let's talk about the only two things I don't like that much, first of all the price. In my opinion it's too expensive. Since I am from Germany, 300 € (as well as 280 pounds) is just to much, when comparing to other headphones. I think 200-250 € (190-220 pounds) would be a better choices, but the prices will start to drop soon enough. Last but not least the ANC feature. It's ok, but not great. I've used them in the office, outside and on the subway, the low frequencies are cancelled out pretty fine, but everything else isn't. Bose or Sony are far ahead. My conclusion is, tat the Tour One is a great pair, but not free of some minor weaknesses.
Date published: 2021-06-17
Rated

3

out of

5
by
Dzn18
from
Great built quality but the sound is mediocre
First off all the built quality is modern and up there with other brands. The case is solid and the battery life is totally fine, but I would say the numbers are too optimistic (-20%). The fit is not too tight, you can wear them hours easily. The app has a lot of features and is very customizable, especially the EQ settings. There is no sync delay (latency) and there are no connecting issues. The ANC is good and usuable but compared to the top 3 (Sony, Bose, AirPods Max), there is no chance to compete yet. The sound quality is unfortunately a bit disappointing, the highs are fine but I'm missing some details, the mids sound a bit muffled and there is also a weird ringing effect, the bass is pleasant but lacks a bit of depth. With the EQ you can improve that a little but the sound characteristics won't change. The price is too high in my opinion, so I can't recommend them at the moment. I would at least try them out in a local store to get an own perspective. But I expected a lot more.
Date published: 2021-06-20
Rated

5

out of

5
by
Robert85
from
Wow. Just wow.
I'm more of a "around the neck" headphones guy but the JBL tour one is changing my mind. First of all the sound quality is stunning. Even with the noise canceling off it's awesome! I love just being able to tap the side and answering a call or pausing a song. The small things make a big impression on me too. Nice case, I love that you can make it a wired headset, nicely built. But the battery life really nails it. I mean 50hrs of battery is crazy! I love wearing it on the treadmill and watching a show while I run. It completely blocks the noise from everything around me and let's me sink into my show. Great job JBL! Another home run!
Date published: 2021-04-23
Rated

4

out of

5
by
Kirkegaard74
from
Klar & skarp lyd
Jeg har testet for JBL Tour One for Reviewclub JBL Tour One er intet mindre end de mest fantastiske over Ear hovedtelefoner jeg til dato har prøvet, og jeg har efterhånden prøvet flere af de mange hovedtelefoner der er på markedet Det har været svært for mig at finde den bedste kombination af komfort, lydkvalitet, effektiv støjreduktion og fornuftig batteritid. Og jeg vil ikke gå på kompromis. Men her er JBL Tour One klart de bedste: - [x] Exceptionel god lyd - [x] Effektiv støjreduktion - [x] behagelig pasform - [x] Simpel og brugervenlig app - [x] God og klar lyd fra mikrofon ved opkald - [x] Smart etui
Date published: 2021-06-16
bvseo_sdk, dw_cartridge, 18.2.0, p_sdk_3.2.0
CLOUD, getReviews, 4ms
reviews, product
Spørgsmål og svar
Can I pair with 2 devices at the same time, My Phone and My laptop at the same time? like a Jabra headset
Thanks for your inquiries. Our JBL Tour One supports mulit-point where you could connect to 2 devices at the same time.
Date published: 2022-07-30
Are the ear pads replaceable?
Our JBL Tour One earpads a replaceable. The pads can be purchased as spare parts. Please reach out to our Customer Support for pricing and availability. https://support.jbl.com/us/en/
Date published: 2022-07-30
How do I connect my tour one JBL headphones to my laptop?
Thanks for reaching out. There are two ways to connect our JBL Tour One to your laptop. You can either do a wired connection using the included audio cable by simply plugging the cable into your laptop's aux port or wirelessly via Bluetooth. For a Bluetooth connection, turn on the headphones to go into pairing mode and connect your device. If you need more help, please contact our customer support.
Date published: 2023-03-13
What is the port type in this headphone? 2.5mm or 3.5mm port? Can this headphone be used in passive mode(switched off) with wired cable for voice calls or audio?
The Tour One device would connect with a cable via the 2.5mm jack on the headphone to any 3.5mm device port. It provides one button control and houses a microphone. It can be used with the cable only yes, this will not need battery power.
Date published: 2022-10-22
Can we mute the microphone while on an audio call on the device?
Thanks for your inquiries. There is a mute button on our JBL Tour One. Simply press and hold the JBL logo on the right ear cup for 2 seconds to mute and unmute the headphones.
Date published: 2022-07-30
Do these headphone automatically pause music when taken off the head?
Our JBL Tour One does not have an auto-pause function once the headphones are taken off the head.
Date published: 2023-05-04
Does the headphone play while charging or does it turn off when charging?
Our JBL Tour One can't be used while charging.
Date published: 2022-04-27
Are JBL Tour One IPX 4 or higher rated?
Hi there, thank you for your question. Our JBL Tour One has no IPX rating, it's not sweatproof and waterproof.
Date published: 2021-06-06
bvseo_sdk, dw_cartridge, 18.2.0, p_sdk_3.2.0
CLOUD, getContent, 112ms
questions, product