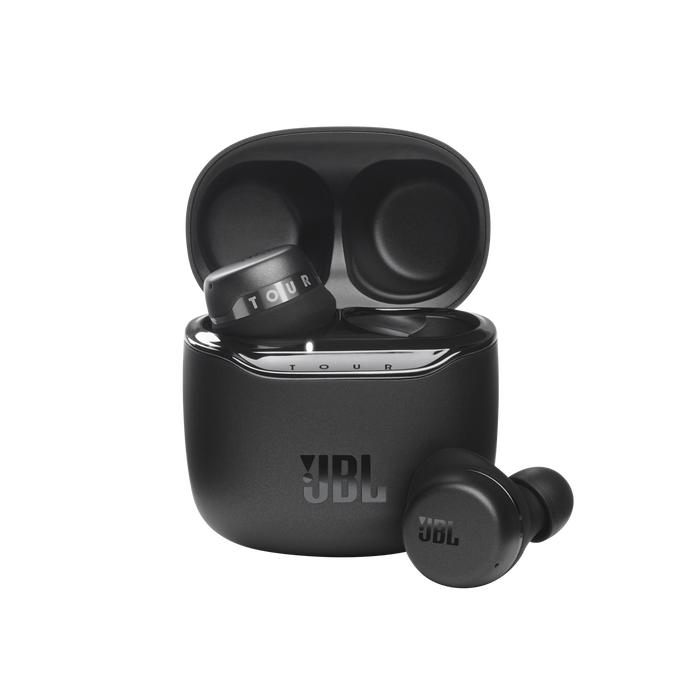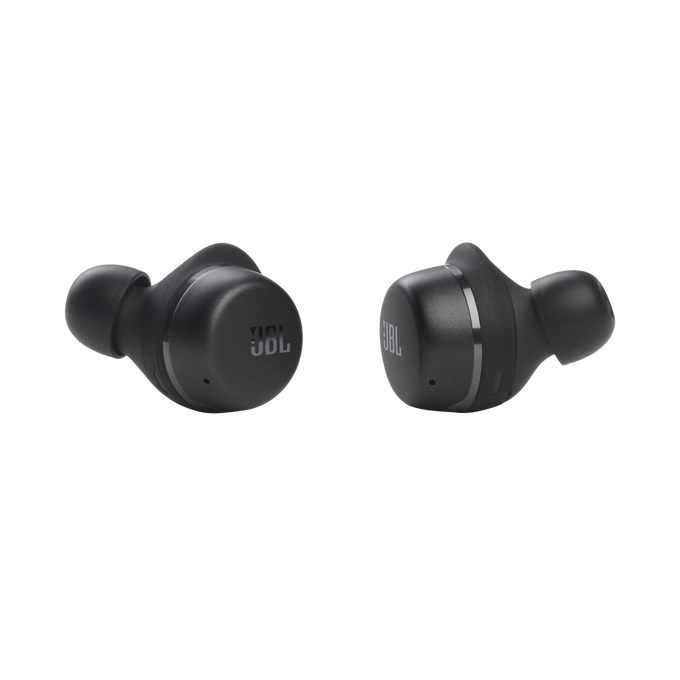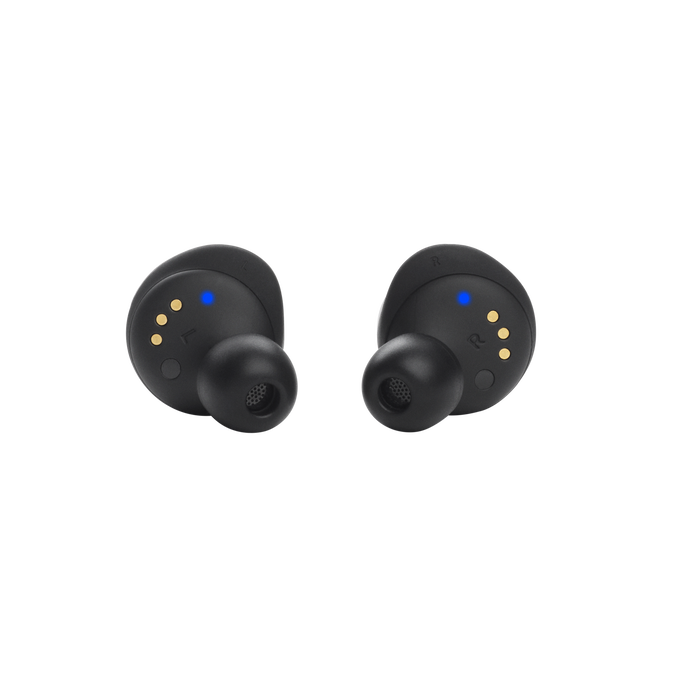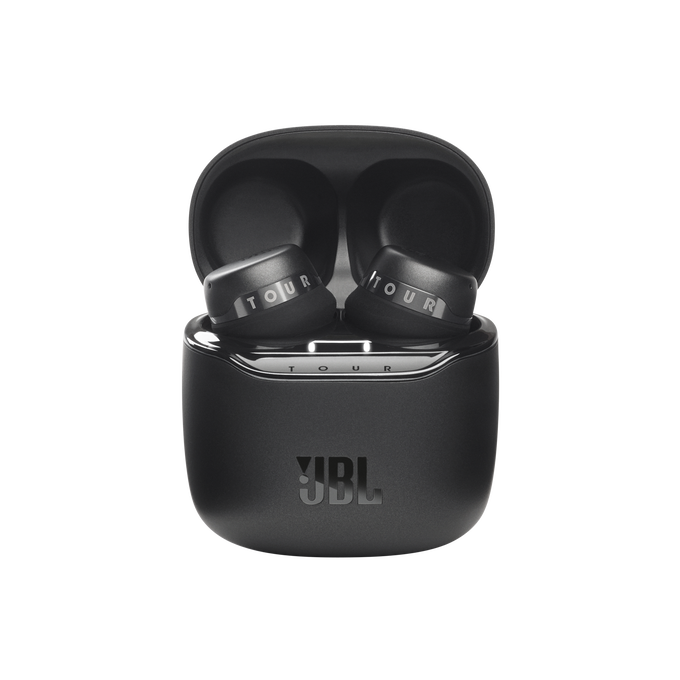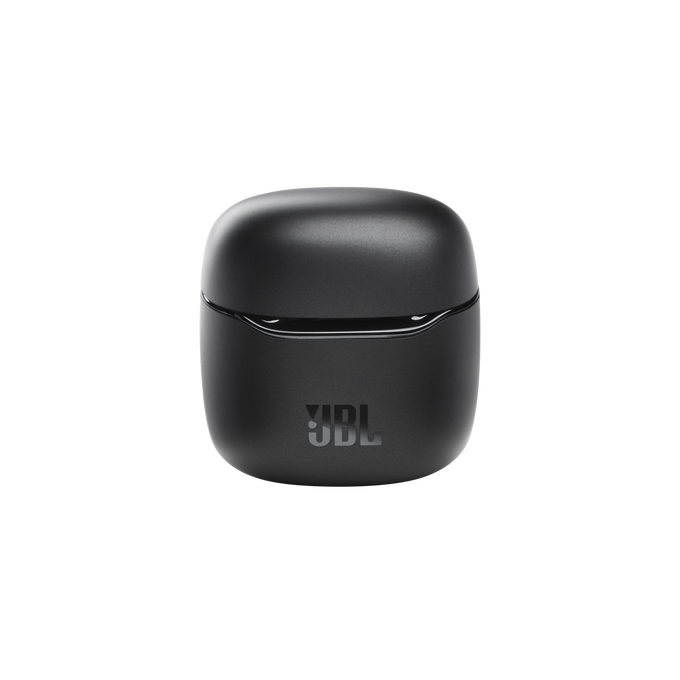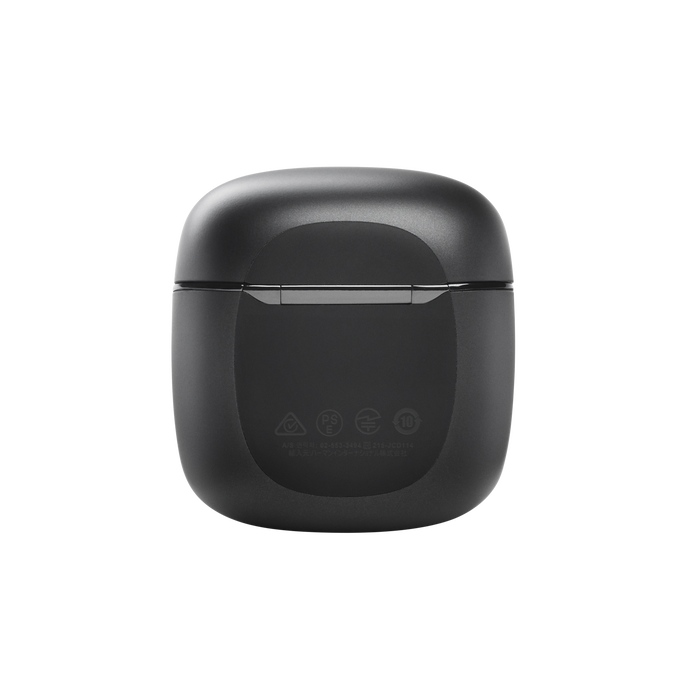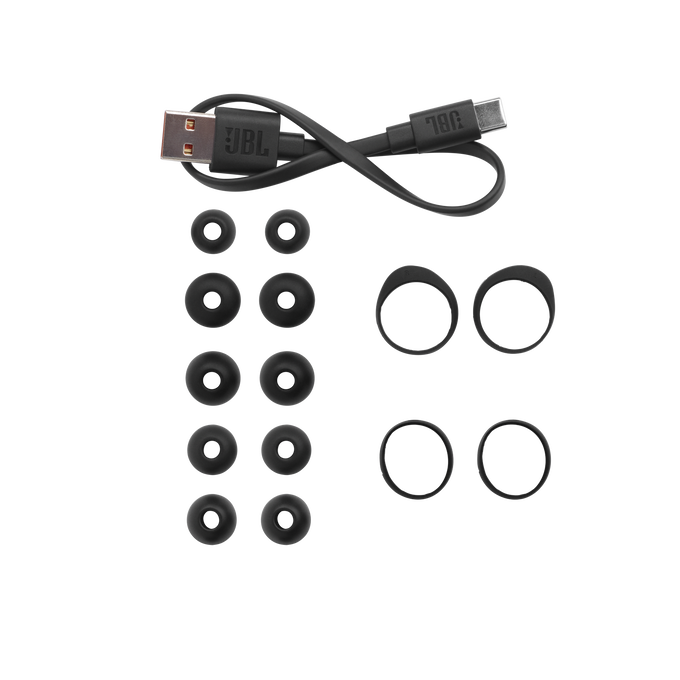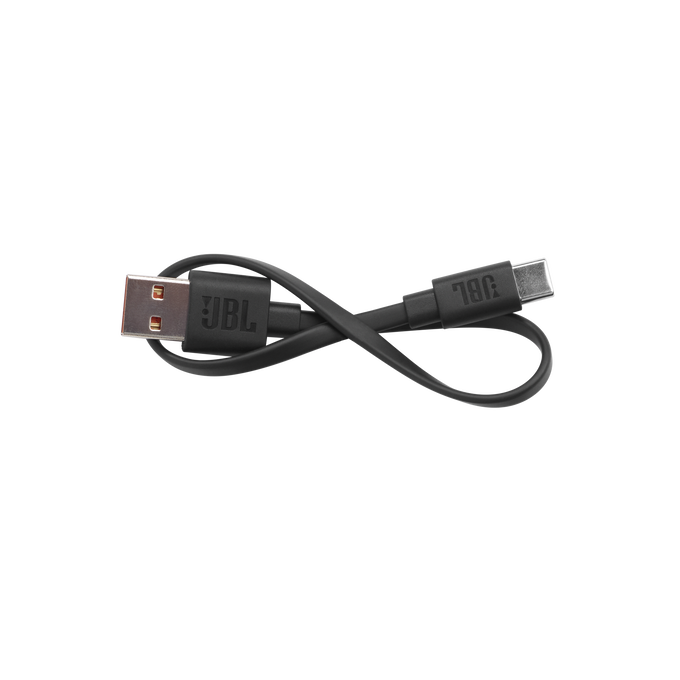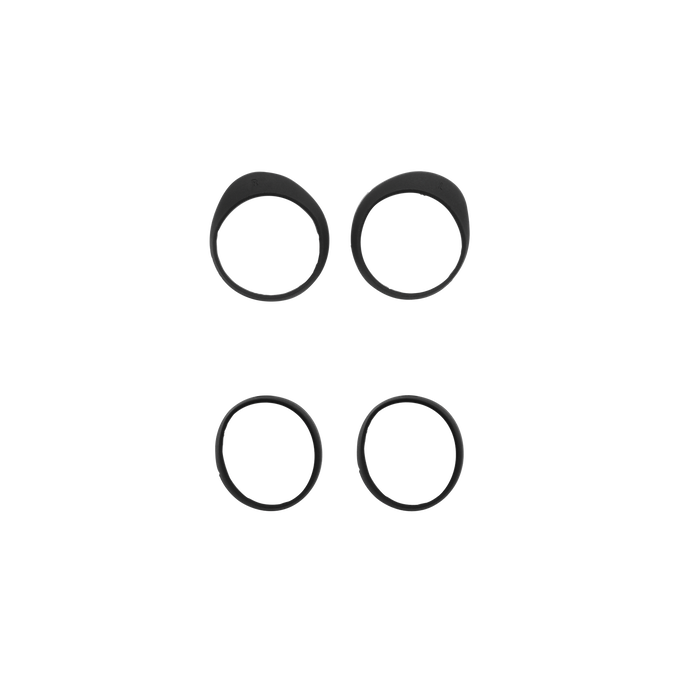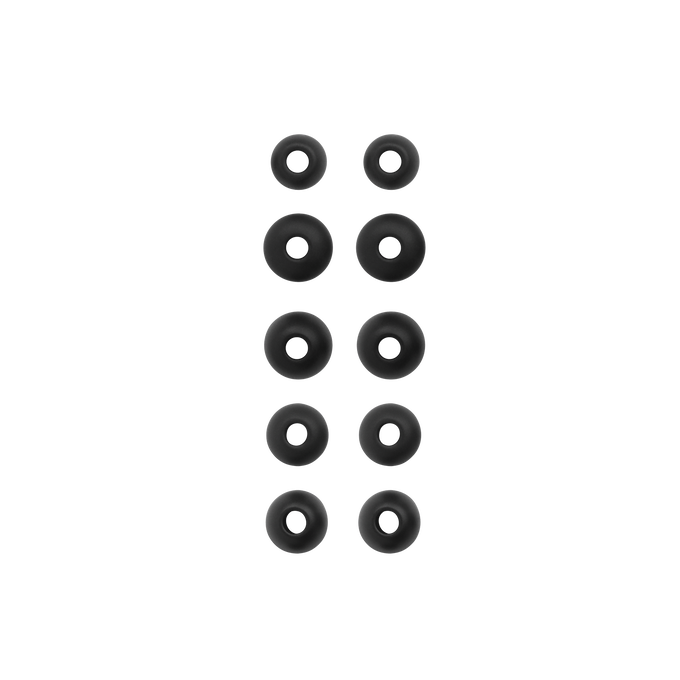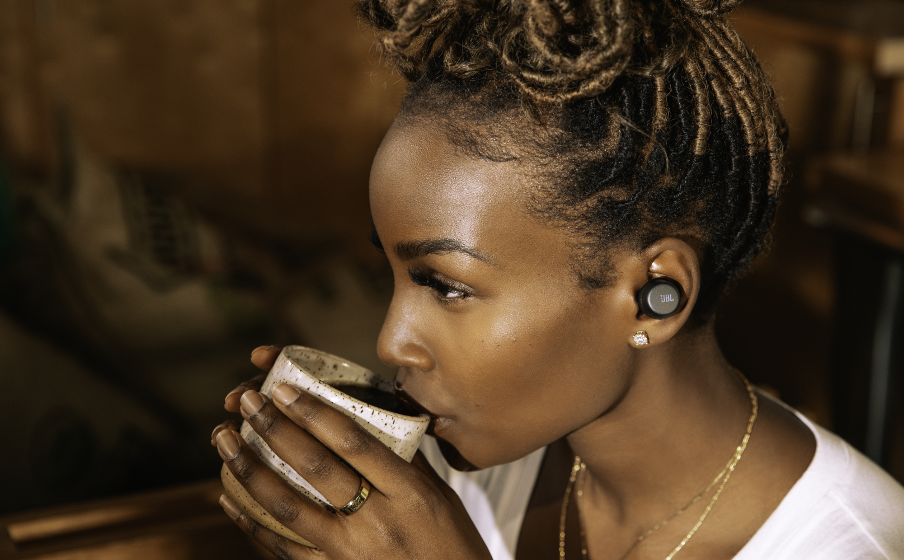 ​Adaptiv støjreduktion med Smart Ambient
JBL's adaptive støjreduktion bruger interne og eksterne mikrofoner til at minimere forstyrrelser. Samtidig kan du nyde maksimal lydkvalitet som soundtrack til dit liv. Med Smart Ambient-teknologi kan du fastholde opmærksomheden på omgivelserne eller høre venner og kolleger tydeligt med et tryk på en knap eller i JBL-appen.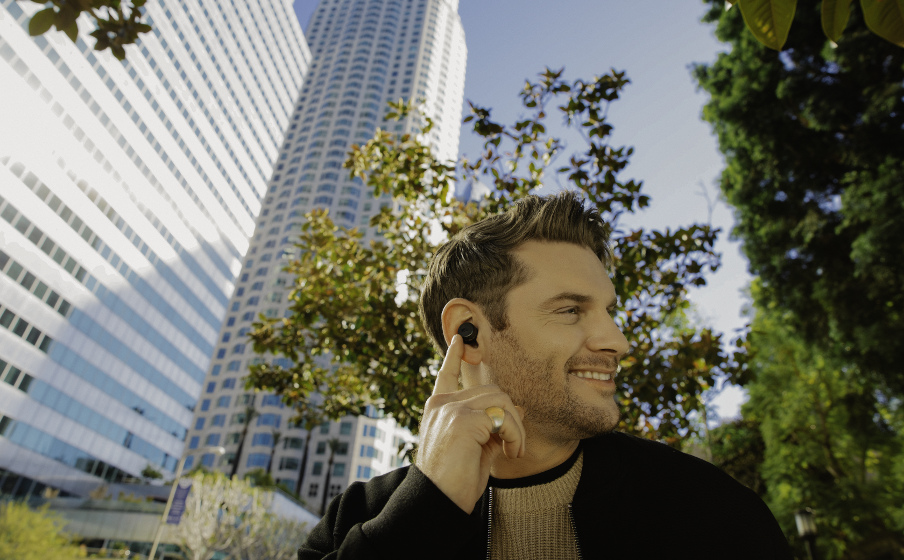 JBL Pro Sound
Fra fyldig og kraftfuld bas til medrivende detaljer i diskanten. Du får altid den ultimative lydoplevelse med JBL Tour Pro+ TWS med dynamiske enheder på 6,8 mm og JBL pro Sound.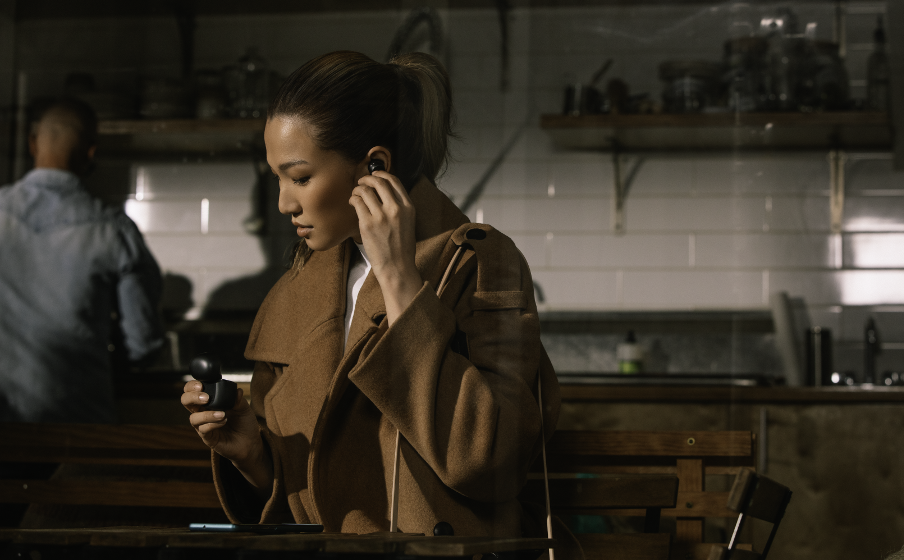 ​Op til 32 timers samlet musikafspilning - trådløst
Hold forbindelsen dagen lang med op til 32 timers batteritid, Qi-kompatibel trådløs opladning og tre opladninger i etuiet. Og skulle du alligevel løbe tør for strøm, kan du lynoplade dig til en times spilletid på få minutter.
Funktioner

Klare stemmer med seks mikrofoner
Støjende omgivelser? Intet problem! JBL Tour Pro+ TWS sikrer perfekt og klar stemmegengivelse under opkald med to udvendige retningsbestemte mikrofoner og en tredje mikrofon, der reducerer vindstøj og andre forstyrrelser.

​Bliv mere produktiv
Skab det perfekte lydunivers, hvor du kan fokusere fuldt ud på dine opgaver. Har du brug for stilhed? SilentNow leverer varen. Autosluk-funktionen slukker dine hovedtelefoner efter en periode, du selv vælger. Vågn op til My Alarm, finjuster din lyd med Smart Audio & Video, og nyd hvordan øretelefonerne automatisk sættes på pause, når du tager dem af. Alle disse funktioner styres med My JBL Headphones-appen.

Dobbelt forbindelse + synkronisering med hurtig parring
Så snart du åbner etuiet, starter Bluetooth-synkroniseringen med dobbelt tilslutning, som giver en ultrastabil forbindelse. Hvert ørestykke forbindes uafhængigt, så du kan tildele funktioner til venstre eller højre øre og besvare opkald med et eller begge ørestykker.

Håndfri stemmestyring
Hold forbindelsen til din digitale verden, uanset hvor du er. Aktivér din foretrukne stemmeassistent blot ved at bruge din stemme. Du kan endda tale med Hey Google for at styre dine hovedtelefoner. Stemmebeskeder er tilgængelige på flere sprog. (*) Understøttes kun på Android. (**) Android 6.0 eller højere er påkrævet for fuld adgang til Alexa-funktioner, når denne enhed bruges.

Tilpas med den gratis My JBL Headphones-app
Gør soundtracket til dit liv personligt med My JBL Headphones-appen. Hent den gratis app for at opsætte brugerdefineret EQ, slå adaptiv støjreduktion til eller justere dine indstillinger for kontrol af omgivende lyd.
Detaljer & Downloads
Item# JBLTOURPROPTWSBLK
Beskrivelse
Styr dine omgivelser. Styr din produktivitet.

Tag kontrol over din dag med JBL Tour Pro+ TWS, som leverer JBL pro Sound. Du får hele 32 timers spilletid fra det trådløst genopladelige batteri og en app til ultimativ tilpasning. Disse elegante øretelefoner holder dig inspireret og engageret med adaptiv støjreduktion og Smart Ambient-teknologi, som kontrollerer lydene omkring dig. Så snart du åbner etuiet, nyder du godt af smarte funktioner, der er skabt til at øge din produktivitet og give dig enestående komfort. Tre mikrofoner sikrer opkald af høj kvalitet selv i støjende eller blæsende miljøer. Så er du klar til at fordybe dig i arbejdet - eller slå dig løs overalt, hvor dine eventyr bringer dig hen.
Specifikationer
Enheds-størrelser (mm)

6.8
Lydspecifikationer
Enheds-følsomhed ved 1kHz/1mW (dB)

100

Dynamisk frekvensområde (Hz)

10Hz - 20kHz

Impedans (ohm)

16

Antal dynamiske enheder pr. øre

1
Mål
Charging Case Weight (oz)

2

Earpiece Weight (oz)

0.5

Vægt (g)

56.8

Vægt (g)

15
Specifikationer, styring og tilslutning
Bluetooth-profiler

A2DP V1.3 AVRCP V1.6 HFP V1.7

Bluetooth-frekvens

2.4 GHz – 2.4835 GHz

Bluetooth sender-modulation

GFSK, π/4DQPSK, 8DPSK

Bluetooth sender-effekt

0 - 12dbm

Bluetooth-version

5.0
Batteri
Maksimal spilletid uden aktiv støjreduktion (timer)

8

Maksimal spilletid med aktiv støjreduktion (timer)

6

Maksimal spilletid (timer)

8
Egenskaber
Bluetooth

Ja

Charging cable

Ja

Stemmeassistent

Ja

Adaptiv støjreduktion

Ja

Lader lyd fra omgivelserne passere

Ja

Indbygget mikrofon

Ja

Smart opladningsetui

Ja

Håndfri opkald

Ja

Genopladeligt batteri

Ja

Fjernbetjening på ørekopper?

Ja

Lynopladning (5 min. = 1 t spilletid)

Ja

Ægte trådløse

Ja

Trådløse

Ja
Det er der i æsken?
1 x JBL Tour Pro+ TWS-hovedtelefoner
1 x type-C USB-opladningskabel
1 x opladningsetui
1 x ørespidser i 5 størrelser
1 x stabilisatorer i 2 størrelser
1 x garanti/advarselsark
1 x lynvejledning / 1 x opsætningsvejledning til Google Assistent / 1 x opsætningsvejledning til Amazon Alexa / sikkerhedsark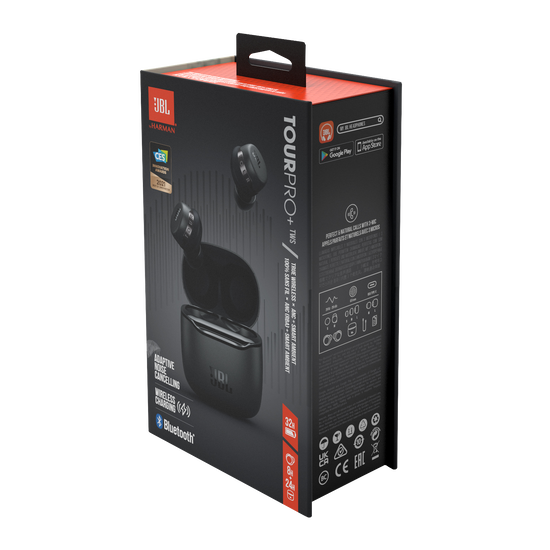 Dokumenter og downloads
Kunde-anmeldelser
Rated

5

out of

5
by
Tomiboy
from
Great Inears!
I've been using the JBL Tour Pro + TWS for some time now and I'm very happy with them. First of all, the JBL Tour Pro + TWS come in very nice packaging. In addition to the Tour Pro +, it also includes four pairs of attachments and a spare pair of rubber rings for a better fit, a USB A to USB C cable and several instructions. The inears look very good and feel high quality. In terms of size and weight, they are very good. The charging case also looks very high quality. Inserting the inears is very easy and they are held magnetically in the charging case. The charging case itself has a USB C connection at the bottom for charging and a pairing button. You can also charge the case and the inears wirelessly using the Qi charging pad. The connection via Bluetooth goes without problems and you can also use the myJBL app. In the app, the functions of the inears can be changed, an equalizer can be set and the firmware can be updated. You can also do a lot of other things, which would go beyond the scope here. I am very enthusiastic about the sound quality of the JBL Tour Pro +. Music and voices sound loud and clear. There is also really powerful bass to be heard. From the sound quality, I can say that they are one of the best inears I've used so far. In addition, the Tour Pro + are also capable of active ambient noise suppression. So basically you can turn off ambient noise just to enjoy the music. There is also the option of letting ambient noise through, in order to be safer in traffic and still listen to your favorite music. Then the JBL Inears are also protected from water by means of IPX5 and when doing sports I got them a little wet and they continue to work. Then about wearing comfort and the Tour Pro + sit very securely and comfortably in my ears. Touch operation also works without any problems. I also did a lot of sport and went jogging and I didn't lose sight of the JBL, only very rarely loosened up a bit. Then about the battery and depending on whether I had activated ANC or not, I could listen to music between 5 and 7 hours. I was able to charge Inears about three times in the charging case. Telephoning is also possible with the JBL Inears and I was told that I was very easy to hear. The connection to my iPhone was always stable and didn't cause any problems. In conclusion, I can say that the JBL Tour Pro + are really very good inears with a great sound. It is comfortable to wear and the battery lasts a long time. I'm very satisfied!
Date published: 2021-06-16
Rated

4

out of

5
by
admtang
from
True Noise Cancelling Headphones
The TourPro + Headphones are pretty good. I'll start with the positives: The headphone's noise cancelling feature is the probably one of the best (if not the best) I've used. You can literally "turn on" the noise cancelling feature or "turn it off" if you want to hear outside noise. I tested the headphones for the call feature and it works well as well both indoors and outdoors. One area of consideration is that the fit of the headphones. Depending on how your ears are shaped, the headphones could require some twisting to get it in properly although there are customizable hear pieces that you can replace that comes with it. In terms of sound quality, it's pretty good given how "noise cancelling" the headphones are.
Date published: 2021-03-12
Rated

5

out of

5
by
AshishMahi0322
from
Comfortable and elegant design!
I have received this product recently and I really loved it. They look professional and stylish and fit perfectly in the ears, works great during workouts, attending calls and listening to the music. The adaptive noise canceling (ANC) and the wireless charging case are great add-ons. The sound quality is great as always from JBL. Charging lasts for almost 5 hours with the ANC on and 7 hours with ANC off and the charging case provided helps in getting another 2 full charge, which is awesome. Overall another great product from JBL - Just Buy and you'll Love it.
Date published: 2021-03-12
Rated

5

out of

5
by
Adam13
from
Amazing Wireless Ear Buds!!!!
Wow! These ear buds are nothing short of amazing!! The packaging, the wireless charging case, and the ear buds themselves have the look and feel of luxury, and the clarity and definition of the sound produced from the ear buds is fantastic. They are very user friendly, and they work really well when switching from using both ear buds to only using one. The adaptive noise cancelling feature is really, really nice! I love being able to quickly switch from having it fully turned on, to using smart-ambient noise cancelling, or completely off depending on the environment I'm using them in. Having all of these features available in wireless ear buds is really impressive, and I'm thoroughly enjoying them so far!! Highly recommend.
Date published: 2021-03-22
Rated

5

out of

5
by
Anonymous
from
Way Better than airpods
They are truly noise canceling earbuds along with being super small and comfortable
Date published: 2021-10-03
Rated

4

out of

5
by
KatL
from
Lækkert headset
Super god lyd og nemme funktioner som man let lærer med "kom godt i gang"-brugsanvisningen - det er generelt let at tage i brug. Den medfølgende JBL app er bare er plus hvor man også kan styr funktionerne på. Det forskellige lydindstillinger fungere super hvad enten der er at lukke lyd ude eller at kunne høre en omgivelser samtidig med at man høre sit fortrukne musik. Det eneste der kunne forbedres var en tredje lidt større udskiftelig stabilisator der ville gøre at ingen chance er for at headsettet ved et uheld skulle falde ud.
Date published: 2021-06-27
Rated

5

out of

5
by
JackFitz80
from
Excellent Sound,
Received and tested the JBL Club Pro+TWS earbuds for the past two weeks. Recommend downloading the JBL app so that you can fully customize the sound for the audio or video for personal use. Right out of the box they are very easy to pair with my IPhone. Comes with the necessary tips for a custom fit in the ear. Sleek and compact, the buds are comfortable in your ear.Case is compact and provides the power to recharge the buds if they run low. Noise cancellation works very well. One tap changes to ambient aware mode. Sound is excellent when listening to your favorite music, be it country, rock,pop etc. Vocals come through very clear, again the app lets you customize how you like to listen. These will definitely be my go to buds when we get back to flying!
Date published: 2021-03-22
Rated

5

out of

5
by
sliberty
from
Great sounding and comfortable
These earbuds have replaced my prior favorites. The carrying case is small, and provides a lot of charging time. The charging port is USB C, which is how they all should be in 2021 (but aren't). The earbuds are comfortable, and provide a reasonably good seal from outside sounds, which helps the active noise cancelling do its job better. But more importantly, the sound great: well balanced, full and loud. The iPhone app lets you control some of the key settings conveniently as well. I am very satisfied with these earbuds.
Date published: 2021-04-21
Rated

3

out of

5
by
MKDK
from
God lyd og brugervenlighed, ikke særlig godpasform
Oplevelsen med JBL Tour PRO + TWS har været positiv. Lyd og design er godt og ligesom man forventer af et JBL-produkt. Øretelefonerne er godt afbalanceret, hvilket giver en god oplevelsen hvad enten man ser film eller lytter til musik. Støjreduktionen fungerer upåklageligt og man vænner sig hurtigt til at bruge smart ambient-funktionen i hverdagen. Det er rart at man ved en enkelt tryk kan være mere tilgængelig uden at skulle "afmontere" øretelefonerne. Designet er rigtig lækkert og brugervenligt men… øretelefonernes solide base er stor og det gør det svært at montere øretelefonerne ordentligt. Efter at have været i brug i en god halv times tid kan øretelefonerne mærkes meget tydeligt i ørerne, hvilket desværre gør at jeg ikke har fået det fulde udbytte af produktet.
Date published: 2021-07-08
Rated

5

out of

5
by
bbbenjaminnn
from
Easy to set up, lasts all day!
I was so excited to get these in the mail, and for a good reason! JBL thought of everything with these headphones and they do not disappoint. My phone connects instantly when I open the case, which is so convenient. You can tap on the ear to turn on and off noise canceling mode, which is definitely easier than taking your headphones off every time someone walks in the room. The wireless charging works really well, and the charging port is USB C which is perfect because my laptop uses the same one. I haven't tried the Alexa feature but I love that it's an option. Finding the correct ear size might take a few minutes but I appreciate that they include so many different size ear buds. Overall I am really happy with these headphones, and I'm excited to keep learning how to use all of the features!
Date published: 2021-03-12
Rated

5

out of

5
by
Slicktwister
from
Sound great, but…
So I bought these over air pod pros and I have to say, there pretty good. I mean you would expect something that you paid over $180 for to be good, but like all things they have there pros and cons Pros: Sound great Long battery Adjustable EQ Lots of bass Fit great in the ears Cons: Take a little to get use to (started to hurt my ears, from not use to using them) They are heavier than other ear buds but still a good weight, they aren't super heavy and don't really notice them
Date published: 2022-01-11
Rated

4

out of

5
by
ProlDJ
from
Cool features and great design.
These earbuds have great sound as expected with JBL. The features, mainly Google Assistant capable, make these a step above others that I have used. They are a little on the big size for wireless earbuds so I don''t use them excercising. I use them primarily when trying to multi-task throughout the day; cooking, entertaining a toddler, and talking to clients. The charging case is solid and really protects your investment. They connect instantly upon removing them from the case.
Date published: 2021-03-19
Rated

3

out of

5
by
Shika
from
Good sound, but.....
These headphones are good as far as sound quality, but there were a few issues that I noticed. I like the noise cancellation feature. I like the various earbuds that were given to achieve my perfect fit. Also enjoying the voice assistance & wireless charging capability. I didn't like that each person that I was talking to on the phone could hear the notifications that are being said in my ear each time I tapped the headphone. That was very weird. Kept causing a distraction in our conversation. Also, a ringing sound kept going off and it wouldn't stop each time I attempted to charge the headphones from my laptop. I had to keep the case open and take out the headphones for a while to make it stop. That was kind of annoying. It happened a few times. These headphones also wouldn't connect to my Mac; only my iPhone.
Date published: 2021-03-12
Rated

5

out of

5
by
Angel E
from
Elegant,Superior and Amazing Look & Sounds
I recently purchased this item and was super impressed with the feel, looks and all the wonderful features it has to offer. Not only does it starts pairing immediately but the ease of use with all it has to offer made this a win-win for me. The deep rich sounds totally immerses yourself into a complete trance and make your playlist that much better. The elegant look and feel of these JBL TOURPRO+TWS is also absolutely outstanding. Not to mention the affordability of these high performance and quality headphones. I can see how these headphones were CES 2021 Best Of Innovations Awards Product. I highly recommend this product and you will see that they are more impressive in person. Love the feel and ease of use right from the box to your earbuds. Trust me you will not be disappointed. Keep up the awesome work.
Date published: 2021-03-14
Rated

5

out of

5
by
EricGCWI
from
Even better sound
I previously had a pair of JBL branded Under Armour wireless buds and really liked them, but these are even better. The sound is better, and the functionality is easier. They even fit better, and I have smaller ear holes so that's a real bonus. Really clear and rich sound. The charge case works seamlessly, had no issues connecting to the Bluetooth at all. I use these a lot for walks outside, and especially when I'm doing work around the house. I can listen to whatever I want without bugging every one else. They have pretty good range, I can leave my phone in the kitchen and walk all over the house without losing the signal. They turn on when you take them out, and turn off when you set them back in the case. Real easy to use. Nice to have just the tap functions instead of having a button to try to press correctly.
Date published: 2021-03-15
Rated

5

out of

5
by
Nina27711
from
Great Sound!
The headphones have a good sound quality. Especially the noise cancelling is very good. I think the instructions could be a bit more detailed. If you are not so familiar with technology, the individual functions are difficult to understand. The battery life is also very good. mainly listen to audio books and only have to recharge the headphones every 5 days. The design is simple, but good. So that the headphones fit well, there are individual attachments to replace.
Date published: 2021-06-20
Rated

5

out of

5
by
boudreaux
from
Fabulous sound!
These in-ear headphones are fabulous! You can choose to tune out the world or allow it in depending on what you are doing. Mostly, I choose to tune the world out while I am working and these are amazing for that. They connect automatically, so easy peasy! They stay in my ears. I absolutely love them! The sound is crystal clear and they stay charged. If they happen to lose power, you can use speed charge with these. Ten minutes will give you a full hour!
Date published: 2021-03-14
Rated

4

out of

5
by
Anonymous
from
good buds but used for wrong thing
i bought this product a few months ago i have been glad i choose them the sound was great and the fit was very good for my ears. the reason i only give 4 stars is kinda my own fault cause i used my earbuds for the wrong thing cause a thought they were somewhat sweat proof but as time went on i realised they worn't so the sound in the end got bad. but i would still recomend these buds for someone who travels a lot in planes or other form of transport.
Date published: 2022-09-27
Rated

4

out of

5
by
aidan12
from
Incredibly Innovative
These earbuds have the great JBL sound paired with some interesting controls. I've found that the adaptive noise canceling function works very well for every genre of music, even quieter songs that are usually interrupted by every noise around you. After just having them for a few days, I've already put them through the test of long term wear, wearing them at the gym, and wearing them while running. I found that I was having to really shove them into my ears to keep them from flying off. The large body of them might be the cause, but this can also just happen when you get new earbuds and you haven't figured out how to put them in just right. Overall, I really like these earbuds. It's awesome to have some noise canceling in fully wireless devices. Though the noise canceling creates a heavier device, it feels worth it for the quality of sound.
Date published: 2021-03-19
Rated

4

out of

5
by
JonathonF
from
Innovative features
First off JBL always has outstanding packaging! I love to un-box a new product. The fit and finish is very nice from the slick metallic looking band on the headphones to the nicely textured matte case that can be charged wirelessly. The headphones get decently loud but nothing crazy. I am able to listen to them maxed out and still would like a bit more. The sound though is pretty good for such a small package, bass is present and heard but not felt as much for those who like a lot of bass. Overall, good for all genres of music. The noise canceling feature is a little gimmicky due to the fact you have to hold the side of the headphone down but if you are connected to Google or siri they pop up instead thinking you are going to give them a command to do. Other than that I'd say these are great for anyone who wants a quality JBL product! Grab a pair!
Date published: 2021-03-20
Rated

5

out of

5
by
fayhope
from
Amazing Ear Phones!
These JBL ear phones really stay in and stay charged! The sound is the always perfect JBL sound I have come to depend on. You just cannot beat JBL for the sound quality with any of their products. There was zero problems. The ear phones connected automatically. While I had them in my ears the only sound was coming from the ear phones, not the outside world! They also work with Alexa, which is awesome! I love these. They are perfection!!
Date published: 2021-03-15
Rated

5

out of

5
by
LLEVERYDAY
from
Best Earbuds I've ever used!
Yet again JBL doesn't disappoint! I love the new look and design of the charging case and the buds themselves. The attention to detail is appreciated down to the little TOUR on the lip of the case. They feel like a premium product. The sound quality is excellent. Deep bass and clear treble. Battery life is excellent. They connect really fast and the touch response is spot on and never fails. Excellent job with this quality product JBL!
Date published: 2021-03-19
Rated

5

out of

5
by
ANdru613
from
Overall excellent product!
Just got these earbuds. Out of the box they are amazing. They give a few sizes for different sized ears, so they fit and stay in the ear and don't fall out. So far I don't see any support for these earbuds on the app but they just came out so we need to give it time. I really like JBL sound and these don't disappoint. High end sound, you get the highs the lows and the mids, very impressive sound. Features and exactly what you would expect from JBL very responsive touch buttons on the earbuds. Great noise cancelling. Also when you take one bud out you hear ambient sound there is also a setting to make both ambient very nice feature. Works with google assistant. Very easy to set up out of the box. Overall very happy with this product would definitely recommend to a friend. Follow the directions and you will really appreciate the sound and features.
Date published: 2021-03-14
Rated

4

out of

5
by
Kalismom0615
from
Great sound!
I received this product free to try in exchange for my honest opinion. I really like the sound from these headphones. Definitely cant hear anything else while you wearing them. The only thing that kept me from giving them a 5 star review is the fact that they are so big they don't stay in your ears. Constantly Readjusting, Which touches the sensors and pauses the music cetera cetera. Love these, make them slightly smaller!
Date published: 2021-03-24
Rated

5

out of

5
by
IagoAndTaja
from
Perfect Noise Cancelling!
Wow! These earbuds are everything I could wish for! Perfect noise canceling (believe me I've done the ultimate vacuum cleaner test). I also love the size, it seems like you don't have anything on your ears, people don't even realize it until they directly look at it. The battery lasts A LOT and wireless charging makes everything easier, because who likes cables, hun? That's a feature I was waiting for. LOVED IT.
Date published: 2021-03-15
Rated

5

out of

5
by
EURO
from
2 Thumbs up
I have been using them for weeks now I think they're great. They're could be some improvement on the in ear extra covers sizing. I have a little trouble keeping them on when jogging. But my wife tried them on and she just loved them. She does evening meditation with them, shuts everything off and just listens to nature sounds. She just loves JBL products. So in my opinion these are just amazing all around.
Date published: 2021-04-12
Rated

4

out of

5
by
littlebethie25
from
Easier than ever to use!
The Tour Pro + in-ear headphones have classic, crystal clear JBL sound! The best part for me is how easy to use they are. Tapping the right ear pauses or starts your music, tapping the left adjusts the ambient sound and noise cancelling features. Over all, the only thing that I'd change is a removable ear hook for people who like to make sure it's well-anchored. As always, top notch quality from JBL!
Date published: 2021-03-12
Rated

5

out of

5
by
gspfunk
from
Extremely clear sound, great for meetings
The sound on these is fantastic, like you would expect from JBL. The thing that sets these apart is the active noise cancelling. It does run the batteries down more quickly, but is great for meetings and regular calls. These are probably not the ear buds I'd use out in the yard as they aren't more sweat and water proof, but the IPX4 rating gives you some protection from use and accidents.
Date published: 2021-03-13
Rated

5

out of

5
by
Megan0314
from
They actually fit!
I have found it so hard to find a brand that has different sizes that fit, and stay, in my ears! Easy to set up except that I couldn't figure out why the sound was only coming in one ear. I put both buds back in the charging case and started over and the sound came in just fine. I tested with background noise and it blocks enough out even without using the noise canceling feature.
Date published: 2021-03-16
Rated

4

out of

5
by
LeXilein87
from
We were also allowed to test them, although not as long as normal because our neighbors were not there and could give them to us. Therefore we can only say that the optics are great, as well as the sound. The accessories for the headphones are also very good. I would recommend them, but I wouldn't buy them primarily because they are very expensive and you can't just afford them.
Date published: 2021-06-24
bvseo_sdk, dw_cartridge, 18.2.0, p_sdk_3.2.0
CLOUD, getReviews, 18ms
reviews, product
Spørgsmål og svar
bvseo_sdk, dw_cartridge, 18.2.0, p_sdk_3.2.0
CLOUD, getContent, 148ms
questions, product
bvseo-msg: Unsuccessful GET. status = 'ERROR', msg = 'Not Found.';