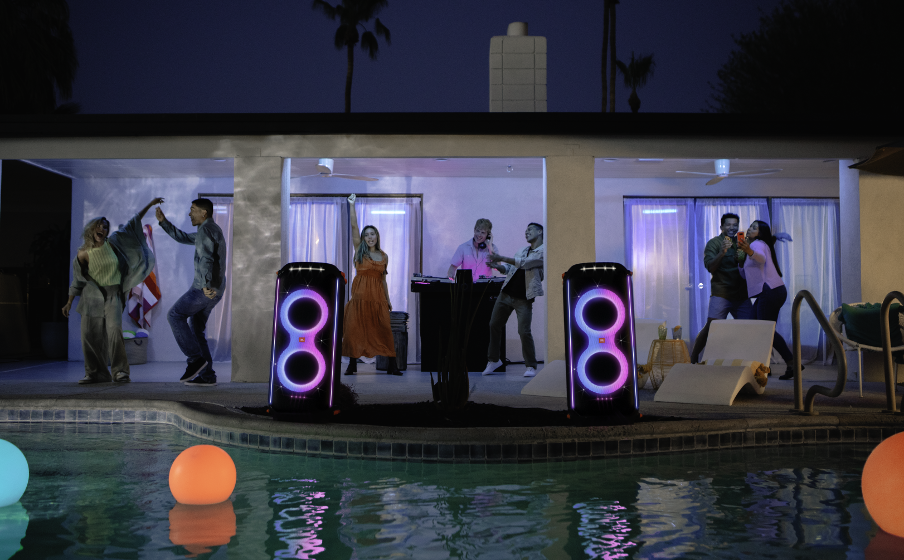 Kraftfuld 800 W RMS JBL Original Pro Sound
Skab en øjeblikkelig og kraftfuld musikforbindelse med 800 watt af den højtydende JBL Original Pro Sound. De to 2,75" diskanthøjttalere og 8" bashøjttalere kombineret med den tunede basrefleksport leverer perfekt og detaljeret lyd - også når musikken er så høj, at du bogstaveligt talt kan mærke rytmen.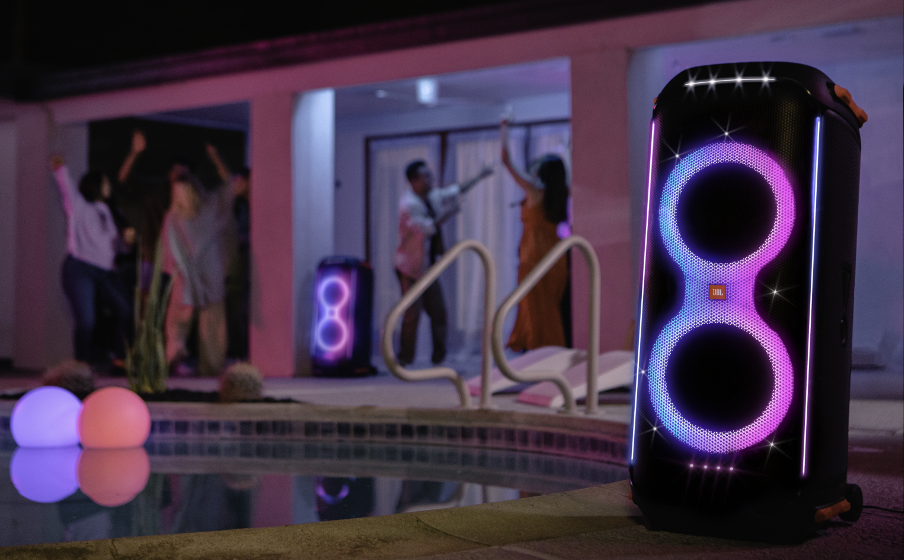 Dynamisk, farverigt lysshow, der kan tilpasses
Lys, farver, fest! Du kan forvandle ethvert rum til en rockkoncert, natklub og karaokelounge. Det hele er samlet i én enhed. Synkroniser din musik til dynamiske og brugerdefinerbare stroboskoper, en unik nateffekt med stjerner eller blinkende klubmønstre på næste niveau. Det hele styres nemt med toppanelets smarte og brugervenlige knapper eller med PartyBox-appen.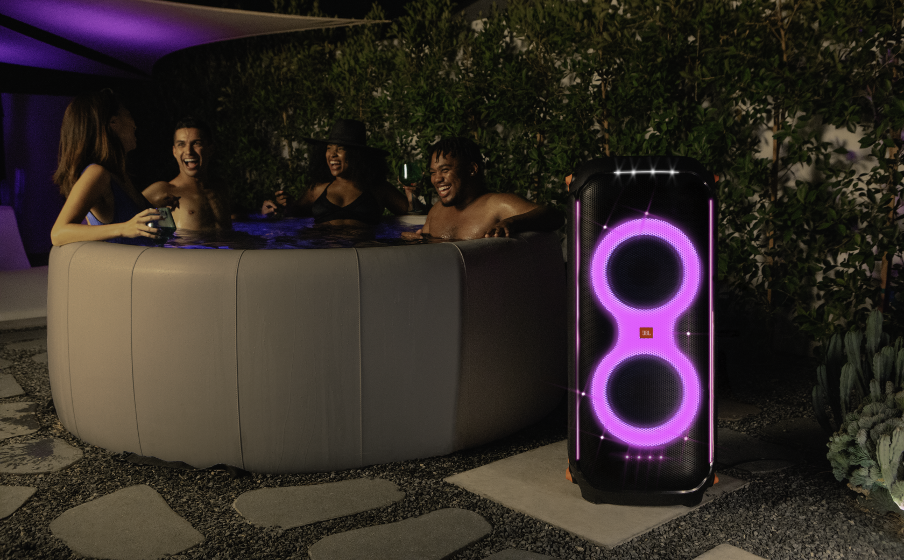 IPX4-stænksikker
Uanset om du fester med dine gæster i baghaven eller nyder drinks ved poolen, er JBL PartyBox 710 IPX4-stænksikker, så du aldrig behøver bekymre dig, hvis festen bliver lidt for våd og vild.
Funktioner

Par dine højttalere for endnu større lyd
Er en JBL PartyBox ikke nok? Par to højttalere med et kabel eller trådløst med ægte trådløs stereo teknologi (TWS) for endnu større og kraftfuld lyd.

Håndtag med nemt greb og robuste hjul
Sæt festen i gang med de store, robuste og letløbende hjul - og det brugervenlige håndtag, som gør det nemt at tage JBL PartyBox 710 med, uanset hvor musikken fører dig hen.

Guitar- og mikrofonindgange
Her er indgange til guitar og mikrofon, så du kan vise dine talenter ved at synge og spille til musikken. Med EQ-tuning til karaoke lyder du godt, men du ser også godt ud - med det perfekte lysshow at rocke til!

PartyBox-app
JBL PartyBox-appen gør det nemmere end nogensinde at styre din musik, opdatere indstillinger og tilpasse farverne og mønstrene i dit lysshow til den perfekte feststemning.
Detaljer & Downloads
Item# JBLPARTYBOX710EU
Beskrivelse
Midtpunktet for enhver fest

Den stænksikre PartyBox 710 forvandler dit næste arrangement til en ægte fest, koncert eller natklub. Det unikke og farverige lysshow er synkroniseret med JBL Original Pro Sound. Med den enkle og intuitive betjening på toppanelet og PartyBox-appen kan du skabe musikalske og visuelle oplevelser på højt niveau. Du kan både tilpasse det blinkende stroboskoplys og den fantastiske lyd fra de to diskanthøjttalere og kraftfulde bashøjttalere. Med et tryk på en knap får du True Wireless Sound, som øjeblikkeligt parrer to PartyBox 710'er til et endnu større publikum. Med det let tilgængelige håndtag og de robuste hjul kan du holde gang i festen, uanset hvor den flytter hen.
Specifikationer
Lydspecifikationer
Dynamisk frekvensområde (Hz)

35Hz – 20kHz (-6dB )
Mål
Mål (cm)

39.9 x 90.5 x 43.6

Mål (inch)

15.70 x 35.60 x 17.20

Vægt (kg)

27.8

Vægt (lbs)

61.3
Specifikationer, styring og tilslutning
Bluetooth-profiler

A2DP V1.3, AVRCP V1.6

Bluetooth-frekvens

2400 MHz – 2483.5 MHz

Bluetooth sender-modulation

GFSK, π/4 DQPSK, 8DPSK

Bluetooth sender-effekt

≤ 11dBm

Bluetooth-version

5.1
Egenskaber
Bluetooth

Ja

Charging cable

Ja

Lysshow

Ja

Stænksikker

Ja

Wireless

Ja
Det er der i æsken?
1 x JBL Party-højttaler 710
1 x lynstartguide
1 x garantikort
1 x sikkerhedsark
1 x retvinklet netledning (AC-stik varierer efter region)
Dokumenter og downloads
Kunde-anmeldelser
Rated

5

out of

5
by
Viking 6
from
Great sound for the price
Clean, robust sound, even at max volume. For the money, this will be hard to beat. The only glitch I found is that, when you turn the volume knob, the sound cuts out briefly when it hits max volume. Not sure if this is an intentional feature. I have two of these machines, and the behavior exists in both. It's not really a big deal to me. I am so far very happy with this purchase. The "light show" is just awesome, and it's customizable. I have Amazon Basics microphones plugged in, and it all sounds really great.
Date published: 2021-11-15
Rated

1

out of

5
by
Joel8362
from
Needed an update asap !
Had the speaker for about a week until some how my neighbor was able to connect to it and now has partial control of the speaker which is just sad they need to add a passcode enabler which should be possible through the app especially if your able to change the name of the device. But over sounds amazing but if this doesn't get fixed soon it will be heading back where it came from…
Date published: 2022-03-06
Rated

5

out of

5
by
Fitzmulligan
from
JBL does it again!
I received this animal of a speaker yesterday and let me tell you I was like a kid in a candy store! This thing is everything you could possibly want in a speaker. Within an hour it had rattled a cabinet apart. Whoops! My only complaint is that one of the small square lights to the left of the JBL logo only works with certain light modes. And for somebody like me that bothers me ALOT. But not enough to go through the hassle to return it. This thing will be the life of every party! I highly recommend!
Date published: 2021-11-30
Rated

5

out of

5
by
Jaybee
from
Another great JBL product
This baby! Which is literally the weight of a few large babies…looks, feels, and sounds amazing. Heck I like to just turn it on and off just for the mini light show and audio. Easy to use and sounds fantastic - really can't ask for much more. Packaging was awesome as usual with JBL products. Love the lighting! RGB lighting always makes things more fun, it's just a given. I'm not an audiophile so I can't elaborate on finer details but from all of my speaker systems experiences it sounds about what I would expect at the price point. When you get yours you may need some help to unbox it (I workout, bro) but don't feel bad!
Date published: 2021-09-25
Rated

5

out of

5
by
Redddogg1
from
Great speaker, with high sound quality, and bass!!
Bought this beast a cpl weeks ago, i have several jbl products, a 300, 310, boombox 2, and the partybox 1000, this speaker out performs everything but the 1000 but is a close second, the speaker is great and u gotta hear it amazing sound and bass, only downside is u gotta plug it in,
Date published: 2021-11-24
Rated

5

out of

5
by
Lord Bizzness
from
Great sound! Monster unit!
Where to begin? This thing is very impressive. When I had friends over and I was playing music on it, most of them were dumbfounded at the sheer size of it. It's a monster unit! Weighs around 75lbs. The nice thing is, it has some pretty sturdy wheels on it to help move it around. It has a very awesome sound. You can keep it low and hear it well in a small setting if needed, but where this thing truly shines is in an outdoor/large area. It can get very loud and will carry sound a long ways. I had it out in my backyard, and had neighbors saying- "Oh that was you playing that music?" It has a bass boost button option on it which hammers the sound, but it has plenty of bass without it. The preset buttons are a rap horn, applause, and dj scratches. I HIGHLY recommend getting the JBL Partybox app to go along with this. You can customize what color the center lights are, the side rail lights, and the end flashing LED lights. Turn them all on/off or pick which ones you want on and the pattern. It also helps choose the colors for multiple color options at the same time. For example, if you were playing Christmas music, you can make the colors red and green and they mix and mash with each other. The LED's at the end are very bright, so at night it's nice to turn them off so they're not flashing in your eyes. Besides light controls, you can also play/pause and skip songs from the app also, which is nice so you don't have to switch apps back and forth when playing music. You can also program the preset noise buttons from the app. You can plug in a microphone, guitar, usb, aux cable and even pair this with another speaker if you wanted. I'd bet two of these bad boys together will bring the house down...
Date published: 2021-09-25
Rated

5

out of

5
by
Andis876
from
JBL PartyBox 710
The new partybox 710 is furiously booming, loud, durable, portable and the bass will vibrate the roof. This may not be so suiatable for an aparrtment or townhome (because of neighborly etiquette) but it definitely rocks in your own space, At 50% volume the bass feels like I may loosen some screws in my house. Also the 710 is very portable with some sturdy wheels & a pull handle. Most of all the sound quality is breathtaking and even at max volume I can hear every word of the music & tunes without muffling. How can I forget about the lightshow, it syncs with the music and looks realistically with the beats. I have not try the Karaoke, TWN, guitar, or MIC feature as yet. This is one of the best party speaker I've ever own. I would definitely recommend getting this product for outdoors, large gathering and indoor activities.
Date published: 2021-09-21
Rated

4

out of

5
by
Bacon
from
This is a party box
This speaker has everything you need to get your party started, and keep it going. You can play music via bluetooth or usb drive. I found the usb drive option to have better sound quality, you can control you playlist with JBL Party Box app, or on the speaker itself. The light show is music activated so you can let it do it's thing, or control with the app. 2 - 1/4" inputs for mics, instruments or dj equipment, with separate volumes and gains. As far as the sound, quality JBL as usual. The 2.75" tweeters are probably overkill for this unit, they could cut glass. The 8" woofers were better than expected. There are 3 bass levels, the 1st sounds a little flat. The 2nd is perfect for me, nice rounded bass tones. The 3rd really expands and rattles when you need it. This speaker is a wall of sound.
Date published: 2021-09-28
Rated

5

out of

5
by
P_Glez
from
Best purchase EVER!
This Partybox 710 has been awesome ever since I had delivered since January of 2022. I have been utilizing it for my after school program at the elementary school I work during the 5days of week. I also use it for my Saturday Sports that I and my staff run every Saturday!! Family events it is also used too!!! This device has been used non stop and the sound quality has been crisp since the first time I used. Since I been using the partybox 710 outside for outdoor. I paired it with powering it with electric generator, that gives 6hours of great power.
Date published: 2022-08-19
Rated

5

out of

5
by
Caleb1
from
Awesome quality and price.
Amazing sound and clarity with plenty of Bass you won't be disappointed.
Date published: 2022-03-07
Rated

5

out of

5
by
Mason Barden
from
Amazing Quality and Amazing Power
This thing is amazing. The amount of power and sound it can put out is truly incredibly even when considering how big it is. It can easily fill a field or large room with its twin woofers and tweeters. I don't always have a use for something this big but when you do use it it will definitely bring a smile to your face. The light show it can provide is also pretty fun as it attempts to match the lighting to the music its playing. I will point out that its huge and weighs quite a lot but with a speaker this big I definitely understand why.
Date published: 2021-09-28
Rated

5

out of

5
by
Boudreaux
from
Beautiful Crystal Clear Sound!
Wow! This big boy is impressive! It has the absolutely beautiful crystal clear sound we have come to expect from JBL and it is LOUD. It was so easy to connect and use. My kids had no trouble and neither did we. The rollers and handle make it easy to move around and that is such a plus. The battery seems to last forever. I am quite sure it doesn't but we used it for over 6 hours and it kept on going. The bass is phenomenal. You feel it and that's important at any party. The speaker is also water resistant so that is a HUGE plus when using it outside. The PartyBox 710 allows you to plug in mics or a guitar. We did karaoke with it recently and had a blast. If you want big crystal clear sound, then this speaker is the one for you. You cannot go wrong with JBL.
Date published: 2021-09-28
Rated

4

out of

5
by
Boris B
from
Block Party with Studio-like sound
Pros: - Great for outdoor gatherings, as it's fairly easy to move around, even given it's size. - Connects to multiple devices seamlessly, as well switches between them. - Powerful bass with built-in Bass boost function. - Light show seems to be very well synchronized with the beat. - Overall great quality sound. Cons: - No built-in battery, at least a small one that would help keep the party going in case the speaker is moved to another source. - Too heavy for it's wheels, which makes it not as maneuverable.
Date published: 2021-09-23
Rated

5

out of

5
by
skyline0511
from
Wholesome sound
I bought this 2 weeks ago, upon testing compared to partybox100 , the sound in the low end goes even lower down to 30hz and you feel the bass. Highend is also good but the only problem is it's massive and doesn't have battery built it. Maybe this meant to lower the cost as to power this big speaker meant bigger battery packs compared to 100. I cannot wait for the summer time and have this blasting to 100% like what I did with partybox 100. Maybe neighbours will give us a warning.
Date published: 2021-12-25
Rated

4

out of

5
by
Tazzer
from
JBL 710
What a purchase amazing sound and lights .I have done 2 gigs and told both times to turn down the bass as the glasses behind the bar were rattling
Date published: 2022-02-03
Rated

5

out of

5
by
Darren
from
If Godzilla was a bluetooth Speaker
If Godzilla was a Bluetooth speaker this is what he would be. I had no idea how big this speaker was until it arrived at my door and it required both my wife and I to move it up our stairs into our house. We have owned several JBL bluetooth speakers, but wanted something we can use outside and entertain quests around our pool that is also waterproof. Its funny our other Bluetooth speakers have amazing sound, but when we listen to them and compare to the partybox they sound so cheap and tinny. The purity, clarity, and robust sound that comes from this speaker is on another level. Even though it is over kill, I will actually roll this speaker back into the house (it has built in wheels lol) and listen to over my other smaller Bluetooth speakers because the sound is that amazing and a pleasure to listen to. This speaker really has one purpose and that is to entertain. If you're a DJ or a musical performer this speaker is perfect for you. You can adjust the patterns and color of the lights on the front of the speaker. There are actually DJ sound FX to play and there are places to plug in a microphone and electric guitar if needed. You can and will be blown away by this speaker!!!
Date published: 2021-09-25
Rated

5

out of

5
by
BodyBoom9
from
Best of the best
Best sound, best design...I love JBL!!!I recommend this product
Date published: 2022-01-19
Rated

5

out of

5
by
Alex Baker
from
Beyond Karaoke
The JBL Party Box 710 in a word is "exquisite"! Most assuredly not your typical karaoke set up. All the bells and whistles one would possibly need to make this audio product the star of any gathering or event. Set up is quick and easy and it can be transported easily owing to the attached rear wheels. But...by far the overriding superlative,...it's extraordinary sound quality. The quality you would come to expect from a name like JBL. Enjoy.
Date published: 2021-10-13
Rated

5

out of

5
by
DBrandt
from
Big sound, Fun package! My favorite JBL product.
The sound out of this speaker is amazing! Tight and clean bass, the mid-tones and highs are clean and well defined. You can get loud without distortion The bluetooth is super easy to pair and manage multiple connections. The lights make the party fun, use the app to make the adjustments easy. I love the wheels, makes it easy for just about anybody to move around. Looking forward to adding a microphone for karaoke nights with friends.
Date published: 2021-09-21
Rated

5

out of

5
by
Pinaj
from
Ultimate Party Requirement
The first thought was as I opened this beast and set it up in my living room. "Where have you been all my life". What followed next was playing songs that set the place on fire. We danced on some of them, we sang along with some others. And had to stop with the fear that the neighbors would come knocking. Now, on to the technical aspects. Easy to plug in and start the system. The Bluetooth connection to your phone is intuitive and fast. Playing songs via Bluetooth is convenient. The volume control and the light control buttons make you feel like a DJ. The light show feature of this device can set the mood of the entire place. It is adaptive to the beats in the music and quite enchanting. Bass toggle is an option available as well. You can easily move it around on its wheels to wherever the party is. Overall, a great and versatile device for the ultimate party performance.
Date published: 2021-10-07
Rated

5

out of

5
by
baynes74
from
Incredible speaker for parties
My kids LOVE to dance to music and this speaker is an INCREDIBLE speaker for that. Not only are the lights a cool feature, but the DJ buttons (on top or in the app) allow you to pretend your a DJ! This speaker could work indoors/outdoors, and with its IPX4 splash proof design, you'll be ok anywhere (even poolside). Can be used for speaker to hook up a mic or a guitar although we didn't go that far with it.
Date published: 2021-09-28
Rated

5

out of

5
by
Ceb3
from
The giant Box that Booms with a great light show!!
The JBL Party Box is definitely a must have to start any party, from playing music to having a karaoke night. The bass on that bad boy will shake the room off your house and the vibrant colors from the box will light up your neighborhood. I give this box a 9/10. The only things I would like to add to the box would be if the lights synced with the music and a way to adjust the bass and treble.
Date published: 2021-09-30
Rated

5

out of

5
by
JoshuaG
from
Awesome bass machine
I have a samsung mx-t70 and 40, a sony xp700, and I've had the lg xboom and this thing out bumps them all. And it is extremely loud. The lights are awesome really does a great job in the garage when I'm working out. The wide and kids always come out laughing cause everything in the house rattles while it's playing
Date published: 2022-01-23
Rated

4

out of

5
by
Pyro69
from
Good, but could be better
I think reading the reviews and watching them on YouTube gave me expectations that were too high. I cant find any rms numbers for this speaker is it 800 rms 800 "max" is it truly putting out 800 watts? I've been building speaker and subwoofer enclosures for the last 15 years, if I were to make a true 800 watt speaker it would without a doubt be louder than this that is why I question the 800 watt rating. I got lucky and there were a couple sales and discount codes so I picked it up for almost $200 under it's $800 price tag. I think that was a much more reasonable price considering what you are getting, I definitely would not pay almost $900 with tax for this. That being said I am not bashing this speaker it is without a doubt one of the loudest Bluetooth speakers I have heard with great bass response too. The different light show modes are nice as well. The mobility of this is amazing for what it is it's a 60+ lb speaker but the wheels make it quite easy to roll around the house and to the yard.
Date published: 2022-11-18
Rated

5

out of

5
by
Kobe24Rip
from
Jbl 710 is it…..,
Great Bass and sound profile, initially I wanted the 1000 but not being able to find one. The 710 came up in stock and no looking back, this thing is a beast. I have yet to turn it it up bend 50% and it shakes things in the house.
Date published: 2022-01-26
Rated

5

out of

5
by
Ena2022
from
Amazing !
I've just received it and I can't tell how great it is. Pure sound and great quality …I highly recommend it to everyone who is looking to run an event with family and friends! This went beyond my expectations!!
Date published: 2022-01-06
Rated

5

out of

5
by
NiniOuro
from
Great Bass, beautiful speaker
I bought it 1 week ago, it is a fantastic and powerful speaker. Great bass and sound quality. Bass is clear words as well no distortion at pretty high volume. This speaker is too powerful to be rechargeable.
Date published: 2021-11-16
Rated

5

out of

5
by
Jpab
from
It has an awesome sound.
Awesome speaker and is gigantic awesome lights perfect combo I'm in love with it awesome product makes parties even better. My friends are always asking me where to buy it an I just say JBL babyyyy no more.
Date published: 2021-09-29
Rated

5

out of

5
by
Antsantos
from
Mind blowing
Excellent all round monster. Not even at 10% the feel of power is unreal. Tough and superb sound quality as expected. Don't hesitate in buying it as you won't be disappointed
Date published: 2022-09-15
Rated

5

out of

5
by
Ion812
from
Best speaker ever
Let me start off buy saying the base is amazing, sound quality insane, and my favorite feature is the light show with the app it's so cool. The Partybox app is great to
Date published: 2022-01-21
bvseo_sdk, dw_cartridge, 18.2.0, p_sdk_3.2.0
CLOUD, getReviews, 7ms
reviews, product
Spørgsmål og svar
Are all the JBL Portable Series speakers designed to use indoors and all the JBL Partybox Series designed to use outdoors? Or they are both indoors or both outdoors? I want to know. Thank you!
This will depend on the IPX rating and the portability of the JBL device a some of our Partybox speakers does not have a built-in battery and is required to be plugged in a power source. With the IPX rating, some of our devices does not have an IPX rating which means that it is not splash and water proof.
Date published: 2022-10-05
Can the party box 300 sync with the party box 710?
It is possible to pair two of the same model of JBL PartyBox speakers together through TWS (True Wireless Stereo) mode. In order to achieve TWS mode, the speaker must be the same model with the exception of the PartyBox 200 and PartyBox 300 which can be paired together via TWS. You cannot achieve TWS with a PartyBox 1000 and a PartyBox 300. You cannot achieve TWS with a PartyBox 100 and PartyBox 200. However, it is possible to connect a maximum of two of either the Partybox 110, 310, or 710 (only) together in Party mode - the two speakers do not need to be the same model, but the Stereo mode will not be possible.
Date published: 2021-10-29
What is the power consumption of the Partybox 710?
Listed are the input power required and output power below: Input Power: 100-240V / 50/60Hz Output Power: 800W RMS
Date published: 2022-01-24
Is this speaker rechargable?
Thanks for inquiry. Our JBL PartyBox 710 isn't rechargeable. It needs to be plugged into a power source for it to work.
Date published: 2022-09-29
I just ordered the 710 and I can't wait to receive it just have a wonder regarding attachments . Can I attach the speaker to a mixer ? 
Thank you for your question. Yes it should be possible, you need to make sure you have the correct output. However, the aux inputs on the JBL Partybox 710 are mainly for connecting audio source such as phone or tablet. Should you wish to receive further support, you may contact the Harman Customer Support team by telephone, email or chat in order to receive direct assistance. Please see https://uk.harmanaudio.com/support-contact.html#ns for further details. Thank you.
Date published: 2022-07-14
Can the Partybox 710 puts out those very low sub bass? Or it's mainly puts out strong mid bass? I like the bass that produced by JBL 18inch subwoofer like the VRX918S.
Our Partybox 710 has a frequency response of 35Hz–20kHz (-6dB), in which the lowest range of frequency is 35Hz.
Date published: 2022-09-07
I read another question here asking can you pair your 310 with the new 710 wirelessly and you said yes But without stereo. What is the maximum distance these two can be apart wirelessly while connected?
Thanks for reaching out. It is possible to connect a maximum of two of either the Partybox 110, 310, or 710 (only) together in Party mode through TWS - the two speakers do not need to be the same model, but the Stereo mode will not be possible. The maximum range of 10 meters, making sure that there is a clear line of sight between both speakers and the Bluetooth-enabled source for optimal results.
Date published: 2022-01-25
Does it have a battery?
Our newest JBL PartyBox 710 doesn't have a battery. It is powered through 100 – 240 VAC ~50/60Hz.
Date published: 2022-07-14
Does it have inputs to be hooked to a tv to be used as a sound bar ? Is there anyway to rig it to do that ? Thx
You can connect a 3.5mm audio cable from the headphone out of your TV going to the Aux input of our JBL PartyBox 710.
Date published: 2022-07-31
With summer coming around i was curious if u could leave the speaker on my back porch (which is covered) but is not temp controlled area.
If it's covered and in the summertime I don't see a reason why not , but I wouldn't want my speaker out in the elements too long .
Date published: 2022-10-18
Hey I wonder how much Wh (watt hour) does it use at max with bass boost 2?
Hello, Thank you for your question. If you play the speaker at 20% volume for example you will use less power than say at 50%, and with bass heavy music you will use more power than playing "lighter" music. Bass reproduction is a big "spender" when it comes to speaker power consumption. Should you wish to receive further support, you may contact the Harman Customer Support team by telephone, email or chat in order to receive direct assistance. Please see https://dk.harmanaudio.com/support-contact.html#ns for further details. Thank you.
Date published: 2022-01-28
First turn on and play went great. Turned it off. Went to turn it back on and the LED lights simply blink and turn off. Nothing happens when its plugged in. It will not power on. What is going on? We literally just got it and this is the first use.
Thanks for reaching out. Please try using another right-angle AC Power cord (if available). Try to charge the speaker overnight for at least 8 hours. We would also like to discuss your support request directly with you and find a solution for you. Please reach out to JBL Customer Service for technical support and assistance. https://bit.ly/3DhYEHL
Date published: 2022-03-30
Has it battery?
Thanks for reaching out. Our JBL Partybox 710 comes with a right-angle AC power cable which you can plug into an electrical outlet. This speaker doesn't have a built-in rechargeable battery.
Date published: 2022-10-25
Does this have RCA jacks or any othe inputs ?
Our JBL PartyBox 710 has no RCA port. Here are the input ports our JBL PartyBox 710 has: -USB Port -Mic Port -Guitar Port -Daisy Chain Port -Aux Port
Date published: 2021-10-29
Is the partybox 710 wireless? Can It be charged?
Our JBL PartyBox 710 doesn't have a battery. It needs to be plugged in to a wall outlet in order to work. Its connection to a source device could be wireless through Bluetooth.
Date published: 2021-10-29
Hi, I have owned this speaker for about 6 months now, and as soon as I updated my 710 through the app, my speaker lost a WHOLE LOT of bass. Like there is no bass left, not even with bass boost 1 on, and the equalizer properly tuned to maximize the bass. ?
Please try to perform a reset on your JBL PartyBox 710. 1. While the speaker is on. Press and hold "Play" and "Light" buttons for more than 10 seconds. 2. The Partybox 710 will power off and back on and is now reset. If the issue persists, please reach out to our Customer Support team.
Date published: 2022-06-02
Do you make a storage case for this unit?
We don't have storage boxes/cases for our PartyBox 710.
Date published: 2022-05-30
Can you turn off the lights on the JBL 710?
Yes. Our Partybox 710's lights can be turned off or adjusted by using the user-friendly top panel dials or the PartyBox app.
Date published: 2021-11-23
Can you connect a partybox 300 to the partybox 710 via wired connection and retain stereo sound?
Our JBL PartyBox 300 could only connect to another PartyBox 300/200 using the TWS feature. It is possible to connect the Partybox 300 to the Partybox 710 via the daisy chain feature but the audio output will not be in stereo mode.
Date published: 2022-03-09
My top led ligh it's not working, I just receive it 1 week ago. Help please!
Thank you for bringing this to our attention. You may try to do a reset by pressing and holding the "Play/Pause" and "Light" buttons for > 10 seconds. The Partybox will power off and back on and is now reset. If the issue persists after the reset procedure, contact JBL Customer Service for technical support and assistance. https://bit.ly/3jsV8mC
Date published: 2021-11-14
I bought this speaker a week ago and I have a problem with the Bluetooth connection when I access the Partybox application (the music is partially interrupted). How can I solve this problem?
bvseo_sdk, dw_cartridge, 18.2.0, p_sdk_3.2.0
CLOUD, getContent, 96ms
questions, product