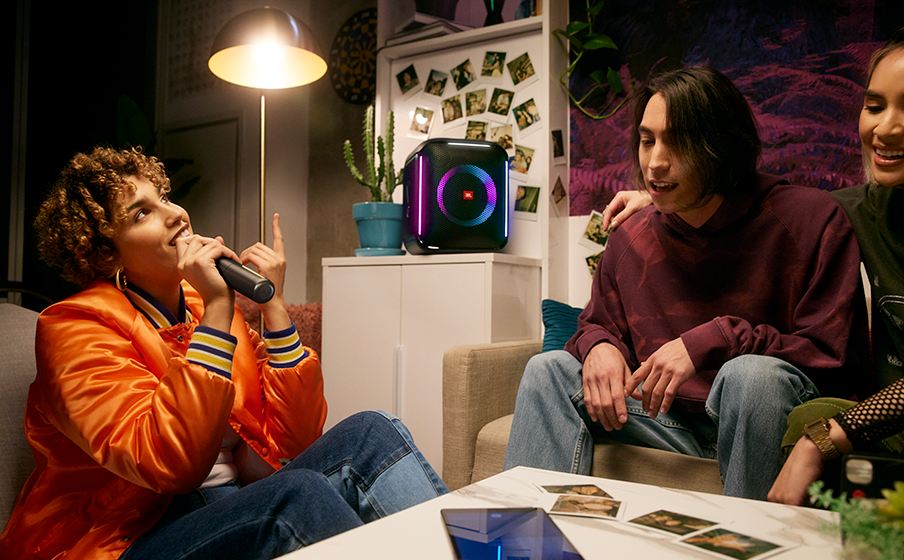 Fantastisk JBL Original Pro Sound
Intet slår den fantastiske JBL Original Pro Sound med dyb bas.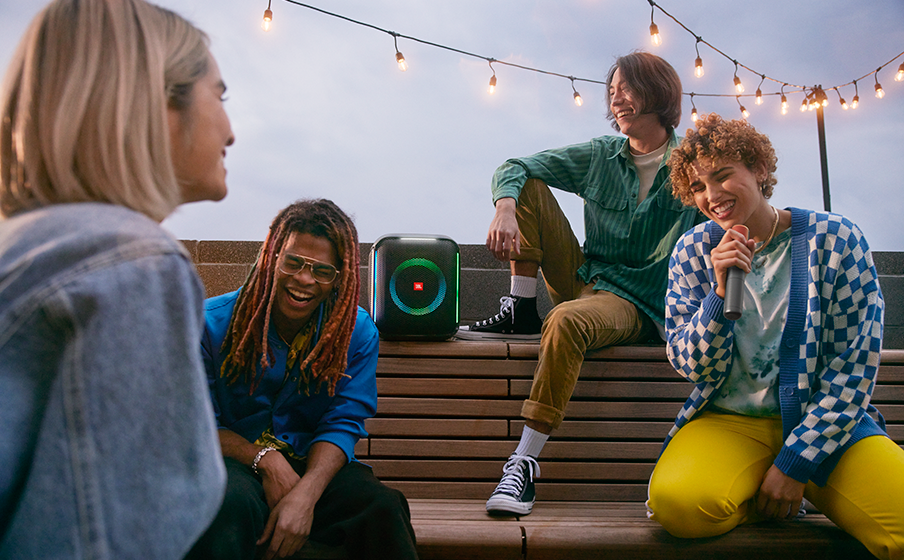 Dynamisk lysshow, der synkroniseres med musikrytmen
Lysshowet i JBL's PartyBox får din fest til at stråle med ring- og club-lys og rockende stroboskopeffekter, der synkroniseres med din musik, så du får en fantastisk omsluttende audiovisuel oplevelse.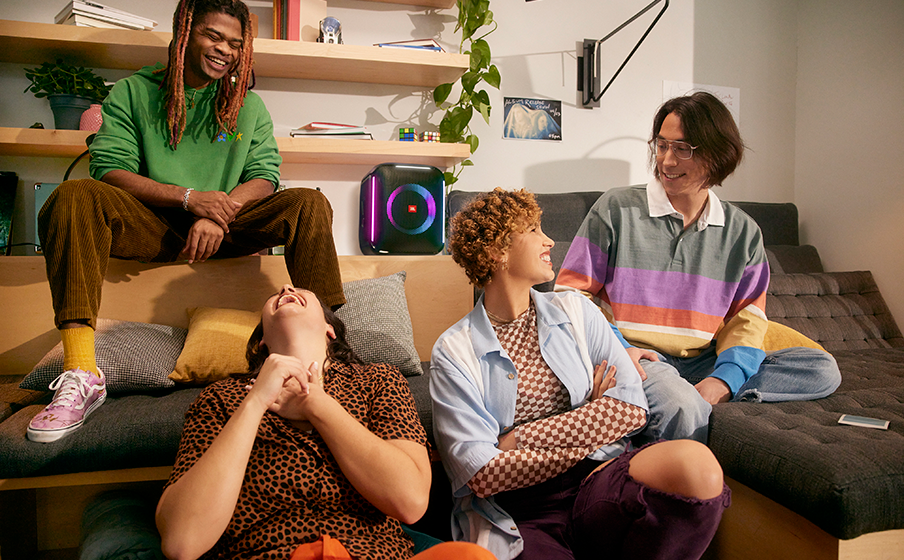 10 timers afspilningstid
Få gang i festen både dag og nat. Med 10 timers afspilningstid og et indbygget, genopladeligt batteri vil rytmen bare fortsætte (og fortsætte).
Funktioner

IPX4-stænksikker
JBL PartyBox Encore er IPX4-stænksikker, så du aldrig behøver bekymre dig om, at festen bliver for våd eller vild - fra dans på stranden til karaoke ved swimingpoolen.

Digitale trådløs mikrofone
Træd ind i spotlyset. en førsteklasses digital zinkmikrofon er inkluderet med JBL PartyBox Encore, som er perfekt optimeret til karaoke. Kanaldesignet har lav reaktionstid og justerbar bas, ekko og diskantkontrol, der beriger vokalen hos alle, der gerne vil synge med. Den digitale trådløse mikrofone kommer endda med udskiftelige AA-batterier, så du kan feste hele dagen og rocke hele natten.

Par dine højttalere for endnu kraftigere lyd
Er én JBL PartyBox ikke nok? Par to højttalere trådløst med True Wireless Stereo (TWS) for en endnu større og ekstra kraftfuld lyd.

PartyBox-app
JBL PartyBox-appen gør det nemmere end nogensinde at styre din musik, opdatere indstillinger og tilpasse farverne i dit lysshow til den perfekte feststemning.

Afspilning fra flere kilder
Afspil din musik trådløst via Bluetooth, brug en USB-nøgle eller tilslut med et aux-kabel. JBL PartyBox Encore er den ultimative løsning, der tilpasser sig din musik.
Detaljer & Downloads
Item# JBLPBENCORE1MICEP
Beskrivelse
Vær stjernen til din næste fest

Den bærbare JBL PartyBox Encore-højttaler holder festen i gang - uafbrudt i ti timer. Med det praktiske transporthåndtag og et stænksikkert design kan du altid tage festen med dig. Få rytmen til at pumpe med dyb bas og den fantastiske JBL Original Pro Sound. Synkronisér lysshowets rockende stroboskop-, ring- og club-lys for en fantastisk omsluttende oplevelse, eller syng med i JBL's førsteklasses digitale trådløs mikrofone, der er optimeret til karaoke med justerbart ekko, bas og diskant. Ægte trådløs stereo betyder, at du kan parre højttalere og opnå virkelig massiv lyd. Med Partybox-appen kan du altid kontrollere din musik og farverne i dit lysshow for at skabe den perfekte stemning.
Specifikationer
Lydspecifikationer
Dynamisk frekvensområde (Hz)

50 Hz - 20k Hz @-6dB
Mål
Mål (inch)

10.87 x 12.87 x 11.54

Mål (cm)

27.6 x 32.7 x 29.3

Vægt (kg)

6.3

Vægt (lbs)

13.89
Specifikationer, styring og tilslutning
Bluetooth-profiler

A2DP 1.3, AVRCP 1.6

Bluetooth-frekvens

2.4 GHz - 2.4835 GHz

Bluetooth sender-modulation

GFSK, π/4 DQPSK, 8DPSK

Bluetooth sender-effekt

< 9 dBm (EIRP)

Bluetooth-version

5.1
Batteri
Spilletid (timer)

10

Ladetid (timer)

3.5
Egenskaber
Charging cable

Ja

Lysshow

Ja

Wireless

Ja

Genopladeligt batteri

Ja

Bluetooth

Ja
Det er der i æsken?
1 x JBL PartyBox Encore
Strømkabel (stik og antal varierer efter region)
1 x lynstartvejledning
1 x sikkerhedsdatablad
1 x JBL trådløs mikrofone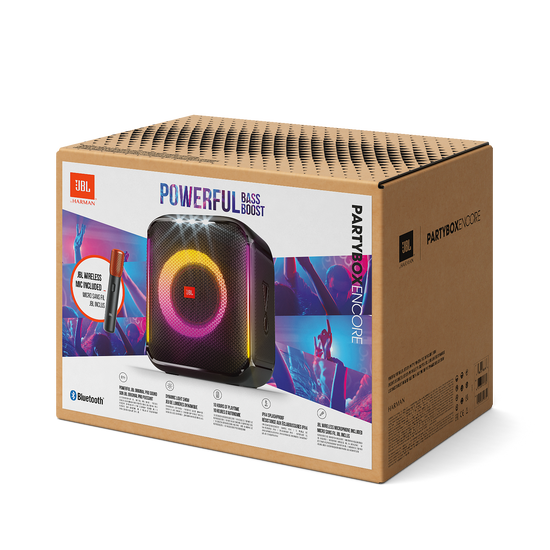 Dokumenter og downloads
Kunde-anmeldelser
Rated

5

out of

5
by
veroklassen
from
Sturdy PartyBox with great features
I bought the JBL PartyBox Encore a while ago, mainly to use at my birthday party and small gatherings with friends. It arrived very well and safely packaged. The setup of the box turned out to be quite simple. To play music with it you simply need to connect your device of choice (I used my smartphone) with it, which worked without issues. You can use the Box itself to control the volume of the music, or the App, which also lets you control other features e.g. the light show which accompanies the music. I was really pleased with the sound quality and the light effects, which helped create a fun atmosphere for my party. We also couldn't resist trying the karaoke feature of the box. The package comes with a microphone and fitting batteries, so there's no need for extra purchases to get going. The box itself also allows for different control options for the karaoke, e.g. volume and echo control. All in all I was quite happy with the PartyBox and how it elevated the party experience.
Date published: 2022-10-14
Rated

5

out of

5
by
burkhac1124
from
Exceptional sound quality
We recently used the encore speaker on a road trip with a group of 54 people. It provided the ultimate entertainment. It provided the group with fantastic sound quality while on the bus listening to music. At the end of our retreat we had the ability to pass around the 2 wireless microphones (which surpassed my expectations: weight, quality, durability) and allowed our group to give their comments of the speakers we just listened to. No complaints about this unit. The only recommendations I would add would be microphone holder and to make the microphones rechargeable. BUT that limitation didnt slow us down one bit. I would recommend this to anyone that needs a great high quality unit with the need for using a microphone or Karaoke.
Date published: 2022-11-02
Rated

5

out of

5
by
ro_sa_glit_ter
from
Great Sound
Pros: -great sound -long battery life -microphone with echo -great light show functionality Cons: -weight The JBL Partybox comes with an adapter, a microphone including two batteries, as well as an instructions handbook.
There's also an app supported which connects without any problems and works incredibly well.
The JBL Partybox Encore convinces through its great bass, incredible sound and light show functionality.
The light show can also be controlled really well, using the app.
The karaoke function is a lot of fun, thanks to the included microphone, pitch, bass and echo can also be adjusted in this application, it's almost to perfect. 
Thanks to its 10 hours of battery life, this box is perfect for any party, regardless of location.
This box is well worth its price.
The JBL Partybox Encore makes for a great addition to any party and we absolutely recommend it to anyone out there.
Date published: 2022-10-09
Rated

5

out of

5
by
Tedschaumburg
from
We love karaoke so the wireless mic is awesome
I'm astonished at how well this sounds and how long the battery lasts. I use it to stream music and also play stored playlists from a USB drive for outdoor parties by the pool or in my yard or balcony and it's loud enough for the area. In addition the wireless karaoke PA, which is portable has remarkable bass response and full-range surround stereo sound reproduction. The stand out feature for me is the lightshow up front! The amazing and dazzling lights are very immersive giving the room a party vibe. If you're looking for a way to broadcast across the entire gymnasium or from the stage-this will do it, and comes with two wireless microphones "We love karaoke so the wireless mic made it easy to pass the mic around the group", and a phone app that can control all functions including light show and sound effect such as clapping, booing and gong noises. The best thing is, it's portable. It has a handle integrated into the top and can be transported in the cargo space of and SUV/Van or even in the backseat of a sedan.
Date published: 2022-10-30
Rated

5

out of

5
by
JBL party house
from
Amazing bass in a box that you can take anywhere
This music box is super loud with bass beyond many, used it in my house and had my whole house bassed out with beautiful sounds with my lights off it was amazing lights coming from the speaker. I love that i can control everything from the app
Date published: 2022-10-15
Rated

5

out of

5
by
Katy30
from
Exceeded expectations
Bought this to use as a karaoke machine and as a speaker, amazing sound, microphone is excellent quality and the sound from the speaker is even better than expected. Highly recommend
Date published: 2022-11-26
Rated

5

out of

5
by
Kalicat
from
Love it.
This is a powerful speaker! Don't let the size fool you... The Partybox encore won't disappoint. I also own the Partybox 710 and I would say that the Partybox encore is basically a mini version of that speaker. What I really love is that the Encore is able to connect to my 710, or another encore speaker. I really like that it has a rechargeable battery. I used it for about a week until it needed to be charged again. It only took about 3 hours to charge and you can use it while it's charging. It does have a decent weight to it, which is nice, but may be too heavy to lug around with you for long periods of time. The JBL Partybox app makes it simple to adjust your bass, treble, etc. The microphones that came along with the encore are high quality & connect immediately when turned on. The speaker also has an option for extra bass & punchy bass.... which is my fav! The light show feature makes this speaker really cool. You can also control the lights through the app and setup preset options. Overall I really love this speaker & have been using it ever since I got it. Can't wait to take it to the beach! Definitely recommend!!!
Date published: 2022-11-02
Rated

5

out of

5
by
Janine Janini
from
Awesome Lightshow, Small Size, Great Sound,
The JBL Partybox is super easy to Set Up and perfect for a Backyardparty or all Kind of Outdoor Activities. We used it in our Backyard and liked the Microphone, so all our Guests could hear us talking to them. I also took ist to the Gym and our Gym Sessions to the Park. The Sound is very smooth and clear and the wireless microphone not only for Karaoke Nights very usefull. The Lightshow is also a great eyecatcher. We sure will use the JBL Encore many more times.
Date published: 2022-10-19
Rated

5

out of

5
by
fayhope
from
Huge sound! My new go to speaker!
The JBL Partybox Encore is my new go to speaker. Connecting is super easy. It is quite a bit smaller than my other Partybox speaker but the sound is huge! It's the crystal clear sound I expect and the bass is out of this world. The speaker is splash proof so no need to worry if it's overcast or if you are using it at a pool or the beach. Because of the size it's easy to carry. It stays charged for hours. Love controlling it with the app!
Date published: 2022-10-25
Rated

5

out of

5
by
Happy_dad
from
Perfect speaker for a medium party + Karaoke!
This speaker, to my understanding, is building on the Partybox. The main improvement was done to the battery, which now lasts 1.5-2 times longer. And it shows! Even with lights enabled, I easily get 8-10 hours out of the speaker. I haven't tried to turn off the light effects, but I would imagine it will last even longer. Of course, the sound is great: it's lively, hits the right highs and mids. Bass is adjustable, and I like it the most on the first level of Bass Boost. It makes the speaker amazing outdoors, but can be too much indoors. The second level of the boost does something to the bass, feels like it's boosting and cutting it off at the same time. It just doesn't sound refined. The included two microphones work great! They reproduce voices accurately and feel nice in the hand. The use as a karaoke machine is niche, but it's always there if (when?) you need it. The lights are fun and entertain both adults and kids. It's cool that they flash in sync with the music. Somehow, they flash even in sync with voices from the microphones - weird but cool. The speaker has all the adjustments of the bigger models and is very easy to use and control. Bluetooth pairs immediately and works at rather long distances. Overall, this is a great speaker for both outdoor and indoor parties. The included microphones are fun for children and could be very useful for adults. Battery life is very good, and sound is quality, as usual. Strongly recommend.
Date published: 2022-10-26
Rated

5

out of

5
by
Mikkl87
from
Fedt produkt
Vi er super glade for denne højtaler hjemme ved os, den fungere super fint og ungerne elsker at stå og synge i den medfølgende mikrofon, lyden er også super god i den, den har en bass knap for mere bass og det fungere også udemærket, batteri levetiden er også god og vi har haft den med udenfor og spille musik i garagen, hvilket også var nemt da den ikke fylder ret meget. alt i alt er vi godt tilfredse med den.
Date published: 2022-10-08
Rated

5

out of

5
by
HLaursen
from
Lækker højtaler
Lækker og handy højtaler med stor lyd. Ekstremt nem at betjene og tage med på farten. Hurtig opladning og fin batteritid. Den kan nemt overdøve 14 larmende og højtråbende drengebørn (er oplevet helt personligt 😅) 😂🙈 Alle indgange er dækket af, så højtaleren tåler nemt en lille regnbyge. Genialt med trådløs mikrofon i god kvalitet - ikke noget med billigt plastik-skrammel! God lyd og god bas 😃👍
Date published: 2022-10-12
Rated

5

out of

5
by
Baynes
from
Such INCREDIBLE sound from this!
This Partybox Encore sounds amazing. Connected my phone with Bluetooth and played some songs for my kids and the loved it. Downloaded the Partybox app to change the lights on the speaker. I haven't synced this with another Partybox, but looking forward to doing that in the future. I would recommend this for anyone looking for more sound than some of the smaller pill shaped Bluetooth speakers.
Date published: 2022-10-19
Rated

5

out of

5
by
jca5
from
Amazing sound!
This gem is amazing! It has amazing color schemes you can choose and it has the ability to have it sync with the music. It holds the charge for quite a long time. I didn't time it, but I've used it multiple times and still haven't had to charge it. The microphones are very good quality. My kids have enjoyed singing along and ad-libbing to the songs. I really only have 2 complaints or recommendations for future models. There isn't a place to store the microphones. If it's just going to sit in one place, they can rest in the area of the carry handle. However, if you are transporting this anywhere, there isn't a place to store them with the unit so they don't roll around or get lost. Also, the charge cord doesn't have a place to store it or even something to wrap it around so it stays with the machine and doesn't get misplaced. If these two issues could be resolved, it would be the best ever!
Date published: 2022-10-28
Rated

5

out of

5
by
Top_Gear_Fanboy
from
Amazing speaker quality
I really enjoyed using this speaker. It feels really rugged and the sound it produces is amazing. It has amazing amount of bass and depth to the sound. It is a bit heavy to be considered a portable speaker but it really is worth carrying along. It just has so much better and fuller sound and the even though its this powerful the battery still lasts quite a while. The microphones are also pretty great. They feel so solid in the hand as they're fully metal and I only have 2 issues with them. 1 is that they are not rechargeable which would have been nice and the other is that the sound they produce only comes out of the partybox encore. When you link it to another speaker with their TWS feature the microphones sound doesn't come out of the other speaker as well. Im sure this could be fixed in software but this is really the only true oversight I came across. The speaker itself is really a quality item and it feels like it.
Date published: 2022-10-24
Rated

5

out of

5
by
Anonymous
from
Wow, in love! What's not to love.
Product review, wow. This speaker is next level I absolutely love it! I love everything about it from the bass to the microphone to the colours you can change via using the app! Sound quality is spot on and it looks smart too. Over the moon with this product. What's not to love. 100% recommend this product to those who love music you will not be disappointed.
Date published: 2023-01-26
Rated

5

out of

5
by
RockyKarthik
from
Cute, Portable, Easy to Carry, Excellent Quality
Title summarizes my experience with JBL PartyBox Encore. It's so cute, and easy to carry anywhere. I take use it near the pool, while working out, family gatherings and also at parties with friends. JBL's signature Bass is what makes this product a must have for any music lovers.
Date published: 2022-10-16
Rated

3

out of

5
by
upset37
from
Can't find charging port!
Have no idea how to rate this because I can't find the charging port to get it charged. Has a picture of cord and the speaker but not where the port to charge it is located. Tech writing sucks. Where is it and I need a picture on the speaker where to find it.
Date published: 2022-12-11
Rated

5

out of

5
by
Drbll
from
Small package delivers big sound
This small cube speaker (roughly 12") is lightweight and portable, but the sound is full and rich like you would expect from JBL. I love the rechargeable battery, gives many hours of listening in remote spots like the beach or camping. Easy to read and see battery level indicator is very much appreciated. The true wireless connection to other Partybox speakers is easy to use and works great, the only thing was the volume goes up on both speakers, so it was kind of hard to balance the sound, I will experiment more with this feature. Bluetooth connections are also easy to connect and use various devices, we use this daily as our Alexa speaker. A very nice surprise was the included microphones, they are instantly paired when you turn the speaker on. This is very handy for us, we use our Partybox for presentations and gatherings. Having the microphone volume right on top makes it easy to adjust the sound on the fly. Overall, the quality, sound, and ease of use makes this speaker our first choice for parties and gatherings.
Date published: 2022-10-17
Rated

5

out of

5
by
ClausH
from
Fantastisk lyd
Hej. Jeg har købt denne højtaler, og må sige jeg er dybt imponeret over hvor godt den spiller, den er nem og have med rundt da der er håndtag i toppen. Meget fedt med lyseffekterne på højtaleren. Alt i alt er jeg fuldt ud tilfreds med mit køb.
Date published: 2022-10-10
Rated

5

out of

5
by
Bmanbill55
from
The do it all speaker that packs a big punch!
Wow, this thing is a little beast! First impressions, the packaging of the Partybox and build quality overall are excellent. Both the mics and the Partybox feel heavy and feel very durable. A cool feature is the lightshow that reacts to the music and also shows you the volume level as you turn it up or down. You can also completely customize the lights and the music with the Partybox app. Love that it's water resistant so it can be used outside or by the pool worry free. The same night I received the Partybox, it instantly became a party. It connected to my phone without a hitch and I was amazed once I turned it on. Music quality is great and the bass even without the bass boost is super punchy. The mics are so easy to setup and the adjustability on the go is so easy and useful, it made singing along so fun. I'm tempted to get another one so they can be paired together and double the awesome! I've never had a speaker that puts out such high quality music and bass, while still being portable, let alone also being a karaoke machine! Would definitely recemmond!
Date published: 2022-11-06
Rated

5

out of

5
by
RonBoback
from
Perfect for all of your small party needs!
Knowing about the whole series of Party Box speakers, I wasn't sure how this would stand up against its much larger family. Boy was I pleased! This little guy packs a huge punch in a small box. It sounds great, looks great, and puts on a fantastic light show. The essential isn't going to be all you need for a party of 200 people, but for a smaller gathering, this is the one! It would definitely make a great speaker for a second room at a large party with its pairing mode! The app and the microphones are what really set this apart from other "boxes" out there. You can fully customize the light show, sound, and karaoke features. And don't worry about a little splash from the pool, this box is water resistant! If I have to pick any cons it would be the battery life and lack of mic storage. It gets the rated time on battery, but its low. I would also sacrifice its small size a little if it had compartments to store the mics and power cord. These two characteristics DO NOT stray me from loving this thing. I use it for gatherings, bonfires, or even when I making dinner!
Date published: 2022-11-01
Rated

5

out of

5
by
Mabios01
from
Fed højtaler
Man kan virkeligt føle at det er kram. Højtaleren spiller godt (og højt) og mikrofonen er et stort hit blandt familiens mindste. Appen til at styre højtalerens funktioner virker upåklageligt.
Date published: 2022-10-05
Rated

4

out of

5
by
Maja42
from
Fed lyd
Den er så fed .. ungerne elsker den til deres skønsang
Date published: 2022-10-05
Rated

5

out of

5
by
TomG96
from
Great party box, super light effects
We have the party box for over a week and are thrilled. The box comes with power supply, integrated battery, microphone with batteries and instructions. I honestly had not expected the size and imagined it smaller, but it is still compact, so you can easily set it up anywhere. Connecting via app is a breeze and works flawlessly. I use an Android-based phone and so far there have been no problems or failures. Using the app, you can set different modes, which offer different lighting effects. Kids in particular love the different light show variations. For playback, the box offers different setting options via the app. All settings are super easy to adjust and for such a handy box, bass and sound are just great! With the included microphone, you can also use the box as a karaoke studio. Our kids had a blast feeling like little stars singing the lyrics to their favorite songs and listening to them from the box! Since the box has an integrated rechargeable battery, you can charge it overnight in the best case and then use it outdoors without any further power supply. So far, we have not had it running so long that it would have gone out. In any case, we are thrilled all around. Great party box with many possible applications!
Date published: 2022-10-12
Rated

5

out of

5
by
Sinuhe_0123
from
Getting the party started!!!
Where do I start... Partybox Encore is a great little speaker for everyone to enjoy! To be honest it was bigger and heavier than expected but light enough for my 4 year old son to carry it around. The sound coming out from this speaker fills up the whole room or backyard, it even rattles the walls around my home. The JBL Partybox app lets you easily control the EQ settings and I was able to dial in the sound to my preference. Speaking of the Partybox app it is fun since it also lets me control DJ effects, Karaoke (more on that later), LED lights, and sound EQ settings. I don't do Karaoke but my kids do and they have a blast doing it with the two microphones that come included with the Partybox Encore. They come paired right out of the box and the speaker has knobs to control the mic's bass, treble, echo and volume. It was very simple setting up Bluetooth and the streaming service I use with the apple logo has lyrics so the family loves signing along to Encanto. It is also nice that the speaker has batteries so this means I can take it with me and not have to worry about an electrical outlet. The power button comes with an easy to read charging indicator so it is super easy to know when the battery is at 100%. The Partybox Encore quickly became my new favorite speaker because of the portability and sound it has, along with the included microphones and the LED effects this speaker will definitely get the party going!
Date published: 2022-10-19
Rated

5

out of

5
by
MABP
from
Perfect speaker with mics for events
I needed a speaker that I could also use with microphones for an upcoming event to play music and to amplify a few speeches, and this speaker does everything I needed and then some. This speaker packs a powerful punch for its size and is remarkably straightforward to use. Once the speaker was unpacked and plugged in to start charging, set up was simple. This speaker comes with two wireless microphones (no need to order another one), and they were already paired, so all I had to do was add batteries and turn them on, and they were ready to go. There is a separate volume control for the microphones so that you can turn them up or down separate from the music or anything else that you are playing on the speakers. The mics are very clear, and they will be perfect for speeches at our upcoming event. The sound quality is also pretty good, and you can make adjustments to add bass boost or to increase or decrease the bass and treble, which gives you a little flexibility to adjust the sound to match your preferences. This speaker fills the space with found and has the high quality that I have come to expect from JBL. This also has substantial battery life and is easy to carry, making it easy to use anywhere you need it. There are several options for lights that move with the music in a color pattern of your choice if that adds to the environment of your event, but you can also cycle through the options and just the lights off if your event calls for something a little more serious. If you're looking for a speaker for an outdoor movie night, a backyard barbecue, karaoke night, an event where you need to be able to play music and give a few speeches, are teaching in a classroom where you need a little amplification to be heard easily, or are just looking for a great speaker to use every day with a really simple setup, this is the one for you!
Date published: 2022-10-16
Rated

5

out of

5
by
Mr James
from
The Best Bluetooth Music Box
The Partybox Encore is hands down the best boombox we have heard in years. We play a lot of Pickleball, we hold parties at the lake, and our kids love karaoke. There has been so many products at the Pickleball courts as people always try to bring their speakers that everyone can hear. The Partybox does exactly that and more. I will start off describing the Partybox itself. It is fairly light for it's size and for the amount of sound it puts out, you would think it would be a tank. The handle to carry the box is ergonomically correct and very comfortable. The power, lights, bluetooth, and bass boost are easy to depress and work flawlessly. The volume knob turns easily and so do the Karaoke knobs. The Aux In and USB are nicely covered from the elements by a rubberized cover as well as the power cord adapter area. The Partybox sits securely on the ground and doesn't vibrate when the music is turned up. The lights are an added touch. The LED blinking lights are bright and strobe in a nice pattern. There is way to many options you can select for how the colored lights and LED strobe lights flicker at a certain pattern. The colors are bright and vibrant!! At night, the lights are a great addition to this music box. The included 2 metal, high quality microphones transmit to the music box with ease and they sound very clear. We downloaded the app so when a song is played you get to read the lyrics. Adjusting the eq for the karaoke is a nice added touch and helps with adjusting deep or high voices with the type of music being played. Now for the sound this box puts out....it is crazy good how nice this little box sounds. The bass boost adds to the deep tone or leaving it without bass boost the speaker is very clear with high and low frequency sounds. I kid you not when I say the sound is impressive!!! Over the last 4 days I have take the Partybox to the Pickleball courts, all the players now expect me to play music from this nice system. The compliments we now get make the other people that use to bring their speakers envious of our JBL Partybox Encore. We continue to be amazed at the sound quality and portability of such a great sounding system. There is one thing I wish this box had incorporated with its' design. The power cord doesn't have a place to store it. Having a nice light storage area with the rubberized cover would have allowed owners to no lose or misplace the cord since there isn't a dedicated storage place for it. To keep it with the box we roll it up and push it under neath the handle. This works but a storage place would be better. Everything else about this box we down right LOVE!!!!
Date published: 2022-10-19
bvseo_sdk, dw_cartridge, 18.2.0, p_sdk_3.2.0
CLOUD, getReviews, 7ms
reviews, product
Spørgsmål og svar
I owned a JBL Partybox Encore Essential, and I really like the sound of it. I want to know is there Sound Quality difference betwee the Encore and the Encore Essential? If there is, I will consider to change my Encore Essential to the Encore.
The sound is no big difference, the main difference is the Encore has a longer 10 hour battery life and the Essential has a 6 hour battery life and the Encore has a better light show and it comes with 2 wireless microphone.
Date published: 2022-12-11
Can I buy additional headphones (like the ones in this kit) and connect them all at once? If so, how many can I connect at a time?
Thanks for reaching out. If you're referring to the wireless mic, our JBL Encore is only compatible with the two JBL Wireless Microphones included with the unit. Connecting our JBL Wireless Microphone won't be possible as the speaker doesn't have a mic input to connect the dongle.
Date published: 2023-01-25
Is it possible to Replace a microphone if it goes bad?
Yes, please reach out to our Customer Support for parts and availability for our JBL PartyBox Encore.
Date published: 2023-03-10
How many mic is included / free?
Thank you for your question. The JBL Partybox Encore comes with one JBL Wireless Microphone paired to the speaker. For further support, we welcome you to contact our JBL Customer Support team: https://support.jbl.com/gb/en/
Date published: 2023-02-28
I noticed the encore battery drops much quicker than 1% at a time. Say it will go from 98-86 but will remain on certain numbers longer than others, but the partybox 110 goes down 1% at a time. Is that normal for the encore?
Our Partybox Encore has up to 10 hours of playtime but this will also depend on the type of music played and the volume. If you are having issue s with the playing time of your speaker, please contact our customer support for further assistance.
Date published: 2023-02-09
Would I be able to have this in the shower?
Thanks for your inquiry. Our JBL Partybox Encore Essential has IPX4 Waterproofing, which means that it is sweatproof for working out and can withstand water splashes from any direction. However, the unit is not waterproof and should never be submerged in water, particularly during your shower.
Date published: 2023-01-26
Ive read that this speaker gets 10 hours of playtime with the light show feature. What does the volume level have to be to get the 10 hours? Because I'm only getting 5.5 hours of playtime with light show on, bass boost 1 with half way volume.
Thanks for your inquiry. Our JBL Partybox Encore Essential has maximum music playing time of up to 6 hours and would vary on the volume level and music content. The higher volume the speaker produces, the more power it needs to play a louder sound. If you need more help, please contact our customer support for further assistance.
Date published: 2023-01-17
What is needed to do karaoke? A certain app?
Our JBL Partybox Encore does not have a display for the lyrics for karaoke. You can use any Karaoke App and connect the source device to the JBL Partybox Encore.
Date published: 2023-03-08
Has anyone had the encore start flashing red after 2 hours of playtime?
Our JBL PartyBox Encore's battery will last up to 6 hours of playtime. This may vary depending on volume and music content. There's an LED indicator in the speaker that shows the battery level. When the battery is running low, the LED light turns white, and when it is fully charged, it goes out. If the speaker doesn't meet the advertised playtime hous even at low to mid volume level, there could be a problem with the battery of the speaker. Please contact our Customer Support, so we can assist you.
Date published: 2022-12-25
Hello! Can you tell me if the Partybox Encore TWS feature is compatible with the TWS in the Partybox Encore Essential? In other words, can the Encore and Essential be linked up in stereo eventhough they are different models?
You will be able to connect the Partybox Encore Essential and the Partybox Encore in Party mode but Stereo mode will not be possible.
Date published: 2022-11-07
Will other wireless mics work with the Encore? I noticed the Encore doesn't have a 1/4" mic port but the Essentials does. If I own the Encore and let's say both my mics break, can I use off brand wireless mics?
bvseo_sdk, dw_cartridge, 18.2.0, p_sdk_3.2.0
CLOUD, getContent, 16ms
questions, product