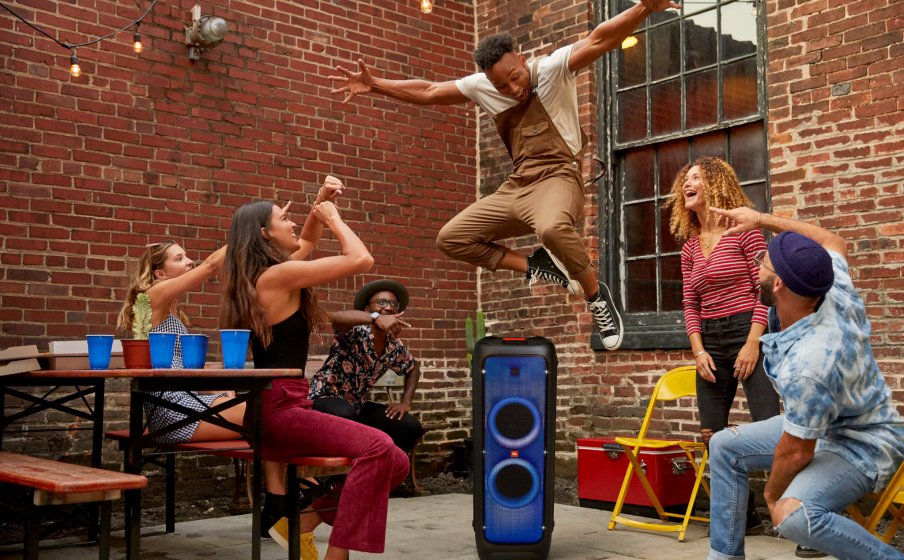 Den berømte JBL-signaturlyd
JBL tilbyder uovertruffen ydeevne og autentiske lydoplevelser du vil huske til din fest!
Lysshows
Den fulde panelbelysningseffekt skaber et fængslende lysshow, der vil forbløffe dit publikum med en varig visuel oplevelse.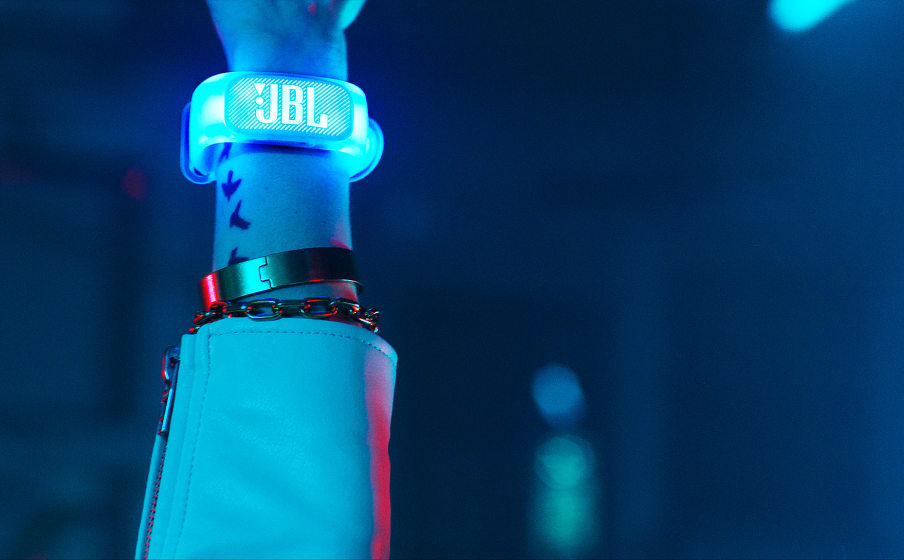 Air bevægelses-armbånd
Air bevægelses-armbåndet får alle med!
Funktioner

DJ Pad
Denne DJ Pad giver dig mulighed for at spille trommer, guitar og klaver, optage og loop på flugt!

Mikrofon- og guitarindgang
Sæt din mikrofon eller guitar til og fyr den af.

USB-afspilning
Forbered din fest eller dit arrangement ved at lægge din foretrukne afspilningsliste på en USB-nøgle!

TWS og RCA
Tilslut kompatible højttalere trådløst med TWS (True Wireless Stereo via Bluetooth for at tilslutte op til 2 party-højttalere) eller med kabel fra RCA-udgangen.

USB-opladning til eksterne enheder
En USB-port på vores JBL PartyBox giver dig mulighed for at oplade andre USB-enheder direkte fra højttaleren. Så du behøver ikke en ekstra oplader for at holde dine enheder opladet.

Skjulte hjul
Et håndtag og skjulte hjul gør det lettere at transportere din JBL PartyBox 1000
Detaljer & Downloads
Item# JBLPARTYBOX1000EU
Beskrivelse
Den ultimative festmaskine!

Vores JBL PartyBox 1000 er en kraftfuld festhøjttaler med JBL-lydkvalitet og et fuldt panel med spændende lyseffekter. Du skal bare sætte din mikrofon eller guitar til og fyre den af eller streame din afspilningsliste via Bluetooth eller fra et USB-stik. DJ og Party Band med lysdioder skaber koncertstemning til din fest! Tilslut to PartyBox-højttalere trådløst med TWS-funktionen eller med kabel fra en RCA-udgang til en RCA-indgang. Lad os få gang i festen!
Specifikationer
Lydspecifikationer
Dynamisk frekvensområde (Hz)

30Hz-20kHz (-6dB)
Mål
Mål (cm)

39.7 x 39 x 105

Mål (inch)

15.6 x 15.3 x 43.3

Vægt (kg)

34.7

Vægt (lbs)

76.5
Specifikationer, styring og tilslutning
Trådløs tilslutning

Bluetooth-teknologi

Air bevægelses-armbånd med BLE-teknologi
Egenskaber
3,5 mm lydindgang

Ja

Auto-sluk

Ja

Bluetooth

Ja

Karaoke-funktion

Ja

Lysshow

Ja

Wireless

Ja
Notifikation
Note

The product is in compliance with the European Union energy legislation. 1) Bluetooth connection mode - The product is intended to be used for streaming music via Bluetooth connection. A consumer can stream Bluetooth audio to the speaker. When the product is connected through Bluetooth, the Bluetooth connection must remain active at all times to ensure proper operation. The product will enter into sleep mode (networked standby), after 20 minutes without operation, the power consumption @ sleep is less than 2.0 Watts, after which it can be re-activated via Bluetooth connection. 2) Bluetooth disconnection mode - The product will enter into standby mode, after 20 minutes without operation, the power consumption @ standby is less than 0.5 Watts.

Note

WARNING!! This product contains a button/coin cell battery and is hazardous. Keep batteries away from children. Batteries can cause severe or fatal injuries in 2 hours or less if swallowed or placed inside any part of the body. Medical attention should be sought immediately if it is suspected the battery has been swallowed or placed inside any part of the body.
Det er der i æsken?
1 x JBL Party-højttaler
1 x lynstartguide
1 x garantikort
1 x sikkerhedsark
1 x AC strømkabel (AC-stik varierer efter region)
1x Air bevægelses-armbånd
Dokumenter og downloads
Kunde-anmeldelser
Rated

5

out of

5
by
Jays786hooked
from
JBL partybox 1000
I bought a pair of the partybox 1000 model got them setup in my house permanently and I have to say they sound absolutely awesome.
Date published: 2019-07-09
Rated

5

out of

5
by
Cmora024
from
Simply amazing
This product has really blown me away. The sound quality is mind blowing. The bass boost made the windows in my house vibrate. The feature on the actual speaker are very simple and easy to use. The wristband really didn't appeal to me at all. It doesn't seem very practical. The speaker is VERY heavy, while it does have wheels, this product will not be easy transporting around.
Date published: 2019-09-07
Rated

5

out of

5
by
CJACK19
from
JBL PARTYBOX 1000 AKA BEAST
Just got these bad boys hooked and all i can say is WOW!! You want a dope setup these will not let you down and will shake the whole house w/ super clean sound and amazing LED Lights!!
Date published: 2020-08-21
Rated

5

out of

5
by
Spongebobbb
from
Perfect
I love the lights and the sound is amazing and the wrist band is a nice touch as well
Date published: 2019-09-25
Rated

5

out of

5
by
Bettoarias
from
Great bass
I bought Just 6 hours ago and am so happy for doing so. Maybe it lacks wifi (like the Link series) but excelent anyway. Amazing bass. Greetings from Asunción Paraguay
Date published: 2019-11-02
Rated

5

out of

5
by
KBJBL
from
Magnificent Speaker
I love this speaker and all of JBL Products they make the best of the best
Date published: 2020-04-05
Rated

5

out of

5
by
Rocky01
from
Amazing party speaker
Bought this when it had a huge discount around black Friday. It is incredible. Also much bigger than I expected. Audio is very clear, not quite as high quality as a PA system but relatively close. The bass is ridiculous, especially with the two bass boost modes. Lighting effect is awesome, especially the flame variant. You will not only hear very loud and clear music, you'll also feel it in your body. Only negative comments I have about it are the DJ pad, in my opinion, is a gimmick, as well as lacking waterproofing. These are only very minor issues however and I'm not sure it'd be possible to make a speaker this large waterproof. I can't comment on durability but at least the 1 year warranty protects me for a while.
Date published: 2020-12-16
Rated

5

out of

5
by
BarrySanDiego
from
Insanely loud with two levels of bass boost!
This item is insanely loud with amazing bass which you will feel like a professional DJ. The Party Box1000 is a powerful party speaker with JBL sound quality and exciting full panel light show. You will wake up your entire block! It's amazing and you will look like a king when you play this, basically you will look and feel like a professional DJ. The quality is excellent. The JBL PartyBox is a Bluetooth speaker for loud parties. It can blast music at very high volumes with insane bass response, and it has a mic and instrument input so you can sing karaoke or use it as an amp. Throw in the LED lights, and you've got yourself a good time. This is a 1,000 speaker so be mindful this is real sound and you will impress any party. If you really want to double your sound, pair them together. The speaker comes with a JBL Air Gesture wristband. It connects to your PartyBox 1000 via Bluetooth, and helps you step up your DJ game. When you select colors for the speaker, the wristband displays the same colors. Move your wrist one way, and the colors change. Move it another, and they change again. Shake your wrist or clap to trigger programmed sound effects. Weighing in at over 76 pounds, this is a lot of speaker to haul around. The PartyBox has an integrated carry handle and built-in wheels so you can transport it because it is heavy. Just wheel it in, plug it in, and it's ready to rock when you are. You could probably run a large wedding with this baby, but if you had 2 you would be a boss! The best buy ever!
Date published: 2019-09-07
Rated

5

out of

5
by
Jaquavist
from
Perfect
This speaker is above my expectation, it's very loud and the words are clear and the bass is exactly what you wound expect. I would definitely recommend because it's big and portable at the same time.
Date published: 2019-09-05
Rated

5

out of

5
by
Prado
from
It's rediculous
It's actually insane to think you can buy this speaker just for yourself. The bass response is something that I haven't heard in a while with a speaker that you can buy. It's like you're actuqlly at a festival tent having music blasting your ears away. Would t hesitate to buy another. Just do it you know you want to already
Date published: 2020-11-14
Rated

5

out of

5
by
T Barry
from
It's the real deal.
This unit response to the music you feed it. The Bass is definitely there and it really seems to go down to 30HZ..! Anyone wants to hear the low end on this unit then download TUNEIN on your cellphone, then search for GODFATHERS OF DEEPHOUSE RADIO and sit and listen to the Bass on this bad boy.
Date published: 2020-05-22
Rated

5

out of

5
by
Beezy Madoff
from
A must have!
If your thinking about having your friends over for a party, bbq, or just a night of fun, you want this speaker. The sound quality is amazing, vocals very clear, bass is thunderous, and the light show can add just the right amount of flare. I took my partybox outside to play some music while washing my truck, when I looked down the block people where sitting outside nodding their head and jamming to my playlist. If you've ever wanted to know how it feels to be the DJ and wanted to hit the sound cues during your favorite songs heard the your chance. If your looking to have great sound in the house this is a must have. From personal use all the way to entering a back yard of guest and taking over the neighborhood. This is the speaker you want!
Date published: 2020-07-24
Rated

5

out of

5
by
javarican
from
Great solution for the amateur DJ
Wow, I am really blown away by this speaker! Right out of the gate, this speaker is not for everybody. If you want a Bluetooth speaker that sounds awesome and will allow you to play some tunes for your friends, JBL has some other speakers that may be more appropriate for that purpose. Now, you if you are an amateur DJ that runs your gigs with an iPad (or tablet) this was designed specifically for you. The speaker is just shy of 4 feet tall and will fill a small venue or home with enough sound that people will need to go outside to talk. It is LOUD and yet it doesn't lose fidelity as you turn it up. Every single type of music that we threw at it sounded amazing. From the latest Latin pop to EDM, it handled everything with ease. The Bass Boost button is pretty cool, it gives you some extra low end for those songs that need a little extra. The Party Box comes loaded with some cool party tricks. The whole speaker front is made out of LEDs that respond to the music. It will definitely help set a mood. It also has something that looks like a midi pad on the top which is pre loaded with sounds like synths in all 12 keys, record scratches, claps and air horns. Those were really fun for my son to play with, but I don't really know how much I'll use. But hey, if that's your cup of tea, they're there. The buttons also double in function to change the color of the LED panel. You can plug a mic straight into it and it will even handle a guitar. If you're a singer-songwriter, this speaker will take the place of a PA, allow you to run both guitar and mic and on top of that will handle the music between sets via Bluetooth. A small 4-channel mixer would make it even more versatile. I was not expecting that at all from this product. If you are wondering if this speaker is for you, it probably isn't. Now, if you lug around a PA for your part time gig, you're already thinking 10 ways you can use it AND you know this speaker would pay for itself in 3-4 weekends. So yes, it is totally worth the investment if you're looking for a replacement to your current powered speakers or upgrading from a small PA.
Date published: 2019-09-16
Rated

5

out of

5
by
Spaz23
from
Great sound
I've had this speaker for a few months now. If you have items on the wall on one the shelf, be careful. I can turn it up loud and the base does not drown out the words. I, be never had to use the bass boost as it shakes the room. I love to hear and feel my music. One is a lot, some would say too much. I purchased a second one.
Date published: 2020-09-04
Rated

5

out of

5
by
LilSimp
from
Insane speaker
I got it about a month ago. I got it in store and it was on sale. I thought that its okay 300 euro sale and i got it. I still dont regret buying it. It hasnt been used at 100% volume because its very very loud. And the bass is very strong and the whole house is shaking. Definetly a product i was looking for getting. 10/10.
Date published: 2020-12-29
Rated

1

out of

5
by
JordanJtb
from
Terrible start up noise / no app control??
I bought two of these for my house and as much as I love them the startup noise is beyond terrible. It's so loud and obnoxious AND YOU CANT TURN IT OFF!! How has JBL not figured this out??? What if you're using these for a wedding or serious event?? The start up/connect/shut down noises NEED to have an option to be turned off!! Come in JBL this is ridiculous!
Date published: 2021-09-25
Rated

4

out of

5
by
JRWDCKS
from
JBL YOU FINALLY MADE A AWSOME SPEAKER
I bought two of these speakers. I was really concerned if it was a good purchase. All I can say is good job. I would gave it a 5 star if it would have connected to an App to control. I have a $15,000.00 Definitive Technology sound system, and my buddy has a $12,000.00 Klipsch system. These two party boxes were comparable to both of these systems. My review is done with music alone. All kinds of music. I was most impressed with the lack of distortion at high volumes. These speaks hang at max volume. Thanks for the great sound!
Date published: 2022-06-14
Rated

3

out of

5
by
Disco
from
Need to update firmware
The speaker quit working correctly with the DJ keys quit working and had to figure out how to update the firmware. Kind of a pain and time consuming and not expected after dropping $2000 on this. Wrist band control hokey at best. Speaker is darn loud and has huge bass so since then it has been awesome. You will not be disappointed with the output of this bad boy.
Date published: 2019-12-13
Rated

5

out of

5
by
Les1066
from
2nd buy
I bought the jbl 300 party box and man! Was I impressed. The sound was phenomenal! It was the best Bluetooth speaker I have purchased and its number 4!. I thought ... let me treat myself and up grade.... so I bought the 1000. Didn't think the sound could get better .... it did! Oh my god, this is like the old school sound only much less equipment . The bass is second to none and clarity of the mid treble mix is not hindered ! It truly reaches the deepest baseline ever.
Date published: 2020-12-17
Rated

5

out of

5
by
Anonymous
from
Bedst for pengene
Den er selvfølgelig rigtig dyr, og nok ikke så mange køber sådan en. Men selv for 7000 kroner får du langt mere, end man forventer. Jeg har haft denne højtaler i godt 2 måneder nu, og jeg er så glad for den. Det eneste, der kunne være rart at have, er et indbygget batteri. Den vejer dog for meget til at tage den meget rundt. Det er mere en "tag med og stil den i et hjørne" festhøjtaler, som er lidt trist. SoundBoksene har ikke det problem, men de spiller til gengæld heller ikke nær lige så godt eller lige så meget bass. De er heller ikke lige så pæne. Dog nemmere at tage rundt med det indbygget batteri og mindre vægt. PartyBoxen er ikke lavet til at tage rundt hele tiden. Det ved jeg godt. Men det ville stadig være rigtig fedt, hvis der blev lavet en "PartyBox 2000" (eksempel). Den PartyBox ville være lidt mindre, men stadig samme komponenter og lyd. Denne gang med indbygget batteri, der kan få den til at spille en god 4+ timer på fuld styrke. Hvis man ser bort fra vægt og batteri, så er højtaleren klart en 9,5/10. Jeg kan ikke forestille mig en højtaler, der leverer bedre lyd for pengene, end den har. Elsker JBL og deres framragende lyd! Jeg har bestilt et par Live 300TWS til mit hus, og jeg glæder mig afsindigt meget til at få og høre dem! Jeg vil helt klart køre med JBL for resten af mit liv. Man får ikke noget bedre eller pænere!
Date published: 2020-02-09
Rated

5

out of

5
by
emjayharris
from
simply awesome
all my life i have collected high end stereo equipment, from the late 60s to the present. never have i heard so much fullness and clarity in a single speaker, the low end response and high end clarity is the best ever, I've replaced a entire wall of equipment with one speaker, soon to be two
Date published: 2021-06-15
Rated

4

out of

5
by
Anonymous
from
The sound delivers as always
This thing is loud, proud, and gets down! The sound quality and bass that's delivered (even outdoors) is the best quality you could ever ask for. The lighting effects are awesome, especially at night paired with some DJ lights. Haven't given the bracelet or DJ pad on too much action yet but they are very cool as well, my daughter loves playing with them. I sold off my entire DJ speaker/sub set to help fund this one. My only beefs with this product is that 1) the wheels on the unit are not meant to handle this weight load. The weight distribution really messes with rolling this unit on anything but hard flat solid surfaces. I damaged my unit literally straight out of the package rolling it on my driveway to the garage. I was incredibly bummed, and still not sure what to do to have it fixed with the price I paid on it. If Harman has any feedback I'd appreciate it! Number 2) It may not be possible with a unit this powerful but I do wish it had a wireless battery option. Other than that, this speaker is 5/5 worth the investment. JBL does it again.
Date published: 2021-08-25
Rated

5

out of

5
by
Kylell
from
The best decision to purchase I've made !!!
The sound is phenomenal !!! The lights are very complimentary to my wife's puzzle style painted room. Very capable of playing loud, and it has the option to increase the bass substantially. The Bluetooth connection was quick and easy.
Date published: 2020-08-26
Rated

5

out of

5
by
richDLC
from
love it
I am a "portable DJ" I like the ease of movement and having a 3 way speaker integrated in one is really helpful. Looks are amazing and pairing two speakers TWS works great (except they have a lot of delay). DJ pads are more of a gimmick but I sure can take them. Power is good. two speakers can handle my crowd of 100-150 people (maybe 200) persons depending on location. I would not recommend this speaker for personal indoor use, it is too powerful even at low volumes and bass can get tiering. extra feature it could have: water resistant, more rugged feet, side protection pads fall easily, bigger and more separated wheels, strobe light is dimm, more light show paterns maybe an app , wrist band is kind of usless but good looking( should also control volume and change song maybe), connection with other partybox models. dj pad sometimes presses itself with vibrations, EQ Still a 5 star as there is nothing like it on the market. Pros: 3 way speaker, bluetooth, powerful yet relatively small, light show like no other, wrist band good looking, great inputs, dj pads, reliable, TWS, powerful, lots of bass, no distortion, ease of use. Compared to pro speakers volume is not far from a similar priced one REQUEST TO JBL: PLEASE RELEASE A FIRMWARE UPDATE WITH MORE LIGHT PATERNS
Date published: 2022-03-16
Rated

5

out of

5
by
smanday
from
Partybox 1000
Sound quality is incredible, last speaker I will ever have to purchase. The two subwoofers on the front provide listeners with an iconic display of radiant colors mixed with circular motions that go with the beat of a song. I've been throwing some bangers lately, but my neighbors hate me lolll
Date published: 2021-01-18
Rated

5

out of

5
by
DIAMOND3R
from
Best bluetooth speaker money can buy
Purchase two of the speakers in March had them put up in my storage ,a few day ago i decided to get them out and see what they sound like.Im here to tell you i was blown away with the clarity and bass the speakers put out.Dont hesitate buy it you will love it.
Date published: 2020-09-07
Rated

4

out of

5
by
AvidZaps
from
Great for noise complaints!
Just recieved mine a couple days ago and the bass is honestly insane and doesn't compare to any speaker JBL has on there line up. Anytime I take it outside and blast it at full volume, I get complaints from my neighbors in less than 5 minutes. The only issue I really have the speaker is how glitchy the "DJ pad" can be sometimes. In my opinion, the "DJ pad" is a bit of a gimmick for the speaker and so is the "smart DJ" because to be honest, the "smart DJ" is quite dumb and creates terrible beats.
Date published: 2020-08-23
Rated

5

out of

5
by
Anonymous
from
best speaker for ever
woooow,that's best one in the world,i was lookin to get good one,about 10 months,when i seen this one i shocked, i bought straight, thanks only one thing delivery,they said 2 days,but I received my speaker after 8,9 days.
Date published: 2020-08-29
Rated

4

out of

5
by
Dj Syberr
from
Best speaker ever
I got it that PARTYBOX 1000 speaker a week ago I have also PARTYBOX 310 and boom box and all of them are best Bluetooth speakers I ever owned. ONLY ONE THING IS MISSING IS THE APP THAT YOU CAN CONTROL PARTY BOX 1000!!!
Date published: 2021-07-09
Rated

5

out of

5
by
Charlieboi8890
from
Amazing base and sound quality only allowed too play when the neighbours are out . Would be great if they added a power on and off button on the wristband. But other than that I can't fault it
Date published: 2022-05-10
bvseo_sdk, dw_cartridge, 18.2.0, p_sdk_3.2.0
CLOUD, getReviews, 6ms
reviews, product
Spørgsmål og svar
Use case is speakers for an outdoor movie viewing party. If you purchase 2 of the party boxes, can you configure them so that you have discrete LEFT and RIGHT channels? How would you do that? If not possible, what other JBL product do you recommend?
Yes, it has the featured called TWS (True wireless stereo) mode where you can connect up to 2 party speakers using the Bluetooth technology. To do that, press and hold the Bluetooth button on both speakers for 5 seconds, TWS connection will be built up. After that, press L/R button on one speaker to toggle between the L channel/ R channel and stereo. The other speaker will change the setting automatically. Check this link, under Section 7 to get more info about the speaker: https://bit.ly/2m7e9jx
Date published: 2021-06-06
Do you deliver to Nigeria ?
Harman House is our official seller in Nigeria, please visit their website here: https://harmanhouse.com/
Date published: 2021-06-06
Is there a potential in the future to have the ability to JBL connect + the party box line up? 
Our JBL PartyBox 1000 won't get the JBL Connect+ feature since it already has the TWS feature which allows it to connect to another PartyBox 1000 and play stereo. If you have more questions, please contact us here. https://bit.ly/2zwFkYM
Date published: 2021-06-06
Is echo only available in karaoke mode?
Thank you for your question. It is true that the echo feature of the PartyBox 1000 is only available in Karaoke Mode. Should you wish to receive further support, you may contact the Harman Customer Support team by telephone, email or chat in order to receive direct assistance. Please see https://uk.harmanaudio.com/support-contact.html for further details. Thank you.
Date published: 2021-06-06
What is the dB output at partybox 1000 ? Compared with the new Soundboks 3 126dB
Hi Glesmo, and thank you for your interest! As you can see from the specifications for our PartyBox speakers, we do not specify max SPL for any of them. We could do this, of course, but in general this figure is totally misleading, since it is not a standardized value. Most companies that specify this, will do so at the frequency where the reading is highest. The problem arises when you listen to them, and this is where our speakers shine. You can play on a speaker with an extremely high SPL max figure, and compare it to ours. Suddenly you will find out that the very loud speaker does not have any bass at all, and our PartyBox has deep, well-defined, dynamic low bass. This is because SPL for consumer party speakers is often stated at for example 1.000 Hz, or not specified concerning frequency, unlike professional equipment. Since bass is not perceived by our ears as "noise", the box that is loud in the midrange will sound loud and measure loud, whereas powerful deep bass does not, but requires a lot more energy. That being said, our PB1000 is so big and heavy, with such a large cabinet, plus its 12" down-firing subwoofer on top of the twin 8" front-firing woofer/midranges, that we would think that it can make enough noise for almost anyone. It goes really loud, but still maintains very high audio quality, and a thunderous bass. Please notice that you cannot use PB1000 without mains power. It is too powerful to make battery drive practical. I hope this helps.
Date published: 2021-06-06
Hi, I have pb1000. Is it possible to connect 2x pb300 to the 1000 using rca cables. Also is it possible to set the volume at different levels on each speaker?
It is, unfortunately, not possible, to do, this. Sorry.
Date published: 2021-06-06
I need to know about the IPxx rating of this equipment and also about the bracelet, because just 15 minutes after receiving the equipment I went to wash my hands thinking that I was using my watch. Greetings from Asunción Paraguay
Our JBL PartyBox Series is not intended to get wet. The wristband is not waterproof nor is the Partybox 1000. Damage caused by water or moisture is not covered under warranty.
Date published: 2021-06-06
what is the power RMS for jbl partybox 1000? i know total output power 1100w max...but RMS is important for me...
Currently, we cannot provide a value for the RMS Wattage for the built-in amplifiers of our JBL PartyBox 1000. The maximum output Wattage for our PartyBox is 1100W and it would be dependent on the volume level as well as source that the music is playing from. Check out our JBL PartyBox 1000 quick start guide for more info: https://bit.ly/32bDNTH
Date published: 2021-06-06
can i connect this to my 2 pulse 3 speakers?
Our JBL PartyBox 1000 uses the TWS(True Wireless Stereo) that allows you to connect 2 JBL PartyBox 1000 together and play a stereo sound. Our JBL Pulse 3 can't connect to our PartyBox 1000 but can connect to other JBL Speakers that have the JBL Connect+ feature (Flip 4, Pulse 3, Xtreme 2, Boombox).
Date published: 2021-06-06
Does the partybox 1000 have a bluetooth lock function so that once it's connected, it can't be disconnected by interfering bluetooth signals?
Thank you for your question, please contact us directly, so we can solve your problem as fast as we can. https://support.jbl.com/us/en/#contact
Date published: 2021-06-06
Would car battery work for charging?
If you were to run it through a power inverter that can handle 1100 watts, then yes. If you don't, then no. Wall sockets are AC power, and any sort of battery is DC power unless you have the tools, materials, and knowledge to make your own battery.
Date published: 2021-06-06
does the partybox 1000 charge or does it have to be plugged in at all times?
Hey Sam, that's right. Our JBL PartyBox 1000 has to be plugged in at all times.
Date published: 2021-06-06
What are the size´s of the driver, i saw a video that show a sub, but please tell each driver size.
Our JBL PartyBox 1000 has a compression driver, two 7 inch mid-range, and a 12 inch down firing woofer.
Date published: 2021-06-06
do you need to update firmware "partybox 1000 if there is no app ( what's the point ) if it works already with your devices out of the box
The firmware update for the Partybox 1000 is to fix some bugs and errors on the speaker. You have an option not to update the firmware if the Partybox 1000's performance is adequate to your preference.
Date published: 2022-06-29
I have partybox 1000 and keypad is lock how to unlock it
Please press the button with four squares repeatedly to select the sound or change the effects for the DJ pad. For more information, please check out page three of our Quick Start Guide here: http://bit.ly/2UI3hrU
Date published: 2021-06-06
Hi, the PartyBox 1000 is no longer available on your Site. When do we expect to have them back in stock please?
You can know when our JBL PartyBox 1000 is in stock by checking the notes under the Add cart Button. If back ordered, it'll show when it'll be in stock and ready to ship, but won't show the date if there are no incoming stocks. If you have more questions, please contact us here. https://bit.ly/2zwFkYM
Date published: 2021-06-06
Can you use a Bluetooth microphone with this speaker???
You can connect a Bluetooth microphone to our JBL PartyBox 1000 but for the best microphone experience, we advise using the microphone input at the back of our PartyBox 1000. If you have more questions, please contact us here. https://bit.ly/2zwFkYM
Date published: 2021-06-06
What type of speakers are in it. How many etc.
JBL PartyBox 1000 has one compression driver, two 7" mid-range, and one 12" down-firing woofer. The power that this speaker has can go up to 1100 watts (max). For more information, check out the specifications here: http://bit.ly/2OjkWT6
Date published: 2021-06-06
Kindly confirm if this Product (shipped as is) is compatible with 220v of Europe, Africa etc; and would not need an additional step-up/down device to operate. Thanks
Our JBL PartyBox 1000 is an auto-volt speaker and can be plugged into 100-240V without using any step-up/down transformers. You can check out it's specifications here: https://bit.ly/2RVQHlI
Date published: 2021-06-06
IS THE PARTY BOX 1000 SELF POWERED, MEANING NO AC CORD NEEDED.
Our JBL PartyBox 1000 needs to be plugged in to work as it doesn't have any battery.
Date published: 2021-06-06
Hi! I tried to connect two PartyBox 1000 speakers with a 2 x RCA male to 2 x RCA male cable. The problem: There is no stereo separation. The sound from the left speaker plays on both the left and the right speaker at the same time.
Thank you for your question. Should you wish to receive support, please contact the Harman Customer Support team by telephone, email or chat in order to receive direct assistance. Please see https://uk.harmanaudio.com/support-contact.html#ns for further details.  Thank you.
Date published: 2021-06-11
Does the speaker have a built in battery like the JBL PartyBox 300?
Hi there, our JBL Partybox 1000 doesn't have built-in batteries due to the fact that there are more features that you can do with the 1000 compared to the 200 and 300 like the DJ pad on top of the Partybox 1000 which requires more power and batteries won't be enough to keep it up for a long time.
Date published: 2021-06-06
How long the charge last on the job partybox 1000
Our JBL PartyBox 1000 is a powered speaker and will remain on as long as it's plugged into a power source since it doesn't have a built-in battery.
Date published: 2021-06-25
Hey, is there any way to purchase one of these bad boys on some kind of payment plan?
Currently, we do not offer any payment plans for any of our products. If you wish to purchase any of our products you can pay either by Credit Card or by Apple Pay.
Date published: 2021-06-06
can you connect this with other jbl speakers that aren't party boxes
Our PartyBox 1000 can only be connected with another PartyBox 1000 via TWS (True Wireless Stereo) limited to one pair.
Date published: 2021-06-06
Do you plan to add mobile application to controll PartyBox 1000 to add possibility to change Equalizer settings? it would be really grear to have such option.
We have no news to share if an application will be released for our JBL PartyBox series. Thanks for your suggestion. We'll forward this to the appropriate team.
Date published: 2021-06-06
Can you place the speaker on its side ??
Thank you for your question. The Partybox1000 can safely be placed on its side. Should you wish to receive further support, you may contact the Harman Customer Support team by telephone, email or chat in order to receive direct assistance. Please see https://uk.harmanaudio.com/support-contact.html#ns for further details.  Thank you.
Date published: 2021-06-06
Hi! I was wondering if you could connect a subwoofer to this like the JBL SRX828SP? If so what cable is needed?
Our JBL PartyBox 1000 is a standalone system. Unfortunately, the connection input terminals of JBL SRX828SP isn't compatible with what the PartyBox has.
Date published: 2021-06-06
Can you please clearly compare side by side the Partybox 300 and 1000?
No
Date published: 2021-06-06
Which version of Bluetooth does this speaker use? If not 5.1 like the 310/710 speakers do, why not? 
Our JBL PartyBox 1000 has Bluetooth 4.2 version. Our PartyBox 710 and 310 are later versions that got the Bluetooth 5.1.
Date published: 2022-09-04
bvseo_sdk, dw_cartridge, 18.2.0, p_sdk_3.2.0
CLOUD, getContent, 16ms
questions, product