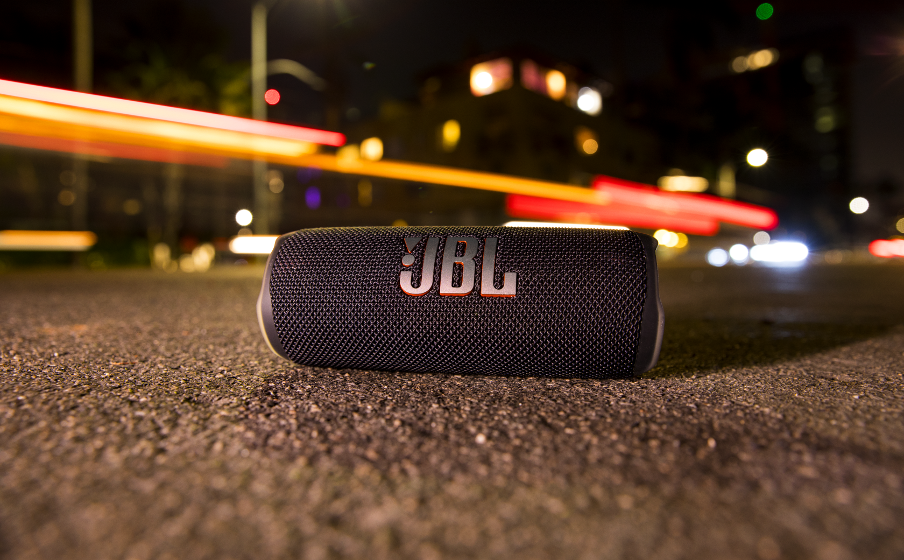 Højere, kraftigere lyd
Beatet fortsætter med JBL Flip 6, der med sit tovejs-højttalersystem er udviklet til at levere høj, krystalklar og kraftfuld lyd. Dens racerbaneformede bashøjttaler leverer exceptionelt lave frekvenser og mellemtone, mens en separat diskanthøjttaler producerer sprøde, klare, høje frekvenser. Flip 6 har også to optimerede passive radiatorer til dyb bas, som er finjusteret ved hjælp af Harmans avancerede algoritme.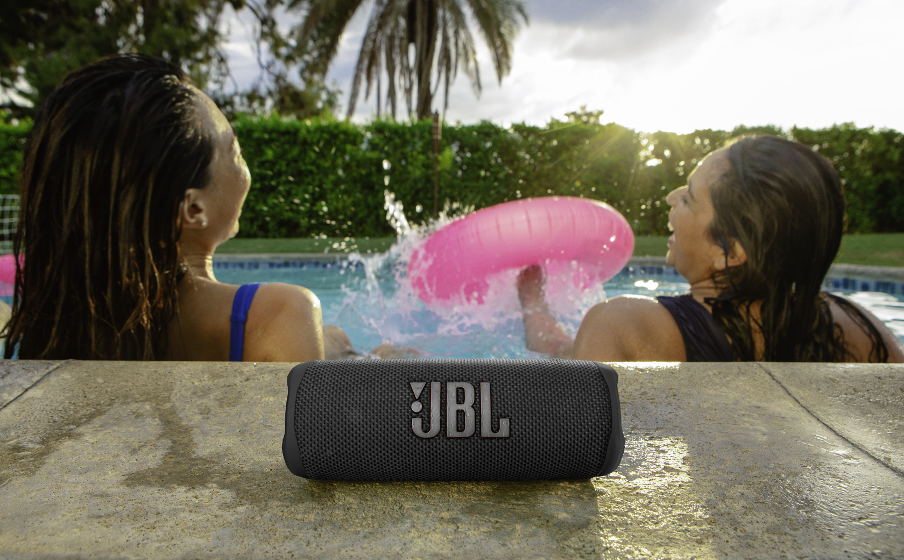 IP67-vandtæt og -støvtæt
Med til poolen. Med i parken. JBL Flip 6 er IP67-vand og -støvtæt, så du kan tage din højttaler med overalt.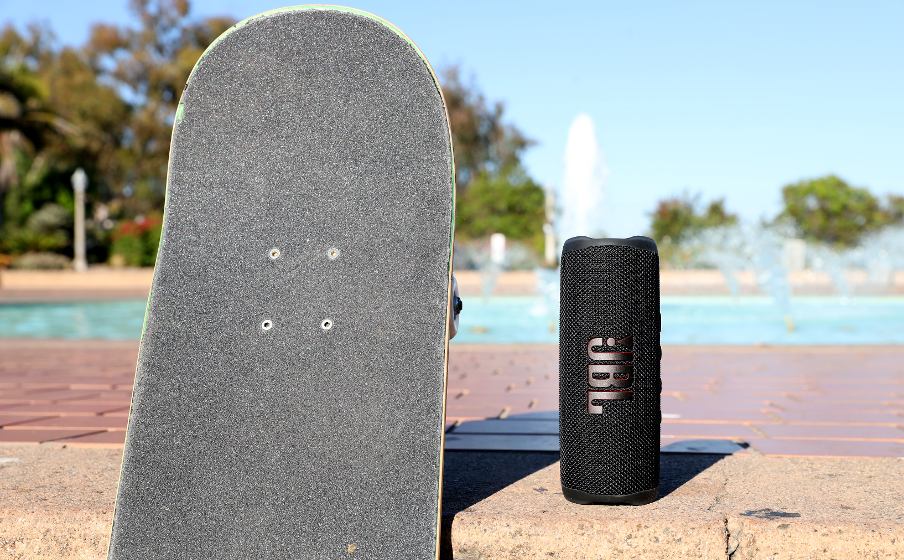 12 timers spilletid
Spild ikke tiden med at oplade dit batteri. JBL Flip 6 giver dig op til 12 timers spilletid på en enkelt opladning.
Funktioner

Kraftfuldt design
Kraftfuldt design og kraftfuld lyd. Den lyder stort, men er alligevel nem at bære, og designet matcher enhver personlig stil. Stil den lodret eller vandret, og vælg mellem en række festlige farver.

Skru op for festen med PartyBoost
Med PartyBoost kan du parre to JBL PartyBoost-kompatible højttalere for at få stereolyd. Eller du kan forbinde flere JBL PartyBoost-kompatible højttalere for at sætte ekstra gang i festen.

JBL Portable-app
Maksimer din lydoplevelse med JBL Portable-appen. Få opdateringer og produktsupport direkte fra din telefon. Du kan låse op for funktioner, forstærke din lyd eller justere bassen, så du har total kontrol over din lyd.

USB-opladningsbeskyttelse
Lad op uden bekymringer. JBL Flip 6 har USB-C-opladningsbeskyttelse. Det betyder, at en påmindelseslyd vil advare dig om at tage stikket ud, hvis stikket registrerer vand, salt eller andre kemikalier.
Trådløs afspilning med Bluetooth
Forbind op til to smartphones eller tablets til højttaleren, så I kan skiftes til at nyde den ægte JBL Original Pro Sound.

Miljøvenlig emballage
JBL har forpligtet sig til en mere bæredygtig og miljøvenlig emballageløsning. Flip 6 er pakket i en genanvendelig papirbaseret æske. Det gælder også den indvendige bakke. Plastikbøjlen er over 90 % genbrugt, og ydersiden er trykt med sojablæk.
Detaljer & Downloads
Item# JBLFLIP6BLKEU
Beskrivelse
Kraftfuld lyd til ethvert eventyr

Dit eventyr. Dit soundtrack. Den iøjnefaldende JBL Flip 6 leverer kraftfuld JBL Original Pro Sound med exceptionel klarhed takket være et tovejs højttalersystem med en optimeret racetrack-enhed, separat diskantenhed og to pumpende basradiatorer. Denne store, men alligevel nemt bærbare højttaler, er vand- og støvtæt, så du kan tage den med overalt i al slags vejr. Og med 12 timers batteritid kan du feste, indtil solen går ned – eller står op – uanset hvor musikken bevæger dig hen. Brug PartyBoost til at forbinde flere kompatible højttalere. Flip 6 fås i flere fede farver.
Specifikationer
Spilletid (timer)

12

Udgangseffekt (W)

30
Lydspecifikationer
Dynamisk frekvensområde (Hz)

63 Hz - 20k Hz
Mål
Mål (cm)

17.8 x 6.8 x 7.2

Mål (inch)

7 x 2.6 x 2.8

Vægt (kg)

0.55

Vægt (lbs)

1.21
Specifikationer, styring og tilslutning
Bluetooth-profiler

A2DP 1.3, AVRCP 1.6

Bluetooth-frekvens

2400 MHz - 2483.5 MHz

Bluetooth sender-modulation

GFSK, π/4 DQPSK, 8DPSK

Bluetooth sender-effekt

< 10dBm (EIRP)

Bluetooth-version

5.1
Batteri
Egenskaber
Bluetooth

Ja

Charging cable

Ja

Vandtæt

Ja

Wireless

Ja

Genopladeligt batteri

Ja

JBL PartyBoost

Ja
Det er der i æsken?
1 x JBL Flip 6
1 x Type C USB-kabel
1 x lynguide
1 x garantibevis / sikkerhedsblad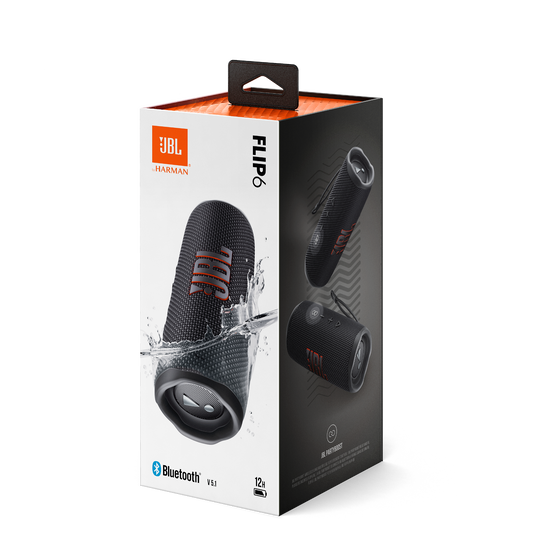 Dokumenter og downloads
Kunde-anmeldelser
Rated

5

out of

5
by
cwestbury
from
things impressive
thing is impressive for the size and price, struggles at high volume but it's perfect on about 65-75% volume, a lot of bass for a little speaker,
Date published: 2021-11-11
Rated

5

out of

5
by
HoldingAli
from
From such a small speaker it packs a punch with the bass it puts out it's a phenomenal speaker plus it's wireless and type c charging
Date published: 2021-12-07
Rated

5

out of

5
by
TommyLinn
from
Excellent JBL quality as usual
This is my second speaker from JBL and I am not disappointed with either of my purchases. The new speaker setup in the Flip 6 provides crisp and clear audio at any volume that can be fine tuned to your liking in the app. The build quality is very rugged and faced everything I put it through with ease. I have dropped my speakers on concrete, in water and on dirt and they have no visible cosmetic damages and no performance damages. The long battery life, usb c charging port and beautiful colours are also very beneficial to me personally.
Date published: 2022-01-26
Rated

5

out of

5
by
Bee Loves Bass
from
Love this little speaker
I previously owned the JBL Flip 4, which gave up the ghost earlier this year. Thus began my search for a new device; I tried the Ultimate Ears Wonderboom 2, which I found had relatively shallow sound. I also tried the Marshall Emberton, which people had boasted felt like you were at a live concert but testing it with a few bass-filled tracks left me wanting. A friend of mine owns one of the Bose SoundLink Mini, and another owns the SoundLink Revolve. However, having listened to all of those devices, and maybe a few more, I must say, I am SUPER HAPPY with my Flip 6, and I am so glad I decided to go for it. I was initially going to buy the Flip 5, then realised that there were rumours of a new one, so super glad I came here. I love the addition of the backlight to the panel, meaning I can clearly see the battery life and when the system is on. I'm coming from a Flip 4, so a little bit of a jump for me. All in all, I love and recommend it - buy it, you will not be disappointed :)
Date published: 2021-12-08
Rated

2

out of

5
by
sensitivepotato
from
might be cutting things off w JBL soon….
this is my 4th JBL flip speaker, my first being a flip 3 (my fav, lasted 4 years hardly any problems), and my last two before my current flip 6 were both pink flip 5s…… I love JBL's sound quality and design so much….. but these past 3 speakers just do not work. they work when they want to, other than that, my audio is always cutting in and out, sometimes they start emitting super loud scratchy noises. i got the JBL 6 to replace my 2nd JBL 5 and now my 6 that i got 4 months ago is already crapping out. honestly i think my flip 5 is louder than my 6 too lol. i want to keep loving JBL but i don't think me n my wallet can anymore :(
Date published: 2022-04-18
Rated

4

out of

5
by
PrashMBT
from
Portable, solid built and budget friendly speaker
This is one of the best speakers I owned for a while now. Speaker is highly portable, battery power is very impressive and I must say as JBL always does the quality of the make is not compromised. I have been using this speaker on daily basis and experience had been really good. I like listening all sort of music from rock to jazz. This speaker does a justice to all sort of music. Only thing noticed was at higher volumes you might hear bit of cracking sound. Overall I must say its a good upgrade and great value for money.
Date published: 2021-12-13
Rated

1

out of

5
by
ghrichards
from
Stopped charging after 2 weeks
I got this for Christmas and it worked great at first. Now it won't charge or turn on. Not the quality I was expecting from JBL.
Date published: 2022-01-12
Rated

5

out of

5
by
Richard
from
JBL flip 6 excellent sound and quality 2 thumbs up
Don't be blinded by the size, the sound is large. Great size for fitting in bike bottle holder. Easy Bluetooth connection. Love the new logo. Sits vertical or horizontal without vibration. Was dropped in sink and pulled out minutes later still playing, did not miss a beat. And most importantly battery life , went over 12 hours on first charge. Which helps me on long bike ride days.
Date published: 2021-11-28
Rated

5

out of

5
by
Sammyjred24
from
Small but Mighty!
I have only had this speaker a week and so far, it hasn't failed to impress. The first positive to it is that it's not too big so it's easy to carry along in a bag. However, don't be fooled by it's compact size as the sound quality is absolutely amazing! By far, the best portable speaker I have ever owned! I have used the speaker every day on a moderate volume setting and I've only had to recharge it once in a week. Another great feature is the fact that it's waterproof so we've been using it whilst in our hot tub without fear of any water damage even if it was to fall in to the water. The Bluetooth range is really good and stayed connected even when my phone was left indoors. Overall, a fantastic speaker and well worth the money. Can't wait to have a party and put it to the test.
Date published: 2021-12-11
Rated

5

out of

5
by
T Barry
from
I roll with my JBL.
I wear this bad boy on my belt as go through my routine the sound is on the money when i'm playing my jazz. As I walk and folks can hear the music but they can't detect where the sound is coming from because my jacket rests over the speaker and it still sounds great. Thanks JBL..
Date published: 2021-12-19
Rated

1

out of

5
by
Jinhong Zhao
from
It's not fair for people getting the 'TL' version!
I have got my JBL FLIP6 sience it was released. I check the SN number on the speaker, and it's begin with 'TL'. I compared it to my friend's FLIP6, which is a 'GG' version, and the 'TL' version which is I have, have a harsh sound and the bass is just not there compared to the 'GG' version. I tried to use the EQ in the app, to reduce the treble and gain the bass, but nomatter how I manage to do it, it is still lacking of bass and too much of treble... Different version of sound cost same amount of money, and it's random that what will you get... This makes me feel down because it takes me a lot of effort to save the money to get a JBL speaker, and I want the same quality, not random!! Very admire JBL but this is not a good experience! Why to make different versions? And the most important SOUND QUALITY is different.. It is not fair.
Date published: 2022-08-03
Rated

5

out of

5
by
Miguelito 350
from
… JBL FLIP 6 … Portable Speaker…
I got this Speaker ( JBL FLIP 6 ) a few days ago , I have tried it for about four days so far and I really like it .. - Size .. it has the perfect size to take it everywhere if desired .. - New JBL Design.. it looks very good , now the JBL Logo is presented nicely just like the Charge 5 and Xtreme 3 .. The Power button , Bluetooth button and the Battery indicator light are in the back of the speaker. I think it would be nicer if these buttons were on the top part , just like they did with the Charge 5 and Xtreme 3 .. in a more easy friendly user way.. - Also now it is Waterproof and Dustproof.. - Sound .. for being a smaller Speaker it sounds very good it has a good Bass for it's size. I wasn't expecting it to sound this good to be honest ( I judged the size ).. i was wrong.. lol - JBL Portable App .. this App is simple , it only has the Equalizer and you can change the name of the Speaker if desired.. Hopefully it will be improved later.. … Overall another very Good Product from JBL .. ( I recommend this Speaker ) …
Date published: 2021-11-23
Rated

5

out of

5
by
Anonymous
from
Great little speaker
I have been looking for a speaker that is as good as this one. I was pleasantly surprised at how sharp and clear the sound is. I love all JBL products and this does no disappoint. It was so easy to set up and connect to Bluetooth. Even better you can connect more than one speaker. Extra loud! I love the design of the speaker as well, it's really good quality. I would definitely recommend!!
Date published: 2021-12-08
Rated

5

out of

5
by
KN25
from
Perfect speaker no matter where you are
Ive only had this speaker a few weeks now but already i can say its the best Bluetooth speaker ive ever used. With it being ip67 i can take it on site at work or out and about with mates with no worries. The battery lifes impressive for the size of the speaker easily get 10-12 hours use depending on volume and the sound is amazing especially with the in-app adjustable equaliser you can set it up it for the perfect sound for any genre of music. Couldn't be happier :)
Date published: 2022-02-15
Rated

5

out of

5
by
cerebronX
from
Best Portable Speaker on the market
I was conflicted between buying a new flip, charge 5 and marshall emberton. In the end, i decided to go with Flip 6 and I am glad to say that I have made the right decision. I am literally blown away with the sound and bass quality. Having an equalizer in the app comes in handy. Turn the bass up a notch and turn treble down a notch and have the time of your life.
Date published: 2021-12-12
Rated

5

out of

5
by
Cindy
from
Crystal clear little speaker!
I am NOT a tech/gadget guru. I have tried several small wired and BT speakers, and this is HANDS DOWN the best. I listen to a lot of classical music, and the Flip6 has beautiful tone, balance and clarity at any level. I have about a 2000 sf home and can place this anywhere in the house and it never loses connection, and I can hear it perfectly. It paired easily, and there is no distortion even on the highest volume setting. It IS a little heavier than expected, but I won't be carrying it around, so that's not a deal breaker. High marks!
Date published: 2021-11-24
Rated

5

out of

5
by
NatalieJ
from
Big things from a small package
I'm thoroughly overwhelmed by this piece of kit. For such a small speaker it really does make up for it in sound and base. Recently used this at a childrens birthday party, the sound was crystal clear, even over the noise of screams and squeals of 6year olds. I've never owned a JBL flip before so have nothing to compare it to of past products but I am certainly impressed with what I was given.
Date published: 2021-12-22
Rated

5

out of

5
by
RAUN B
from
Jbl and their attention to detail wow
My first Jbl speaker was a charge 2 back in high school and ever since then, I've been a huge jbl speaker fan. The flip 6 is an amazing speaker that again, punches way above its weight class. The frequencies are clean and straightforward. Little to no distortion, clean low/high ends, and it's louder than the previous models. The new design of the speaker is solid, I like that it's the same size as before. Usb-c charging is a nice touch as well. The battery life is superb. I've been using the speaker for about a week now and never charged it once. Well done jbl, well done.
Date published: 2021-11-27
Rated

5

out of

5
by
Jesus
from
Perfect companion
This portable speaker has amazing sound. I opened it straight from the box and paired it effortlessly through Bluetooth to my phone. Great for a bike ride, it fits snugly in a water bottle holder for bikes. The bass and sound projection did not disappoint while on my ride through the beach. It played for roughly eleven hours continuously at sixty percent volume. After a three hour charge time this speaker played for a little over twenty-four hours at ten percent volume, perfect for the office. I can't wait to take it out on my next ride. I love it.
Date published: 2021-11-24
Rated

1

out of

5
by
Ctom
from
Why no charging port cover
i bought this to replace my lost flip 5. The speaker works great except the charge port on new model doesn't come with a cover. I through it in my cooler after work and because the flip 6 doesn't have a rubber plug water gets into the charge port. This prevents me from charging when I get home. Sometimes I can not charge over night, so I don't have for work in the morning defeating the purpose of having the speaker. I don't understand why the older version had a rubber cover so water would not get in but, the new version doesn't? Seems like a pretty dumb place to cut cost considering this speaker cost $30 more then old version. If it had a water cover, it would of got 5 stars because the speaker sounds great and has a great battery life.
Date published: 2022-08-03
Rated

5

out of

5
by
L Robo
from
The ultimate shower speaker
I primarily use this as a shower speaker. The strap is very useful. I have mine hanging from a towel hook. The battery life is pretty good as I have had this for almost a week and have not needed to recharge yet. Amazingly clear sound for such a compact package. Spoken word audio comes through crystal clear and there is minimal bass distortion in hard electronic music.
Date published: 2021-11-24
Rated

5

out of

5
by
Yesnik66
from
Superb speaker
I have just received this today. Absolutely banging speaker. Superb bass. Loud and louder. Really happy.
Date published: 2022-01-15
Rated

4

out of

5
by
Onemanrave
from
Cycling solution
The Flip 6 fits a standard bike bottle cage perfectly. I do a lot of road cycling. I love music. Always felt self conscious wearing earphones when road cycling- not really that safe as can't hear the traffic. I now use the Flip 6 for my road cycling, most of which I do in the open countryside (UK). When heading back into town the pedestrians can hear you coming as well, which is a bonus. Plenty loud enough to hear the music travelling at 15-20 mph. Loving it. If you hear 90s house blasting round the Warwickshire country lanes, its probably me.
Date published: 2022-10-24
Rated

4

out of

5
by
TDub307
from
Love It
Only reason 4 stars is cause i ordered two and one died shortly after. But JBLs been great on working on getting it replaced. As for the good one.... It's amazing! Excellent sound, perfect size and weight, durable, and just has a great look to it. Also sounds great paired up with another Flip6 in stereo, as well as in partyboost with a Charge5 and Flip5. Knocked it out of the park once again JBL!
Date published: 2022-03-06
Rated

5

out of

5
by
Emmie
from
Sounds really good definitely worth buying! On low and high volumes
Date published: 2021-12-22
Rated

5

out of

5
by
Bee2385
from
Amazing bit of kit - I'm in love! ❤️
Purchased in the hope it would help sound problems in my classroom. For some reason speakers in the room are pretty useless, and when I'm playing a video everyone has to be absolutely silent or they won't hear it! And then along comes the Flip 6! Oh. My. Days! What a difference - my students can hear everything! The power from this little sound house is in a word - brilliant! Made a HUGE difference to classes, and to my work. Out of work, I'm using my speaker on my mobility scooter when I'm out and about. Loud enough so I can hear it, but not blasting out to annoy others. It means I don't have to wear headphones as I trundle along! Easy to turn on/off or adjust the volume as needed. Flip is just the right size for me for all my needs! The specs are great on it, and it just looks so smart! If you haven't given this speaker any consideration, what are you waiting for? You won't be disappointed.
Date published: 2021-12-27
Rated

5

out of

5
by
Chaz1
from
Excellent Speaker!
Purchased this speaker as a Christmas gift for our son. The sounds that this little speaker produces are very impressive! The sound quality is exceptional! I was a JBL fan back in the mid 70's with their car speakers. JBL products were awesome then and they continue to satisfy my needs 40 years later. Can't beat the price either. One very satisfied customer!
Date published: 2021-12-28
Rated

4

out of

5
by
This part is annoying
from
There is nothing terribly wrong with the flip6. Just a few additions would be nice. I went to the download at the App Store and it was confusing. I just wanted to add more bass through the equalizer. As best I could tell I had to pay $2.99 a month to be able to do that. The equalizer should be built into the flip6.
Date published: 2022-01-03
Rated

5

out of

5
by
Vhjckyh999
from
Amazing sound
I got this about 2 wks ago and WOW! This product is amazing. Seamless bluetooth connection immediately and Im not gonna lie I put on Green Day Jesus of suburbia. Im in Ireland and suprised billie joe armstrong couldnt hear me! Sound is banging and at full boot next door shud prob invest in earphone! Cracker sound and features. I wou5d relcomend tl evy1
Date published: 2021-12-17
Rated

5

out of

5
by
Christina
from
More Focused Sounds. Solid improvement
At first, this model didn't seem too different from its predecessors. Cosmetically, there's a new plastic line to allow for it to be laid horizontally and "facing" the direction you choose. In the past, I wasn't quite sure the best way to face it horizontally to get the most directed sound. It's even more durable and sturdy than the previous versions, as well. It also has the same size dimensions but I would maybe like to see it get lighter as it does feel a little heavy at 1.2 lbs. The sound quality is excellent, of course. I noticed it has a bigger distinction between audio segments (mid range, bass, highs, etc) eliminating overpowering background noise in mid range. The bass is great for the size, but as someone who loves bass I think the factory settings leave a little to be desired. That being said, in the JBL Portable app you can absolutely adjust the equalizer to your preference. I realize now they don't have preset "sound modes" in the app like they used to - but that's okay. Overall just another steady improvement on the classic. I also appreciate their eco-friendly packaging (soy ink, recycled materials). It used to be niche in certain products but now JBL seems to be implementing it across the board :)
Date published: 2021-11-24
bvseo_sdk, dw_cartridge, 18.2.0, p_sdk_3.2.0
CLOUD, getReviews, 5ms
reviews, product
Spørgsmål og svar
How many Flip 6 speakers can be linked together using PartyBoost? I cannot seem to get more than 2 to connect, but I thought I read up to 100 was possible.
To connect more than 2 Partyboost compatible speakers together, plase make sure to Mmove the source device closer to the speaker and make sure the source device is only connected (through Bluetooth) to the Primary speaker. Also, make sure the Primary speaker is connected only connected to one source device. This can be done by resetting the Primary speaker and re-pairing the source device. If the problem still persists, we'd like to work with you directly to troubleshoot the issues you're experiencing with the Flip 6. If needed, we'd also like to get more information so we can check your options. Please contact our customer support service via our official website or toll-free hotline
Date published: 2022-07-02
When will the Teal Edition be released?
Thanks for your interest. We don't have news to share about when the JBL Flip 6 (Teal) will be available in the US. You could sign up for the JBL Newsletter or continue following us for news and updates. https://bit.ly/31GnraZ
Date published: 2021-12-28
Is there a way I can get FM stations on my JBL Flip 6?  Specifically am wanting to listen to drive-in movie on my bluetooth speaker instead of car audio.
Our JBL Flip 6 is a portable Bluetooth speaker, it does not have a receiver to get radio frequencies. It must be connected to a source device via Bluetooth.
Date published: 2022-08-03
My JBL Flip6 sounds sharp and harsh, to be specific, the treble is way too much, it's like a screeching sound... at 66% volume and higher, it's become an unenjoyble experience... it's my speaker's problem? SN: TL1283 JL0031535
Thanks for your inquiry. Please make sure that the headphones are not on low battery when they sound distorted. When this happens, try to connect your JBL Flip 6 to a different device or phone. If you need further assistance, please contact us and we'll be here to help.
Date published: 2022-08-16
Is there going to be a Squad version (i.e. Camo) of the Flip 6?
Thanks for your interest. We don't have news to share about when the JBL Flip 6 (Squad) will be available in the US. You could sign up for the JBL Newsletter or click on the 'Notify Me' button found on this link to get notified as soon as this product is available. https://bit.ly/31GnraZ
Date published: 2022-01-23
When will customers be able to order a personalized flip 6? The product's been out for some time and yet still no customizing option :/
As of the moment, we don't have news of when we will have JBL Flip 6 available for personalization. We have our JBL Flip 5 available for personalized orders.
Date published: 2022-08-29
Is there a way to know which model of the JBL 6? Between the GG model and the TL model?
Thanks for reaching out. The Grey JBL Flip 6 is currently available for sale on our official website. We don't have news to share about when the Teal edition will be available in the US. You could sign up for the JBL Newsletter or continue following us for news and updates. https://bit.ly/31GnraZ
Date published: 2022-08-04
When will the teal color be available?
Thanks for your interest in our products. We have no news to share on when we'll be having our JBL Flip 6 (TEAL) available. Keep posted on our social media channels or sign up for our newsletter for updates about our product releases and promotions. https://www.jbl.com/
Date published: 2022-07-23
How do you lock buttons on jbl flip6?
Thank you for your question. The buttons on the JBL Flip 6 cannot be locked. If you would like personalized assistance, we invite you to contact Harman Customer Service by phone, email or chat. You can find all contact information at https://support.harmanaudio.com/fr/fr/customer-service/contact.html Thank you.
Date published: 2022-06-20
What is the Bluetooth range of the Flip 6?
Thanks for reaching out. The Bluetooth range on our wireless speakers is at 10m(32ft.) when unobstructed. Interference such as nearby wifi networks, walls, and other devices reduce the range drastically.
Date published: 2022-03-11
Hello. Can I use Flip 6 connected to a power source or does it overcharge the battery? Thanks
Yes, our JBL Flip 6 can be used as a powered speaker, meaning it works when plugged into a power outlet without overcharging the battery.
Date published: 2022-11-14
Why is the fiesta red currently available? It says it was coming out soon yesterday but today it says it's unavailable. 
We appreciate your interest in our newest JBL Flip 6. Please click the Notify Me button on the webpage so you could get notified when red variant is in stock. Thank you.
Date published: 2022-11-01
I have a jbl flip 6. I completely discharged the battery. I plugged it in to charge and the light doesn't show it's charging. When I try to power it up the light goes red then turns off. Is the speaker charging even know the light isn't on?
Thanks for your inquiries. Please try charging the speaker for atleast 5-6 hours or overnight. Try using a different Type-C USB charging cable and wall charge to check if this can help fix the issue. If this doesn't work you may refer to the troubleshooting steps outlined in our 'Battery and Charging Issues' guide found in this link https://bit.ly/2T1BMuX
Date published: 2022-05-22
Is there sound quality difference between TL and GG versions?
Products from different suppliers may have different execution in the design, but the quality should be identical. Unfortunately, we don't have any information on what version (TL/GG/CS) resellers have.
Date published: 2022-08-04
Why is the fiesta red color version currently unavailable? It says coming soon yesterday. I was excited to get the fiesta red but now I can't even buy it.
Thanks for your interest. We don't have news to share about when the JBL Flip 6 (fiesta red) will be available in the US. You could sign up for the JBL Newsletter or click on the 'Notify Me' button found on this link to get notified as soon as this product is available. https://bit.ly/31GnraZ
Date published: 2022-07-16
When will the JBL Flip 6 be available in gray?
Thanks for your interest. We don't have news to share about when our JBL Flip 6 Gray will be back in stock. You can click on the 'Notify Me' button found on this link to get notified when the unit is back in stock. https://bit.ly/31GnraZ
Date published: 2022-07-16
Will you be making the Flip 6 in the ECO recycled plastic versions like the Flip 5? I'd really like one of those over the non-recycled.
Thanks for your interest. We don't have news to share if we will be releasing an Eco Edition for our JBL Flip 6. Keep posted on our social media channels for updates about our product releases.
Date published: 2022-04-23
Can I use an Apple 12W USB Power Adapter (5.2V / 2.4A) to safely charge the JBL Flip 6?
Yes, your 12W Apple Power Adapter can be used to charge our JBL Flip 6.
Date published: 2022-04-08
Does the jbl flip 6 float? Or is it just waterproof?
Thanks for your question. Our JBL Flip 6 doesn't float in water. The JBL Flip 6 is IP67 waterproof and dustproof, so you can bring your speaker anywhere.
Date published: 2022-03-22
where are the speakers located on Flip 6? It sounds better laid on its side but is it designed to sound good standing up?
Thanks for your interest. The JBL Flip 6's driver is located on both sides of the speaker, it has a dual passive radiators, a strong racetrack-shaped woofer, and a separate tweeter that give your music unprecedented depth and power whether you stand the speaker vertically or horizontally.
Date published: 2022-07-10
P65? What in it causes cancer?
Proposition 65 ("Prop 65") is a California law that requires businesses to provide a warning before exposing individuals in California to any of 900-plus chemicals that California lists as a carcinogen or a reproductive toxicant ("Prop 65 List"). The list is available at https://oehha.ca.gov/proposition-65/proposition-65-list. The law includes specific warning language that can be used by businesses to comply. The specific warning language is called a "safe harbor.". Harman is committed to making products that comply with all applicable laws and that are safe to use. California's Prop 65 is not a product safety law, but a chemical right-to-know law. We believe our products are safe when used as intended. If you have any questions about any of our products, please contact: LA.PROP65@harman.com
Date published: 2022-03-16
Will the JBL Flip 6 come in the color pink or white?
Our newest JBL Flip 6 comes in teal, grey, red, black and blue colors.
Date published: 2022-03-06
What is best a c charger to get
Thanks for reaching out. You can use any wall charger that is rated at 5V 1A. Please take note that if you use a charger with a higher power output (2A and above), charging time will be faster.
Date published: 2022-01-14
What is the safe temperature operating range? Can it be left in an unheated garden gym overnight?
Thank you for your question. It will be safe to keep your JBL Flip 6 inside a garden gym as long as the temperature does not reach below zero. Should you wish to receive further support, you may contact the Harman Customer Support team by telephone, email or chat in order to receive direct assistance. Please see https://uk.harmanaudio.com/support-contact.html#ns for further details. Thank you.
Date published: 2022-04-04
How can I tell that my JBL Flip 6 is charging? How can I tell when it is fully charged? How can I tell how much battery life is left after use?
Our JBL Flip 6 has a battery light indicator next to the Bluetooth button which tells you how much charge your speaker has left.
Date published: 2022-11-01
So we know that the Flip 6 does not have an aux output option however, if we connect a USB-C to Aux cable to say, a computer aux point, will the speaker output the computer sound?
Thank you for the inquiry. Our JBL Flip 6's Type C USB port can only be utilized to charge the speaker. Connecting the Type C USB cable to the speaker output of your computer will not produce any audio output.
Date published: 2022-11-04
Is this made in China?
Thanks for reaching out. Our JBL Flip 6 Portables Speakers are designed in the United States and manufactured in China.
Date published: 2022-02-22
Can I connect a Flip 5 to a Flip 6?
Yes, you can link the JBL Flip 5 with the Flip 6 using the PartyBoost feature.
Date published: 2022-05-08
Cant you use google assistant on the flip 6?
Thanks for reaching out. Our JBL Flip 6 does not feature speakerphone or voice assistant functionality as it does not have a microphone.
Date published: 2022-01-02
Do I have to engage stereo mode on the flip6 through the app or is there a way to establish stereo mode by pushing one of the buttions on flip6
Yes, to enable stereo mode on your JBL Flip 6 you'll need to set it up first on your JBL Portable App. This setting will remain on your speakers the next time that you will use them without using the app.
Date published: 2022-11-14
bvseo_sdk, dw_cartridge, 18.2.0, p_sdk_3.2.0
CLOUD, getContent, 210ms
questions, product