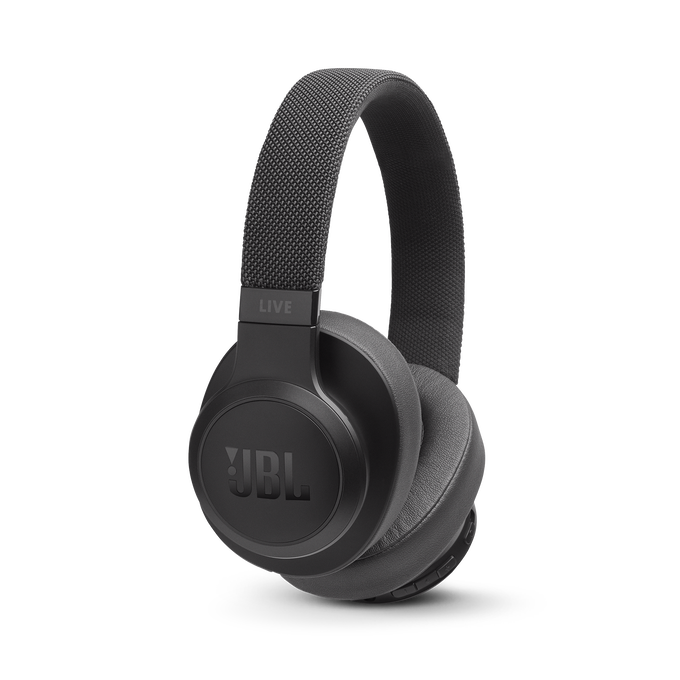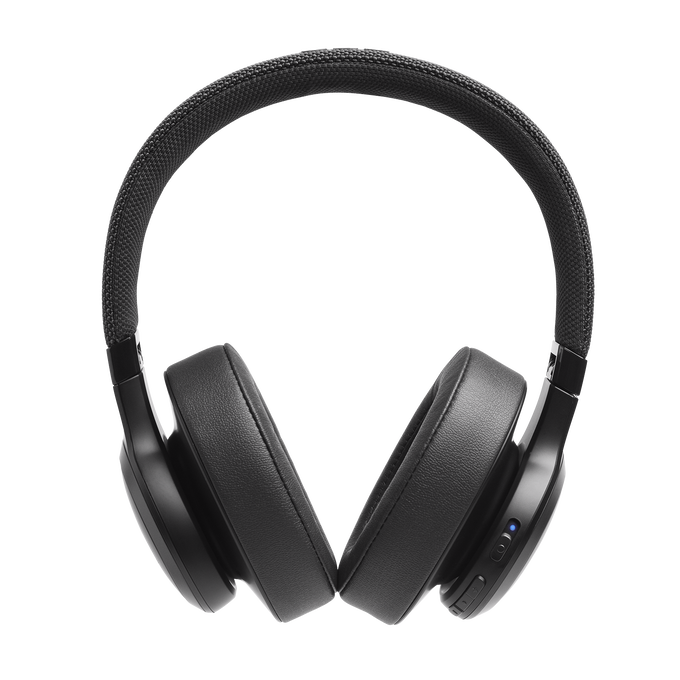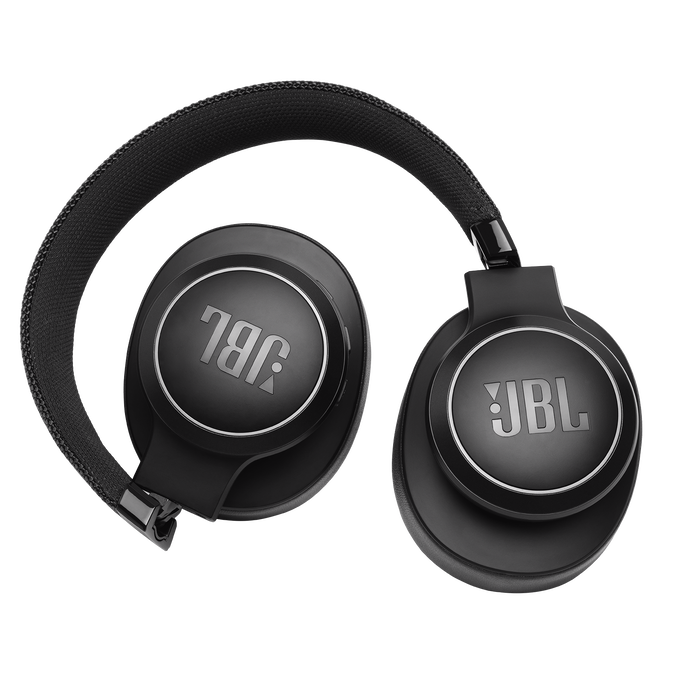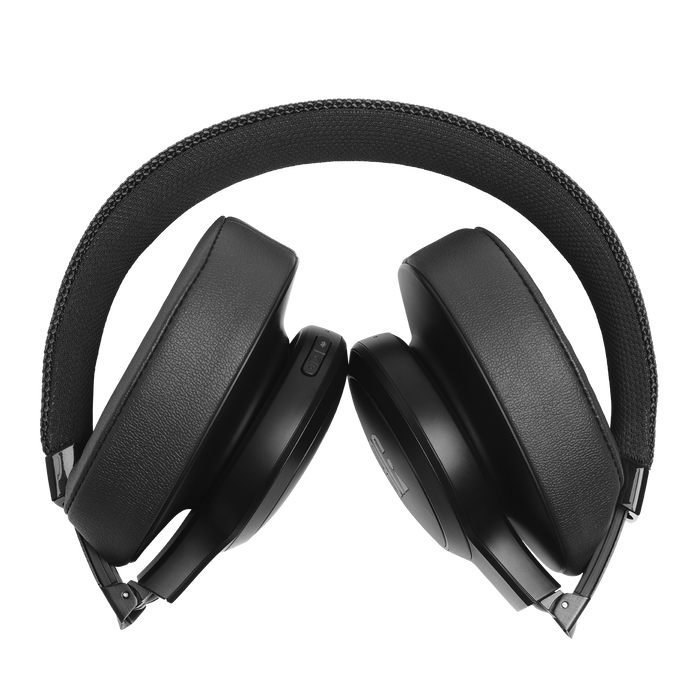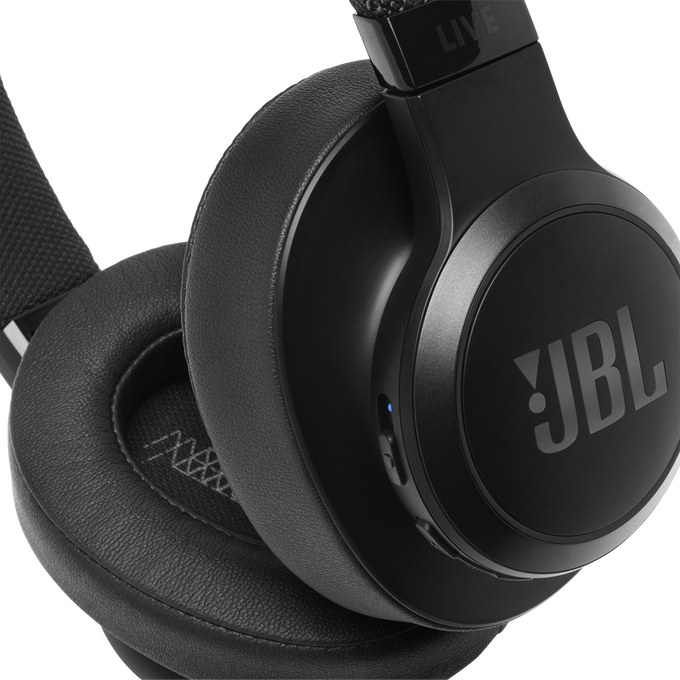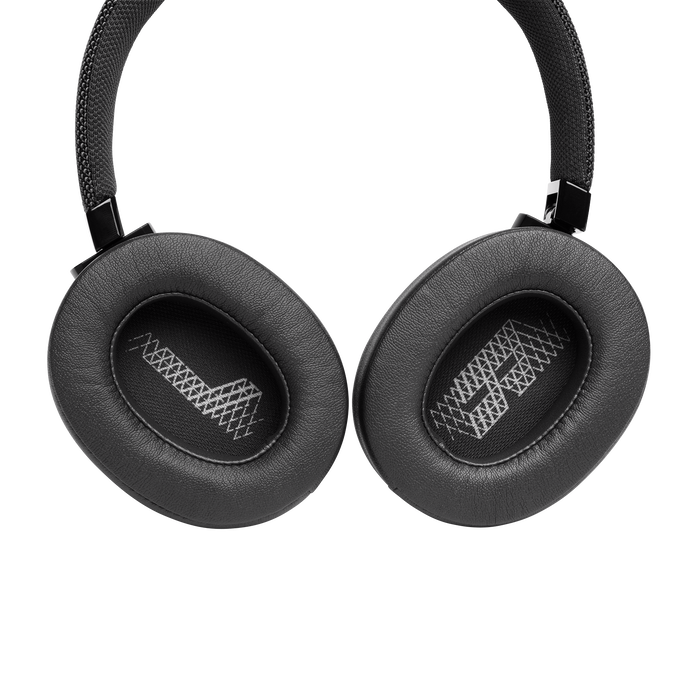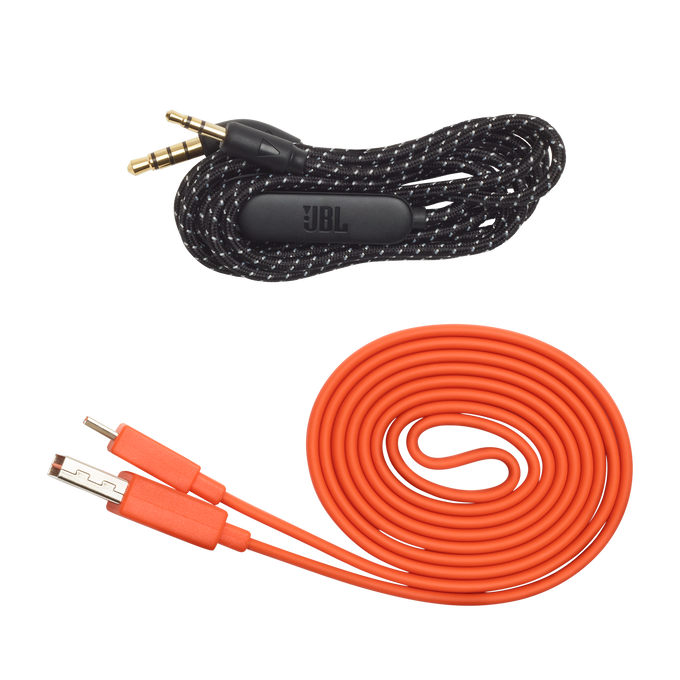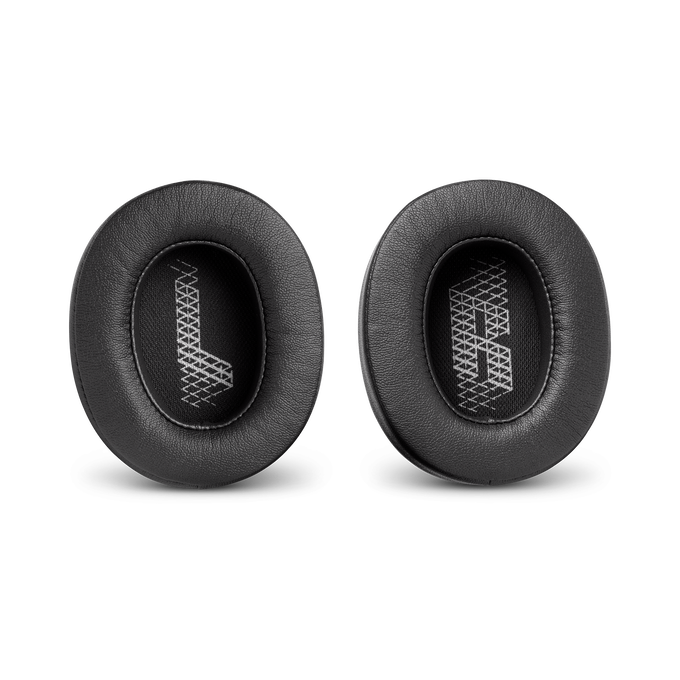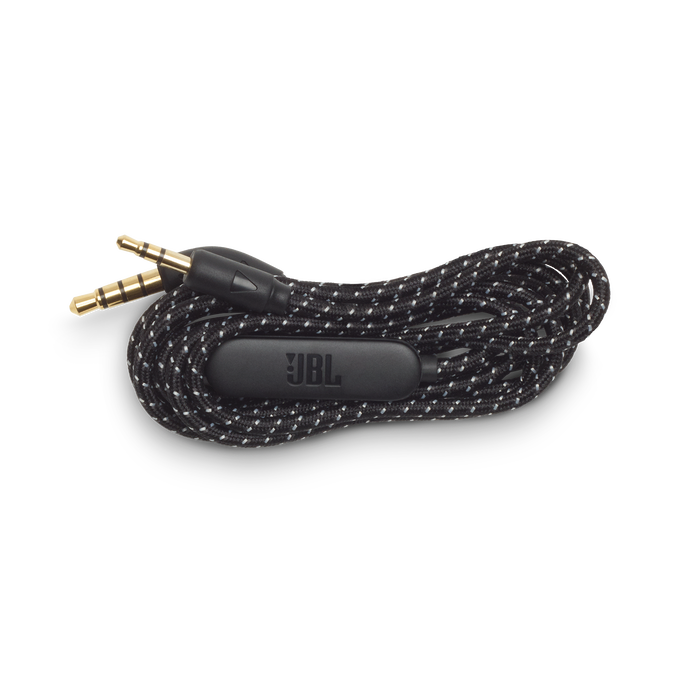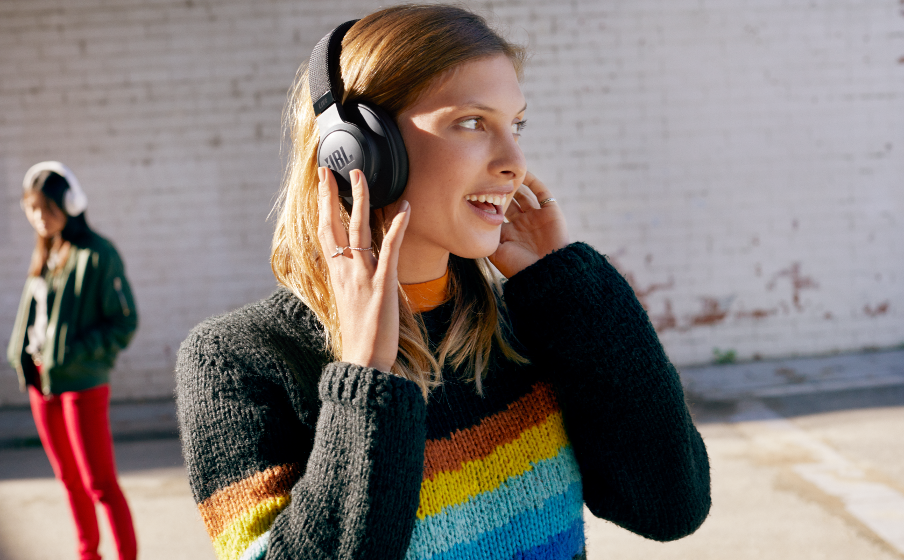 Den berømte JBL-signaturlyd
50 mm dynamiske enheder og en lydsignatur, der genfindes på de mest berømte spillesteder over hele verden.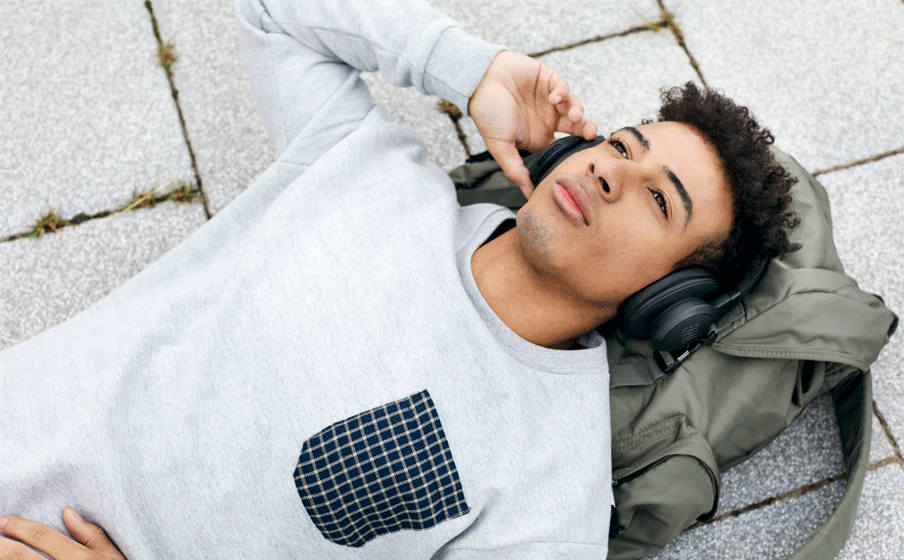 Få hjælp fra din stemmeassistent.
Afspil din yndlingsplayliste, send din ven en besked, tjek vejrudsigten og meget mere. Med en let berøring på ørekoppen aktiverer du Googles stemmeassistent eller Amazon Alexa. Brug den helt nye JBL-app til nemt at indstille dine foretrukne stemmeassistenter.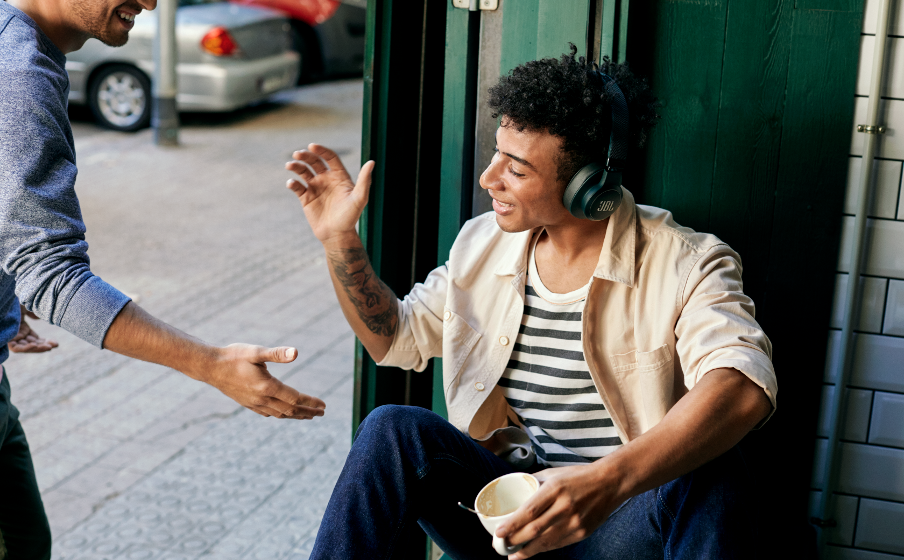 Ambient Aware og TalkThru-teknologi
Lad ikke musikken stoppe! Hold kontakten til dine omgivelser, mens du lytter til din musik. Et tryk på Ambient Aware-knappen øger lyden fra omgivelserne, så du kan høre, hvad der sker omkring dig. TalkThru-tilstanden skruer ned for musikken, så du kan tale med dine venner uden at tage hovedtelefonerne af.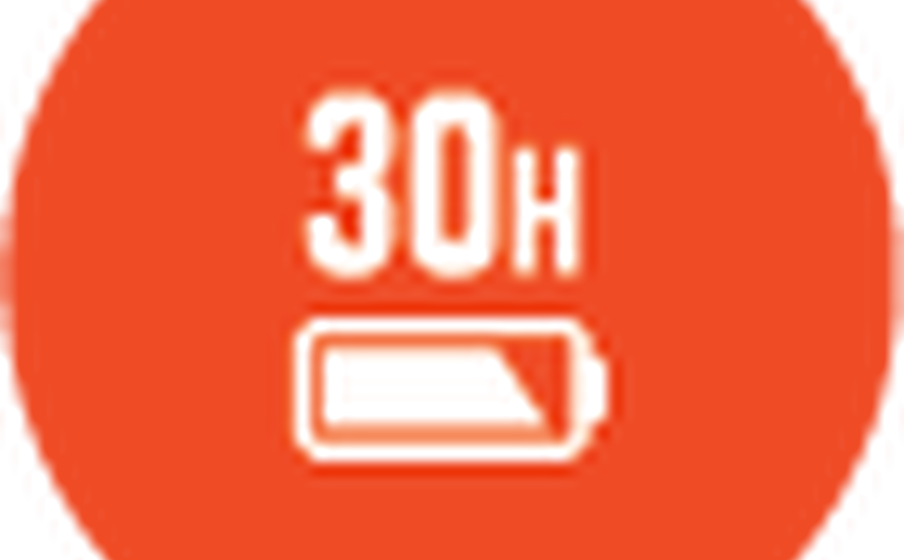 30 timers batterilevetid
2 timers opladningstid
Funktioner

15 minutters opladning giver 2 timers afspilning.
Med blot et kvarters opladning får du 2 timers ekstra underholdning.

Håndfri opkald
Hold kontakten til din verden ved at styre telefonopkald med knapperne på ørekoppen. Når batteriet er fladt, skal du bare tilslutte lydkablet. Så kan du lytte og snakke videre.

Flerpunktsforbindelse
Gør det nemt at skifte fra én Bluetooth®-enhed til en anden. Du kan nemt skifte fra en video på din tablet til et opkald på din mobiltelefon, så du aldrig går glip af et opkald.

My JBL Headphones-app
Gør din lytteoplevelse personlig ved at justere JBL LIVE500BT-lydindstillingerne med den gratis My JBL Headphones-app.

Behagelig pasform med stof-pandebånd
LIVE500BT er formet omkring dit hoved med en velsiddende stofhovedbøjle og bløde ørepuder, som er super-komfortable.

Aftageligt kabel med fjernbetjening og mikrofon
Når batteriet er fladt, skal du bare tilslutte lydkablet og fortsætte med at lytte eller snakke.
Detaljer & Downloads
Item# JBLLIVE500BTBLK
Beskrivelse
Trådløse omsluttende hovedtelefoner

I din verden er fremragende lyd afgørende, så prøv de trådløse og omsluttende JBL LIVE500BT hovedtelefoner. JBL LIVE500BT-hovedtelefonerne er udstyret med store 50 mm enheder, som leverer den berømte JBL-lyd med forbedret bas, der giver ekstra liv og kraft til hvert eneste nummer på din playliste. Brug for en hjælper i hverdagen? Få nem adgang til Google Assistent eller Amazon Alexa med en let berøring på ørekoppen. Afspil din yndlingsplayliste, send din ven en besked, tjek vejrudsigten og meget mere - uden at se på din telefon. Men det er ikke alt. JBL LIVE500BT-hovedtelefonerne kan også hjælpe dig med at holde kontakten til omgivelserne takket være Ambient Aware-funktionen og TalkThru-teknologien, som giver dig mulighed for at føre en samtale uden at tage hovedtelefonerne af. Hovedtelefonerne er lette og komfortable takket være det blødt polstrede hovedbånd, og du kan nyde 30 timers trådløs musik efter bare 2 timers opladning. Her er mulighed for flerpunktsforbindelse, og det praktiske, aftagelige kabel med fjernbetjening/mikrofonlader dig rocke videre, når batteriet er tomt. Slå dig løs, mens du stadig er tunet ind, med JBL LIVE500BT-hovedtelefonerne.
Specifikationer
Enheds-størrelser (mm)

50.0
Lydspecifikationer
Enheds-følsomhed ved 1kHz/1mW (dB)

108dB SPL@1kHz/Pa

Dynamisk frekvensområde (Hz)

18Hz - 20Hz

Impedans (ohm)

32.0

Antal dynamiske enheder pr. øre

1.0
Mål
Hovedtelefonernes kabel-længde (cm)

133.4

Hovedtelefonernes kabel-længde (ft)

4.38

Vægt (g)

231.6

Vægt (oz)

8.51
Specifikationer, styring og tilslutning
Bluetooth-profiler

A2DP V1.3, AVRCP V1.5, HFP V1.6, HSP V1.2

Bluetooth-frekvens

2.402 – 2.480GHz

Bluetooth sender-modulation

GFSK, π/4 DQPSK, 8DPSK

Bluetooth sender-effekt

0-4 dbm

Bluetooth-version

4.2
Batteri
Maksimal spilletid uden aktiv støjreduktion (timer)

33.0

Maksimal spilletid (timer)

33.0

Taletid (timer)

33.0
Egenskaber
Bluetooth

Ja

Lader lyd fra omgivelserne passere

Ja

Indbygget mikrofon

Ja

Aftageligt kabel

Ja

Bekvem og velsiddende stof-hovedbøjle

Ja

Kan foldes fladt, så de er nemme at opbevare

Ja

Håndfri opkald

Ja

Den berømte JBL-lyd

Ja

Flerpunktsforbindelse

Ja

Over-ear

Ja

Genopladeligt batteri

Ja

Fjernbetjening på ørekopper?

Ja

Lynopladning (5 min. = 1 t spilletid)

Nej

Multifunktionel TalkThru-knap

Ja

Touch-knapper

Ja

Trådløse

Ja
Det er der i æsken?
1 x LIVE500BT
1 x aux-kabel
1 x opladningskabel
1 x garanti / advarselsark
1 x lynguide / sikkerhedsdataark
Dokumenter og downloads
Kunde-anmeldelser
Rated

3

out of

5
by
Rosid
from
Testing the headphones!
are comfortable, the ear cushions are very soft and seems as though, they are made of faux leather. The headband is pretty soft and overall, gives a great, comfortable fit. These headphones do not come with active noise cancelling, and that was a bit disappointing but these do have excellent passive noise cancelling, blocking out a lot of ambient noise and allowing me to enjoy my music in public. The sound quality is where these disappoint a bit. The past JBL headphones I have owned have a great balance between the low's, mid's and highs but these fall apart on the lows. If you like bass heavy songs such as hip-hop music or house music, you will not enjoy the distortions it makes when the beat drops at mid to high volume. I personally do also listen to podcasts and these are great for them. Overall, if you listen to bass heavy music, avoid these, if you listen to more classical or podcasts, these are a great buy!
Date published: 2019-05-20
Rated

5

out of

5
by
kevnlittle
from
Best headphones I've ever owned!
I've only had these headphones for two weeks, and I can't get enough of them! So many great features! The sound quality is out of this world. Download the JBL Headphone App, and you can set the equalizer to your preference. Or you can choose from the preset settings. The bass is phenomenal. Then on top of the typical JBL quality, you have easy access to your Google Assistant and Amazon Alexa while you are away from home. In less than a month we have a long plane trip that I am more looking forward to, I already have movies loaded to my tablet for the flight!
Date published: 2019-05-29
Rated

5

out of

5
by
Kebby
from
Great gaming headset
Got then 2 weeks ago, tried them out wired to my computer. The bass is really noticably awesome and the surround sound for gaming is phenomenal. They're much smaller and slimmer than they look in photos which is nice. Super comfortable ear cups! If your using for gaming note that it obviously doesn't have a mic. All around the best headset I've ever owned, I'm sure there are better out there but not at this price point. (Also I don't have an amp and the sound is amazing already!)
Date published: 2019-08-19
Rated

5

out of

5
by
Sinuhe_0123
from
Amazing Audio!
Got a good 2 weeks to listen to this new set of headphones. The sound is very clear and the bass is just enough for any type of genre. The JBL app is a good way to adjust your sound and it's simple to use. Both Alexa and Google Assistant are very responsive. The noice canceling is great since for the most part the exterior audio is a dólares very good unless you are in a noisy environment. Both Ambient Aware and TalkThru are fun features to have specially if you don't want to take your headphones off to have a quick conversation. When on a call the other party was loud and clear and my voice was very clear in the other end. Battery life is also great since I used them for over 25 hours on my first full charge. I have big ears and wear glasses, comfort was not an issue and I used them for 3 to 4 hours at a time while working. Overall I'm very satisfied with this pair of headphones and would recommend them to anyone. For the price these headphones are a steal!!!
Date published: 2019-05-29
Rated

5

out of

5
by
darazz
from
Premium headphones at a budget
The JBL Live 500BT is one of the best headphones out there right now for their price range. From the moment you unbox them you feel like you are getting a premium experience. JBL has one of the best unboxing presentation. The headphones look amazing and the blue that I received from the JBL backstage pass to review is on fire. The fabric headband looks amazing and adds comfort as well. The JBL 500BT is packed with features. Google Assistant and Alexa work flawless. Having an assistant on headphones is very useful. More useful than I thought. Another useful feature is the multi connection button. You can toggle from one device to another with just a hit of a button. This is very convenient and useful. The most useful feature for me is the ambient aware. On top of all these features the headphones sound amazing. They are on the bass heavy side. Somehow, they are well rounded with a wide sound stage. I listen to a wide range music and everything sounded amazing. Also, there is an app that you can dial in the sound that you want. The comfort is good. The ear cups made my ears a little hot after a while. But I was able to keep them on for long time with no discomfort then that. The only short coming with these is phone call quality. It is not good at all. There were times that I needed to take a call on my phone and disconnect from the headset because the person could not hear me. But These headphones are great at this price. If something happened to these cans today, I would buy them tomorrow without question. So, no doubt get these cans people!
Date published: 2019-06-06
Rated

5

out of

5
by
Mikey35957
from
Exactly!!!!
Great to use during working out. Perfect fit and great sound.. Definitely a smart purchase and so worth it!!!!
Date published: 2020-05-22
Rated

4

out of

5
by
RandyC8
from
Great sound quality and comfort for this price
I've bought this headphones a week ago and the firmware update helped a lot with the audio quality. I love the color (got the blue ones) and they are very comfortable either for casually listening to music as well as working from home. I love that they include a cable that also has a mic. The ambient aware and talk thru options are quite interesting. The only reason I'm rating this 4 stars and not 5 is because they keep turning off, after every 20 minutes or so. I don't know why this keeps happening since they're almost fully charged.
Date published: 2020-09-30
Rated

5

out of

5
by
Angel E
from
Awesome Add-Ons & Excellent Crisp Clear Sounds.
I just recently received these JBL LIVE500BT headphones and am completely amazed on how well they perform. The voice assistant is crystal clear and very simple to use, easy pairing and the music sound quality is out of this world. I have always been a JBL fan because of the technology, efforts and development they put in to their products. Keep up the awesome work. Your the best.
Date published: 2019-05-22
Rated

2

out of

5
by
azreviewer123
from
Decent headphones, Very uncomfortable
I was very disappointed by these. Sound quality was good, similar to other JBL (great midtones, weaker bass), but I was disappointed by a couple things. First thing I noticed is that the joints are made of plastic - not really what I expected from headphones over $100. Second, these HURT. They were way too tight even after adjusting them - and I have a pretty small face! I'm a small female so I did not expect any headphones to be too tight for me. The sides of the earpieces pressed into my jawbones and I would develop a blistering headache after wearing them for an hour or so. I ended up trading these in for the Everest headphones which I love. The extra $50 gets you higher quality material and way more comfort.
Date published: 2020-01-08
Rated

1

out of

5
by
Jbl Bluetooth
from
Unusable, inaudible
Bought these headphones for working out and watching movies among other things. The first time I went to use them was because my partner was asleep so I had turned the volume down too low for me to hear. I connected the headphones and discovered that at max volume, they were quieter then the TV had been. I connected them to a different device to see if that was the issue but they continued to be inaudible. I don't know who these are for but if you enjoy over ear headphones that are only loud enough to provide distant background noise, these are for you. If you enjoy hearing things from your headphones do not buy
Date published: 2022-03-11
Rated

5

out of

5
by
Rich1
from
JBL Does it again GREAT SOUND
I've been a fan of JBL for a long time and the JBL Live500BT did not let me down. Blue tooth connects quickly. Buttons on headphones easy to access. Love the pass thru button which turns down the music without having to take off headphone or pause music to answer some. Quality is qreat and comfort is superb. Took on trip battery life is crazy long I went 25 hours of play time before charging WOW!!!
Date published: 2019-05-27
Rated

4

out of

5
by
Anonymous
from
Wonderful Rich Sound Quality
I have had these less than a month and the JBL inlay sticker on the "cup" of headset is peeling off making the quality appear to be low or junk. I expected better built quality for the price i paid for these. The size adjustment parts are rather loose on both sides to. The sound quality , range and battery life are all very good though for example the range says 30 feet , and you get more for a phone call. Just listening to a music app like Pandora Radio, i get huge range too be able to hear 100+ft. The Amazon Assistant is really nice ! Texting and info easily available at the tap of the left ear phone!
Date published: 2019-11-10
Rated

2

out of

5
by
LittleMato
from
Good headphones, bad quality Earpads
I bought these 11 months ago. The headphones are comfortable and the sound is good, but the earpad cushions started shredding 3 months ago, the faux leather is of terrible quality, leaves black bits and pieces on your skin and the smell is HORRIBLE. What was my surprise to learn that the replacement will cost me 20+ USD (and the total cost of the headphones was 90 USD)!!! Big disappointment, and will never again buy anything from this brand (just to compare, the same happened with my Sennheiser headphones after 10 years of use!)
Date published: 2020-12-06
Rated

5

out of

5
by
Dank1103
from
Awesome headphones!
I recieved my live500BT headphones a few weeks ago. I decided to trust JBL since I have the charge 4 speaker and I love it. My phone isn't in the best shape, but I can leave my phone on the wireless charger and stay connected to my headphones through the entire house! If you're like me and don't care for earbuds, then these are for you. Much lighter, but with a better sound quality than other over the ear headphones I've used. Great for the gym. Works across all genres from podcasts, pop, country, punk, metal and electronic! Also in 3 weeks I haven't had to charge them, amazing battery life!
Date published: 2021-04-06
Rated

4

out of

5
by
Twasin
from
Not that great as I expected.
The JBL signature seemed missing in this device and much like followed Bose, while I believe JBL has its own taste and should not be inspired by any other market leader. In this model, the high is polished and to some extent a bit exaggerated. Mid is decent and low is more like live, which is why I think the series is named Live. The talk through is a nice technology and the ambient is as well. I think to put these technologies, JBL has compromised sound just a bit. Well, I am a Harman Carson fan and an YouTube reviewer of these kinda products. I wish to see a lot more from JBL. Love you JBL
Date published: 2020-09-09
Rated

5

out of

5
by
Vickyp01
from
Awesome
I have been using the JBL LIVE 500BT headphones for about two weeks thanks to review club. When I got them out of the box I was instantly attracted to the colour and design of these headphones I immediately charged them which took no time at all. Once charged I connected them to my mobile to test and decided would test them outside OMG the sound was ammazing. I played a 90s classic and it was like I was sitting in my own private concert the sound was sooo clear I could hear the music soo clearly. So far I have found no drawbacks with these headphones. Have used them whikst walking to work, at the gym, in the garden and will continue to use them I love them music has never sounded sooo good.
Date published: 2019-05-18
Rated

4

out of

5
by
DatGuy_Shawnaay
from
Sleek, Stylish and Overall Good Sound
The Good: Look & Feel - I generally like how the 500BT looks. The fabric around the band looks sleek and I don't feel any discomfort when keeping them on my head for a while. The ear muffs are nice and soft; don't heat up my ears when I have the headphones on for more than 30 minutes; and they do a good job at isolating most environmental sounds considering they aren't noise cancelling. Sound (Bluetooth) - The 500BT sound good. The vocals are clear, but there is almost no bass when the bass mode is off through the JBL Headphones app, so I would recommend keeping them on and adding some bass through equalizers. The overall quality is still good and I would use these as my daily driver. Features & Hardware - Bluetooth is easy to connect and quick, too. I love the Google Assisstant integration and the fact that you can touch the cap on the left to activate it. It's quite useful when needed. I also appreciate Ambient Sound and TalkThru as well. Both are equally as usefull when I turn them on and do a decent job at drawing sound form the surrounding area, but could be clearer at times - it's not consistent. Being able to fold the headphones are a nice finish to the build. The Bad: Build Quality - I like the matte finish, but the plastic build makes it look cheaper than it should be. The 500BT I got always made cranking sounds whenever I rested the headphones on my neck (Mostly behind the muffs) so it was quite irritating. I don't understand why USB Type-A is still being used to charge the headphones. It's 2019, please update the next ones to Type-C. Features - Yeah being able to touch the surface of the left ear muff to activate the assistant is nice, but I often tapped that area by accident on more than one occasion, meaning that I could always hear my Google Assistant talking by itself when I don't want it to. It's quite annoying and I wish it would only work when the headphones are on my head or that they were less sensitive. Buttons - I don't like how all the buttons are on one side. I often forget which buttons are which and it takes time to learn. Even after a week of usage, I still struggle. The ambient button and bluetooth button should be placed on a different side. These headphones needa pouch since they cost a bit.
Date published: 2019-05-21
Rated

4

out of

5
by
stgogrf
from
Sound great, but macbook only turns sound off/on?
These sound great, and are comfortable, but so far I am unable to figure out how to adjust volume when paired with my macbook pro. With the iPhone, it works as expected, but the volume control with macbook pro does not - if I turn off sound entirely, it also mutes on the headphones, but otherwise is either on full or off. I wasn't able to find information online to get it working properly.
Date published: 2020-05-13
Rated

5

out of

5
by
Mom of 4
from
Fantastic sound!!!
I love my headphones so much!! I have 4 kids and a video game playing husband and I could hear my show perfectly!!! On top of that, I customized them and they are gorgeous!!!
Date published: 2020-09-01
Rated

5

out of

5
by
Rice99
from
Some of the best headphones I've had!
Got these headphones about two weeks ago and love them so far. Bluetooth works very well with my phone but has trouble connecting to my Dell laptop. Amazing battery life and very user-friendly. Sound quality is amazing and they are very comfortable to wear for long periods of time. Definitely worth the investment!
Date published: 2019-12-24
Rated

2

out of

5
by
Totalacedude
from
Great sounds but problematic
Bought these and loved them straight away, but... The reason I bought them was for the Google assistant and guess what, it is patchy at best, then it just plain won't respond to any voice commands so pointless. Then for no reason it now randomly powers off and I have to turn it back on again only to await it powering down... If they sort the problems I would rate 4/5 but as the assistant was the only reason I bought it I'm less than impressed. Sorry guys.
Date published: 2019-10-21
Rated

4

out of

5
by
Portland Office Lady
from
Good quality headphones at a reasonable price
I bought these on sale at $39.99 and really had very low expectations to begin with. The headset exceeded every one of those expectations. The ability to connect simultaneously to both my work laptop and my cellphone has been phenomenal. The toggle between computer calls and phone calls have been mostly seamless so far. Although occasionally, when I use Google Duo video chat functions, the microphone function doesn't turn on reliably. That's really my one complaint - though I can't be sure it's the headphones. It could also be just Duo is finicky at times.
Date published: 2022-01-17
Rated

5

out of

5
by
Matt2470
from
Amazing sound! Great features
I got these through the JBL backstage program and I'm very glad I got the chance to review them they are AMAZING HEADPHONES the customizable controls for the exact type of listening you want is awesome I love the built in Google assistant it's very help full for checking notifications while on a run or at the gym without checking my phone and the amazing build quality to top it all off they are beyond comfy they are so soft and light you will barly know they are even on your head and not to mention the charging speed is INSANE 15mins of charging gets you 2 hours of play time and with a full charge they last 30 HOURS that's nuts overall they sound great look great and feel great amazing product once again by JBL I love them
Date published: 2019-05-21
Rated

1

out of

5
by
anonymous_random
from
Bad Voice Control Haptics
It has a 'cool' voice control feature on the Left side that gets triggered randomly while handling the headphones and opens random apps/calls random stuff. There is no way to turn it off. Why not? I would return if I wasn't a lazy person I'll just throw them away.
Date published: 2022-03-23
Rated

4

out of

5
by
Dikkul
from
Decent headphones
I got these on sale for $99.95 while the getting was good. I wouldn't say that the sound quality is the greatest, it's got good mid and high range but the low/bass has room to improve. The bass is good for most hip hop, but if the bass is just a tiny bit aggressive you will hear some static-y bass. Wearing these for a long period of time aren't bad, however you want to make sure the headphones are tight to your head, otherwise they will sit on parts of your ears and make them hurt. Sadly the touch assistant feature does not work with Siri on iPhone's at all, but to me that's not major. Overall these are decent headphones and the swivel joints are great, but if I had to pay the regular $150 + shipping I would be very disappointed.
Date published: 2020-04-09
Rated

5

out of

5
by
Thw1110
from
Quality sound at a low price
I recieved these headphones for free as a JBL Backstage pass member, and I know that every new product that comes out is not always as good as it should be, and many are certainly not worthy of their pricetag. However these headphones sound awesome especially considering how much less they cost compared to some of the other over rated brands. A lot of churches use JBL for their main sound system and the do because JBL has a nice sound!
Date published: 2019-06-03
Rated

5

out of

5
by
AbiG
from
So Cute!!
I ordered these on cyber Monday. Got them quicker than I thought and after trying them out for a while I love them, for anyone out there who has an issue with headphones not fitting right of being too big these are perfect. I have a small head and these fit great on the smallest size easily fits other sizes as well. The talk-through feature is great! You can listen to your music and still answer your flat mates questions. They were perfectly customized the only issue I've had is with the connection cord but since I use Bluetooth it's not a big issues.
Date published: 2021-02-13
Rated

2

out of

5
by
Disappointed customer 02
from
Nice but damaged!
I bought these as a gift for my husband but the vinyl pads on both sides of the earphones had pulled away from the cup. The more they are used the more it pulls away! We were offered a 10% credit which is nothing compared to the price of the headphones, so at this time we haven't accepted! I was very disappointed that such an expensive set would be made out of such cheap material! My husband does however love the sound. We are looking for a way to fix or cover the surrounding cup area to prevent permanent damage to the foam! Disappointed customer!
Date published: 2021-09-22
Rated

4

out of

5
by
Catarina
from
Comfortable and connected
I have been using these headphones for 1,5 weeks. They are comfortable on the ears but after ~4h using them non stop, the top my head starts to hurt in the place they sit on. My favourite feature is the possibility of having them connected to my phone and computer at the same time. However, the transition not always works and the phone app does not recognize the headphones despite the fact that I am hearing. I usually disconnect them and connect them again and it works. Overall, I would recommend them as my experience has been mostly positive.
Date published: 2019-05-19
Rated

5

out of

5
by
Jtmjc65
from
Wonderful wireless headphones
I searched around for inexpensive headphones and saw these and wow got on sale love the color options
Date published: 2020-08-04
bvseo_sdk, dw_cartridge, 18.2.0, p_sdk_3.2.0
CLOUD, getReviews, 9ms
reviews, product
Spørgsmål og svar
I would like to give my son a good quality wireless headphone over the head Is the T450BT a good value ???
We would like to get more details to help you. Please contact us here. https://bit.ly/2zwFkYM
Date published: 2021-06-06
why my JBL LIVE 500BT not connect to TaoTronic 5.0 transmitter?
Thanks for reaching out. We want you to get the most out of our product. It would be best if we can work with you directly to get more information and to do troubleshooting with your JBL Live 500BT. Please reach out to JBL Customer Service for technical support and assistance. https://bit.ly/2WocMfi
Date published: 2021-12-06
Can I use my smartphone charger to charge the headset? I can't seem any information about charging on this website or other Hi-Fi sites.
Hi, and thank you for buying JBL! Yes, you can use all USB-system chargers, USB outputs on your computer, chargers for telephones, chargers for Bluetooth speakers etc. All are standardized to 5 Volts, but the Amperage varies, from about 0.5 Amps to maybe 5 Amps. The headphones will limit the charging current, so it is not damaged by the more powerful chargers. Of course, more Amps means quicker charging, but there is a limit around 2 A, where charging speed does not increase. I hope this helps.
Date published: 2021-06-06
Will this headset operate properly with a 2 stripe jack (meant for stereo no mic) or just the same 3 stripe jacked cord it comes with? Wanting to use it to monitor audio from a mixer but it doesn't work with the 3 ring cable it comes with.
Our JBL Live 500BT only works with 3 stripes and may need to use a 3rd party adapter if you want to connect it to your monitor audio.
Date published: 2021-06-06
do they work with fire cube
We don't recommend using our JBL Live 500BT with a Fire Cube as it may have audio/video delays.
Date published: 2021-06-06
Is the microphone built into the headset or only on the cord that plugs into my phone?
It's built-in to the headset. The detachable audio cable has an in-line remote.
Date published: 2021-06-06
Is there a mic on the aux cable?
Yes
Date published: 2021-06-06
Is there an inbetween device I can buy, such as an amplifier, to boost the sound because of having a phone that doesn't have the driving power to push the headphones?
Our JBL Live 500BT doesn't require you to use an amplifier to listen to music from your devices. We don't sell amplifiers for our headphones.
Date published: 2021-06-06
My headphones are like 2 weeks old, and won't charge. The light doesnt come on to indicate that its charging, and since the headphones died oh, I can't turn them on at all..
We would like to get more details to help you. Please contact us here. https://bit.ly/2zwFkYM
Date published: 2021-06-06
How do i can actually turn the headset off... i keep sliding it, makes the sound, turns off, only to turn on again couple of seconds later...
Hi there, we're here to help you out. The only thing you need to do to turn off the headphones is to slide the power switch once. If it turns on automatically, there could be something wrong in it. If the issue persists, please reach out to us here: http://www.jbl.com/support-contact.html
Date published: 2021-06-06
How can reassign talk thru (ambient aware) on the left sensor pane instead of button?
Hi there, unfortunately, the TalkThru and Ambient Aware can only be controlled using their dedicated button beside the Bluetooth.
Date published: 2021-06-06
I would like to know if i use these headphones via bluetooth with my laptop, will i be able to use the microphone too?
Yes, this is possible as long as your computer's Bluetooth drivers are up to date. Once the headphones are paired and connected, select the JBL Live 500BT as the Audio input in the sound settings of your computer.
Date published: 2021-06-06
My JBL Everest Headphones Shuts down with no reason, after about 10 minutes of activity (Bluetooth connection to my laptop). The battery is full, and i can't understand why it shuts down suddenly.
It may be a battery issue. Try using the steps in our Battery and Charging Guide to see if it helps. https://bit.ly/3eq8drE
Date published: 2021-06-06
Is there a possibility to change the ear cushion to smaller/on ear?
No there is no way to change the ear cushion.
Date published: 2021-06-06
Are these noise cancelling head phones? Can you turn that feature off? Do these have a bass boosting feature? Can you turn it off?
Our JBL LIVE 500BT does not have Active noise canceling but has the ambient aware feature which can be turned on/off. It does not have a bass boost feature.
Date published: 2022-06-14
I have them for the last 3 months and I am really happy with them. Bluetooth playback works fine. I recently noticed that when using the included aux cable, the sound is only reproduced on the right ear. Did I accidentally turn something on?
We would like to get more information to help you out, please contact us so we can assist you:https://bit.ly/2zwFkYM
Date published: 2021-06-06
Can this earphone be used for TV
Thanks for reaching out. Our JBL Tune 500BT is recommended to be used with mobile phones, tablets, and laptops. You may experience audio-video delays when you're planning to use it with your TV as these headphones don't have APTX HD low latency codec.
Date published: 2022-04-11
Out of the 700BT, 500BT, and the 400BT, which is the better headphone?
We would love to recommend the best headphones suitable for your needs. Get in touch with our Customer Service to know more information on each headphones and find out which one is the best fit for you: https://support.jbl.com/us/en/customer-service/contact.html
Date published: 2021-06-06
I can't hear my own voice while on phone call. How do you fix that?
We would like to get more information to help you out, please contact us so we can assist you: https://bit.ly/2zwFkYM
Date published: 2021-06-06
Does Aux cable output only work when the battery is completely dead? I tried connecting the Aux cable while Bluetooth is off, but my two Windows devices won't recognize it.
Our Bluetooth headphones are necessary to operate, whether it is to connect to a device or Powering on the BT device. So without a battery, if you connect Aux also it won't work. Please check to see if the AUX cord is firmly connected to both devices. If this does not work and are only two rings, your cord is not compatible. If there are three rings, replace the auxiliary cord. If this does not work, our customer support could help you with checking your options. We're here to help: https://bit.ly/36JTBlN
Date published: 2021-06-06
Is this headphones big head approved?? I have heard that people feel discomfort who has large ears!!
The comfort depends on the preference of the user. Our JBL Live 500BT is lightweight and comfortable, thanks to the pillow-soft padded headband.
Date published: 2021-06-06
So just recently my headphones have been acting strange. I found them to be turning back on, even after I turn them off. I thought maybe something in my bag was causing it to turn back on but no. I even tried resetting it. Same issue. fairly new.
Thank you for bringing this to our attention. We'd like to work with you directly to get more information and to troubleshoot the issues you're experiencing with our JBL LIVE 500BT. Please reach out to JBL Customer Service for technical support and assistance. https://bit.ly/2WocMfi
Date published: 2021-10-30
What android versions do these work with?
Our JBL Live 500BT can work well with devices both Android and iOs regardless of the version.
Date published: 2021-06-06
can I plug the 3.5mm cable in and then turn the bluetooth off, and play music just with the wire?
There might be a slight audio drop (or the player will stop playback) when the music player switches the output to the wire. But yes, you can do it.
Date published: 2022-02-12
Hi, Is there any way to fast mute/unmute microphone just with headphones connected via bluetooth ?
The microphone on our JBL Live 500BT can be muted while you're engaged in a phone call by pressing on the counter button for more than 2 seconds. More information is available on page 8 of our Quick Start Guide here: http://bit.ly/2OtM7dr
Date published: 2021-06-06
Hi! Is it compatible with vivo and mi phones?
Hi there, the JBL Live 500BT is compatible with both Android and iOS, and should be compatible with Vivo and Mi phones as they have either Android or iOS platforms.
Date published: 2021-06-06
How does the power switch work? I just opened the box and can't the power switch to slide into the "ON" position.
Hi there, it doesn't necessarily need to be on the 'On' side for the JBL Live 500BT to turn on, you just need to slide it up so you can hear the sound on the headphones indicating that it's turned on. If you're still experiencing problems, please submit a case request and so we can assist you: www.jbl.com/support-contact.html
Date published: 2021-06-06
On a regular use, how long do these headphones typically last? I have purchased these headphones and they are on the way,Is there something about these headphones that is should know?
Thanks for your question. We are confident that our products have been engineered with safety and performance at the forefront. That's why they come with a one-year manufacturer's warranty from the date of purchase. If you need more help, please reach out to our Customer Support team.
Date published: 2022-03-23
My JBL live 500bt charging but its not indicating from the light. Its only indicate when the low battery and also its going to full charge like 5 or 6 hrs why is that 
We'd like to work with you directly to perform some troubleshooting with your JBL Live 500BT. Please reach out to our local support for Italy here: Kenwood Electronics Italia S.p.A. You may call them at +39 02 204 821 or send an email to info@it.jvckenwood.com
Date published: 2021-08-02
what is the pairing code for Laptop
Bluetooth passkeys you can use are 0000, 1234, or 1111.
Date published: 2021-06-06
bvseo_sdk, dw_cartridge, 18.2.0, p_sdk_3.2.0
CLOUD, getContent, 16ms
questions, product