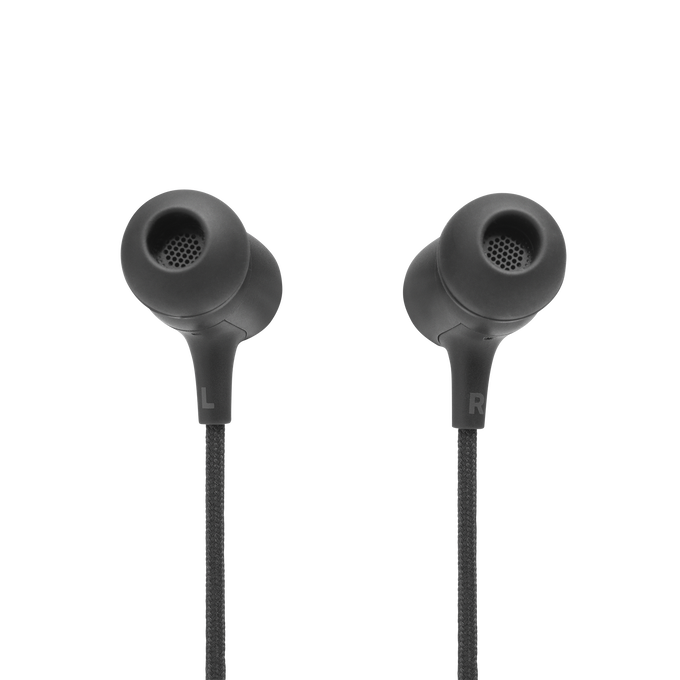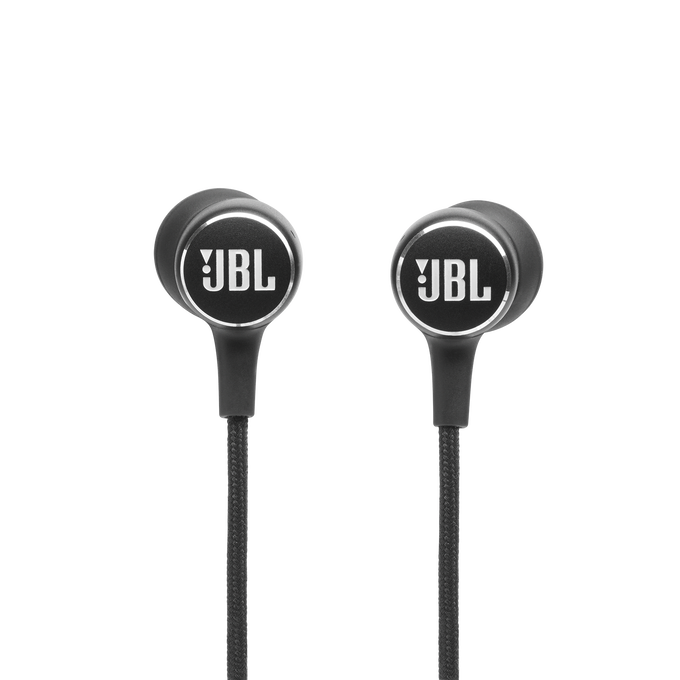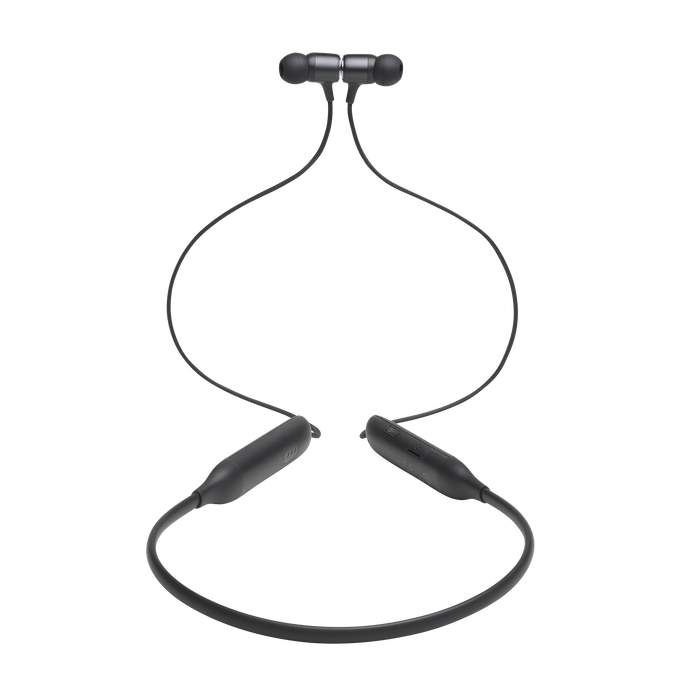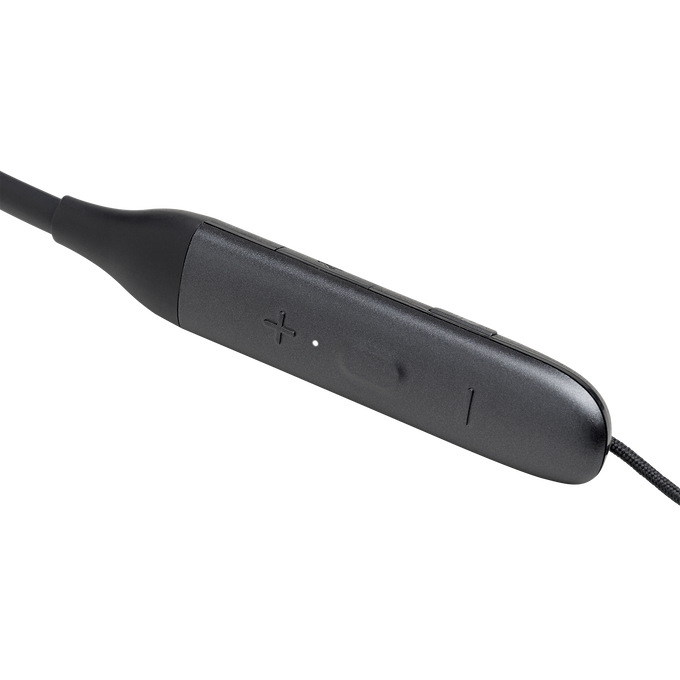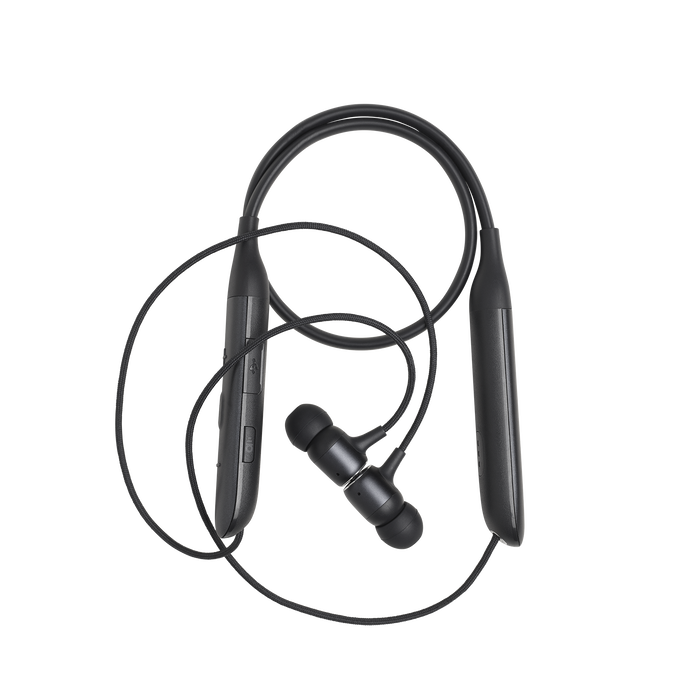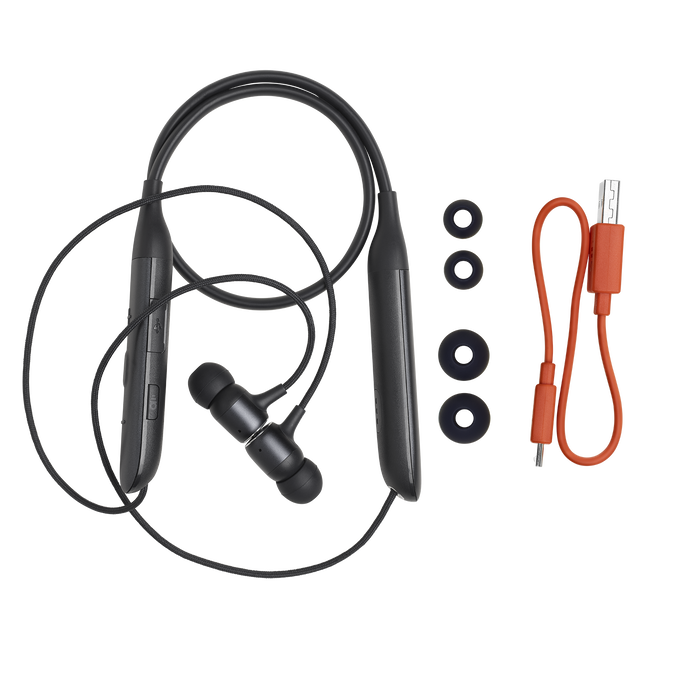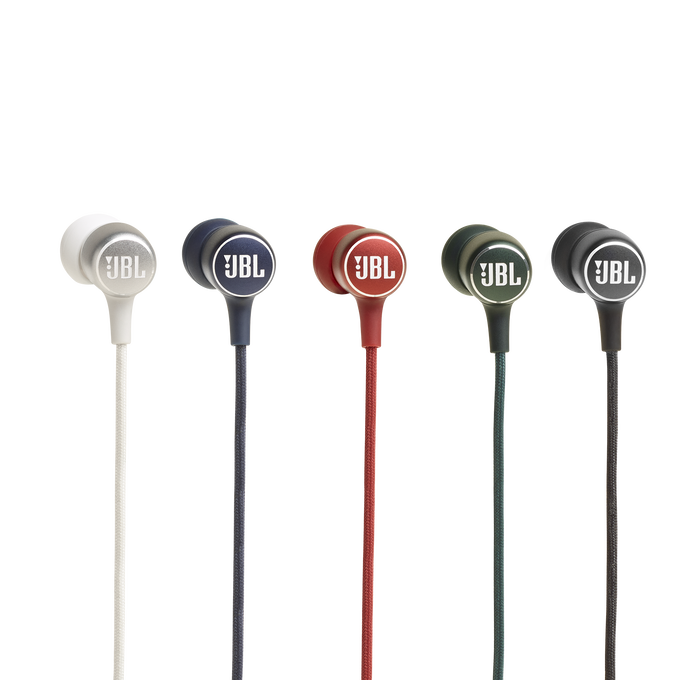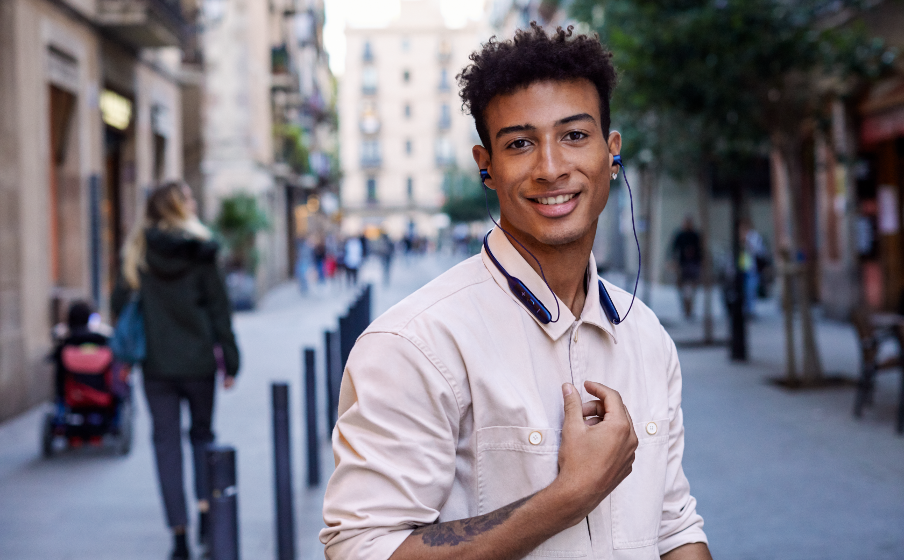 Den berømte JBL-signaturlyd
Den berømte JBL-lyd, som kendes fra koncerter, lydstudier og husstande verden over, fås nu til hovedtelefoner.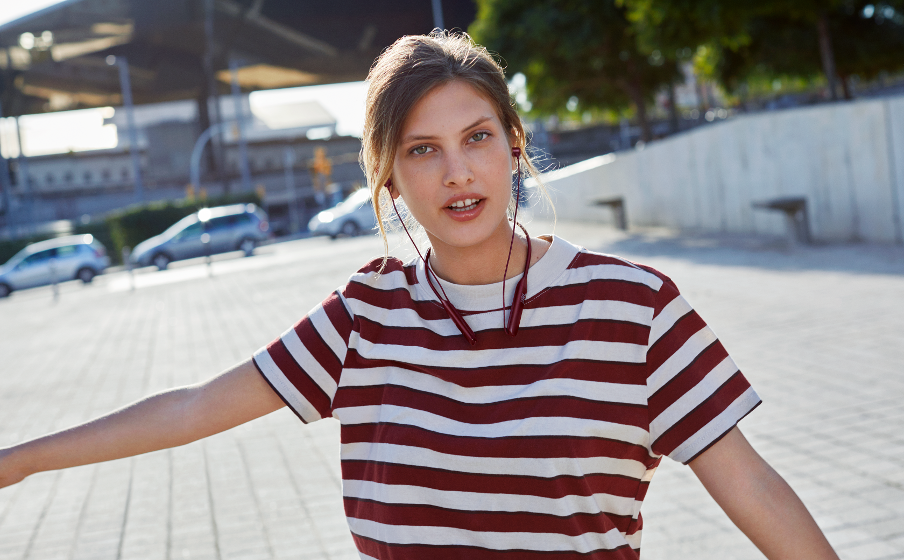 10 timers batterilevetid - 2 timers opladningstid med lynopladning
Underholdning, der bliver ved og ved, med 10 timers afspilning og hurtig opladning på bare 2 timer. Det findes ikke bedre i denne klasse. 15 minutters genopladning giver en ekstra times batterilevetid.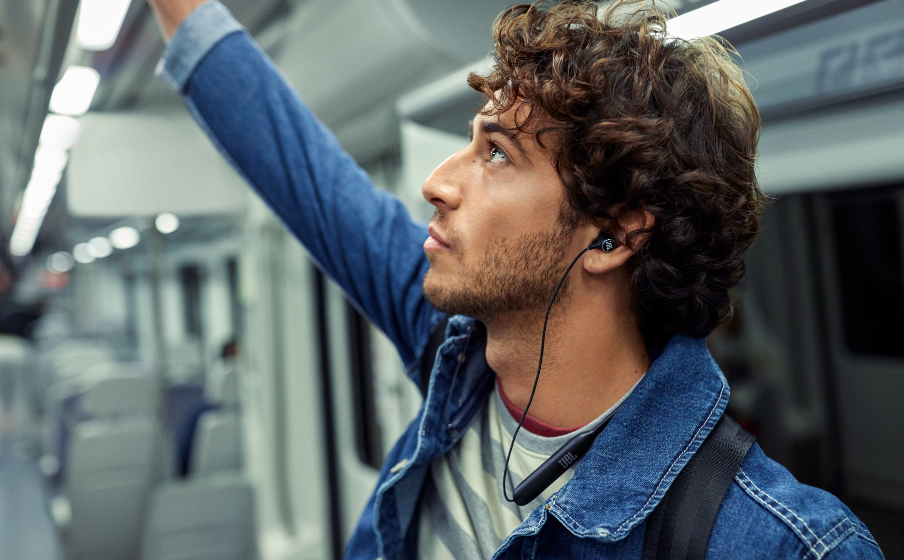 Ambient Aware og TalkThru-teknologi
Lad ikke musikken stoppe! Hold kontakten til dine omgivelser, mens du lytter til din musik. Et tryk på den særlige Ambient Aware-knap øger lyden fra omgivelserne, så du kan høre, hvad der sker omkring dig. TalkThru-tilstanden reducerer musikniveauet, så du kan tale med dine venner uden at tage dine hovedtelefoner af.
Funktioner

Få hjælp fra din stemmeassistent
Afspil din yndlingsplayliste, send din ven en besked, tjek vejrudsigten og meget mere ved blot at aktivere Google Assistent eller Amazon Alexa med et tryk på en knap. Brug den helt nye JBL-app til nemt at få adgang til de to virtuelle assistenter og indstille den, du foretrækker.

Bluetooth-teknologi
Afspil trådløst fra Bluetooth-aktiverede smartphones, tablets og fjernsyn.

Flerpunktsforbindelse
Skift let og ubesværet mellem musik på din mobile enhed til telefonopkald, så du aldrig går glip af en samtale.

Håndfri opkald med stemmeassistent
​Nem styring af musik, telefonopkald og adgang med de let tilgængelige fjernbetjenings- og mikrofonkontroller.

Nakkebånd giver komfort hele dagen
Hovedtelefonerne er designet til naturligt at følge konturerne af dit hoved og din nakke, så de sidder sikkert og komfortabelt, selv under de længste playlister. Bagefter kan de let foldes og puttes i lommen.

My JBL Headphones-app
Gør din lytteoplevelse personlig ved at justere JBL LIVE 220BT-lydindstillingerne med den gratis My JBL Headphones-app.

Magnetiske ørestykker og førsteklasses aluminiumskabinet
De magnetiske ørestykker sørger for, at kablet ikke filtrer sammen, når hovedtelefonerne ikke bruges. Førsteklasses materialer får hovedtelefonerne til at se lige så godt ud, som de lyder.
Detaljer & Downloads
Item# JBLLIVE220BTBLK
Beskrivelse
Trådløse øretelefoner med nakkebånd

Få det bedste ud af hvert øjeblik, og hold kontakten til din omverden med JBL LIVE 220BT. Med den berømte JBL-lyd og trådløs forbindelse med nem adgang til Google Assistent eller Amazon Alexa kan JBL LIVE 220BT uden problemer integreres med alle dele af din verden. Det er nemt at afspille din yndlingsplayliste eller sende en besked til en ven uden at skulle kigge på telefonen. Og hvis du stadig vil høre, hvad der sker omkring dig, eller tale med dine venner, mens du har hovedtelefonerne på, skal du bare aktivere Ambient Aware- og TalkThru-teknologierne. Hvis batteriet er fladt efter 10 timers arbejde, kan du genoplade JBL LIVE 220BT i blot 15 minutter for at få en ekstra time. Det fleksible nakkebånd sidder komfortabelt om nakken og giver dig mulighed for at folde hovedtelefonerne, så du nemt kan have dem i lommen, når du ikke bruger dem. JBL LIVE 220BT-hovedtelefonerne er udført i førsteklasses materialer og i et stort udvalg af farver. Fjernbetjeningen med 4 knapper og mikrofon understøtter den håndfri forbindelse. Flerpunktsforbindelsen skifter let mellem video og opkald fra to forskellige enheder, så du kan styre dine opkald uden gå glip af noget. Når du ikke bruger hovedtelefonerne, kan du nemt have dem om halsen, takket være de magnetiske ørestykker.
Specifikationer
Lydspecifikationer
Enheds-følsomhed ved 1kHz/1mW (dB)

104

Dynamisk frekvensområde (Hz)

20Hz - 20kHz

Impedans (ohm)

31

Antal dynamiske enheder pr. øre

1
Mål
Specifikationer, styring og tilslutning
Batteri
Ladetid (timer fra helt afladet)

2

Maksimal spilletid (timer)

10
Egenskaber
Bluetooth

Ja

Charging cable

Ja

Stemmeassistent

Ja

Lader lyd fra omgivelserne passere

Ja

Indbygget mikrofon

Ja

Håndfri opkald

Ja

Flerpunktsforbindelse

Ja

Genopladeligt batteri

Ja

Multifunktionel TalkThru-knap

Ja

Ægte trådløse

Ja

Trådløse

Ja
Dokumenter og downloads
Kunde-anmeldelser
Rated

2

out of

5
by
headphonedude
from
Very disappointed
Frankly these are terrible. The second star is out of pity. The battery life seems to be terrible. There is an app for the phone where you can set some features including auto-off but it doesn't really work right -- the headphones constantly turn off while they're in use, either for music or a call. The battery life is terrible, nothing close to what was billed. I'm returning them. I had really high hopes for these and am really bummed out. I use lots of bluetooth headphones -- I am open to the possibility that the problem is me, but I really don't think it is. I've connected to an iPhone 8, an Apple Watch
Date published: 2020-04-17
Rated

5

out of

5
by
bedders
from
great features
Lightweight wireless earphones came with 3 different sized sets of Earbuds. The neckband is lightweight and comfortable, I've actually forgotten to take them off when I'd finished using them. I like the magnetic bus ends which stops the buds from randomly moving around when not in use. Initially I had to remove the earphones from my neck to find the volume buttons but soon got used it. Easy Bluetooth connectivity to my mobile phone, iPad, and Amazon Alexa. If you move out of wireless range from chosen device the earphones automatically reconnect when back in scope. Battery life is excellent, charging is quick, sound quality good
Date published: 2019-07-02
Rated

5

out of

5
by
Nikonshooter
from
My first Bluetooth earphones
I have always preferred worried earphones but when my daily use pair failed recently I decided to look into Bluetooth ones for use at my desk so I could get up and walk around without having to remember I was attached to something. I knew I didn't want ear buds as I'd be afraid of losing one so I narrowed my search down to ones with a neckband. I have always liked the JBL sound and the reviews were good and by extremely good fortune JBL had a half price sale on. I am more than happy with my purchase. Once I'd fitted the correct size earpieces I was amazed by the sound quality. My hearing isn't what it once was but the sound has plenty of detail and oodles of bass for my taste. Highly recommended.
Date published: 2020-11-14
Rated

1

out of

5
by
That_paint_life
from
Waste of money
Wish I had just wasted for the LG Tone to come back in stock. First off, the earbuds are magnetized, but only attach to each other. There is no way to store them out of the way, and they will hang almost to your navel. Secondly, they use battery rather you are on a call or not. They will only last four hours tops, with minimal use, two and a half if you listen to music or talk on the phone. It's a chore to plug them in, and good luck finding a plug close enough to charge them with the five inch long cord. Needless to say, these are heading to the trash as soon as I locate a better pair.
Date published: 2020-05-08
Rated

1

out of

5
by
Anonymous
from
Got a defected peice
I bought the JBLLIVE200BTBLU in amazon India on July 4th. I gifted this to my wife for her birthday on Aug 1st. She opened and used for a 3 days. Unfortunately the wire connected to Band got broken and now not able to connect to blustooth. She is travelling to US in next week. She is no more going to be in Inida . I spoke to customer care and they said that they cant help , as this was bought in India. 1. I bought JBL only as there is a good reviews and support in US. But now this is gone. 2. I bought this as gift to my wife for her birthday. But it is completely ruined with a damaged peice.
Date published: 2020-08-03
bvseo_sdk, dw_cartridge, 18.2.0, p_sdk_3.2.0
CLOUD, getReviews, 6ms
reviews, product
Spørgsmål og svar
Are these headphones sweatproof and suitable for gym use
Dear Tony, Thank you for your question. The JBL Live 220 BT has no IP rating, therefore it isn't waterproof or sweat resistant. For the gym, products like the JBL Endurance series would be more suitable. Should you wish to receive further support, you may contact the Harman Customer Support team by telephone, email or chat in order to receive direct assistance. Please see https://uk.harmanaudio.com/support-contact.html#ns for further details.  Thank you.
Date published: 2021-06-06
I'm having an issue where my ringtone will play every now and again with a notification, even if my phone is on silent or Vibrate. Is there any way to turn it off?
We would like to get more information to help you out, please contact us so we can assist you: https://bit.ly/2zwFkYM
Date published: 2021-06-06
Does the My JBL Headphones app EQ setting still work when using these or other JBL bluetooth earbuds when listening to music on Apple Watch, or does the EQ setting only apply when listening to music on a smartphone?
Thank you for your question. The EQ settings on your smartphone to our JBL Live220BT only applies to the device the app is at. If you are switching to a different device, you'll need to adjust the EQ settings again. If you have more questions, please contact us so we can help you. https://bit.ly/2zwFkYM
Date published: 2021-06-06
Constant white LED light on
Thank you for your question. Please reset your unit: 1. With the headphones switched ON, press and hold both volume buttons for more than 5 seconds. 2. Your headphones are now reset to factory status. Should you wish to receive further support, you may contact the Harman Customer Support team by telephone, email or chat in order to receive direct assistance. Please see https://uk.harmanaudio.com/support-contact.html#ns for further details. Thank you.
Date published: 2022-11-06
I was using my earphones today for more than 2 hours. When I started it had a battery of 80% nd after 2 hr the battery dropped to 20%. When it dropped to 20, I turned off my earphones and it started heating excessively. Now it's not turning on or charging
Please check out the guide on our website that would isolate the battery and charging issue for your JBL LIVE 220BT here: https://bit.ly/2D1thEv
Date published: 2021-06-06
I wear my headphones all day. Sometimes I have to pause my audio for a while. After a period of time goes by without sound on, the Bluetooth disconnects. Is there a way to keep the Bluetooth activated as long as the power is on?
Unfortunately, the power saving feature can't be turned off. The headphones will only stay on for a long time when constant music is playing on it.
Date published: 2021-06-06
I have problems with 220BT, when I start using Skype,or any programs using the headset functions (listening music is ok) on Windows 10 (fully updated) kills all BT devices (keyboard, mouse), even when I use the built in laptop mic during Skype/Viber etc.
We recommend contacting your Laptop manufacturer to get the latest Bluetooth drivers for your laptop.
Date published: 2021-06-06
My device is asking paring pin to connect
You could try 1234, 0000 or 1111. If none of it works, please check your Bluetooth driver.
Date published: 2021-06-06
bvseo_sdk, dw_cartridge, 18.2.0, p_sdk_3.2.0
CLOUD, getContent, 6ms
questions, product