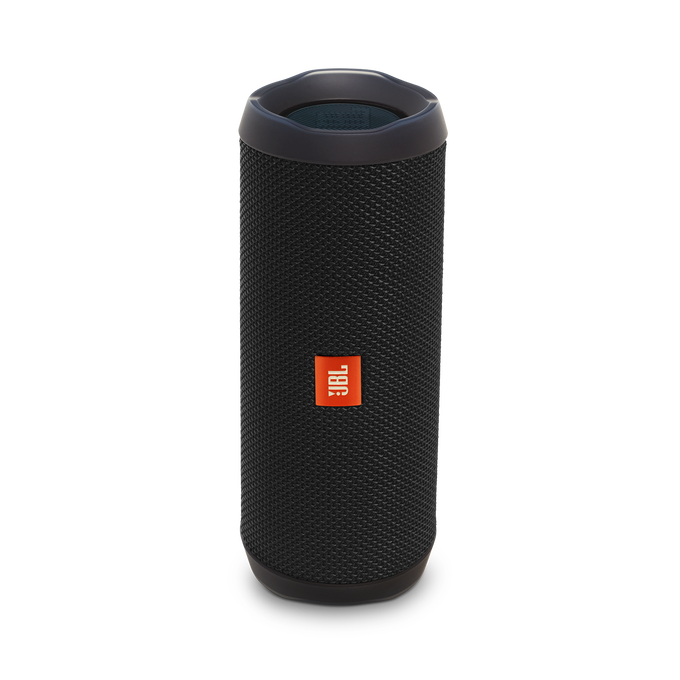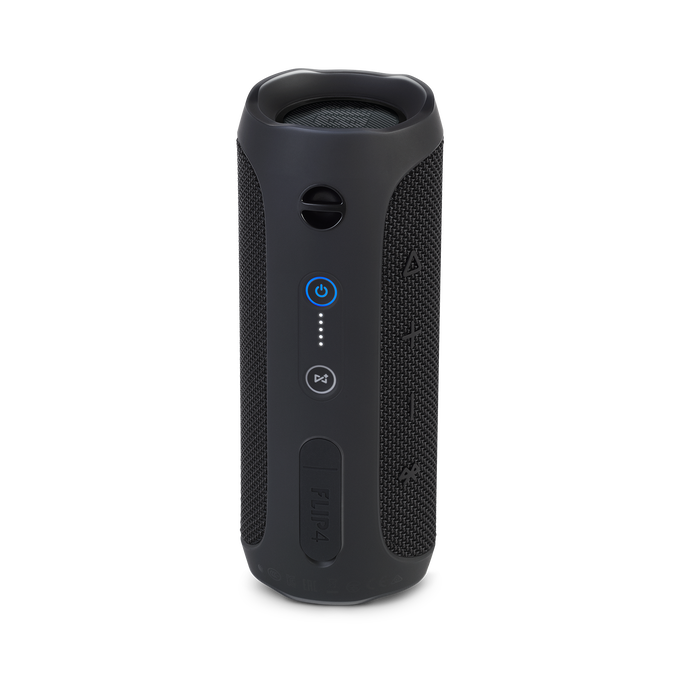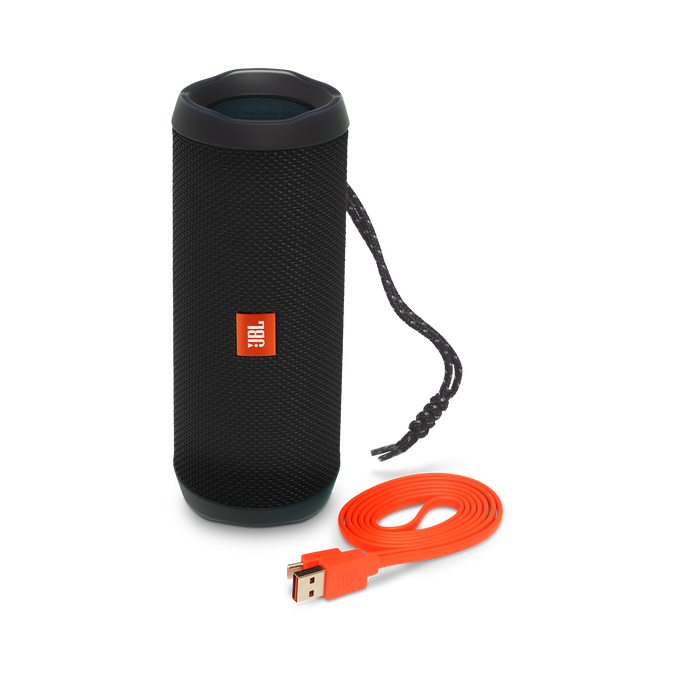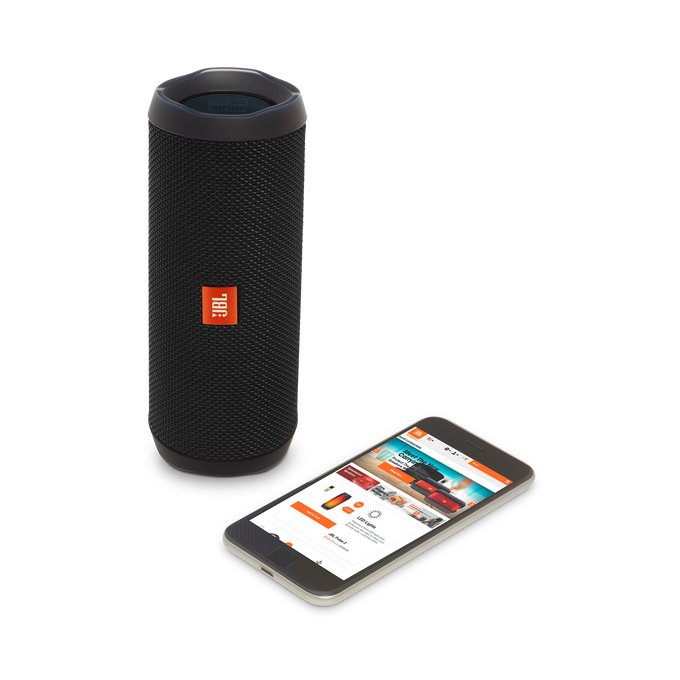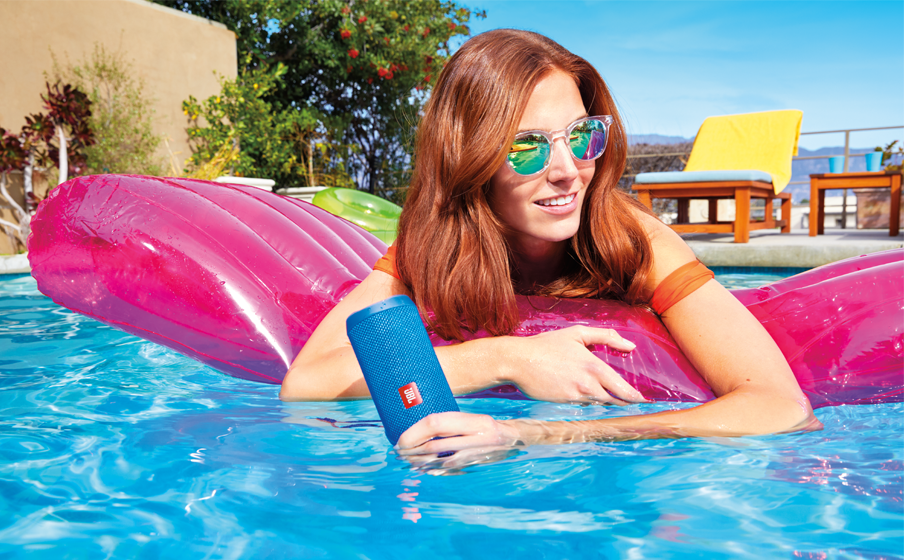 Trådløs afspilning med Bluetooth
Forbind op til to smartphones eller tablets til højttaleren via Bluetooth, og I kan skiftes til at afspille imponerende stereolyd.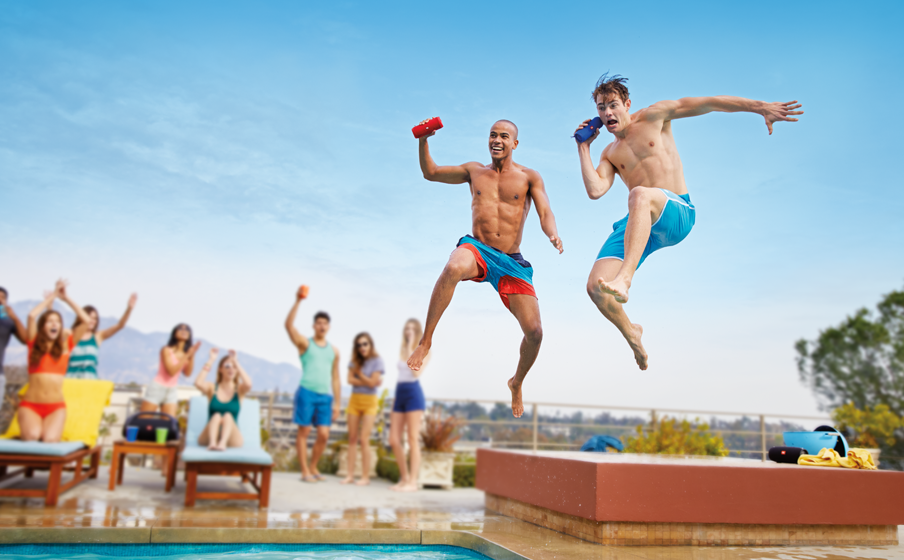 12 timers spilletid
Det indbyggede, 3000 mAh genopladelige li-ion-batteri giver op til 12 timers spilletid.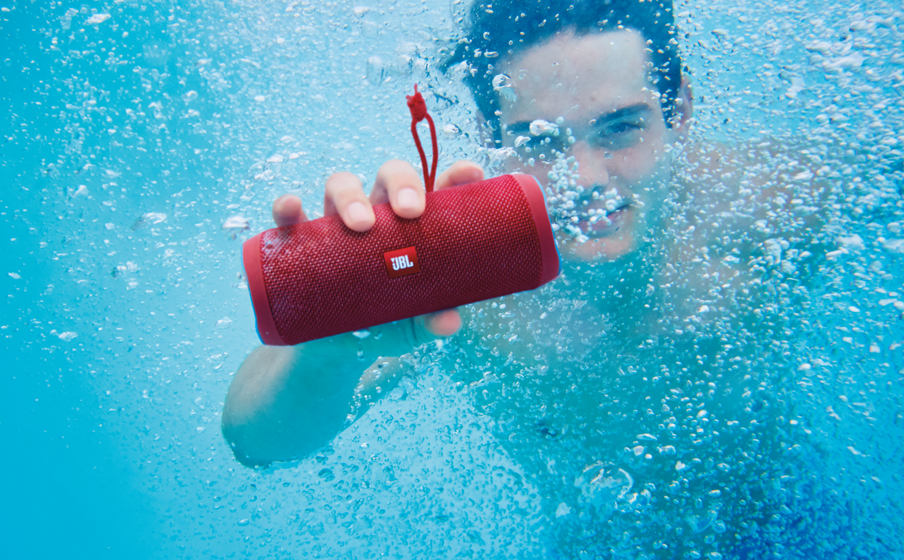 Vandtæt (IPX7)
Nu behøver du ikke længere bekymre dig om regn eller spild; du kan endda nedsænke Flip 4 i vand.
Funktioner

JBL Connect+
Forbind mere end 100 højttalere, der understøtter JBL Connect+, og sæt ekstra gang i festen.

Højtalertelefon
Besvar krystalklare opkald fra din højttaler med et tryk på en knap takket være den støj- og ekkoreducerende højttalertelefon.

Integration af stemmeassistent
Få adgang til Siri eller Google Now fra din JBL-højttaler med et enkelt tryk på en knap.
Livsstilsmaterialer
Med sit robuste stofmateriale og solide gummikabinet overlever højttaleren alle dine eventyr.

JBL-basradiator
Hør bassen, føl bassen, se bassen. De to udvendige, passive radiatorer udstiller kraften i din højttaler.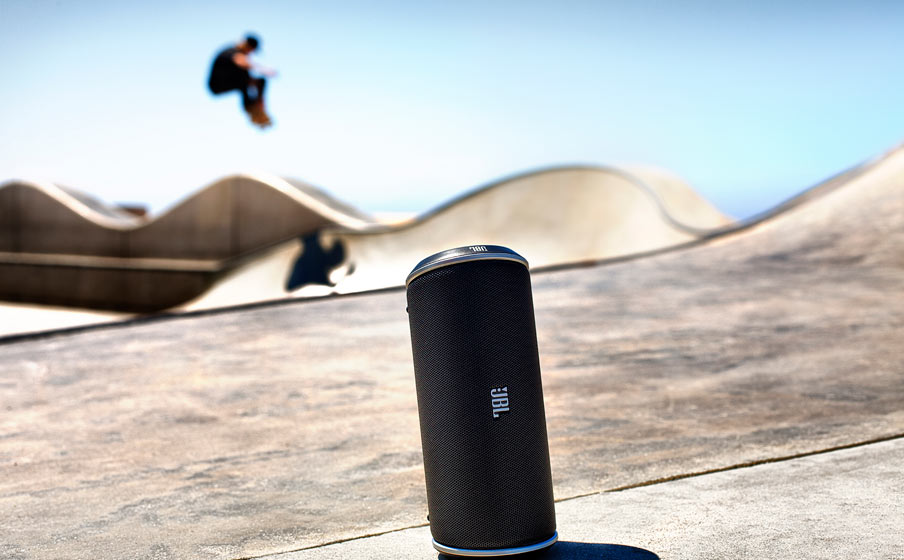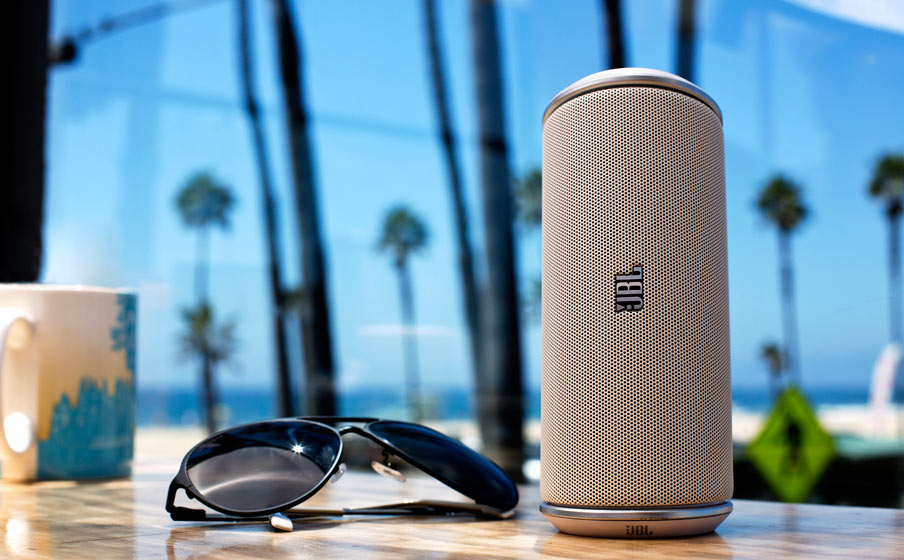 Detaljer & Downloads
Item# JBLFLIP4BLK
Beskrivelse
En alsidig følgesvend til alt slags vejr

JBL Flip 4 er næste generation i den prisvindende Flip-serie: en bærbar Bluetooth-højttaler med overraskende kraftfuld stereolyd. Denne kompakte højttaler drives af et 3000 mAh genopladeligt li-ion-batteri, der giver 12 timers kontinuerlig lydafspilning i høj kvalitet. Med sine holdbare, vandtætte stofmaterialer, der fås i seks friske farver, er Flip 4 den alsidige følgesvend til alt slags vejr, der kan starte en fest hvor som helst. Den har også en indbygget støj- og ekkoreducerende højttaler-telefon til krystalklare konferenceopkald og JBL Connect+-teknologi, der trådløst kan forbinde mere end 100 højttalere, der understøtter JBL Connect+ for en endnu stærkere lytteoplevelse. Med et enkelt tryk på en knap kan du aktivere og tale til Siri eller Google Now fra din JBL Flip 4.
Specifikationer
Spilletid (timer)

12

Udgangseffekt (W)

2 x 8
Lydspecifikationer
Frekvensområde

70 Hz – 20 kHz

Signal-støj-forhold

≥80 dB
Mål
Mål (cm)

6.8 x 17.5 x 7.0

Mål (inch)

2.67 x 6.88 x 2.75

Vægt (kg)

0.51

Vægt (lbs)

1.13
Specifikationer, styring og tilslutning
Batteri
Batterikapacitet (mAh)

3,000

Ladetid (timer)

3.5
Egenskaber
3,5 mm lydindgang

Ja

Auto-sluk

Ja

Bluetooth

Ja

Charging cable

Ja

JBL Connect+

Ja

Højttalertelefon

Ja

Stemmeassistent

Ja

Vandtæt

Ja

Wireless

Ja
Det er der i æsken?
1 x JBL Flip 4
1 x mikro-USB-kabel
1 x sikkerhedsark
1 x lynstartguide
Garantibevis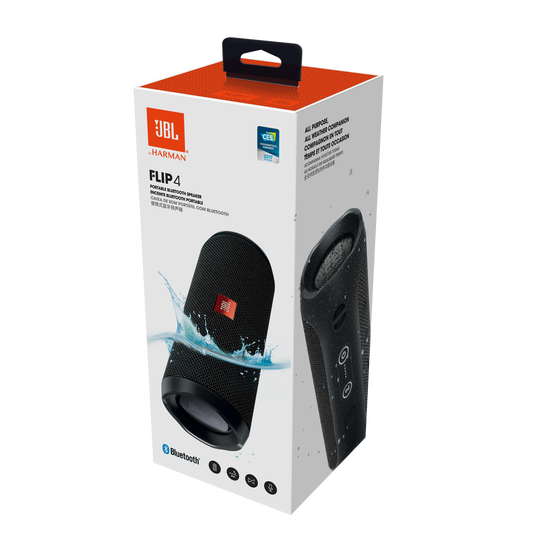 Dokumenter og downloads
Kunde-anmeldelser
Rated

5

out of

5
by
V213
from
Impressive quality.
I just bought this a week ago and havent looked back. Blue. I toss it in the washing (not running) machine to give the bass a bit more badump. For the price you cant go wrong. It sounds much better than the last speaker i had, cost more than the Flip 4. The battery lasts all day, depending on your volume settings. In this one week i have dropped it twice, off an pallet jack and another time jumping off the mast off a forklift. Id say 5ft. Still works like a charm. Not a scratch. The sound is impressive. I listen to almost everything. Everything sounds good. Ill be ordering the camo flip 4 and a charge to have a nice system when i ride my bicycle.
Date published: 2017-09-22
Rated

5

out of

5
by
P Walker
from
Excellent sound
I have enjoyed this product since I removed it from the box! The sound is clear and can get as loud as I need it to be (which happens to be very loud). However, if you are all about the deep bass that rattles and makes it hard to understand the song, a portable speaker isn't what you are looking to purchase. I turn it on and can hear it from any room on the first level of my home. My husband and I used it to play music during our FB baby announcement and the sound was great! It looks awesome and the actual color of the speaker is vibrant so if you order a specific color be ready to get what you expect! This speaker is just what my family needed.
Date published: 2017-03-17
Rated

5

out of

5
by
JW3312
from
Better each generation!
This is my third JBL Flip, I also own the Flip 2 and 3 which both work great to this day. Each generation of JBL Flip simply gets better than the last, this generation adds IPX 7 water resistance and JBL Connnect+ with performance improvements such as 2 hours more of battery usage and a deeper bass response. When it comes to durability in Bluetooth speakers JBL always delivers, and the Flip 4 is perfect for outdoor usage. All in all if your looking for a smaller Bluetooth speaker that can deliver sound as good as larger speakers, and is durable the Flip 4 is way better than the competition.
Date published: 2017-11-20
Rated

5

out of

5
by
lone_ranger
from
Excellent so far, haven't thoroughly tested
First of all, you have to be mindful of the sound settings on your device in order to prevent things such as text messages and other sounds from occurring while you are playing music. As always, don't blame the device for user error. Anyways, the Flip 4 sounds great and has really good bass. It has really good range, especially outside; I think I went way past the listed range and did not lose connection. I haven't tried to test the battery in one sitting, nor have I run water over it, nor have I set it out in the sun for long periods of time. I will when I go to the beach this summer. Build quality feels solid. If you lose the lanyard, you can easily replace it with a shoe string.
Date published: 2017-05-19
Rated

2

out of

5
by
Mija
from
Needs longer battery life
I bought one of these a couple of months ago for a river trip and the speaker was great! It was easy to use and had good sound quality however the battery life was very disappointing. I realize it says up to 12 hours depending on volume and content but I would still expect to get more than 4 hours of play time from it. I actually returned the first speaker because of it thinking it was defective of something. I bought another one hoping that the first one was defective. IT WASN'T. I think it would be better advertisement to say the battery last for 4 hours because that is the max amount of time I have been able to use the speaker.
Date published: 2017-09-09
bvseo_sdk, dw_cartridge, 18.2.0, p_sdk_3.2.0
CLOUD, getReviews, 8ms
reviews, product
Spørgsmål og svar
Is there a way to shut off or turn down the volume of the start up noise? I like to use this speaker in a office environment but I don't like how loud the start up noise is? Is there a fix for this?
Yes, on the current Flip 4 you must download the JBL App and update Firmware that takes up to 15 minutes or so to process and afterwards you can simply turn feature off as an option on the app via iPhone or Android. I too love the product but when your living with roommates, work in office environments or want to simply stay incognito, having the option to say, you know, I can see that it's on by the light ambient behind the device is always good enough. Unless of course, one may be visually blind. 
Date published: 2022-03-01
Can I lower the volume of 'connecting sound' and 'power on/off' ? I think they are way too loud.
It's a helpfull answer, but I'm not happy with it. I hope that a solution will be found!
Date published: 2021-06-06
I have a Flip 3 and we love it.  Looking to add 1 or 2 more and connect together to expand the sound area on my patio.  Is the connect button on the 3 compatible with the new 4? or vice-versa? 
this is really a drag, no 3 plus 4. that should be made clear in the advertising!
Date published: 2021-06-06
What do I do if my speaker is making a static and fuzzy noise, only having it for about 4 months? And have kept it in perfect conditions, as in not putting it in water, not blasting music, and not keeping it in hot conditions.
I also experience the same static/fuzzy/pop when listening at quarter to half of the volume on hip hop, and electronic beats. At lower volume, this does not occur. I have a refurbished unit and wondering if this was the original issue? Will need to return it to the seller now.
Date published: 2021-06-06
I'm using Flip 4 to playing guitar, using the 3.5mm line in. If I don't play a note for 5 seconds, it goes into a power save mode, at which point the next note I play is not audible while it "wakes up." Possible to extend this time/disable?
Hi. I had the same problem when connecting my Flip 4 to the TV or PC using a 3.5 mm jack. Now, after I read the previous comments I realize that the volume level was pretty low. It had nothing to do with pause between sounds. For example: when I tested it with my PC I was listening to a kind of meditation song that had literally no pause in between the notes, but the volume was low. I returned the Flip 4 because I think this is a flaw, not everybody wants to use this great speaker just on wireless mode. JBL, could this problem be on all Flip 4 speakers, or I was just unlucky?
Date published: 2021-06-06
Just got the JBL Flip 4 and it doesn't have a case or charger, so I bought a case but what charger is factory recommended with this.
The charger is tucked into the box at the end. It took us awhile to realize where it was tool
Date published: 2021-06-06
The flip 4 compared to the charge 3, what are some of the main differences, I don't know which one to buy, how loud and how good is the bass
I got these information from various YouTube reviews and here's a summary of them: Bass wise, The Flip 4's bass is impressive, it packs a punch but it's not as deep as the Charge 3's. Battery wise. The 6000mah of the Charge 3 is needed for it's big drivers, and to charge your gadgets. In a word, it gives the same battery life span as of the Flip 4, since the Flip 4 has smaller drivers, a 3000mah battery is all that it needs (It will still depend on volume level and music). Loudness wise, the Flip 4 is loud due to the emphasis of treble, but bass levels stay the same. Whereas the Charge 3 is best in max volume, the treble and bass are further emphasized. But in moderate volumes, like 50-75%, the Flip 4 sounds better since the Charge 3 sounds a bit muffled in these volume levels. If you only listen to electronica, heavy bass songs and so on, the Charge 3 is a better choice, but if you are more into Pop, Rock, EDM and so on, the Flip 4 is a better choice. Portability wise, the Charge 3 is a bit of a hassle to bring due to it's size, but unlike the Flip 4, it is much easier to put in your bag due to the small size. Both can be grasped easily by hand. Protection wise, both are IPX7 certified, but take note that the Flip 4 doesn't float unlike the Charge 3 (in my opinion is kinda weird...) so don't drop the Flip 4 in lakes, rivers, the ocean and so on or it'll be difficult to retrieve it. But for me, the Flip 4 is my choice. But it depends on your preferences. Hope this helps!
Date published: 2021-06-06
Will the flip 4 fit inside the flip 3 case?
So which is it Joe? Will it fit or not?
Date published: 2021-06-06
bvseo_sdk, dw_cartridge, 18.2.0, p_sdk_3.2.0
CLOUD, getContent, 134ms
questions, product