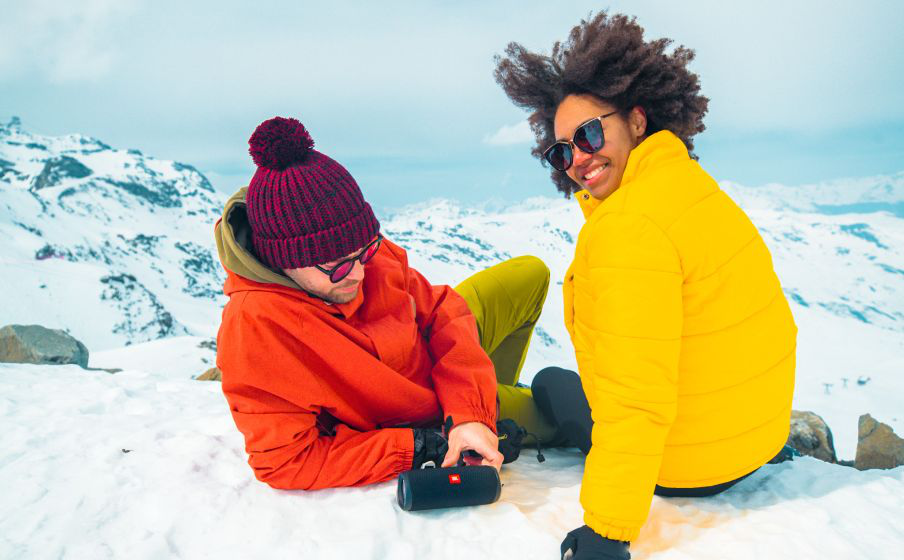 12 timers afspilningstid
Mærk musikken. Flip 5's splinternye driver leverer et enestående output med svulmende bas i en kompakt indpakning.
Lad bølgerne gå højt med vandtæt IPX7-design
Glem bekymringer over småting som batteriopladning: Flip 5 sørger for mere end 12 timers spilletid. Skru volumen i vejret og lad musikken blive ved og ved med JBL's signaturlyd.
Funktioner

Skru op for festen med PartyBoost
Tag dine højtalere med overalt. Poolparty? Perfekt. Skybrud? No worries. Gode tider på stranden? IPX7-design gør Flip 5 vandtæt ned til en meter, så du ikke behøver tænke på andet end at slippe tøjlerne og have det sjovt.

En bred palet af sprudlende farver
Ingen grænser. Med PartyBoost kan du forbinde et ubegrænset antal kompatible JBL PartyBoost-højtalere og skabe en episk mur af lyd.

Hård som flint
Bind højtaleren om håndleddet og før dine drømme ud i livet. Blandingen af slidstærkt stofmateriale og robust gummi værner sikkert om Flip 5, mens du slipper tøjlerne løs udendørs.
Produkt-sammenligning
Find den bærbare Bluetooth-højttaler, som passer bedst til dig
JBL FLIP 5-
FLIP-6-
CHARGE5-
CLIP 4-
GO 3-
JBL CHARGE 4
XTREME-3-
JBL BOOMBOX 2-
JBL GO 2
JBL CLIP 3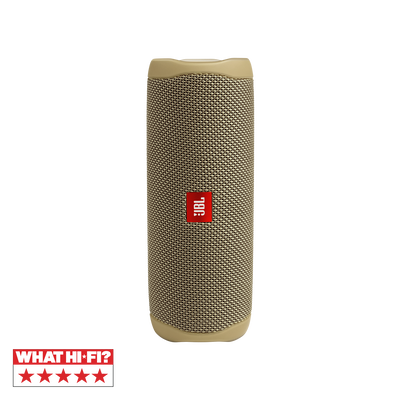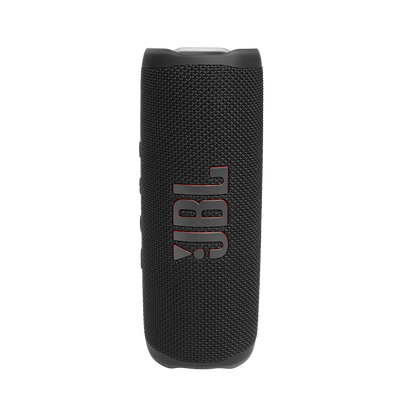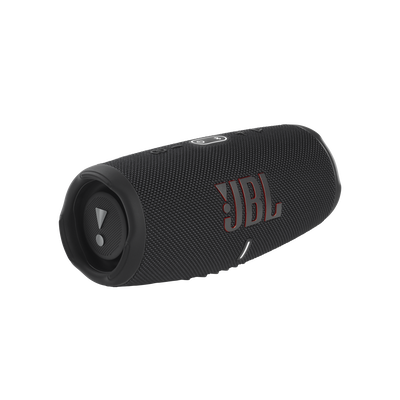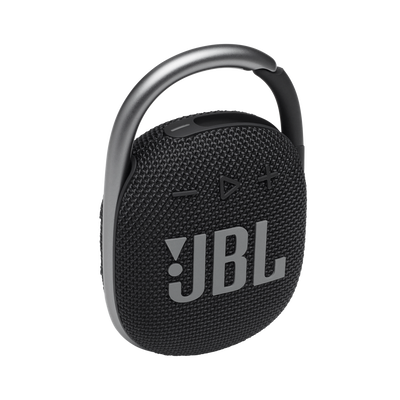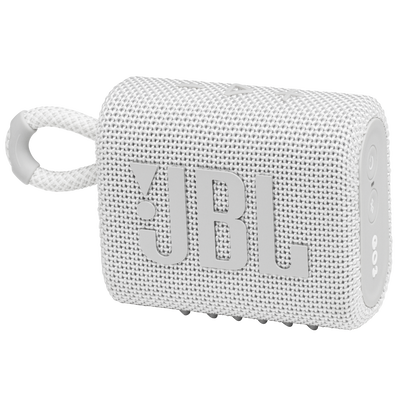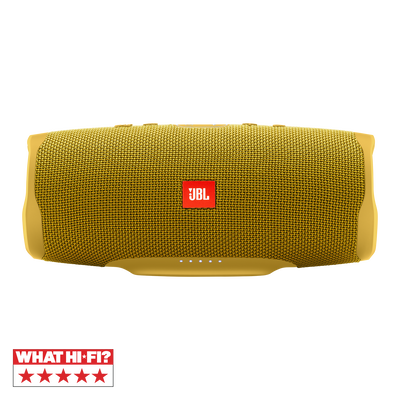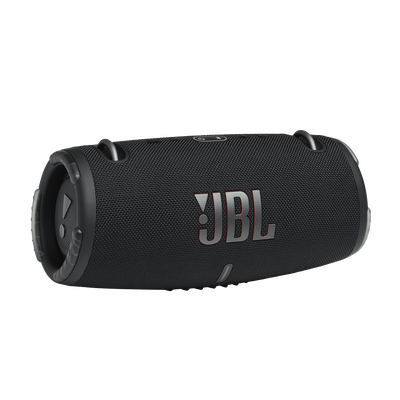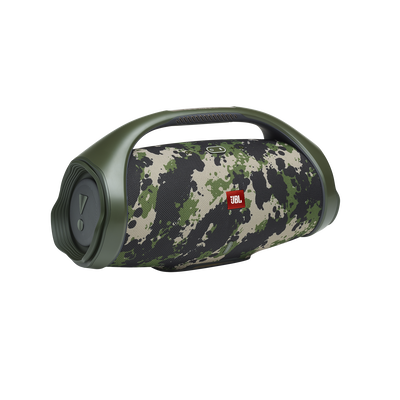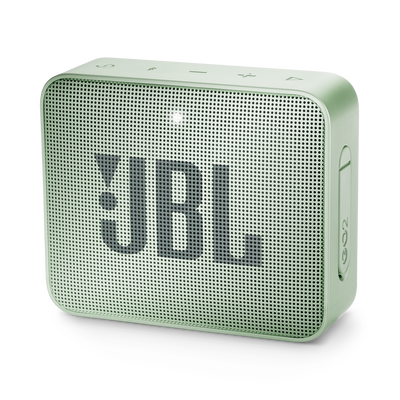 Specifikationer
Udgangseffekt (W)
2 x 25W RMS woofer + 2 x 25W RMS tweeter
Udgangseffekt (W)
2 x 40 W RMS-woofer + 2 x 40 W RMS-tweeter
Mål
Mål (cm)
17.8 x 6.8 x 7.2
Mål (cm)
8.6 x 13.5 x 4.6
Mål (cm)
22.1 x 9.4 x 9.4
Mål (cm)
29.8 x 13.6 x 13.4
Mål (cm)
48.5 x 20.1 x 25.7
Mål (cm)
9.7 x 13.7 x 4.6
Detaljer & Downloads
Item# JBLFLIP5SAND
Beskrivelse
Kraftfuld lyd til alle dine eventyr

Tag din musik med på farten med den kraftfulde JBL Flip 5. Vores lette Bluetooth-højttaler kan tages med overalt. Dårligt vejr? Intet problem. Med det vandtætte design kan du rocke til vores berømte lyd i al slags vejr. Mere gang i den. Par to JBL PartyBoost-kompatible højttalere for at få stereolyd, eller forbind flere JBL PartyBoost-kompatible højttalere for at skabe en endnu større fest. Få mere end 12 timers spilletid til din yndlingsmusik. Placer den lodret eller vandret, og vælg mellem 11 flotte farver.
Specifikationer
Lydspecifikationer
Dynamisk frekvensområde (Hz)

65 Hz - 20k Hz
Mål
Mål (inch)

7.12 x 2.91 x 2.71

Mål (cm)

18 x 7.4 x 6.9

Vægt (kg)

0.54

Vægt (lbs)

1.2
Specifikationer, styring og tilslutning
Bluetooth-profiler

A2DP V1.3, AVRCP V1.6

Bluetooth-frekvens

2.402 – 2.480GHz

Bluetooth sender-modulation

GFSK, π/4 DQPSK, 8DPSK

Bluetooth sender-effekt

0-11dBm

Bluetooth-version

4.2
Batteri
Ladetid (timer)

2.5

Spilletid (timer)

12
Egenskaber
JBL PartyBoost

Ja

Charging cable

Ja

Vandtæt

Ja

Wireless

Ja

Genopladeligt batteri

Ja

Bluetooth

Ja
Det er der i æsken?
1 x JBL Flip 5
1 x Type C USB cable
1 x Quick-Start Guide
1 x Safety Sheet
1 x Warranty Card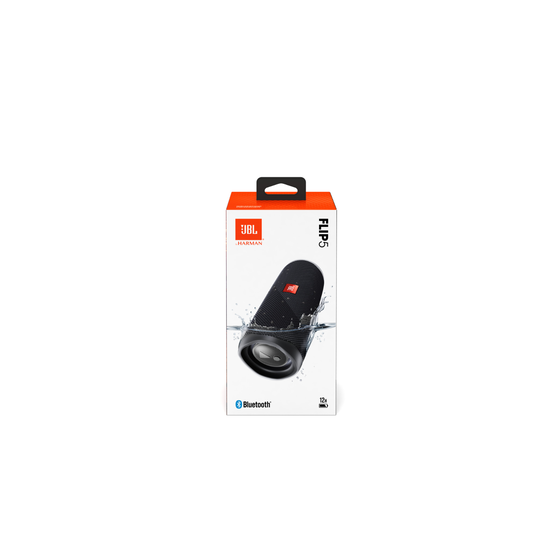 Dokumenter og downloads
Kunde-anmeldelser
Rated

1

out of

5
by
HL123
from
Going on second replacement
Our first Flip 5 worked for 2-3 months and then stopped charging and turning on. We got a replacement and that one worked for 1 day before it stopped working. Now they want to send me another new one but I have no desire to keep replacing these things. Such a disappointment.
Date published: 2020-04-21
Rated

1

out of

5
by
Anonymous
from
NO SPEAKERPHONE!! BOOOOOOO!
How is it an improvement to offer fewer features and capabilities? I would love to see your market research that says your customer base wants devices with LESS functionality!
Date published: 2019-07-25
Rated

5

out of

5
by
Juliette09
from
Great Speakers !!!!
I'm very happy with this purchase. Perfect quality...sounds and design... very good flip 5
Date published: 2020-08-11
Rated

5

out of

5
by
ST Beetz
from
bought this 2-3 months ago, great speaker. quality is really amazing for the price. Recommend
Date published: 2019-11-30
Rated

4

out of

5
by
JJ95928
from
Great Quality Sound For A Reasonable Price!
This is my second JBL Flip and I am very happy with the sound it produces. Unfortunately my first Flip didn't last a year (the speaker wouldn't hold a charge & then the speakers started popping) but after looking at other brand's speakers, I decided that I was satisfied with getting another JBL Flip. I tried a Sony speaker and returned it the next day because the quality was not to my liking. I reviewed Bose products but they are expensive and the reviews indicate the speakers don't last very long either. Therefore I would much rather buy a JBL considering it's price and quality of sound.
Date published: 2020-06-19
Rated

5

out of

5
by
Sydney28
from
Impressive!
Extremely happy with this! Bought it to go kayaking with since it's waterproof and came with the wrist strap that I can clip onto my kayak to keep it safe. I was shocked at how loud it gets while still having perfect sound clarity and bass! Perfect size/weight to travel with. I almost got Charge 4 but decided it would be too big for travel. I'm glad I didn't get it because the Flip 5 is really all you need unless you're trying to throw a huge dance party with a lot of people. I originally purchased the white but returned it for fear of it eventually getting dirty or the plastic parts yellowing. Settled on the grey color which is a perfect medium shade that shouldn't show dirt easily and won't absorb lots of heat from the sun.
Date published: 2020-06-09
Rated

5

out of

5
by
Matt A
from
The Speaker is AWESOME
I am a teacher and when we went virtual last year they gave us laptops and the speakers weren't great so I wanted a Bluetooth speaker so that I could hear my students better. This speaker has met and exceeded all my expectations, I could (and can because we're virtual again right now) hear EVERYTHING (sometimes to a fault lol). I am also music obsessed and LOVE to listen to music on this speaker, the bass comes through so clear and the overall sound quality is amazing, I can hear little parts of songs I never previously noticed despite having listened to them many many times. This speaker is WELL worth it.
Date published: 2022-01-07
Rated

5

out of

5
by
Nova Jaded
from
Lasts Loooooooooong
I bought mine at Best Buy after returning a bigger speaker from a different brand. This was half the price as the returned product and it sounds just as good. The battery lasts about 4 times longer than that other one as well. I recently played it for a good 4 hours a day, 3 days in a row without charging it. It's that good.
Date published: 2019-08-02
Rated

1

out of

5
by
HikingGuyPNW
from
Soooo dissapointed!!!!
My wife had the Flip 3 (I think) and we loved this speaker. I purchased the Flip 4 for her after the other got stolen, and we were extremely disappointed to learn JBL Flip speakers (or Charge) have a phone speaker any more. We returned both devices and are now looking to purchase another brand of speaker that offers this feature. This is a really sad thing, as the music quality in these speakers is outstanding. Unfortunately the lack of a phone speaker is a deal breaker. Why did you take away this feature?????
Date published: 2020-05-27
Rated

4

out of

5
by
Semi811
from
Amazing sound for the size!
I bought my Flip 5 at Best Buy in January this year (with the warranty, of course), and I gotta say, it was the best decision of the month! This thing really packs a punch! It has nice punchy bass and some crisp highs, which personally I really enjoy. The carry-string is pretty useful believe it or not, and can be attached to a bike and be brought anywhere! The speaker has stellar battery life, and can easily last a few hours of gaming, jam sessions, and other instances where no charger is available or necessary. The speaker is not all that durable, as a simple drop could snap the shell or casing right off, but is not that hard to fix. Overall, the Flip 5 is a major go for those seeking a great sounding and compact bluetooth speaker.
Date published: 2020-03-25
Rated

5

out of

5
by
Kidzip
from
another solid speaker from JBL
Received this speaker late and wanted some time to really assess its features...i should have known what to expect as I have several other portable Bluetooth speakers from JBL. The Flip5 is a solid a performer for its size..surprisingly solid bass and good volume as expected. Battery life is also very good lasting several hours ( I had to recharge after 10 hours of pretty loud playing) and charges quickly. Comes in a variety of colors and fits easily in a bookbag. My favorite use is taking it to the beach or having it next to me by the pool.. I haven't had the nerve to dunk it but it's x supposedly waterproof up to 3ft. I can say that splashes had no effect and would have probably ruined a regular speaker...overall, very pleased!
Date published: 2019-09-16
Rated

1

out of

5
by
Dena M
from
disappointed
I am bummed. I love JBL products. I have the charge, but it rolled off surfaces too many times just went it's bumped. Since it's broken I ordered the flip, rolls even worse so I returned it. These speakers need a sturdy platform on the bottom so they stop rolling.
Date published: 2020-04-21
Rated

2

out of

5
by
Still Looking For Better
from
Underwhelming latency, connectivity & consistency
More robust sound than prior Bluetooth speakers of this size. But plenty of issues remain. 1) Note stereo mode with multiple speakers requires use of Connect+ App, only available for iPhone and Android mobiles (no laptops or alternate mobile options) 2) Runs on dated Bluetooth 4 which often crackles or has gaps in connectivity 3) Significant latency/lag when syncing audio embedded within a video (if playing a music video the sound won't line up well) 4) Party mode (multiple speakers not in stereo) will drop out occasionally. 5) Customer support online is not quick to reply to emails or offer much.
Date published: 2020-07-14
Rated

5

out of

5
by
MeriP
from
Great Speaker
I have a Charge 4 that I can't live without. The problem is the Charge 4 doesn't fit in my Jetski so I bought the Flip 5. Very impressed with the sound, it's almost as good as the Charge 4 sound quality. The only thing I'm not thrilled with is not having the little "stand" area the Charge 4 has. It causes the music to sound a little flat. My husband built a little stand for it to get off the table and fixed it. Sounds great if hanging by the strap though. Fits inside Jetski and that was the goal. Love these speakers and plan to buy more.
Date published: 2020-09-04
Rated

4

out of

5
by
Hunter1016
from
Nice speaker but seems like more of the same.
This speaker has excellent battery life and sounds great. The connect feature would be useful but I only have one flip 5. I don't like the fact that the only available way to sit it is on end. The case works well to set it in but it is a little bulky. Bluetooth connectivity works very well. I had my wife use it to compare to her flip 2. She wasn't crazy about the moving ends. Her speaker has fixed ends which she liked better. She was very interested in the longer battery life. Overall this is a great speaker. I compared it to my charge 2 and the bass is not as good. Battery life is much better. This is a nice addition to JBLs Bluetooth speaker lineup but there are not many bells and whistles compared to the existing speakers.
Date published: 2019-09-04
Rated

5

out of

5
by
sonix77
from
Block Rocking Beats
I've had this product for two weeks now and i'm really impressed. The sound quality for such a small unit is amazing; the bass is thumping! I take this everywhere with me as its so portable and the battery life is great. It hard to find a good party speaker that runs on batteries, some are very quiet but this has a fantastic volume range. The speaker is even waterproof so you can safely have it by the poolside with you. Its very quick to pair with your phone, and very intuitive..... you dont even need to read the manual. Highly recommended.
Date published: 2019-09-27
Rated

2

out of

5
by
Falcontastic
from
Battery not as advertised
Bought the flip 5 last week. I will be returning it as the battery did not even last a full round of golf (5hrs) at max volume.
Date published: 2019-09-19
Rated

1

out of

5
by
zapufast
from
Doesn't pair with Flip 4
People want to upgrade, not buy a whole new array of speakers. JBL lost my money when it won't pair with Extreme 2 or Flip 4.
Date published: 2019-07-24
Rated

3

out of

5
by
JAFarmer
from
Great Product / Personalization Process Not Great
I have the JBL Flip 4 personally and have loved it. We were looking for nice Associate gifts and I started looking at the JBL Flip 5. It is great that customization is offered. The online design tool has limitations and some of the color options for casing and base are not clear for matching purposes. When I called in for assistance, the support team could not help. They were friendly and all of that but were not able to help. I did end up ordering 55 of these customized with our company logo etc. The finished product is nice and I hope that I can get the remaining 25 that I need soon.
Date published: 2020-09-10
Rated

1

out of

5
by
JoeTheLion
from
Much worse than flip 4; never buying a JBL again
Before this I had 4 flip 3`s and 4 flip 4`s (stereo setups for home and office) and they worked great. Flip 5 is horrible in that there is constant connection problem. The sound quality is not noticeably better than the flip 4 too. I would have continued using the flip 4s but also unacceptably short battery life and bad quality for the price. After so many products (including several different headphones), I am not planning to go back ever. There are much better quality speakers/headphones around for the price, try B&W or UE
Date published: 2020-12-07
Rated

4

out of

5
by
Zeldarae
from
Speakers are great; the app is terrible
I bought two Flip5s because we want music in stereo in our small living space. I got the app to allow stereo sound for about two minutes before it reverted to just Partyboost mode. Not a bad sound, just not a stereo sound. The speakers themselves as a stand-alone product are pretty great for Bluetooth. Nice round sound with a bit of bottom. I would give 5 stars if the app didn't suck so much, and by that I mean it sucks so much.
Date published: 2020-05-21
Rated

5

out of

5
by
VJ001
from
Awesome sound!
This little thing really kicks out the sound! I work in a loud factory that allows everyone to have bluetooth speakers at their work stations and I was bringing a cheap litptle speaker that seemed loud when there was no other noise, but didn't cut it in the shop. My teammates all had speakers that sounded great, so I asked them what kind they had. They were all JBLs. So I bought one too. I can finally hear my music and it's never sounded better! It really cranks out the bass too. It has long battery life and long range for bluetooth. My other speakers would drop the connection at about 10 feet, but I can walk around the shop and come back and it's still connected. 10/10 would recommend.
Date published: 2020-07-06
Rated

1

out of

5
by
AngelMontes
from
No Microphone = No speakerphone
You can't make downgrades without saying it. I had the Flip 4 and it was obvious that it would have a microphone.
Date published: 2020-08-07
Rated

5

out of

5
by
stickygum
from
Excellent sound from a durable small speaker.
I have had my Flip 5 for almost a year now. It has been a fantastic speaker. The size is good to bring hiking, kayaking, boating and more and the weather resistance brings peace of mind...mine has been wet a few times and it keeps on rocking. Don't let the small size fool you, there is great sound and tonal range from this thing which is exactly what you'd expect from JBL. Even at higher volumes it can fill a good size room with great sound and no distortion. Battery life is great and the bluetooth syncs up every time. Auto power off to save battery when the source gets to far away. I like this enough that I am getting another so I can have one inside and one outside without missing a beat.
Date published: 2021-05-06
Rated

5

out of

5
by
happymedium777
from
Amazing sound
This is a small speaker with amazing sound. Seems very well constructed, all the controls feel solid. The bass out of this little thing is pretty amazing. Could do without the little guitar riffs when you turn it on or off or connect to it.
Date published: 2020-06-09
Rated

3

out of

5
by
LadyBlue
from
waiting for return/warranty replacement.
Wanted the sound of the Clip 2 but louder. This is very bass dominant w/o adjustments. Puts out loud sound, great for pop/rock, over emphasized bass on country. It is louder than the clip, good output. I was so excited to get it, but it randomly shuts off, erratic timing, even when plugged in. There was no low battery noise, the light bar changes color. It just shuts off. I returned/warranty and Josh was polite and helpful via phone, i had to send in and wait for new speaker they would expedite upon receiving my return. (why? u have my visa?) I ordered too fast and chose blue intending to grab black, oh well, but take note when ordering. I hate to review this early w/o the second one......we'll see.
Date published: 2021-05-07
Rated

1

out of

5
by
paintbrush
from
partyboost not compatible with connect+
seriously how about connect+ speakers be updated to partyboost so we would connect the speakers we have like flip 4, charge 4, extreme 2, pulse 3, boombox,etc. so we can connect to the newer speakers like the flip 5 and pulse 4
Date published: 2019-09-11
Rated

5

out of

5
by
Conzehn
from
You cannot kill this speaker
Dropped this speaker off my kayak near my place in tampa bay. Chalked it up as a goner and was ready to buy a new one because I thought it was a great speaker. Well 6 days go by and I'm at the same spot where I lost it when I see what looks to be the speaker in the water. Not only did I somehow find it but after being submerged in saltwater for six days and half buried into the sand bottom, it worked immediately! Pulled it out of the water and this thing still had half the battery left and worked like new.
Date published: 2021-08-18
Rated

5

out of

5
by
Mike P
from
Where to begin?
I agonize over some purchases. Sparing you the details of my lifelong love affair with sound, After 6 months i settled on the JBL Flip 5. (It fits in a bike water bottle cage) Then I discovered the customization feature on the JBL site. Well. Now. I had to do a play on old-school xmas wrapping paper that used to send my bro in law into a fit. Then, i got a huge surprise during the first listen. Oh my. This thing is pure. Right now it's streaming Funky Friday on xpn. Yes, my JM labs and n.a.d. sound a bit better, but can they ride a bike? Nope. Amazing.
Date published: 2020-09-11
Rated

5

out of

5
by
pinkdarts
from
The perfect companion
I got this amazing piece of kit to test, I took it on my holiday to my caravan. I've never had anything like this and I'm not disappointed, it's design very tactile and really easy to use. The volume is very powerful and really easy to pair with Bluetooth. It's great for putting in your bag on any journey. We took it to the beach and the sound was very clear. I'm looking to purchase one, hopefully a full range of colours are available, I had the grey one to test. I would definitely recommend this speaker to anyone. I do think it's a bit pricey as technology is changing all the time.
Date published: 2019-09-27
bvseo_sdk, dw_cartridge, 18.2.0, p_sdk_3.2.0
CLOUD, getReviews, 5ms
reviews, product
Spørgsmål og svar
Is the red a bright red or darker red?
Our JBL Flip 5 in color red is bright red.
Date published: 2021-06-06
Experiencing static from my portable jbl
We're sorry to hear about what happened. Here are some troubleshooting steps for us to check your JBL Flip 5: 1. Please avoid placing the speaker where there could be wireless interference ex. Wifi routers, because this can cause static noise. 2. Try using a different music player and if you're using an equalizer, turn it off. 3. Try to pair the speaker to a different source ex. 99phone, tablet) for us to check if you'll experience the same problem using a different device. You may also reset the speaker to check if this can help fix the problem: While the unit is On, press Volume + and Phone (Play) button at the same time for 2-3 seconds until the unit turns off. It has now been restored to factory default settings. If the problem persists, please contact us so we can check your options: https://support.jbl.com/us/en/#contact
Date published: 2021-07-01
How do I get sound out of my flip?  Need to know how to operate .
Hi there, our JBL FLip 5 must be connected to a music source via Bluetooth. Please visit our website and consult our Bluetooth Pairing Guide : https://support.jbl.com/us/en/product-support/bluetooth-pairing-guide.html
Date published: 2021-06-06
Does this have a volume button?
Our JBL Flip 5 has a volume plus and minus buttons.
Date published: 2021-06-06
Where can i get a replacement red passive radiator for my jbl flip 5
Unfortunately, parts for our JBL Flip 5 are not available. If you have other questions, please reach out to us at https://bit.ly/2Jc8wJp
Date published: 2021-06-06
I have a Flip 5 with a usb port damaged so bad that it needs replacement. What are my options?
We have a one-year limited coverage for our products. Please reach out to our Customer Support so we could explore your options. We're here to help.
Date published: 2021-06-06
Can you put two Flip 5's in stereo without using the app?
No, you will need our JBL app to connect the two JBL Flip 5.
Date published: 2021-06-06
If any JBL product is used in the "bypass mode," does that void the warranty of all damages or only the ones from the bypass mode? Does using this mode void warranty from other sellers such as Best Buy?
Using a JBL Product in "Bypass mode" voids the warranty of all damages made in the product and voids the manufacturer's warranty. Retailer warranty will be on their discretion of the damage made.
Date published: 2021-06-06
Is there a way to fix the sound coming out of one side of the speaker (left)? Happens at low volume, have not tried high
We would like to get more information to help you out, please contact us so we can assist you:https://bit.ly/2zwFkYM
Date published: 2021-06-06
How can I tell how much charge the speaker has? When is the charging indicator supposed to be lit and when should it be dark? Mine currently is always dark except when it's charging and right when it turns on. But then the light goes away.
The battery indicator is never always on. It lights up whenever you plug it in to charge, turn the speaker on, or whenever you press a button.
Date published: 2021-06-06
What is the operating range from my device (phone)?
The Bluetooth range varies. However, you should get up to 15 meters (just under 50 ft) when using the product indoors. If you are using the speakers outside, conditions vary based on surroundings and obstructions.
Date published: 2021-06-06
Does this have the voice assistance just like the flip 4 ?
Hi there, the new Flip 5 does not include the internal microphone. Due to the overwhelming response we received from customers complaining about the music stopping when a phone call was received from their connected device, our product designers decided to remove the internal microphone to prevent this from happening. Because the microphone was removed, voice assistant is no longer possible. Please follow us for news and updates.
Date published: 2021-06-06
Can you pair more than 2 speakers?
Yes, you can pair 2 JBL Flip 5 in stereo mode using the partyboost feature. You can also link multiple JBL partyboost-compatible speakers together. Please visit our website to get more information about this product. https://bit.ly/3klCgp5
Date published: 2021-10-28
I understand this does not act as a speakerphone. But if I am listening to music via Bluetooth from my iPhone, will the speaker ring? I need to leave Bluetooth on as I use it in the car, but do not want the speaker to ring if I am called.
The JBL Flip 5 will not ring when a call comes since it doesn't have the speakerphone capability. The notification and call will go through your phone. If you have more questions, please reach out to our Customer Support. https://www.jbl.com/support-contact.html
Date published: 2021-06-06
Does the flip 5 have a voice assistant and speakerphone like the flip 4?
Hi there, our JBL Flip 5 doesn't have a voice assistant nor a speakerphone like the Flip 4, instead, it has an improved sound quality and a new feature called JBL Partyboost which lets you connect up to 100+ speakers with the JBL Partyboost feature.
Date published: 2021-06-06
I need a little help, it's okay to get a charge 4 or a good jbl flip 5. No problem about money.which Sound quality is better in these two.how about bass quality?
Hi there, thanks for the question. Our JBL Charge 4 features a proprietary developed driver and two JBL Bass Radiators that intensify sound with strong deep bass and you can also charge your devices with it as well such as your smartphone. You can also connect the Charge 4 to other JBL speakers that have the JBL Connect+ feature built-in. Our JBL Flip 5, despite its size, can put out its own high levels of high-quality sound and bass for a small speaker with its main feature being portability. You can check out this link to get to familiarize yourself with both high-quality products: https://support.jbl.com/us/en/
Date published: 2021-06-06
Can I pair multiple JBL speakers to one phone to play the same music in multiple rooms? Does the speakers require their own internet connection?
Our JBL Flip 5 doesn't require an internet connection and has a feature that allows other JBL PartyBoost speakers to connect to each other.
Date published: 2021-06-06
If you pair 2 flip 5s will you have true stereo or just 2 speakers playing mono?
If you simply press on the JBL Partyboost button on both of our JBL Flip 5, they will only play mono together. But with our JBL Connect app, you can play them through stereo. If you need more help, please contact us here: https://bit.ly/2zwFkYM
Date published: 2021-06-06
The latch (movable part) on the clip of my Flip 3 broke and is lost - can I get this part sent to me?
For parts external parts availability of our products, please reach out to our Customer Support so we could assist you. You may call us at 800-422-8027. Monday to Friday from 9 am to 11 pm (ET), Saturday and Sunday 9 am to 5 pm.
Date published: 2021-06-06
I am using my JBL FLIP 5 for the first time. When charging should the charging light go off after a short time?
Thanks for your inquiry. When charging the JBL Flip 5, the blinking LED shows how far charging has progressed. When fully charged, the LED lights will turn off.
Date published: 2022-12-19
Can I answer phone calls through the speaker?
Our JBL Flip 5 is designed for music. It can't receive calls since it has no mic and speakerphone function. You may check our JBL Flip 4 which has a built-in microphone that can be used as a speakerphone.
Date published: 2022-10-03
what is range from the source
The Bluetooth range of our products varies. You should get up to 10 - 15 meters when using Flip 5 indoors. When using the speaker outside, conditions vary based on the surroundings. For the best connectivity results, please make sure that the devices have a clear line of sight between them.
Date published: 2021-06-06
How do I add the JBL Flip 5 speaker to my cart?
This is a known issue, and our IT's are currently working on our page. This error is caused by our users clicking "Add to Cart" before the page loads completely. We advise our customers to go back to the previous page, click back into the Product Detail Page, wait 15-20 seconds to allow the page to load completely, and then proceed with "Add to Cart". If you need more help, please reach out to our Customer Support. https://www.jbl.com/support-contact.html
Date published: 2021-06-06
I understand that the Flip 5 has no 3.5 mm connector. Can the Flip 5 receive and play audio via the USB-C or is it Bluetooth only? If it can work do I need to use a 3.5 mm to USB-C adaptor?
The USB-C connector of our JBL Flip 5 is only for charging purposes. Adaptors will not work with it.
Date published: 2021-06-06
Why does my JBL Flip 5 keep cracking when I am playing music, and it is only at half the volume?
We would like to get more information to help you out, please contact us so we can assist you: https://bit.ly/2zwFkYM
Date published: 2021-06-06
how do I play phone call audio through this speaker?
Our JBL Flip 5 speakers does not support speakerphone mode.
Date published: 2021-06-06
What is the jbl flip 5 input power? Is it 100-240v? Meaning if i buy it from canada, does it work in europe as well? 
Our JBL Flip 5 power rating is 5V 2A. If you're going to charge the speaker to a different country, we suggest using an adapter.
Date published: 2021-06-06
I've paired 2 JBL Flip 5 speakers which work fine individually but when used in PartyBoost they fade in and out and sometimes click. I have consulted the app which is of no help. I'm also not able to assign L & R speakers via the app. What could the issue
JBL Flip 5 has the PartyBosst feature, which allows you to connect other PartyBoost enabled speakers. The JBL Connect App allows you to set the speakers of the same model to be on stereo mode. We'd like to know more information and try some troubleshooting steps so we could isolate the issue. Please reach out to our Customer Support, and our representatives will reply within 24-48 hours. https://www.jbl.com/support-contact.html
Date published: 2021-06-06
My JBL Flip5 seems to hit a limit with increasing the volume. The volume is not particularly loud, I'd say medium, when it makes this sound when I press the + button and won't get any louder. Any ideas?
Please use your source device to increase your volume if our JBL Flip 5 is at maximum volume. If you need more help, please contact us here: https://bit.ly/2zwFkYM
Date published: 2021-06-06
Why changed the connect+??? I planned to buy a flip5 but I will not, because not compatible with my xtreme 2.
Thanks for your feedback, Trell. We've made some enhancements with the JBL Flip 5. The Party Boost is an improved version of the JBL Connect+, which improves the Bluetooth reliability of inter-speaker connections.
Date published: 2021-06-06
bvseo_sdk, dw_cartridge, 18.2.0, p_sdk_3.2.0
CLOUD, getContent, 4ms
questions, product